Here is a selection of our 25 Best Appetizer Recipes– perfect for gatherings and parties (that are NOT boring!). Delicious little bites that pack a lot of flavor- with many vegan and vegetarian options! Scroll down and pick out a few of your favorites! Includes Vegan Spiced Nuts in Recipe Card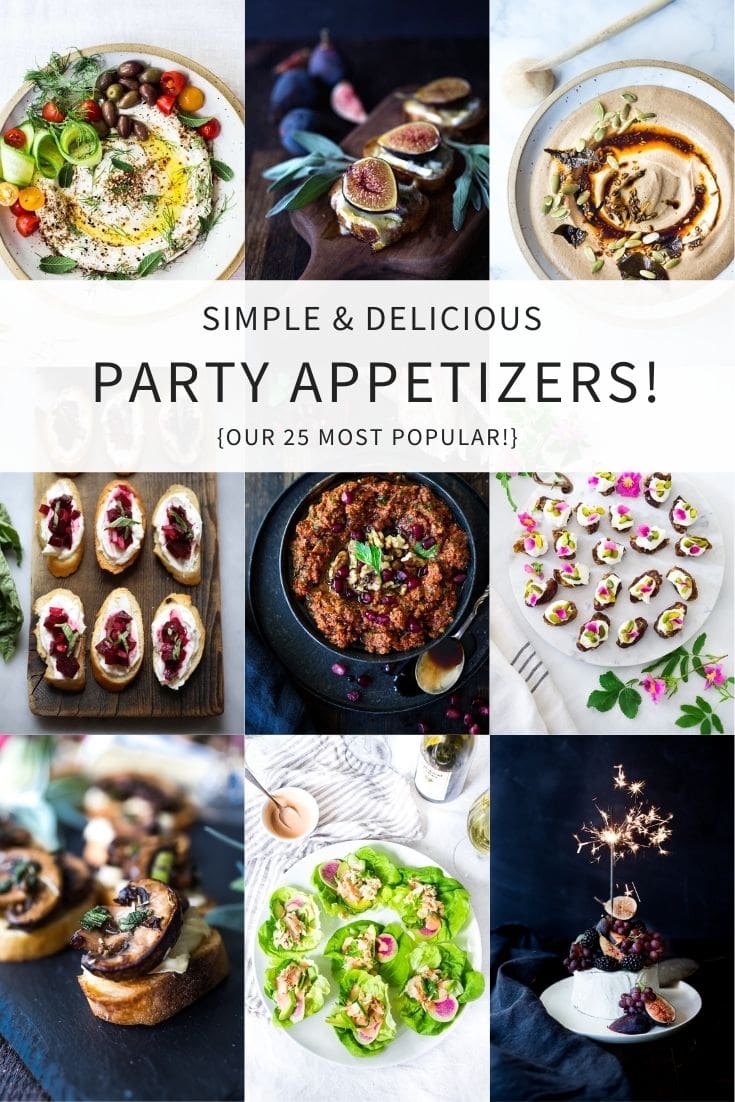 Whether you are looking for Christmas appetizers, Thanksgiving appetizers, vegan appetizers, seafood appetizers, or simple little bites to bring to a party, or holiday gathering, we have you covered! These delicious little bites are sure to dazzle and delight! Make sure to scroll down to the recipe card for our Spiced Nuts Recipe!
Our Best Appetizer Recipes!
Beautiful Flavofurl Dips! (Fast and Easy)
A flavorful dip is one of the simplest appetizers to put together for a holiday party – and many are made with pantry ingredients you already have on hand! They are easy to "dress up" with herbs, flowers, and oils and can be made ahead. Perfect for those who are short on time!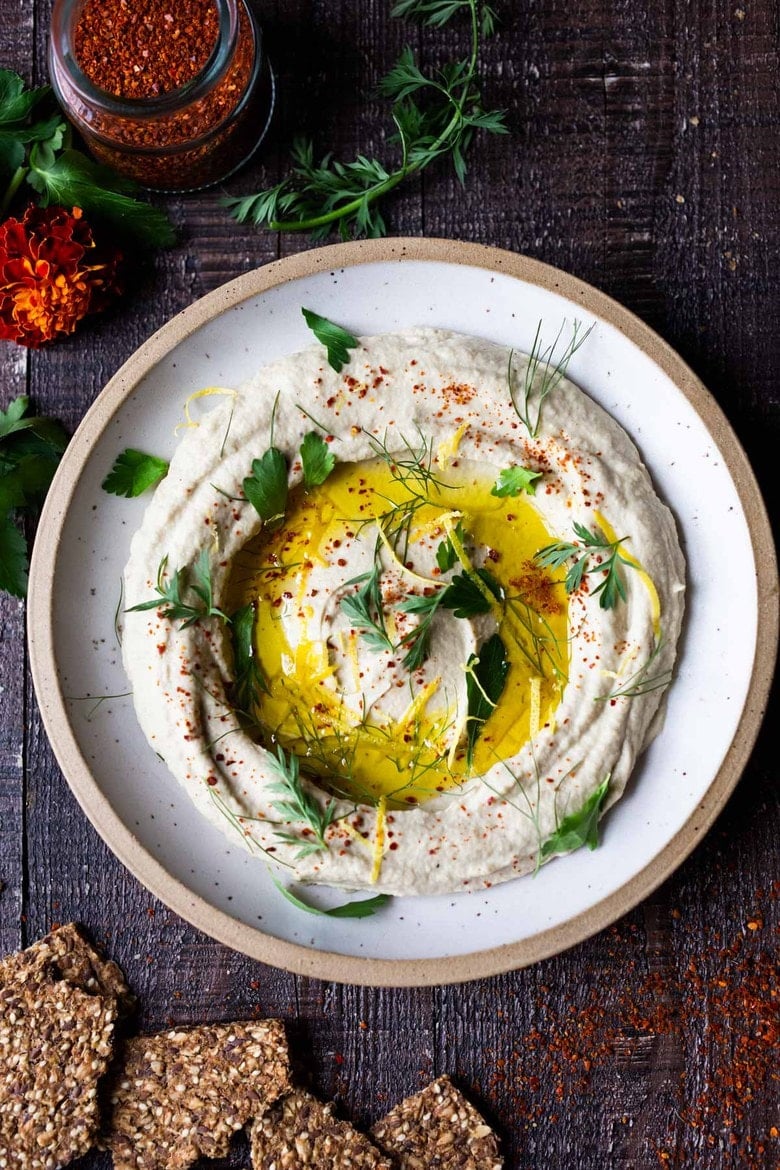 Lemony Artichoke White Bean Dip – a quick and easy Vegan Appetizer (a twist on "hummus") that can be made in 10 minutes flat. Great for parties and gatherings and made with simple pantry ingredients!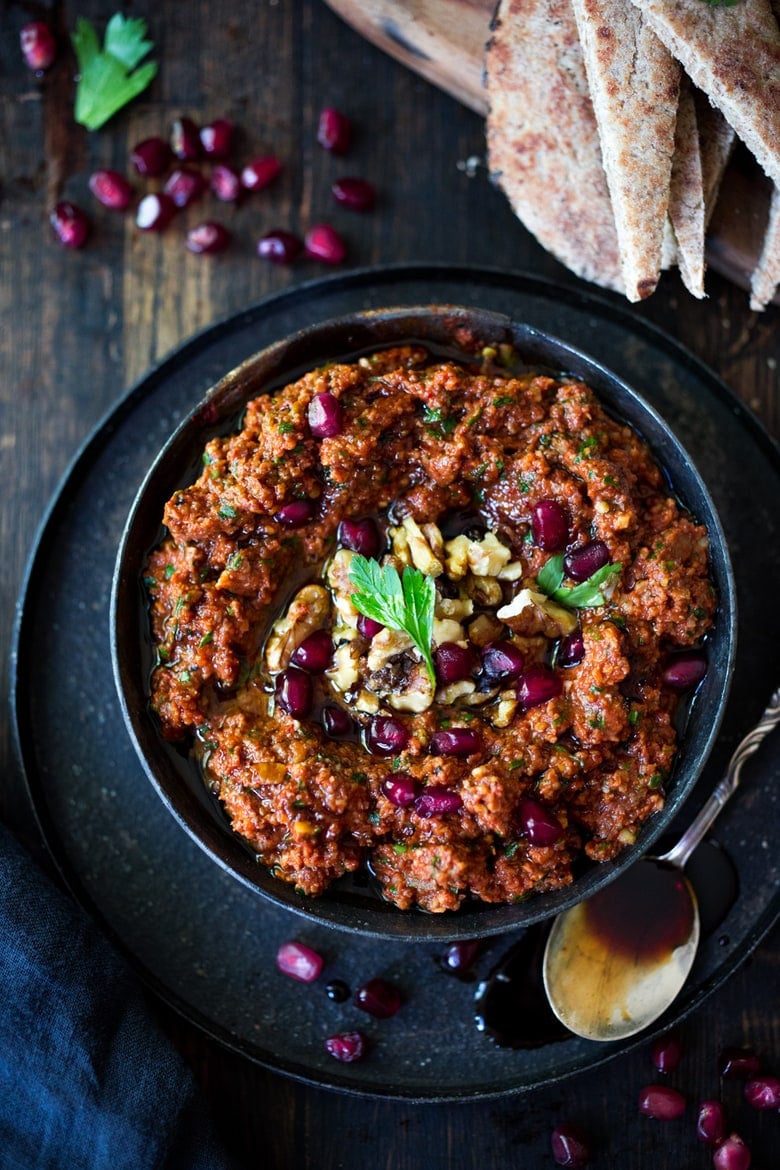 Muhummara Dip – a simple festive Roasted Pepper & Walnut Dip, infused with Middle Eastern Spices that can be made ahead! A simple festive party appetizer! Serve with toasted pita bread or homemade crackers.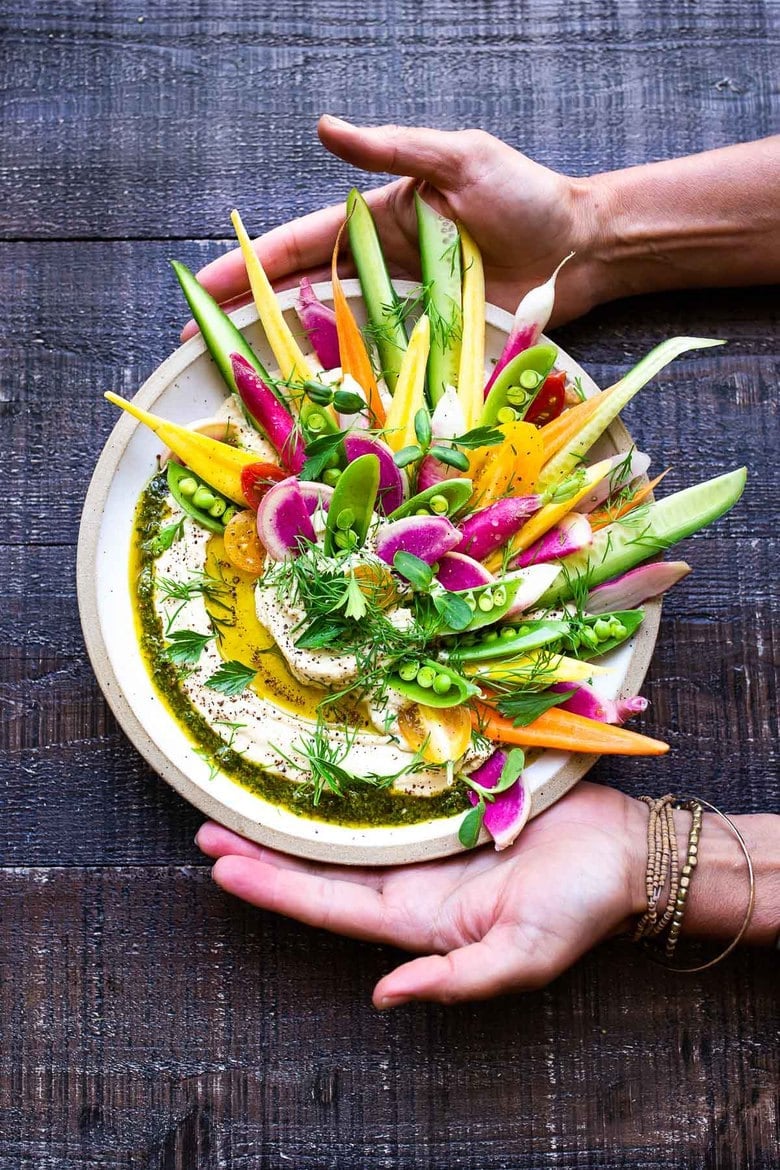 Rainbow Veggie Hummus! This authentic hummus recipe is light and creamy and so easy to make! Use canned or dried chickpeas and serve it up with fresh garden veggies and herbs.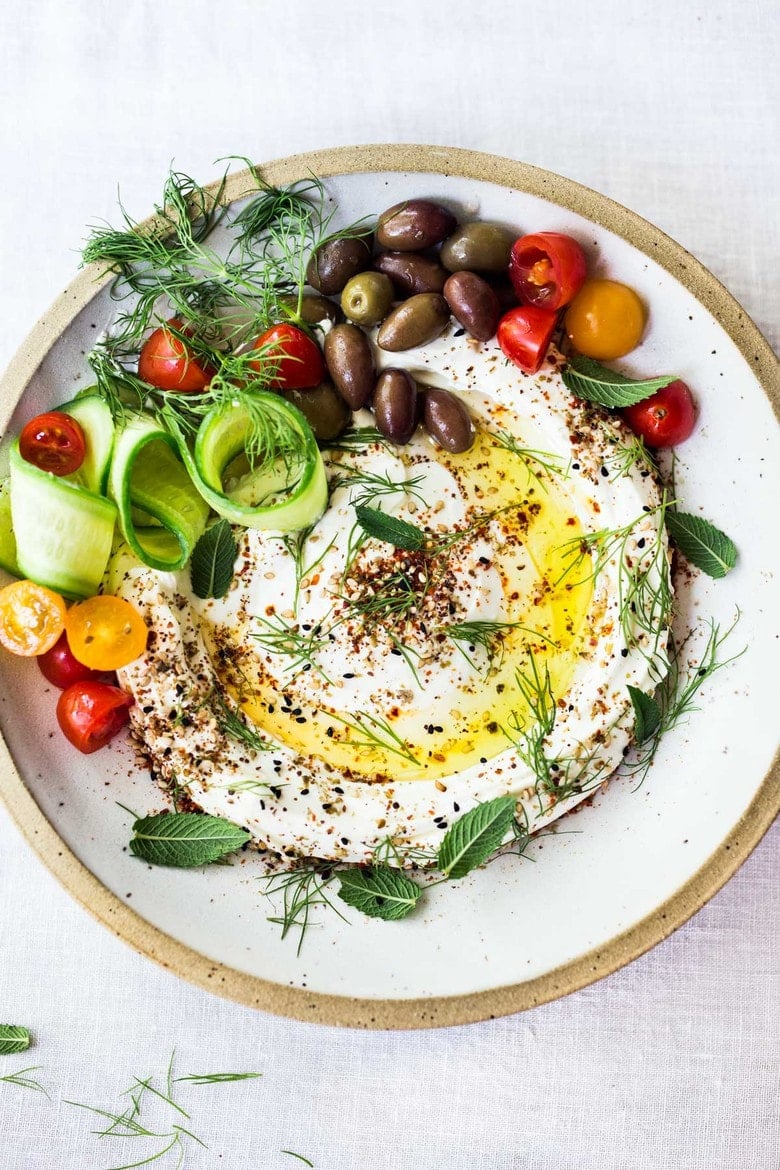 Labneh! A creamy Middle Eastern Yogurt Dip (or cheese) – to serve with crunchy veggies or toasted pita. A simple tasty appetizer, perfect for parties and gatherings.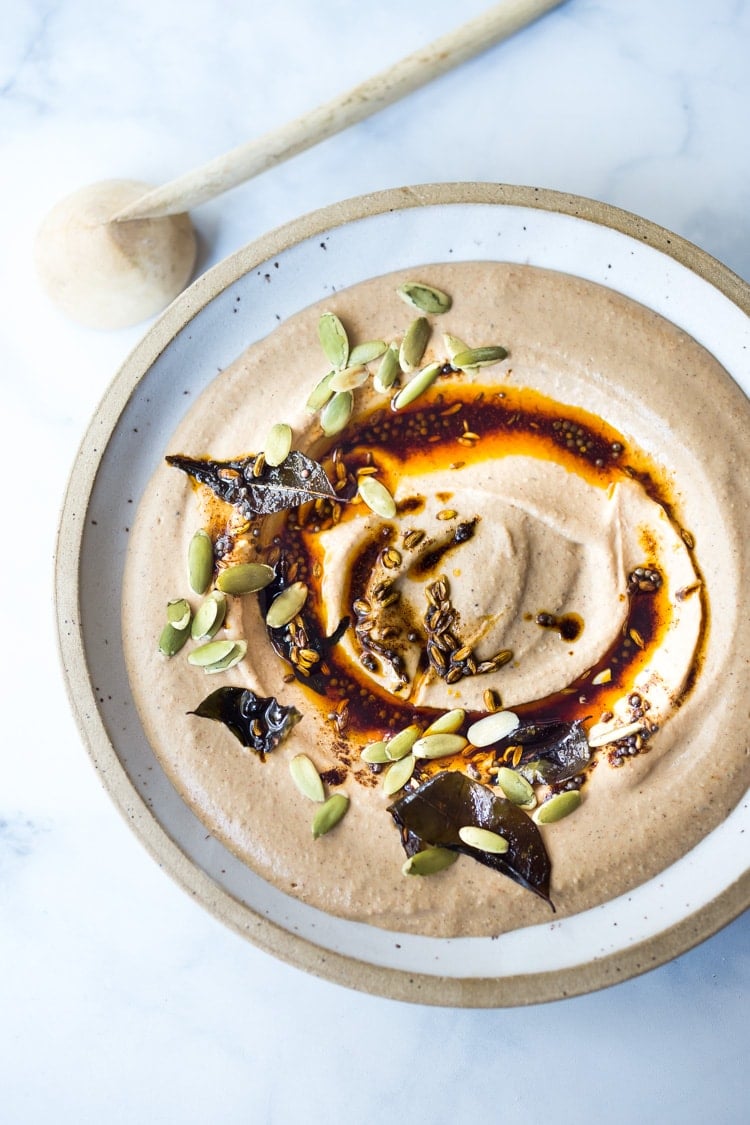 Tandoori Hummus – a delicious Indian twist on the classic, seasoned with garam masala spice. This healthy homemade hummus is vegan, easy to make… and has the BEST flavor! Serve with naan or pita!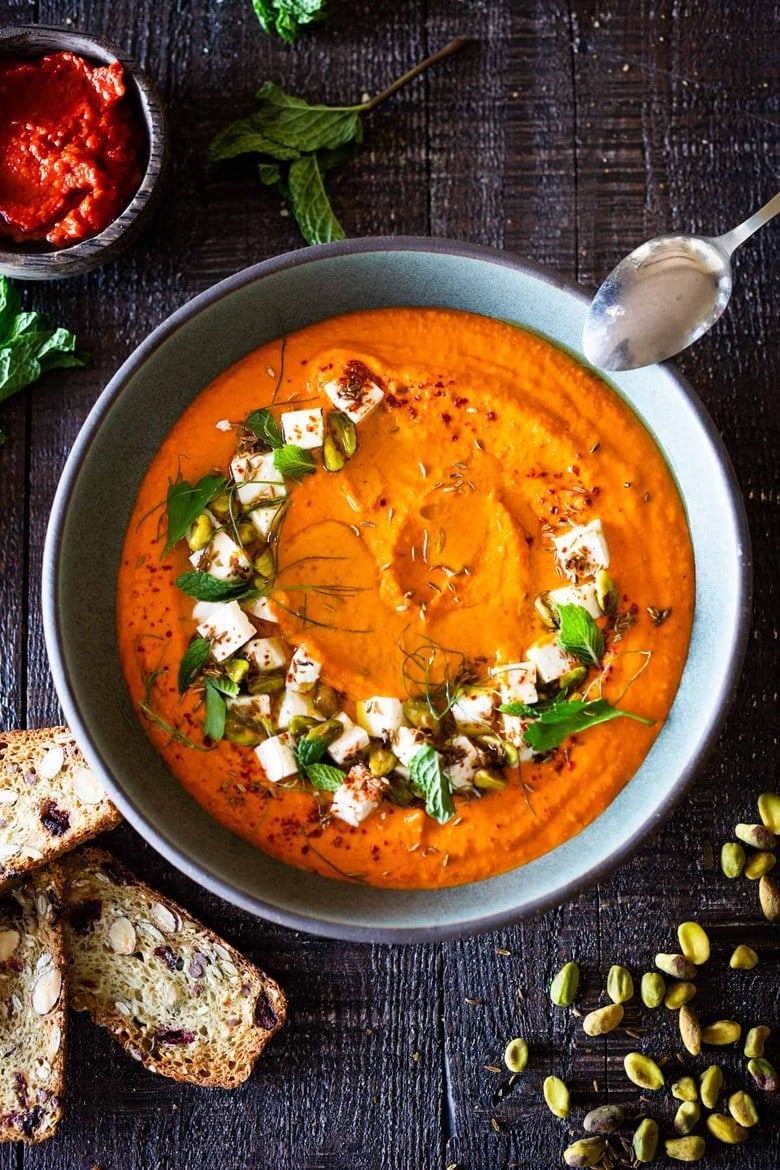 This Smoky Harissa Red Pepper Dip is made with white beans and topped with pistachios, cumin seeds and optional feta. A simple party appetizer that comes together in 10 minutes flat.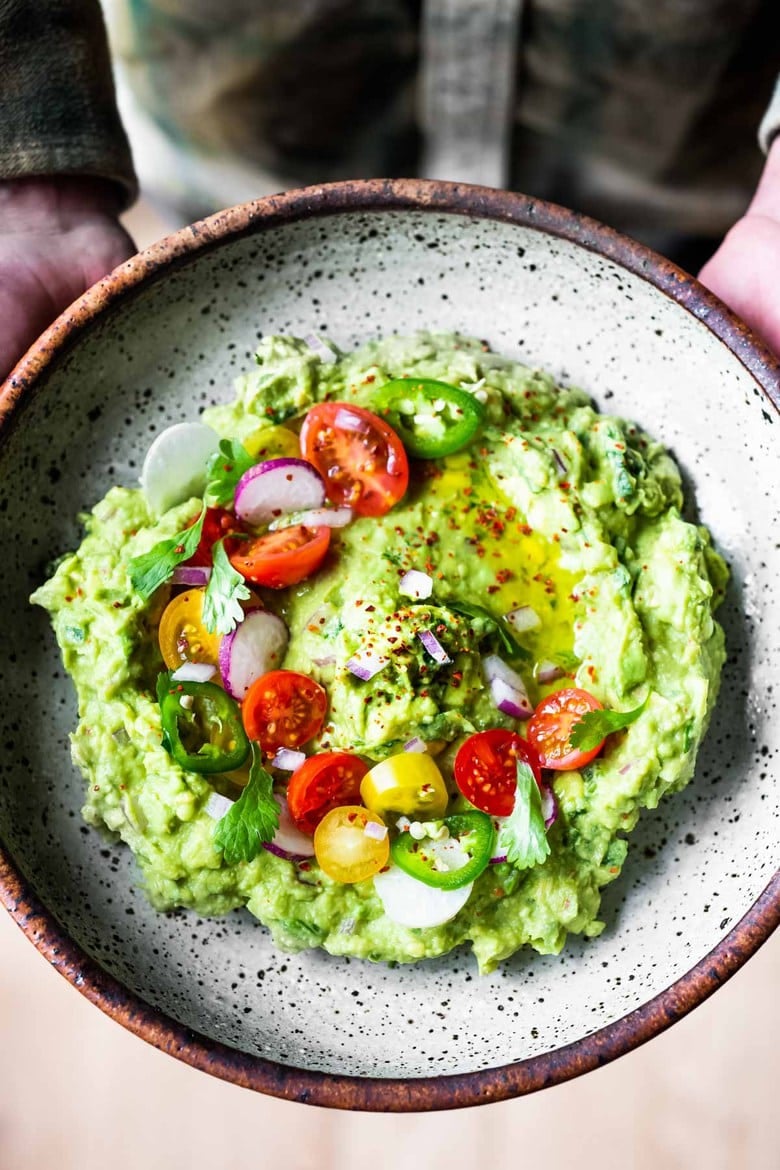 Guacamole- 3 Ways! ! Three different flavor profiles that will be the hit of your party! A flavorful vegan appetizer that is simple, gluten-free and healthy.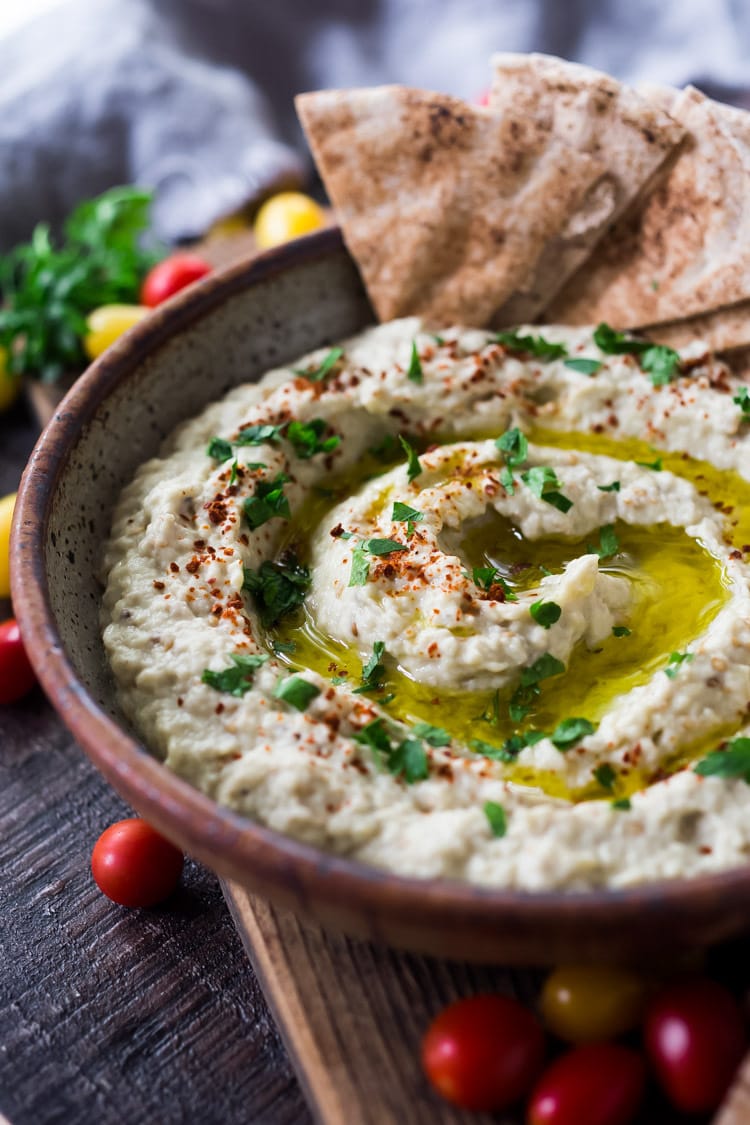 Baba Ganoush!  Luscious Roasted Eggplant Dip made with smoky eggplant, tahini, garlic and lemon. A healthy, delicious Middle Eastern Eggplant Dip that is full of complexity and depth. Gluten-free, low-carb, vegan.
Savory Bruschetta Recipes!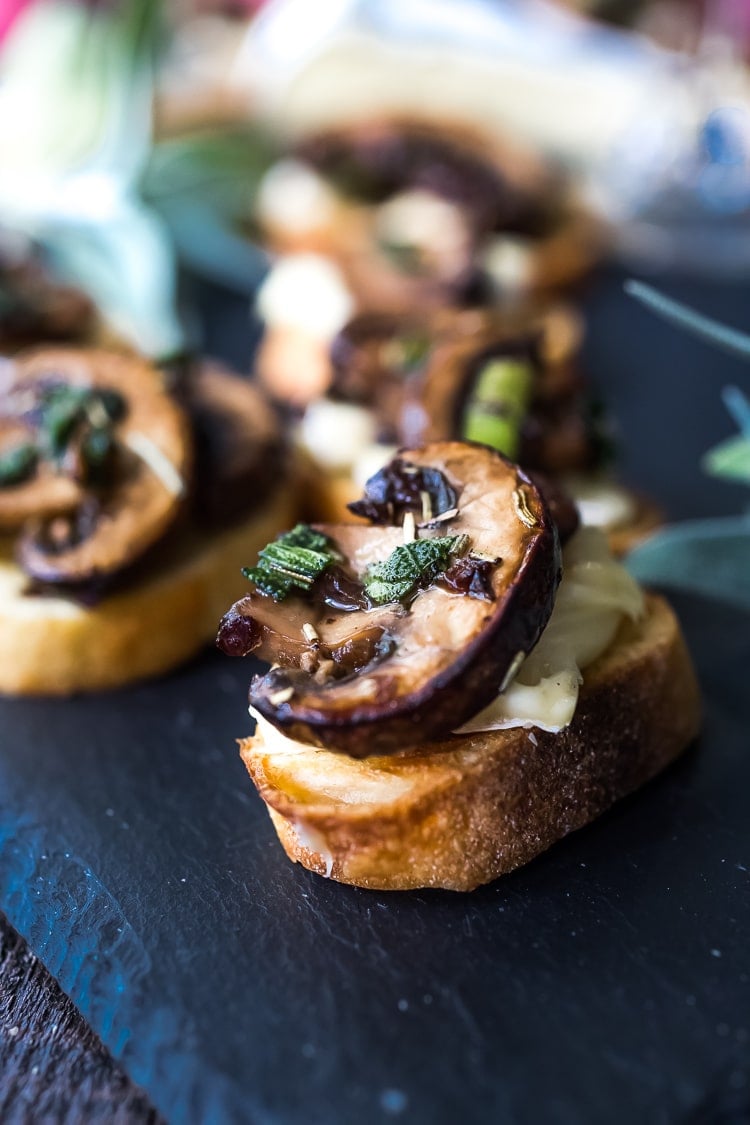 Mushroom Bruschetta with Triple Cream Brie, Sage and Truffle Oil – a surprisingly easy appetizer that tastes amazing and looks elegant! Perfect for holiday gatherings and parties!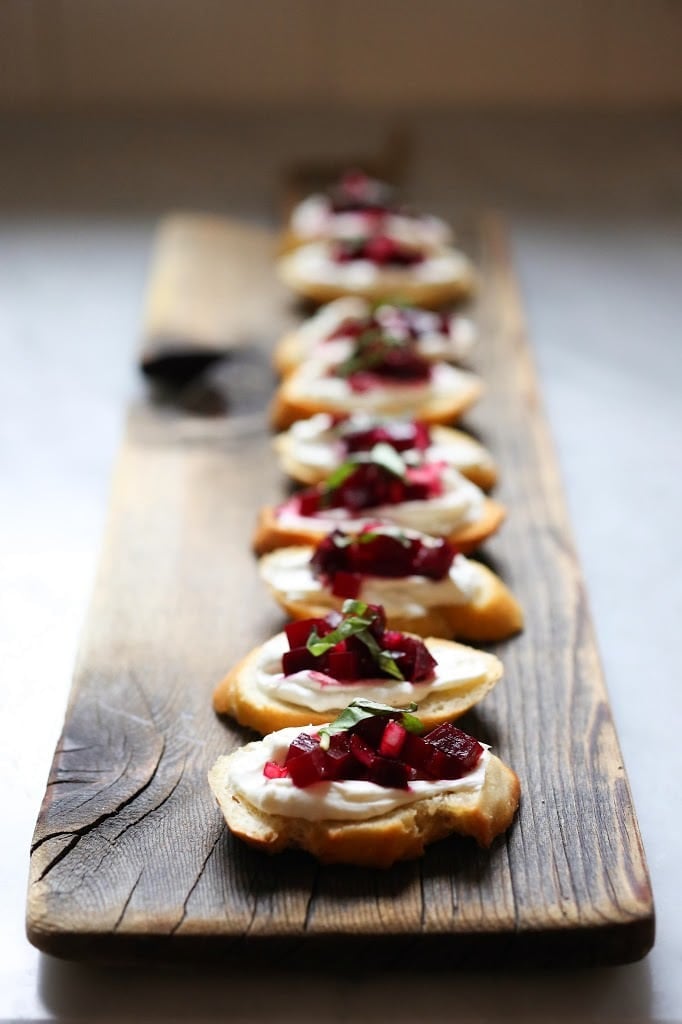 Beet Bruschetta with Goat Cheese and Basil  a festive appetizer recipe that highlights winter beets and is full of amazing flavor!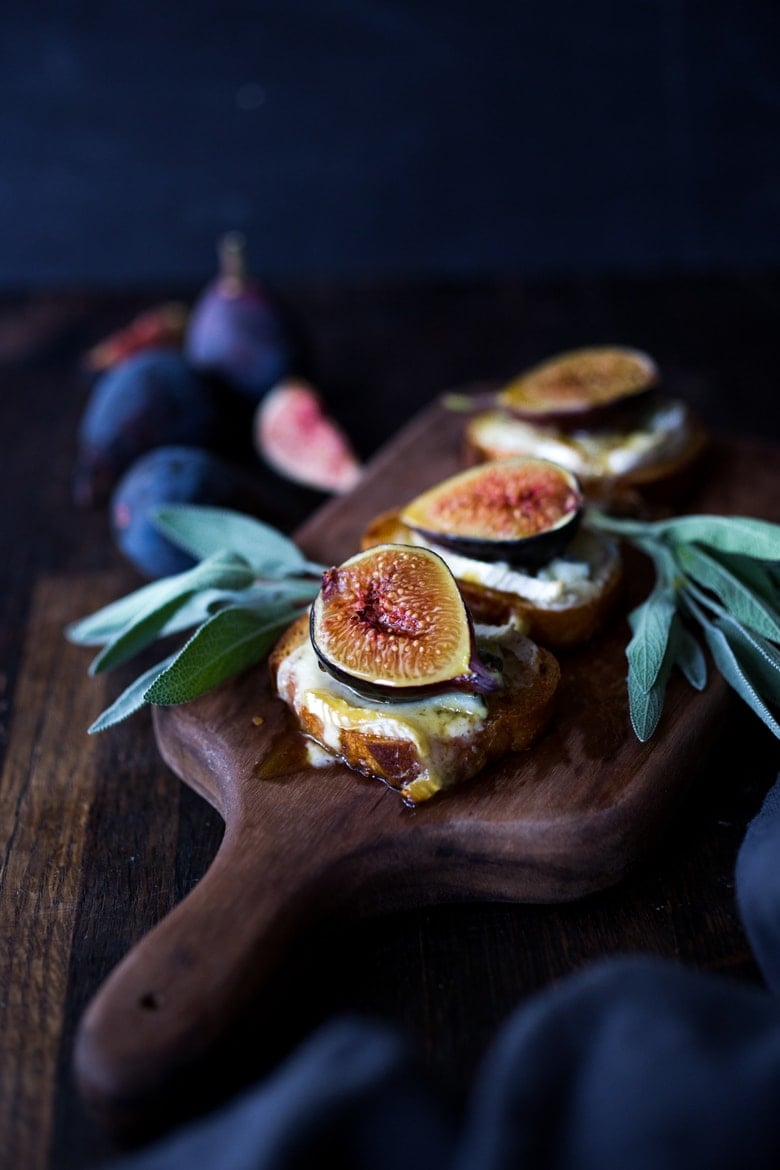 Fig Bruschetta with Cambozola and Sage Honey  a tasty appetizer recipe that comes together in minutes, perfect for fall and holiday gatherings.
Fun & Interesting Vegan Appetizers!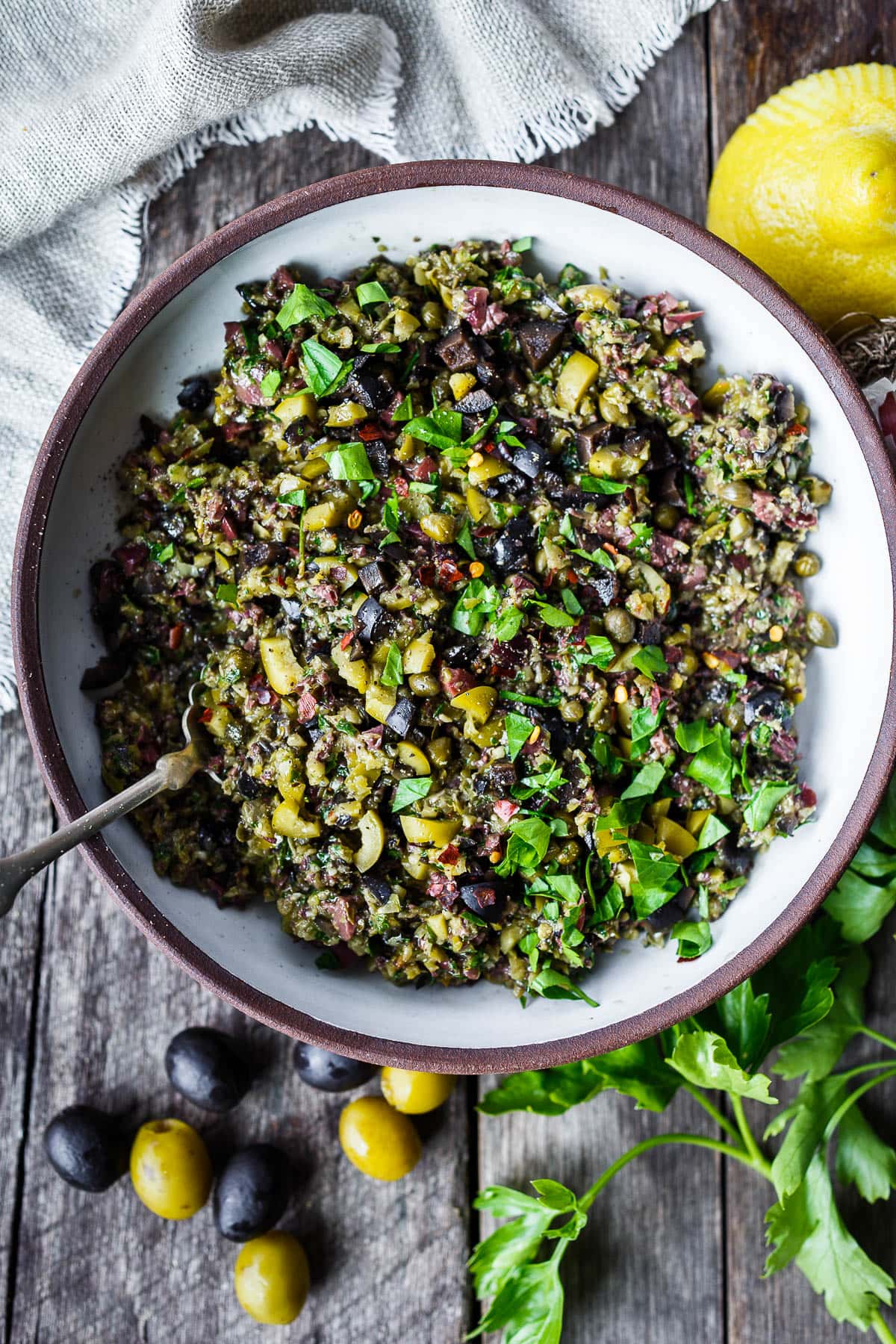 Versatile and full of flavor, Olive Tapenade is a simple, elegant addition to your appetizer list.  This tasty spread comes together fast and requires no cooking, making it a great choice for warm summer days.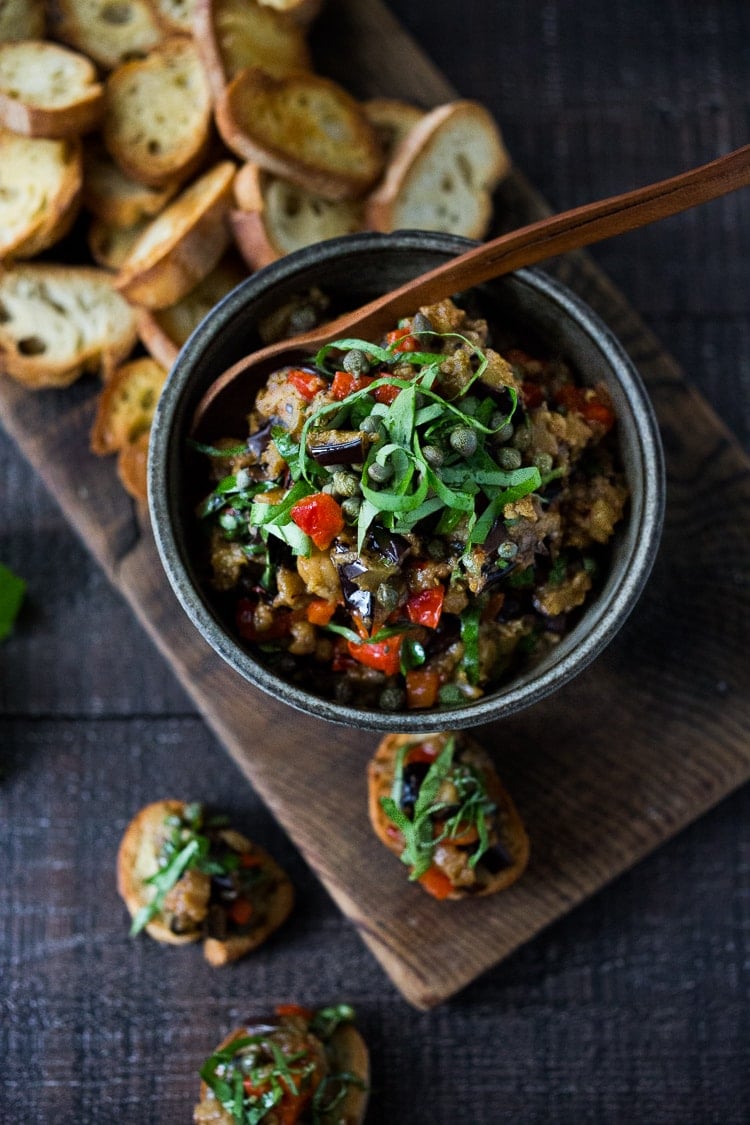 This Sicilian recipe for Eggplant Caponata is simple, easy and full of flavor! Serve it as a healthy vegan appetizer over crostini, or as a delicious side dish, or turn it into an eggplant "salad" served over greens and grains! Low- Carb and Vegan!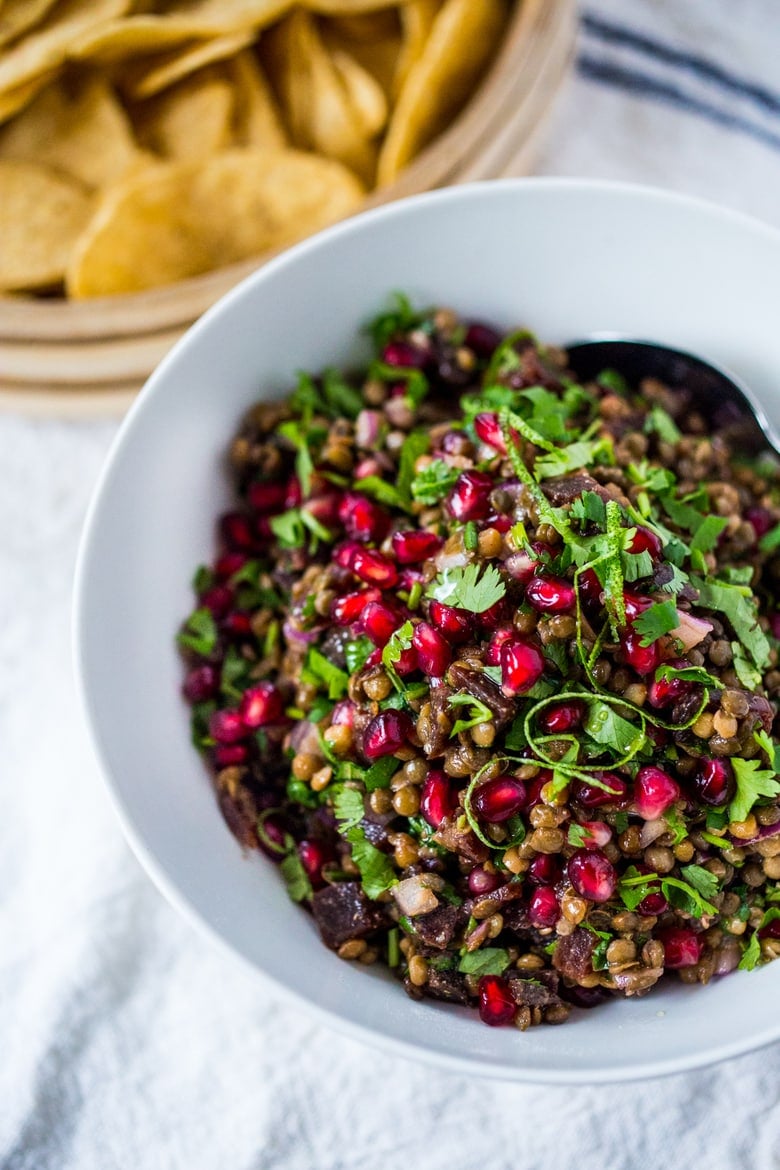 Palouse Caviar!  A take on Texas Caviar, this Lentil Dip called Palouse Caviar is made w/ Northwest Palouse grown lentils, pomegranate, avocado, lime. Served with corn chips for a festive healthy, vegan GF party appetizer.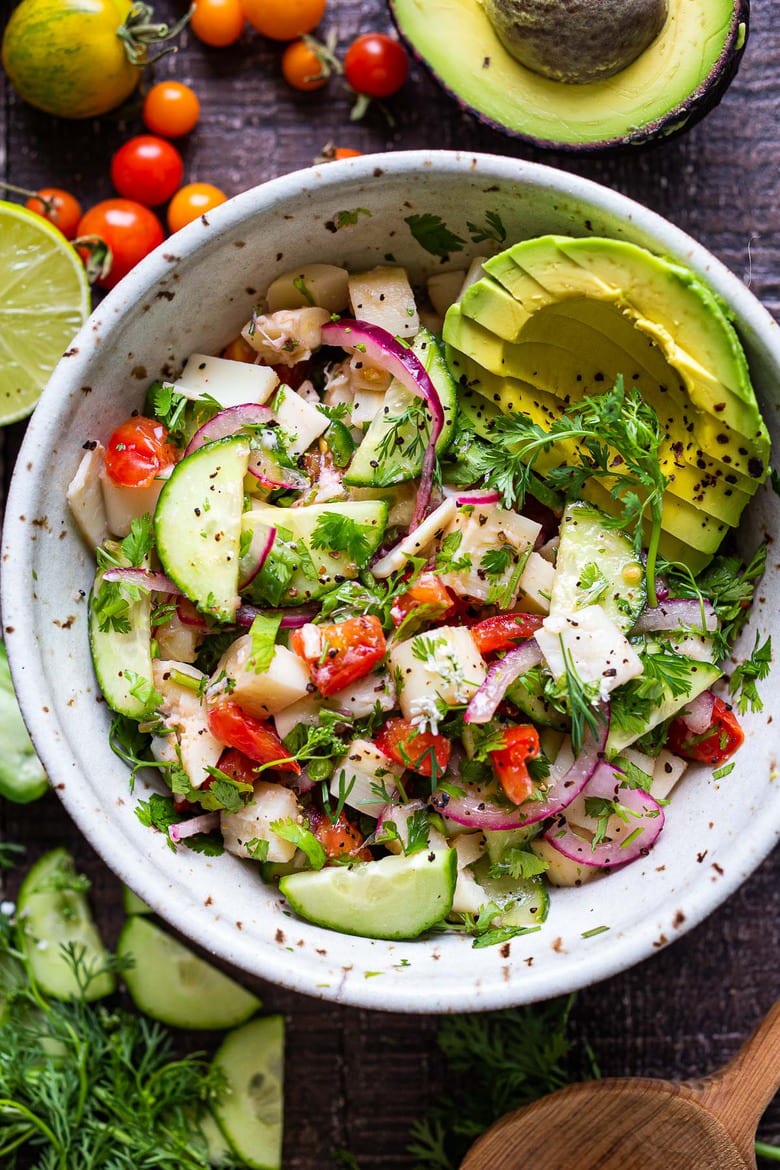 This vegan, plant-based Hearts of Palm Ceviche will transport you to Mexico. Made with hearts of palm and avocado, this easy recipe can be served on tostadas, with chips or in lettuce cups!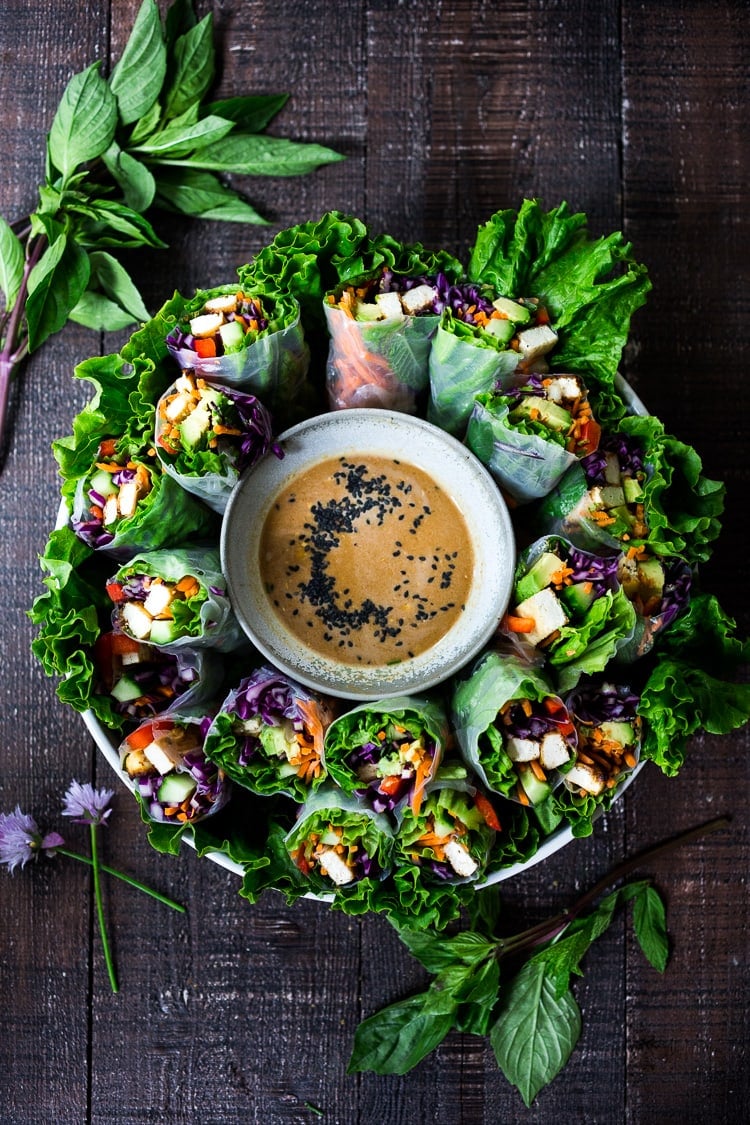 Fresh Spring Rolls with BEST EVER Peanut Sauce! These vegan spring rolls can be made ahead and are the perfect healthy vegan appetizer for gatherings and parties! Watch them disappear!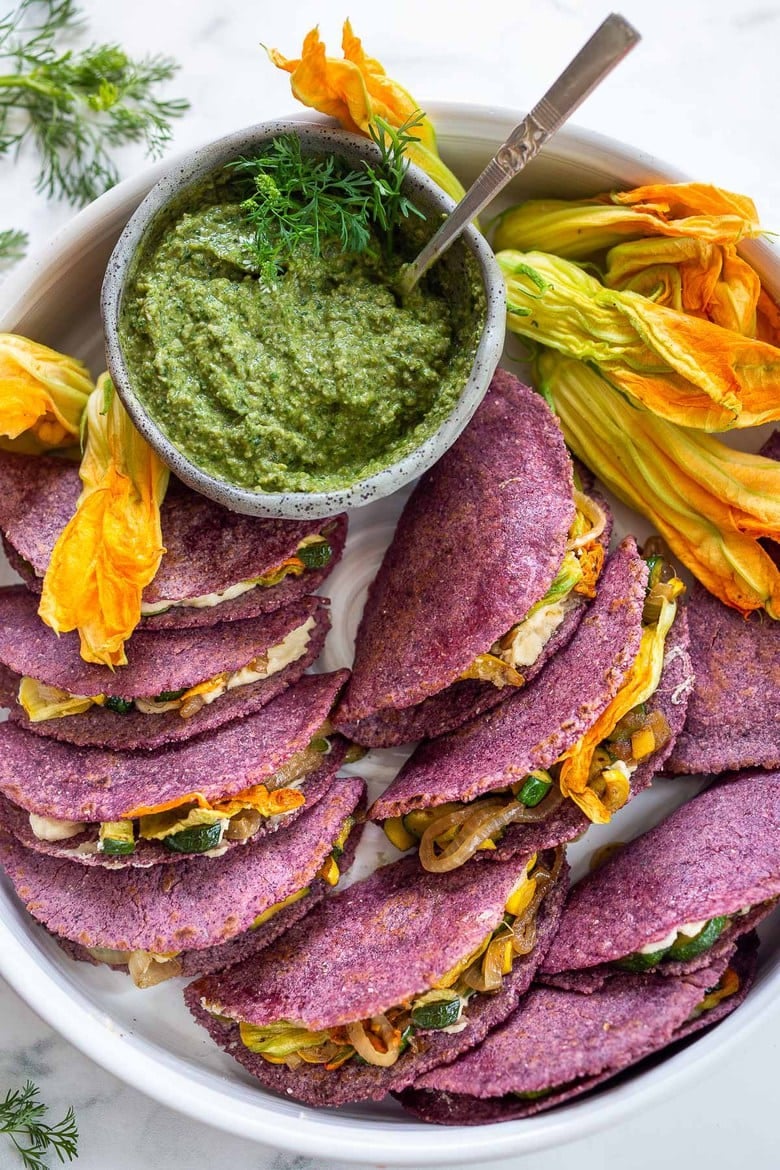 A tasty recipe for Vegan Quesadillas with creamy cashew cheese and Poblano Pumpkin Seed Salsa. Vegan and delicious!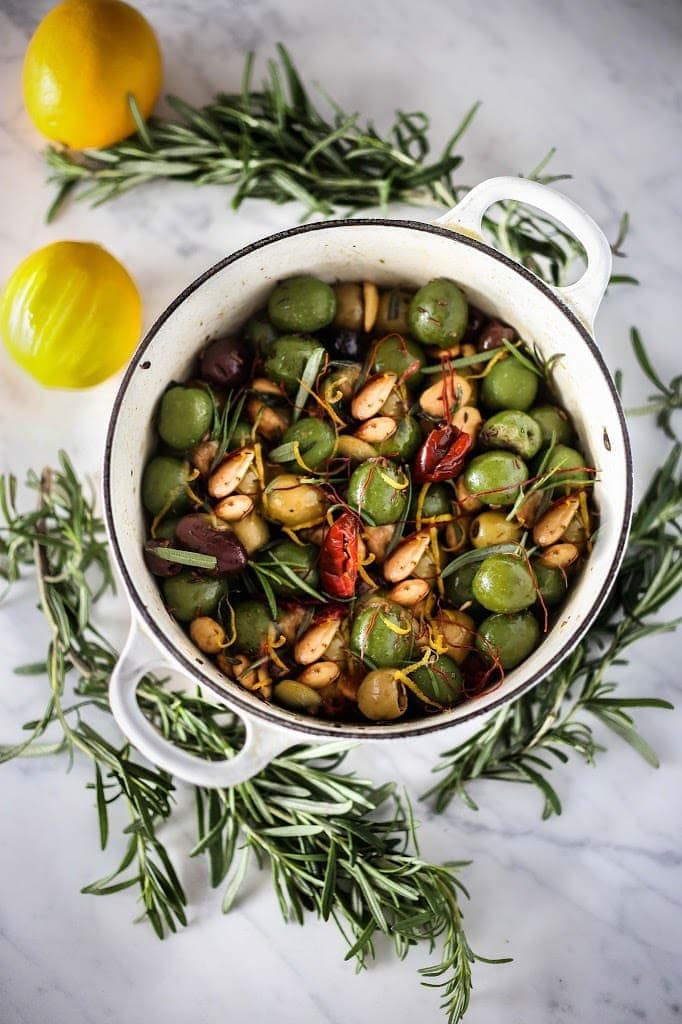 Warm Olives with Rosemary, Garlic, and Almonds – a simple, delicious appetizer that is full of amazing flavor, that can be made very quickly and easily!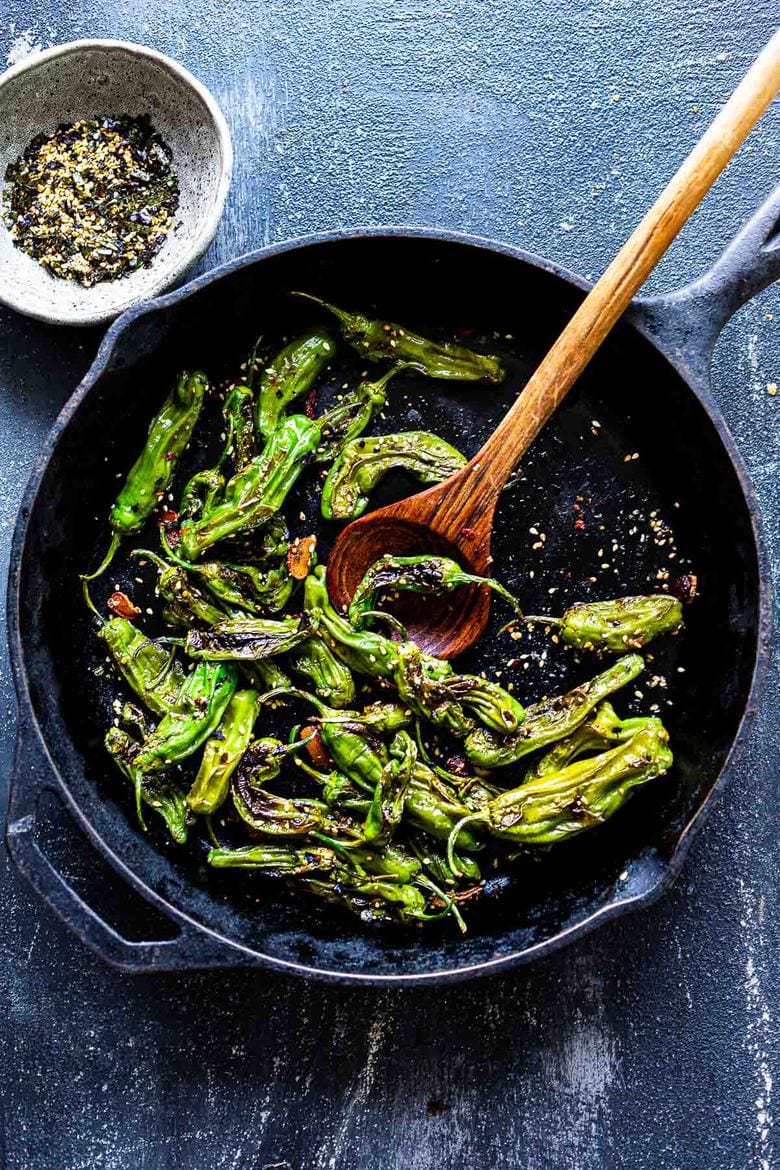 A simple recipe for Blistered Shishito Peppers- a fast and easy appetizer that comes together in under 15 minutes!
Flavorful Fish & Seafood Appetizers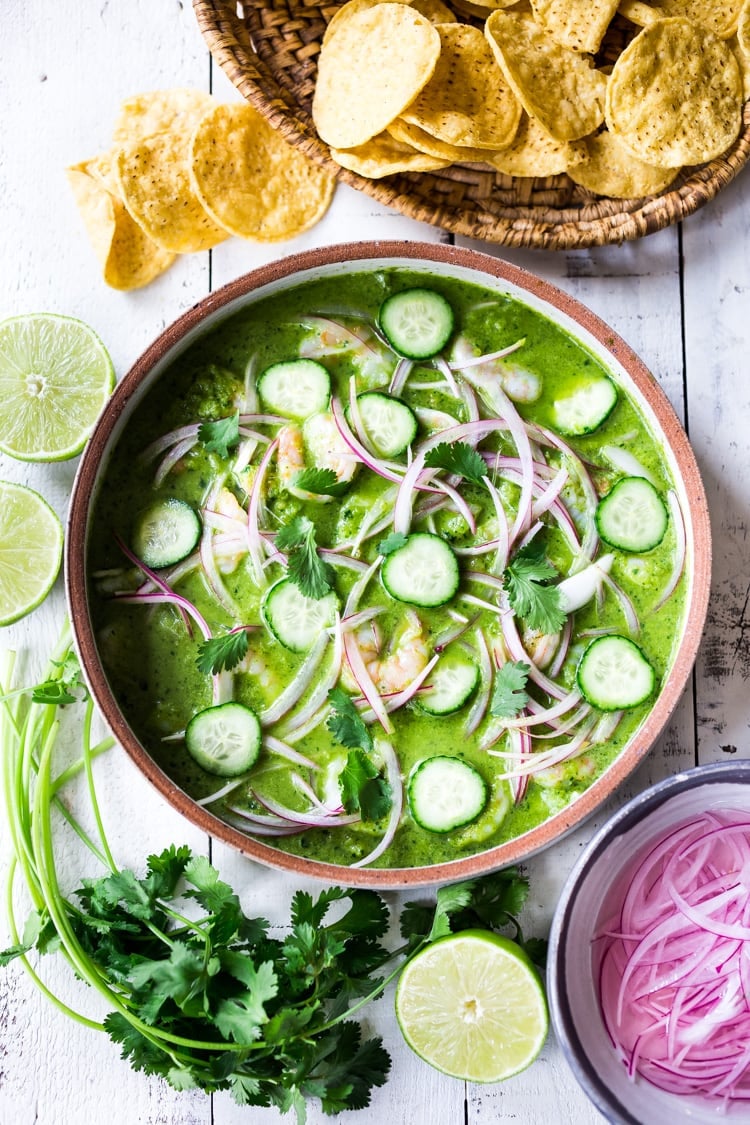 Mexican Aguachile! Similar to ceviche, shrimp are cooked in a mixture of lime juice, chiles and cilantro. Flavorful, simple and sooooo delicious! Serve with Corn chips!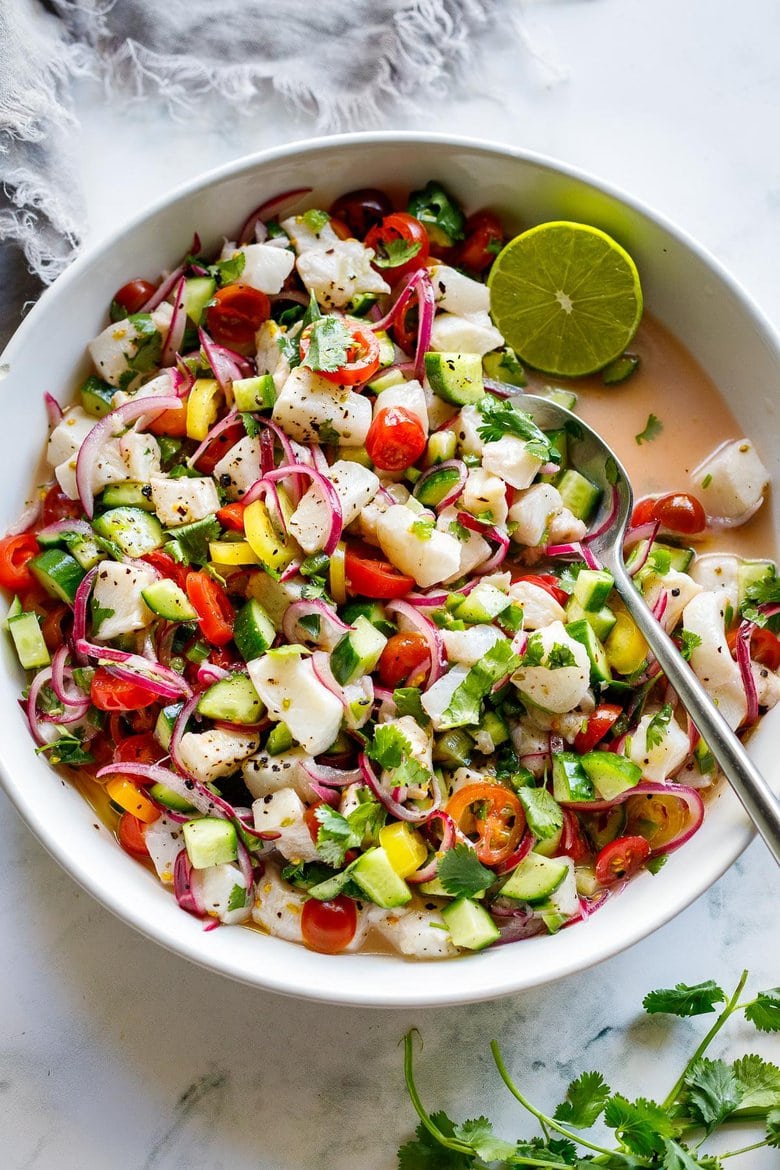 Ceviche with fresh fish, chili, lime, cilantro, avocado, tomato and cucumber. A very easy appetizer recipe perfect for gatherings, potlucks and parties!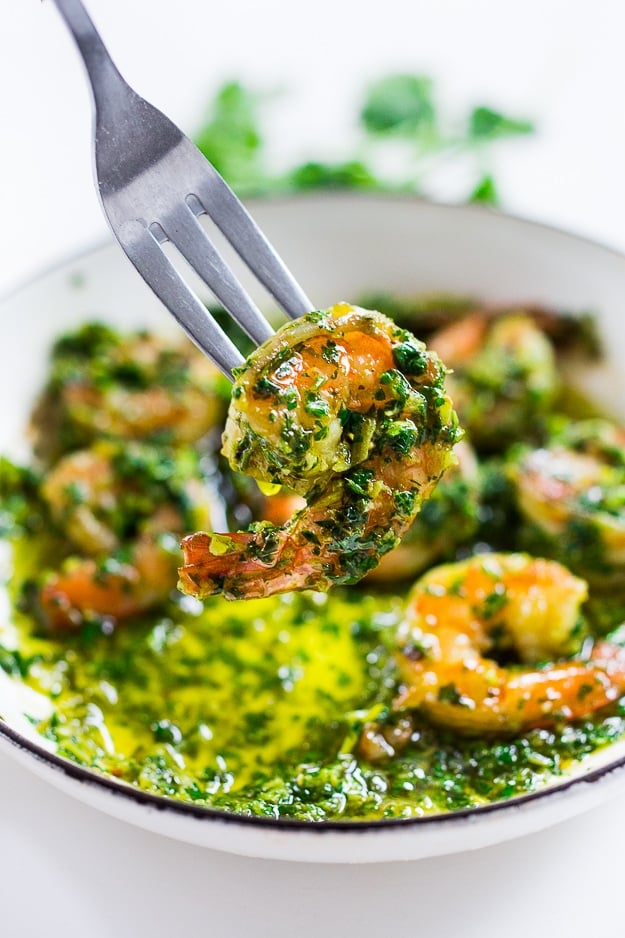 Chimichurri Shrimp-  A fast, flavorful and simple appetizer that comes together in under 20 minutes. Serve on mini forks!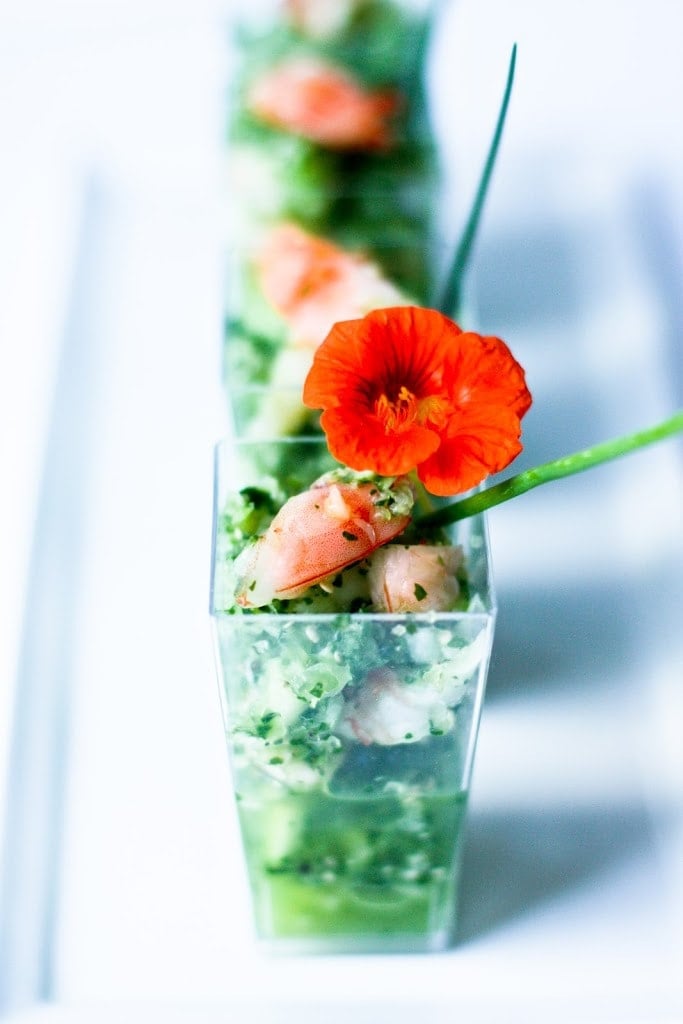 Shrimp Ceviche Verde  -a delicious twist on traditional Ceviche, this version is made with fresh tomatillos. A light and refreshing appetizer, perfect for parties and gatherings, serve it in a shot glass with a mini fork.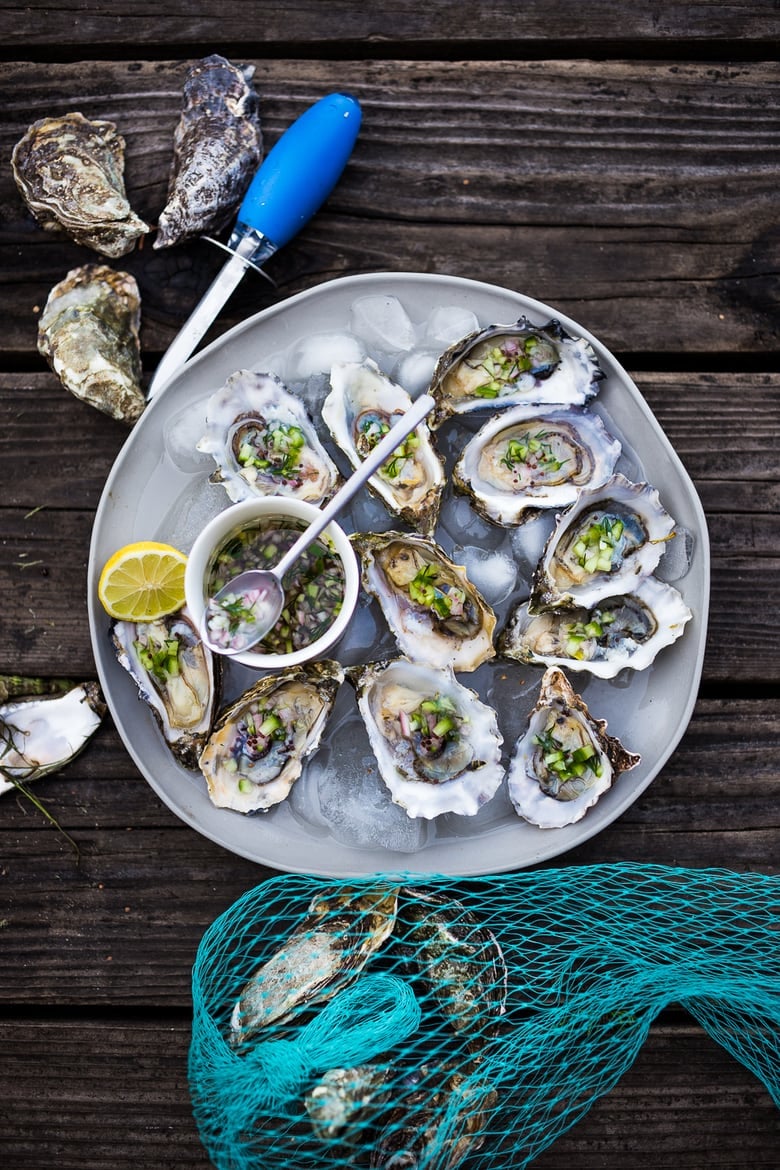 Fresh Oysters with Mustard Seed Mignonette with cucumber, shallot and dill. Make the Mignonette ahead and shuck the oysters at the party.  These little guys are sure to please. Serve on a bed of ice.
LETTUCE Wraps and Cups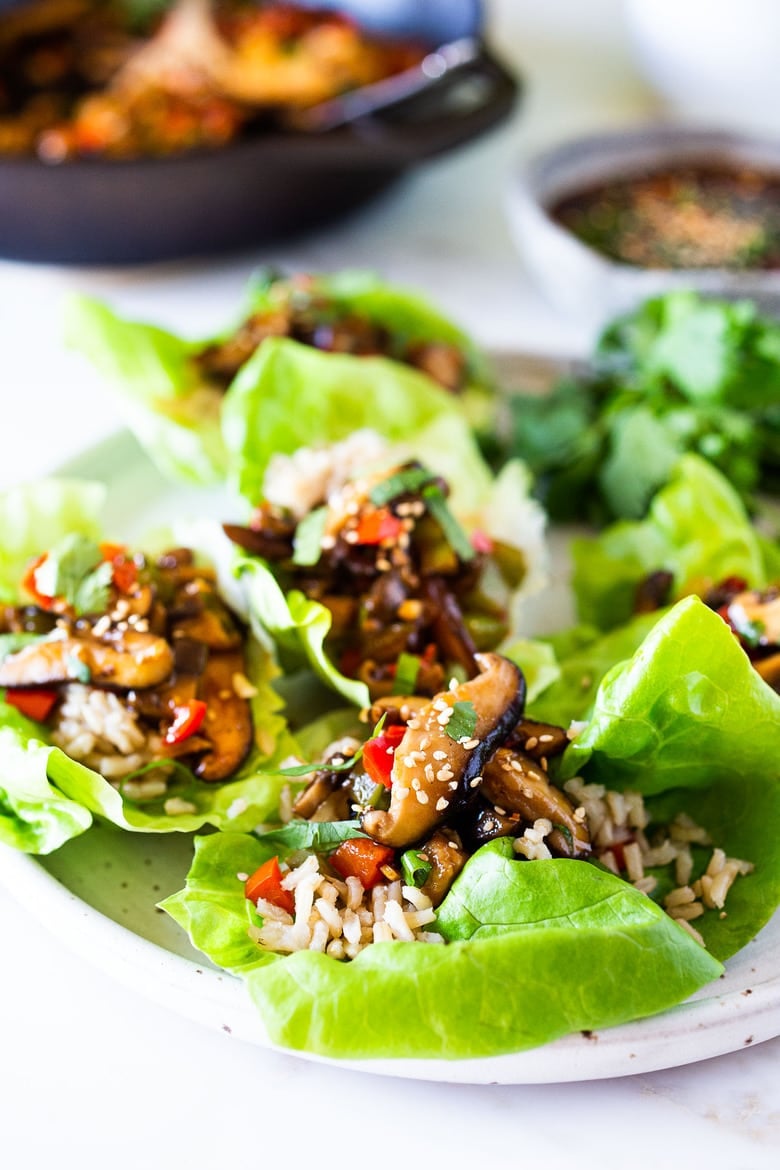 These Vegan Lettuce Wraps are filled with Teriyaki Mushrooms and brown rice- a healthy delicious lunch or appetizer!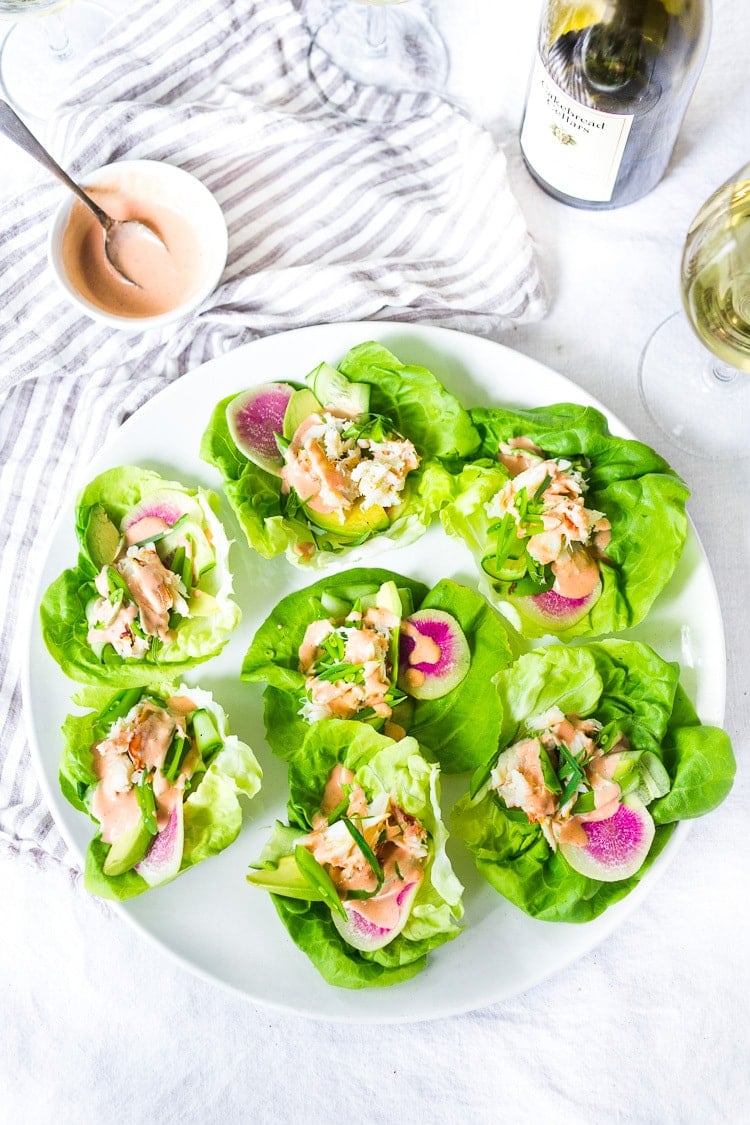 Mini Crab Louies!  Fresh crab, served in butter lettuce cups with radish and avocado, drizzled with Crab Louie dressing. Fresh and light, these flavorful appetizers are always the hit of the party! Keto and low carb.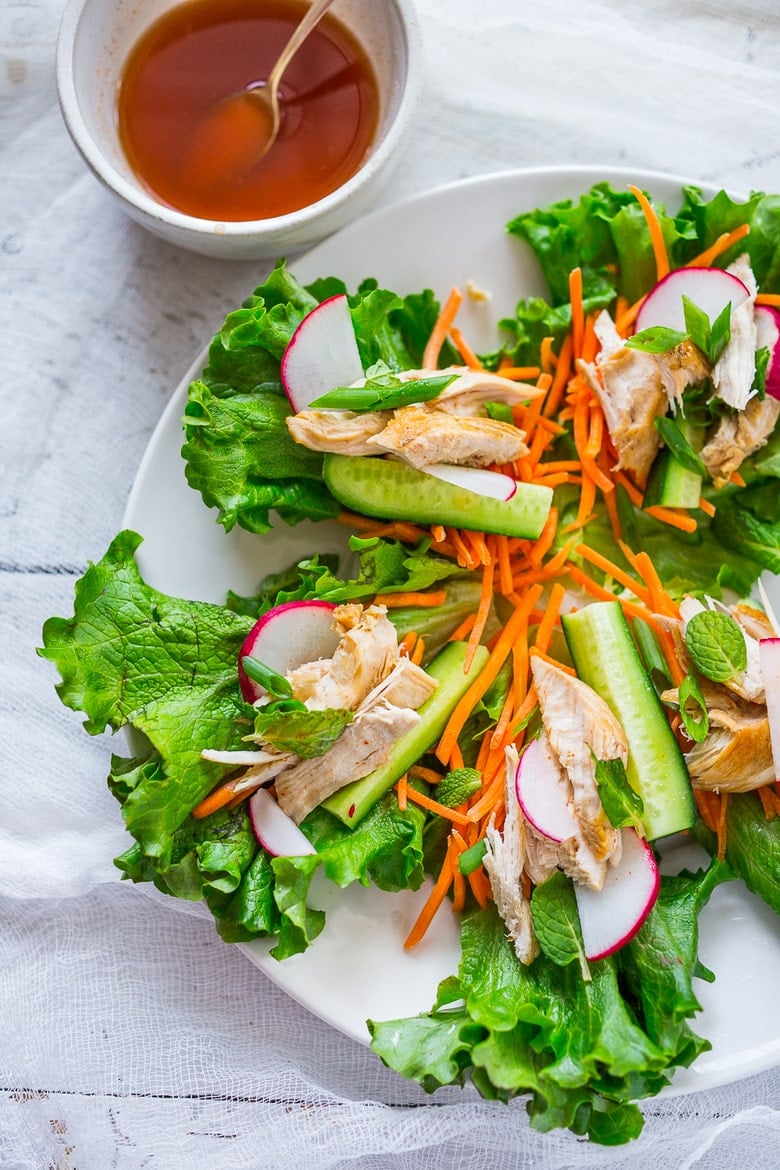 Vietnamese Chicken Lettuce Wraps made with healthy veggies and your choice of chicken or tofu! Serve these up as a light and healthy appetizer or a refreshing lunch!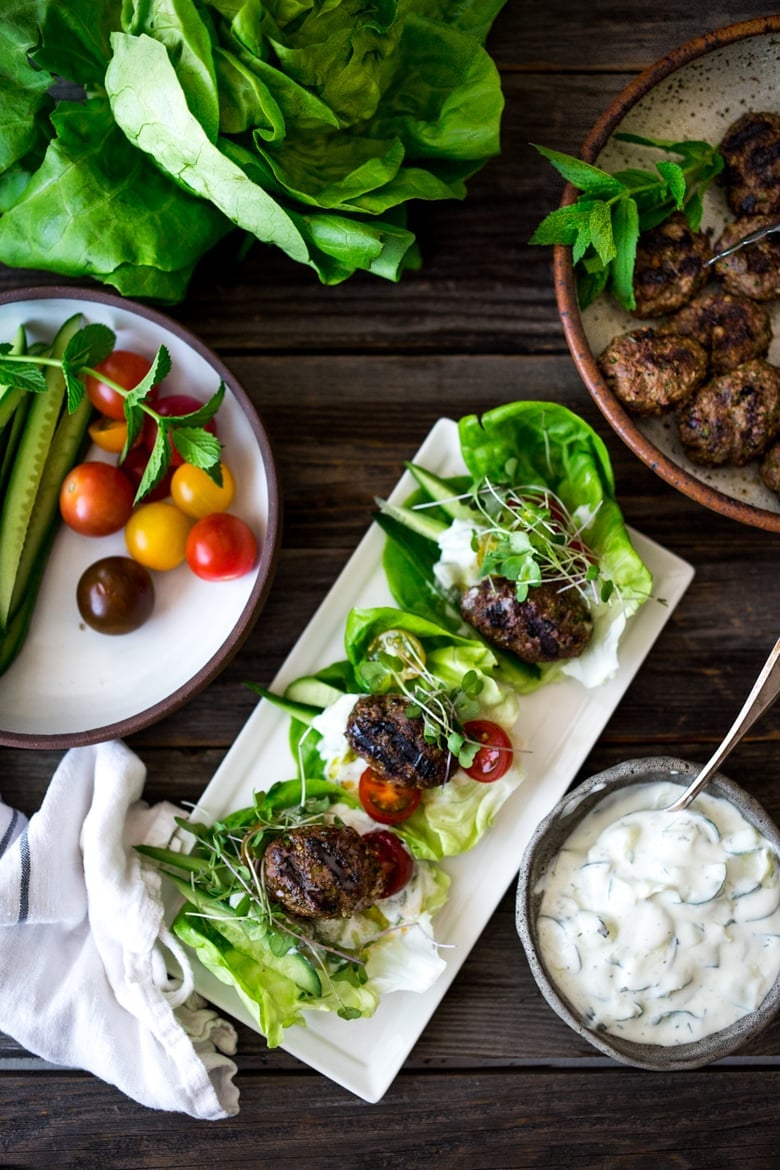 Grilled Lamb Kofta Wraps are light and delicious, and BURSTING with Middle Eastern Flavor! Served with Tzatziki, these are low carb and high in protein.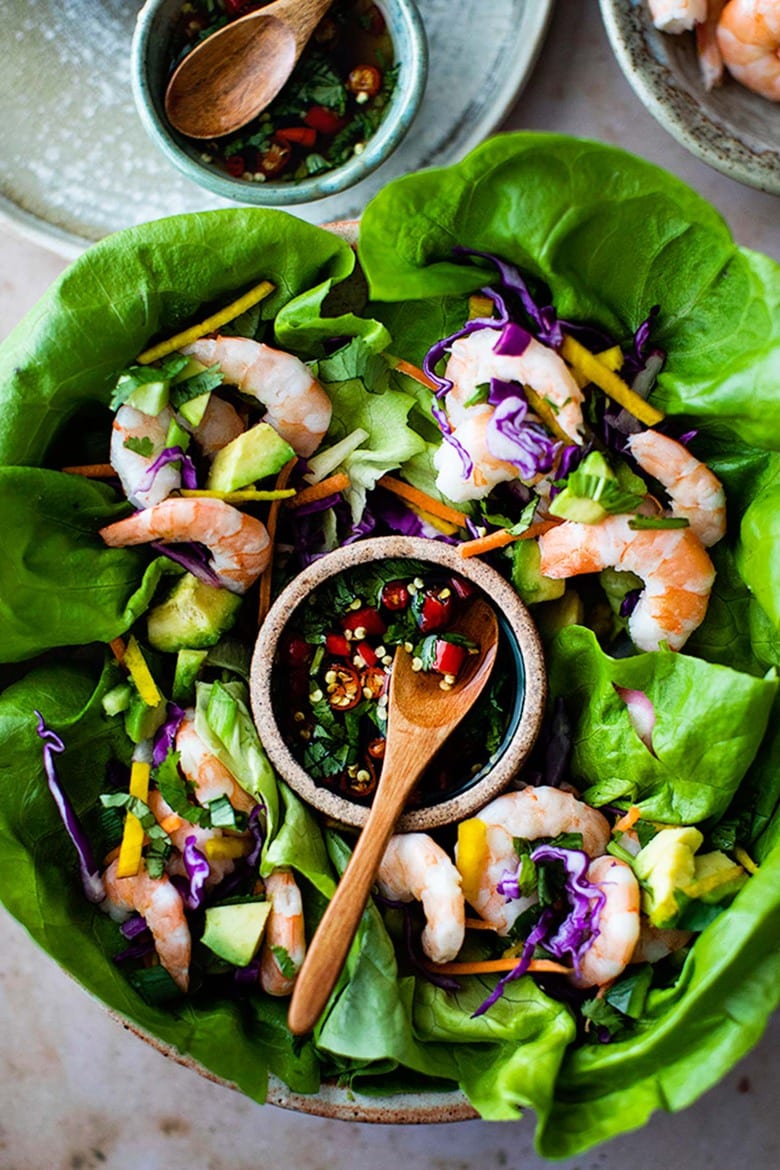 Vietnamese Shrimp Lettuce Wraps with Nuoc Cham, a light and refreshing appetizer, perfect for hot summer days. Flavorful, healthy and low in carbs and calories.
Crackers and Cheese Boards!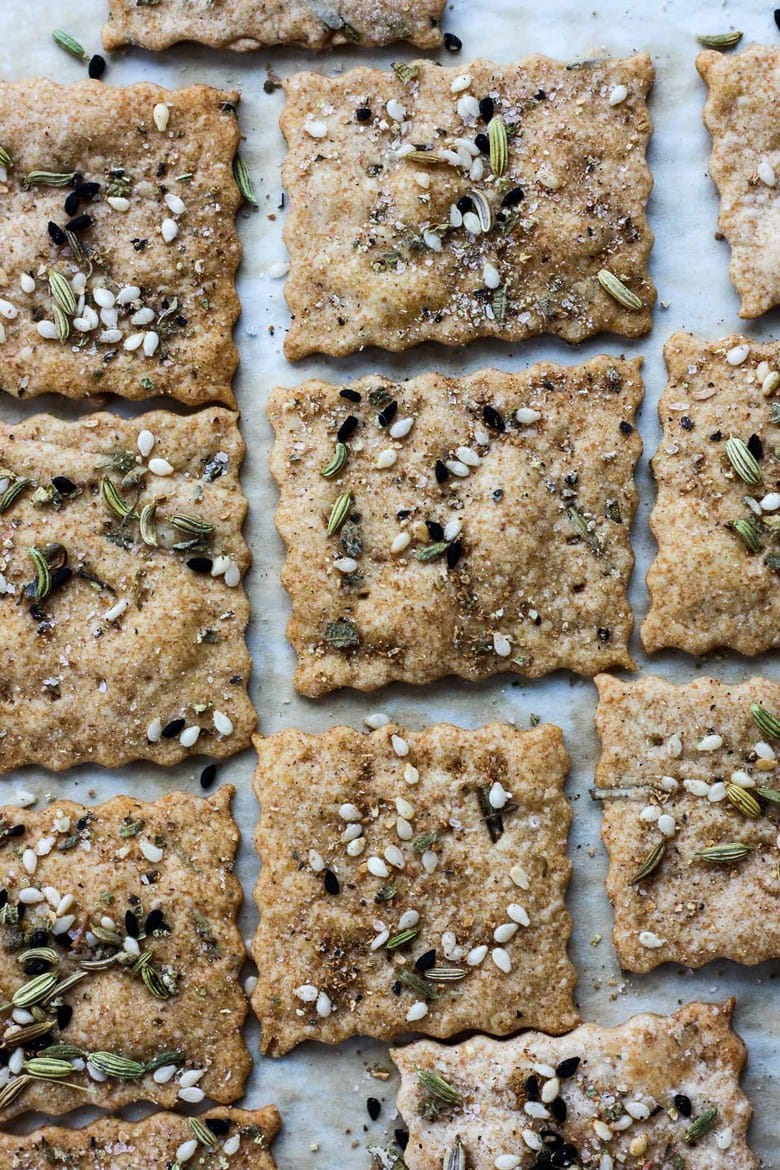 Sourdough Crackers made from sourdough discard or starter.  A quick, easy and adaptable recipe.  These crackers are crisp, tangy and incredibly addicting!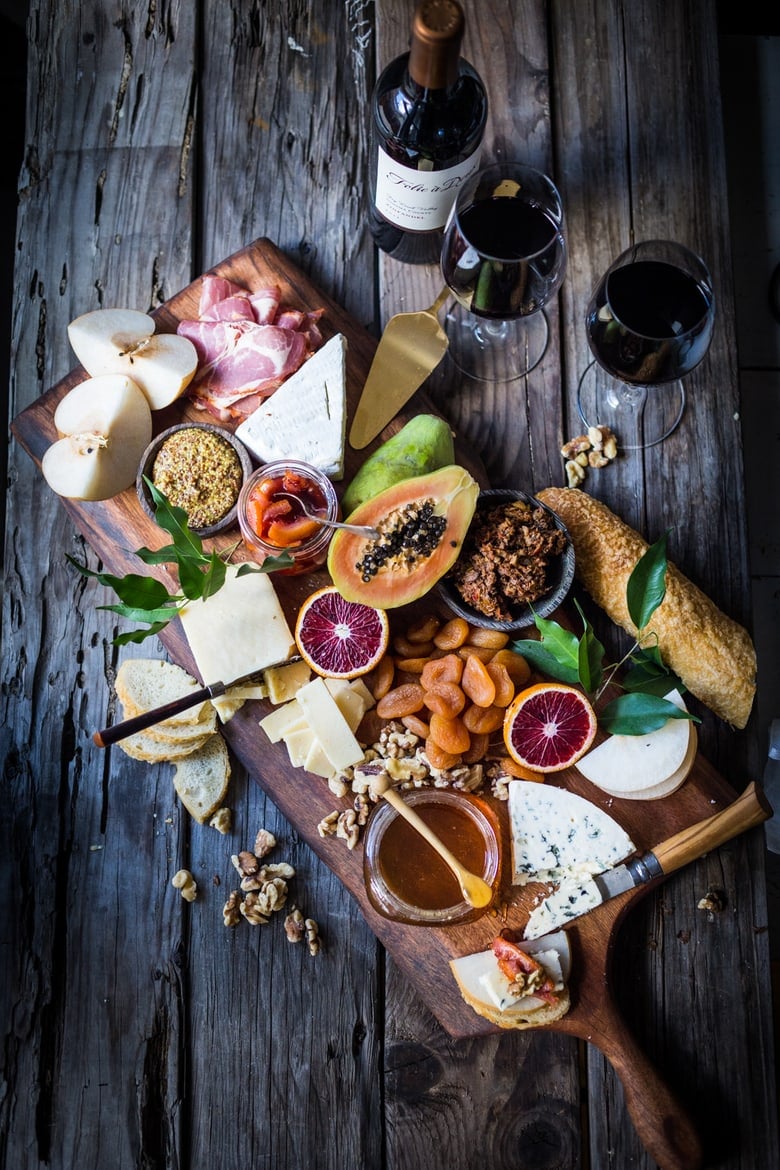 How to make a beautiful  Winter Cheese Board with a good variety of cheeses, winter fruits, spiced nuts, dried fruits, olives, and this delicious recipe for Blood Orange Marmalade.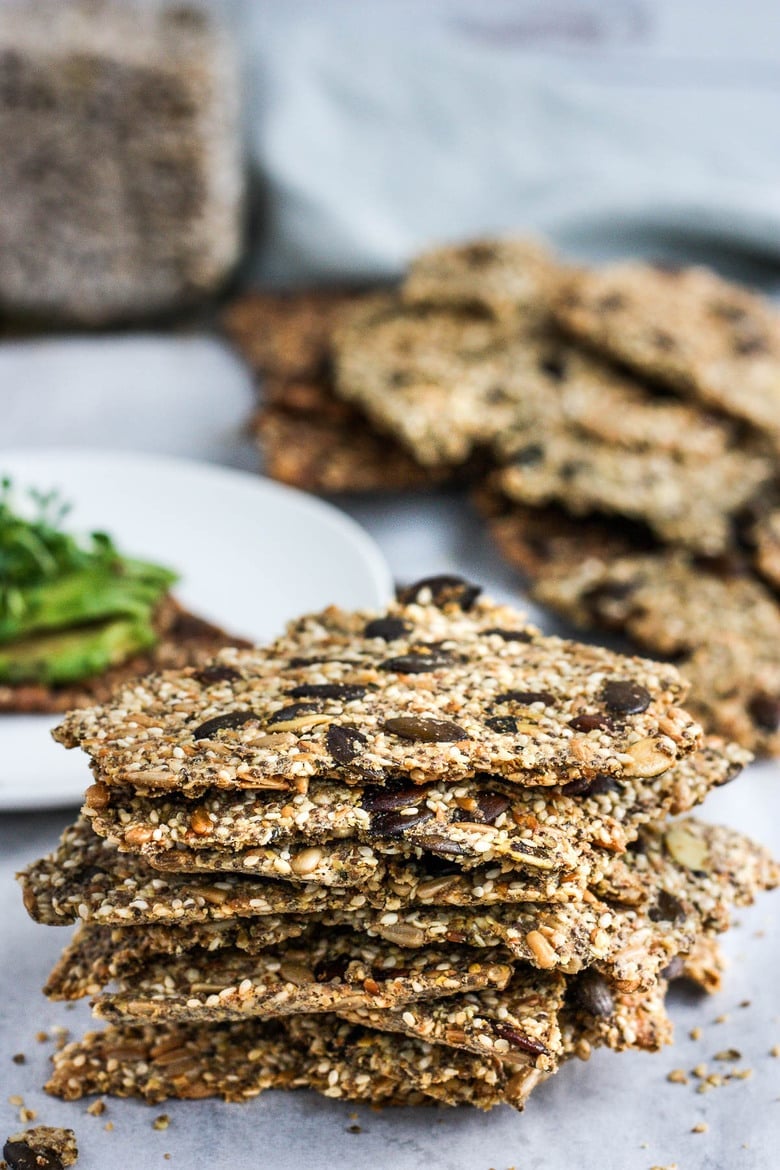 Light and crisp, these Rustic Seed Crackers are keto, gluten-free and vegan.  This recipe is incredibly easy, flexible, adaptable and full of toasty rich flavor.  They are the perfect snack by themselves, and pair with most toppings.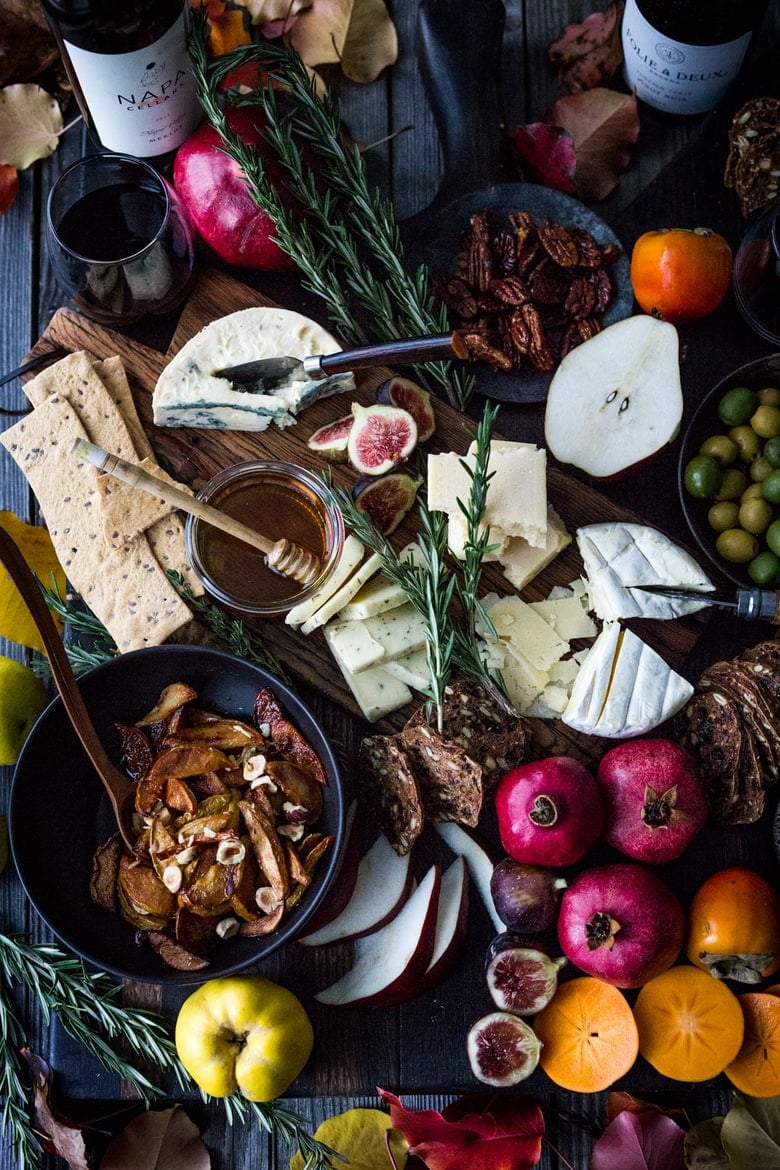 How to make a beautiful Holiday Cheese Board with Roasted Quince, figs, and persimmon, a selection of cheese, honey and olives.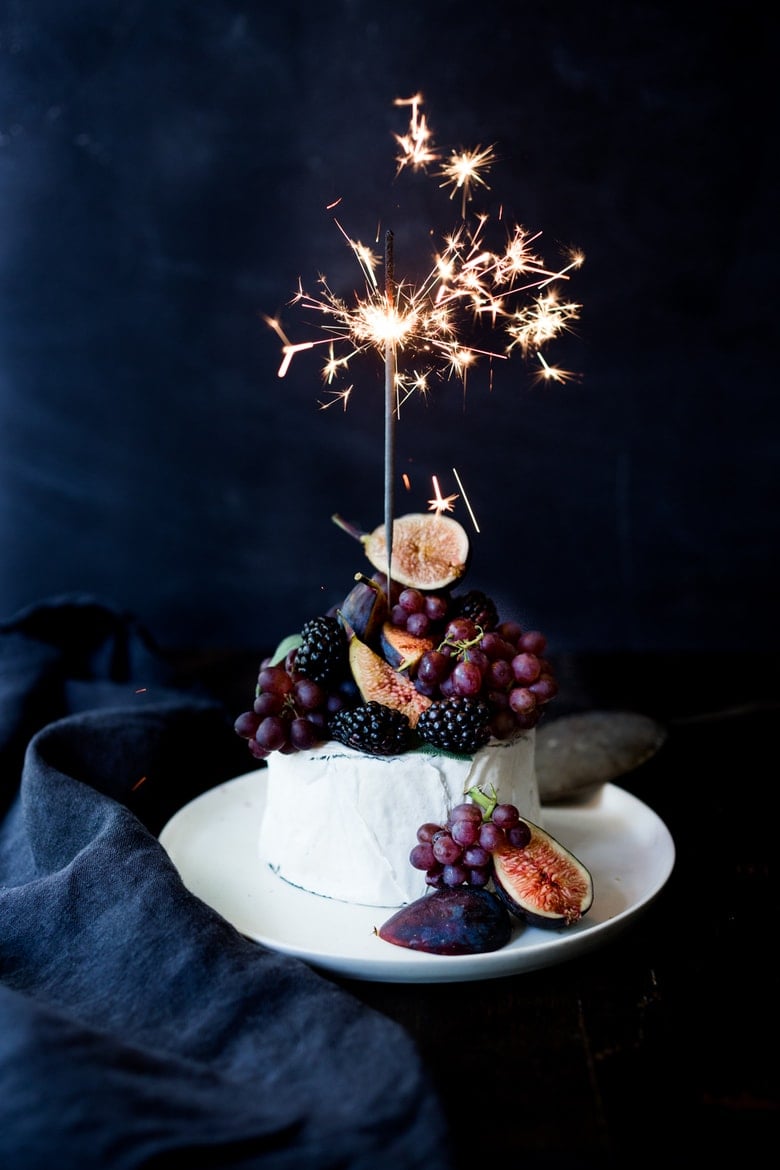 A festive, holiday  Brie Cake topped with fresh berries, figs and grapes, drizzled with honey and served with seeded crackers –  a stunning but very easy holiday appetizer – perfect for parties, celebrations and gatherings!
Little Bites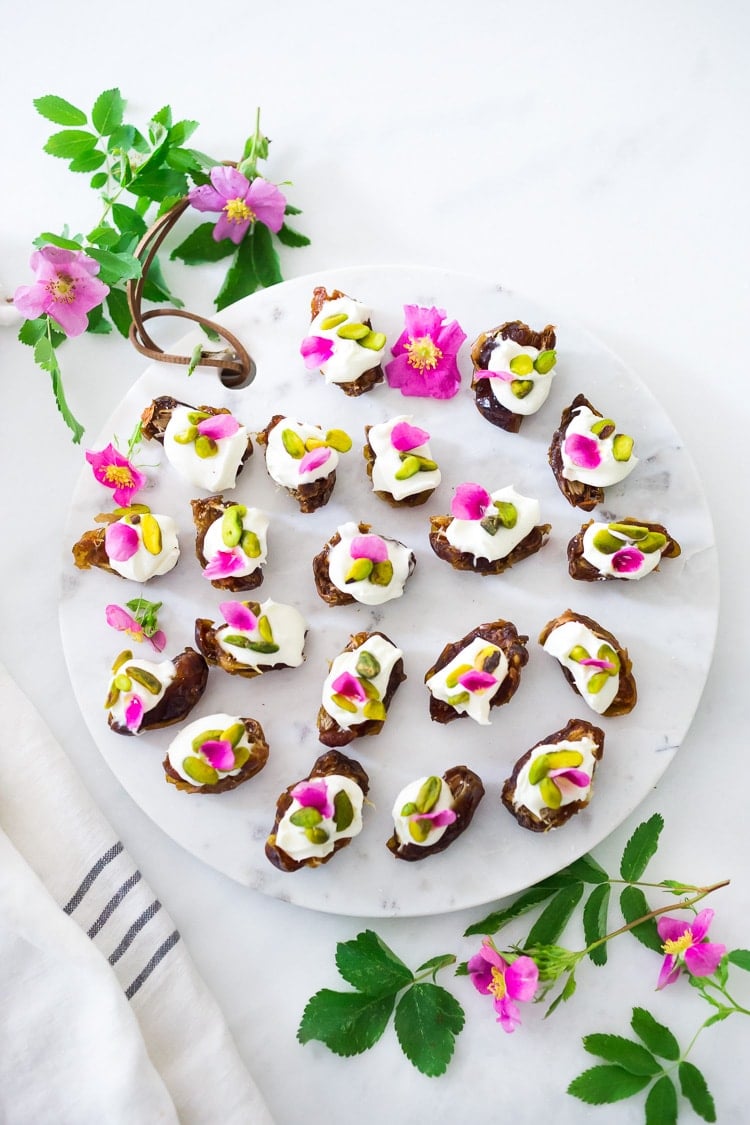 Stuffed Dates with Pistachios and wild rose petals (in summer) or pomegranate seeds (in winter).  A simple easy appetizer that can be made ahead. Perfect for parties and gatherings!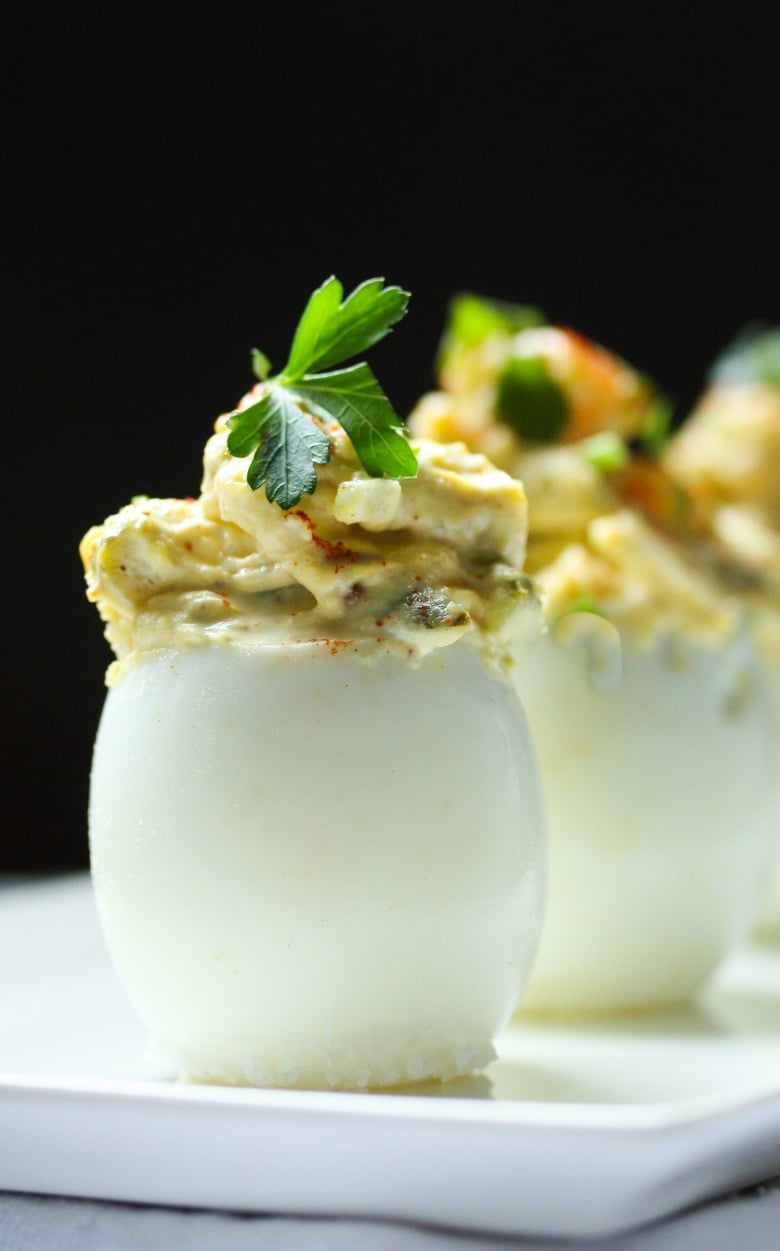 The Best EVER Deviled Eggs– made with crumbled bacon (or sub vegan bacon bits), cheddar and onion, simple and soooooo delicious!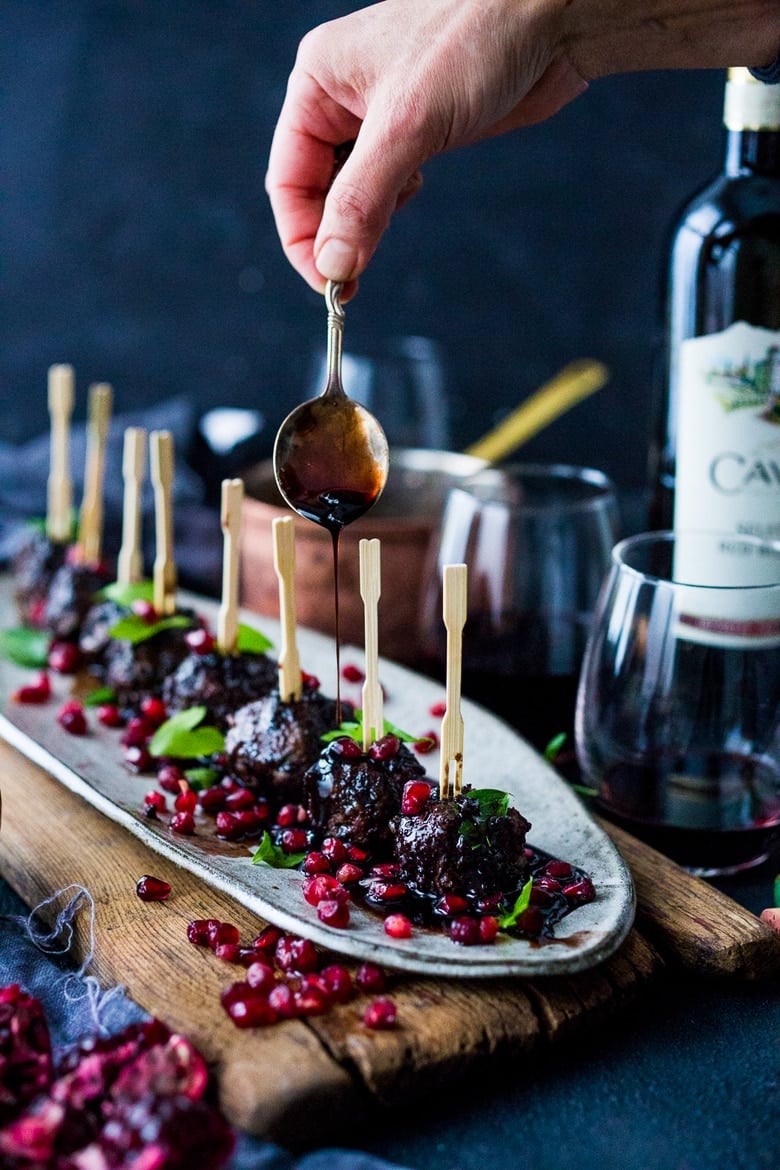 Moroccan Meatballs! with Pomegranate Glaze – sumptuous and flavorful these easy lamb meatballs can be made ahead, then reheated in the oven right before your guests arrive.
Print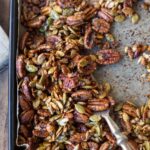 Our 25 BEST Appetizer Recipes
Prep Time:

20

Cook Time:

25

Total Time:

45 minutes

Yield:

8

-

1

2

1

x

Category:

appetizer

Method:

baked

Cuisine:

American

Diet:

Vegan
---
Description
Here are our TOP 25 appetizers to bring to your next party or gathering. Festive, unique and flavorful- many are plant-based and vegan! Plus the easiest Recipe for Spiced Nuts!
---
---
Instructions
Preheat oven to 350F (a toaster oven works here too)
In a small bowl, toss the nuts/seeds with the maple syrup, enough to coat well, and mix in the salt and spices.
Spread out on a parchment-lined sheet pan and bake 13-15 minutes, stirring halfway through.  You want to get them toasted and generously golden- so the maple syrup hardens after cooling.
Remove from heat, and immediately "fluff" with a fork. Let them cool completely.
Once cooled they should be brittle enough to break apart. If they are soft, tacky or sticky- they needed longer in the oven- feel free to put them back in the oven and bake a little longer.
---
Notes
These make a great easy snack or lovely hostess gift!
Nutrition
Serving Size:

¼ cup

Calories:

223

Sugar:

8.7 g

Sodium:

74.7 mg

Fat:

19.7 g

Saturated Fat:

1.7 g

Carbohydrates:

12.6 g

Fiber:

2.8 g

Protein:

2.6 g

Cholesterol:

0 mg
Keywords: spiced nuts, vegan spiced nuts, appetizer recipes, party appetizer ideas, holiday appetizers, Christmas appetizer, healthy appetizers, vegan appetizers, holiday appetizers, meatless appetizers, appetizers to bring to a party, party ideas,