An addicting recipe for Crab Cakes with cilantro, lime zest and jalapeno served with a sweet and punchy Red Pepper Vinaigrette.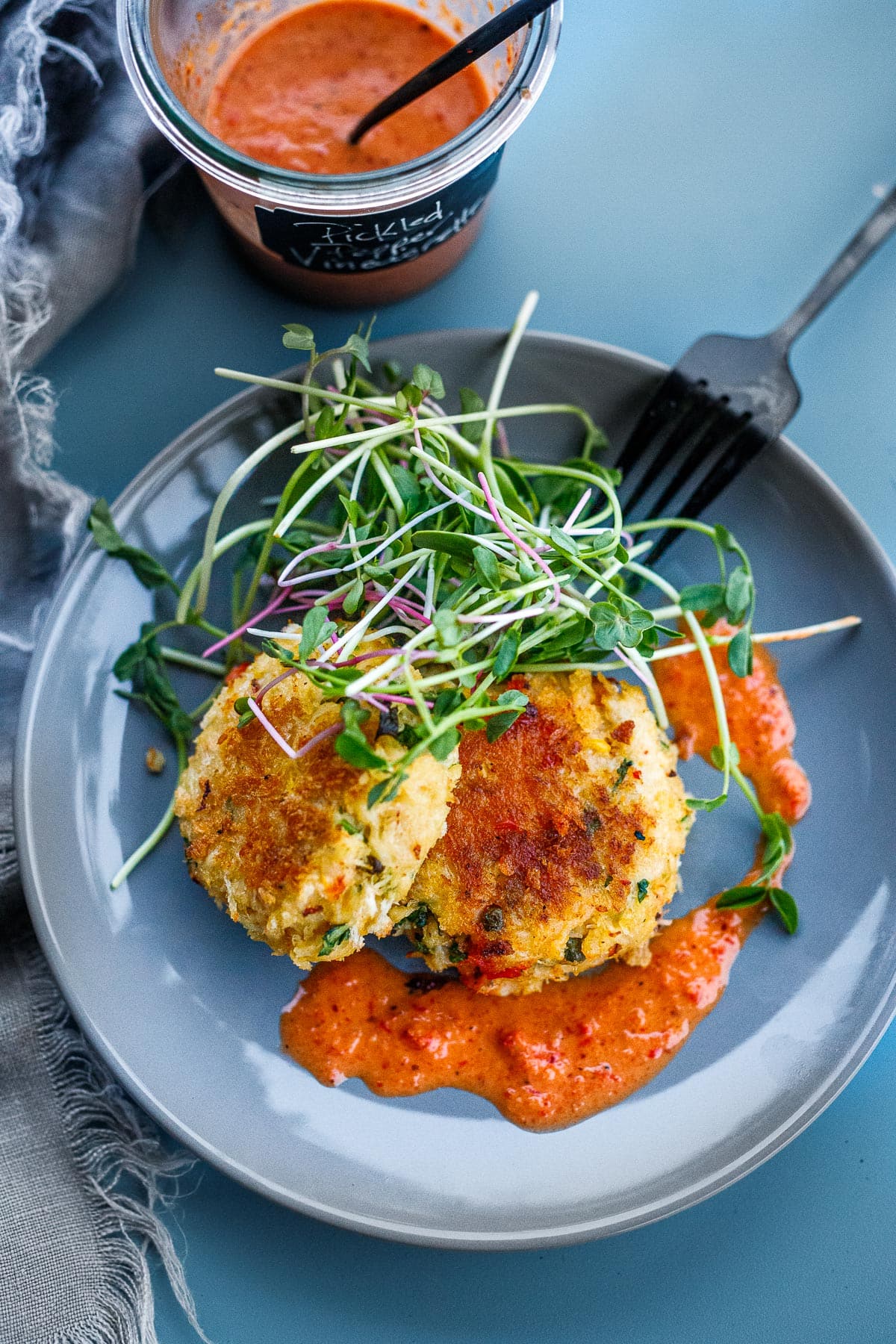 Here's another catering recipe I thought I'd share… Crab Cakes! This recipe can be served as a main course or an appetizer depending on the size of the cakes.
WhaT I Love about these Crab Cakes!
They are light, heavenly and flavorful!
Made with very little "filling", the fresh crab cakes are infused with lime zest , cilantro and a hint of jalapeno (or just as easily could be made more classically with lemon zest and parsley) with the lightest panko crust.
Serve with a big leafy green salad and a drizzle of Red Pepper Vinaigrette and prepare to be dazzled.
Ingredients in Crab Cakes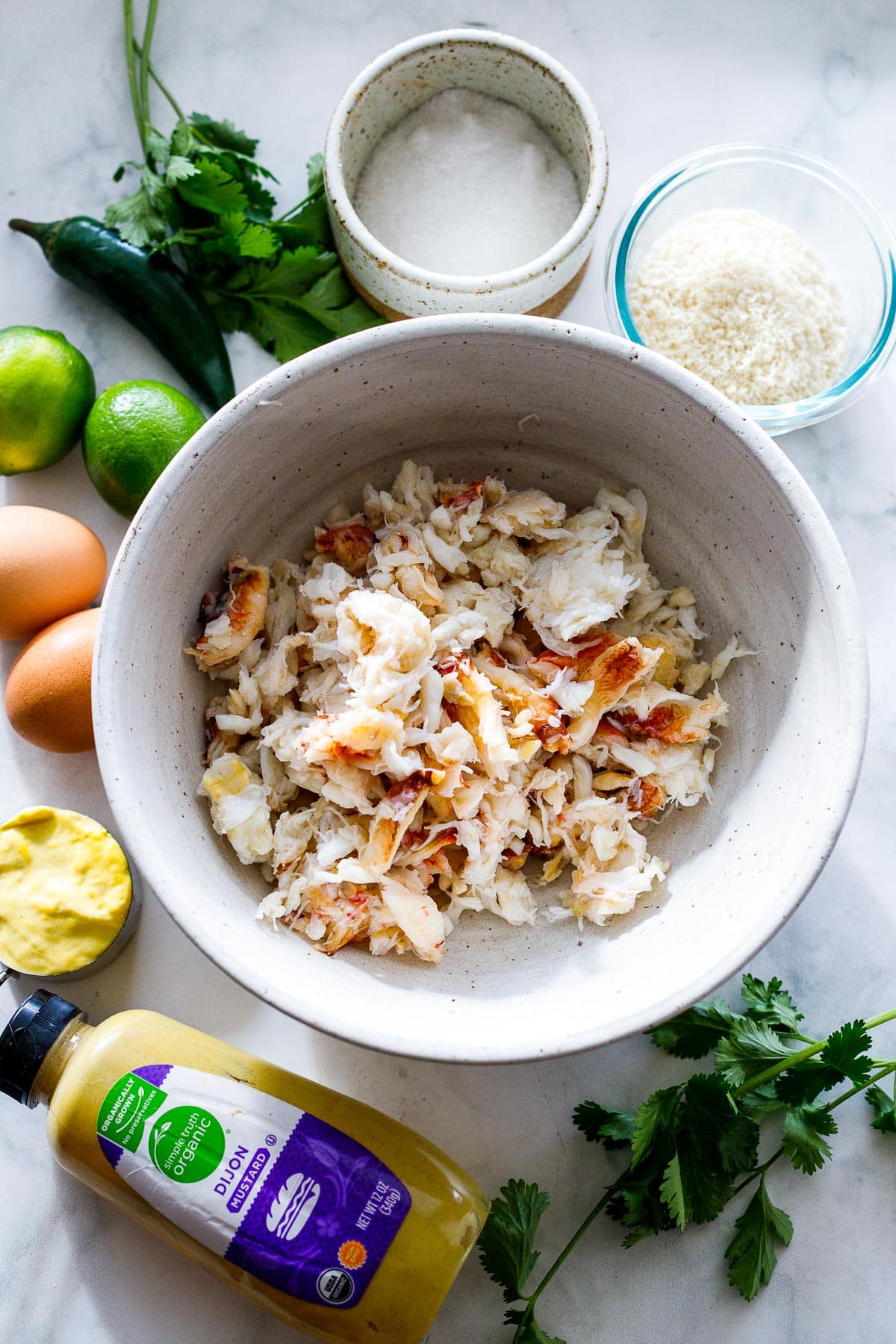 Ingredient Notes
Crab: for the best flavor use fresh Dungeness Crab meat if possible. Fresh lump crab meat will work too. It comes cooked and refrigerated, not canned. Costco often has the BEST deals.
Panko: use panko instead of bread crumbs for the lightest filling and best crust. Breadcrumbs will make them heavy and stodgy.
Lime zest: a different spin on crab cakes, enlivens them- or sub-lemon zest
Cilantro: or sub-flat-leaf parsley
Jalapeno– gives a nice little kick, optional, but delicious!
See the recipe card for full recipe details .
How to make Crab Cakes
Mix wet ingredients together in a bowl. Egg, mayo, mustard, along with herbs, zest and seasonings.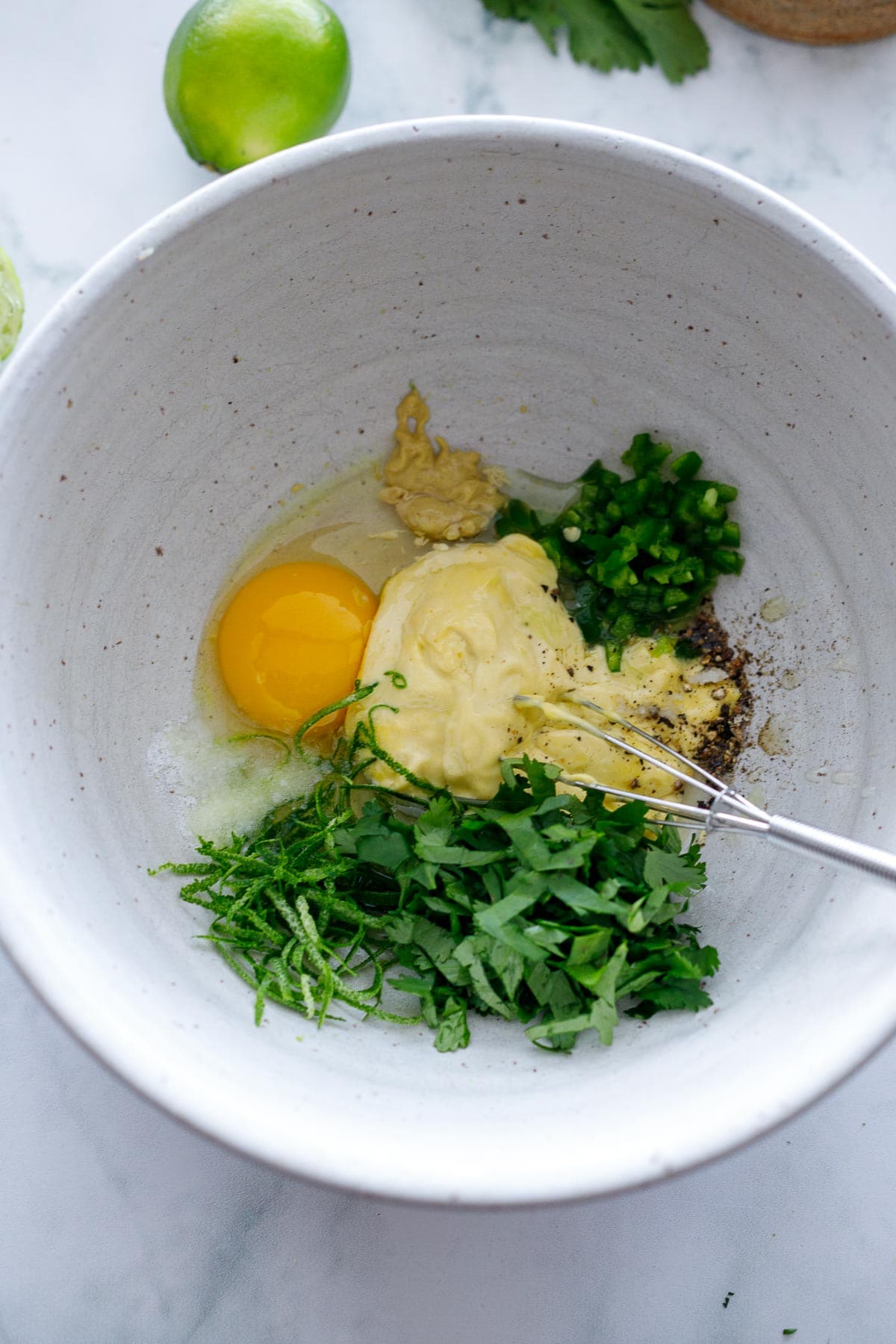 Whisk until well combined.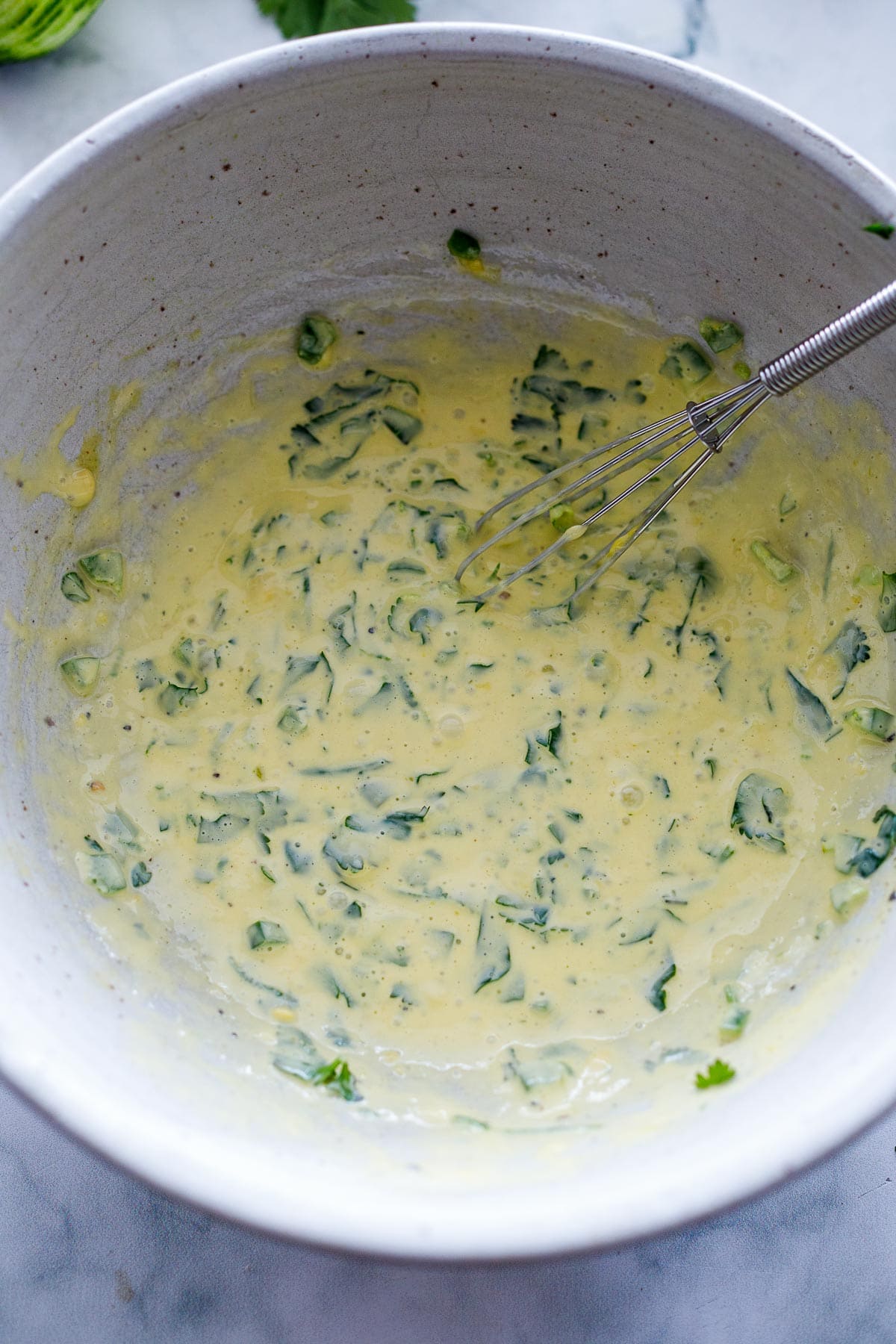 Drain and strain the crab meat, pressing out any liquid. Fold in the crab meat, breaking apart any extra large pieces which can make it difficult for the crab cakes to stay together. The crab meat should smell pleasant like the ocean, and taste sweet.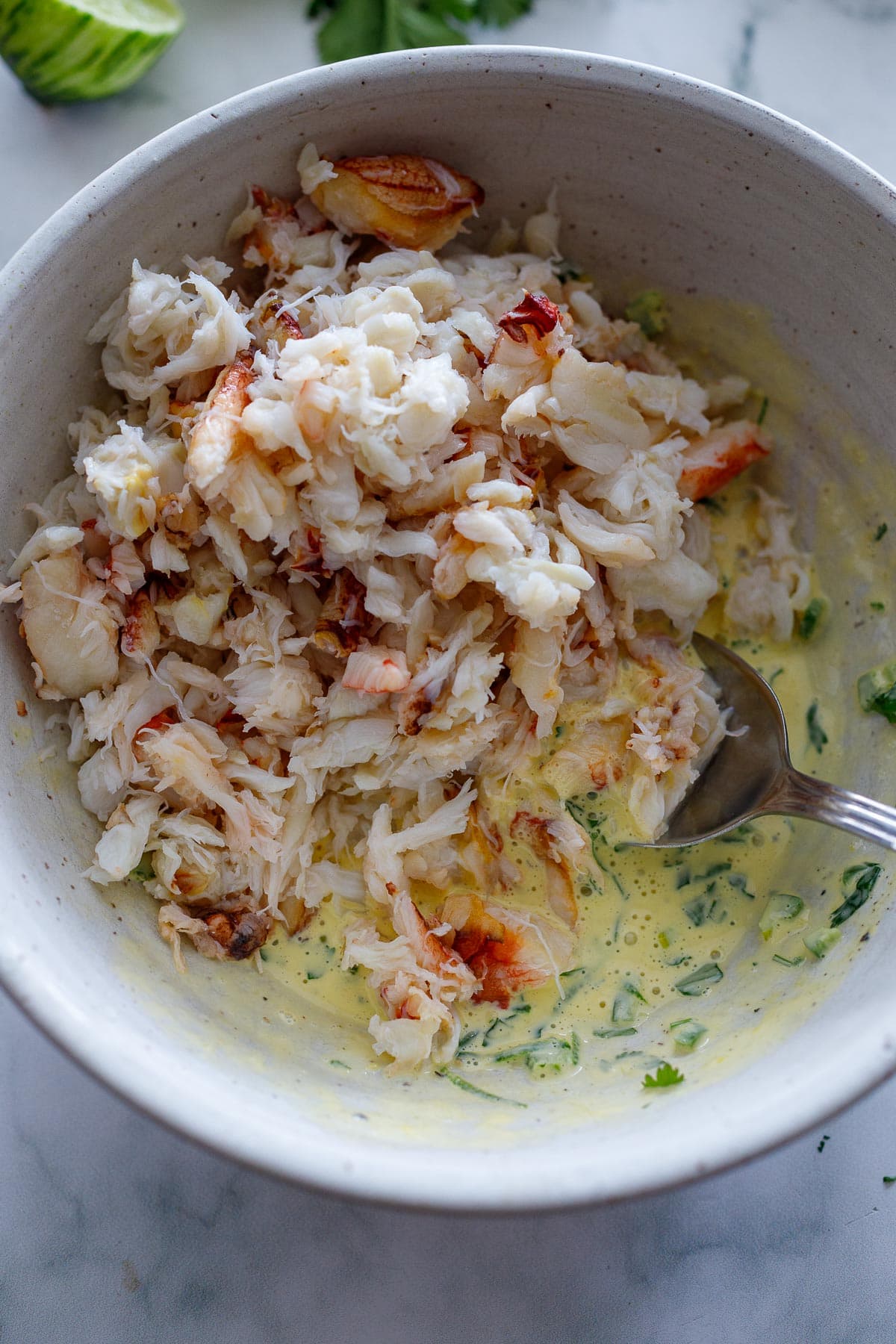 Fold in the panko bread crumbs.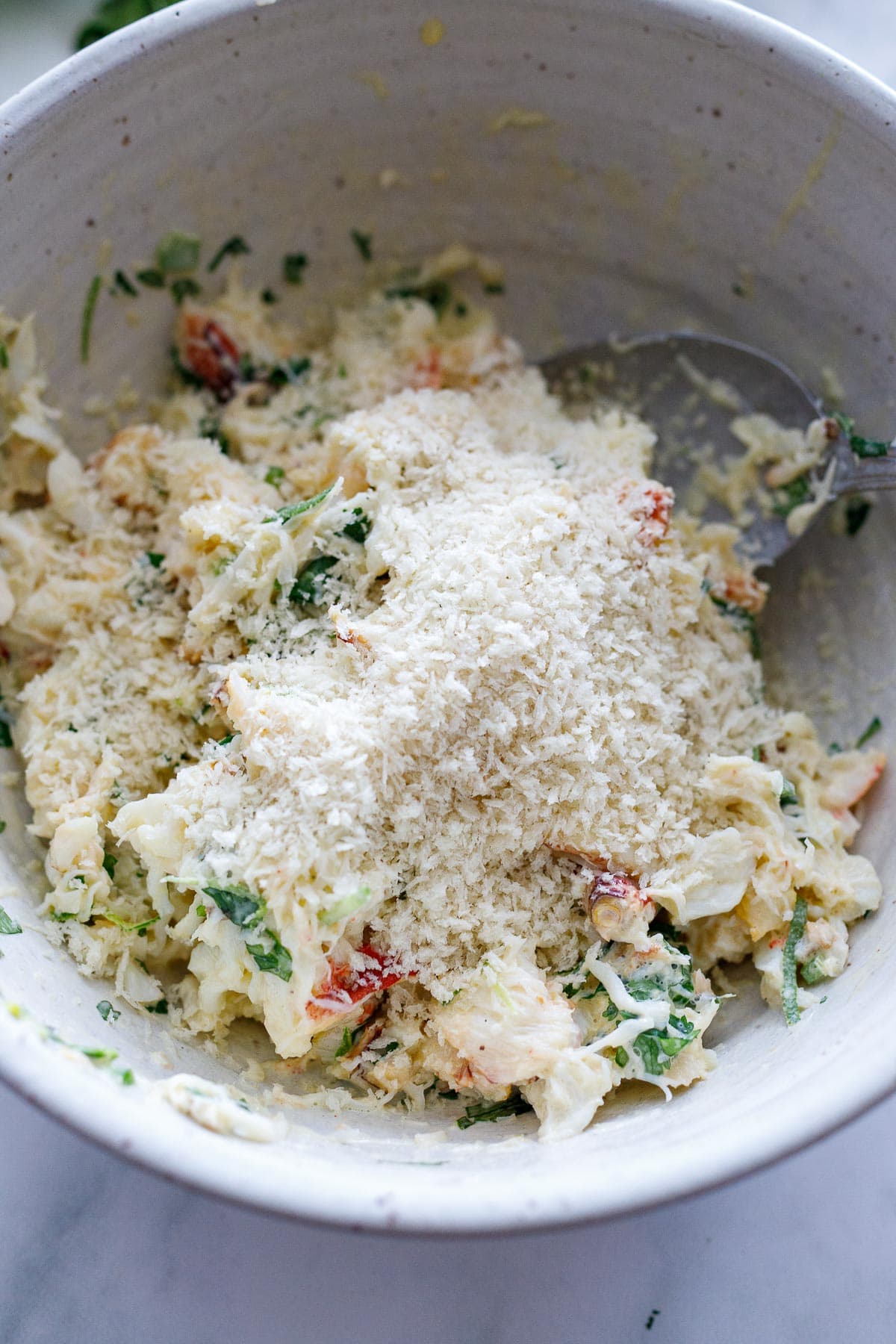 Stir until combined. Refrigerate for 30-60 minutes.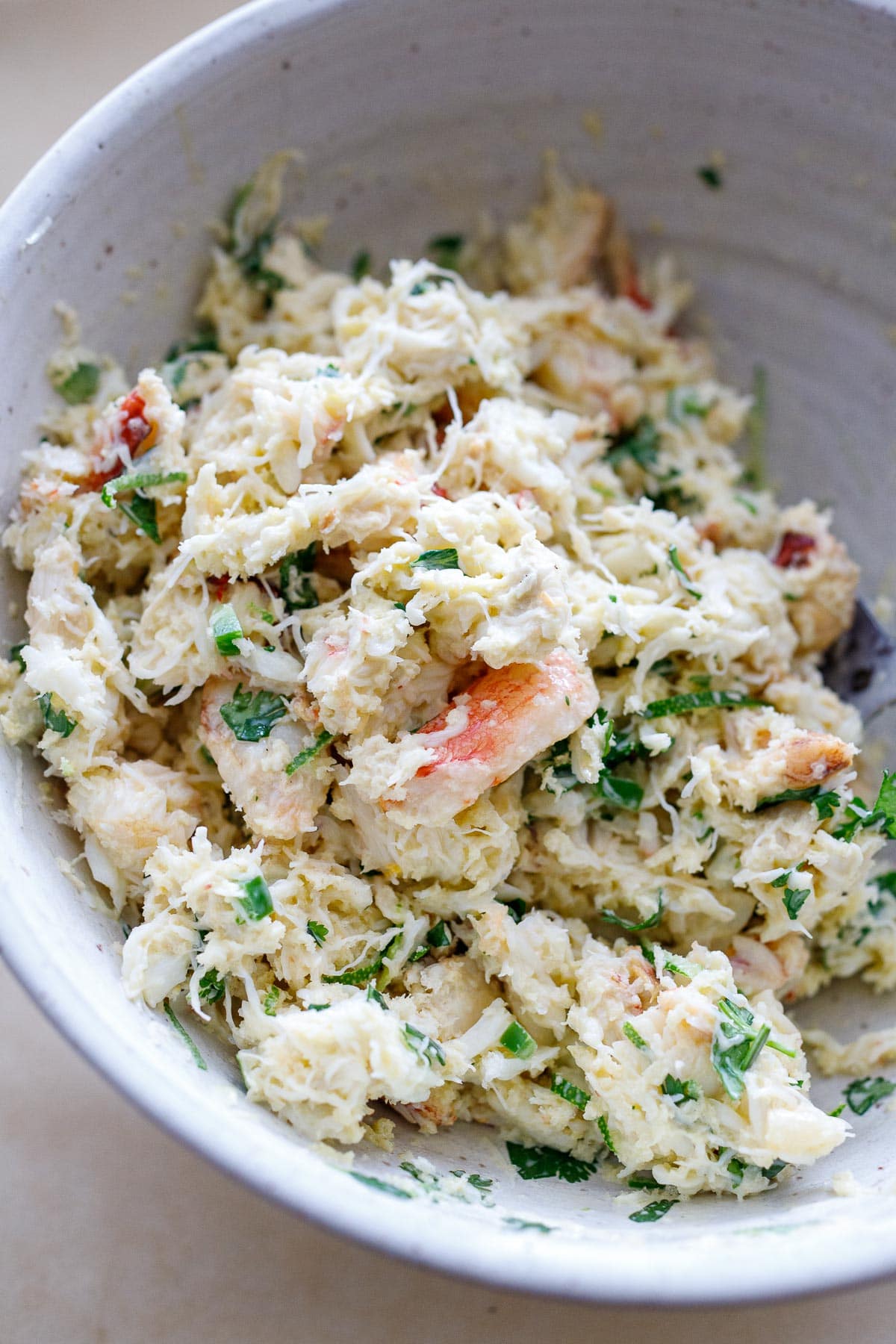 While this is refrigerating, make the Red Pepper Vinaigrette.
Our Chipotle Mayo would also be tasty here!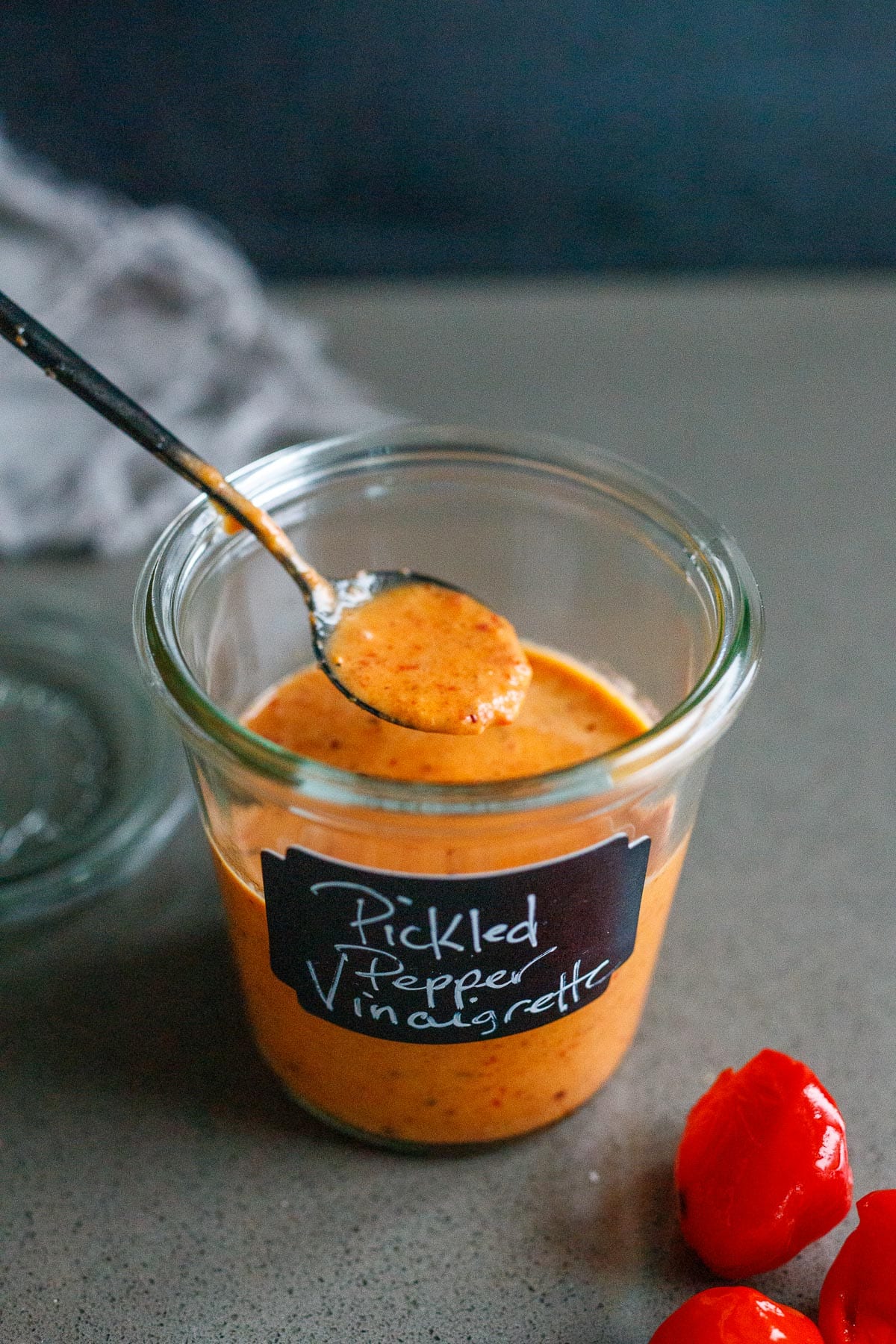 Shape the crab cakes. Divide and press into cakes, compressing with your hands. For entree-sized cakes, make 6-8. For appetizer-sized crab cakes make 12.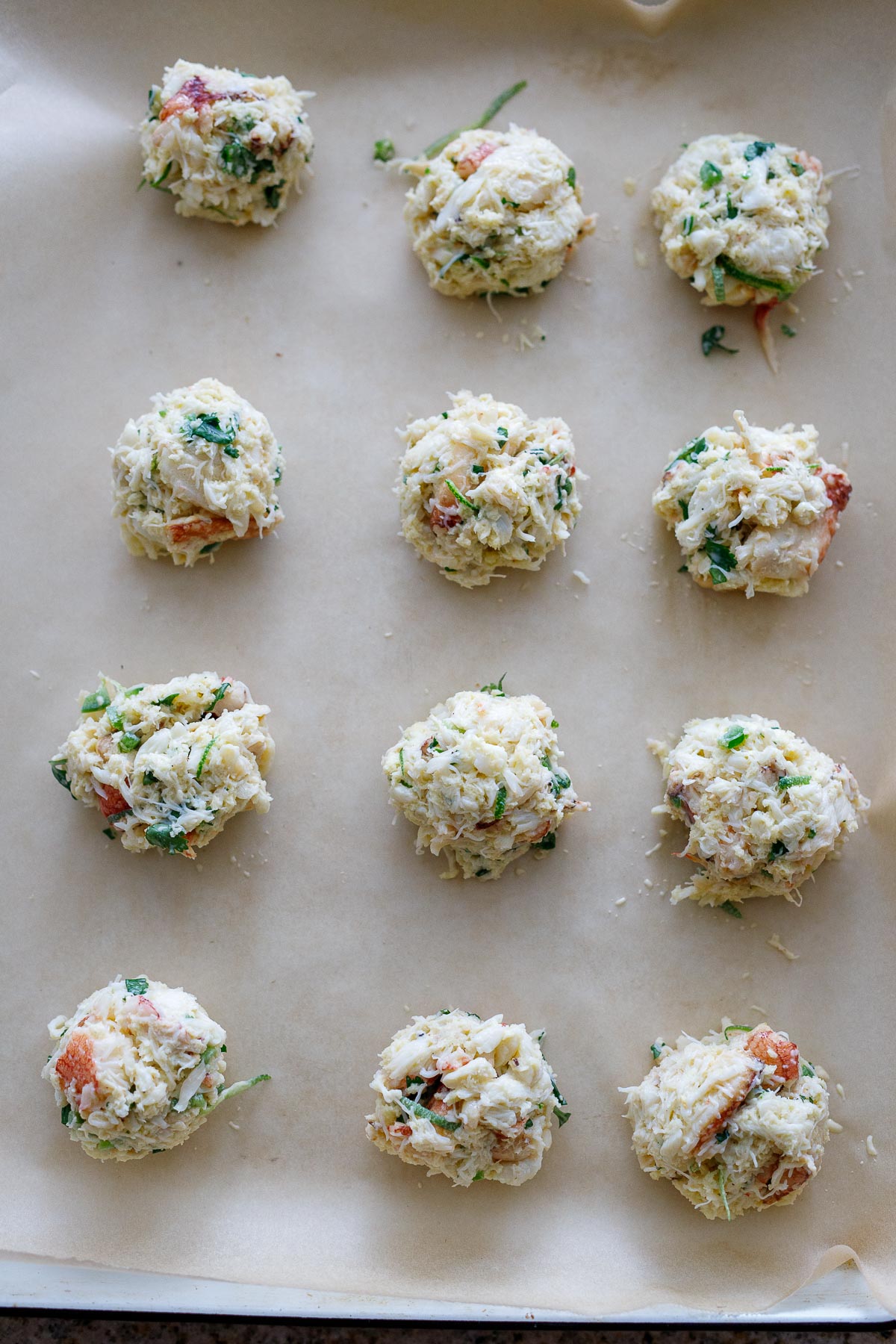 Lightly coat the outside of the cakes with panko.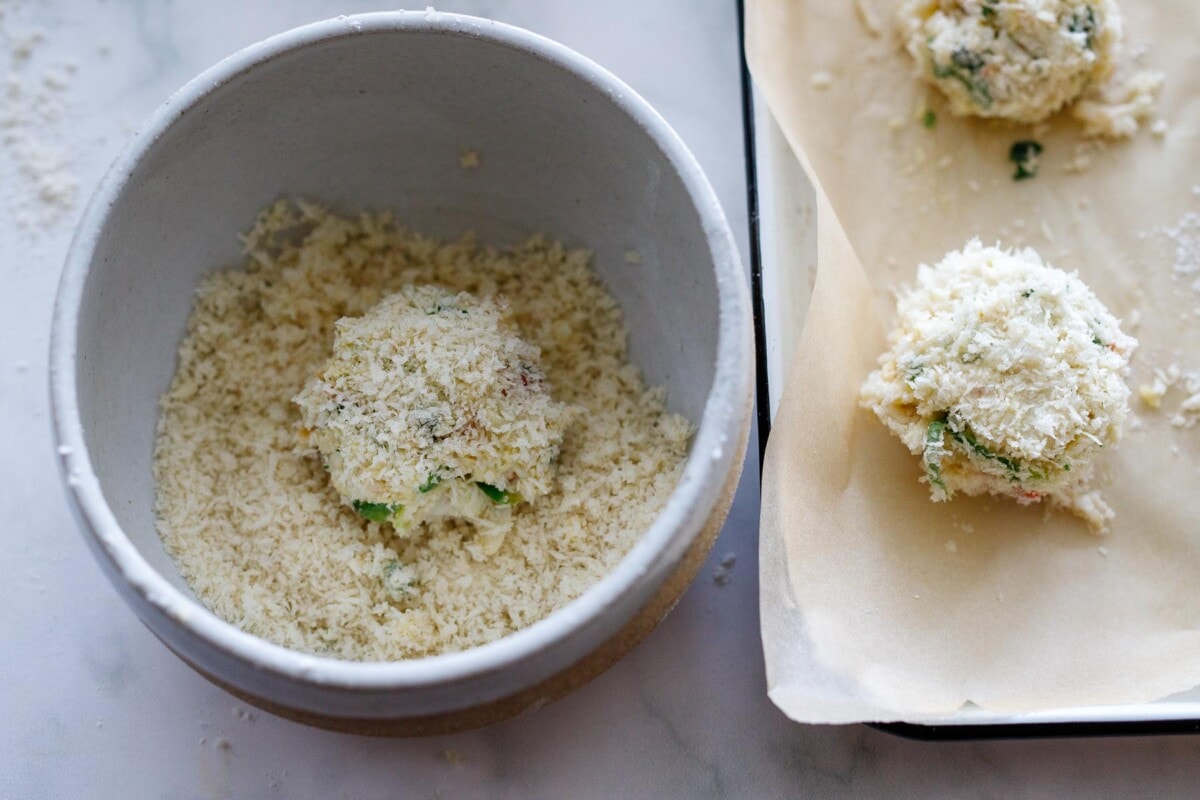 Pan-sear in a skillet, using ghee (or a mixture of butter and olive oil) then finish off in a 375F oven.
The cakes require delicate handling because we are using less "filler" here, but once cooked all the way through the egg will really help bind them.
Using a thin metal spatula, a gentle hand, and not crowing the pan really helps!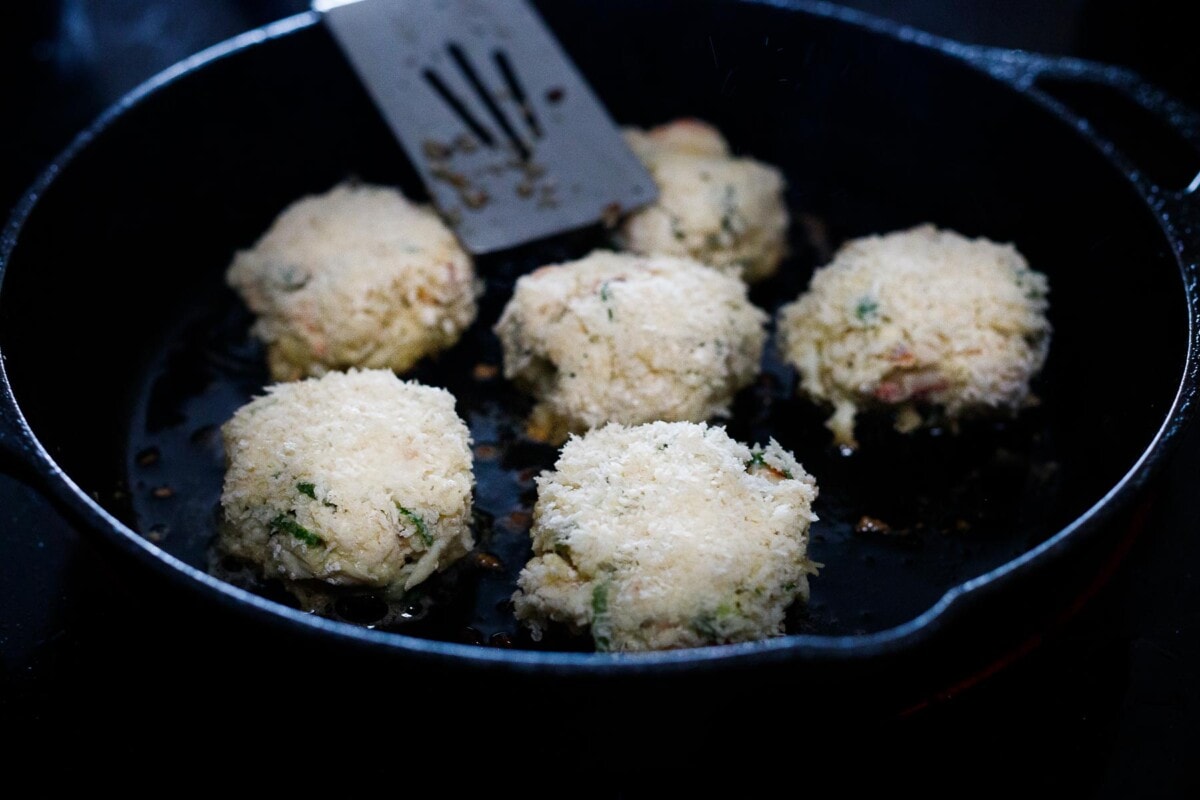 Finishing them off in the oven, allows the egg to cook through without over-browning the cakes, and keeps them warm if you are cooking in batches.
Serve them as an appetizer or as a main course.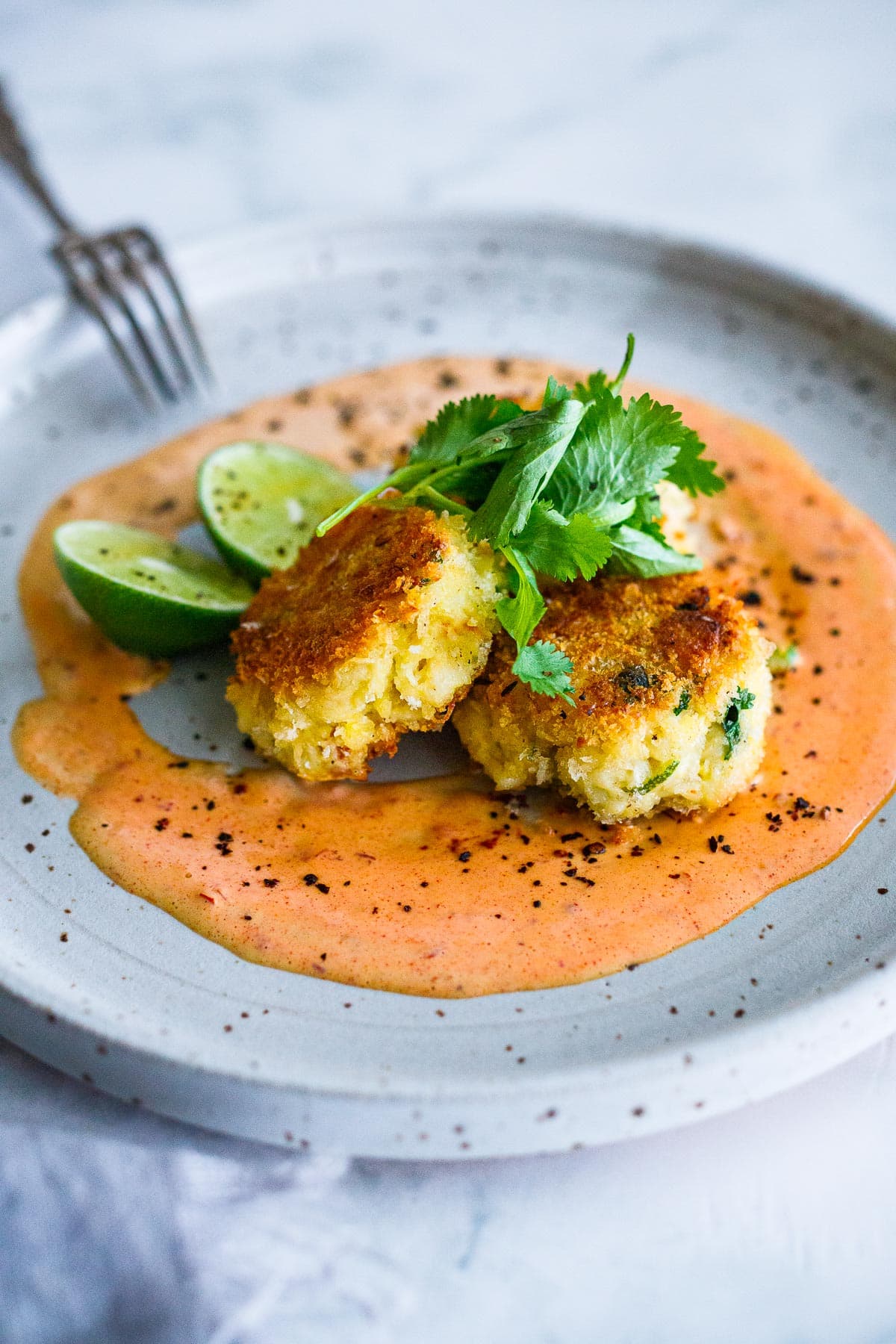 Leftovers can be refrigerated for up to three days (or frozen)- and can be deliciously repurposed into the tastiest sandwich (use toasted brioche buns and a crisp coleslaw with chipotle mayo) or even made into breakfast- make a crab cake benedict! Yum.
What to Serve with Crab Cakes
Red Pepper Vinaigrette ( see recipe card)
Big Herby Green Salad
Avocado, lime and cilantro
Grilled veggies or Roasted Veggies
Recipe Faqs
Can you bake crab cakes?
Yes, feel free to shape, coat and place on a parchment-lined sheet pan, coated in olive oil or melted butter, and spray the tops with spray olive oil. Bake in a 450F oven for 13-15 minutes, or lightly golden brown.
What prevents crab cakes from falling apart?
Using a binder (egg, mayo and panko), breaking apart any large pieces of crab, and refrigerating the crab mixture for 30-60 minutes, and cooking the crab cakes all the way through, will all help prevent the crab cakes from falling apart.
What oil is best to cook crab cakes?
Using a mixture of butter and olive oil, or using ghee, gives the crab cakes the best flavor while raising the smoke point (of just using butter alone).
Can crab cakes be made ahead?
Feel free to mix the crab cakes ahead and refrigerate either in the bowl or formed into cakes, covered, for up to 24 hours.
How to store cooked crab cakes?
Leftover crab cakes will keep in the fridge for up to three days- or feel free to freeze.
More recipes you may like
On the homefront: We are spending the winter in Bend, Oregon this year. It's been cold but sunny! The sky is big here, and brilliantly blue. Since we've been here, the sun has peeked out almost every day! Mornings are filled with brisk long walks with Lumi, exploring new territories, with the healing sunshine in our faces. It feels good to experience someplace new, and Bend has such a vibrant friendly vibe.
xoxo
Print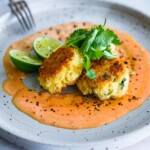 Crab Cakes with Cilantro and Lime
Prep Time:

60

Cook Time:

20

Total Time:

1 hour 20 minutes

Yield:

6

1

x

Category:

main, appetizer

Method:

stovetop

Cuisine:

American
---
Description
These zesty crab cakes are the best! Made with fresh crab, lime zest, cilantro and jalapeño, served up with a red pepper vinaigrette. Feel free to use lemon and parsley instead. Makes 6 large crab cakes, or 12 small "appetizer" crab cakes.
---
1

lb

fresh, cooked Dungeness crab meat (or fresh lump crab), strained, drained WELL.

1

large egg

1/4

cup

mayo
zest from

1

large lime, finely chopped, 2 tablespoons (or sub-lemon zest)

2 teaspoons

lime juice

1/2

–

1

tablespoon fresh jalapeno, finely chopped

1 teaspoon

dijon mustard (or ground mustard)

1/4

cup

chopped cilantro (or sub-flat-leaf parsley)

1/4

cup

red bell pepper, very finely chopped,

1/4 teaspoon

salt

1/4 teaspoon

pepper

1/2

cup

panko– plus 1/2 cup to 1 cup more for dredging. (Panko is MUCH better than breadcrumbs here) Feel free to use GF panko. as needed for searing.
Garnishes- lime wedges, cilantro or microgreens
Red Pepper Vinaigrette (or make our Chipotle Aioli)
1/2

cup

pickled red cherry peppers- Peppadew or Juanita (or sub roasted peppers in a pinch). These are easily available in the grocery aisle near pickles & olives, or often in an "olive bar".

1/3

cup

olive oil

3 tablespoons

sherry vinegar (or AC vinegar, or champagne vinegar)

1/3 teaspoon

salt

1/2 teaspoon

pepper

1 1/2 tablespoons

honey

1

garlic clove, quartered

1/2 teaspoon

chili flakes (optional, to taste)
---
Instructions
Place the crab in a strainer over a bowl, and let it drain, pressing out any excess liquid. Feel for shells or cartilage and discard. Tear any extra-large pieces into smaller pieces so crab cakes hold together better. The crab should smell fresh and taste sweet and like the ocean.
In a medium bowl, whisk the egg, mayo, lime zest, lime juice, jalapeno, mustard, salt and pepper until smooth. Stri in the cilantro and red bell pepper. Fold in the crab. Then stir in the 1/2 cup panko. Refrigerate in the bowl for 30-60 minutes.
Make the Red Pepper Vinaigrette ( see notes) or Chipotle Aioli.
Preheat to the oven to 350F.
Place a piece of parchment paper on a small sheet pan. Place 1/2-1 cup panko in a bowl or on a plate ( for dredging). Divide crab mixture into equal portions (6 x 1/2-cup portions for entree-sized, 12 x 1/4-cup portions for appetizer-sized) and then compress with your palms into balls, about 1 1/2 inches-2 inches thick, slightly flattening them. Carefully dredge the balls into the panko, again pressing them together.
Heat ghee in a large skillet over medium heat. Using a delicate hand, working in small batches, carefully sear each side for 3 minutes, or until perfectly golden, and place on the sheet pan in the oven to keep warm and cook the egg all the way through (which will help them bind even more). A small thin metal spatula works wonders here.
Bake for 10-15 minutes, or until puffed, and internal temp is 145F.
Plate and serve with the Red Pepper Vinaigrette or Chipotle aioli, a wedge of lime, and a cilantro sprig.
---
Notes
Red Pepper Vinaigrette: Place all ingredients in a blender and blend. If using roasted peppers instead of pickled peppers- taste and perhaps add a little more vinegar and honey. The dressing should taste sweet, and tangy with a little kick of heat. I often add more chili flakes. If you like smoky flavors, add a 1/4 teaspoon of smoked paprika. You can also use this to dress salad greens.
Nutrition
Serving Size:

½-cup serving of crab cake (no sauce)

Calories:

250

Sugar:

1.7 g

Sodium:

620.4 mg

Fat:

13.1 g

Saturated Fat:

4.1 g

Carbohydrates:

15 g

Fiber:

1.4 g

Protein:

17.3 g

Cholesterol:

118.4 mg
Keywords: Crab cakes, crab cake recipe, best crab cake recipe