This Lobster Bisque Recipe is made simple and easy with quick homemade lobster stock, big bites of lobster, and a creamy luscious bisque thickened with sweet potatoes. For extra decadence saute the lobster in browned butter infused with garlic.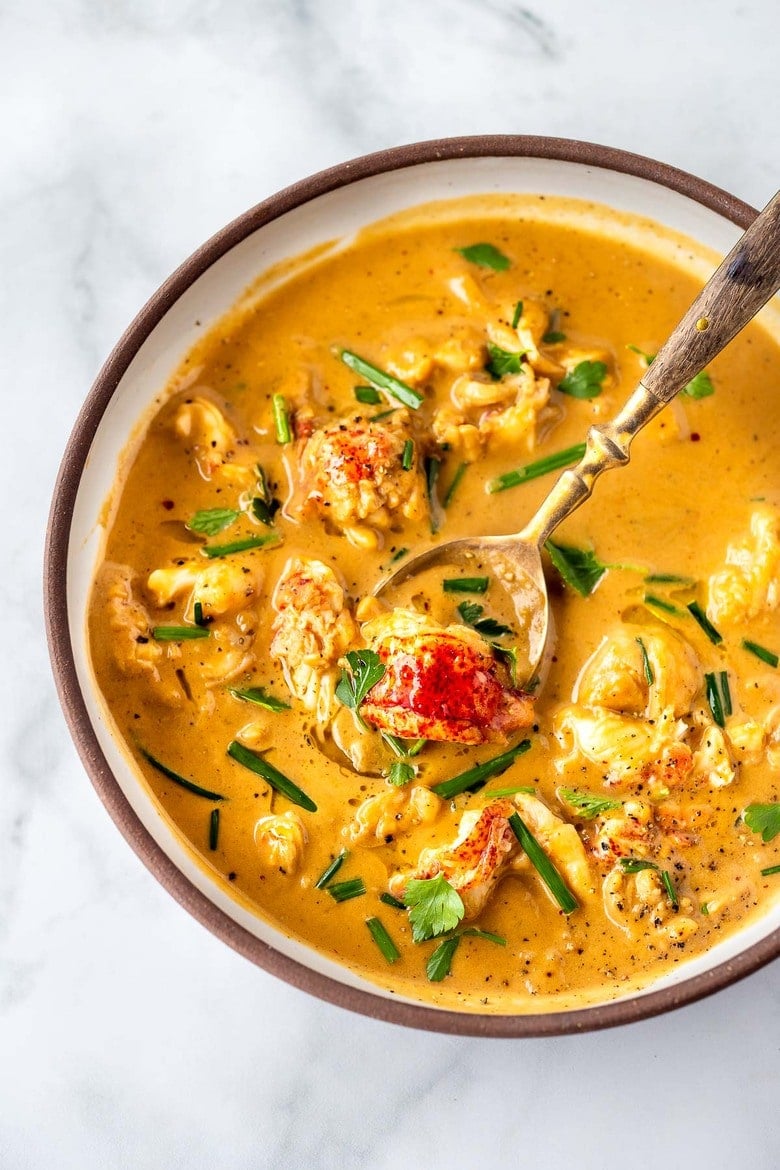 How do you spell love? – Piglet   You don't spell it. You feel it. – Pooh 
Here's a once-a-year kind of soup to whip out on special occasions like Valentine's Day – Simple Lobster Bisque. It's rich and creamy with a beautiful complexity, a delicious little teaser for your special dinner, or hearty enough to be the main course.
What I like about this soup is how it is thickened with sweet potato vs. flour, not only adding a luscious texture to the soup but a few extra nutrients. It is made with lobster tails, for simpler shelling, and the shells become the base of the homemade lobster stock.
Pretty straightforward and easy.
What is Lobster Bisque made of?
Lobster
Lobster stock
onions, celery, carrots ( but today we are using sweet potato!)
Sherry
Cream (or coconut milk)
Tarragon
Sherry wine and tarragon, create the classic flavor here, although white wine will work in a pinch. The sherry really does elevate though.  If dairy bothers your tummy, I've also made this with coconut milk, which works pretty well here too.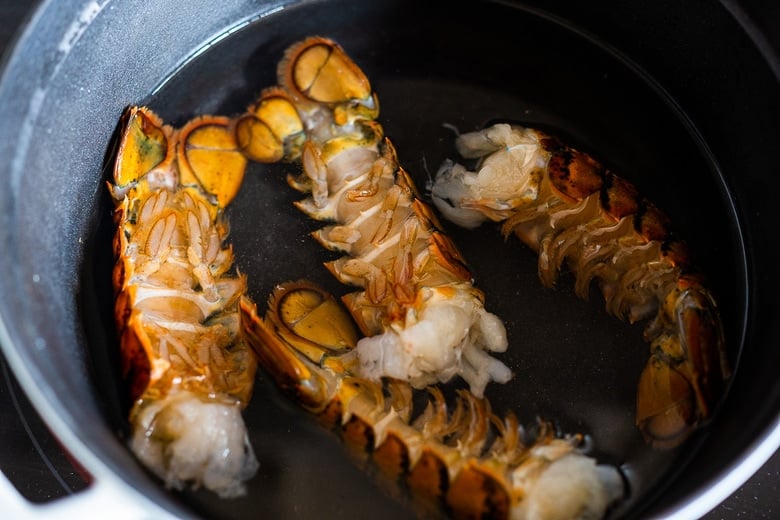 How to make Lobster Bisque:
Cook the lobster tails in salted water, until bright red and slightly curled.
You'll want about 1.25 lbs of lobster tails. (Of course, you can cook whole lobster if you prefer.)
Yes, a bit of a splurge, but perfect for special occasions.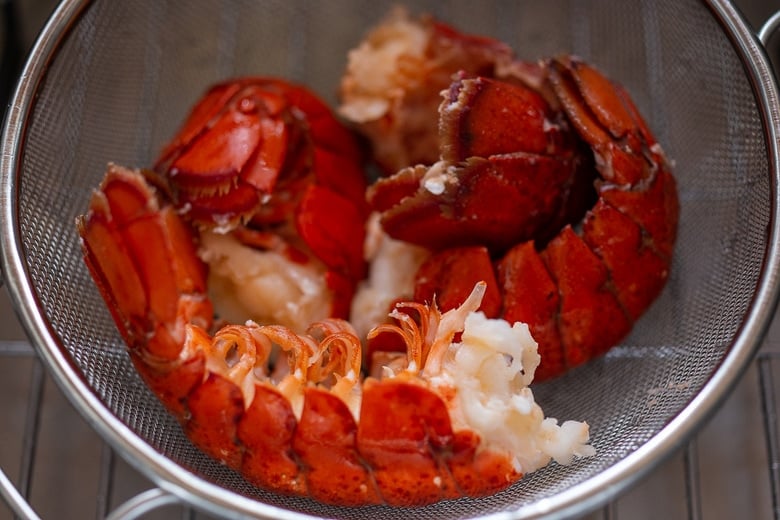 Save the lobster water and remove the lobster tails, letting them cool.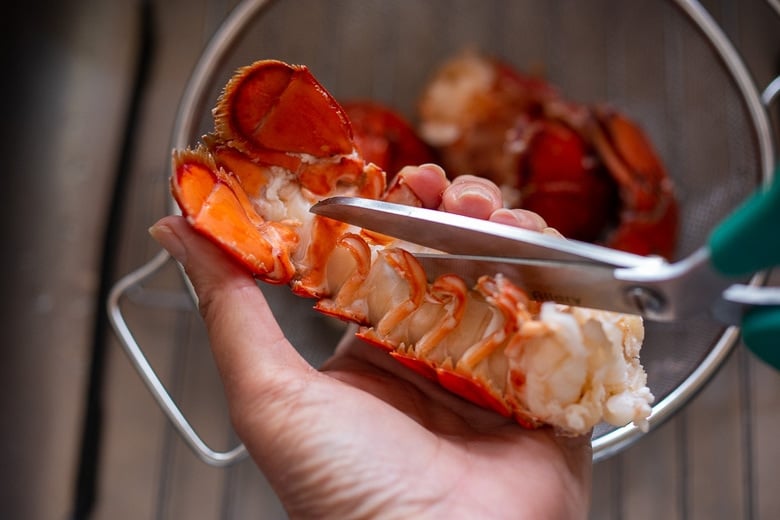 Remove the lobster meat, carefully trying to keep it mostly intact. Some bigger pieces are nice here for garnishing. If you run into any red roe- make sure to keep this- it adds great flavor and vibrant color to the lobster bisque.
Place the lobster meat in the fridge while you make the bisque.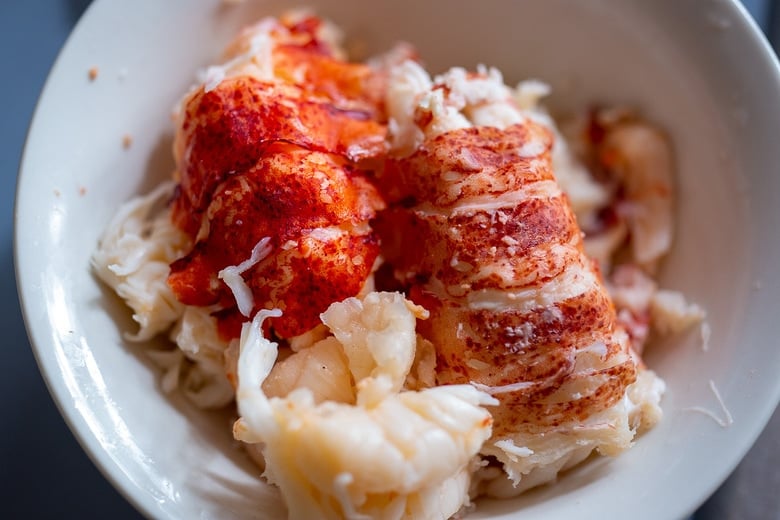 Return the shells to the reserved water and simmer while you make the rest of the soup.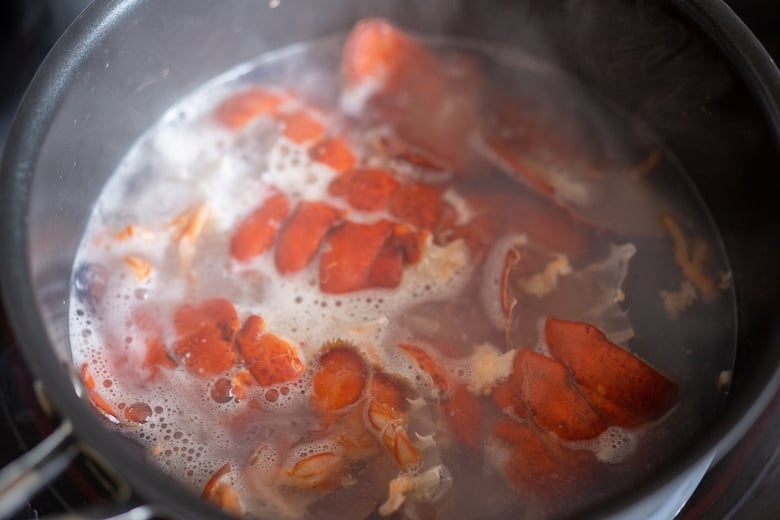 Saute onion, celery and garlic in olive oil.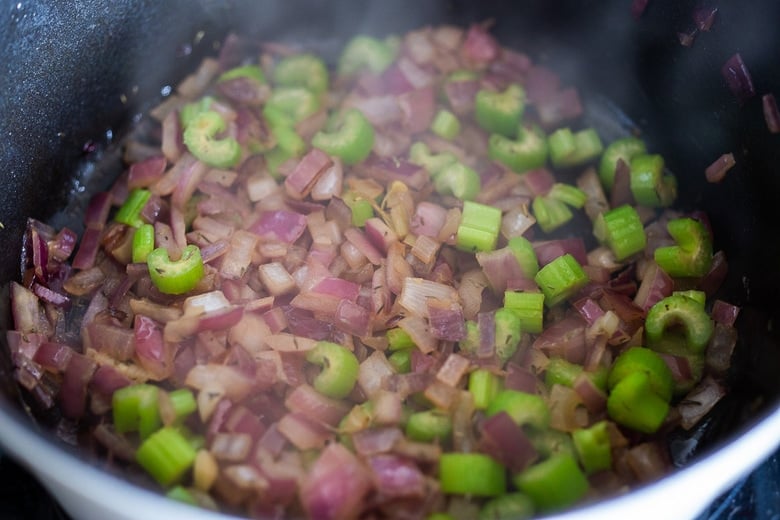 Next, add the sweet potato.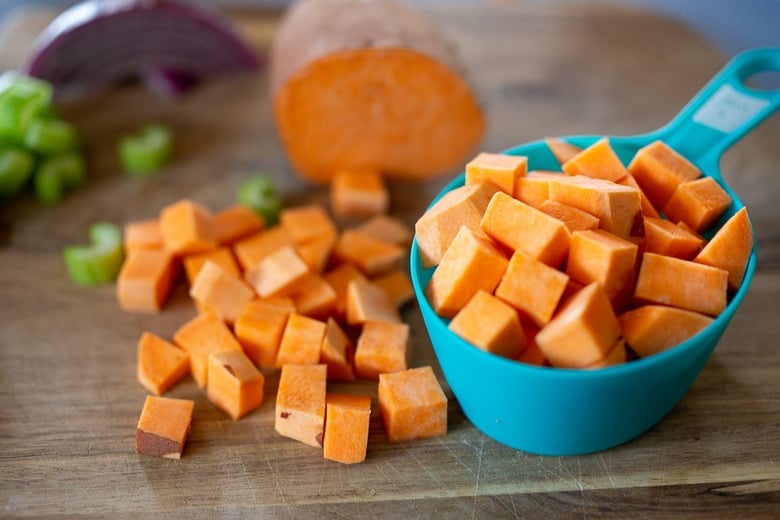 Cook until the onions are tender.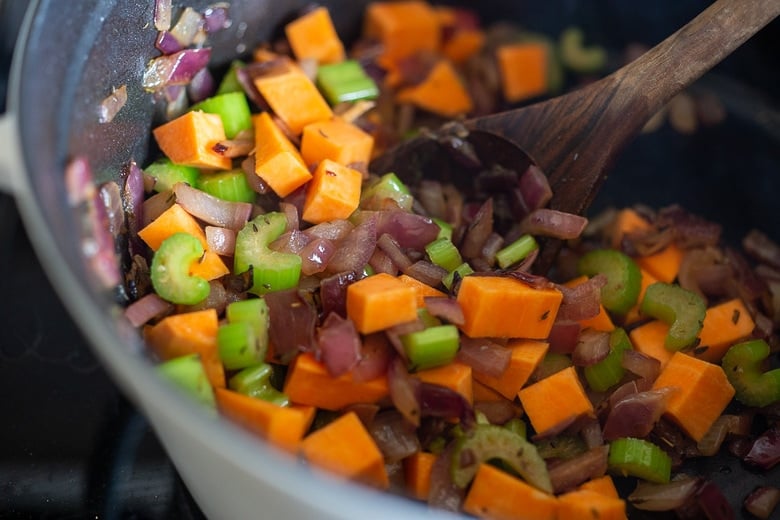 Saute the spices, and tomato paste.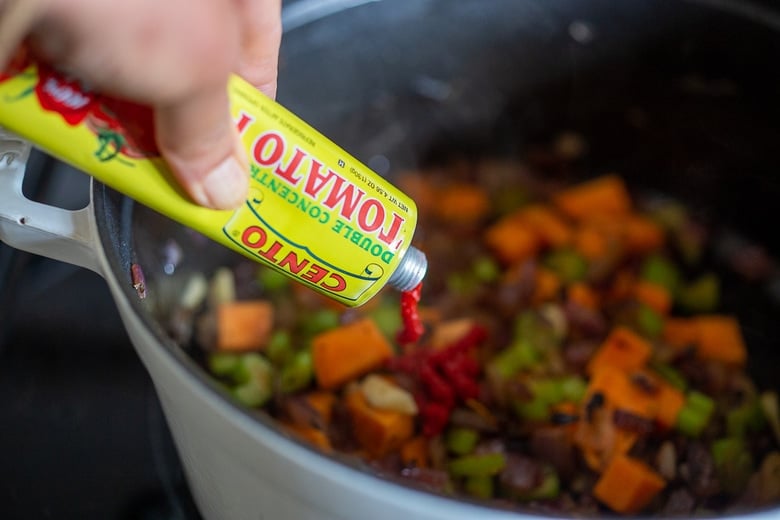 Deglaze with Sherry which will impart the best flavor and complexity here.
Pour in the lobster stock- you should have roughly 3 cups.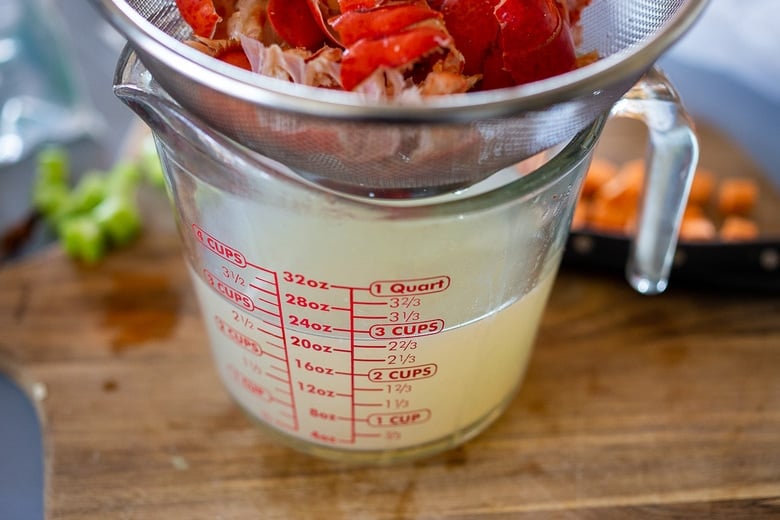 Simmer gently until the sweet potatoes are tender.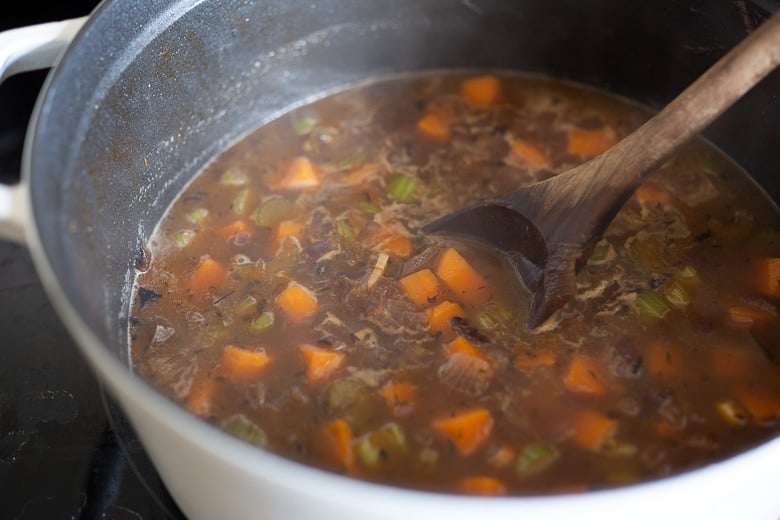 Blend this until very smooth. Add 1/2 cup of cooked lobster and blend this in too.
Then, add your choice of cream or coconut milk. I prefer the cream, but coconut milk is pretty good too.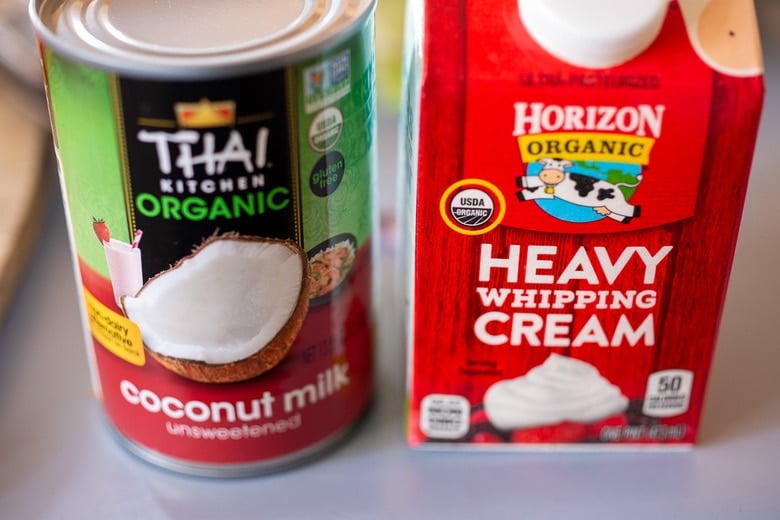 For extra decadence, saute a few pieces of the lobster tail in browned butter infused with garlic.
Swirl some butter in a pan and brown it slightly until nutty and fragrant along with a couple of cloves of smashed garlic and some chili flakes if you like.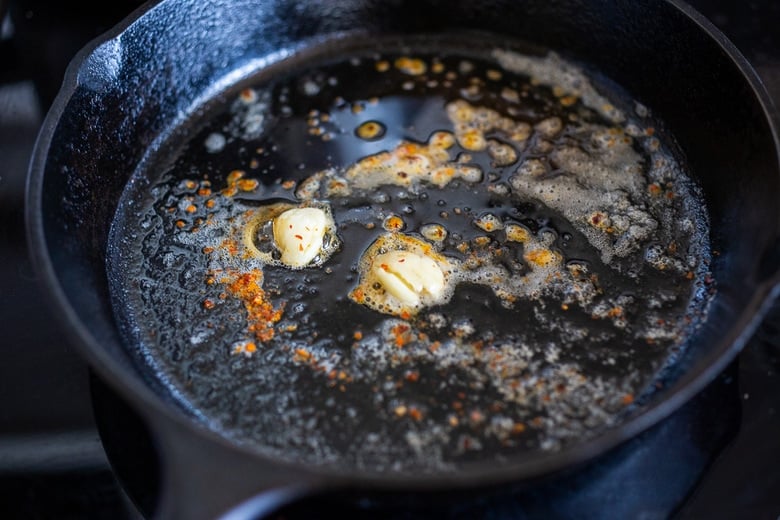 Add the lobster and saute for just a couple of minutes.
Place the smaller pieces into the soup, reserving a few vibrant red, big bites for garnishing.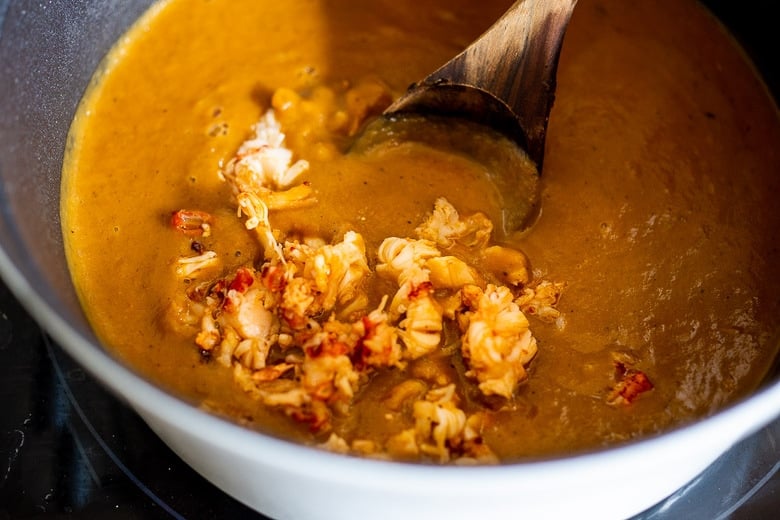 Taste the soup and make adjustments- see recipe notes.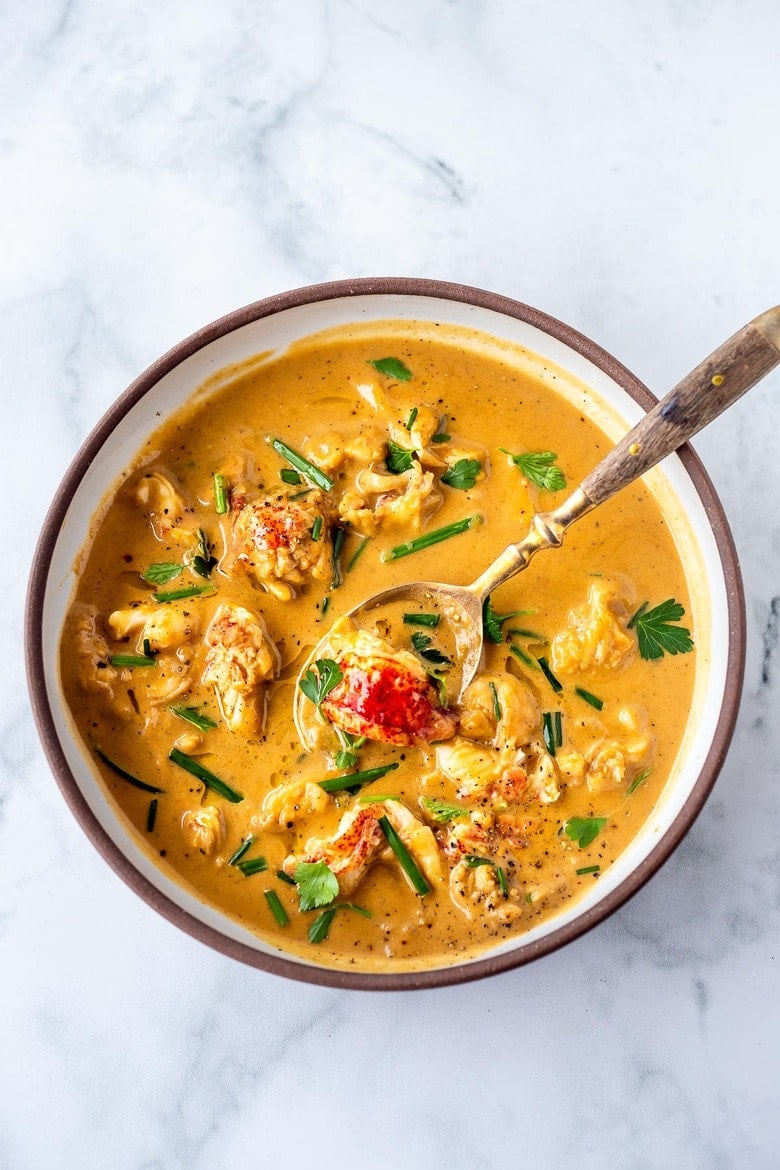 Divide among bowls. (This makes 2-3 hearty portions).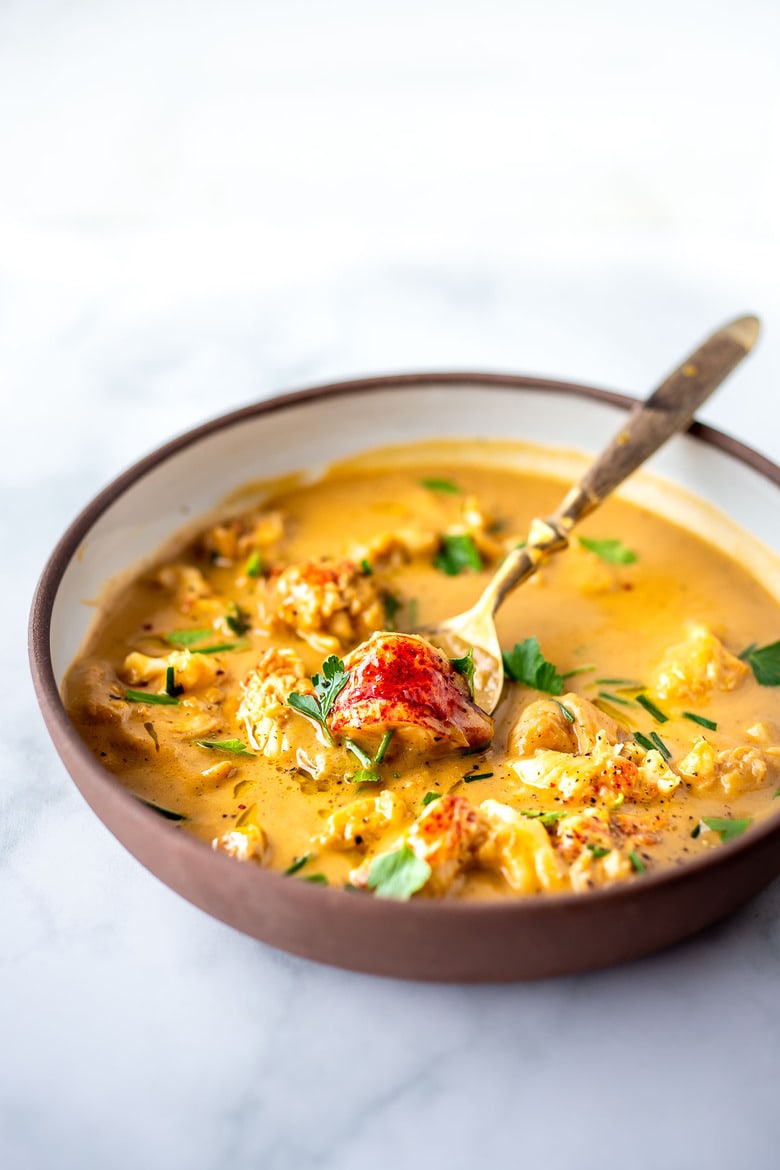 Sprinkle with fresh tarragon, chives, and/or parsley. Serve the Lobster bisque with warm toasty garlic bread to mop up all the goodness.
On the homefront: One of the most loving things we can do for our significant other, our family, or for ourselves is to give the gift of nourishment. It need not be overly fancy or even time-consuming. When made with love, even the humblest of meals is elevated.
It's true, I've done tests. 😉 Back in our catering days, prepping for weddings, if my heart wasn't in it, the food reflected this. If I was overly anxious or irritated, I could taste this in the food, it would have a bit of an edge. If I felt tired or sad, the food tasted lifeless. Once I even made "angry chicken", which still makes me chuckle a bit. It truly was the angriest tasting thing!
The most important thing I learned from this, is that when I would shift down into my heart space when cooking, and tap into the love that is always there, meals would just taste better. As cheesy as it sounds- perhaps love truly is the magic ingredient.
Whether you decide to go "all-out" this weekend, or keep it simple and sweet, cook from your heart. Remember why you love who you love and let yourself feel this for a few minutes. Cook from this place.
Where ever this finds you, I hope you have a happy Valentine's Day weekend.
xoxo
Sylvia
More recipes you may like: 
Print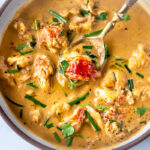 Simple Lobster Bisque
Prep Time:

20

Cook Time:

30

Total Time:

50 minutes

Yield:

3

1

x

Category:

soup, seafood

Method:

stovetop

Cuisine:

Mediterranean

Diet:

Gluten Free
---
Description
This Lobster Bisque Recipe is made simple and easy with quick homemade lobster stock, big bites of lobster, and a creamy luscious bisque thickened with sweet potatoes. For extra decadence saute the lobster in browned butter infused with garlic, and serve with warm garlic bread.
---
4

–

5

lobster tails (4-6 ounces each) or 20 ounces, or 1.25 lbs.

5

cups

water

1 teaspoon

salt

1

onion, diced

2

fat garlic cloves, rough chopped

2

stalks celery, diced (

1 cup

)

1/2 teaspoon

dried thyme, or

1 teaspoon

fresh

1

medium yam, peeled, diced (

2 cups

) or sub carrots

2 tablespoons

tomato paste

1/2 teaspoon

sweet paprika

1

bay leaf
`1/2 cup sherry wine or white wine (

do not use

sherry vinegar)

3

cups

lobster stock (you'll make this with the shells from above) or see notes.

1

cup

heavy cream (or sub coconut milk)
optional additions: fish sauce, salt, pepper, cayenne

1

–

2

tablespoons butter

2

garlic cloves, smashed
Garnish: tarragon, chives or flatleaf parsley- tarragon is classic.
Serve with Crusty Bread or Garlic bread.
---
Instructions
Prep lobster and stock: Place lobster tails in a stockpot with 5 cups water and 1 teaspoon salt. Bring to a boil, lower heat and simmer 5-7 minutes, or until tails turn vibrant red and begin to curl. Using tongs, place tails in bowl to cool, reserving the hot lobster water in the pot.
Remove lobster meat from the tails and add the shells and any liquid, back into the lobster water. Simmer 20 mins while you prepare the rest of the soup. Chop the lobster meat, keeping a few pretty red pieces larger, for garnishing. Keep any red roe, which will add flavor and color. Refrigerate.
Bisque: In a heavy-bottomed pot or dutch oven, heat oil over medium-high heat. Add onion and saute 3-4 minutes until fragrant. Add garlic, celery, and thyme, and lower heat to medium, saute 5 more minutes until onions are softened. Add diced yam, cook 2 minutes, add tomato paste, paprika and bay leaf. Stir 1-2 minutes. Deglaze with the sherry, scraping up any browned bits, and cook this off, or if comfortable, carefully tilt the pot to let it ignite (stand back) and burn off the alcohol.
Strain the lobster stock. You should have about 3 cups. Pour this into the pot with the veggies. Bring to simmer on med-low, covered, and cook until the yam and celery are tender, about 15 minutes.  Remove the bay leaf.
Add 1/4 the of the chopped lobster to this, and blend all until smooth and creamy (either using an immersion blender or blend in batches using a regular blender- remember, if hot, hold lid down tight with a towel.)
Pour this back into the Dutch oven. Add the cream.  Taste.  Season with salt and pepper. To add more depth, a tiny splash of fish sauce may help. If you like a little pep, a pinch or two of cayenne is nice.
In a medium skillet swirl the butter and smashed garlic cloves over medium-high heat until nutty and fragrant. Add the remaining lobster, and saute 1-2 minutes. Set aside a few of the biggest prettiest pieces for garnish and add the remaining smaller pieces o the soup. Simmer soup gently on low for a few more minutes. It will taste more "lobstery" as the flavors have a chance to meld. Sometimes I'll let this sit on the stove for 1/2  hour then gently reheat before serving.
Divide among bowls, garnish the top with the bigger pieces of lobster and fresh tarragon leaves (or chives and parsley).
Serve with warm garlic bread.
---
Notes
Sherry, tarragon and heavy cream give this the BEST, classic flavor.
If you are using lobster meat without shells, you'll need to add 3 cups fish stock or lobster stock (you can use lobster boullion) or 1/2 clam juice mixed with water.
Nutrition
Serving Size:

with heavy cream

Calories:

514

Sugar:

5.7 g

Sodium:

1365.2 mg

Fat:

24.9 g

Saturated Fat:

12.7 g

Carbohydrates:

25.9 g

Fiber:

4.4 g

Protein:

39.5 g

Cholesterol:

331.2 mg
Keywords: lobster bisque recipe, how to make lobster bisque, best lobster bisque, easy lobster bisque, lobster bisque easy, lobster bisque with tails, classic lobster bisque