A simple Brazilian Fish Stew called Moqueca made with your choice of fish and simmered in coconut milk with onion, tomatoes, chilies and lime. Easy, fast and full of flavor! Serve this with rice! With a 45-second video.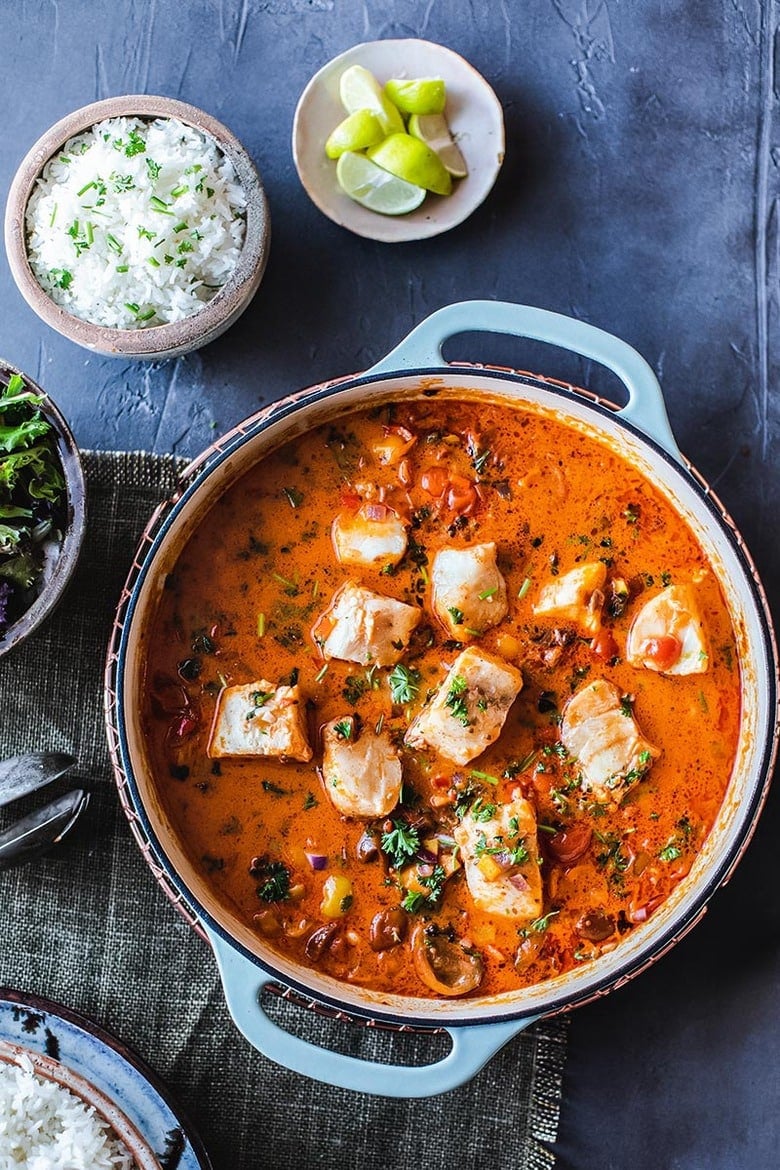 (photos by Simply Suwanee!)
This simple recipe for Brazilian Fish Stew is easy to make and takes about 25-30 minutes, perfect for busy weeknights! Brazilians call this dish Moqueca (pronounced "mo-KEY-ca") and it can vary a bit from region to region.
This version hails from Salvador, a bustling city on the coast of Brazil, just north of Rio de Janeiro that offers up delicious seafood prepared using African influences and techniques. This part of Brazil is known for pairing fish with spicy chilies, lime and cooling coconut milk, a lovely combination.
What I love about this Brazillian Fish Stew is how simple it is, and how quick it is to make! Quick enough for weeknights, and special enough for Sunday supper….either way, I think you will this recipe for Moqueca. Serve it with rice or a simple green salad, or both.
---
How to make Moqueca! | 45-second video
---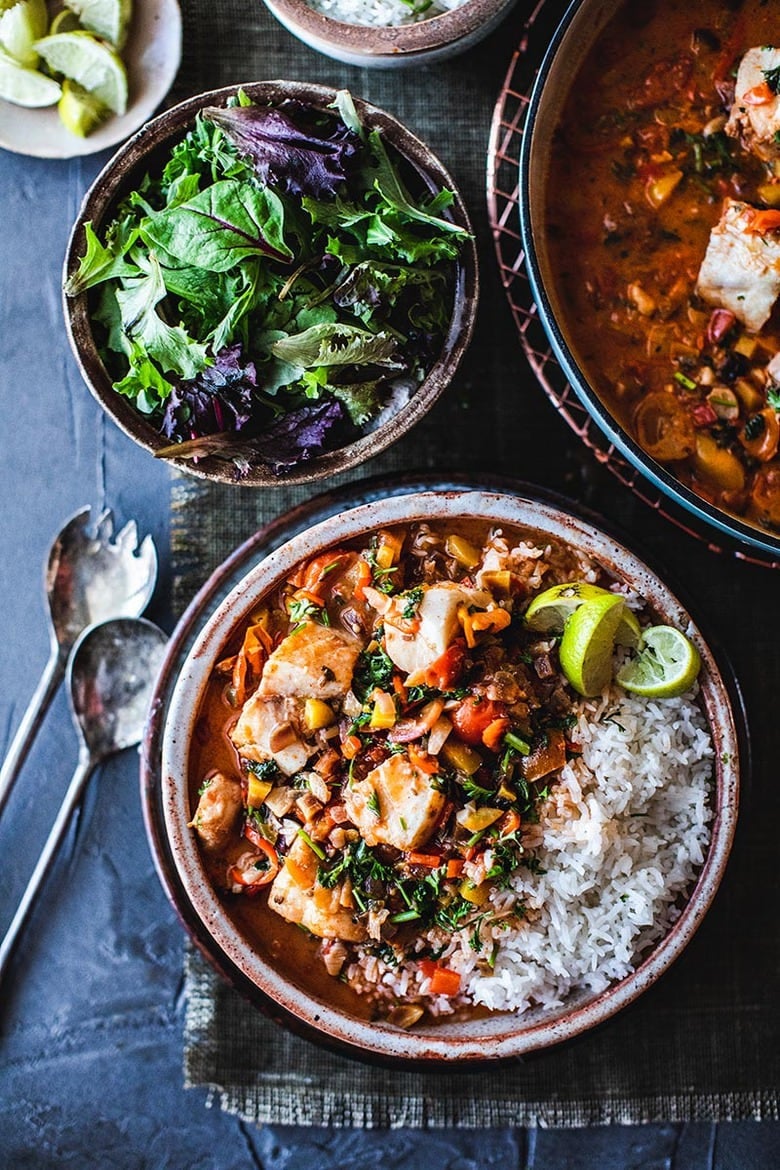 What is Moqueca?
Moqueca is a Brazillian Fish stew with coconut milk, tomatoes and peppers. It's traditionally served over rice with lime and cilantro.
Ingredients in Moqueca:
White fish- Halibut, Black Cod, Sea Bass , Cod, escolar, etc. (thicker cuts are best)
Onion
Carrots
red bell pepper
garlic
chili peppers
tomato paste
spices
fish or chicken stock
Tomatoes
coconut milk ( liquid and solids)
Lime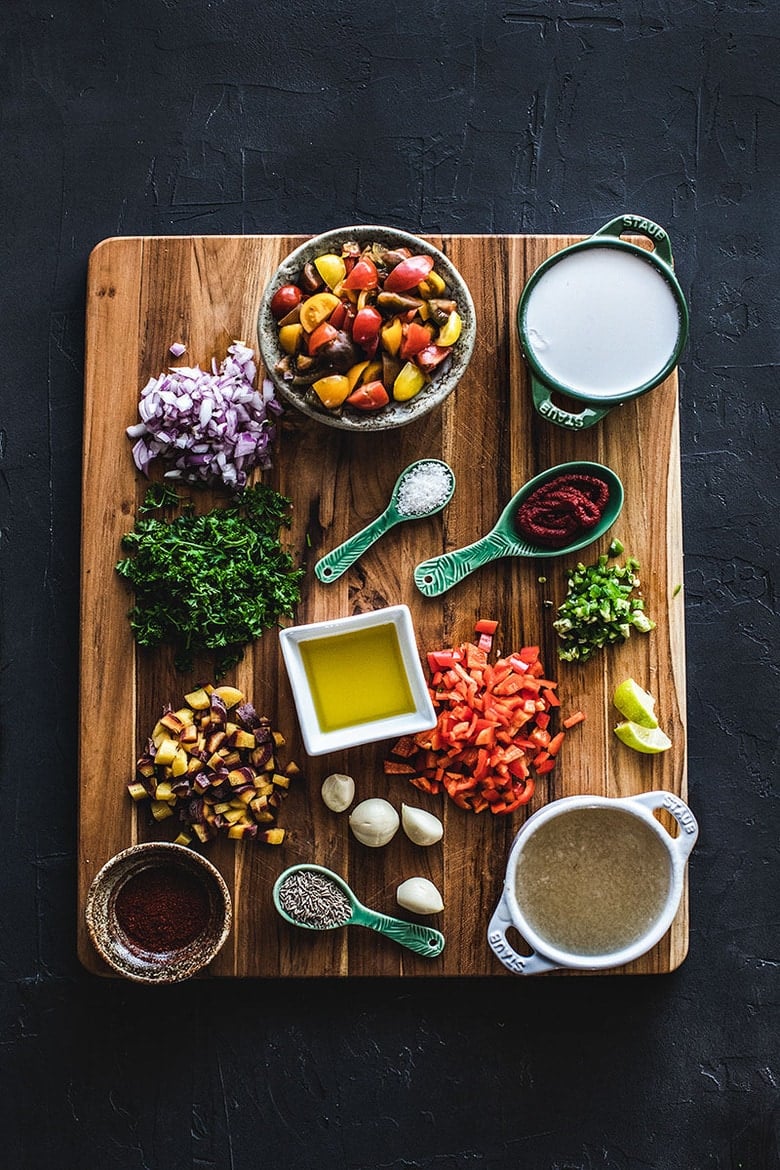 The best firm fish for soups or stews:
You generally want to use firm white fish for most stews and soups, because they will hold their shape and not disintegrate in the liquid. Here are 10 the best fish (and seafood) to use in soups and stews.
sea bass
halibut
black cod
haddock
escolar
ono
red snapper
salmon
scallops
shrimp
How to make Moqueca
It starts with seasoning the fish. Use black cod, halibut, sea bass, black cod, escolar or any firm white fish ( or shrimp) you like.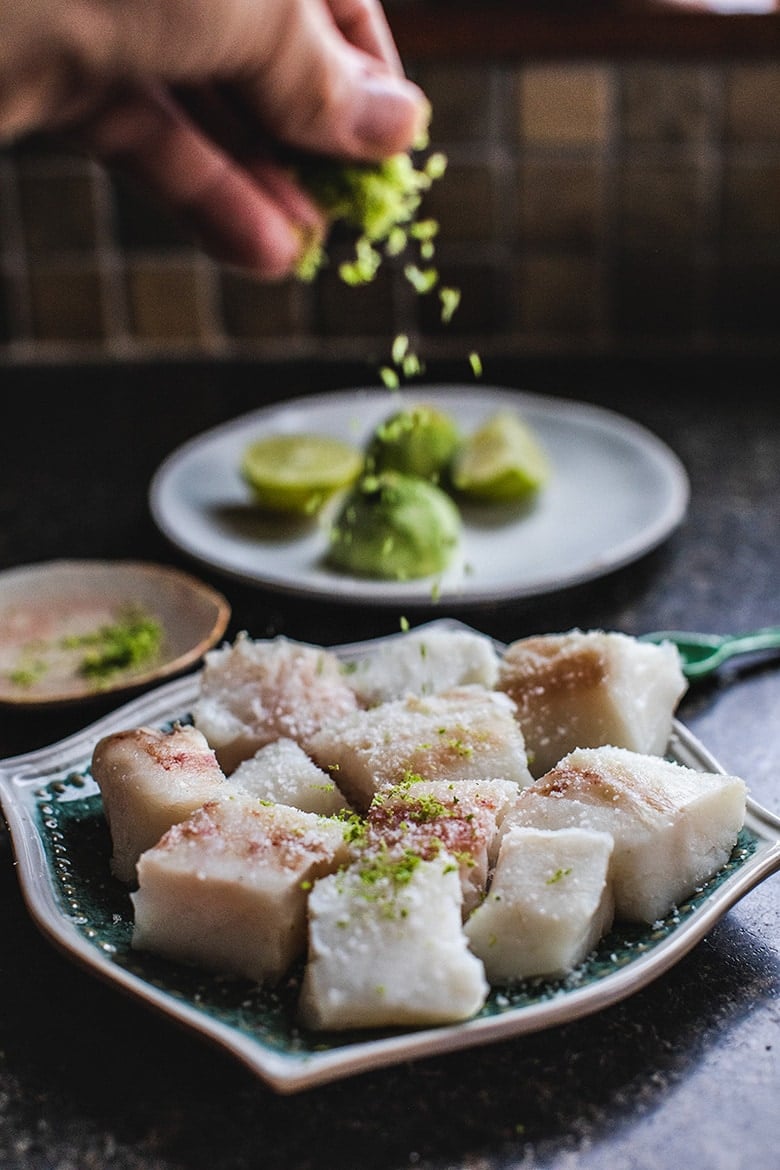 Even shrimp or shellfish (clams or mussels) would work well here.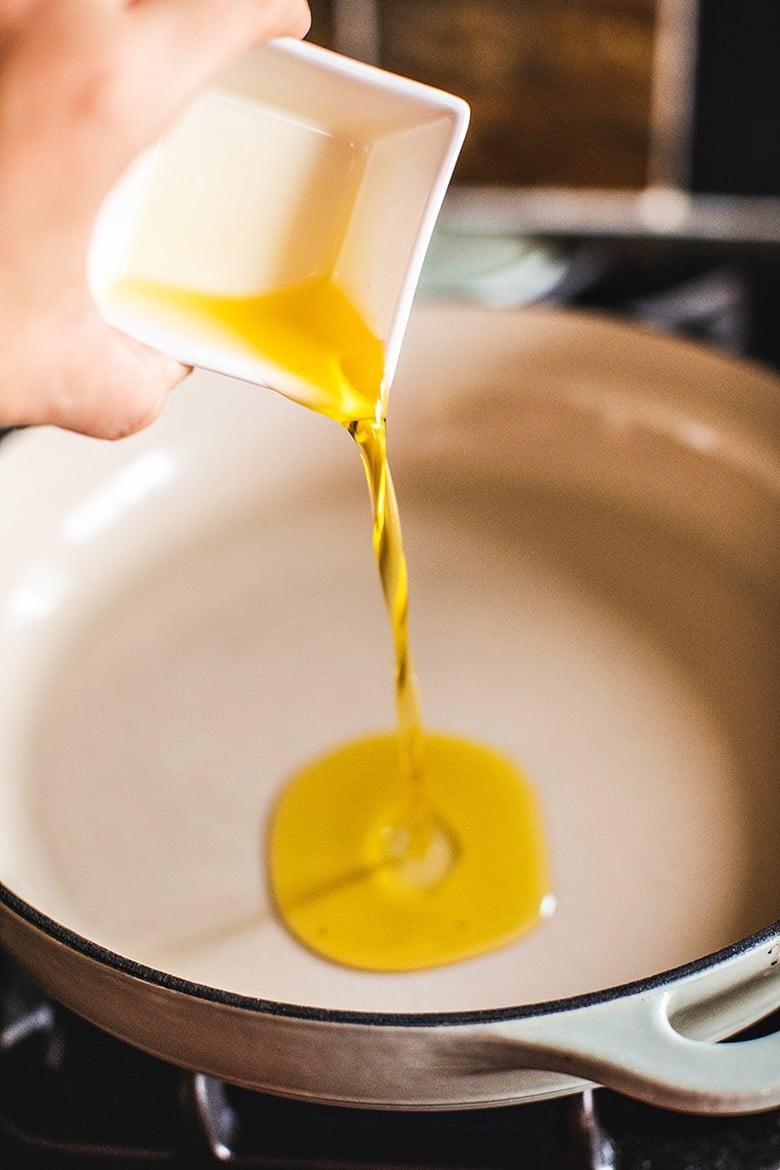 In a large saute pan, heat the olive oil over medium-high heat. Add onion and salt, and sauté 2-3 minutes.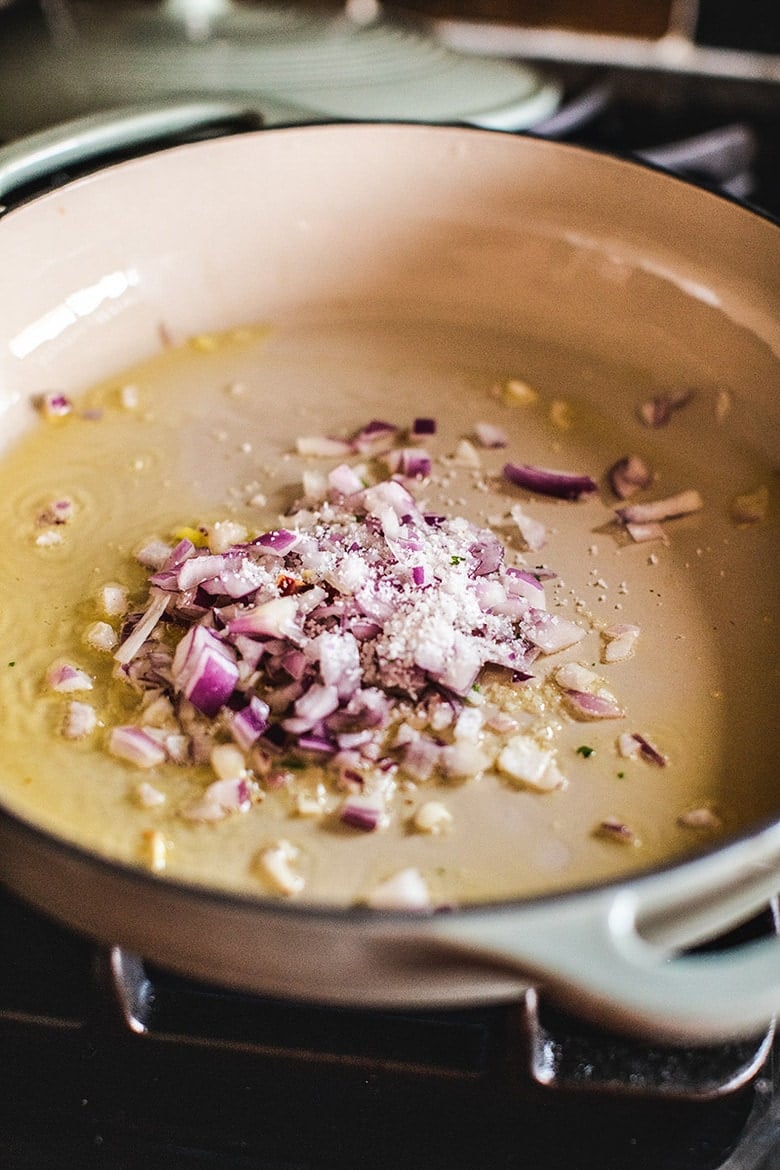 Turn heat down to medium, add carrot, bell pepper, garlic and jalapeno pepper and cook 4-5 more minutes.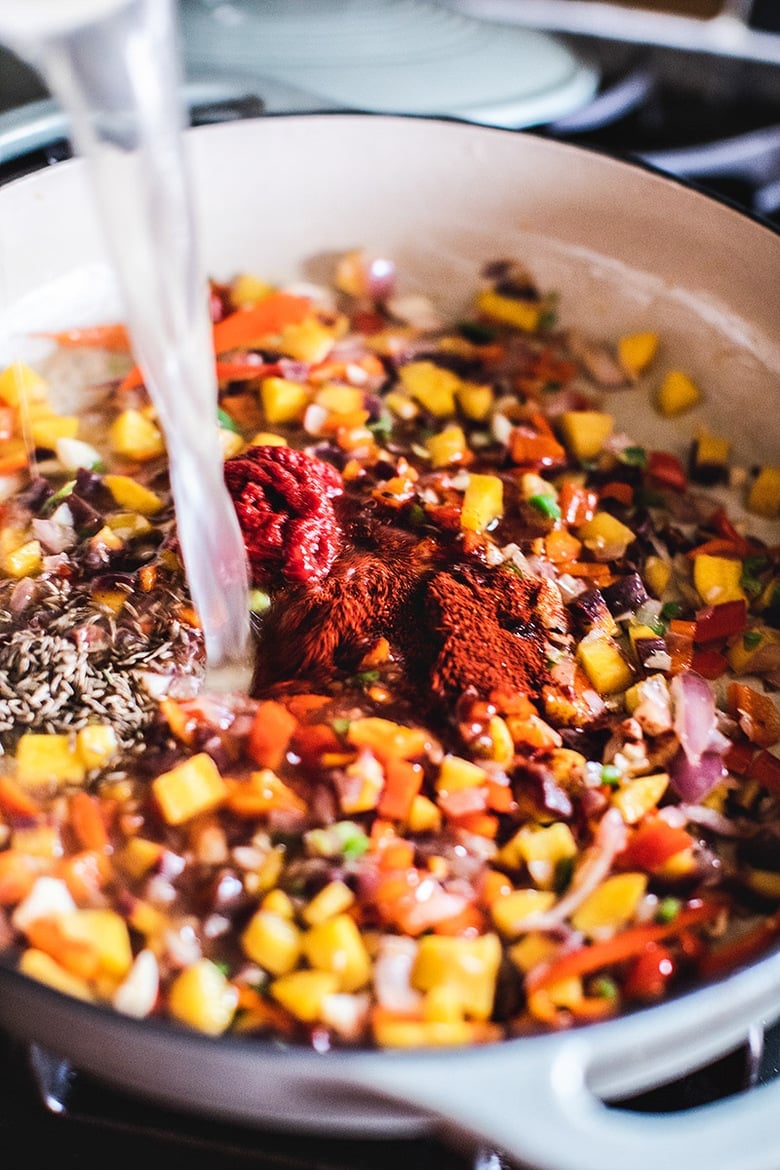 Add tomato paste, spices and stock.
Mix and bring to a simmer and add tomatoes.
Cover and simmer gently on medium-low for 5 minutes or until carrots are tender.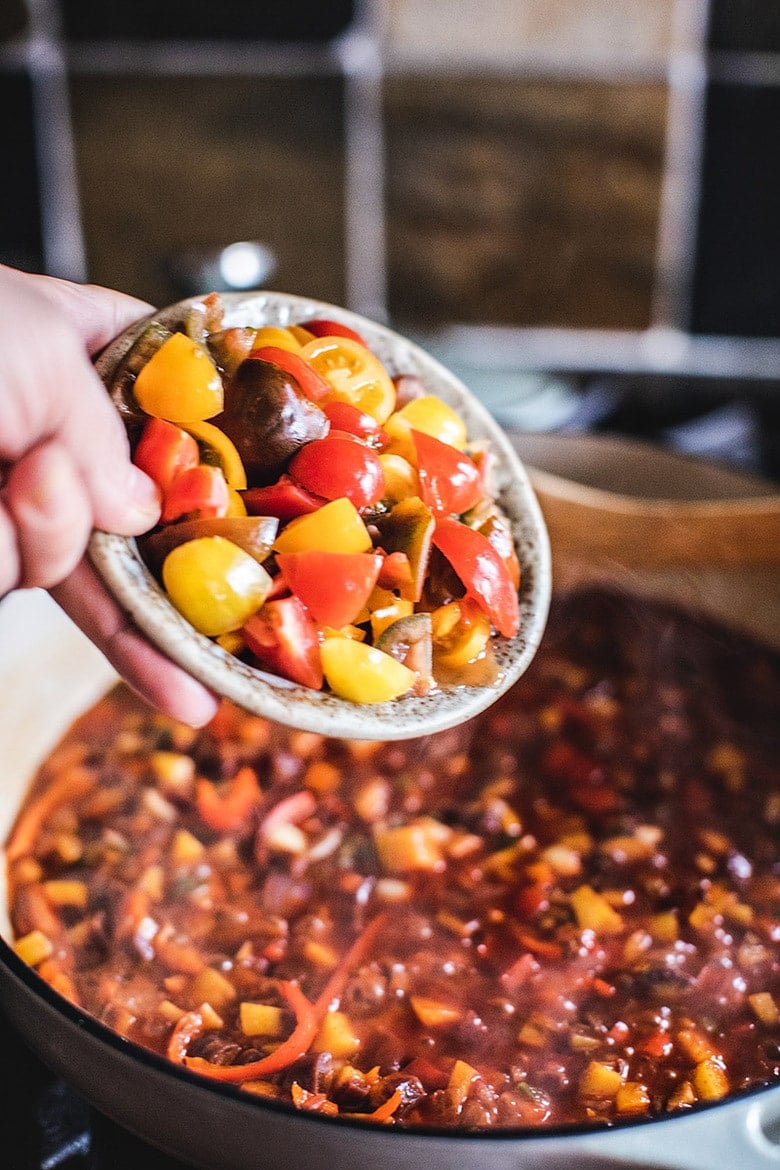 Add the coconut milk and taste and add more salt if necessary.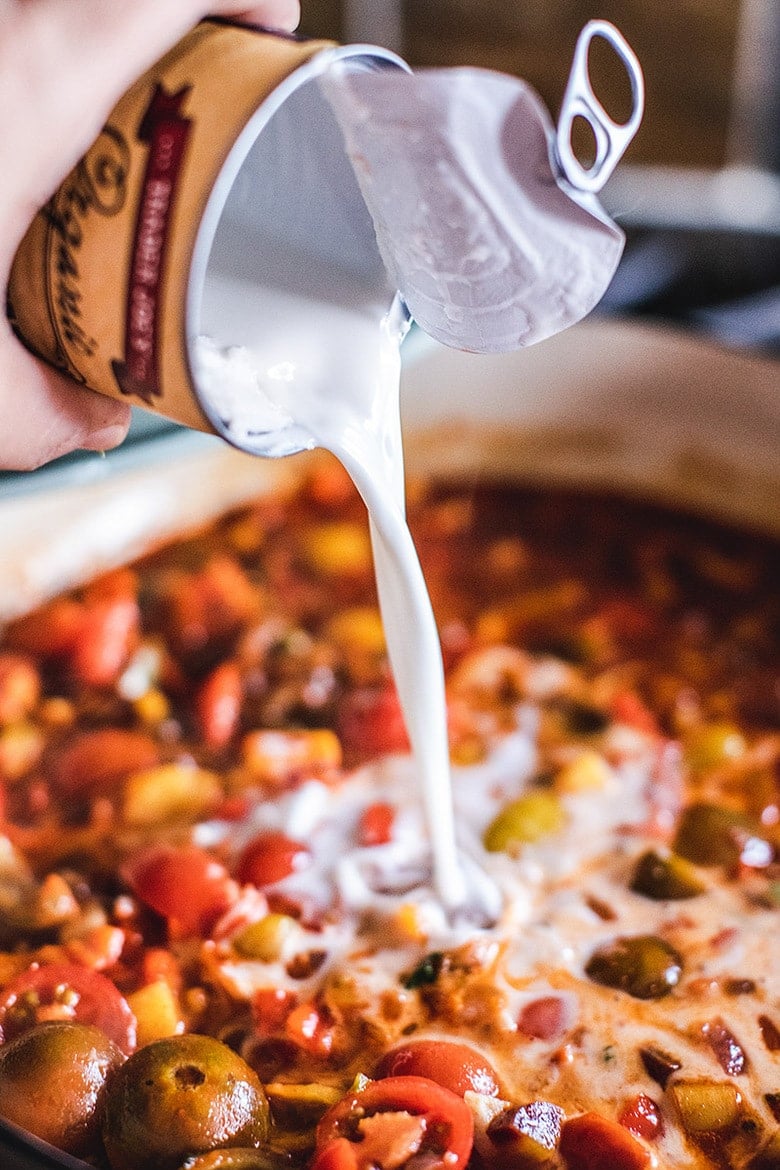 Nestle the fish in the flavorful coconut stew, pouring the remaining marinade over the fish and into the stew, and either continue cooking stovetop, spooning the flavorful liquid over the fish for about 3-5 minutes ( until the desired doneness) or for thicker cuts, place in a 350F oven, for 8-10 minutes.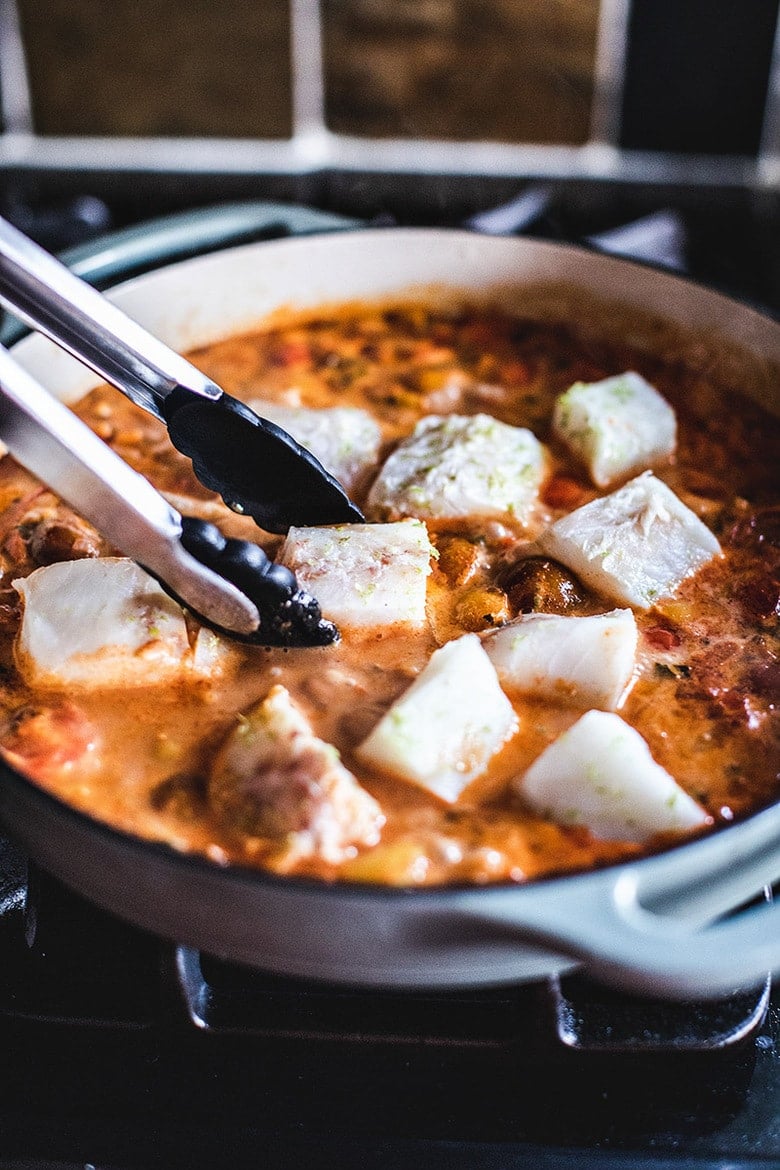 Once done, the Moqueca will have thickened beautifully.
Sprinkle with fresh cilantro or Italian parsley and serve with a wedge of lime.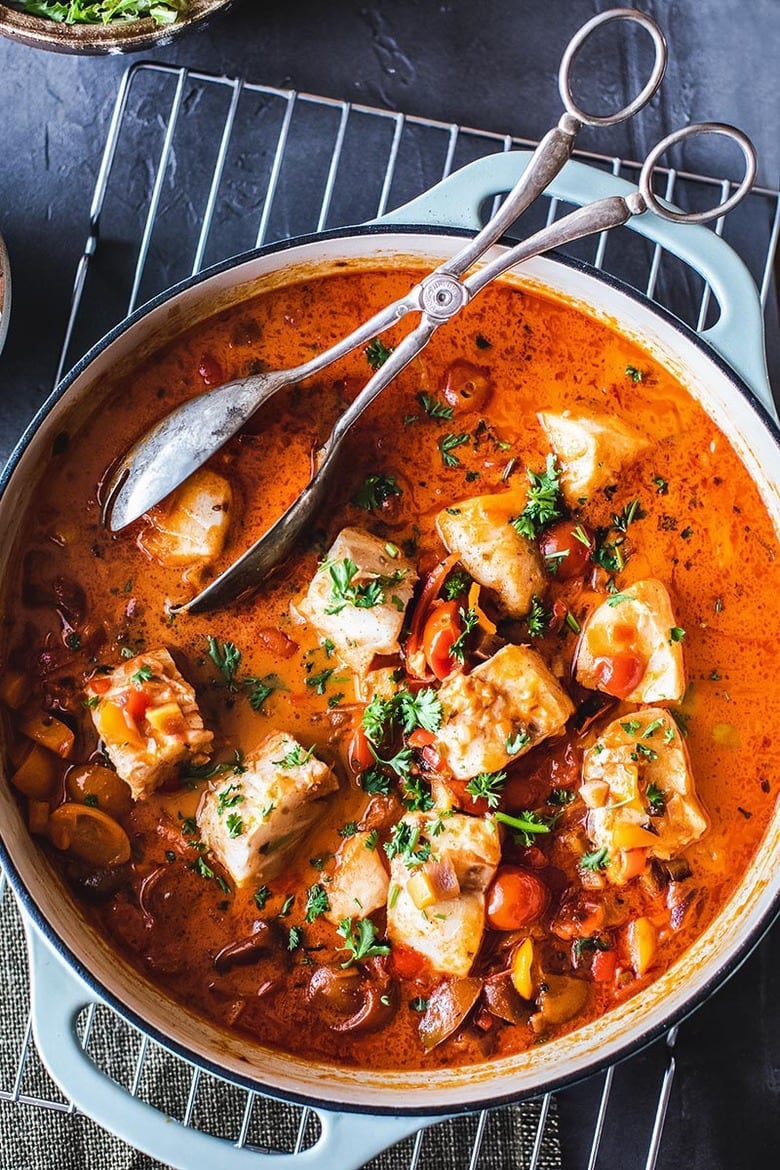 We enjoyed this with a simple green salad, dressed with lemon, olive oil and salt and rice.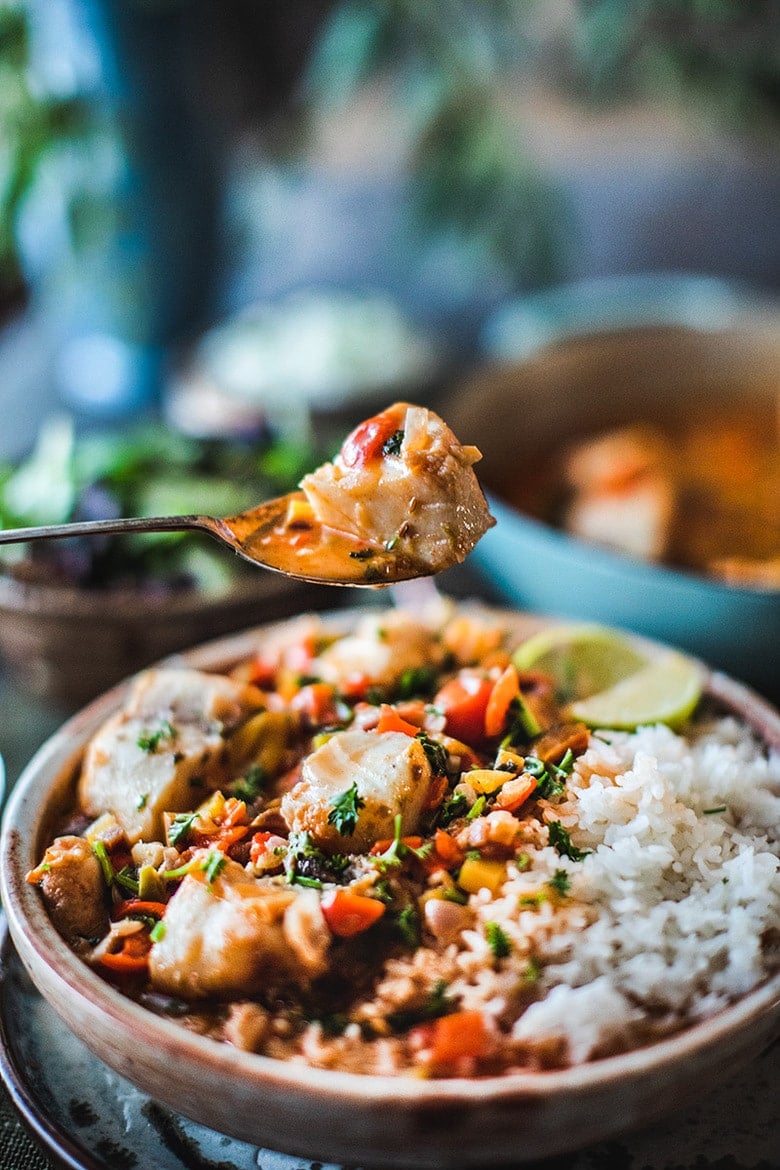 Crusty bread makes a nice vehicle for left-over pan juices. Trust me, you won't want to waste this! So much flavor!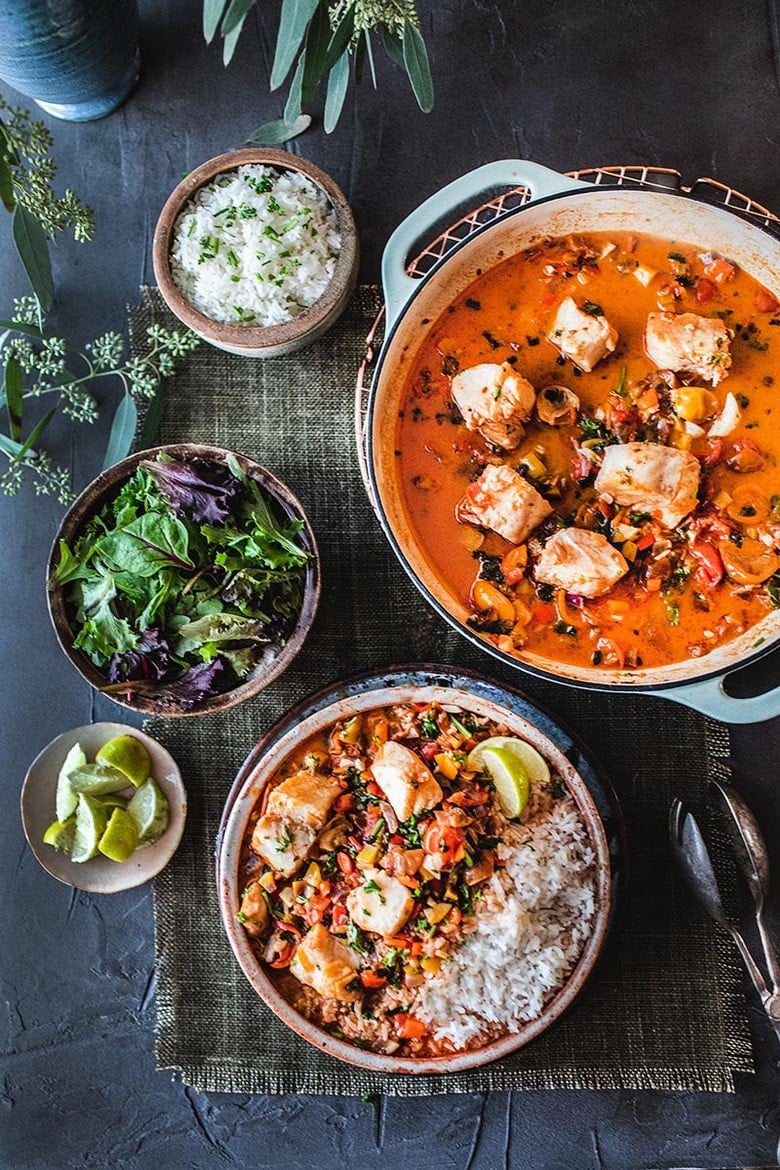 Please let me know what you think of this Moqueca Recipe in the comments below!
You may also like:
Happy week friends!
xoxo
Print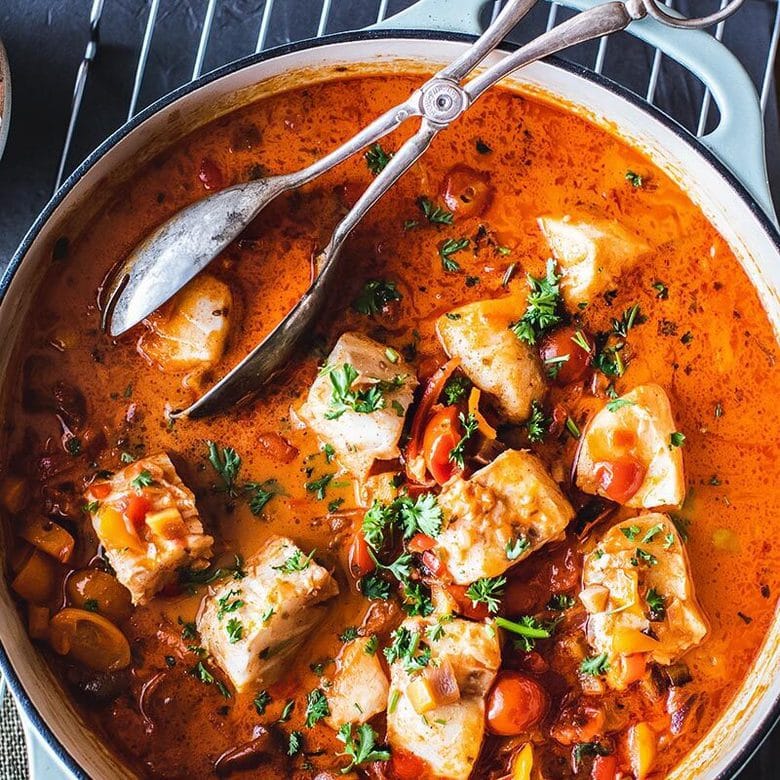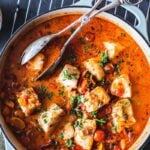 Brazilian Fish Stew – Moqueca
Author:

Sylvia Fountaine

Prep Time:

15

Cook Time:

20

Total Time:

35 minutes

Yield:

4

Category:

Main

Method:

Braise

Cuisine:

South American
SaveSave
SaveSave