Balinese Fish Curry with potatoes, spring veggies, lime and mint in a fragrant curry sauce. A simple flavorful dinner that is healthy and easy!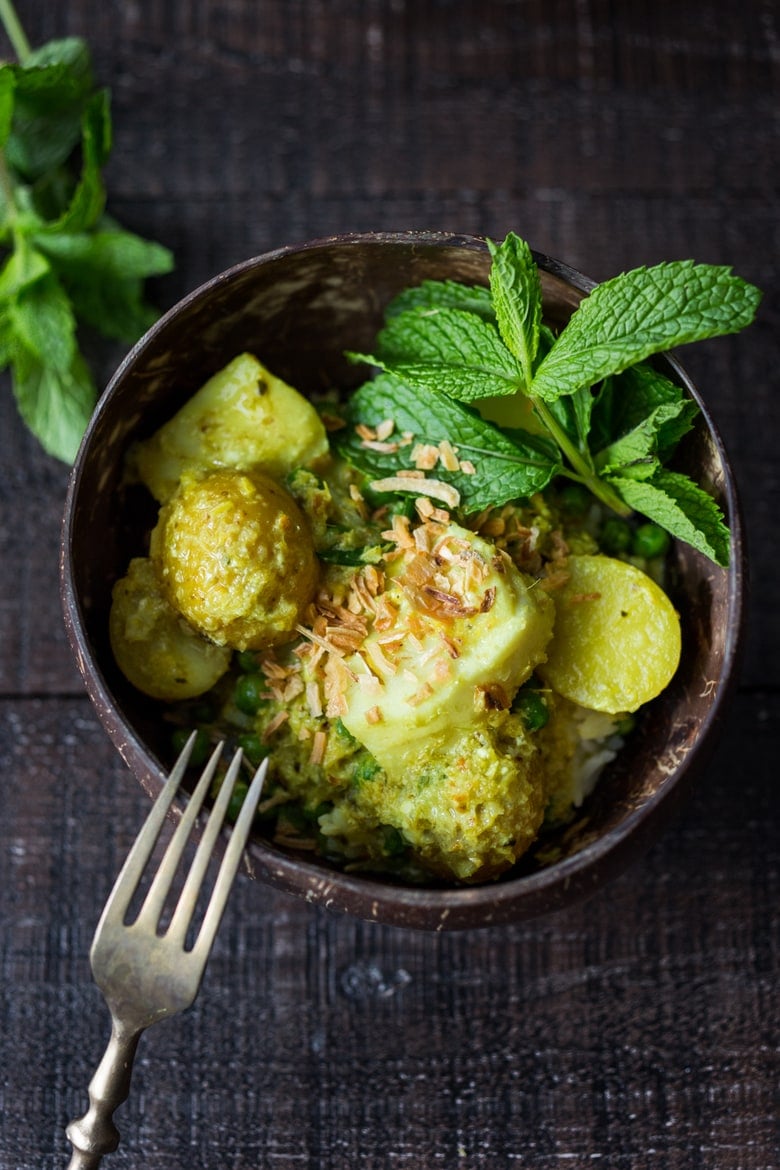 This Balinese Fish and Potato Curry was one of my favorite things while visiting Bali last month. Once you have the ingredients in order, it's surprisingly quick. The flavors that set this dish apart are kefir lime leaves and fresh turmeric root, blended right into the curry paste. As for fish- this is quite flexible. In Bali it was often made with swordfish, here I've used Alaskan Cod- but feel free to swap halibut, tilapia, sea bass, back cod or even prawns or scallops. One you have the flavorful base made, it is pretty hard to mess up.
What I love most about Bali are the people. They have a very kind, warm and happy energy that bubbles up from within, and immediately draws you in and welcomes you. You can't help but feel the same. They are deeply spiritual people, mostly Hindu, and this spirituality, this connection is what seems to keep them grounded and vibrant. Bali is a small Island situated in the primarily Islamic country of Indonesia. I was struck by the peacefulness that exists there among two very different religions. A mutual respect and honoring. It was really special to witness and feel this. It told me, this is really possible.
Our last day in Bali, was a "Silent Day", a religious holiday where everything basically shut down, even the airports! No one worked, everyone stayed at home and indoors – no one walked outside and all the stores and restaurants were closed and the entertainment (tv) turned off. A day of contemplation. The island was serenely quiet. At night, they turned off the lights. In homes people used candles or very minimal lighting with their shades drawn. In all my life, I have never seen stars quite so bright. A beautiful ending to our time there.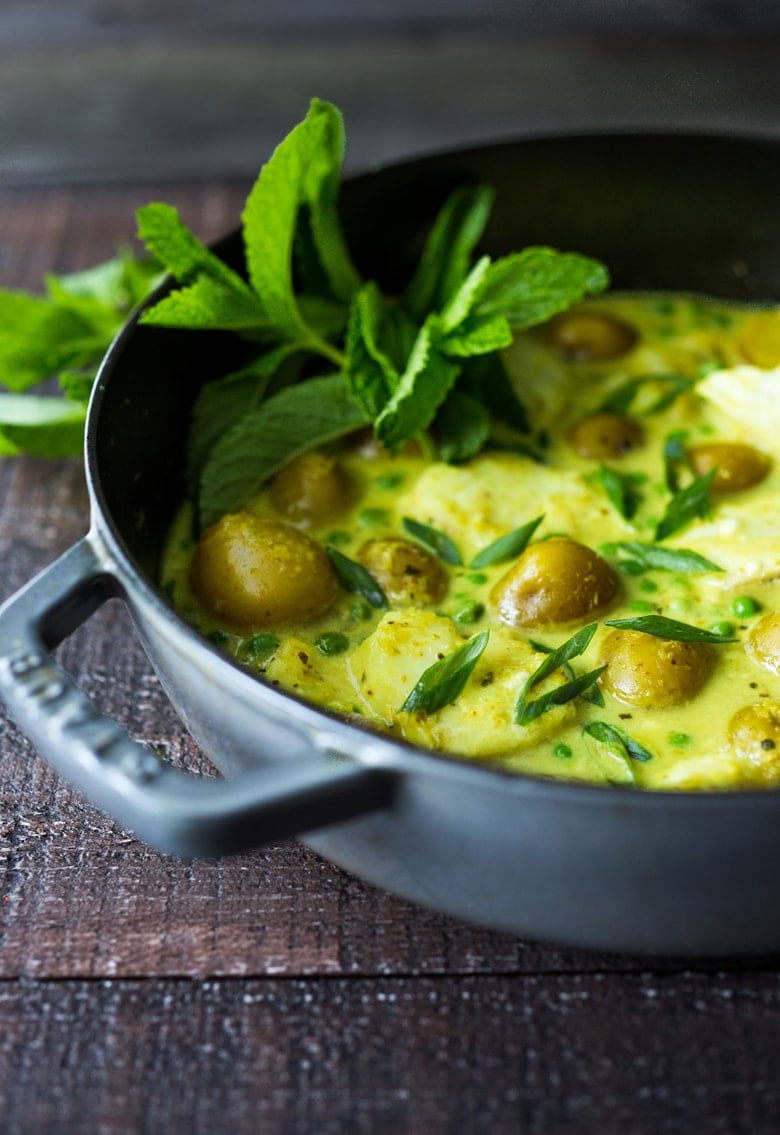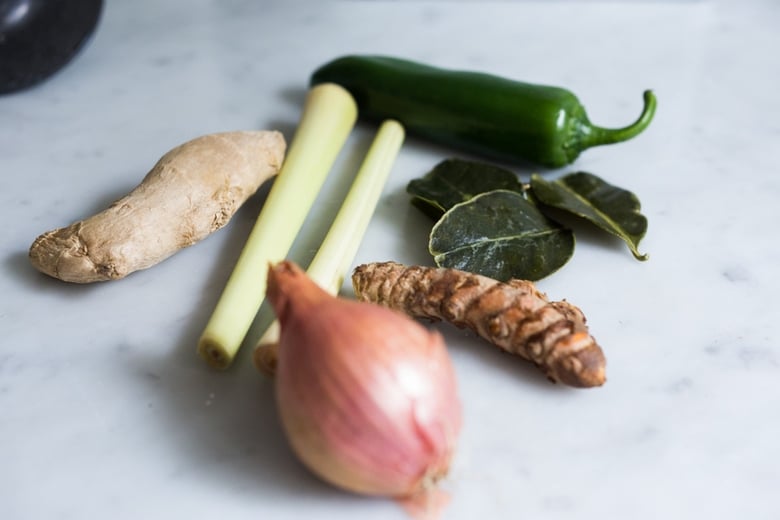 To limit trips the Asian market I often purchase kefir lime leaves in bulk and freeze them, so I always have some on hand to toss into soups, rice or curries. I also stock up on frozen chopped lemongrass and keep it in the freezer for emergencies.
To keep this mild in heat, I used a jalapeño.  Fresh turmeric root can be substituted with ground. Shallot is pretty essential here but you can sub half an onion- but the shallot really does bump up the flavor. Slice every thing up thinly ( to prevent a stringy texture) and place in the food processor. Blend in to a paste.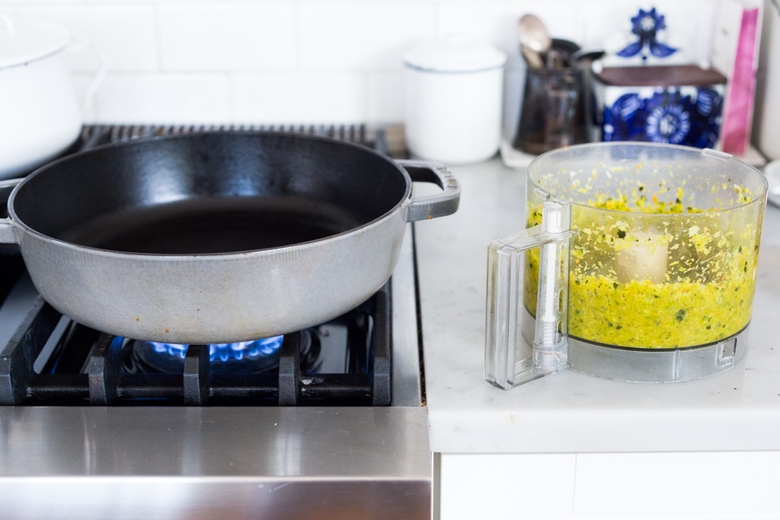 Heat coconut oil in a skillet and sear the fragrant paste until cooked and golden.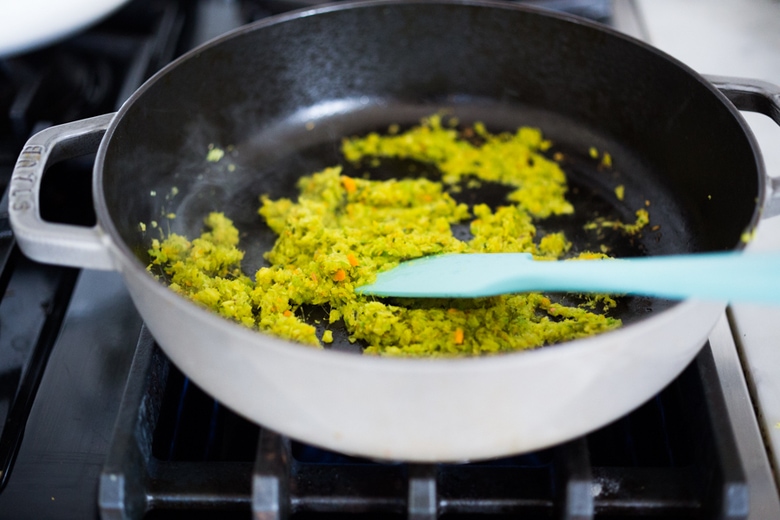 Add water and steam the potatoes.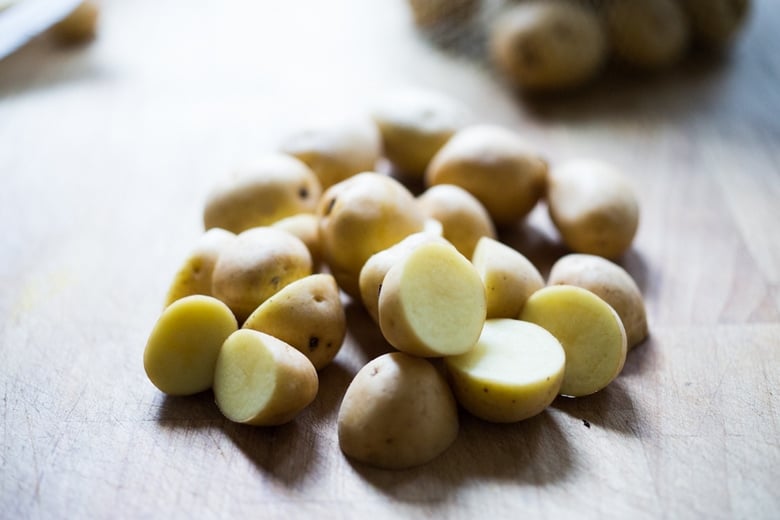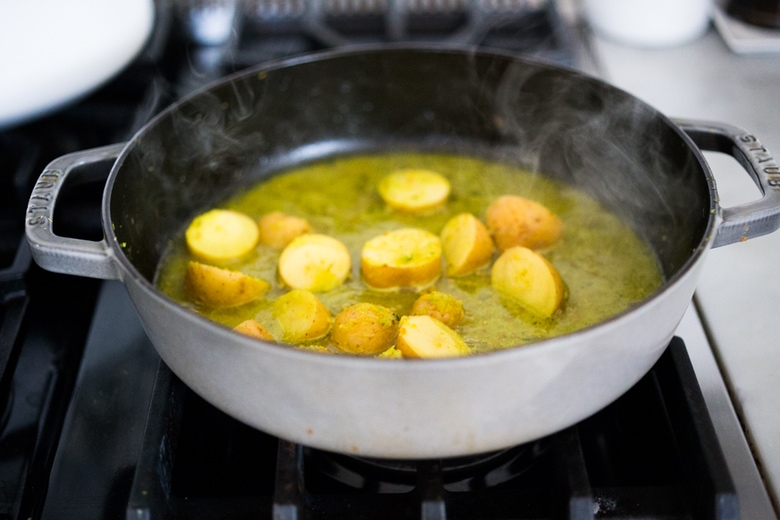 Once the potatoes are steamed, add the coconut milk, fish sauce, salt and lime. Adjust heat, adding sambal oelek ( chili paste) or chili flakes.
The best firm white fish for soups or stews: 
You generally want to use firm white fish for most stews and soups, because they will hold their shape and not disintegrate in the liquid. Here are 10 the best fish (and seafood) to use in soups and stews.
sea bass
halibut
black cod
haddock
escolar
ono
red snapper
salmon
scallops
shrimp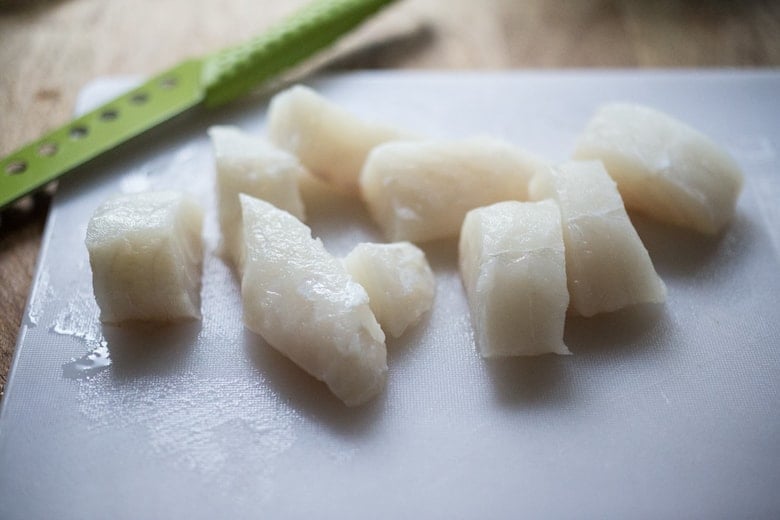 Cut the fish into larger pieces and gently slip them into the curry and simmer for about 5 minutes.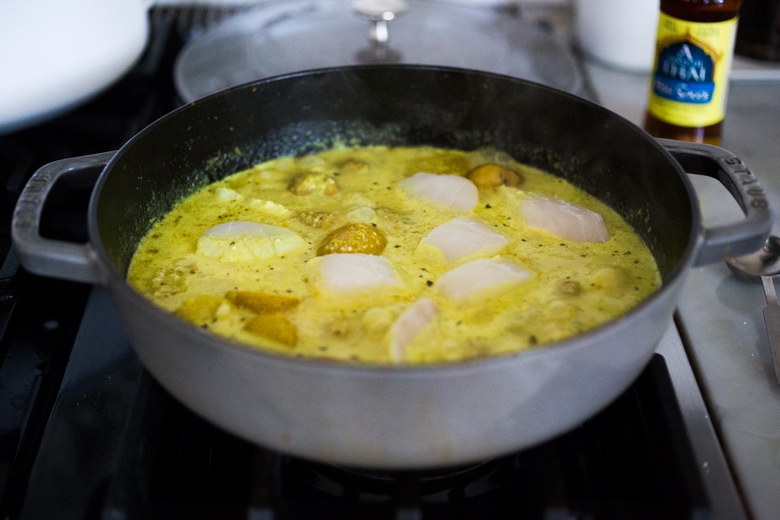 At the tail end of cooking the fish, adding something fresh and seasonal. Here I've add fresh spring peas, but feel free to add snap peas, asparagus, chopped green beans or greens- anything that will cook in about minute.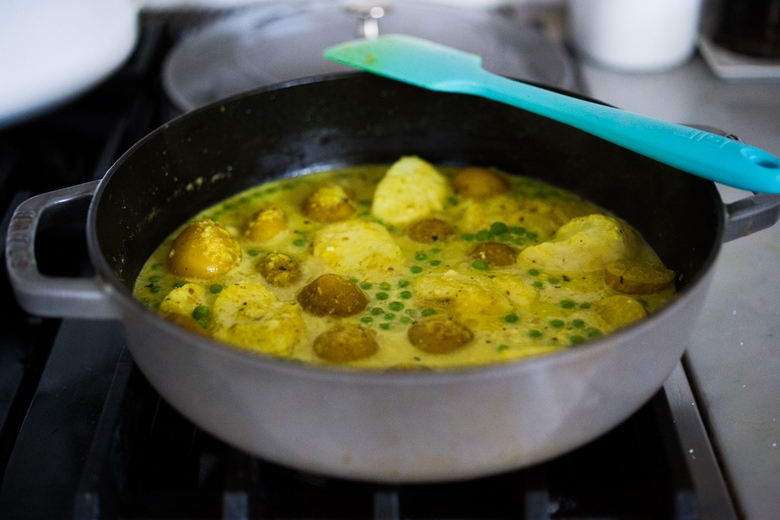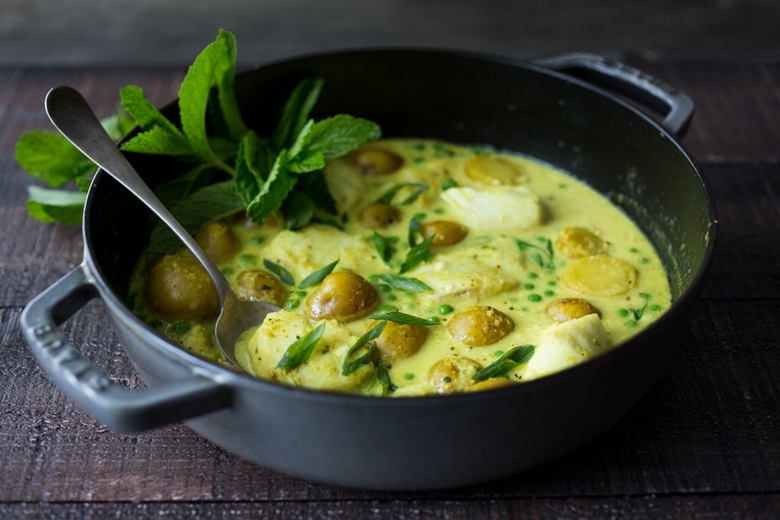 Then serve over rice or whole grains.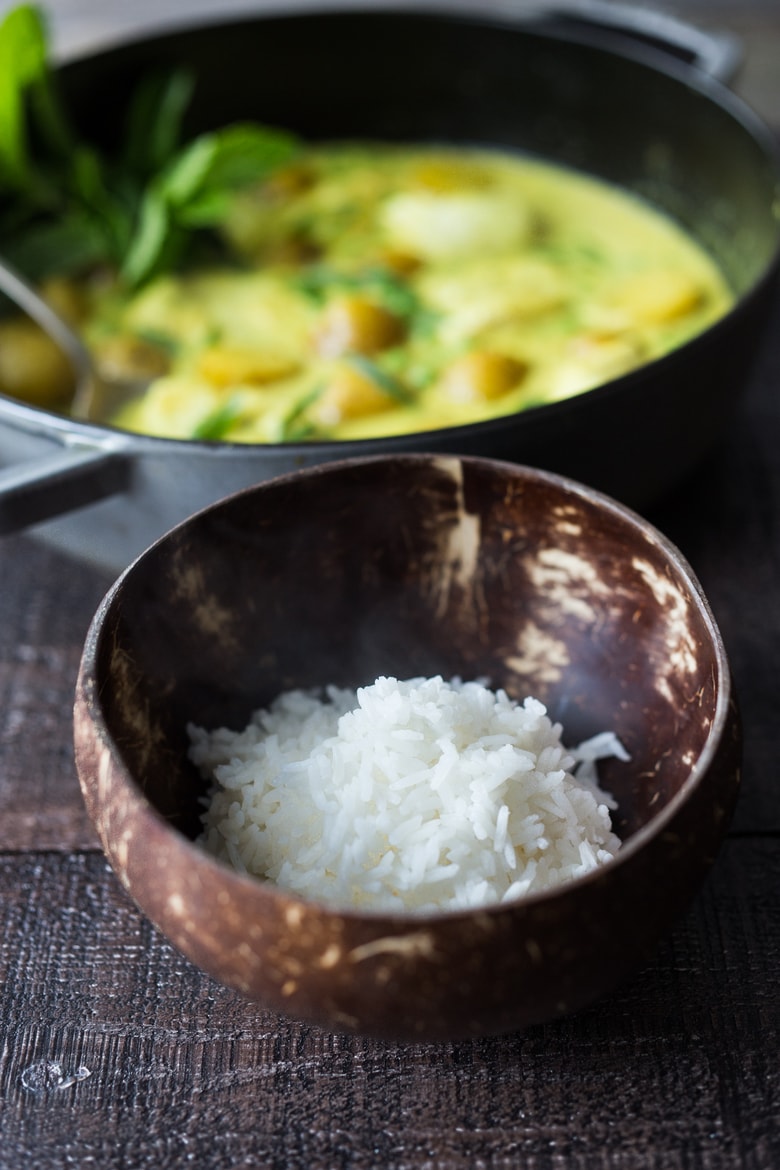 Garnish with fresh mint, a lime wedge and crispy shallots.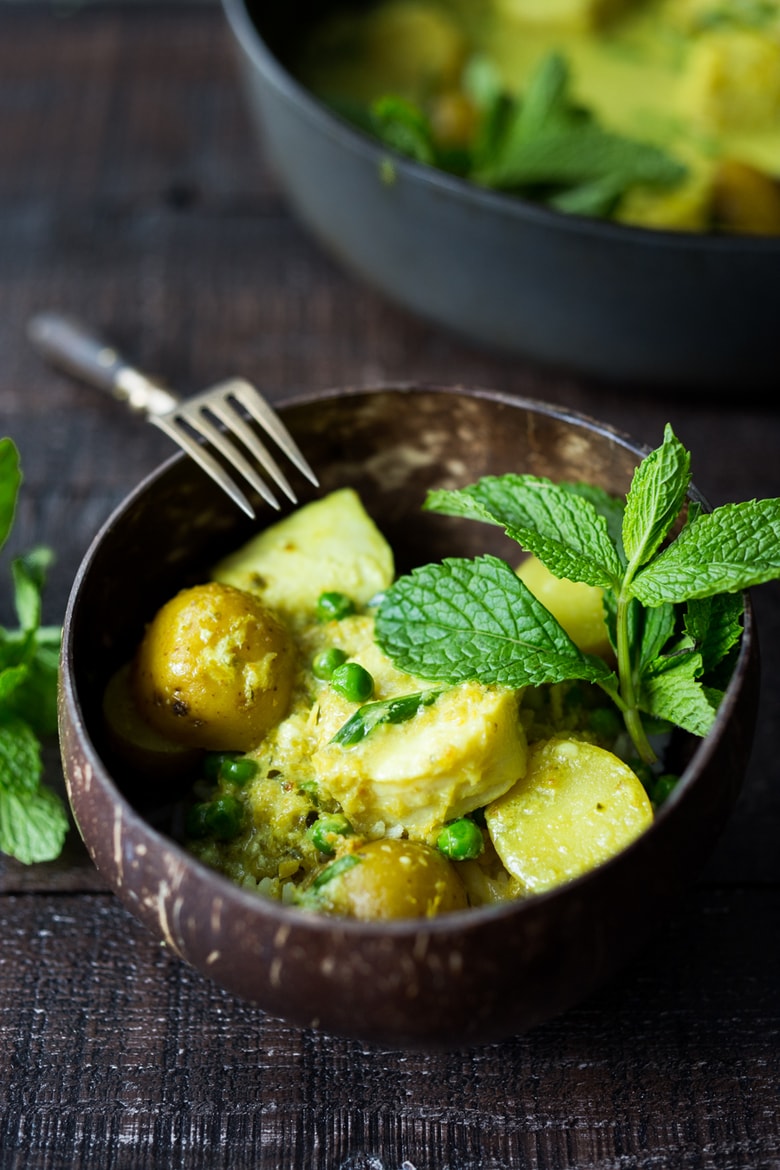 Balinese Fish and Potato Curry, called Kari Ikan is vibrant and flavorful and full of healthy ingredients. It will take you to a warm and sunny place. I promise.
xo
Print
Balinese Fish and Potato Curry (Kari Ikan)
Author:

Sylvia Fountaine

Prep Time:

15

Cook Time:

25

Total Time:

40 minutes

Yield:

3

-4

1

x

Category:

main, seafood, fish,

Method:

stove-top

Cuisine:

Balinese
---
Description
A fragrant Balinese Fish and Potato Curry with authentic and vibrant flavor! Serve over rice or whole grains.
---
2 tablespoons

thinly sliced ginger ( skin OK)

1

shallot rough chopped

1 tablespoon

fresh turmeric – thinly sliced – skin OK( or sub

2 teaspoons

ground)

2

x 5 inch stocks lemongrass, thinly sliced into disks

3

garlic cloves

1

jalapeno ( this will be mild)
——

2 tablespoons

coconut oil

2

cups

water

8

–

10

ounces

baby potatoes cut in half

1

can coconut milk

1/2 teaspoon

salt

1 tablespoon

fish sauce

1

lime- juice
sambal oelek, or chili paste or chili flakes for additional heat

10

–

12

ounces

while fish- (alaskan cod, black cod, tilapia, halibut, sword fish, shrimp, scallops)

1

cup

peas, snap peas, green beans, bok choy or bell pepper ( veggies that can cook in 1-2 minutes)
Garnish with lime wedge, crispy shallots ( available at asian markets) , fresh mint, basil, scallions or cilantro
Serve over rice or whole grain ( it's nice to toss a couple kefir lime leaves in with the cooking rice for a beautiful aroma)
---
Instructions
Set the rice or grain to cook.
Place the thinly sliced ginger, lemongrass, shallot and turmeric in the food processor. Add the jalapeño, garlic, and lime leaves. Pulse until it becomes a paste, scraping down sides if necessary.
Heat coconut oil in a large skillet, over medium high heat. When hot, add fragrant paste and stir constantly until it browns lightly, about 3-4 minutes. Add 2 cups water, give a stir, bring to a boil. Add potatoes, cover and simmer 15 minutes or until potatoes are fork tender.
Remove the lid, and reduce the liquid just a little, letting it simmer uncovered for a few minutes. Add coconut milk, salt, fish sauce and the juice from one small lime. Taste. Remember this will go over rice, so the flavors will mellow. Add chili paste or flakes for more heat.
Place the fish into the coconut sauce and simmer gently for 5 more minutes. Toss in the spring peas, snap peas or green beans and cook for just a minute or two, keeping them vibrant and snappy.
Serve over rice with a lime wedge, crispy shallots, fresh mint, basil, cilantro or scallions.
---
Nutrition
Serving Size:
Calories:
Sugar:
Sodium:
Fat:
Saturated Fat:
Trans Fat:
Carbohydrates:
Fiber:
Protein:
Cholesterol:
Keywords: fish curry, curried fish recipes, fish curry recipes, balinese fish curry, potato curry, balinese recipes, recipes from bali