Steamed Cockles with Peas, lemon and tarragon in a flavorful white wine broth, served with crusty bread to mop up all the flavorful juices! Cockles are tiny clams… but feel free to use clams instead! A light and flavorful spring meal!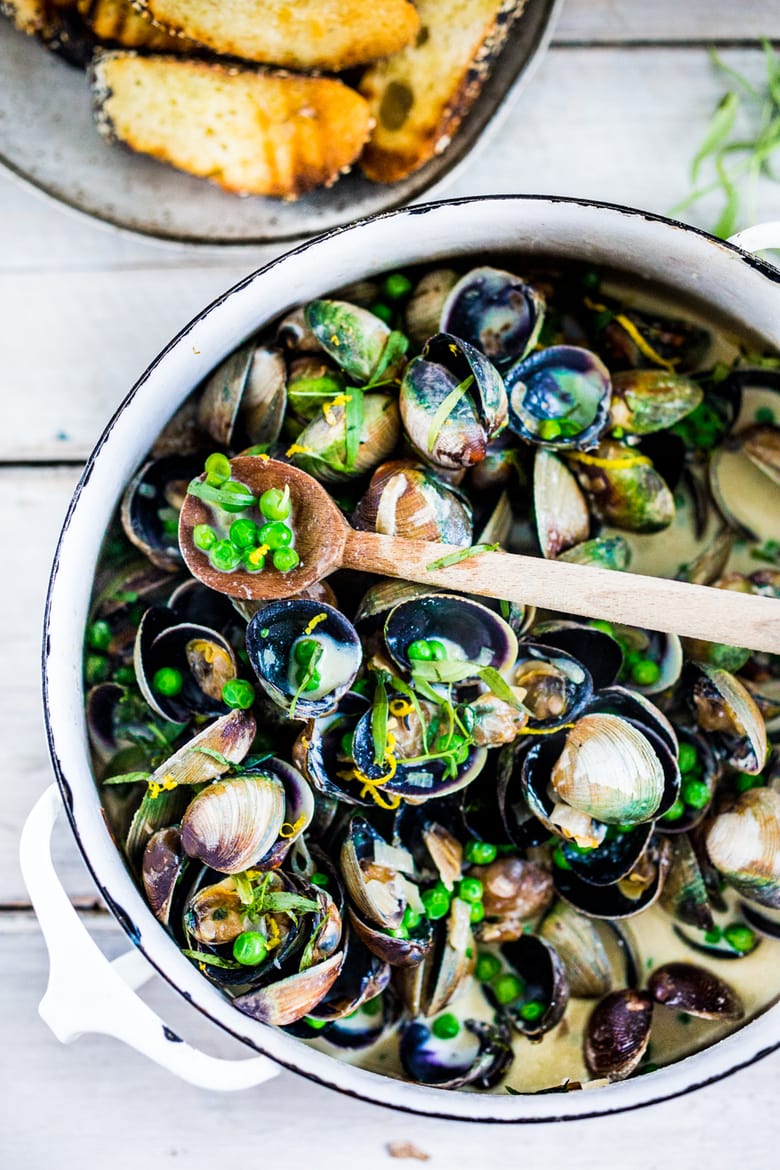 The stretch of land between San Fransisco and Point Reyes is magical. Tall, swaying eucalyptus trees infuse the air with an aroma that is otherworldly — earthy, herbal and healing. The ocean is wild and expansive and the mountains this time of year are vibrant green and blooming with wildflowers. Bright, orange California poppies dot the green grassy hills and the trees are filled with birds and happy buzzing bees. Spring is undeniable.
Here, our meals have come primarily from the sea. Fresh oysters, crab, prawns….and these Steamed Cockles (little clams) with peas and tarragon are among my favorites.
Peas, tarragon and lemon infuse the white wine broth with lovely spring flavor. It's served with crusty bread to mop up all juices, such a simple, yet satisfying and hearty meal for two. This could also be an appetizer for four-six people. Grilling the bread adds another layer of smokiness which I really enjoy, but it's not imperative.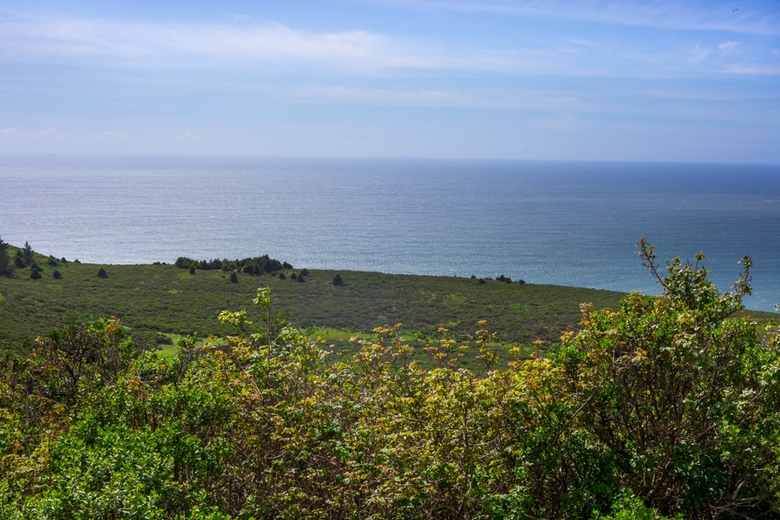 We've been spending our days hiking through Mt Tamalpais State Park. My feet ache, my calves are sore, but my spirit feels rejuvenated. Time has slowed and I feel myself coming back to life. Overlooking the ocean, the numerous trails offer breathtaking views.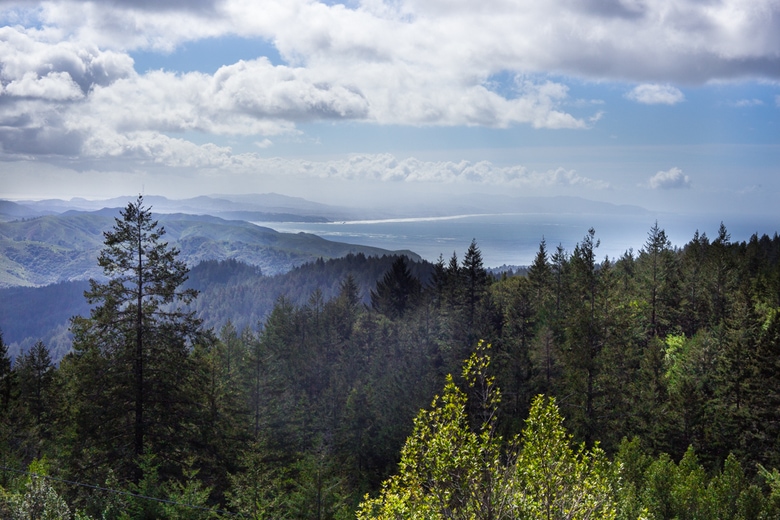 What is it about being outside in nature that renews the spirit? Walking through the dark woods, climbing peaks, seeing the endless horizon and sunlight streaming through the redwoods, smelling the mossy wet earth and stone, listening to the rushing creek and chattering birds. Perhaps it's because in these moments of beauty and awe, there is less room for thought, for mindless chatter. I feel still.
As the minds settles, I begin to hear the nuances of the forest. A tiny slithering snake, the flutter of wings, wind moving the branches, the knock of a woodpecker in the distance. A bee. The endless breathing of the ocean, waves rushing to the shore and retreating back.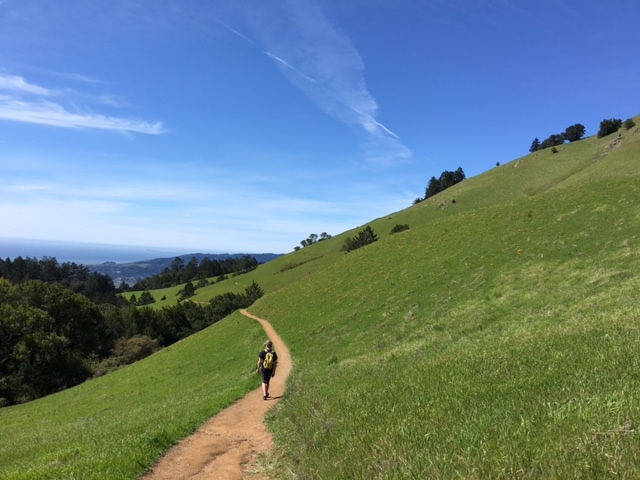 Little quiet truths begin to bubble to the surface of consciousness.
Here, I can hear myself. And so I've been listening more.
I try to ground myself in my body and just stay present.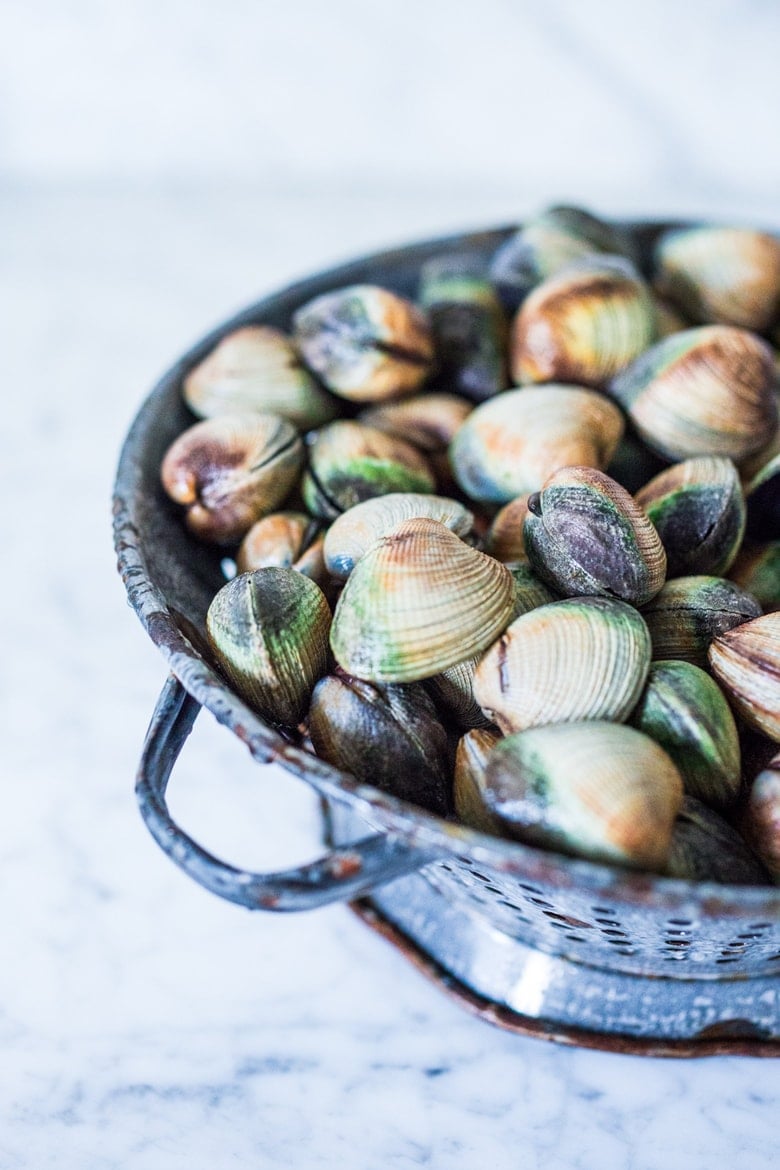 And back to the steamed cockles recipe!
Use whatever shellfish is seasonal and fresh. Cockles, if unfamiliar, are basically tiny clams. They are full of flavor and taste like the sea, but if unavailable feel free to substitute clams or mussels or even a combination of both. Fresh spring peas are delicious in this recipe, but again, if unavailable to you, it is totally OK to use frozen. Do try to use fresh tarragon though, it is so good in this.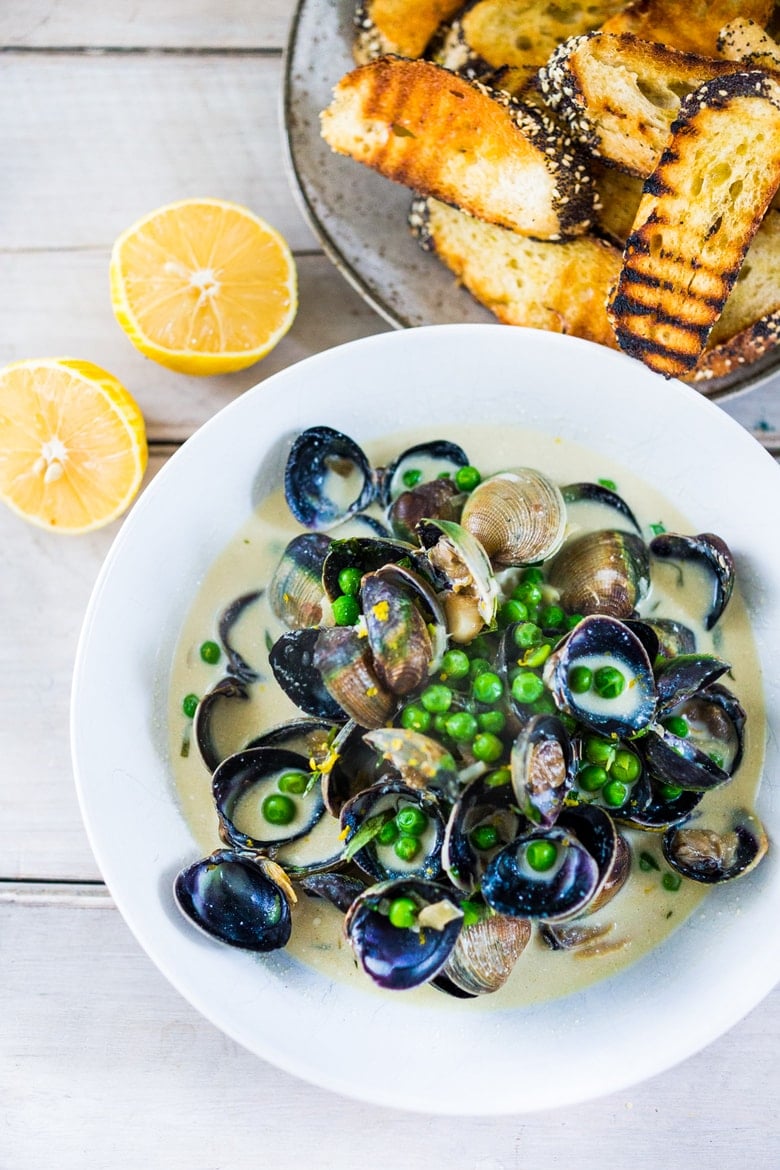 Happy spring to you. May you find a patch of stillness where ever you are.
Print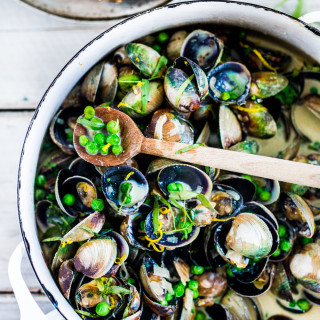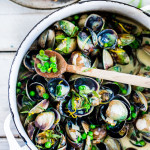 Steamed Cockles with Tarragon, Peas and white wine
Prep Time:

10 mins

Cook Time:

20 mins

Total Time:

30 mins

Yield:

2-4

Category:

Main, seafood, shellfish

Method:

Stove top

Cuisine:

French
---
Description
Steamed Cockles with Peas, lemon and tarragon in a flavorful white wine broth, served with crusty bread to mop up all the flavorful juices! Cockles are tiny clams….feel free to use clams instead!
---
2 tablespoons

butter or oil (or a mixture)

1 cup

thinly sliced leeks (

two

medium leeks, white parts only, or sub white onion, or a large shallot)

¾ cup

white wine (dry)

½ cup

heavy whipping cream

1 teaspoon

salt

4

pounds cockles, clams or mussels

1

–

2

cups peas ( fresh or frozen)

¼ cup

fresh tarragon leaves
pepper to taste
Zest of

one

small lemon, and a squeeze of its juice

½ cup

sour cream (optional)
NOTE: A splash of Pernod would be really good here (at the same time as the wine)
Serve with crusty toasty (or grilled) bread and sprinkle with more fresh tarragon
---
Instructions
Heat oil over medium-low heat in a large heavy bottom pot and cook leeks until tender and melting, turning heat lower if necessary.
Add wine, cream and salt and bring to a boil.
Add clams (remember they will release their liquid) cover, and simmer for about 5 minutes until the clams have opened up, and remove any that haven't.
Add the peas, fresh tarragon, lemon zest and squeeze of lemon and simmer 2 more minutes. Taste adding pepper and more lemon juice if necessary.
For a richer broth, stir in a little sour cream.
Garnish with fresh tarragon.
Serve immediately with crusty bread to mop up all the flavorful juices.
---
---
Keywords: steamed clams, steamed cockles, cockles recipes, spring cockles