Mushroom Bruschetta with Triple Cream Brie, Sage and Truffle Oil – a surprisingly easy appetizer that tastes amazing and looks elegant! Perfect for holiday gatherings. Vegan and Gluten-free adaptable! ( see recipe notes)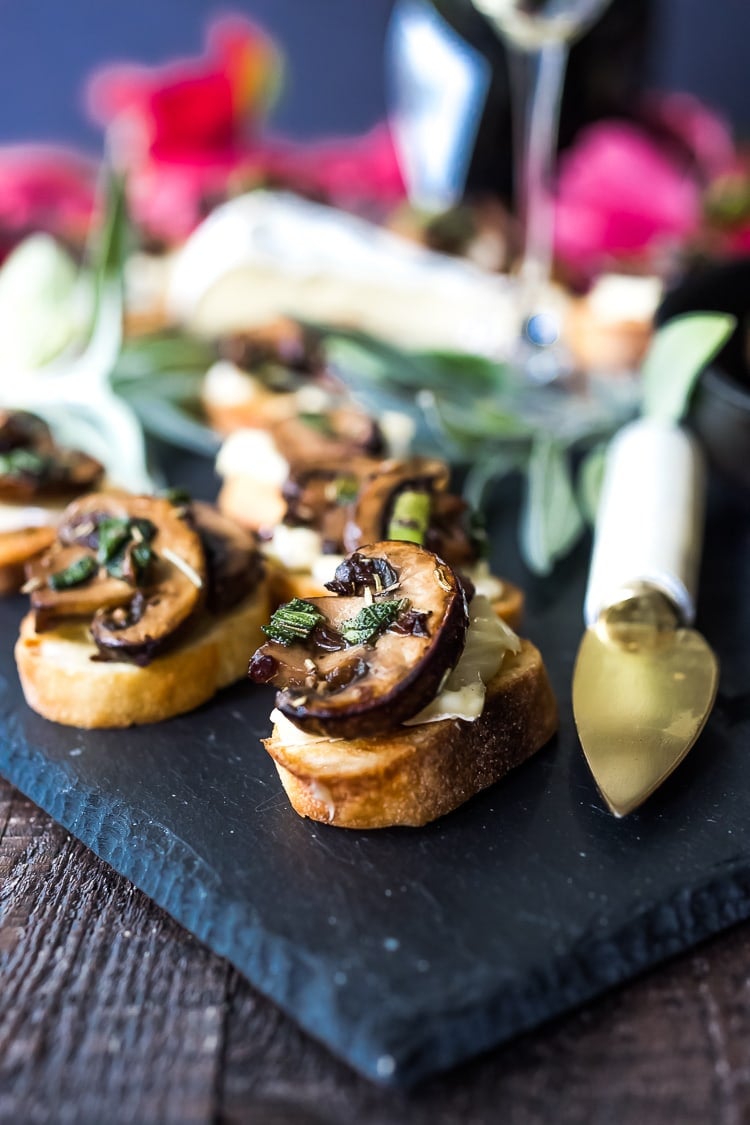 Need a simple holiday appetizer that tastes amazing and feels upscale and elegant? Here's a delicious recipe for Mushroom Bruschetta with triple cream brie, sage and truffle oil that won't disappoint.
It was always a huge hit, back in our catering days and can easily be made vegan or gluten-free!  Pair it with a festive sparkling wine, and really, what else does one need?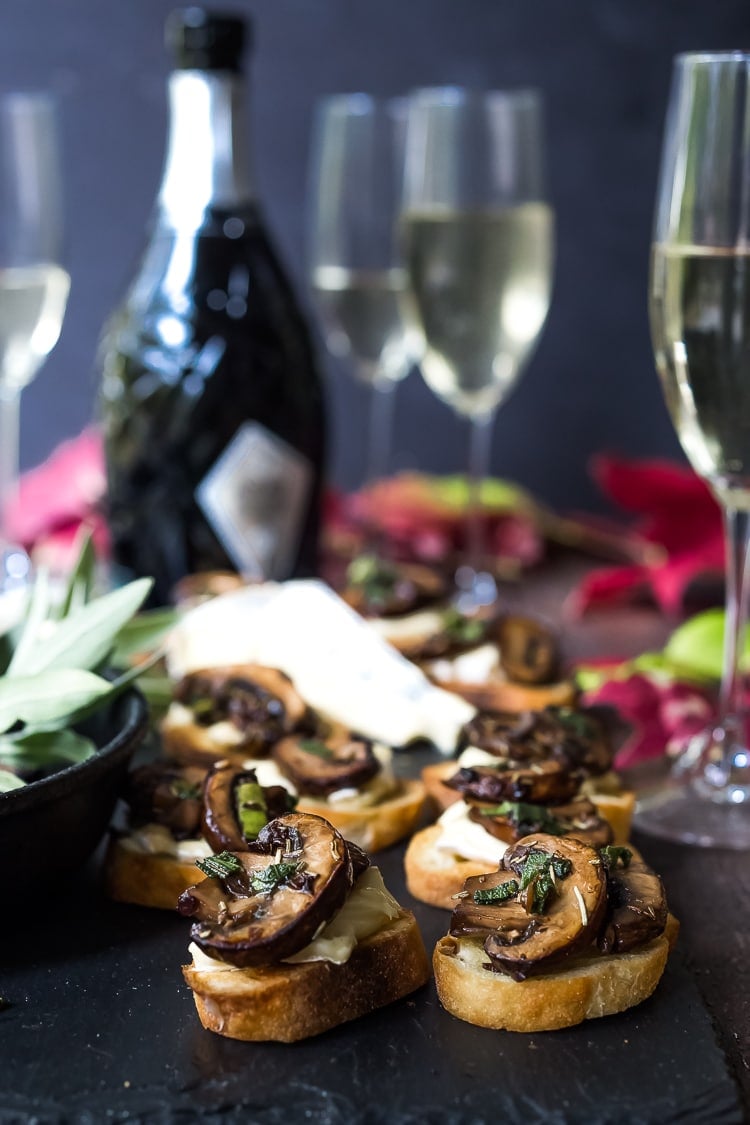 I'm not sure if I've ever told you this, but I've got a thing for sparkling wine. I love how light and effervescent and happy it feels. It feels alive! I love how the bubbles feel in my mouth, and the little joy that wells up in my heart.  
I gravitate towards sparkling wine, all winter long, even after most of my friends and family have switched to red. Bubbles, whether in the tub, in my glass, or even in the sink, are actually amazing and beautiful! We're just so accustomed to them, we've forgotten their magic! Look at them sometime and see what they do in the light.  
This week I've partnered with my new favorite maker of Prosecco Superiore, called Astoria! Their vineyards are nestled in breathtaking slopes of the alps, made of marl and sandstone in the town of Valdobbiadene, located in the heart of the Prosecco Superiore DOCG region in Italy's northeastern corner. 
These wines are stunning. Beautiful, clean, bright aromas of ripe melon, lime and citrus and a hint of minerals, the flavor almost transports me to those rocky flinty hillsides. You can taste the earth. The tiny, long-lasting bubbles, are truly lovely- joyfulness in a glass.  Just the thing to get a party off to a light-hearted, festive start.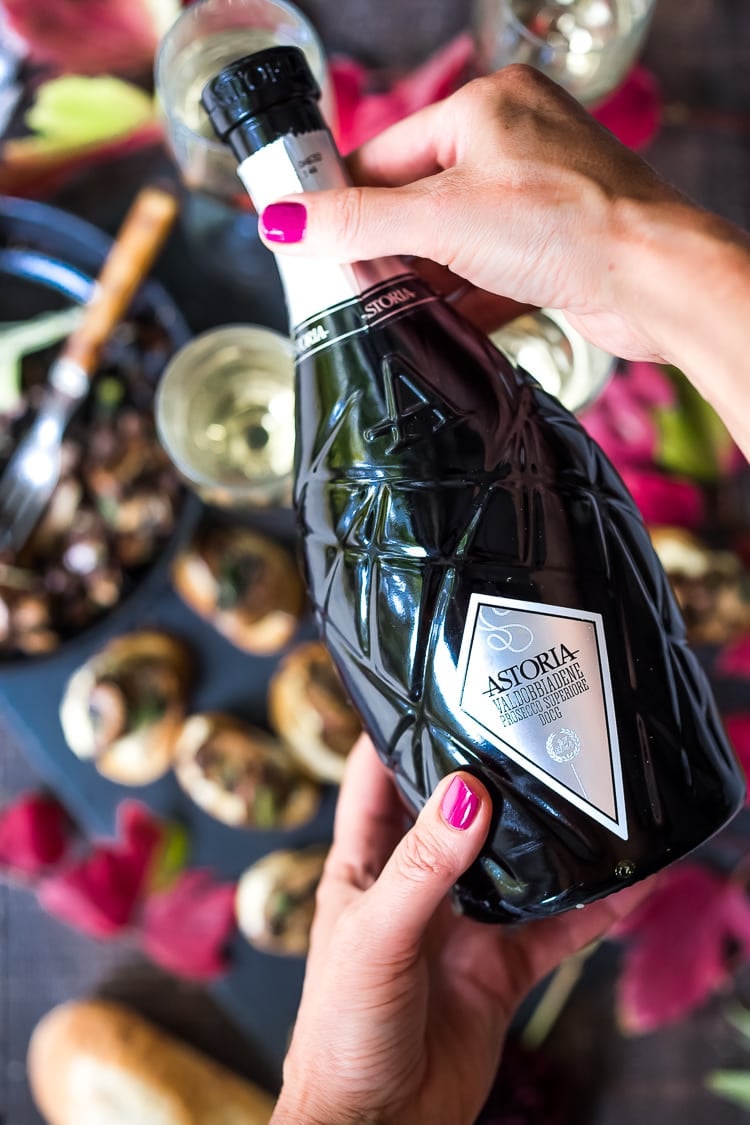 What I personally love about Astoria is how low in sugar it is… much lower than wine or cocktails.  Plus the bottle just looks pretty. I know I'm not the only one who judges the wine by its label. 😉  It's very versatile and pairs well with a variety of different flavor profiles making it an ideal choice for parties and gatherings where there is often a diverse array of different appetizers and bites. 
And back to this delicious Mushroom Bruschetta. There are several ways to make this depending on your needs.
You can toast the baguette slices ahead, and then assemble, for a crispy foundation, or you can bake the whole appetizer on un-toasted baguette slices, for a softer, meltier bite- which works well if the party is at your own home.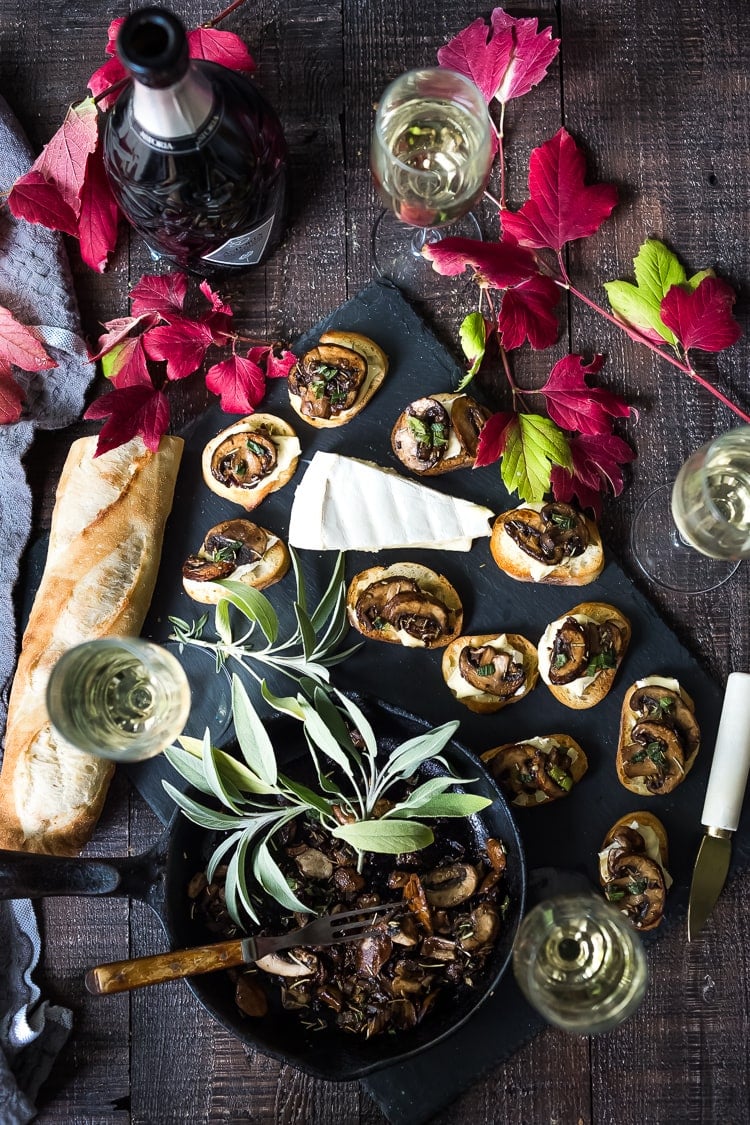 Pre-build and bake right when the guests arrive. The delicious aroma wafting out of the oven is heavenly.
You can make these Mushroom Bruschetta with or without the cheese for vegan appetizer, or make some of them vegan, keeping them off to the side. You can also use a gluten-free baguette! So many options here friends.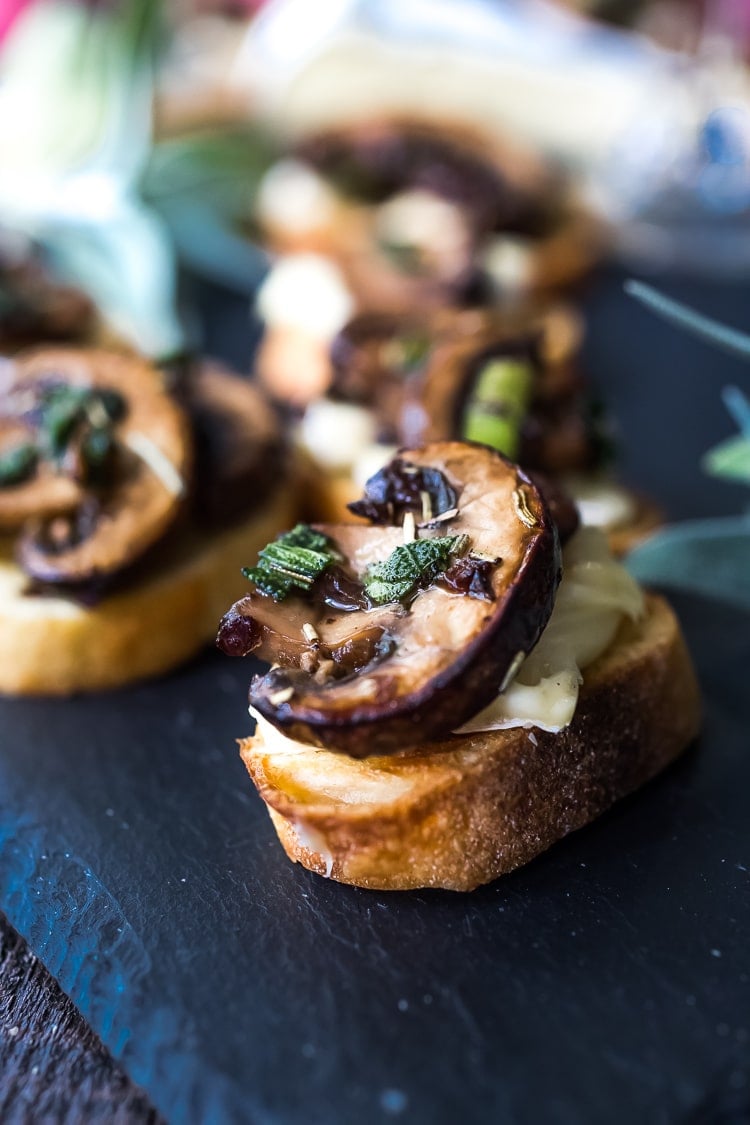 The difference between regular brie and triple cream brie, is basically triple cream brie is way creamier, which translates to richer, more flavor, softer and more spreadable, perfect for bruschetta. The wedge is also generally thicker.
For grown up palates, cambazola is also a delicious option here- like a creamy brie, but with flavorful blue veins. Even more flavor! So if you can't find Triple Cream Brie, look for Cambazola.
And please, friends do not be afraid of the brie rind. Use it!  Slice the brie downward, into ⅛ think slices, including a tiny sliver of the rind. It adds so much flavor and is meant to be eaten. Seriously! You won't even notice the rind when cut this way. You'll waste less cheese and when you try it, you won't notice it, you'll just think, wow, this tastes delicious!
People here in the states have such an incredible rind phobia! In France, they eat it without a thought.
In catering when we serve the mushroom bruschetta this way, never once, did anyone ever have a problem with the rind. They were gobbled up, often the first appetizer to disappear! So trust me. OK?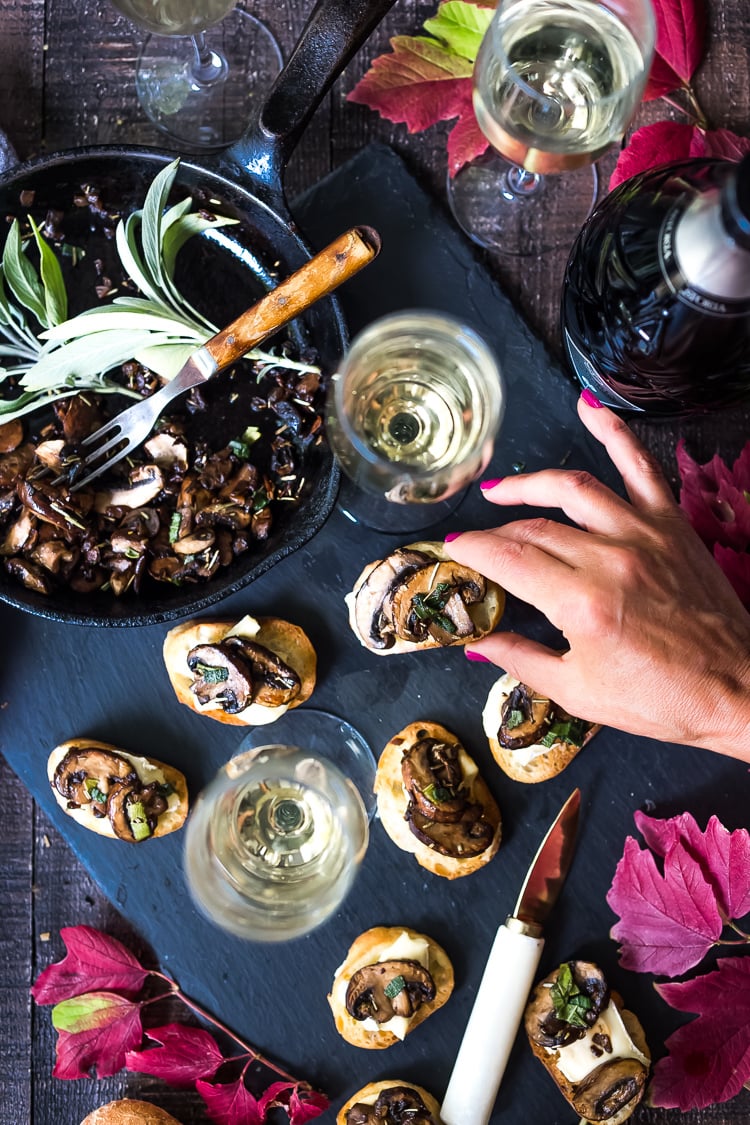 I can't tell you how many thousands and thousands of these mushroom bruschettas I've made in my life… and I'm so happy to be able to share these with you now!
Enjoy and cheers! With bubbles. 😉
xoxo
Print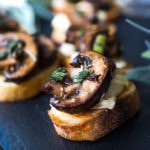 Mushroom Bruschetta with Brie, Sage and Truffle Oil
Author:

Sylvia Fountaine

Prep Time:

30

Cook Time:

20

Total Time:

50 minutes

Yield:

16

-

2

0

1

x

Category:

appetizer

Method:

baked

Cuisine:

northwest
---
Description
Mushroom Bruschetta with Triple Cream Brie, Sage and Truffle Oil – a surprisingly easy appetizer that tastes amazing and looks elegant! Perfect for holiday gatherings. Vegan adaptable! See notes.
---
1

baguette, sliced into 1/2 inch thick pieces (

16

–

20

pieces)
olive oil for brushing

1

lb

mushrooms – cremini, button, or wild mushrooms ( sliced)

3 tablespoons

olive oil or butter

1

fat shallot, finely diced

4

garlic cloves, rough chopped

10

sage leaves, stacked, and sliced into thin, horizontal ribbons

2 tablespoons

cooking sherry, ( or sub white wine, or

1 tablespoon

of sherry or balsamic vinegar)

8

–

12

ounces

triple cream brie ( or for vegan see notes) or try cambazola for even more flavor!

2

–

3

teaspoons Truffle oil ( white or black)
---
Instructions
preheat oven to 375 F
Brush both sides of bread lightly with olive oil, sprinkle with a little salt, and bake on a sheet pan until crisp and golden, about 15-20 minutes.
Saute the mushrooms: heat oil in a large skillet over medium heat and add the mushrooms, and season generously with  salt and pepper.  Sauté 10-15 minutes, until they release their liquid and the liquid has evaporated. Add the shallots and garlic and sage, adding little more oil if need be, and continue to saute until they become fragrant and golden, about 3-4 more minutes. Give the pan a splash of cooking sherry or wine, swirling the pan around, letting the alcohol cook off fully. If mushrooms seem dry add another drizzle of olive oil and taste. If bland, add more salt. You want these to be seasoned really well with salt and pepper because the bread and cheese will mute it. Drizzle generously with truffle oil and turns heat off.
When the baguette slices are nice and toasty and crispy, place a small pat of triple cream brie ( cut the brie downward, to include a little sliver of the rind, YES, it is edible, and adds flavor)  the size of a pat of butter ( or about ½ an ounce, or a tablespoon), dividing the remaining cheese, just using it all up. Top with a few slices of the sautéed mushrooms, distributing them equally, making sure that each gets a little piece of sage.
Serve them on a platter or cheese board and serve immediately or keep them at room temp for up to two hours before serving. Or foil them up and take them to your party.
You could drizzle with a little reduced balsamic syrup, right before serving. This is my absolute favorite (White Truffle Balsamic Glaze)
---
Notes
To make these vegan, skip the cheese and add an extra drizzle of olive oil and truffle oil, before adding the mushrooms directly onto the crispy baguette slices. These will taste best, nice and warm, so you could make it all ahead ( keeping bread and mushrooms separate) then heat up mushrooms right before serving.
You can also make these ( with the cheese) without toasting the baguettes first….by simply assembling the un-toasted baguette slices with a pat of triple cream brie cheese, some sautéed mushrooms and placing them on a sheet pan to warm in the 350F oven. Bake for about 15 minutes. The brie will get melty, the bread will be soft and warm- a little different style- but still good, and perfect when short on time, and serving immediately from the oven. You could have these prepped and ready to bake, right when your guests arrive. When they come of the oven, your house will smell glorious.
Lastly, for more "grown-up" palates, I highly recommend pairing this with cambazola cheese. Kind of like brie, but with blue veins, way more flavor and complexity! Delicious!
Triple cream brie is way softer and creamier that regular brie. It is usually thicker as well. I slice pieces of the brie, downwards,  including a sliver of the rind. Yes, you can eat the rind, and it adds great flavor.
Nutrition
Serving Size:

one piece

Calories:

161

Sugar:

1.6 g

Sodium:

256.1 mg

Fat:

8.6 g

Saturated Fat:

3.2 g

Carbohydrates:

15 g

Fiber:

1.2 g

Protein:

6.7 g

Cholesterol:

14.2 mg
Keywords: mushroom bruschetta, bruschetta with mushrooms , mushroom brie brushetta,