Fresh Oysters with Mustard Seed Mignonette with cucumber, shallot and dill. If taking to a party, make the Mignonette ahead and shuck the oysters at the party. These little guys are sure to please. Serve on a bed of ice!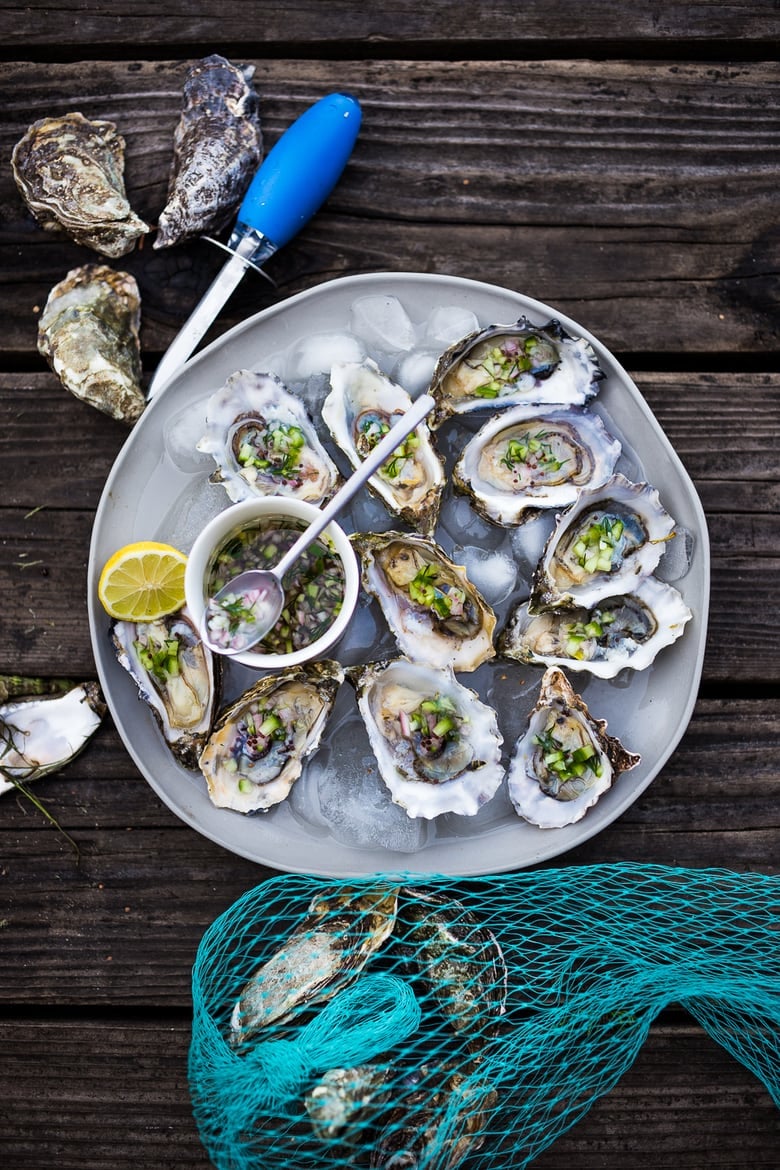 Last month Brian and I drove down to Northern California, just above San Fransisco and began a slow meandering up the coast. There were so many things to love here – the smell of eucalyptus trees, the green rolling hillsides dotted with bright orange poppies, the huge cyprus trees bent and twisted by wind blowing from the ocean, and of course the deep blue sea itself, endless and expansive. Here are some highlights from the trip – and then a recipe for Fresh Oysters with a Spring Mignonette with Dill, Mustard Seeds, cucumber and shallots.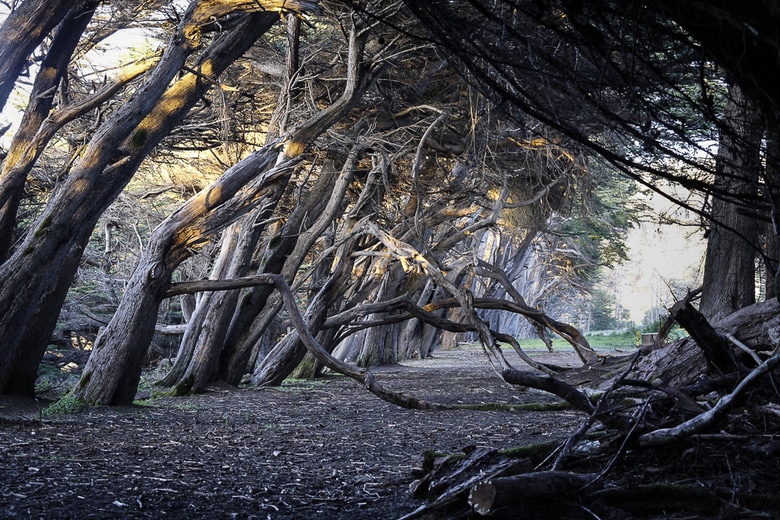 I've been rereading, Gift from the Sea, by Anne Morrow Lindbergh, and am in awe of how timeless this book is, how applicable it is to our modern age of technology, even though it was written in the 1950's. "Not knowing how to feed the spirit, we try to muffle its demands in distractions. Instead of stilling the center, the axis of the wheel, we add more centrifugal activities to our lives -which throw us off-balance."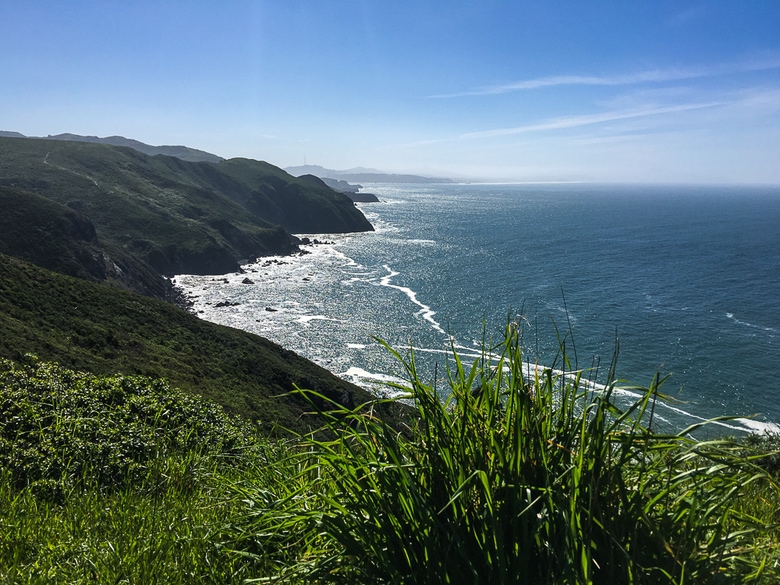 Last year I had been especially guilty of this, taking on too much on catering, and as a result, felt my spirit kind of wither away. I lost the balance, yet again, only this time, went through a dark spell. I knew, what I desperately needed was to be outside, and to find connection and meaning again.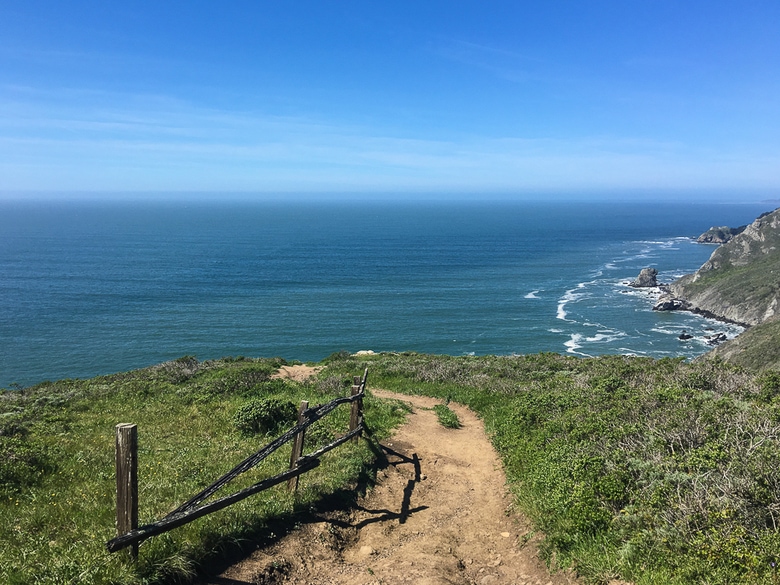 So this is what I thought about for days on end as we meandered up and down shoreline trails around Muir Beach, through dense dark forests and bright green fields of California poppies on Mt Tamalpias, while looking at birds and flowers and the great blue sea.
There's nothing like being outside to help sort and settle the mind.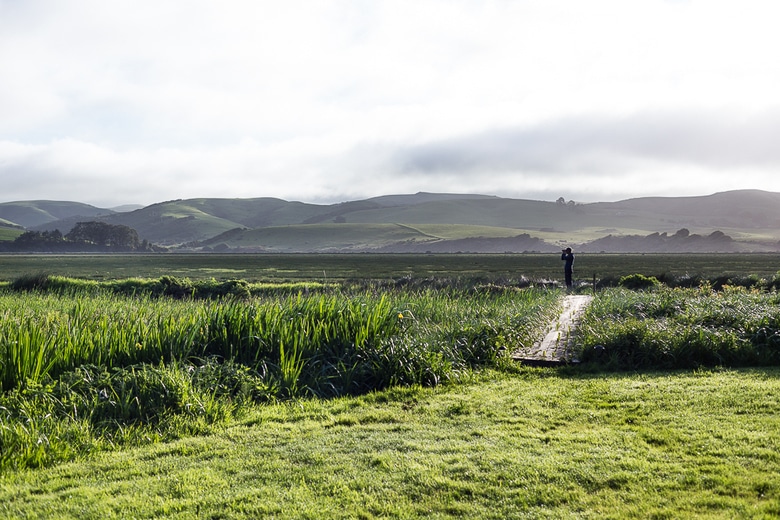 The wetlands around Tomales Bay were lush and green, full of flowers and birds.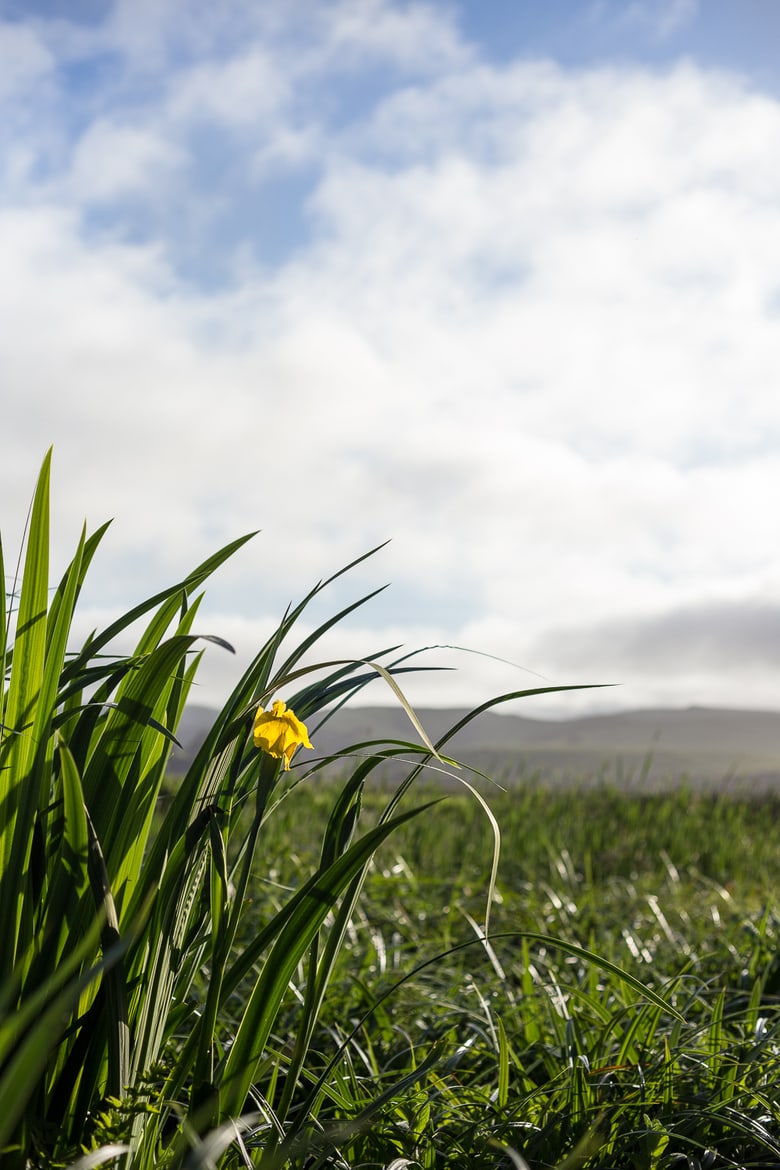 Flowers sprouted up in every nook and cranny.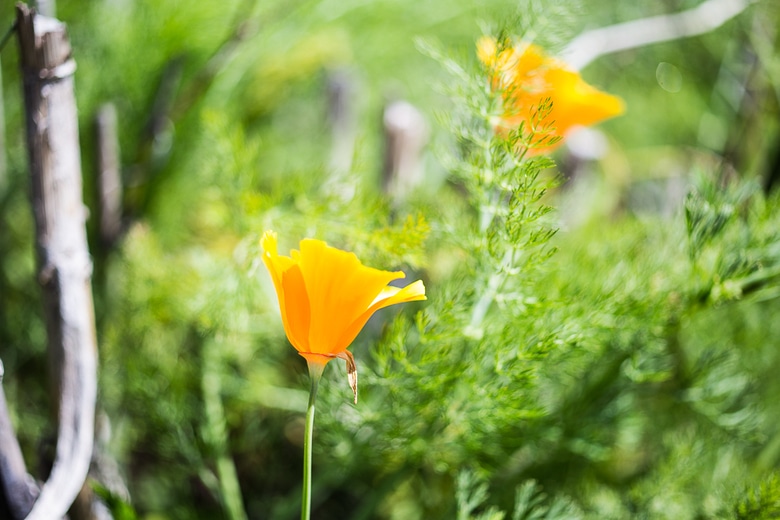 And just like in life, there were times we found ourselves in the dark woods.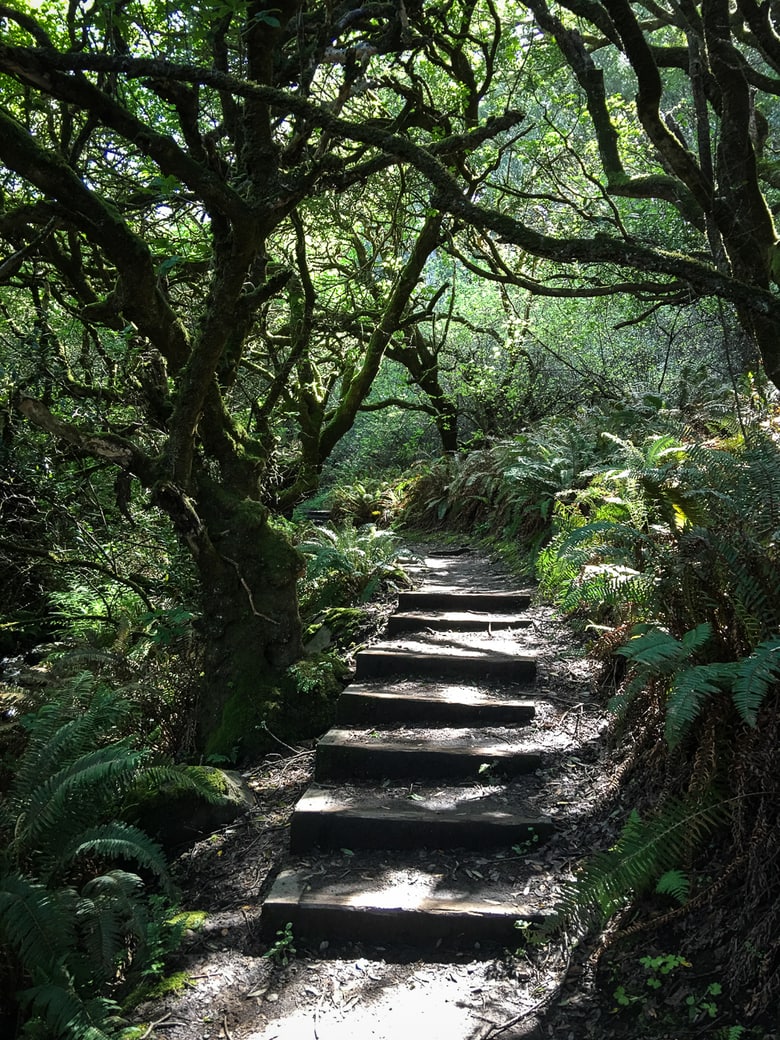 There was beauty to be found here, too.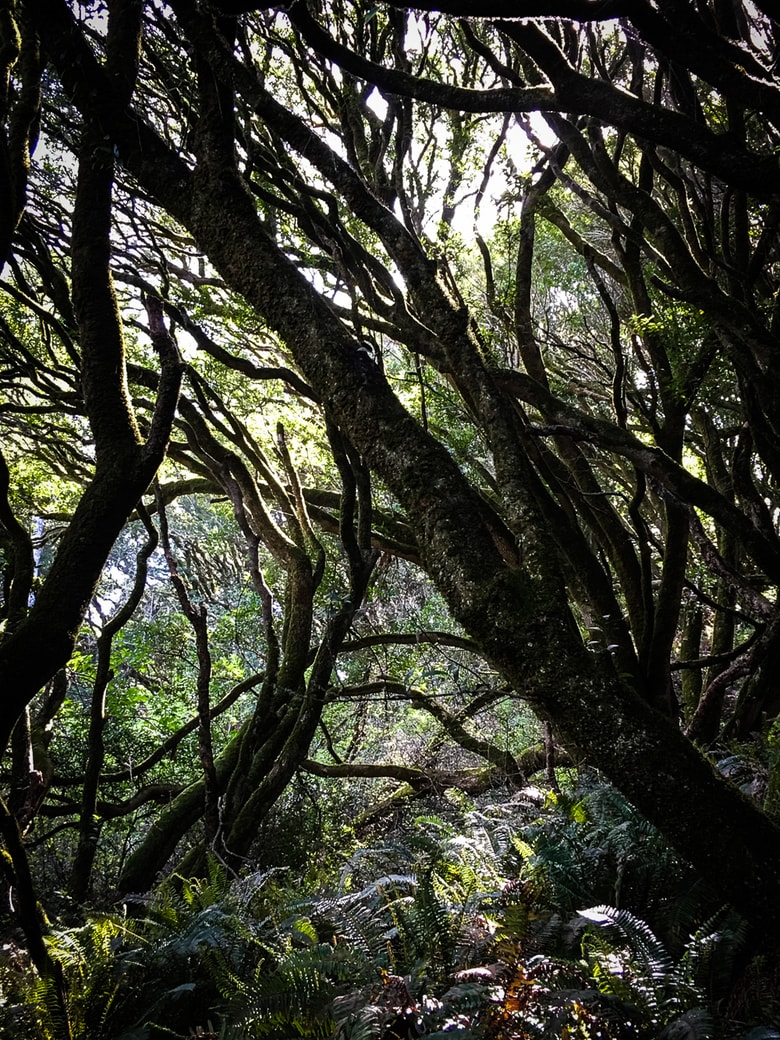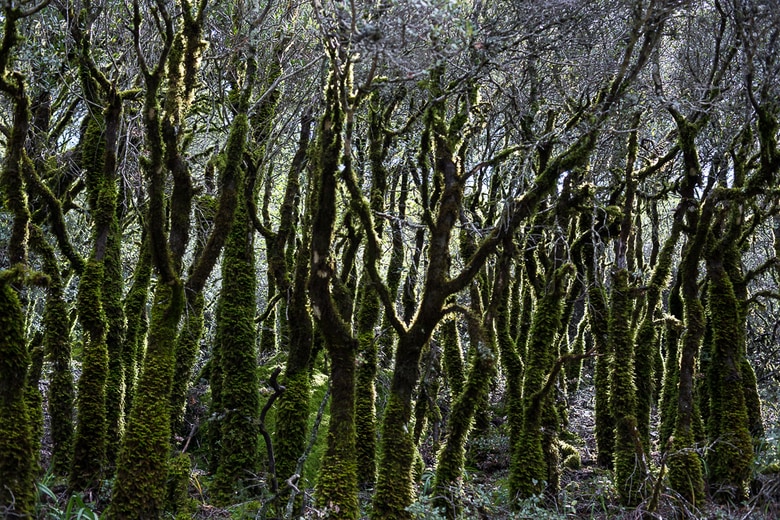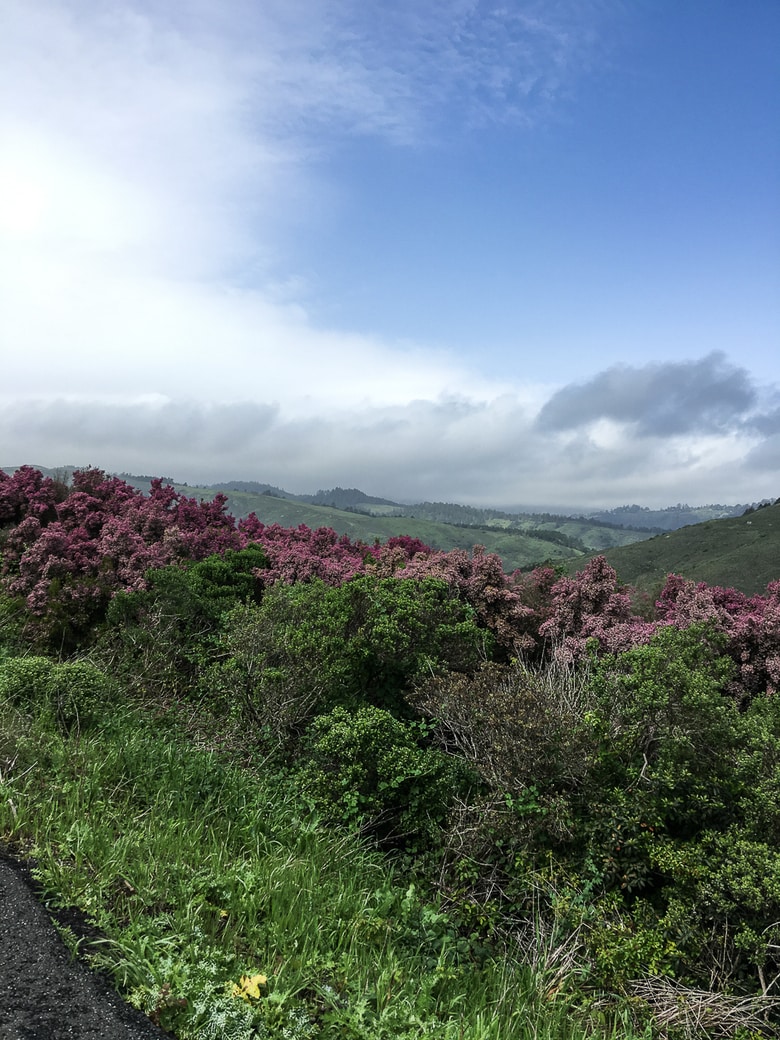 What gives our lives depth and meaning is so different for each of us- so personal and experiential. Felt with the heart, words only manage to make it small.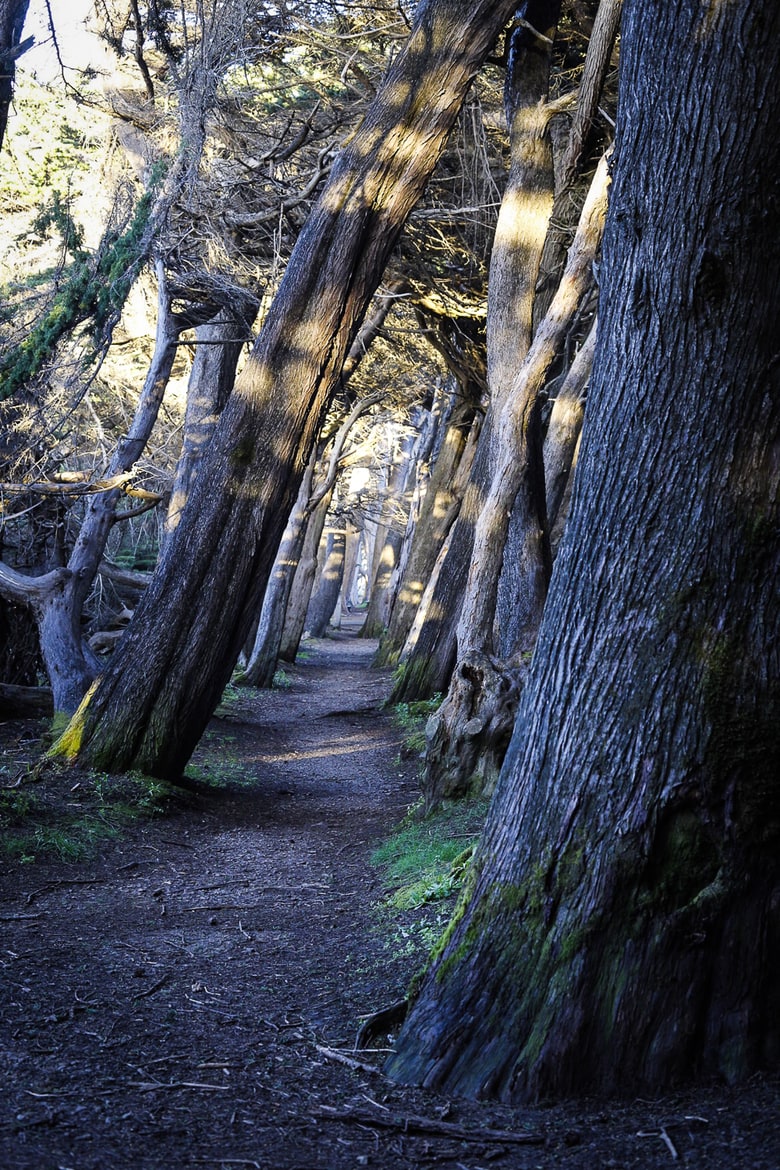 What I will say is, the universe is exceptionally good about giving us exactly what we need, at just the right time, and often puts it right in front of our noses. We just don't usually recognize it.
Which actually can be quite comical at times, when we eventually figure it out. Oh life…..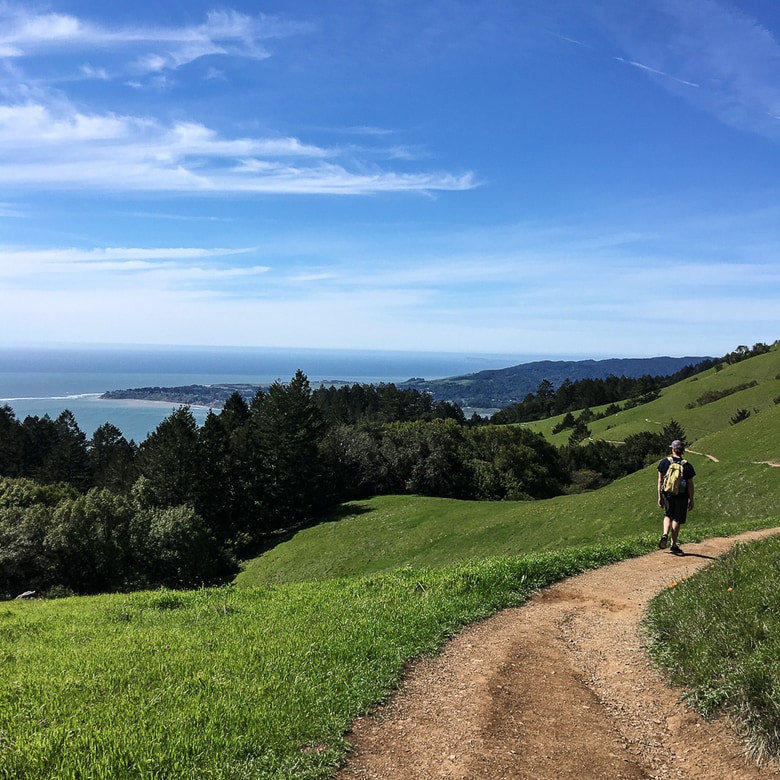 This was a trail from Mt Tamalpais to Stinson Beach.
We started our trip in Mill Valley, a very quaint charming little town worth visiting, and really enjoyed staying at The Mill Valley Inn. Ask for a room that faces the back forest.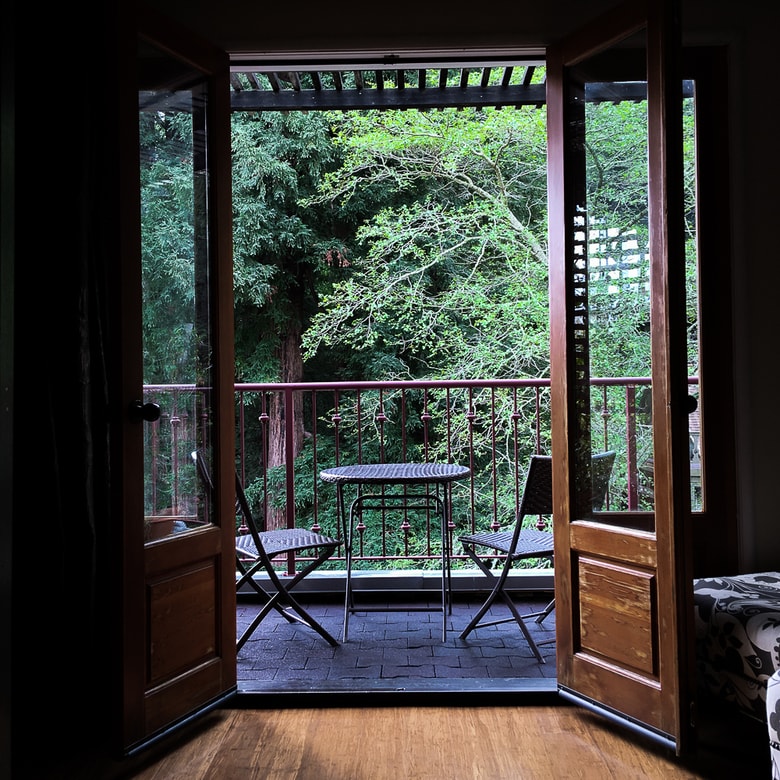 If driving through Sausalito make sure to visit the original Heath Ceramics Factory.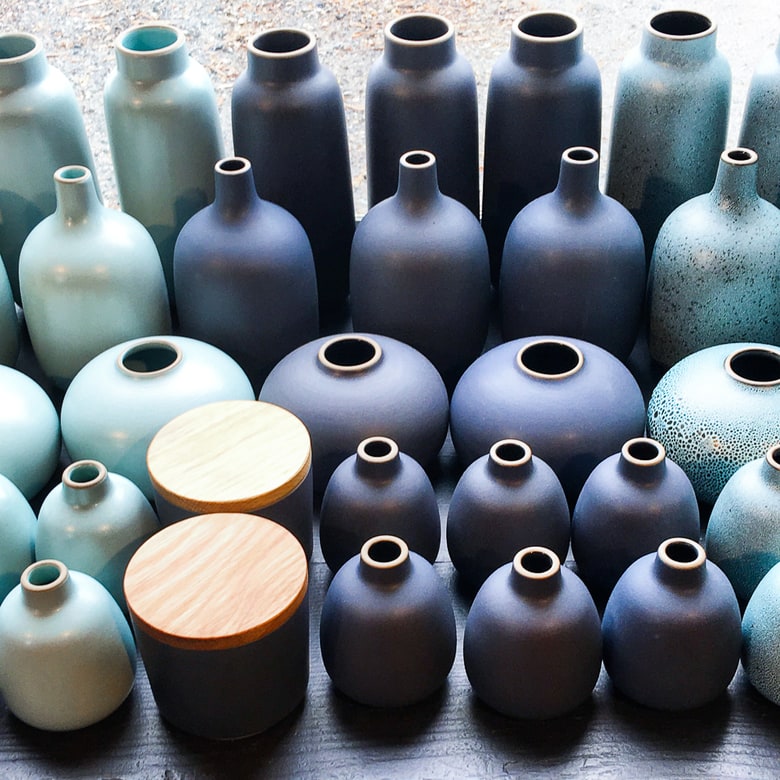 When driving up the coast, Muir Beach Outlook is a stunning stop for views, but if you have more time to explore, this hike along the Coastal Trail, it's one of most beautiful hikes I've ever done, starting in Muir Beach and heading south. You don't have to do the whole thing, it's incredible right at the start.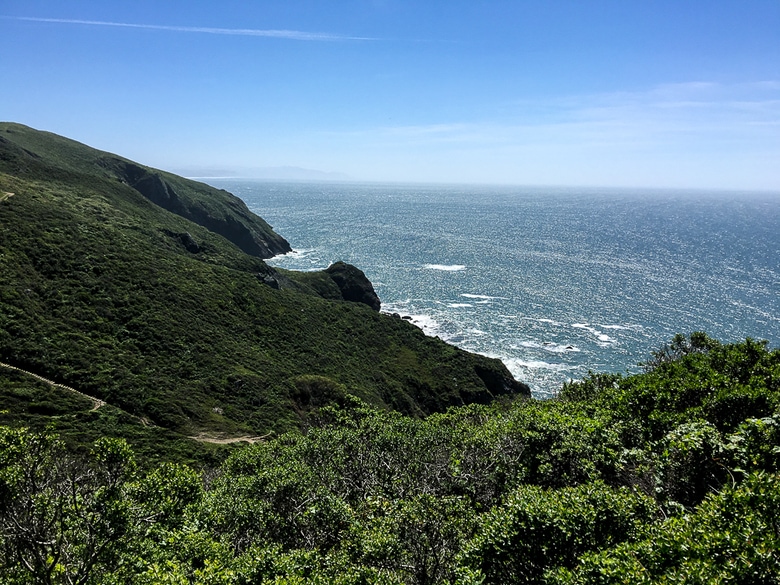 If visiting Stinson Beach, this little Airbnb was perfect and adorable. Make sure to have lunch outside at the Parkside Cafe.
Point Reyes Station, is a little town worth visiting, with lots to see and do. Have brunch outside under the arbors of wisteria at The Station House Cafe then visit Toby's Feed Barn, that holds a farmers market, gift shop, and coffee stand. Nearby, Cowgirl Creamery produces excellent soft-ripened cheeses, like Mt Tam, made form organic cow's milk. Make sure to stop by and give them a try. There's a sweet little bookstore and a bakery on the main drag. And don't forget to explore Point Reyes Seashore, an incredible wild area for wandering and hiking.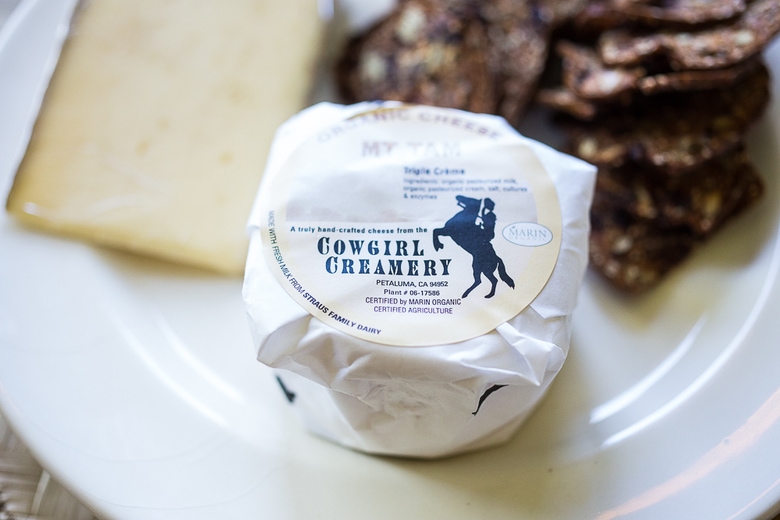 Another favorite spot is Sir and Star, a lovely restaurant ( and Inn) in the little town of Olema, with the best written Prix Fixe menu I've ever laid eyes on. Beautiful and romantic.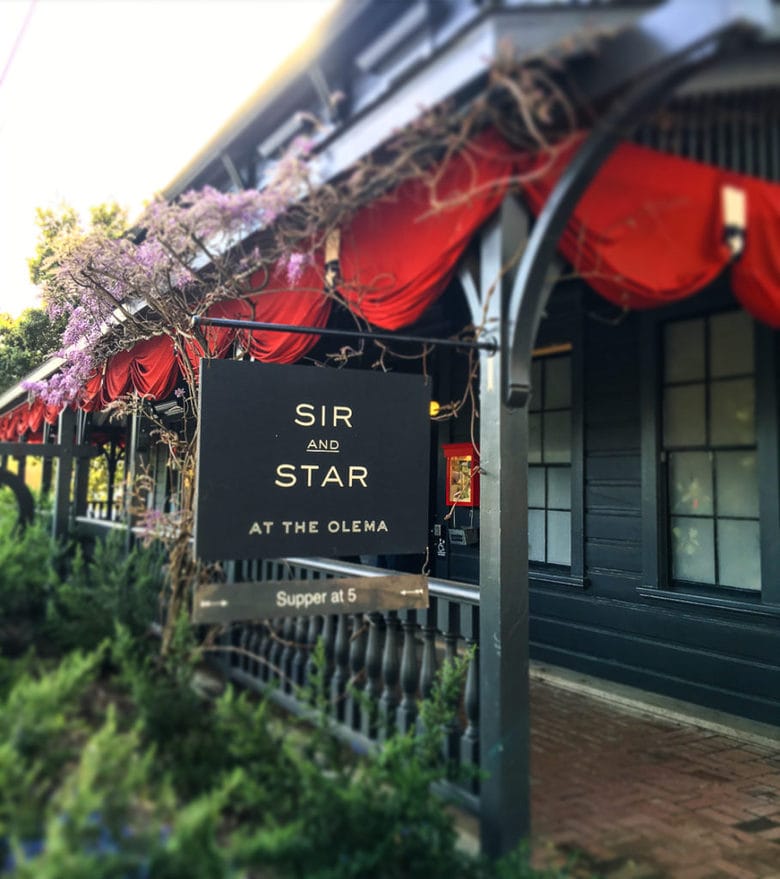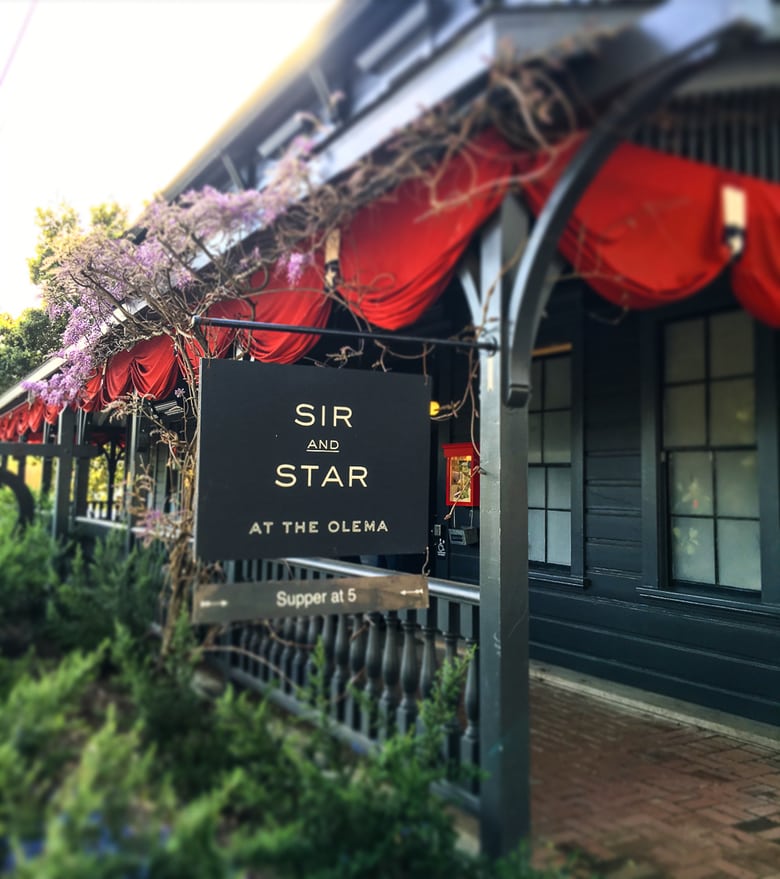 But it was all the fresh oysters that stole my heart in the food department. There are two great oyster farms in Tomales Bay, both worth a visit. Hog Island Oyster Company and Tomales Bay Oyster Company. Pack some champagne and have a picnic.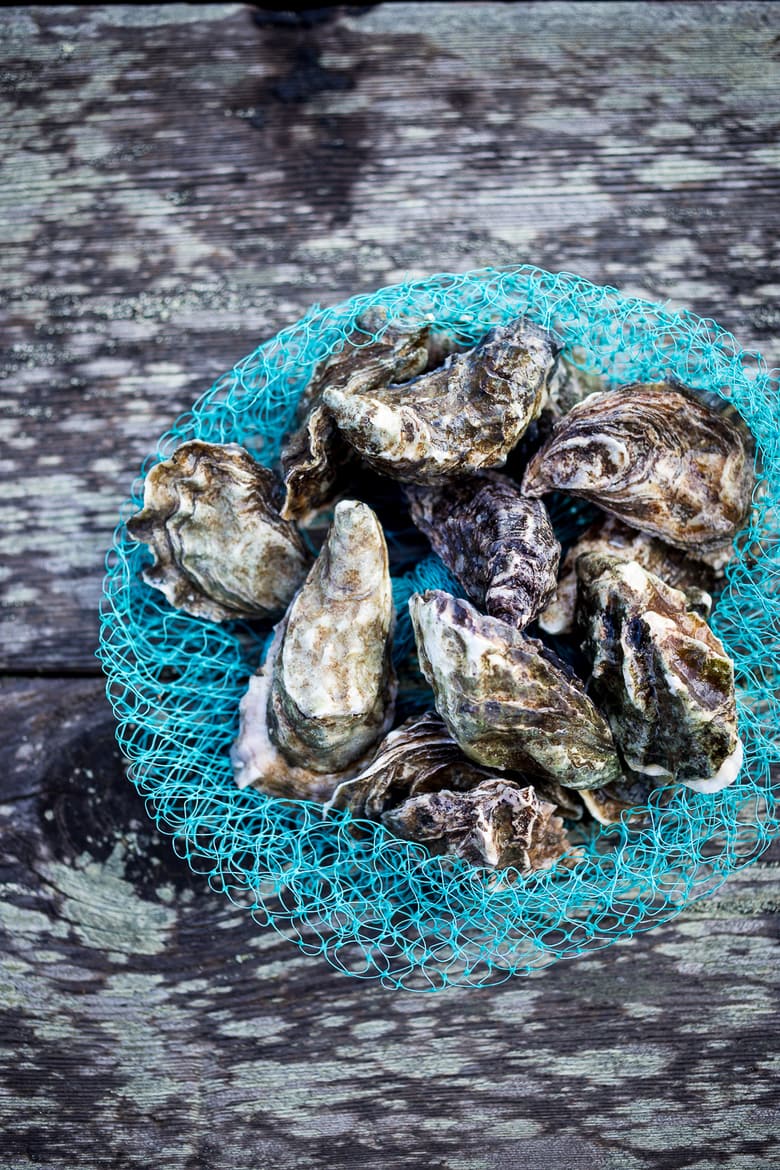 Grown right here in Marin county, these beauties were fresh out of the water, such an indulgence.
Now, I realize raw fresh oysters aren't everyone's cup of tea. Most people are either madly in love with them or are totally repulsed by them. There, too, was a time when I could not stomach the thought of them, so I understand. Then a few years back I gave them a real chance.
Now I'm head over heels, crazy for them. Brian shucks them, I eat them. He's not a fan, but that seems to work in my favor, so I'm not really encouraging him all that much. I feel like they are my little secret delight. They smell and taste of the sea, and I feel a connection with the ocean with every bite.
If you are new to trying oysters, try smaller ones first. Or try grilling them just a bit, right in the shell. Add a bit of finely chopped shallot and champagne vinegar or lemon, and see what you think.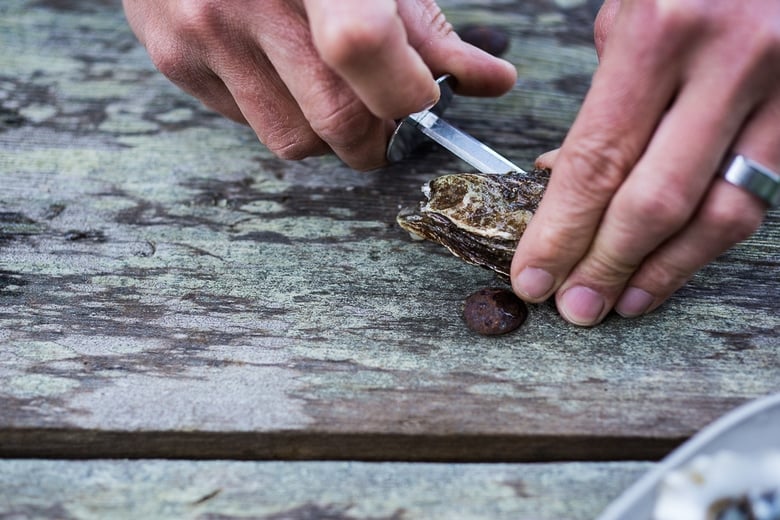 If new to shucking, I highly recommend watching a video to get the general idea. Wash them in cold water, scrubbing them gently. Fold a kitchen towel over itself and use it to hold the oyster, cup side down on the counter or cutting board, with the hinge side facing you. Slide the oyster knife in at the hinge, wriggling back and forth with gentle pressure, and you will feel the hinge pot. Slide the knife in high and very flush with the top shell, to the right, releasing the muscle from the top shell. The oyster is attached to both shells, and you want to release it without popping the belly (in the middle), where the flavorful brine resides. So keep the knife up high, above the belly along the top shell. Once opened, slide the knife under the oyster to release it from bottom shell, wiping any residue or broken shell out with your thumb. Try to preserve the brine in the shell. Place the shucked oyster on a bed of crushed ice, rock salt or seaweed, all of which will help the curved bottom stay stable. If you smell anything fishy, discard. Oysters should smell fresh, sweet and clean like seawater.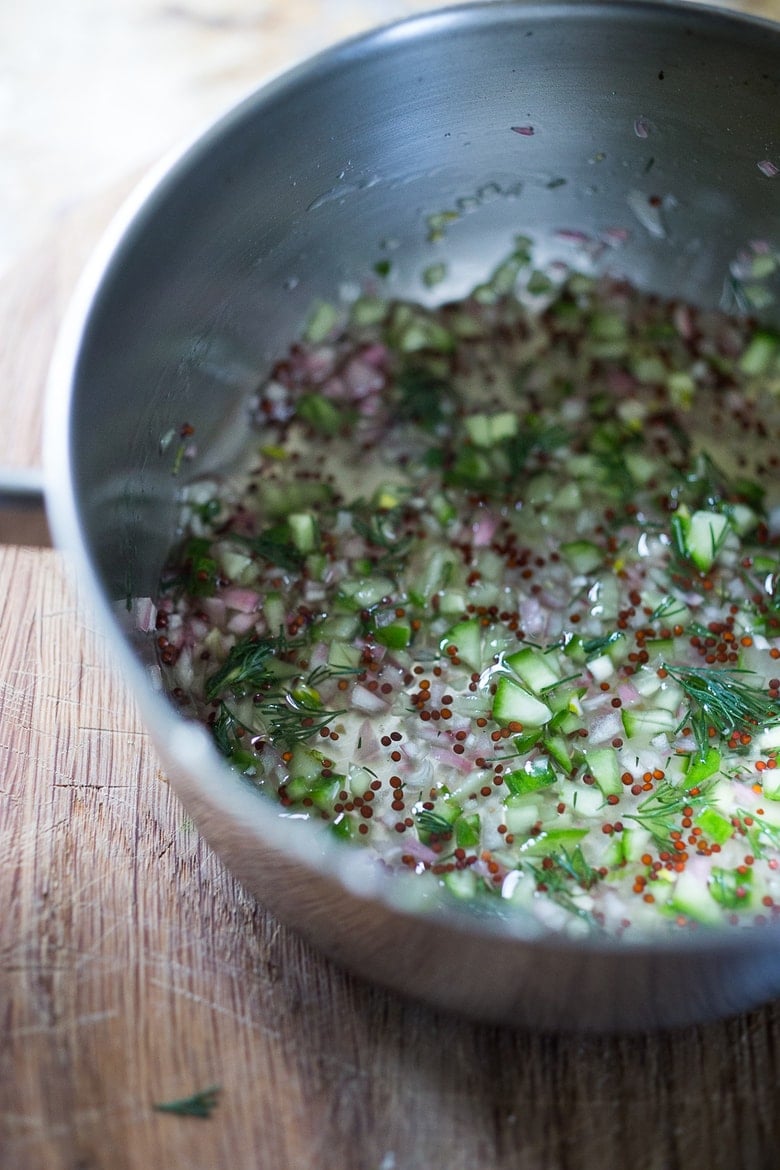 Mignonette sauce is a condiment usually made with minced shallots, cracked pepper and vinegar. It is traditionally served with raw oysters.
This recipe for Mustard Seed, Cucumber, Shallot and Dill Mignonette is very simple to make. Simply add the mustard seeds, shallot, dill and cucumber to champagne vinegar, chill, and spoon it over the fresh raw oysters.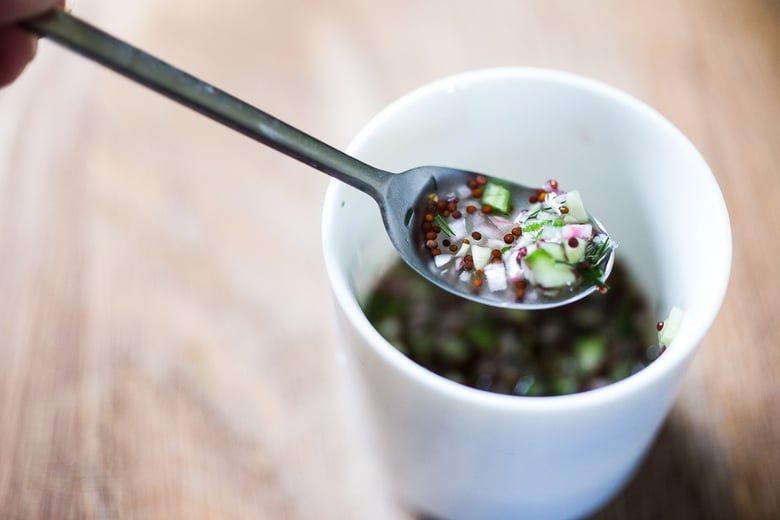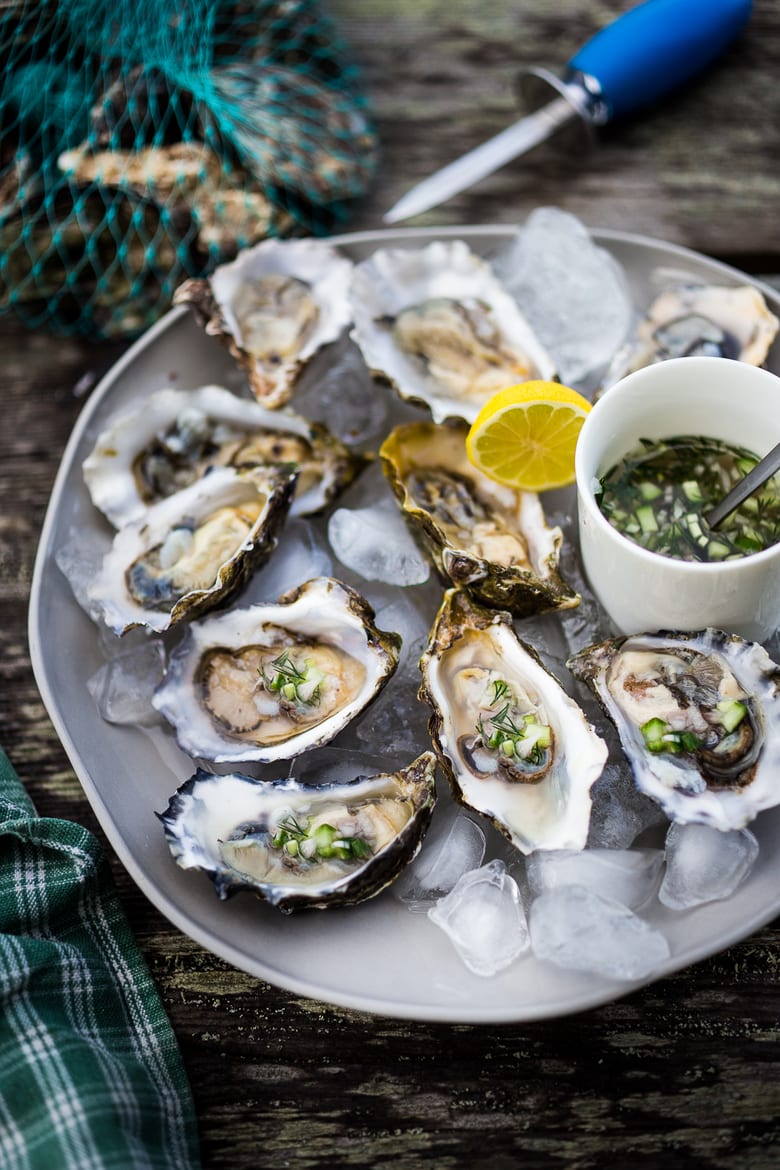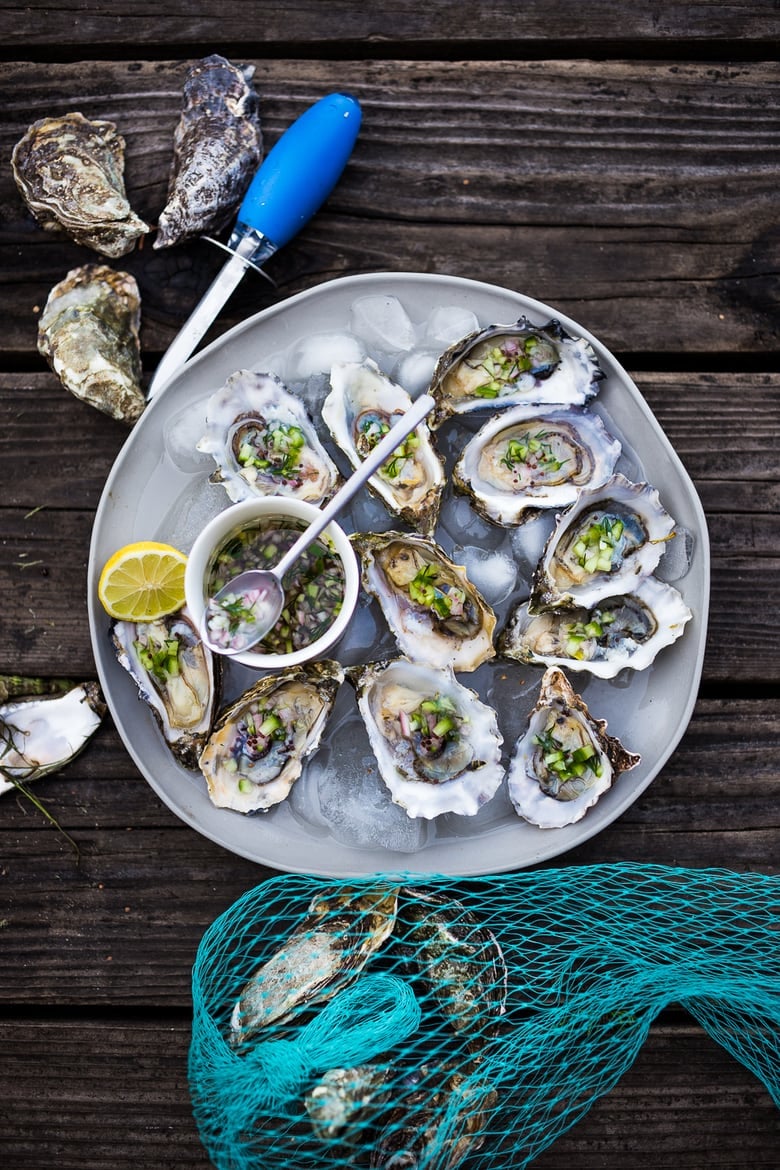 Print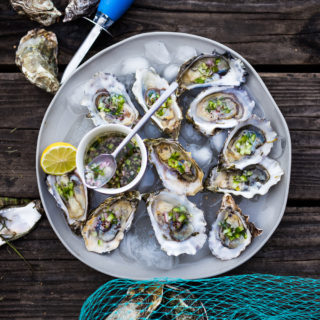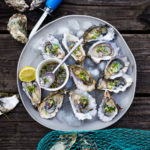 Oysters with Mustard Seed, Cucumber, Dill Mignonette
Prep Time:

20 mins

Total Time:

20 mins

Yield:

2

Category:

Appetizer

Cuisine:

Seafood | Gluten Free
---
Description
Fresh Oysters with Mustard Seed Mignonette with cucumber and dill – refreshing and perfect for spring!
---
---
Instructions
Place all Mignonette ingredients in a small bowl, and chill.
Shuck the oysters, playing them on crushed ice, rock salt or a bed of seaweed. Keep cold.
Just before serving, spoon the flavorful Mignonette over top.
---
SaveSave
SaveSave