Fresh Oysters with Mignonette Sauce with cucumber, shallot and dill. If taking to a party, make the Mignonette ahead and shuck the oysters at the party.  These little guys are sure to please. Serve on a bed of ice!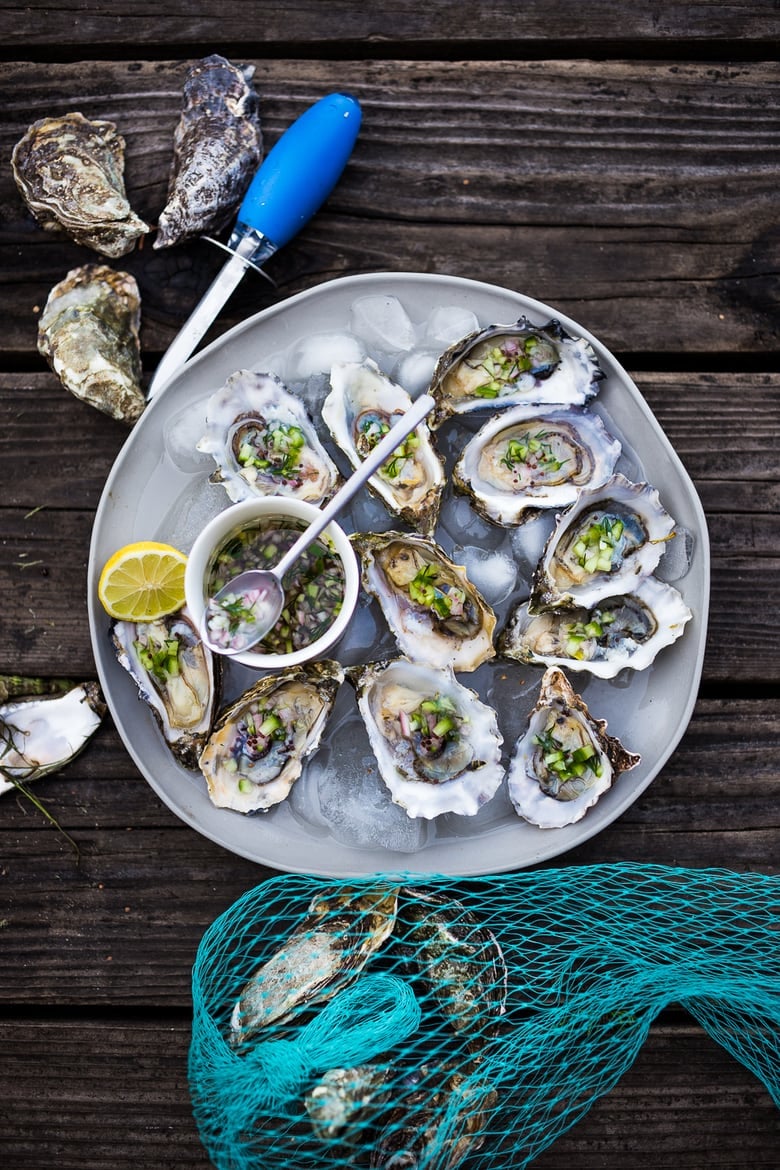 Last month Brian and I drove down to Northern California, just above San Fransisco and began a slow meandering up the coast. There were so many things to love here – the smell of eucalyptus trees, the green rolling hillsides dotted with bright orange poppies, the huge cyprus trees bent and twisted by wind blowing from the ocean, and of course the deep blue sea itself, endless and expansive.
There's nothing like being outside to help sort and settle the mind.
It was all the fresh oysters that stole my heart in the food department. There are two great oyster farms in Tomales Bay, both worth a visit. Hog Island Oyster Company  and Tomales Bay Oyster Company. Pack some champagne and have a picnic.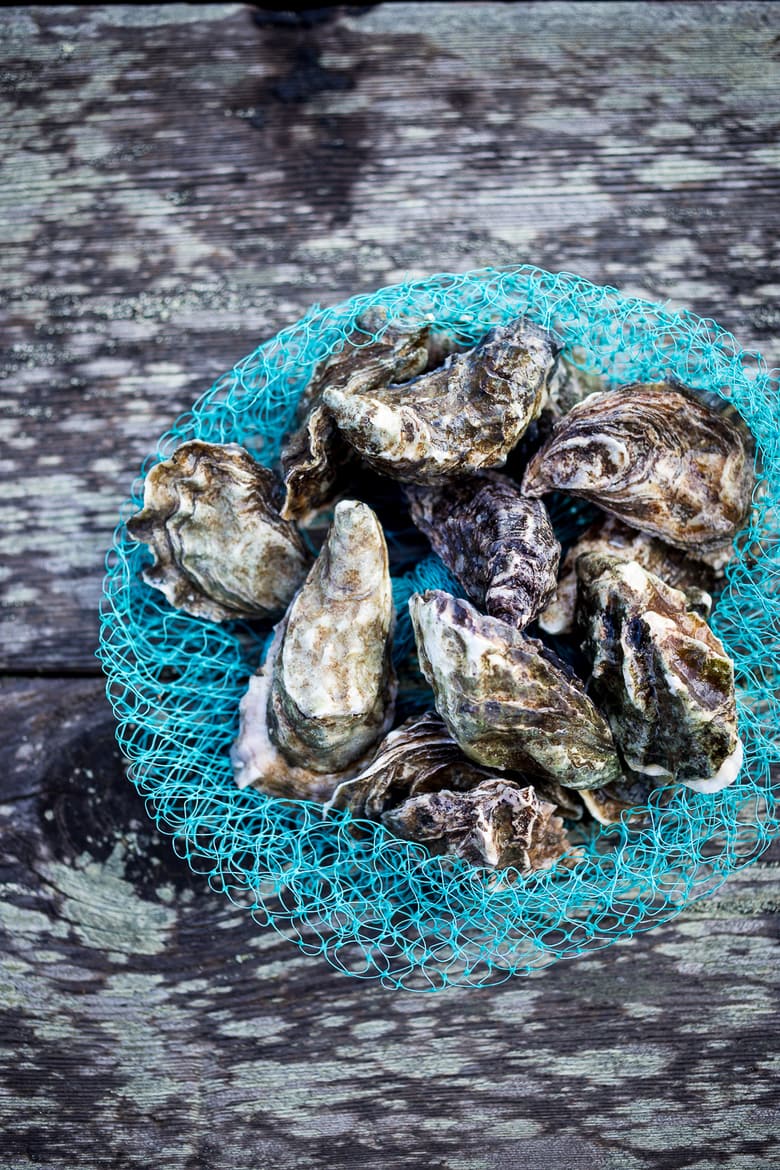 Grown right here in Marin County, these beauties were fresh out of the water, such an indulgence.
Now, I realize raw fresh oysters aren't everyone's cup of tea. Most people are either madly in love with them or are totally repulsed by them. There, too, was a time when I was young and could not stomach the thought of them, so I understand.
Now I'm head over heels, crazy for them. Brian shucks them, I eat them. He's not a fan, but that seems to work in my favor, so I'm not really encouraging him all that much. I feel like they are my little secret delight. They smell and taste of the sea, and I feel a connection with the ocean with every bite.
If you are new to trying oysters, try smaller ones first. Or try grilling them just a bit, right in the shell. Add a bit of finely chopped shallot and champagne vinegar or lemon, and see what you think.
Fresh Oysters Recipe: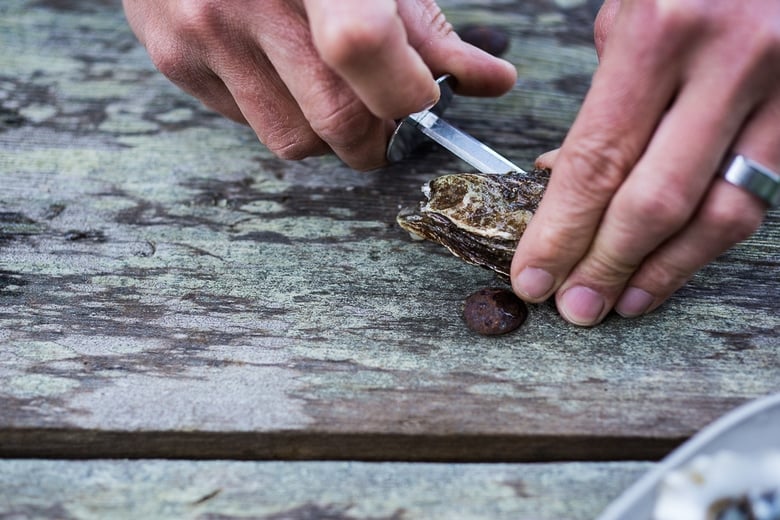 How to Shuck Oysters:
If new to shucking, I highly recommend watching a video to get a general idea, but here is a step-by-step.
Soak them in ice-cold water for 10 minutes, allowing sand to sink to the bottom of the bowl. Discard water and scrub them gently.
Fold a kitchen towel over itself and use it to protect your hand and hold the oyster, place oyster, curvey-side down on a cutting board, with the hinge facing towards you.
Slide the oyster knife ( a short, thick and blunt knife) in at the hinge, wriggling back and forth with gentle pressure, until you  feel the hinge spot.
Slide the knife in high, flush with the top shell, to the right, releasing the muscle from the top shell. The oyster is attached to both shells, and you want to release it without popping the belly (in the middle), where the flavorful brine resides.
So keep the knife up high, above the belly along the top shell.
Once opened, slide the knife under the oyster to release it from bottom shell, wiping any residue or broken shell out with your thumb.
Try to preserve the brine in the shell.
Place the shucked oyster on a bed of crushed ice, rock salt or seaweed, all of which will help the curved bottom stay stable.
If any smell fishy, discard. Oysters should smell fresh, sweet and clean like seawater.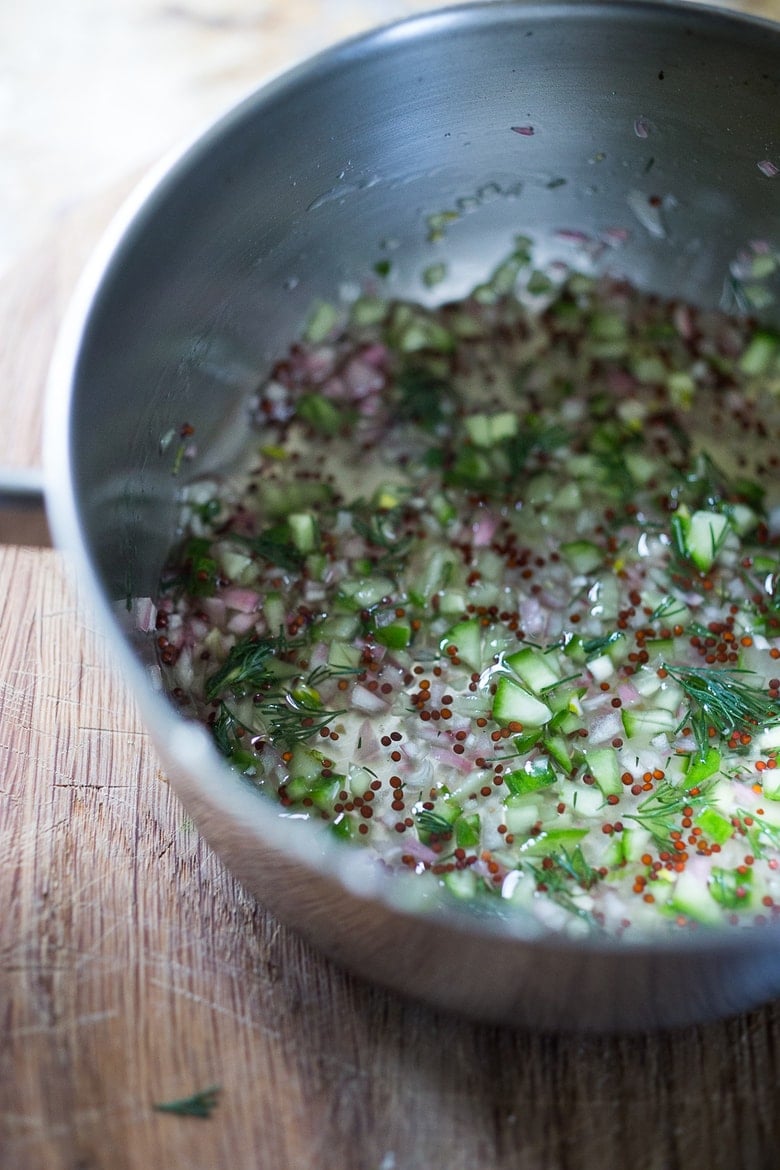 What to serve with raw oysters?
Mignonette! Mignonette is a condiment, traditionally served with raw oysters and made with finely minced shallots, cracked pepper and vinegar. 
How to make Mignonette Sauce:
The mignonette sauce is very simple to make and the key to the best mignonette is to finely dice the shallots.
This version of Mignonette is elevated with the addition mustard seeds,  dill and finely diced cucumber along with the use of champagne vinegar.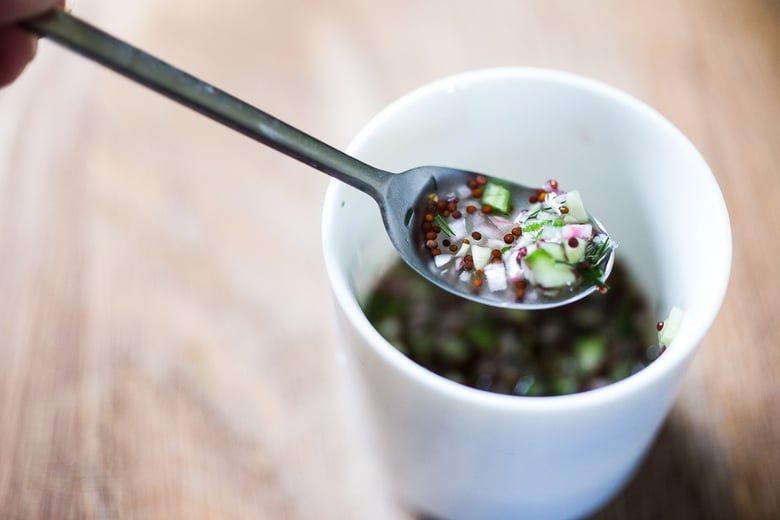 Little delicious pops of flavor.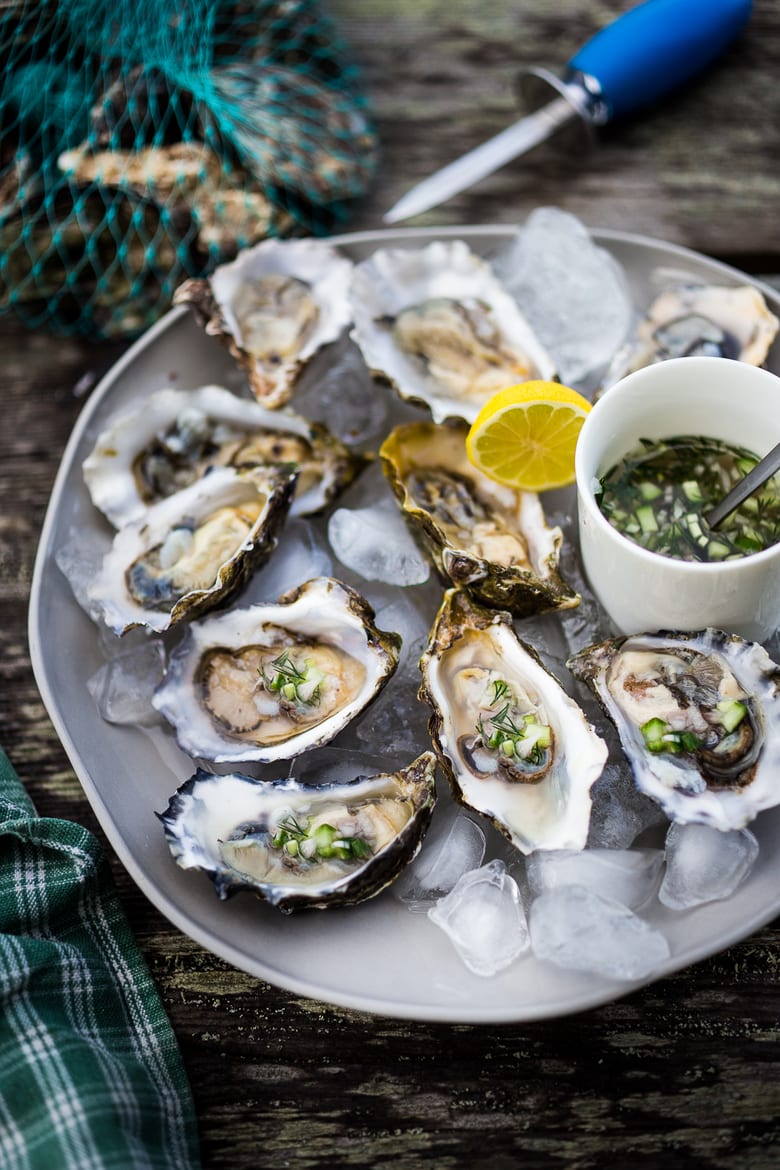 Expert Tips to the best Oysters:
Serve over ice- oysters are best served COLD
Save the brine in the shell!
Chew the oysters to release the beautiful umami flavor ( don't just swallow!)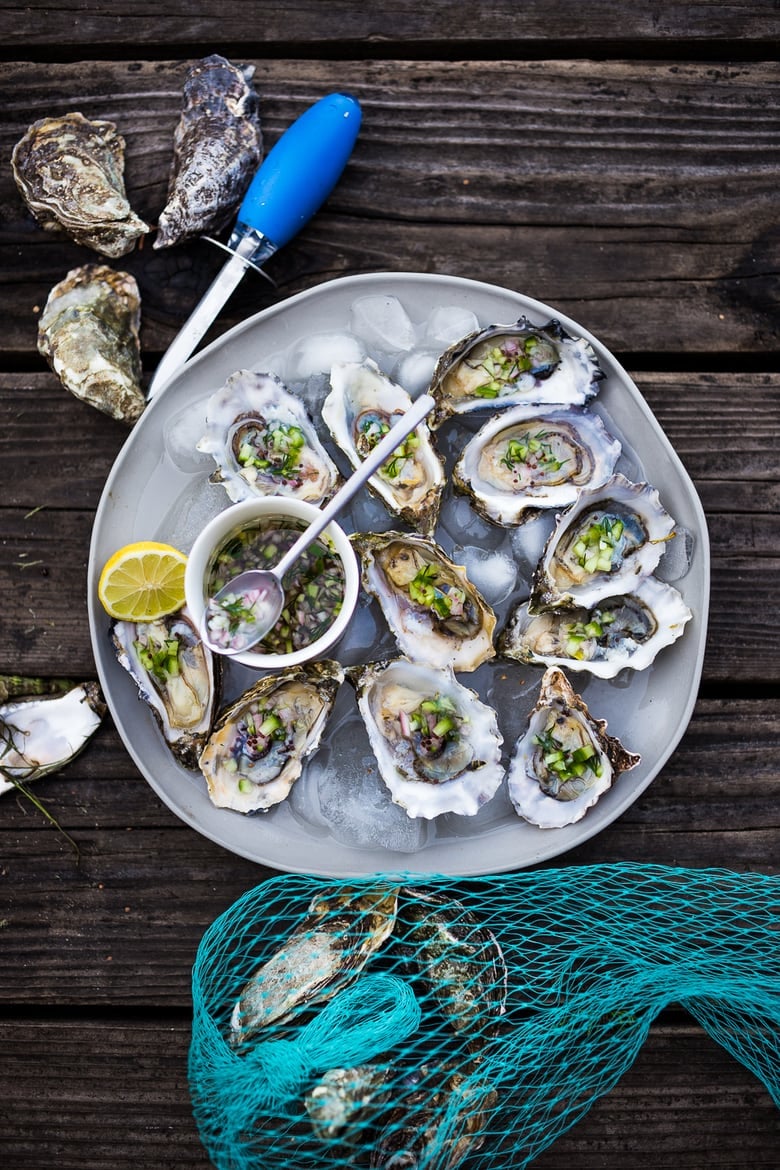 Print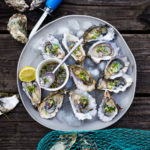 Fresh Oysters with Mignonette Sauce
Prep Time:

30 mins

Total Time:

20 mins

Yield:

8

1

x

Category:

Seafood, appetizer

Method:

shucked

Cuisine:

French.

Diet:

Gluten Free
---
Description
Fresh Oysters with Mignonette – a refreshing appetizer, with a flavorful Mignonette sauce!
---
---
Instructions
Place all Mignonette ingredients in a small bowl, and chill.
Shuck the oysters, preserving the brine if possible, playing them on crushed ice, rock salt or a bed of seaweed. Keep cold.
Just before serving, spoon the flavorful Mignonette over top of each oyster.
---
Nutrition
Serving Size:

3 oysters

Calories:

108

Sugar:

0.2 g

Sodium:

134.4 mg

Fat:

3 g

Saturated Fat:

0.6 g

Carbohydrates:

7 g

Fiber:

0.2 g

Protein:

12 g

Cholesterol:

62.5 mg
Keywords: Mignonette recipe, how to serve oysters, oysters with Mignonette, how to shuck oysters, fresh oysters recipe