Make all your Mezze dreams come true with this easy Labneh Recipe! Homemade Labneh can be made very simply, with very little fuss. A creamy Middle Eastern Yogurt Dip or cheese- it is the perfect canvas for all your creative toppings, with ALL the health benefits of cultured yogurt! Easy, simple and Delicious!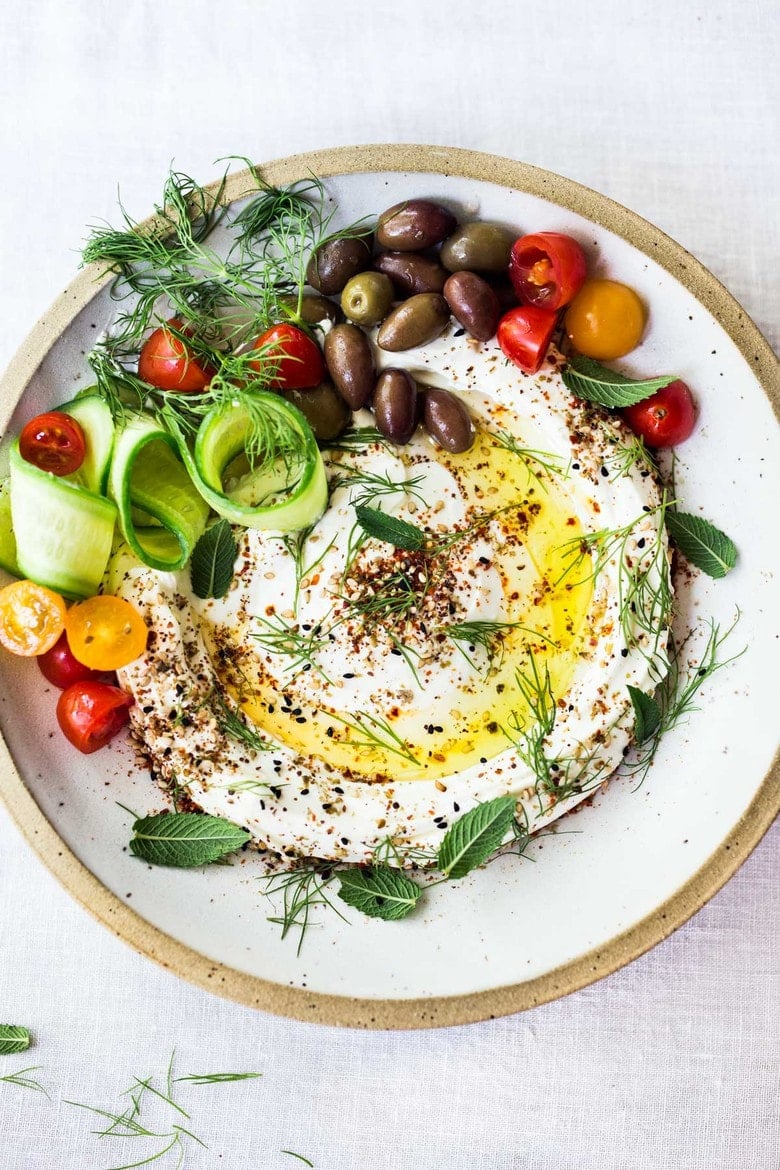 I've been obsessing over homemade pita bread lately, using different flours and blends with dough on hand in the fridge ready to bake. Warm and toasty, right out of the oven, the pita bread is heavenly dipped into this homemade Labneh.
When I was a kid, there was always yogurt straining on the counter. My mom would make yogurt from scratch, then season and strain it into the thickest creamiest yogurt cheese. It was our version of cream cheese. Tangy, thick and flavorful, it was a staple and used in many applications.
What is Labneh?
Labneh is basically: a very thick, creamy, Middle Eastern style yogurt cheese. It has the consistency of American cream cheese, but with a little more flavor, complexity and tang. And of the best part? It has all the healthy probiotics of cultured yogurt. In a nutshell, labneh is creamy dreamy heavenly goodness! The perfect canvas for all your creative toppings. And I can't wait to see what you do with this!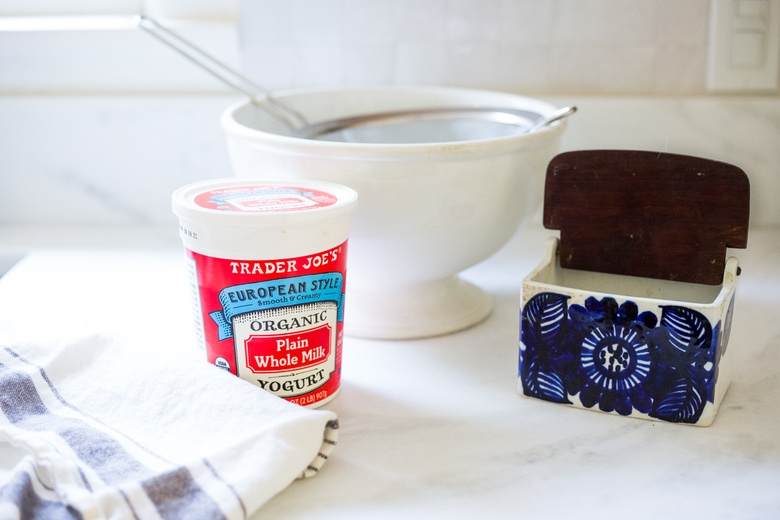 Labneh Ingredients:
Full fat whole milk yogurt
Other optional additions: lemon zest, finely minced garlic, pepper, herbs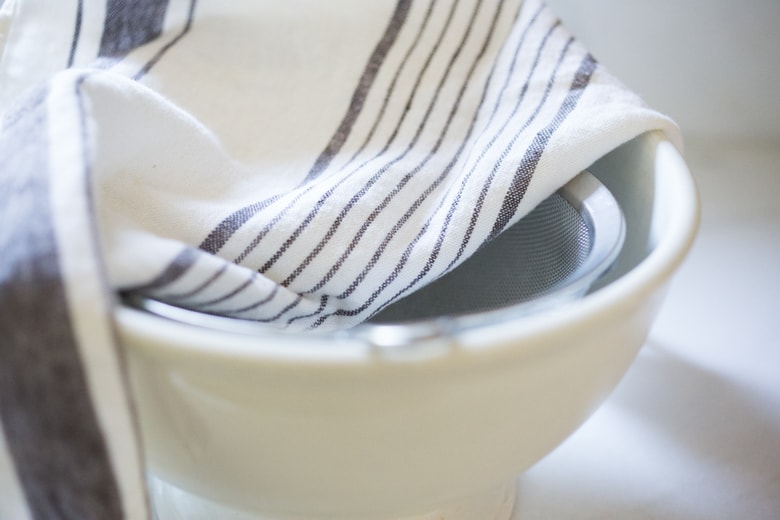 How to make labneh ( in a nutshell):
In a nutshell, season full-fat yogurt with salt, then strain for 24-48 hours. That's it! Simple, easy and delicious!
4 cups yogurt will yeild 2 cups labneh
add 1/4 teaspoon salt per cup of yogurt
Labneh will last 3-4 weeks in the fridge.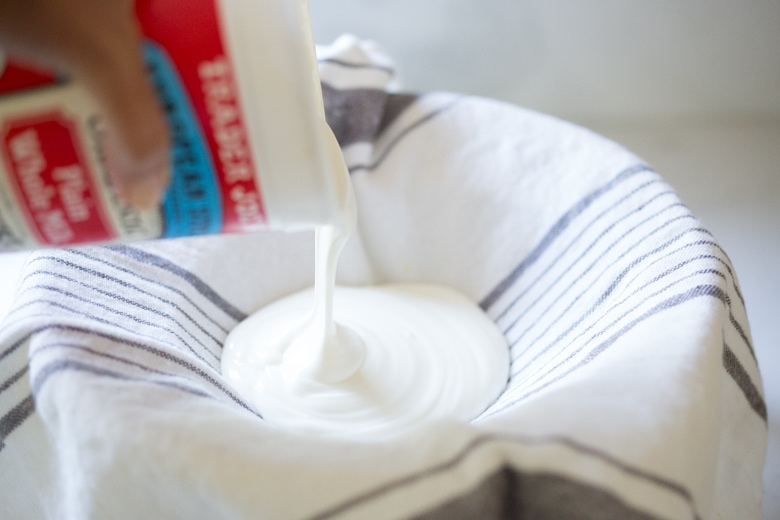 Place a kitchen towel or cheesecloth ( double layer) over a strainer, over a bowl.
Salt the yogurt (full fat, plain) and pour it in the towel set over the strainer.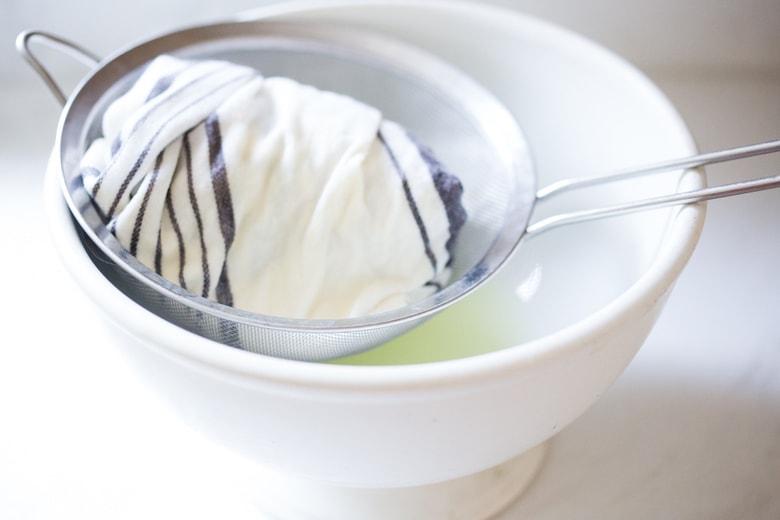 I like to place a can on top of this, for weight, and stick this in the fridge for 24 hours.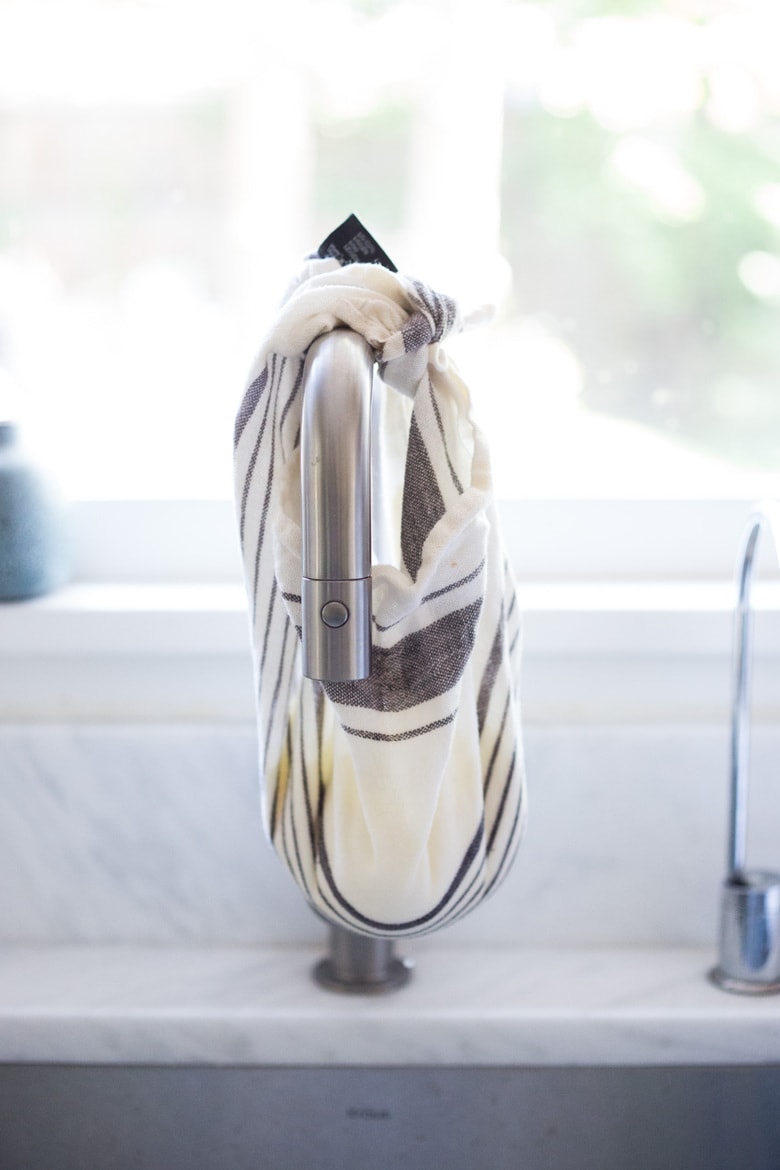 You can also strain the yogurt over the sink, the way my mom sometimes did. This works great if you don't have a strainer.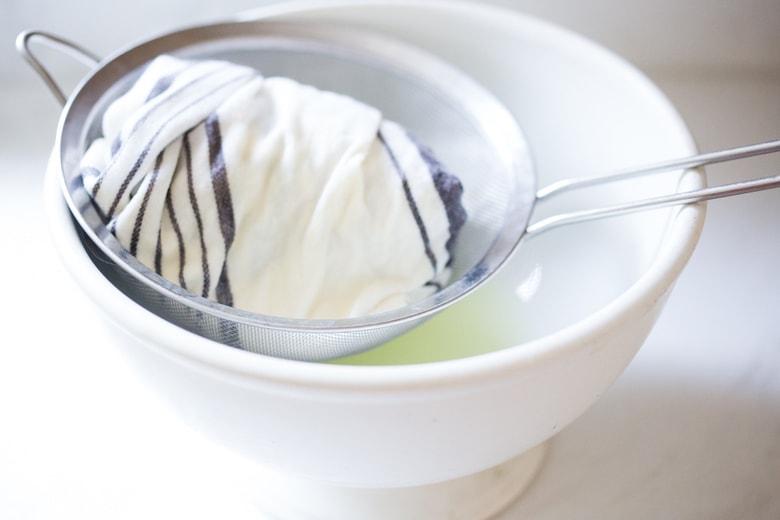 After 24 hours, remove the whey – and then decide if your labneh is thick enough for your liking. Usually, 24 hours is perfect for a "dip", but sometimes for a thicker, cheese-like version, I'll let it strain for an additional 24 hours. Up to you.
With 4 cups of yogurt to begin, you'll end up with roughly 2 cups of Labneh.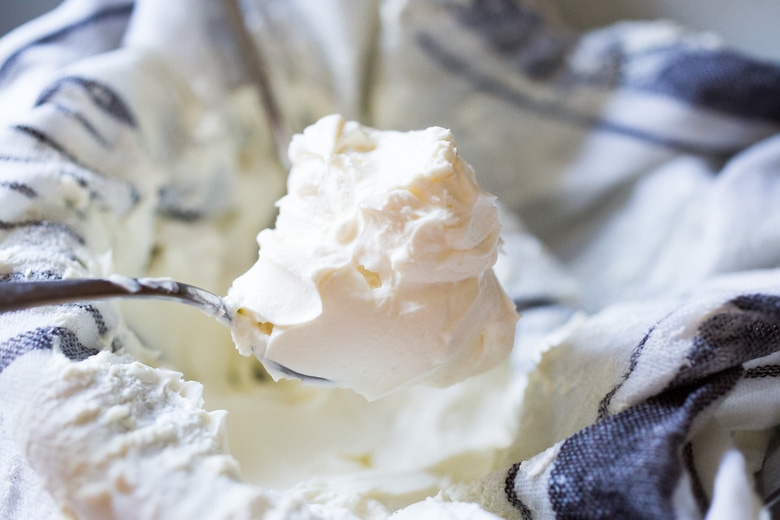 See how thick and creamy this is?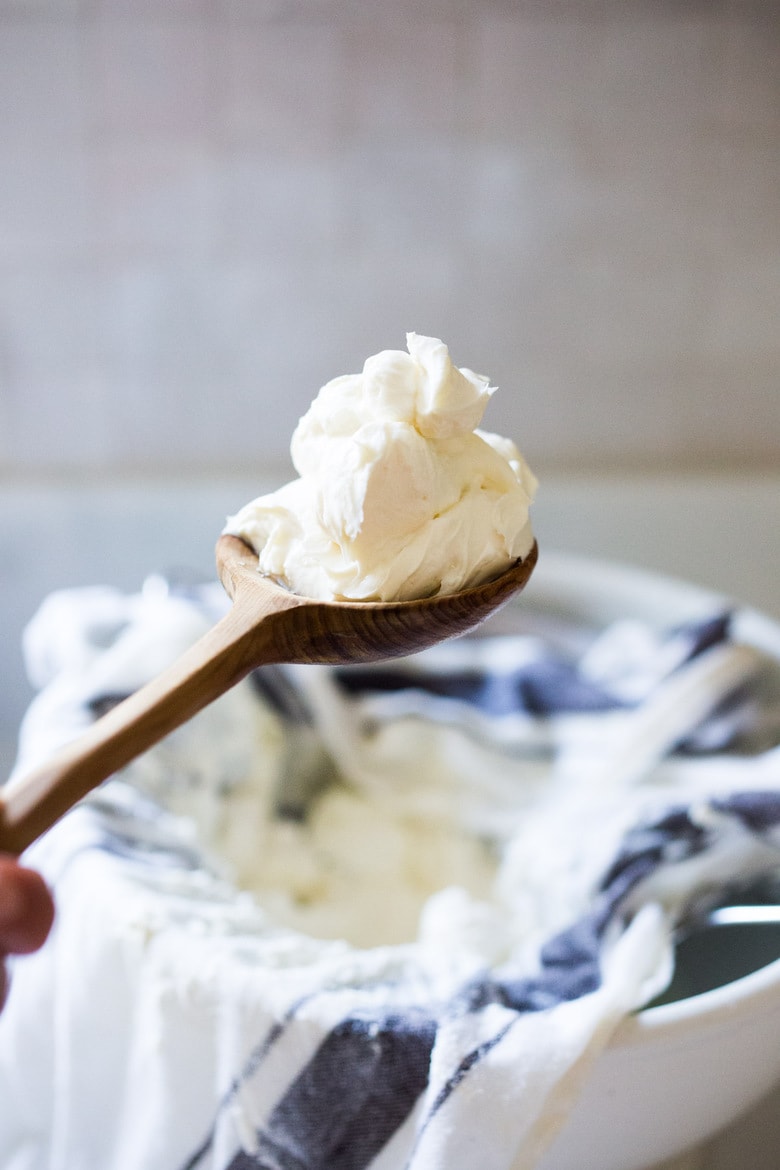 To make a pretty dip, Spread it out in a shallow bowl, or even on a plate.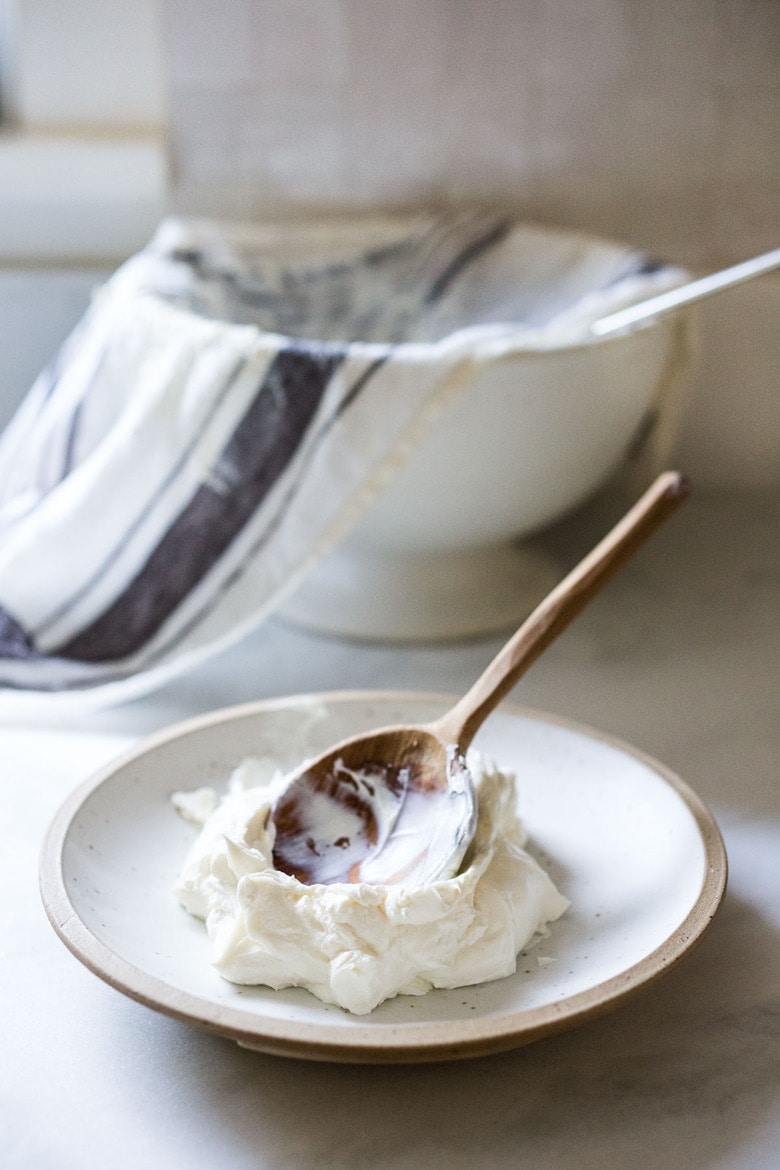 Using a spoon, make a well for the olive oil. Then have fun with it, topping it with anything!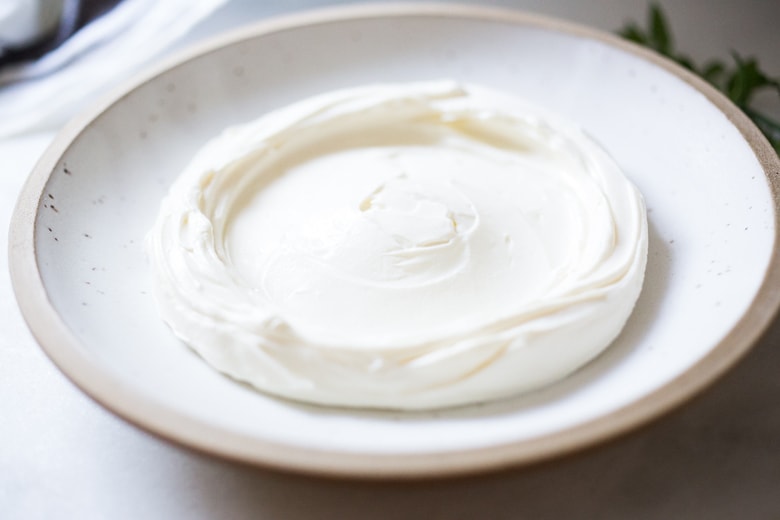 How to garnish Labneh?
I like to think of labneh like hummus or baba ganoush, topping it with fresh herbs, a drizzle of good quality olive oil, spices and any fresh seasonal ingredients I have on hand. Here are some ideas to get your creative juices flowing.
zaatar spice
aleppo Chili
everything bagel seasoning
warm roasted garlic, or melted leeks
fresh herbs- dill, cilantro, Italian parsley
olives
veggies- cucumber, tomatoes, radishes,
nuts and/or seeds
smoked salmon
honey and figs, or warm roasted fruit.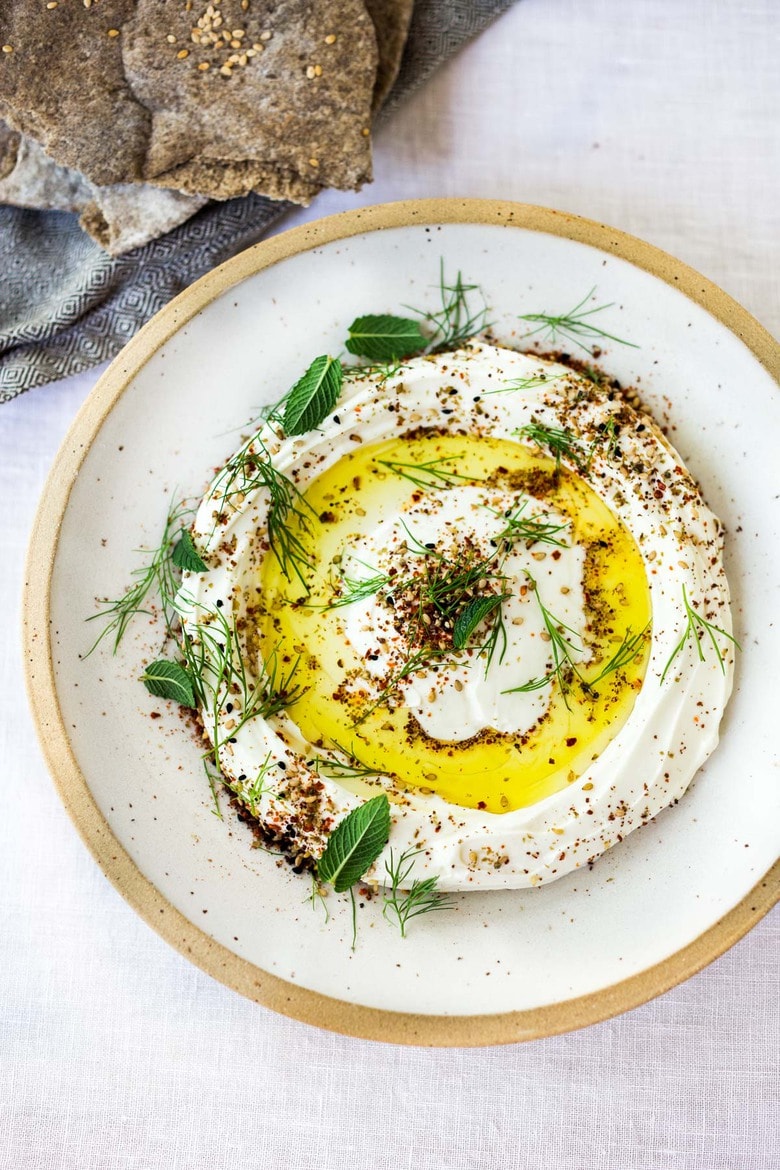 Print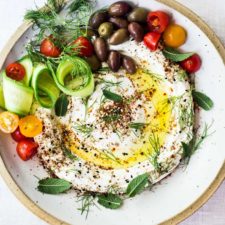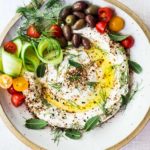 ---
Description
How to Make Labneh- a creamy Middle Eastern Yogurt Dip ( or cheese) – perfect for your Mezze platters.
---
Ingredients
You'll need a cheesecloth ( or kitchen towel) and a strainer placed over a bowl.
32 ounces

plain, full-fat yogurt (

4 cups

yogurt makes

2 cups

labneh)
scant, 1 teaspoon salt
Optional additions:
splash lemon juice (for extra tang)
lemon zest
fresh or dried herbs

1

clove garlic, finely minced
Optional Labneh Dip Toppings:
---
Instructions
Stir salt into the yogurt, right in the container, mixing well.
Pour into a kitchen towel ( or cheesecloth 2-3 layers thick) set over a strainer, set over a bowl, with ample room to collect 2 cups of liquid underneath. Gather the towel corners together, twist to close and set a canned good, overtop for weight.  Set this in the fridge or cool place in your kitchen for 24 hours. Pour out the whey ( or save for another use) Check consistency.
If using as a dip, I find 24 hours is enough time. If wanting a thicker cheese-like consistency, feel free to strain another 24 hours.
To make the dip, spread out the labneh into a shallow bowl or plate ( you should have about 2 cups). Make a well in the center with the back of a spoon for the olive oil. Drizzle with olive oil and add fresh herbs and sprinkle with spices. Add any additional toppings you like olives, pinenuts, tomatoes… have fun with it!
Serve with bread, pita, crackers…
If going the sweet route, skip the oil, add a drizzle of warm honey and add fresh roasted fruit (figs, grapes, plums, etc) sprinkle with chia seeds – really nice for brunch affair! Served with muffins, scones or morning breads.
---