How to make Roasted Garlic in the oven -using whole heads of garlic or peeled garlic cloves- with tips on how to store it, preserve it and use it in your everyday cooking! Roasted garlic is transformed into the most buttery, earthy, sweet,  caramelized treat – with a multitude of uses in the kitchen. With a Video!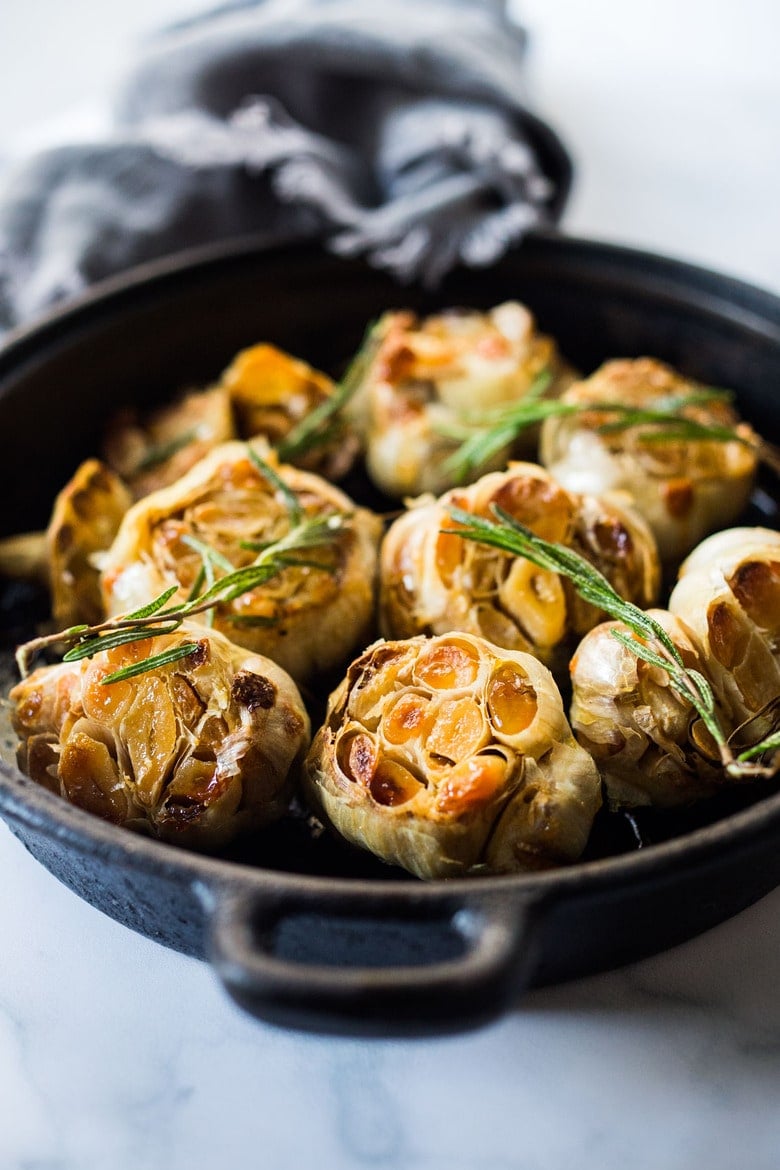 Here's a basic "how-to" recipe for roasted garlic, made in the oven- two different ways, with a little instruction on how to store it, preserve it, and how to use it in your everyday cooking. Now you may be wondering what the big deal is about roasted garlic. Many of you have already been doing this for years! I know. 
This recipe is for the new cooks on the blog- but I know all you experienced cooks out there may get a few new ideas too about preserving, storing, and using as well… so read on!
How to make Roasted Garlic | 60-sec video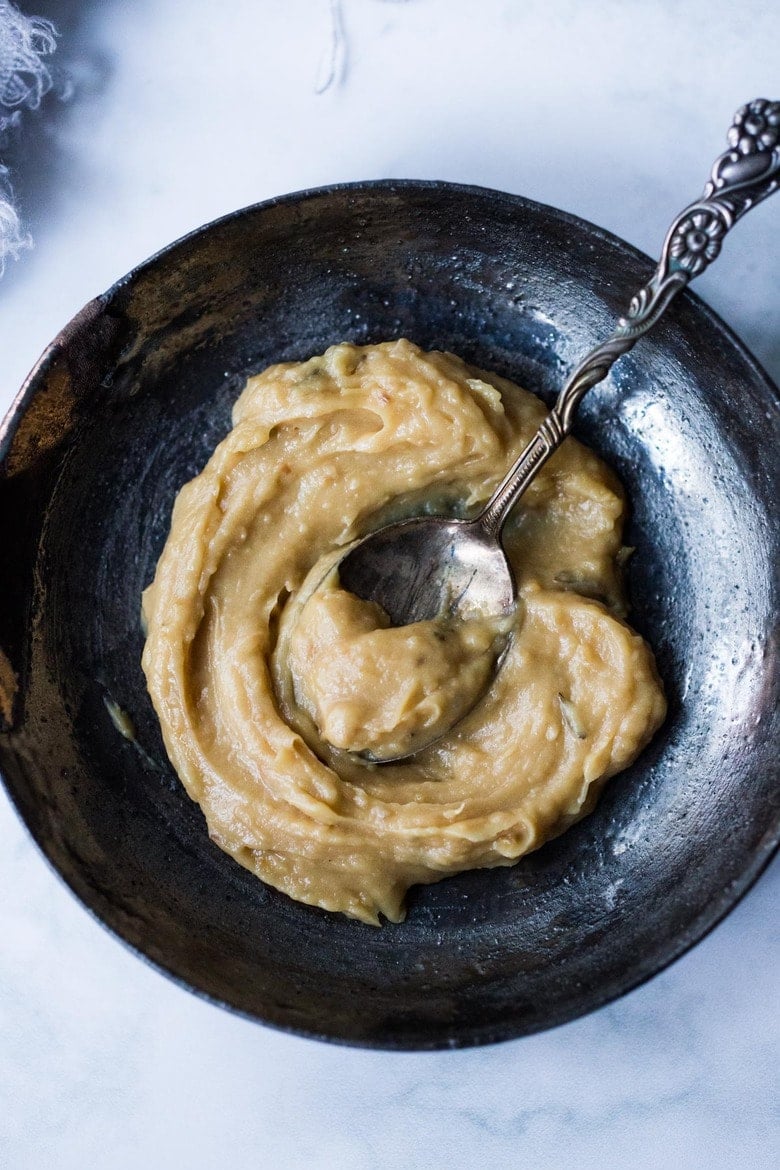 How to use roasted garlic
Make Garlic Paste: Pictured above is one of my favorite things to do with roasted garlic. Whip it up into a creamy buttery paste that can be used to season other things, or served on its own as a flavorful spread or dip.
Preserve garlic in olive oil! Store this in the fridge and use both the garlic-infused oil and the whole cloves!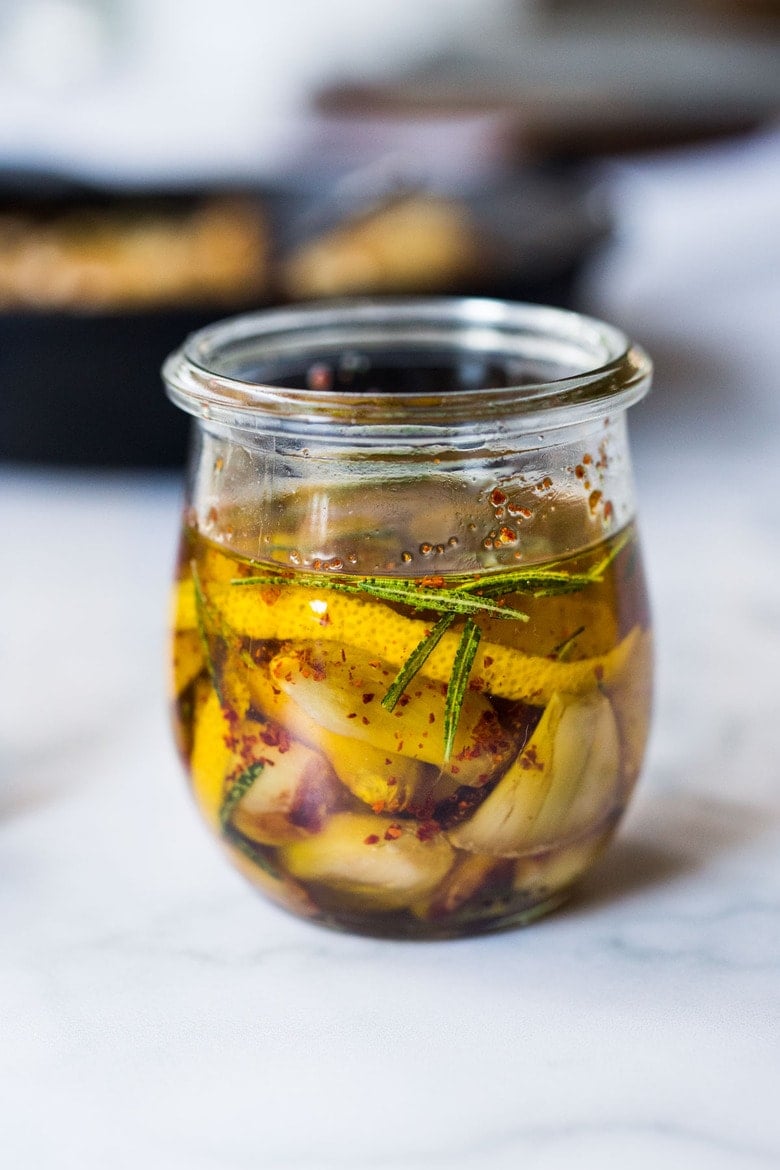 In our catering business, we would take the last of the farmers market garlic, and roast it off whole in large hotel pans, freezing some for future use. When it ran out, we'd resort to using large commercial-sized bags of peeled garlic and roast them in the oven until tender and sweet and succulent. On those days the kitchen smelled heavenly.
Often they would go into mashed potatoes, sauces, stews and soups, and any leftovers would be pureed with oil and used as a multipurpose "garlic paste" that could be used in marinades and dressings. I love the flavorful depth it imparts, giving food a beautiful complexity.
Why should we Roast Garlic?
Roasting garlic concentrates the sugars, transforming it into a caramelized, spreadable, buttery texture, with sweet, deep complex flavors, removing all the sharpness, pungency and bite.
It's easier to digest for many people.
It gives sweetness and depth to the dishes you are already making- soups stews, mashes, dressings, marinades, sauces.
It is a great way to preserve garlic.
Because it smells amazing and will make you and your family feel cozy and happy. I'm not kidding. 😉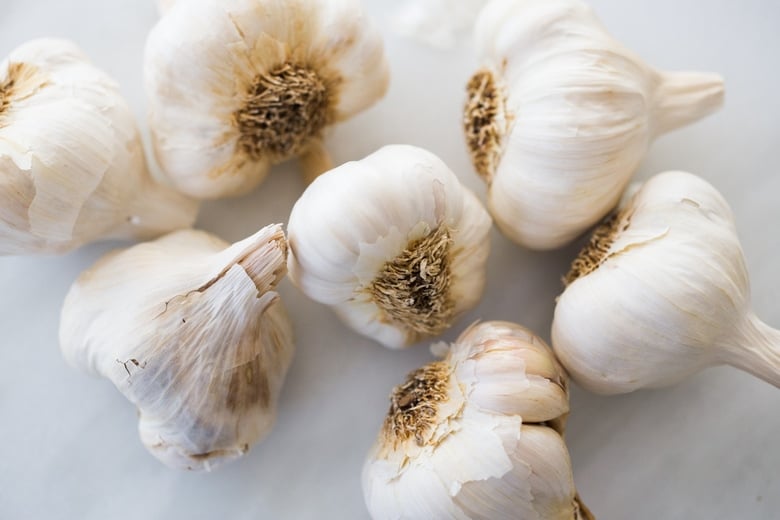 Health benefits of Garlic:
Protects against dementia
Strengths bones and joints
Extends the life of cells
Scares away vampires. 😉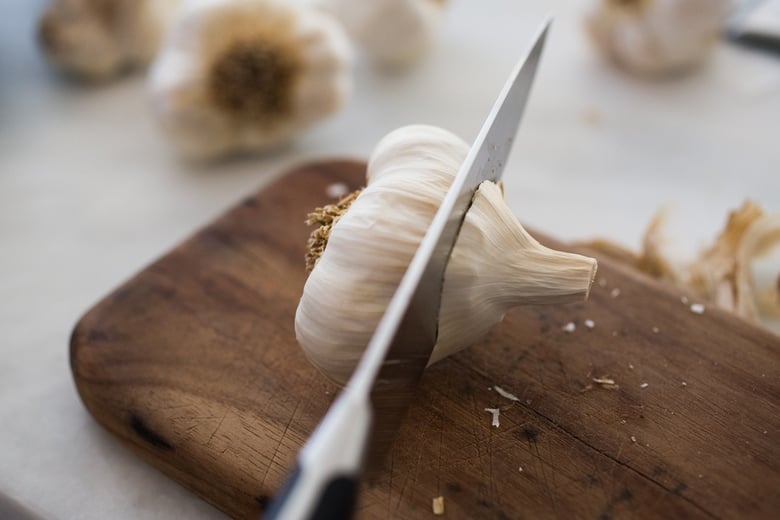 How to roast whole heads of garlic:
preheat oven to 400F
Cut 1/2 inch of the tips off so cloves are exposed.
Place in a well-oiled skillet or baking dish
Drizzle with oil and optional salt and pepper
Cover tightly with foil and bake for 35- 40 minutes.
Uncover and continue roasting until caramelized and golden, 10-20 more minutes.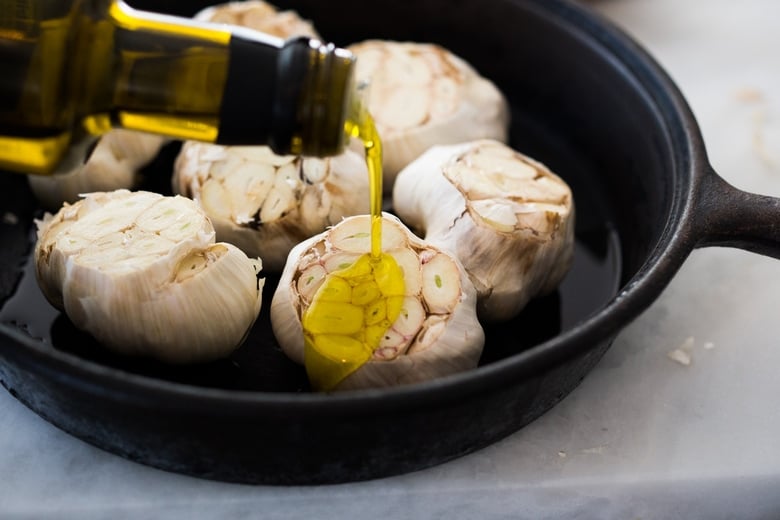 TIP: I like to keep the ends and add them to the pan as well.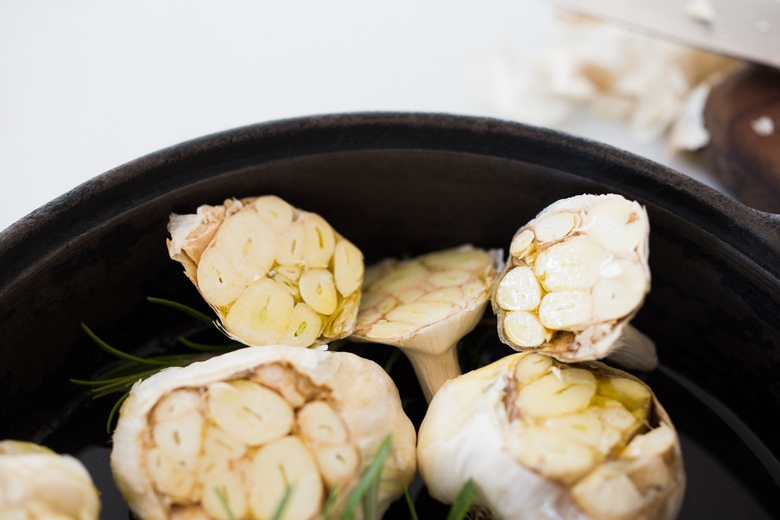 Adding a few springs of herbs adds a nice layer of flavor.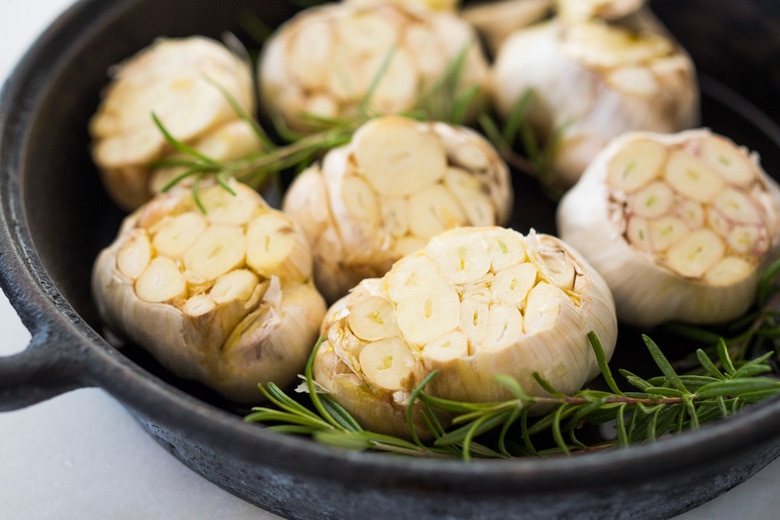 Now if you happen to buy big bags of peeled garlic, this makes roasting garlic even easier! You can roast big batches, and blend this into a paste and freeze in little jars, pulling them out as you need them.
How to roast peeled Garlic:
400F oven
Place 1 cup garlic cloves in a well-oiled baking dish (a glass dish lets you see the level of color as it develops)
Cover with foil.
Bake until tender and golden, 20-30 minutes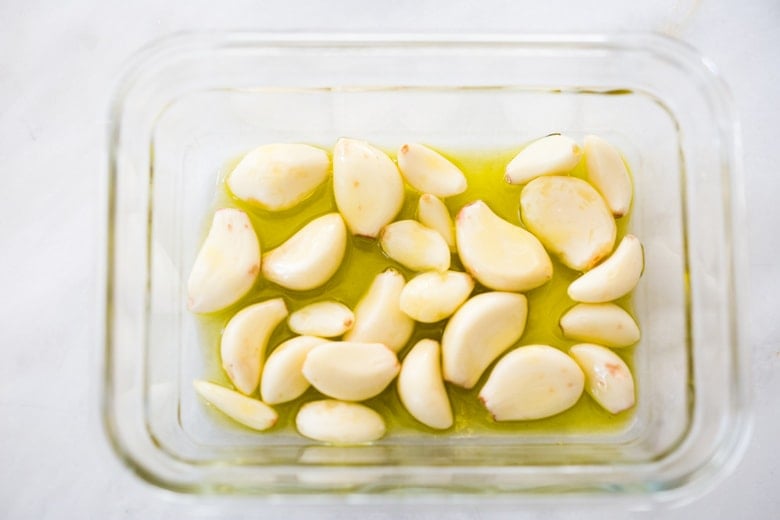 Place in a baking dish, drizzle with oil and cover with foil.
Using a glass baking dish is nice because you can see the color of the garlic without removing the foil.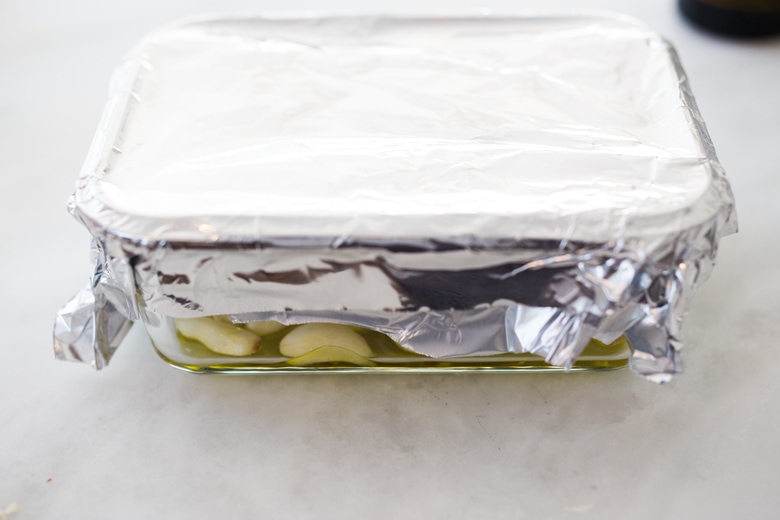 When its done the roasted garlic will be golden, buttery and delicious. I let these go a little longer because my husband really enjoys a little of the edges crispy and caramelized texture.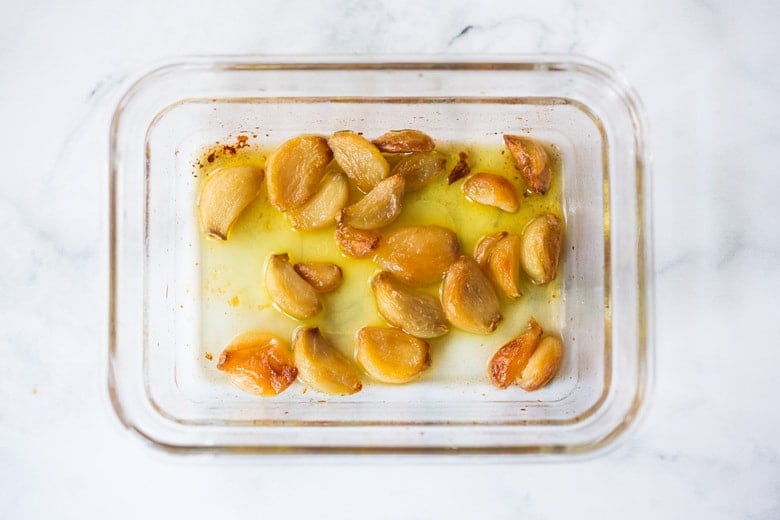 What do you eat roasted garlic with?
Spread it warm, right out of the oven on a toasty baguette for a quick appetizer or snack.
Add to hummus or dips.
Add to mezze platters or cheese boards.
Add to mashed potatoes, smashed potatoes or roasted potatoes- the best!
Add to soups and stews- particularly nice with pureed winter squash, cauliflower, mushroom …etc.
Add to whipped butter, goat cheese or feta
How to store roasted garlic:
Store whole heads of roasted garlic in the fridge for 3-4 days (in a ziplock bag)
Store cloves of garlic, submerged in olive oil in a sealed jar in the fridge for up to 10 days
Make a garlic "paste" pureeing garlic with a little olive oil, place in a jar, cover with a layer of olive oil and keep in the fridge for up to 10 days. Or freeze, and pull out as needed. Little 1/2 cup jars work great here as well as ice trays.
Freeze either heads of garlic whole – or cloves of garlic in little jars (or ice cube trays).
Always refrigerate or freeze roasted garlic.
How long will roasted garlic keep?
In the fridge, covered in a layer of oil, up to 10 days.
In the freezer, indefinitely.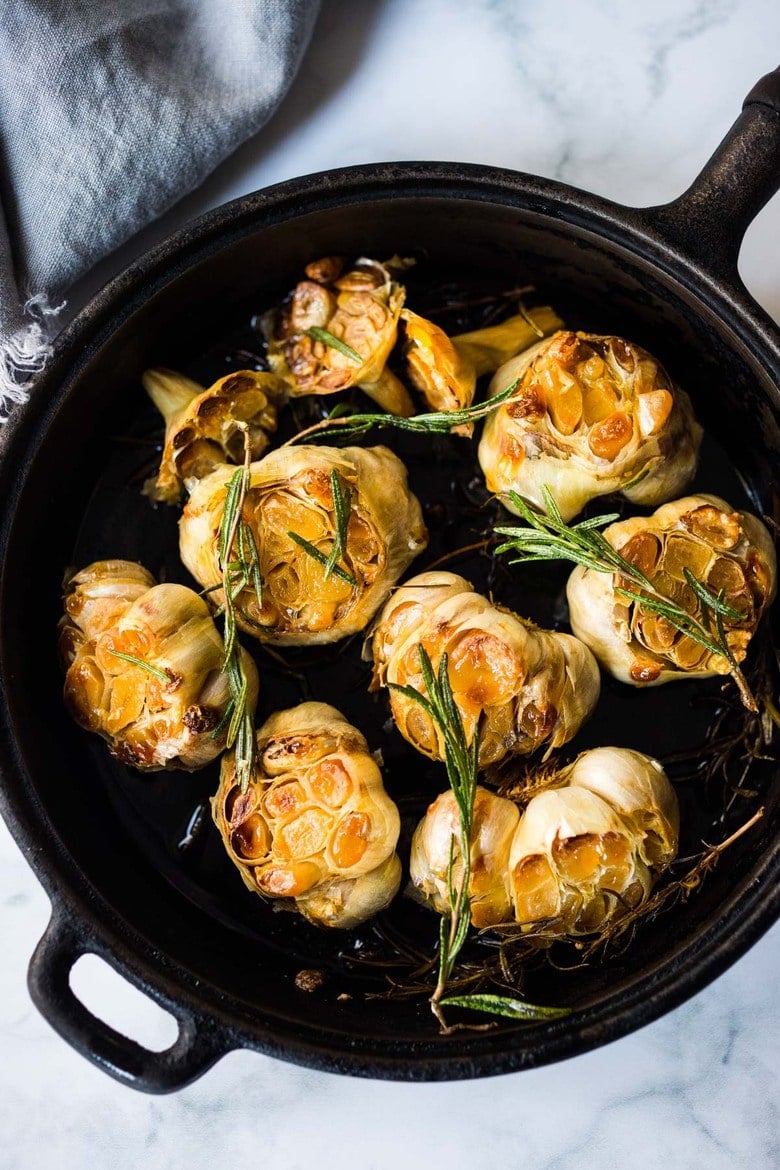 You can roast a whole pan of garlic heads, like you see here…. or even just one head. Wrap in foil or place in a little baking dish.
Whole cloves can be stored in olive oil in the fridge for up to 10 days, or made into a paste, to add to soups, stews, sauces, dressings and mashes.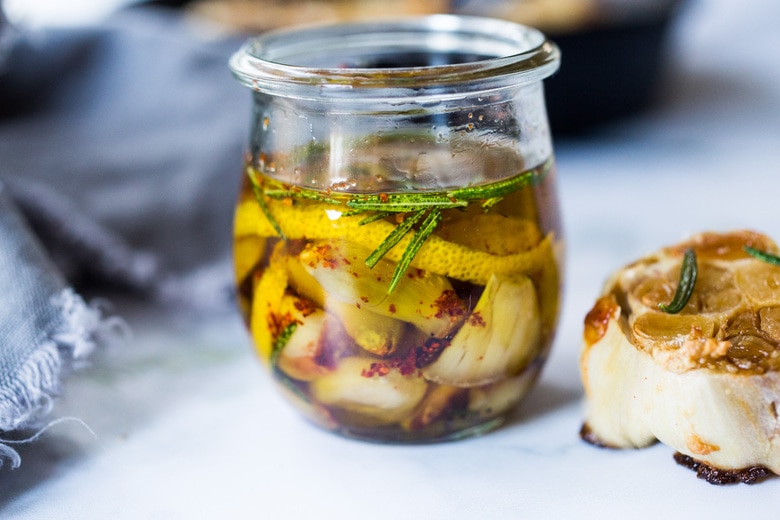 I'm so excited to hear all the ways you will use roasted garlic over the holidays. Please let me know in the comments below.
Print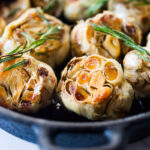 Roasted Garlic | How to roast garlic & how to store it!
Author:

Sylvia Fountaine

Prep Time:

10

Cook Time:

40

Total Time:

50 minutes

Yield:

1 cup

Category:

condiment

Method:

roasted

Cuisine:

american
---
Description
How to make Roasted Garlic in the oven (using whole heads of garlic or peeled garlic cloves). Roasting garlic transforms it! Spreadable, buttery, sweet, earthy, and complex it has a multitude of uses in the kitchen! With so many health benefits!
---
---
Instructions
Roasting Whole Garlic Heads 
preheat oven to 400F
Cut the tips of the heads, exposing the cloves inside, slicing off roughly 1/2 inch
Place in a well-oiled skillet or baking dish.
Drizzle generously with olive oil roughly, 1 teaspoon per head.
Sprinkle with salt and pepper if you like, and tuck in some sprigs of rosemary or thyme. Both optional.
Cover tightly with foil.
Roast 35 minutes, check for tenderness, by inserting the tip of a knife into an inner clove. If tender, uncover and roast until golden and caramelized, 10-20 more minutes. If not tender, recover with foil and check again in 5-10 minutes.
Roasting Peeled Garlic 
Preheat oven to 400F
Place 1 cup garlic cloves in a baking dish ( glass allows you to see the depth of color).
Drizzle generously with olive oil 2-4 tablespoons ( the flavorful oil can be used in dressings, and  to preserve the garlic)
Cover with foil.
Place in the hot oven for 20 minutes, check, continue roasting until golden and caramelied,
---
Notes
To preserve and store: 
Refrigerate whole heads in ziplock bags for up to 4 days (or freeze).
To preserve roasted ( peeled) cloves, simple cover with a layer of olive oil in a jar. Add herbs, lemon zest and chili flakes if you like. This will keep 10 days with the garlic submerged in oil. Use the flavorful garlic-infused oil in your cooking or dressings etc, but always top off the jar with more oil, so the garlic is completely covered.
Or freeze in little jars. You can also freeze cloves in little ziplock bags.
Make Roasted Garlic Paste: My favorite way is to blend the garlic cloves with the oil in a food processor and make a paste, covering with a tiny layer of olive oil.  This will last 10 days in the fridge. For longer, store the garlic paste in little jars in the freezer, and pull out as needed. You could also free in ice cube trays.
Nutrition
Serving Size:

1 tablespoon

Calories:

28

Sugar:

0.1 g

Sodium:

1.4 mg

Fat:

1.8 g

Saturated Fat:

0.3 g

Carbohydrates:

2.8 g

Fiber:

0.2 g

Protein:

0.5 g

Cholesterol:

0 mg
Keywords: roasted garlic, how to roast garlic, roasted whole garlic heads, roasted garlic cloves