Quick Pickled Vegetables ! A simple delicious recipe that can be used with most any veggie! Beets, turnips, radishes, carrots, kohlrabi, onions, cauliflower, peppers, asparagus or green beans! For long-term canning, see recipe notes!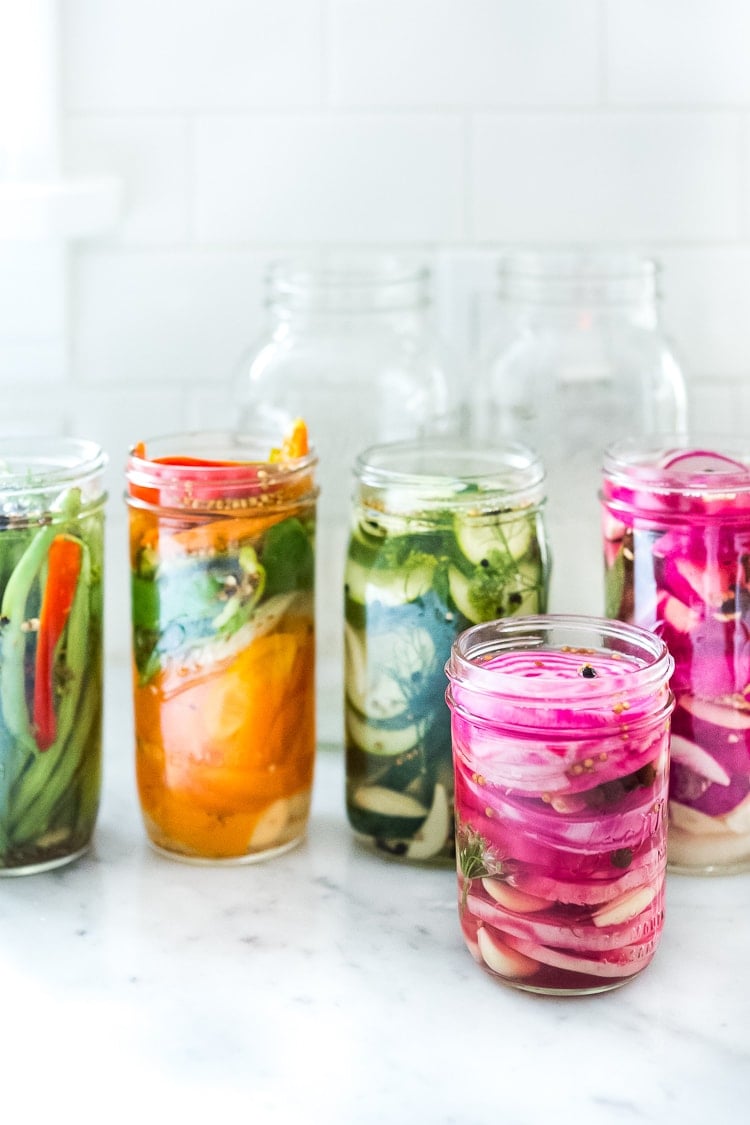 Here's a simple recipe to help extend summer's bounty well into fall. Our fridge has been bursting at the seams- full of so many beautiful vegetables we've been receiving through our CSA -that it was getting a little out of hand. I set some time aside to sort through all the drawers and gather up what could be preserved for later use.
How to make Quick Pickled Veggies! (30 sec video)
Cabbage, carrots, beets could all be added into my fermentation projects, and dark leafy greens to an enormous pot of soup. Eggplant, summer squash and roasted peppers are Preserved in Olive Oil while other vegetables like cucumbers, radishes, beets, peppers and turnips, I set aside to pickle.
These quick pickled vegetables are a little less vinegary by design. Sometimes I'll get a hankering for a little snack and often turn to these pickled veggies, because they taste great on their own, no need to bury them in a sandwich, which of course you can always do too.
But the point is, they are a little milder, sweeter and lend themselves well to snacking and charcuterie or cheese boards – or simply serve as tangy side dish with dinner. Truthfully, the best part of making this is … the joy and satisfaction it brings knowing I saved the life of a vegetable, before it was too late.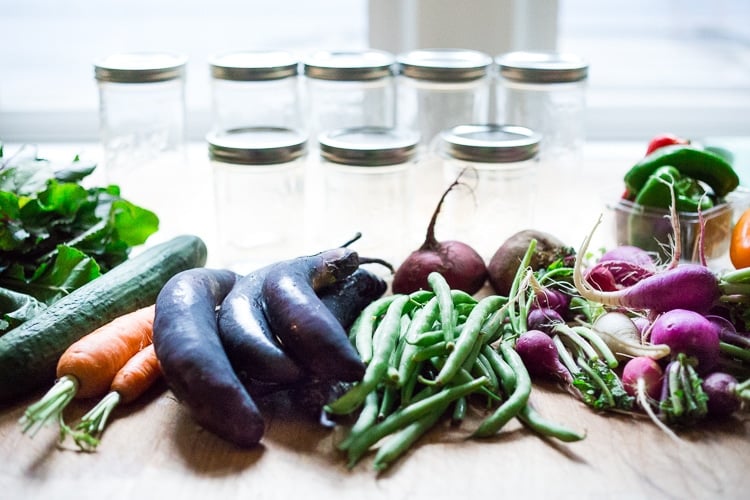 This recipe makes two Quart Jars full of pickled vegetables. If you are interested in pickling eggplant, here's a tasty recipe for Moroccan Eggplant Pickles you may enjoy.
Pickled Turnips are especially delicious with Middle Eastern food and I feature them here with my favorite recipe for homemade falafel and pita.
Pickled peppers are great in sandwiches like this Falafel Burger ( or any burger for that matter).
Pickled Onions are a staple around here and we always have them on had for tacos and sandwiches.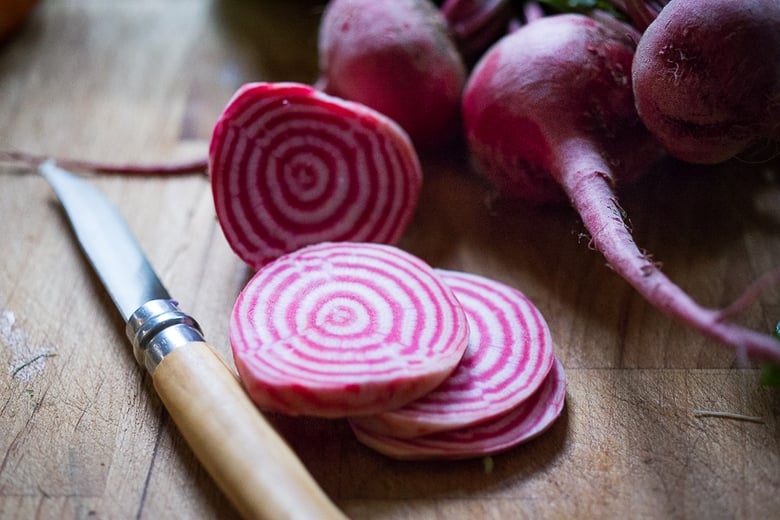 Wash and prep your vegetables, taking the time to consider their beauty and perhaps how best to highlight their uniqueness. I wanted the colorful patterns of these Chioggia beets to really come through, so I sliced them very thinly, showing off their circles. This is the fun part!
Put on some good music and just create. It's good for the soul!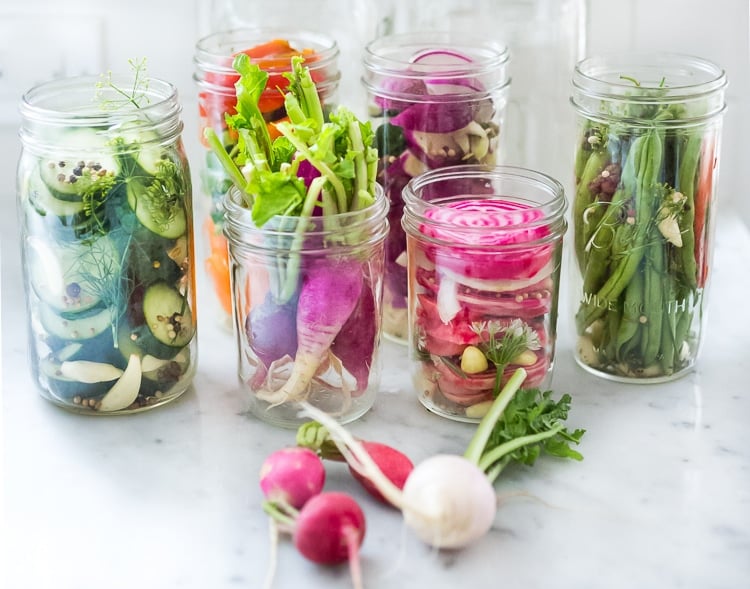 Begin filling up your mason jars with veggies, layering with whole spices, aromatics ( onion, ginger, garlic) and herbs.
While you are filling the jars, heat the pickling liquid on the stove and bring it to a boil.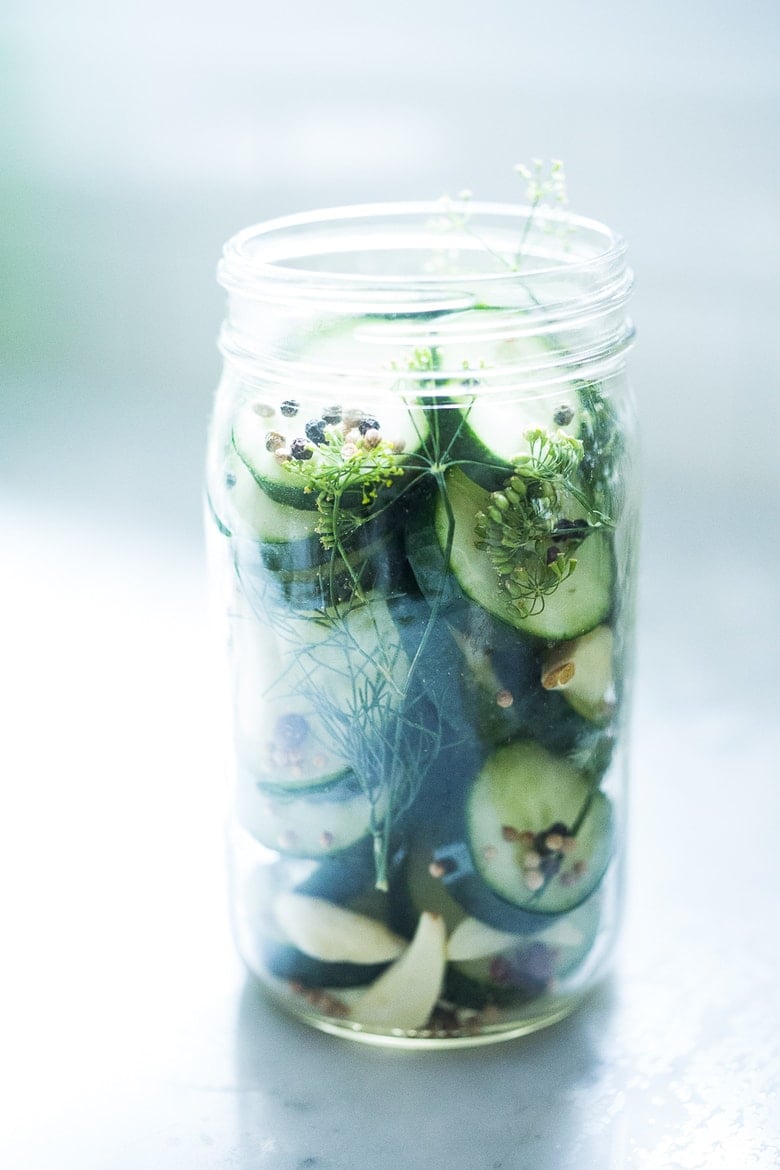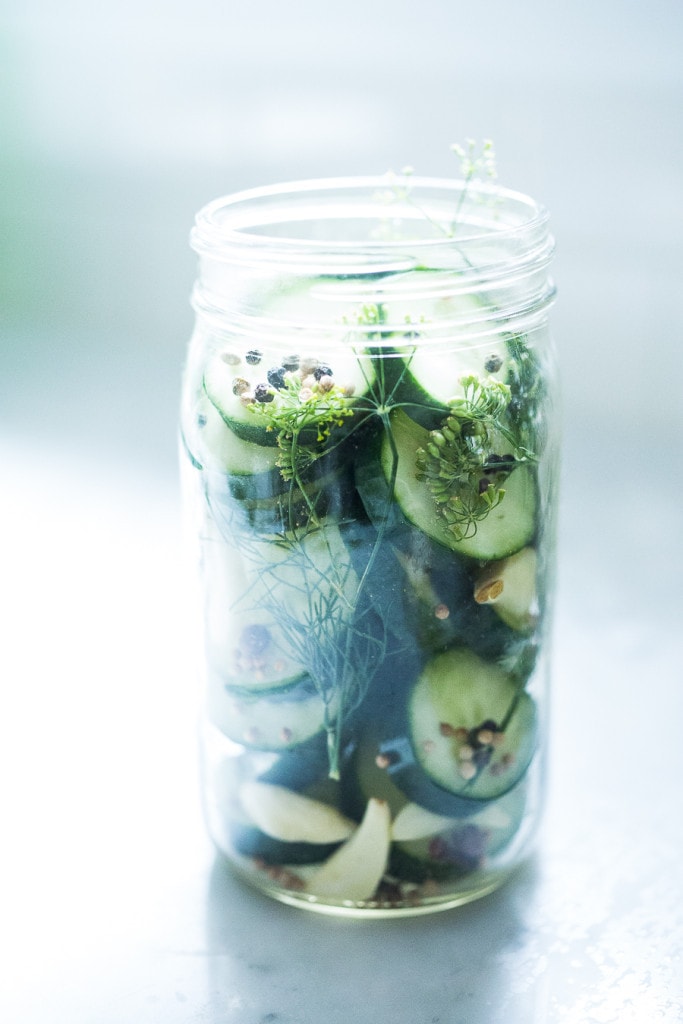 Carefully pour hot the pickling liquid over the veggies completely submerging. Leave about a ½ inch space between the top of the liquid and the lid. Cover with the lid, cooling on the counter for a couple of hours before placing the fridge.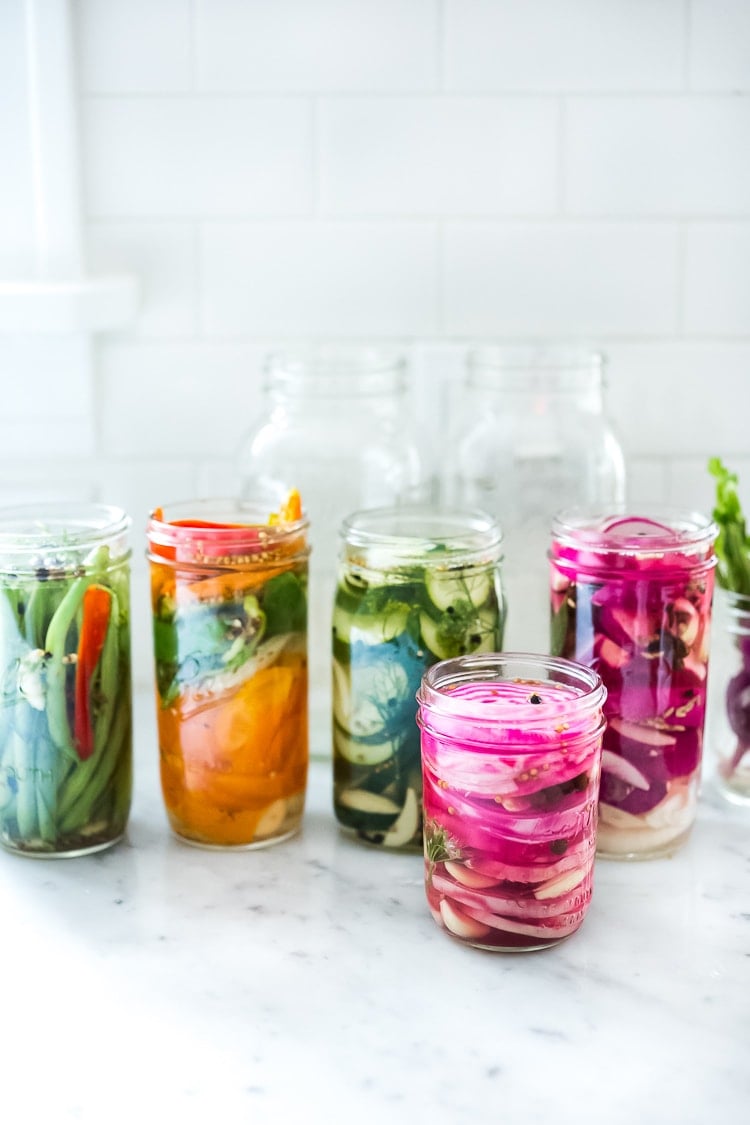 They will begin to have flavor the next day, and after a few days, they will taste even better.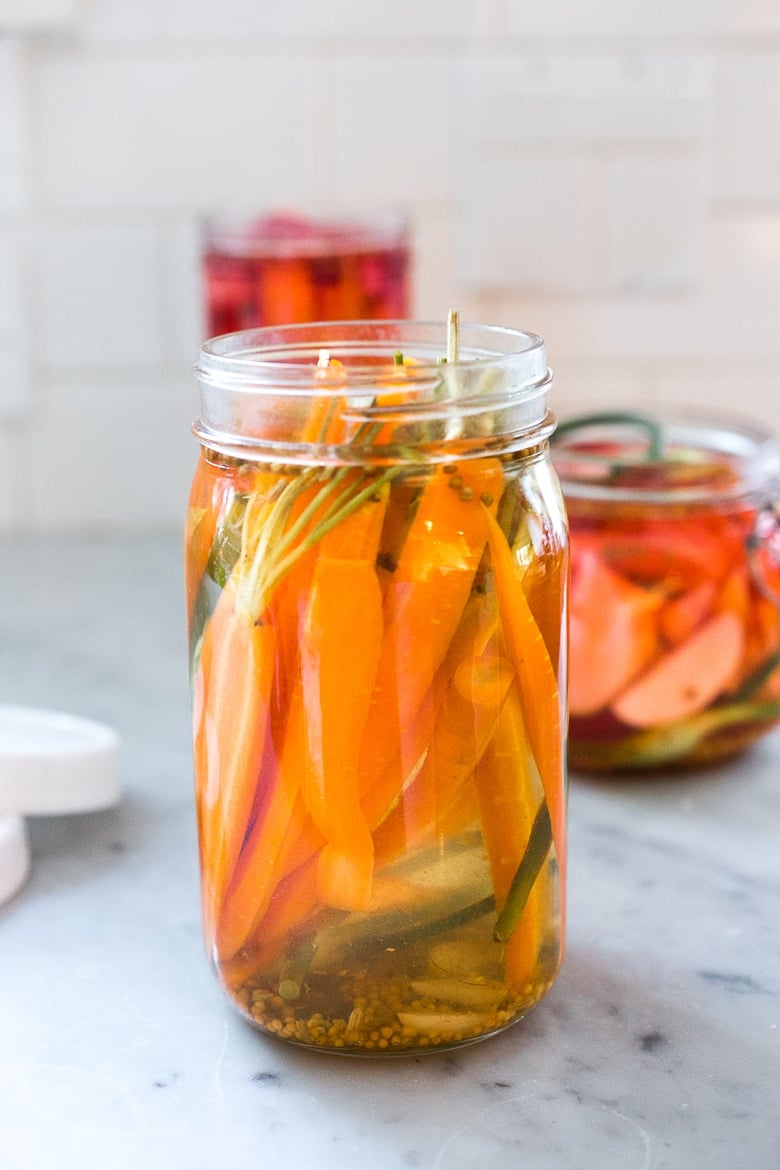 These will last 2-3 weeks in the fridge.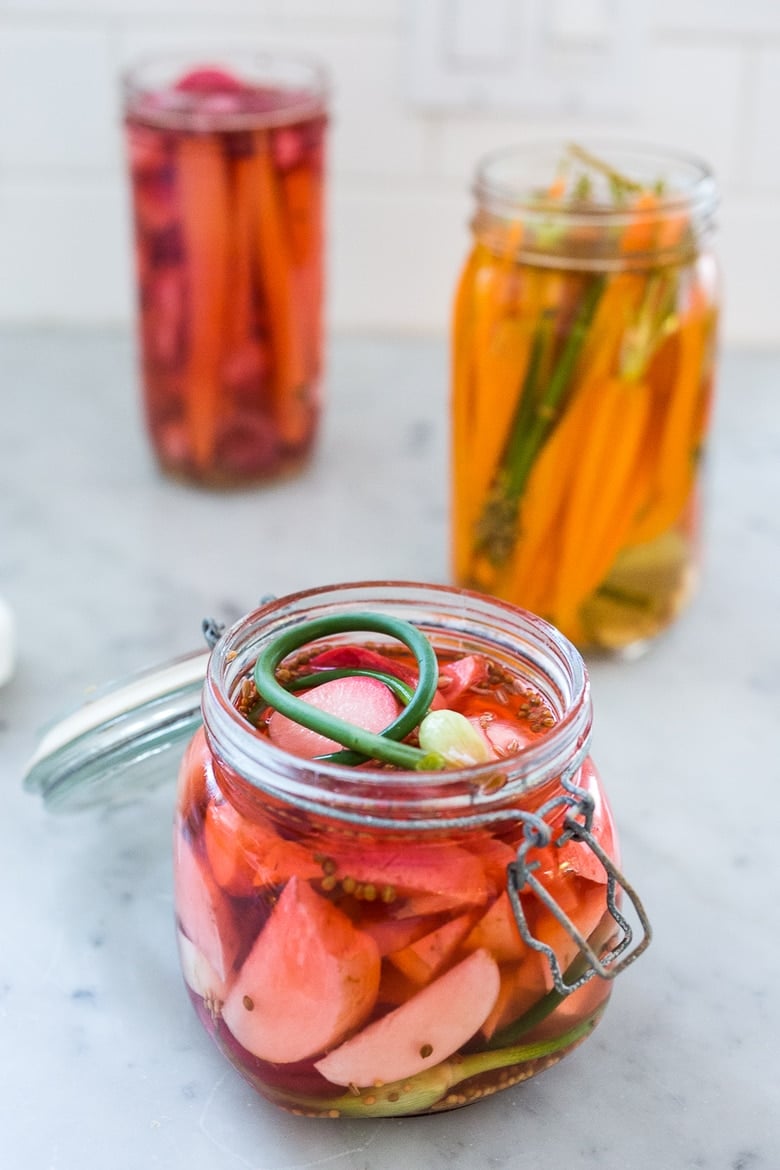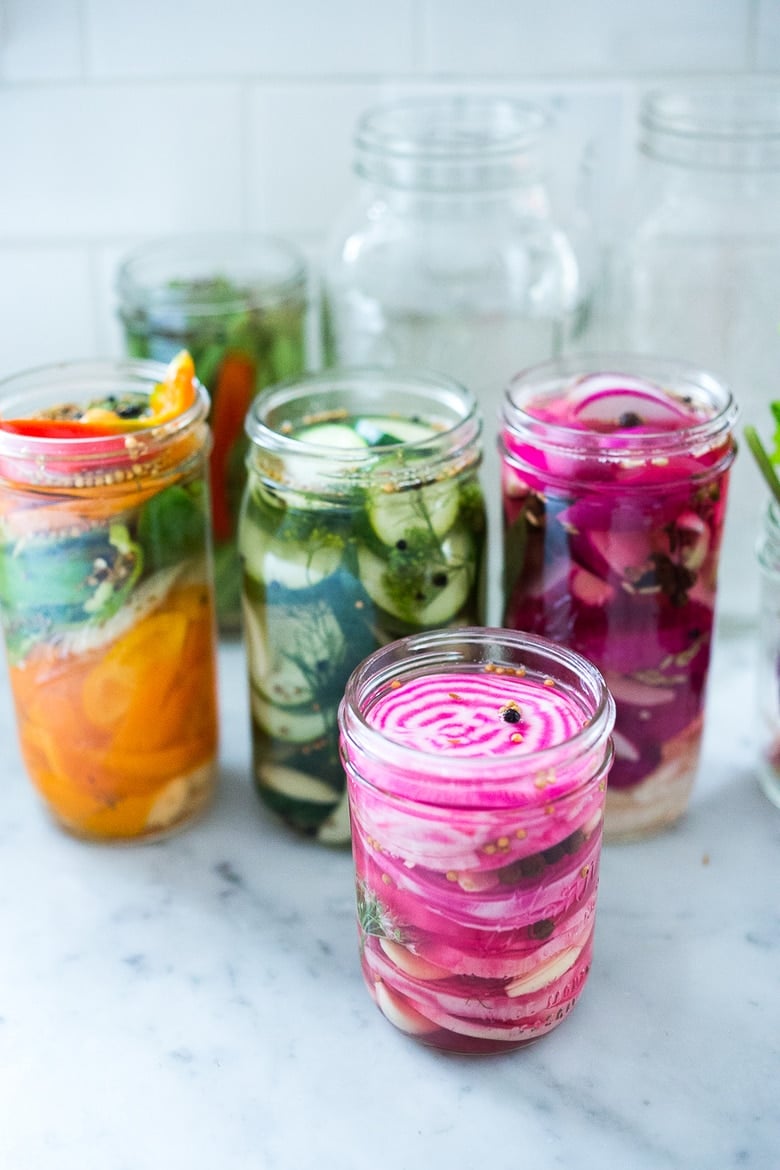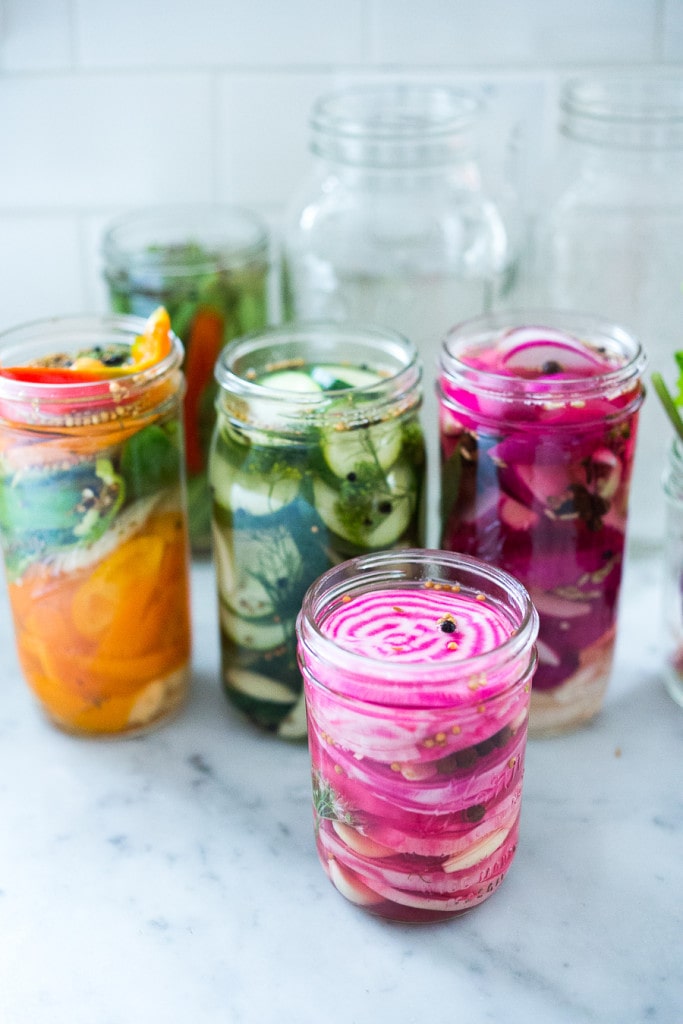 Enjoy these fun and easy refrigerator pickles!
xo
Print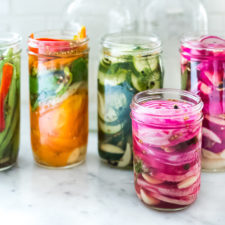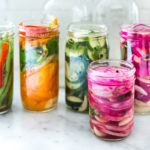 Quick Pickled Vegetables
Prep Time:

15 mins

Cook Time:

5 mins

Total Time:

20 mins

Yield:

2 Quarts

Category:

Pickled, Preserved , Snacks

Method:

Pickled

Cuisine:

Northwest
---
Description
Quick Pickled Vegetables – A simple delicious recipe that can be used with any veggie! Beets, turnips, radishes, carrots, kohlrabi, onions, cauliflower, peppers, or green beans! | www.feastingathome.com
---
Enough Fresh Raw Veggies to fill 2 Quart size mason Jars (about 5-6 cups)- beets, carrots, radishes, turnips, cucumbers, okra, green beans, asparagus, red onion, zucchini or summer squash, cauliflower florets, bell peppers, garlic scapes, fennel bulbs, cabbage, rainbow chard stems

1 tablespoons

coriander seeds

2 teaspoons

fennel seeds

1 teaspoons

mustard seeds

6

–

10

cloves garlic- sliced thickly

½

an onion sliced (optional)
few sprigs fresh dill ( optional) or other herbs
Other optional additions- whole cloves, dill seeds, whole allspice, fresh ginger slices, fresh chilies or chili flakes, celery seeds, peppercorns, cumin seeds, star anise, other fresh herbs.
Pickling liquid:
2 Cups

vinegar- white, red wine, rice wine, apple cider (any of these, or a combination)

2 Cups

water

2 Tablespoons

kosher salt

4

–

6

Tablespoons sugar ( sugar is added for flavor, so feel free to cut back you like)
---
Instructions
Prep your veggies. Wash them well and slice, quarter, or cut into spears, or leave whole ( like with green beans, asparagus, okra etc)
Bring the water, vinegar, salt and sugar to a boil in a small pot, and in the mean time pack the jars with the prepped veggies.
In two quart size mason jars, divide the garlic and whole spices.
Begin adding the veggies and if your are including the onion ( which I recommend), layer a few slices in with the veggies along with any fresh herbs you would like to include ( you can also layer the garlic this way too, or put it in first, your choice) leaving about an inch at the top of the jar.
Using a funnel, carefully pour the hot liquid into the jars, making sure to submerge all the veggies, pressing down on them with the end of a wooden spoon. You may be able to add more veggies at this point, just make sure the liquid completely covers the veggies leaving at least a half inch of room between the liquid and lid.
Cover and let sit on the counter to cool, and after an hour or two, place in the fridge. These will taste good after 6-8 hours, but much better after a couple days.
---
Notes
These keep up to 2-3 weeks in the fridge. 
If pickling firmer veggies like carrots or beets, feel free to simmer the veggies in the pickling liquid (in a pot) for a few minutes to soften them slightly. Don't over cook them!
If you are planning to can your pickles for long-term storage, bring a large pot of water to a boil and sterilize 2 wide-mouth pint jars and their metal lids.
Place the pickling liquid in saucepan over high heat and bring to a rolling boil. Pour the brine over the veggies filling each jar to within 1/2-inch of the top. Remove any air bubbles. Gently tap the jars against the counter a few times to remove all the air bubbles. Top off with more pickling liquid if necessary. Tighten the lids. Place the lids over the jars and screw on the rings until tight.  For longer storage, place the filled jars in a boiling pot of water to can them. When the water comes back to a boil, boil the filled jars for 5 minutes then remove the jars immediately. Make sure the lids pop down. 
Keywords: pickled veggies, pickled vegetables, refrigerator pickles, quick pickles, quick pickled veggies
SaveSave