Extend summer's bounty by Preserving Veggies in Olive Oil- serve with Cheese or Charcuterie boards and Mezze Platters. Delicious, quick & simple, these marinated veggies are a great up to use up your harvest!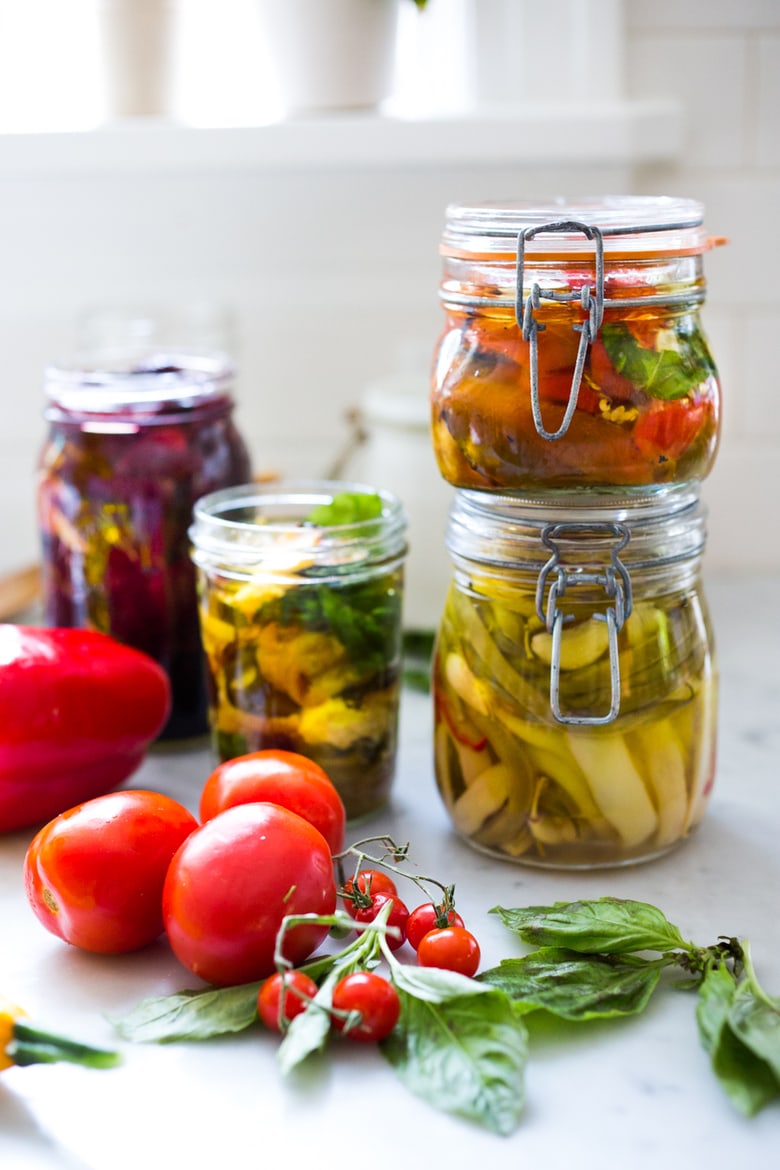 These Olive Oil  Marinated Vegetables are a simple tasty way to preserve summer's bounty well into fall.  Toss them into fresh green salads, with basil, feta, vine-ripened tomatoes and olives and add them to simple pasta dishes. Or my favorite, pile them into sandwiches slathered with pesto….so so so good!
During the last several weeks the most popular recipe on the blog has been Quick Pickled Veggies, which tells me, many of you are in the same predicament as me, trying to preserve summer veggies before they all go south. So many veggies, so little time!  Like you, I've been busy pickling away, in hopes of preserving a little of summers' goodness into fall and winter.  But I've been doing something else in addition – Preserving Veggies in Olive Oil.
Roasted Bell peppers, grilled zucchini, blanched beets and green beans, are soaked in a herb and garlic-infused olive oil bath. These sumptuous beauties are pure decadence served on charcuterie boards, cheese boards or at your next Mezze Party. They will be a hit for sure!
I know there is a bit of fear around preserving this way, the word botulism pops up on the internet all over the place when googling this –  but I'm alive and well to tell you that as long as you follow the easy steps in the recipe, your marinated veggies will be perfectly safe…. and absolutely delicious.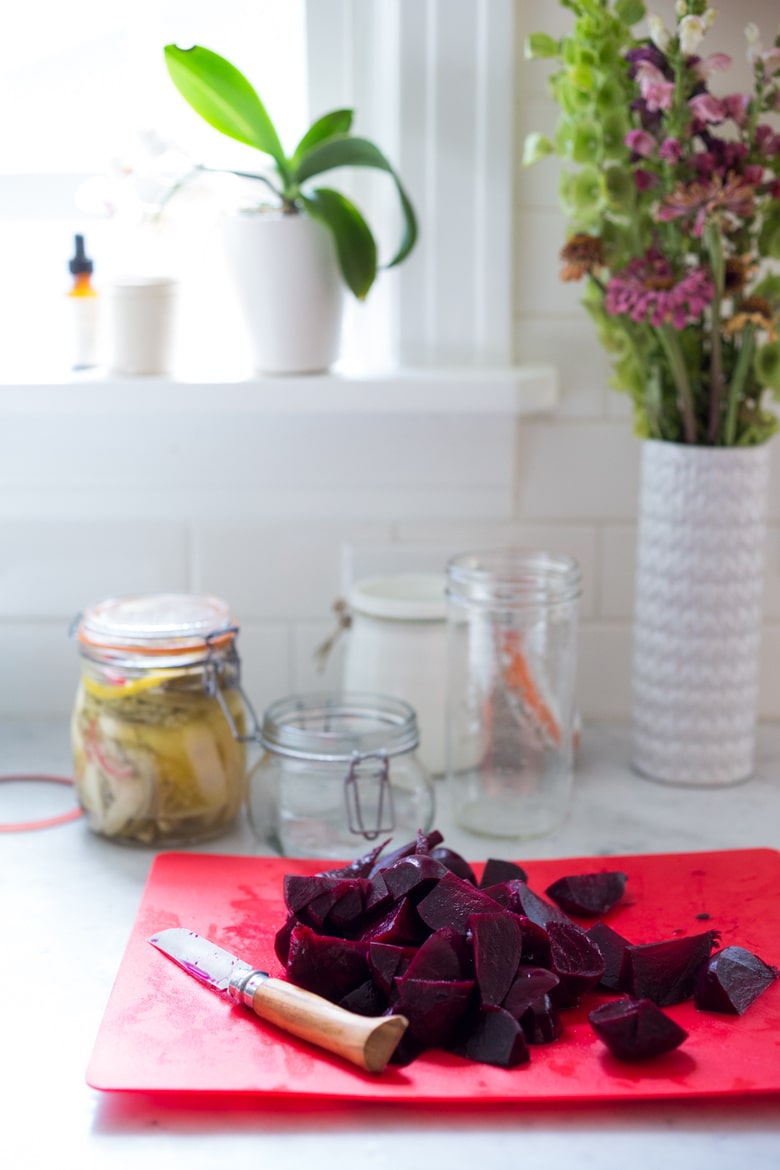 TIPS to Preserving Vegetables in Olive Oil
Your vegetables must be cooked.  You can grill them, roast them, or blanch them.
Use clean sterile jars – especially if preserving for over a week.
The marinade consists of 2 parts olive oil to 1 part vinegar.  And salt and pepper. The acid and salt will keep unhealthy bacteria at bay.
The marinated vegetables must be refrigerated and will keep for 3-4 months as long as the veggies are completely submerged in the marinade liquid and there are no raw components (like raw garlic or herbs- I remove these if storing for longer than a week).
The olive oil will harden in the fridge — this is a good sign. If the oil doesn't harden after 24 hours, your fridge is not cold enough. My suggestion would be to place in the freezer.
If you are hesitant to try this, you can start by marinating quick-pickled vegetables. If still hesitant, just consume within a week.
Here is an article on How to Preserve Food at Home that I found helpful.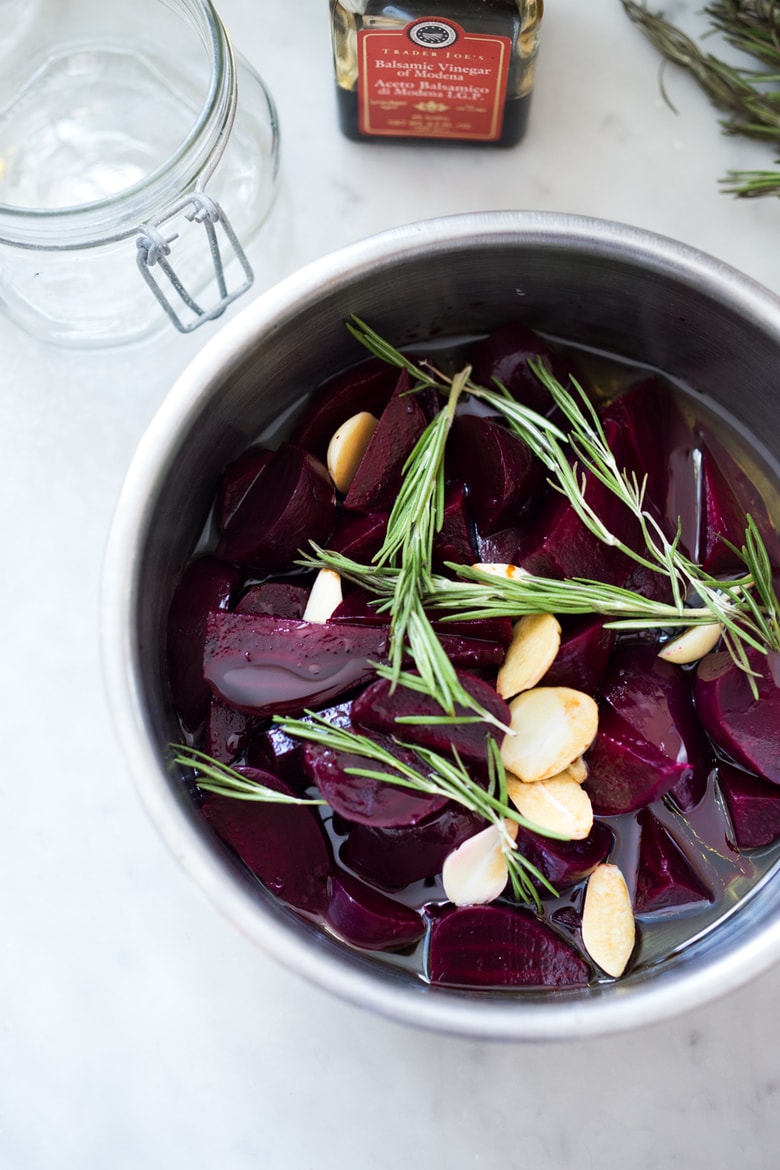 These marinated, cook beets are infused with fresh rosemary and garlic.
If eating within a week, you can leave these fresh ingredients in (stored in the fridge in a jar).
***But if preserving for longer, remove the garlic and herbs before storing for long-term use.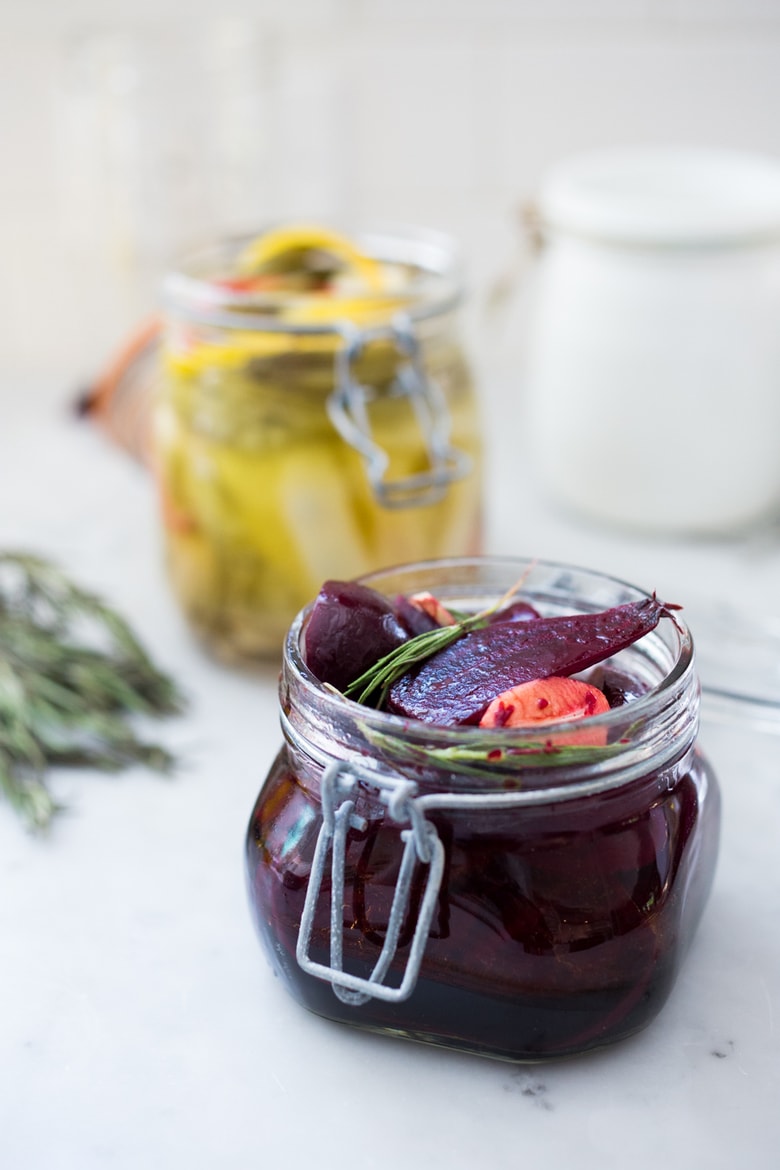 Here I'v marinated roasted peppers and grilled zucchini.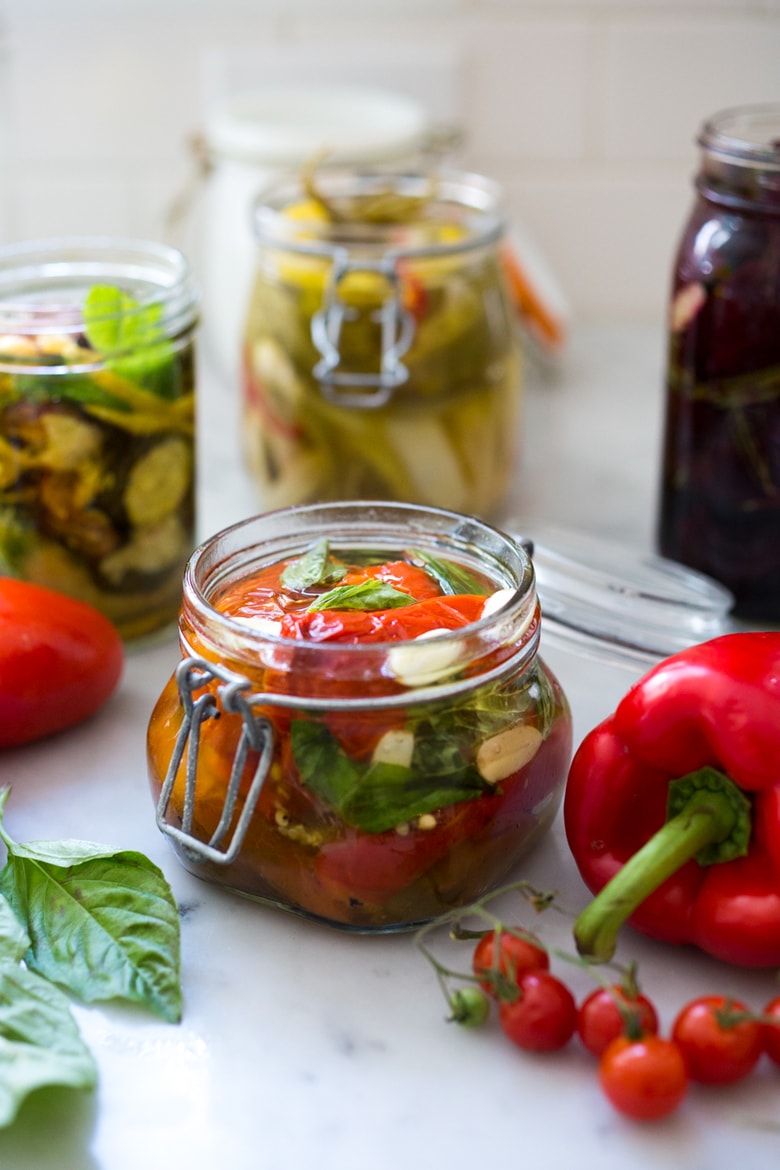 Blanched Green beans also work!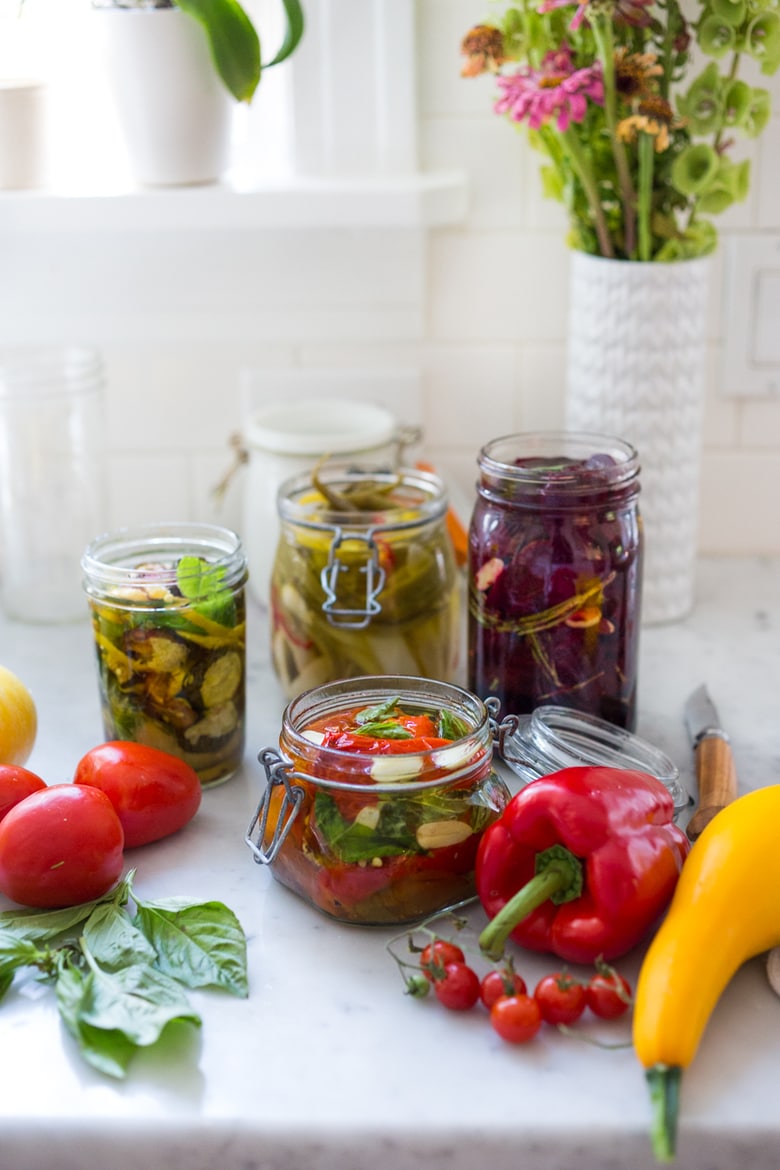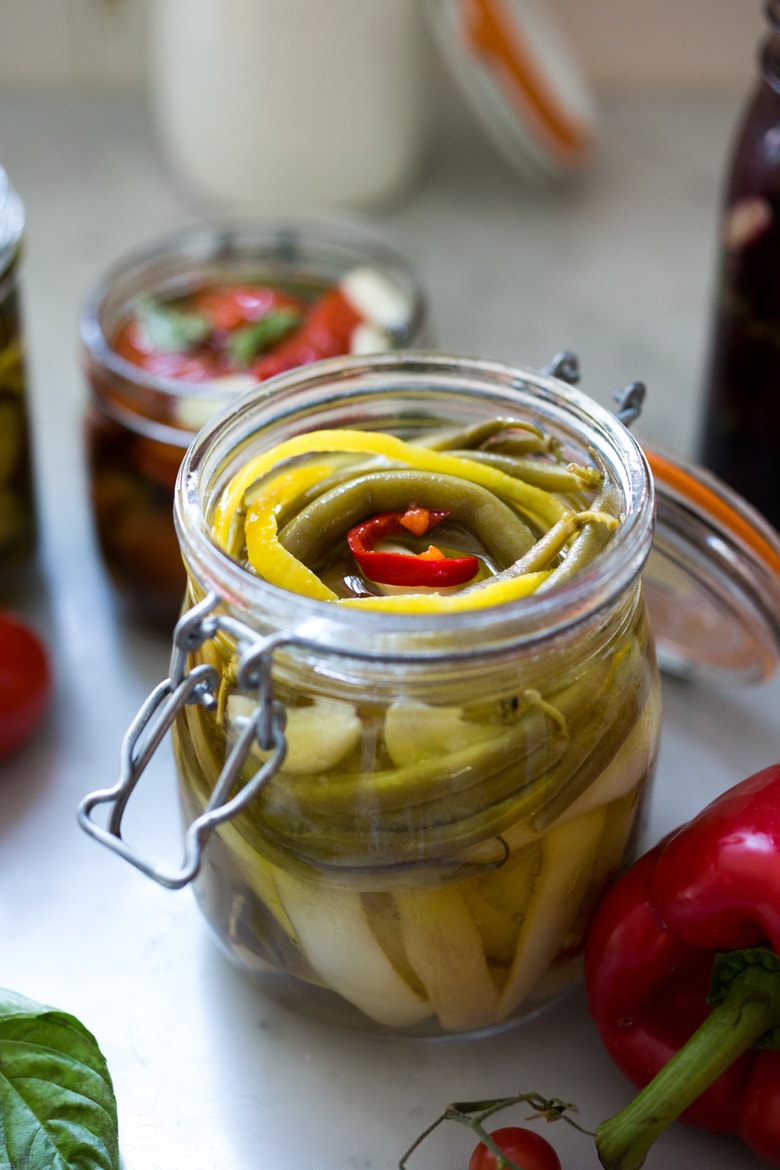 Whatever veggie you decide to preserve– just make sure the olive oil marinade completely covers the cooked veggies. This will give it the protective layer it needs to keep bad bacteria at bay.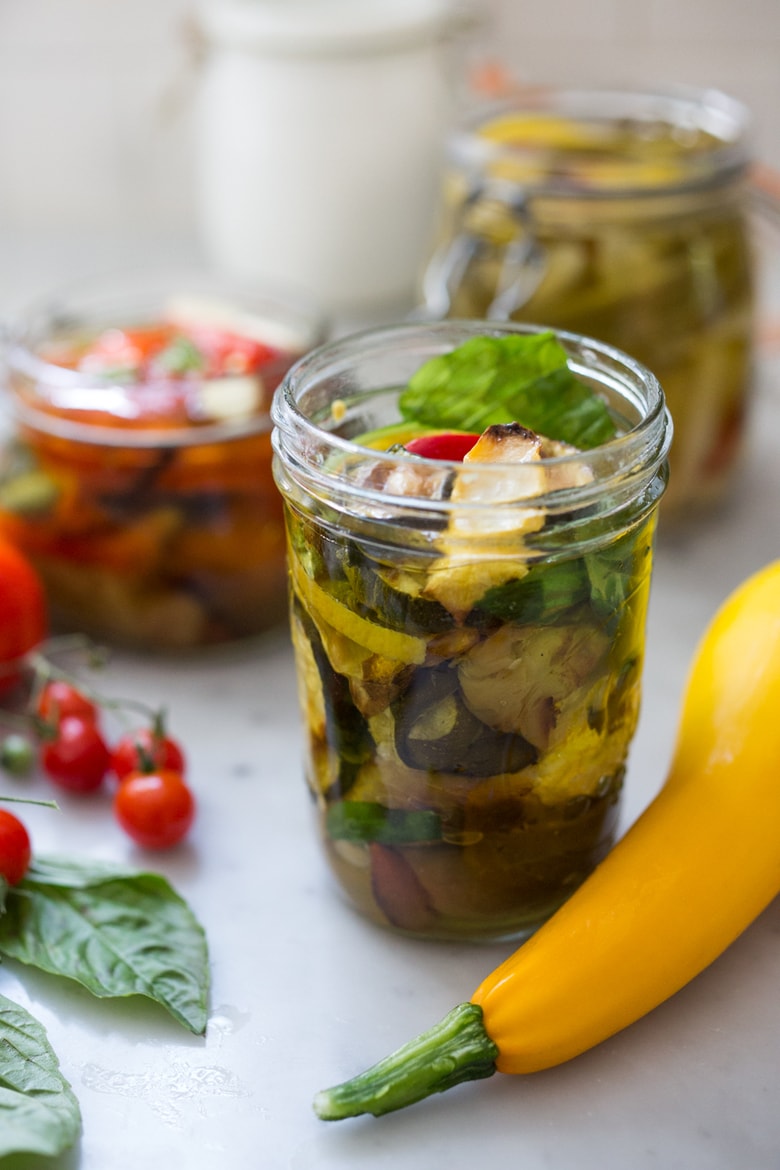 Keep in mind this is not  "canning recipe". You must refrigerate!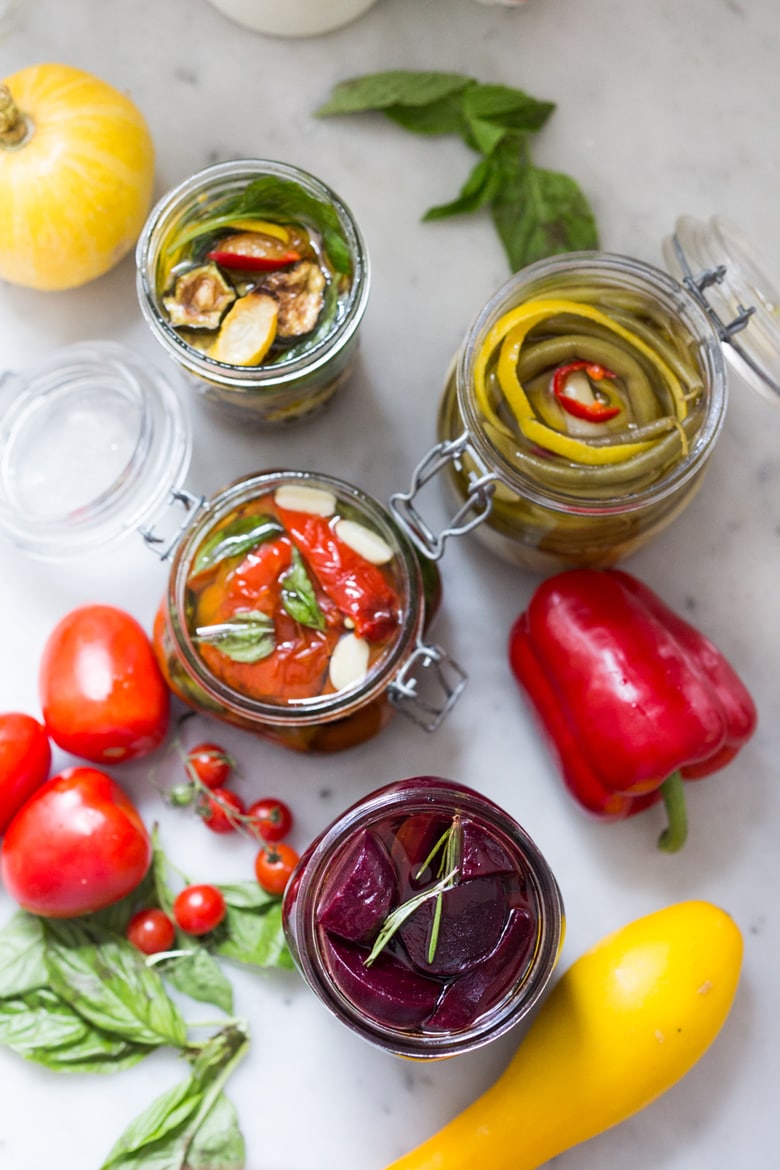 How to serve Marinated Veggies:
add to cheese plates
add to charcuterie boards
add to hummus platters
add to mezze platters
toss into salads!
toss into pasta or grain salads
Add to sandwiches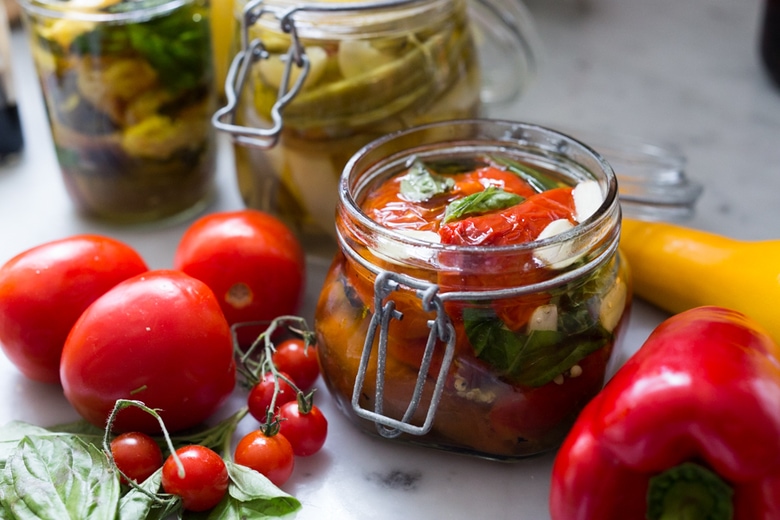 Have fun with this one.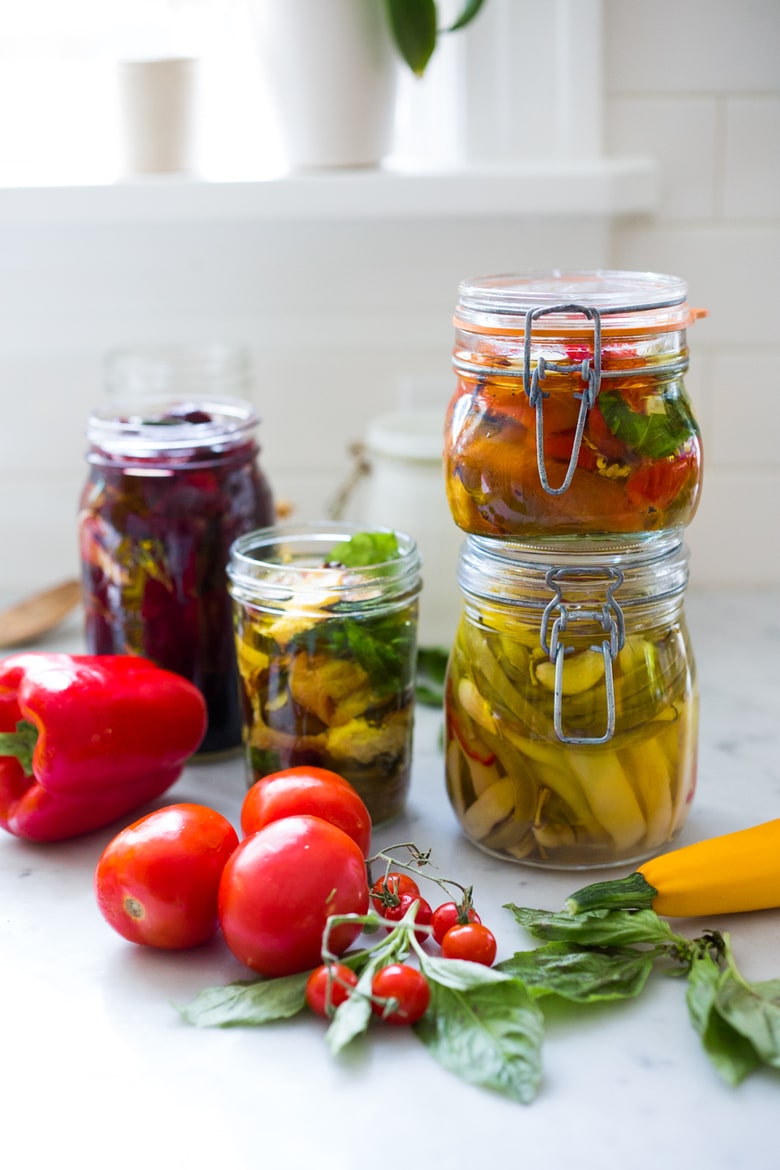 I hope you enjoy this as much as we have…give a whirl and be sure to give us your feedback. Always love hearing from you!
Happy preserving!
Print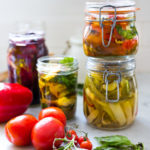 PRESERVING VEGGIES IN OLIVE OIL
Prep Time:

20 mins

Cook Time:

30 mins

Total Time:

50 mins

Yield:

1 quart

jar

1

x

Category:

Vegan

Method:

preserved

Cuisine:

Tuscan or Provincial

Diet:

Vegan
---
Description
An easy delicious way to preserve summer's vegetables in Olive oil and vinegar.  Serve these in salads, pastas, or piled into sandwiches with pesto. A great addition to cheese and charcuterie boards, perfect for Mezze Partys!
---
4

cups

vegetable of your choosing: beets, zucchini, summer squash, eggplant, peppers, tomatoes, mushrooms, green beans, heirloom beans.

2

parts Olive oil

1

part Vinegar – balsamic, white, apple cider, red wine, rice wine, champagne, sherry vinegar
Salt and pepper to taste
Herbs- rosemary, basil, thyme, sage,
Flavorings- roasted garlic, garlic scapes, chili flakes, lemon zest, preserved lemon, dried chilies
---
Instructions
Choose your vegetable and cooking technique.
Roast (or grill) – zucchini, bell peppers, tomatoes, mushrooms, eggplant, sliced onions, whole garlic cloves, etc.
Blanch things like beets, green beans, artichoke hearts, heirloom beans etc.
Place cooked vegetables in a bowl.
Season generously with salt and pepper and  1/4 cup vinegar, enough to generously coat, and let stand 15 minutes. Add ½ cup olive oil. Add more of each if needed,  sticking with proportions. ( 2 parts oil to one part vinegar.)
Add flavorings – fresh herbs, lemon zest, garlic cloves, preserved lemon, roasted garlic, chile flakes and hot chilies.
If planning to eat within the week, place all in a clean jar, removing air bubbles by stirring with a skewer or spoon, top with more oil, vinegar combination so veggies are completely submerged. Refrigerate.
If preserving for longer,

after infusing with fresh herbs and garlic

( I just leave everything in the bowl, in the fridge overnight )

remove any fresh ingredients

( like herbs and raw garlic). Pack in a sterile jar- cover with oil vinegar marinade, remove any air bubbles, by stirring with a skewer. Refrigerate.
---
Notes
NOTES: The Olive Oil will harden in the fridge and this is a good really good sign that your veggies are cold enough.
To serve, just pull them out, setting on counter for 15 minutes before using, so oil liquifies. Give a good shake.
When you go back to store them add enough oil and vinegar to cover. 2 parts oil to one part vinegar.
Keep in mind this is not a "canning recipe" and this is not shelf stable. Use the fridge!
Nutrition
Serving Size:
Calories:

96

Sugar:

2.1 g

Sodium:

196 mg

Fat:

9.5 g

Saturated Fat:

1.3 g

Carbohydrates:

3 g

Fiber:

1 g

Protein:

0.5 g

Cholesterol:

0 mg
Keywords: marinated veggies, preserved veggies, oil preserved vegetables, how to preserve vegetables, how to preserve veggies in olive oil