These Morroccan-style Pickled eggplants with garlic, coriander seeds and cilantro are a delicious way to preserve your garden eggplant just a little bit longer! Drizzle with olive oil and sprinkle with fresh herbs; they make the perfect side to any Mediterranean-style meal.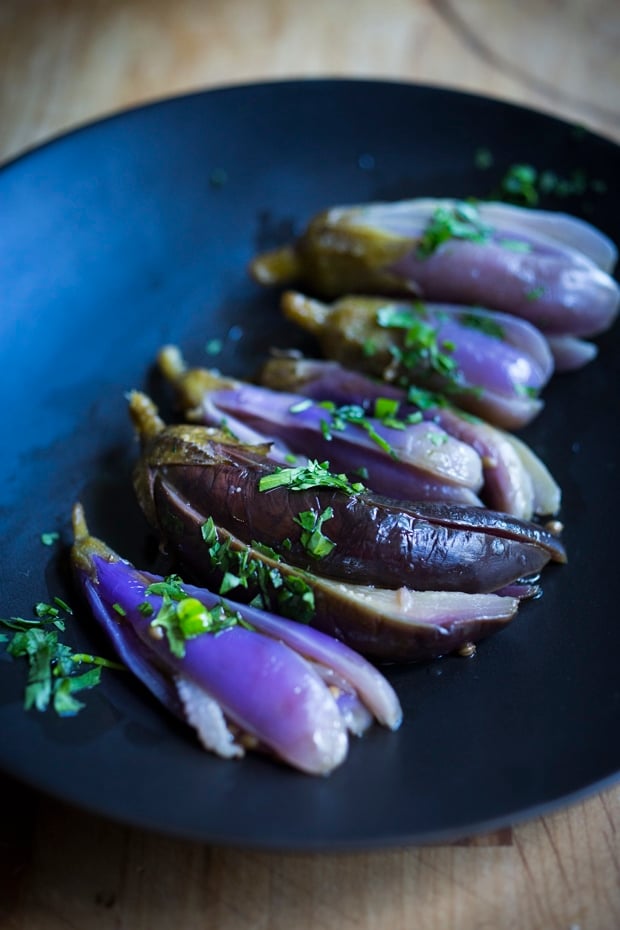 The field is tilled before the seed is planted, the garden is weeded before the flower blooms,
and the self must know stillness before it can discover its true song. ~ Ralph H. Blum
In the Moroccan tradition, the last of summer eggplants are pickled for extended life. Eggplants are split lengthwise, crisscrossed, with stems still attached, then simmered in a savory pickling liquid infused with garlic cloves and whole coriander seeds until meltingly tender. They are put in a jar and kept in the pickling liquid in the fridge- until ready to serve.
Before serving, drizzle with good-quality olive oil and a sprinkling of fresh cilantro or Italian parsley leaves. A zesty condiment to almost any meal, these flavorful Moroccan Eggplant Pickles can be thought of as a chilled eggplant "salad" of sorts. They are incredibly delicious, paired with Middle Eastern-style meals or grilled meats like chicken shawarma.
Pickled Eggplant Ingredients
Eggplant: Look for small varieties, colorful, firm, glossy eggplants without blemishes or soft spots. Fairy Eggplants are lovely here. Darker purple colors yield the prettiest results
Vinegar: Use white vinegar for the best vibrant color here.
Garlic: Adds a bold and aromatic flavor to the pickled eggplant. Choose fresh garlic cloves for the best taste.
Whole Spices: Various spices can be added to enhance the flavor profile of the pickled eggplant. We love coriander seeds, cumin seeds, bay leaves, and chilies.
Salt and sugar: Enhances the brine's flavor and acts as a natural preservative.
Garnish with Olive oil and fresh herbs! Adding fresh herbs like parsley or cilantro can add a vibrant and fresh taste to the pickled eggplant.
Remember to follow a trusted recipe for the specific measurements and instructions on how to pickle the eggplant. Enjoy the tangy and flavorful Moroccan pickled eggplant in salads, sandwiches, or as a tasty appetizer!
How to make Pickled Eggplant
I tried a variety of small varieties of eggplants. The best by far with the darker, fairy eggplant.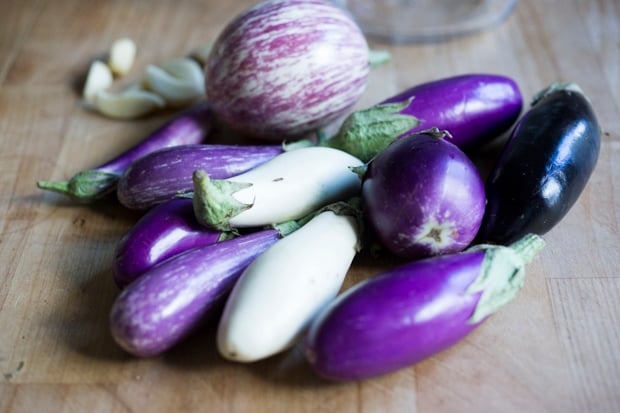 Try to use similar-sized eggplants. I have found that the dark purple ones turn out especially pretty. White ones will discolor a bit, so not as pleasing after being pickled.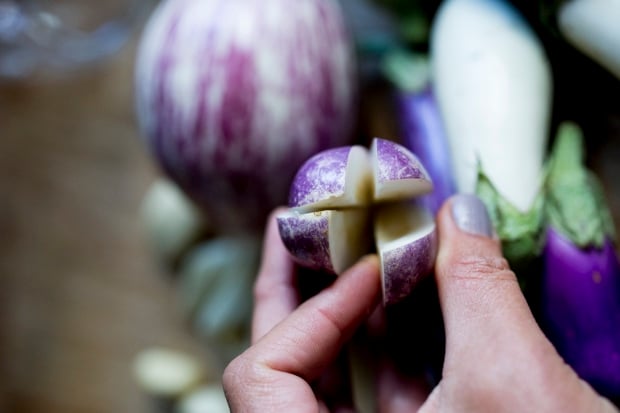 Split them in half lengthwise, then split again, crisscrossing, keeping stems intact.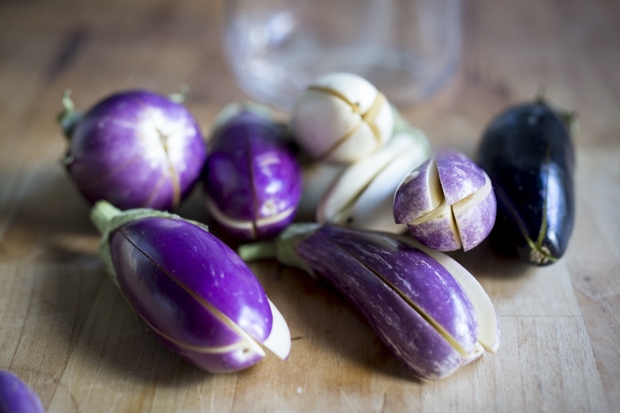 Prepare the pickling brine.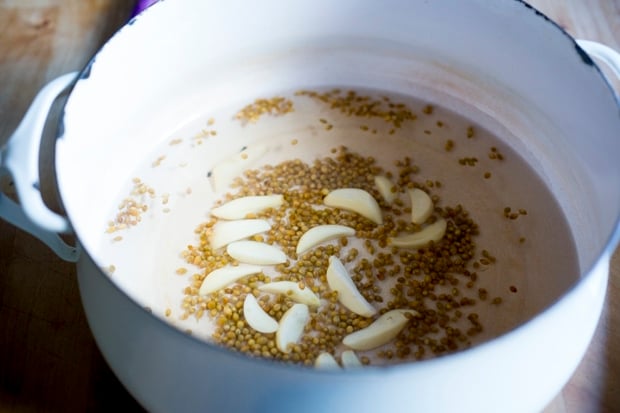 Simmer gently until eggplant is tender. Roughly 8-10 minutes.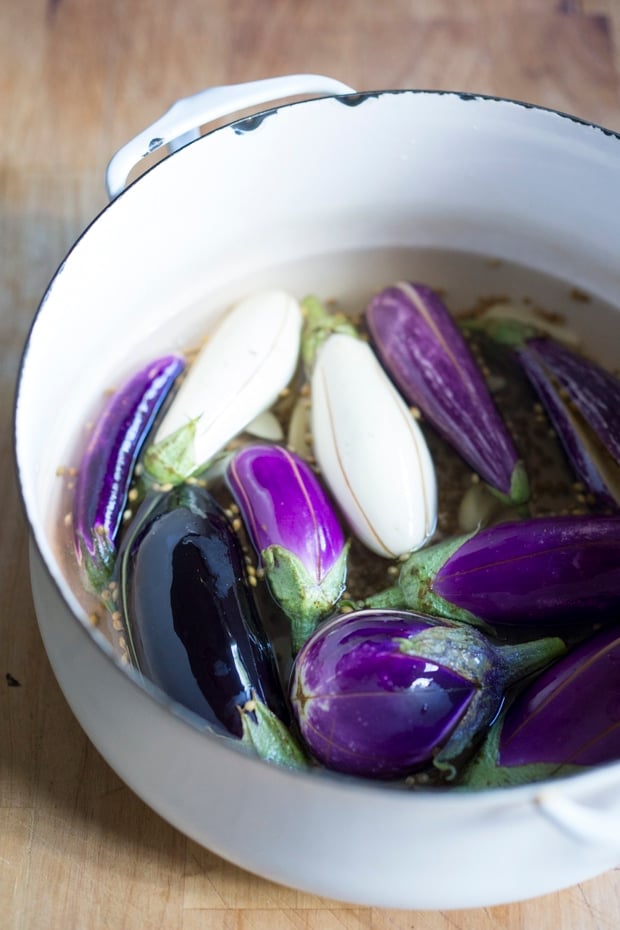 Cool and place in jars, store in the pickling liquid, and refrigerate.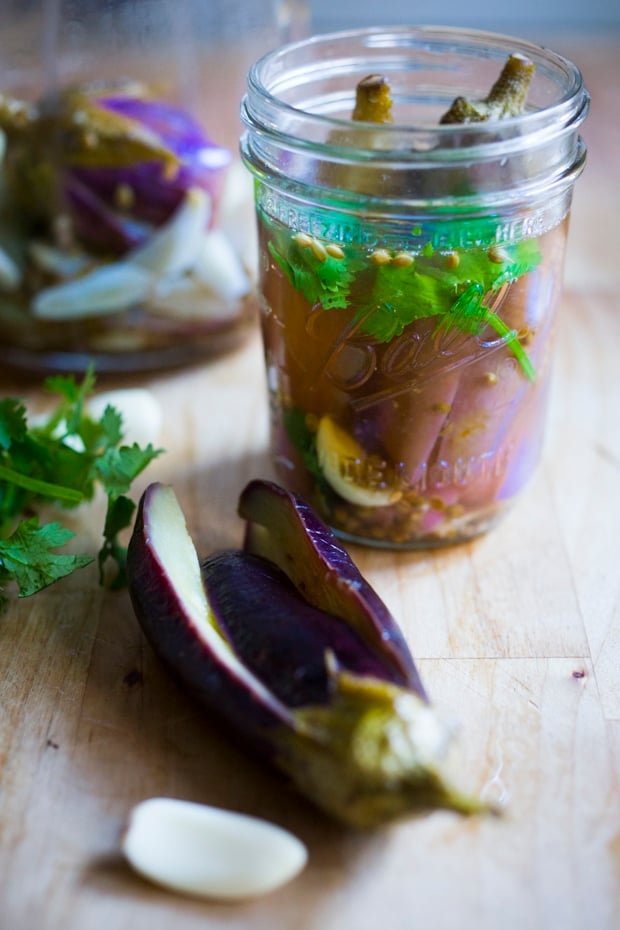 The pickled eggplant will last one month in the fridge.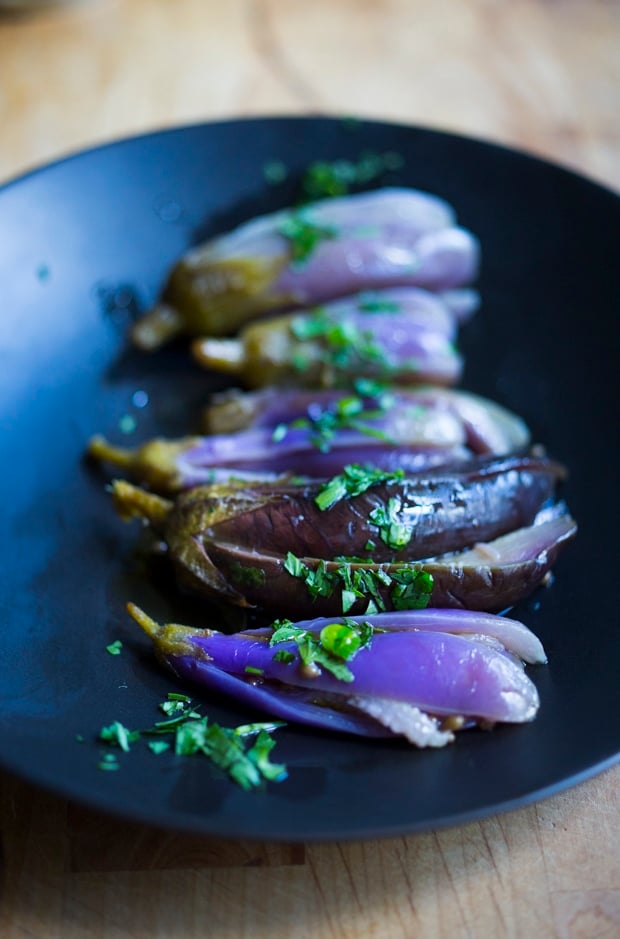 To serve them, lay them out on a plate or platter.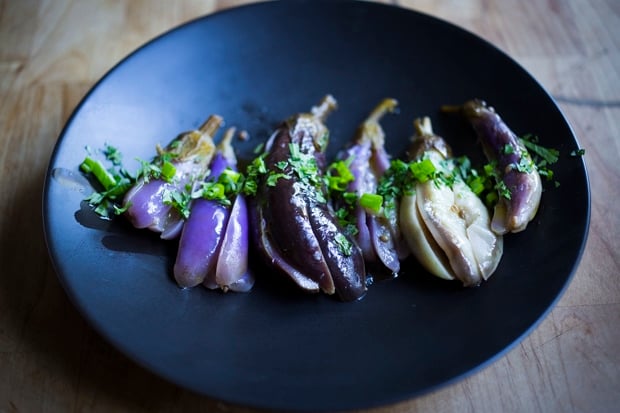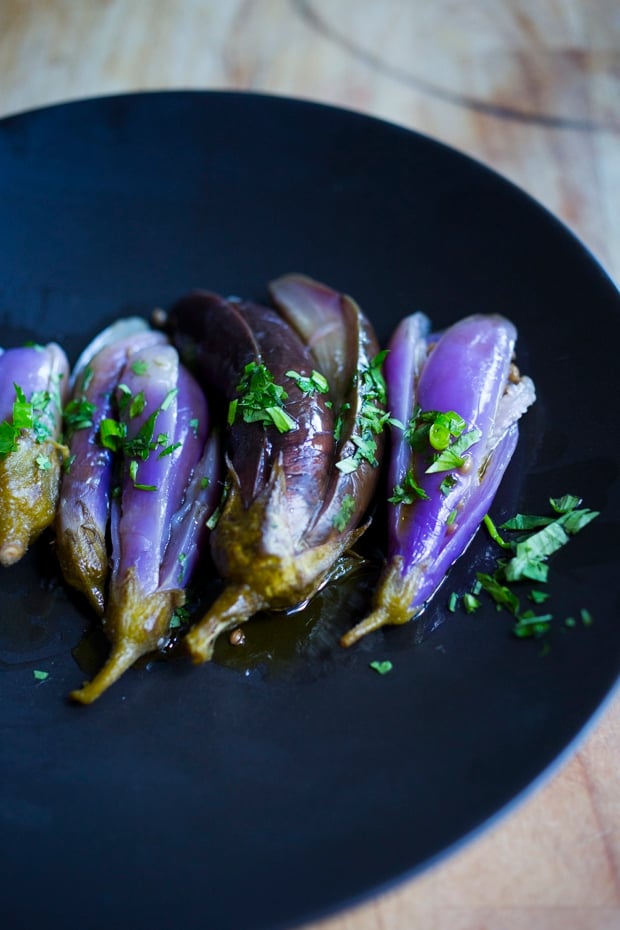 On the home front: we catered our very last wedding of the season last weekend- whew! I have been happily taking more time off, being at home, content with cleaning, organizing, rearranging, and de-cluttering. This is the time of year Brian goes on his annual backpacking trip with his buddies, and I get the house all to myself for one whole glorious week, and it is heavenly. How good and healthy it is for relationships to have a little breathing space, like oxygen for a fire.
I hope you enjoy these! xo
You'll also love:
Print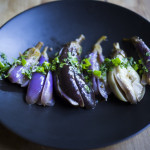 Pickled Eggplant
Author:

Sylvia Fountaine

Prep Time:

15

Cook Time:

15

Total Time:

30 minutes

Yield:

1 quart

1

x

Category:

Pickling, Preserved

Method:

Stovetop

Cuisine:

Moroccan

Diet:

Vegan
---
Description
Moroccan Eggplant Pickles with garlic, coriander seeds and cilantro. A delicious way to preserve your garden eggplant just a little bit longer! Drizzle with olive oil and sprinkle with fresh herbs, they make the perfect side to any Mediterranean-style meal.
---
1 1/2 tablespoons

kosher salt

3 tablespoons

sugar

1 1/2

cups

white vinegar (5 percent acidity)

2 1/2

cups

water

2 tablespoons

whole coriander seeds

5

large garlic cloves, halved

1 1/2

lbs

assorted baby eggplants, with stems ( fairytale eggplant or small Japanese)
olive oil and cilantro or parsley for serving
optional additions- other whole spices, bay leaves, dried or fresh chilies, chili flakes, sliced onion, etc.
---
Instructions
In a medium pot, bring first 6 ingredients to a simmer.
Slit each eggplant from the blossom end almost to the stem lengthwise, then once more into 4 quarters -so that eggplant splays into four "fingers" attached to the stem end. See photo.
Place eggplant in simmering liquid and gently simmer 8-10 minutes or until eggplant is tender. ( Bigger ones will obviously take longer, mini ones shorter)
Using tongs place eggplant in a jar, stems up, and pour the pickling liquid over top. Refrigerate 12 hours.
To serve, place eggplant on a platter, drizzle with olive oil and sprinkle with fresh cilantro or Italian parsley.
Makes a one-quart jar, and keeps up to 4 weeks in the fridge.
---
Notes
Feel free to add other pickling spices- fennel seeds, peppercorns, cumin seeds, etc.
Pale eggplants tend to turn brown- so I typically pick out deep purple ones for this recipe.
Nutrition
Serving Size:

½ cup eggplant

Calories:

34

Sugar:

3.7 g

Sodium:

119 mg

Fat:

0.3 g

Saturated Fat:

0 g

Carbohydrates:

6.4 g

Fiber:

2.5 g

Protein:

0.9 g

Cholesterol:

0 mg
Keywords: eggplant pickles, moroccan eggplant pickles, pickled eggplant, how to pickle eggplant,