This vegan Lentil Pomegranate Salad (aka Palouse Caviar) is made with black caviar lentils, pomegranate seeds, jalapeno avocado, lime- can be served over greens for a hearty vegan salad or with chips, for a festive appetizer dip.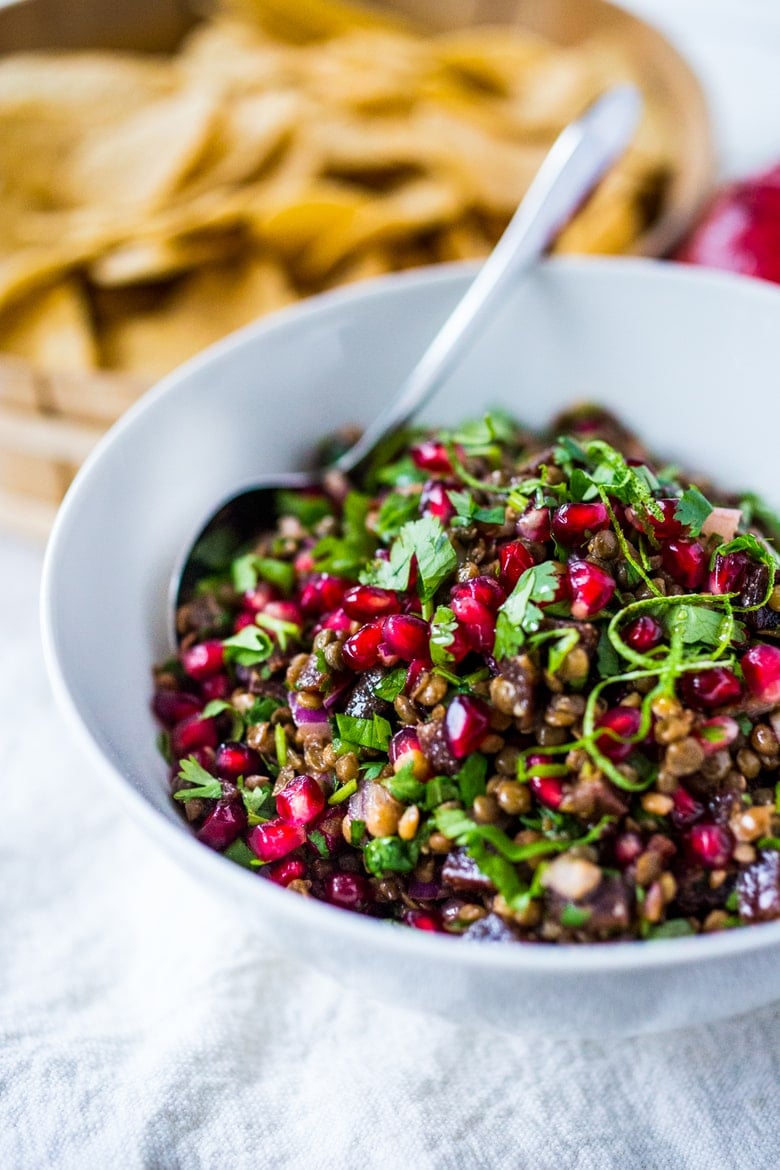 It is only with the heart that one can see rightly; what is essential is invisible to the eye.
Antoine de Saint-Exupery
Remember Texas Caviar – the bean dip with black-eyed peas, corn and avocado that tastes great on chips? This is kind of like that, only from our neck of the woods, an area known as the Palouse where we grow tons of lentils and chickpeas. Palouse Caviar can be served as a hearty salad, but I've been also loving it as a healthy appetizer dip –  served with little dippers (corn chips).
For a wintry, festive twist, I've been taking black caviar lentils and stirring in pomegranate seeds, beets, cilantro, jalapeño, and avocado with a little olive oil and lime juice. The bright pops of flavor from the pomegranate seeds with the earthy beets and lentils and just a hint of heat, make for a tasty, healthy appetizer option for New Year's Eve gatherings.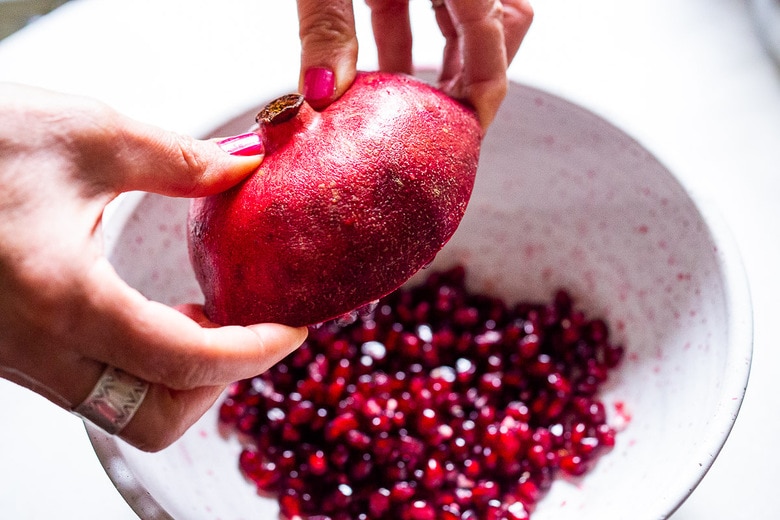 Watch How to cut a Pomegranate | 2 min video!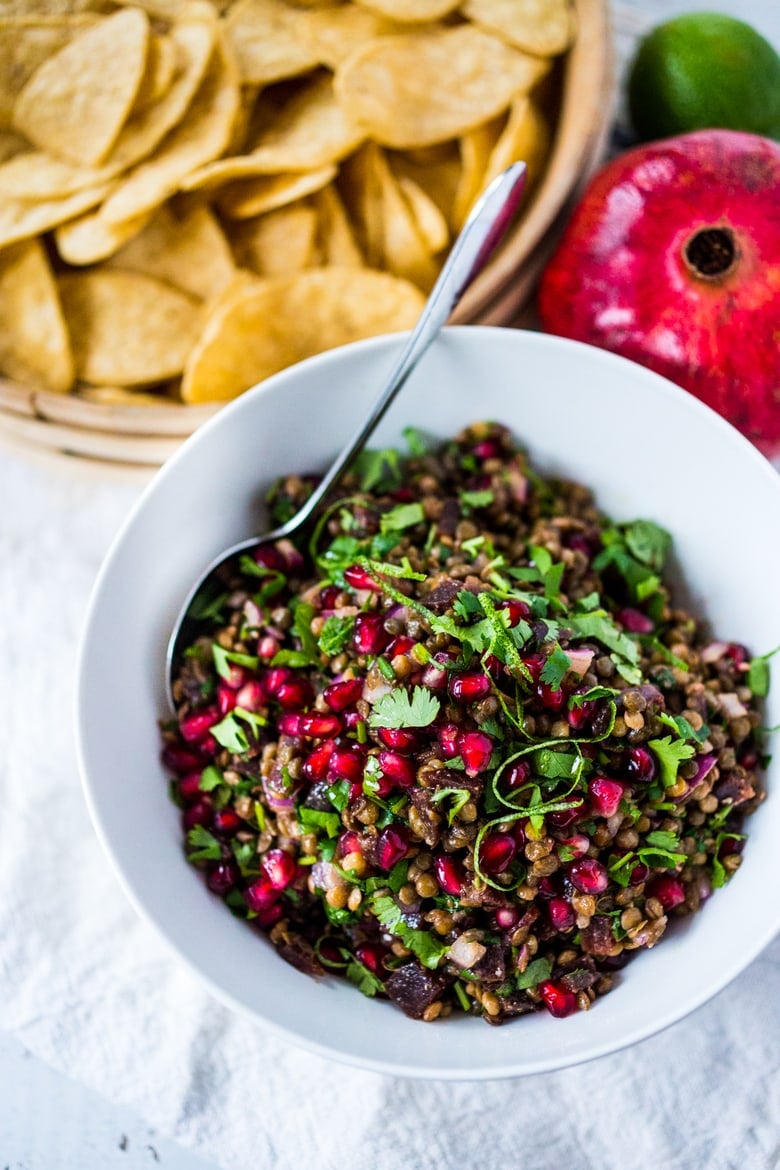 If you've been following along with me the last few weeks, you will have probably noticed a pomegranate theme happening. The truth is, I've kinda rekindled my love for them lately.
Not only do pomegranate seeds add beautiful color, texture and bright juicy pops of flavor to almost everything, but they are also full of so many so nutrients and antioxidants. I've been a little obsessed.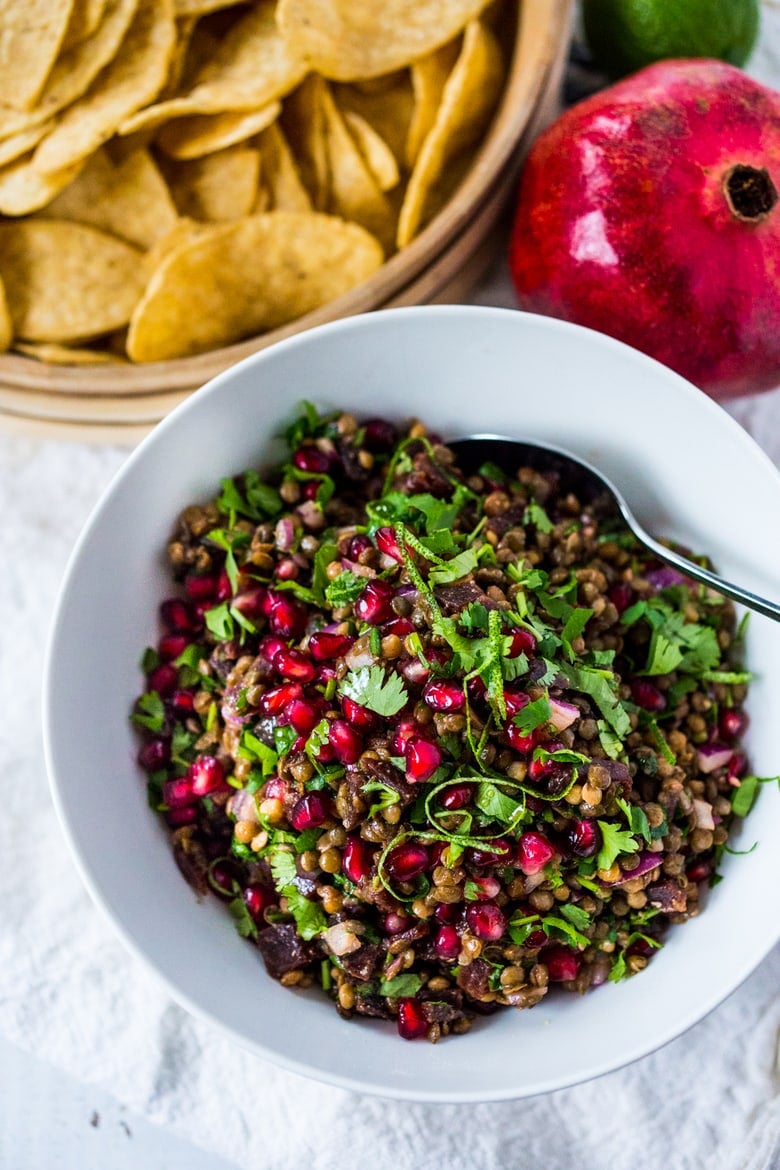 Lentils are hands down, my super soul comfort food. Growing up, lentils were on the menu, perhaps a little too often. I've told you about my frugal Egyptian father before, remember him? Lentils are inexpensive and full of protein and so that's what he cooked a LOT of at home.  I remember thinking as a kid, that when I grow up, I'll never eat lentils again! Guess what? I'm all grown up, and surprisingly, I've come to crave them. So healthy and delicious. Sometimes we get stuck in a rut with lentils – and end up making soup, which don't get me wrong, I love…but it's good to mix it up a bit, isn't it?
For other lentil inspiration try one of my favorite recipes ever, Indian Lentil Meatballs.
Or how about  Braised Lentils with Beets, or this vegan  Spicy Lentil Tahini Wrap or this Celeriac Lentil and Apple Salad or Lentil Tabouli.  Just some ideas to get you thinkin'. 😉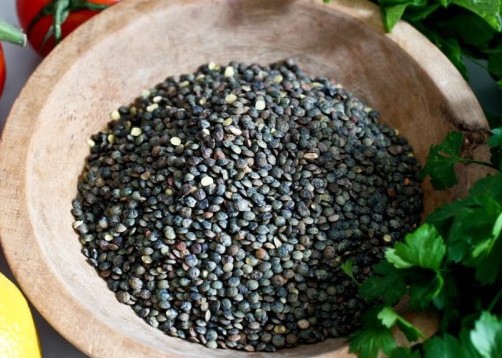 More Lentil Recipes you might like: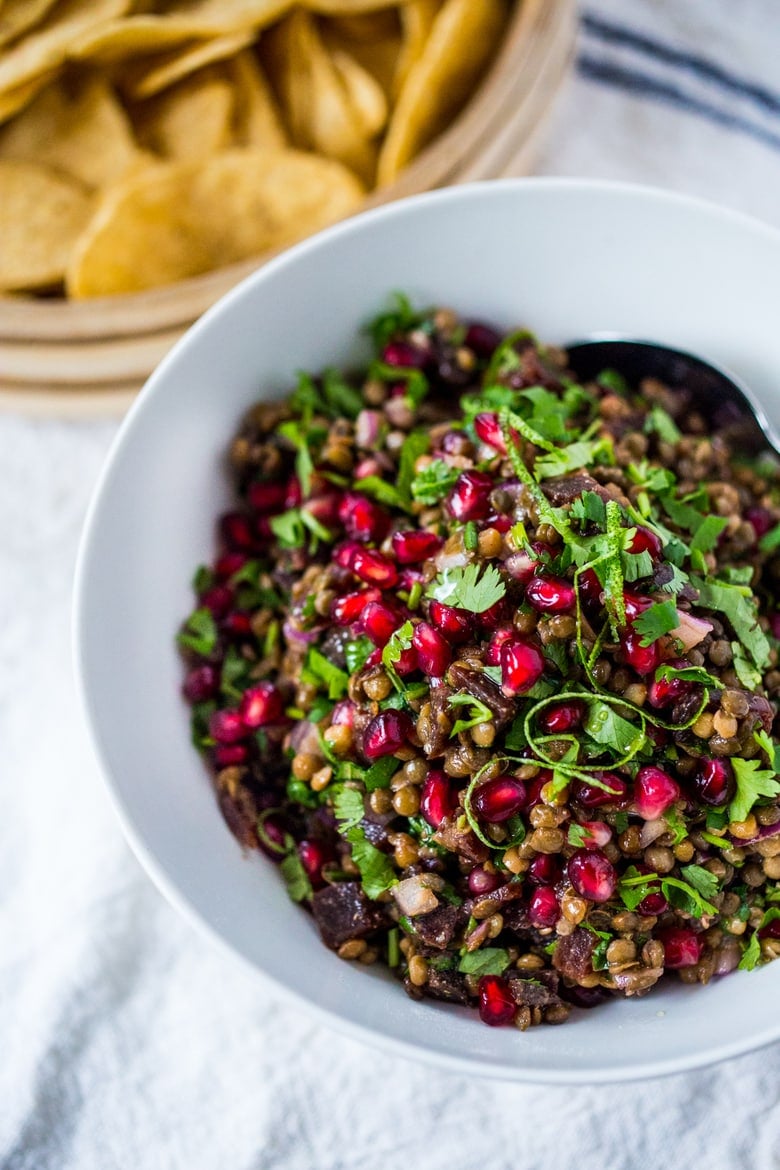 As another year comes to a close, I'm reminded to pause, look back, and reflect. The underlying theme throughout my year has been surrounded around relationships and friendships and learning to see them with clear and fresh eyes. Removing the filters, so to speak.
We are dynamic beings, each of us changing from breath to breath. And so it is with our relationships. We affect each other. We are constantly changing. It's easy to continue seeing someone, in the same old static way, once we've judged and categorized them. We make people small with thoughts of "good or bad".  We even seek ways to justify our beliefs about people, deepening our prejudices, often discounting or minimizing any good qualities.
But we are complicated beings with many facets and layers.  When we have the courage to meet our own shadows with compassion, our capacity to meet others' shadows with compassion will grow too.
It is only with the heart that one can see rightly…
Love and hugs,
Print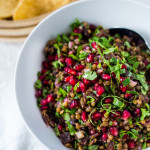 Lentil Pomegranate Salad (Palouse Caviar)
Prep Time:

20 mins

Total Time:

20 minutes

Yield:

4

1

x

Category:

Salad, Vegan, Appetizer

Method:

Tossed

Cuisine:

American

Diet:

Vegan
---
Description
A refreshing Lentil Salad with pomegranate seeds, beets, cilantro and lime. Serve as salad or as an appetizer with corn chips.
---
3

cups

cooked lentils (black caviar or french green)

1 1/2

cups

cooked beets, peeled, very small diced

1

cup

pomegranate seeds

1

cup

chopped cilantro (tender stems ok)

1/2

cup

finely diced red onion

1/2

a jalapeno, very finely diced

1/3

cup

olive oil

1

lime, zest and juice

1 teaspoon

cumin

1 teaspoon

coriander

3/4 teaspoon

salt
Optional additions: diced avocado, feta crumbles
Serve over a bed of greens, or with Corn chips or Tortilla Chips for scooping.
---
Instructions
Place first 6 ingredients in a medium bowl and toss to mix.
Stir to combine and allow this to sit 10 minutes for the salt to soak into the lentils.
Adjust salt and lime.
Top with crumbled feta (optional)
Serve with corn chips or tortilla chips or over a bed of greens for big healthy salad.
---
Nutrition
Serving Size:

1 ½ cups

Calories:

407

Sugar:

13.6 g

Sodium:

484.2 mg

Fat:

20 g

Saturated Fat:

2.8 g

Carbohydrates:

46.8 g

Fiber:

15.8 g

Protein:

15.5 g

Cholesterol:

0 mg
Keywords: lentil pomegranate salad, vegan lentil recipes, texas caviar, lentil dip, lentil salad recipe, lentil pomegranate salad,