This Indian Coconut Lentil Curry is full of flavor and can either be made in an Instant Pot  or on the stove-top.  Infused with fragrant Indian spices, this authentic recipe is not only delicious, it is vegan and gluten-free! Serve the creamy curry lentils over a bed of  baby spinach,  basmati rice or with homemade naan bread! A simple tasty weeknight meal.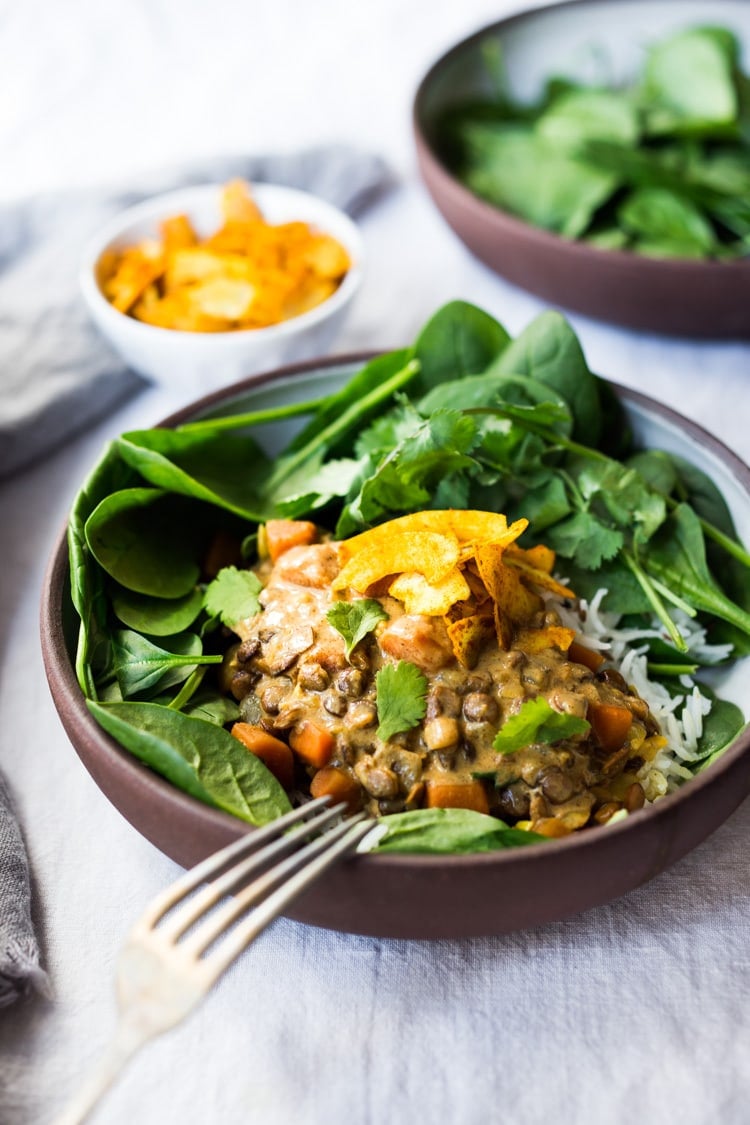 We cannot always change the circumstances, but we can always adjust our consciousness. ~ Radhanath Swami
This flavorful Coconut Lentil Curry can be made in under 30 minutes using your instant pot! And of course, you can also make it on your stovetop- either way, I know you are going to love these cozy, fragrant Indian flavors. One of my favorite lentil recipes to date!
This Coconut Lentil Curry is delicious served over fluffy basmati rice– but lately, I've been eating it over a big bowl of fresh baby spinach… so tasty! My husband Brian prefers scooping it up with freshly made, whole wheat naan bread, and yes that is an option too. You could also just serve it as a soup!
ONE thing that gives this creamy coconut lentil curry delicious texture are these Toasted Turmeric Coconut Flakes…totally optional but totally yummy!
Indian Lentil Curry | 45-second video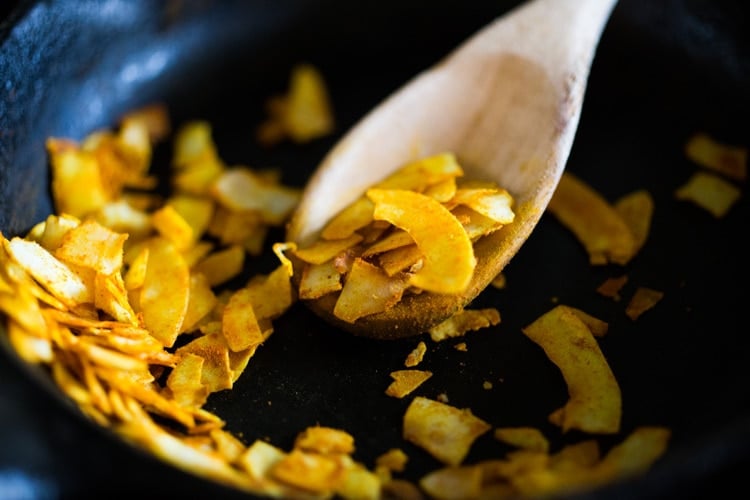 To make this in an Instant Pot, simply sauté the onion, carrot, garlic, ginger and spices. Add water and lentils.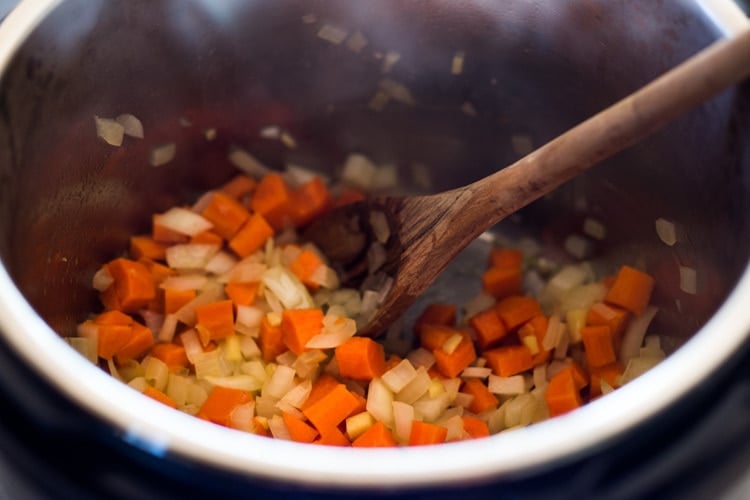 Pressure cook on high for 10 minutes, and manually release. Yes, fast!!!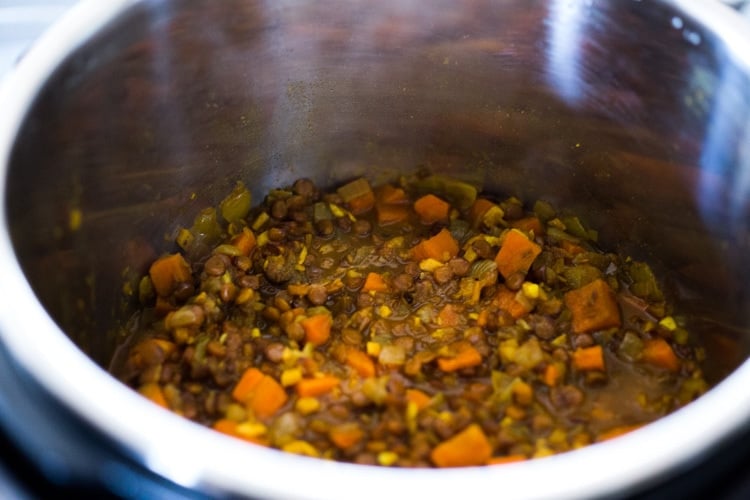 Add the coconut milk after!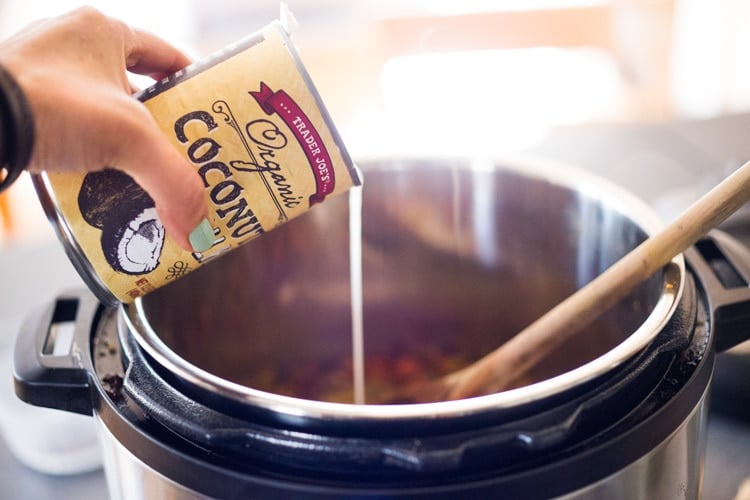 To make the Turmeric Coconut Chips … simply toast coconut flakes in a skillet with turmeric, for 2-3 minutes!
A delicious, crunchy topping for the creamy lentils.
You know me and how much I love different textures in food!  They add so much!
These never seem to make it to the next day, unfortunately!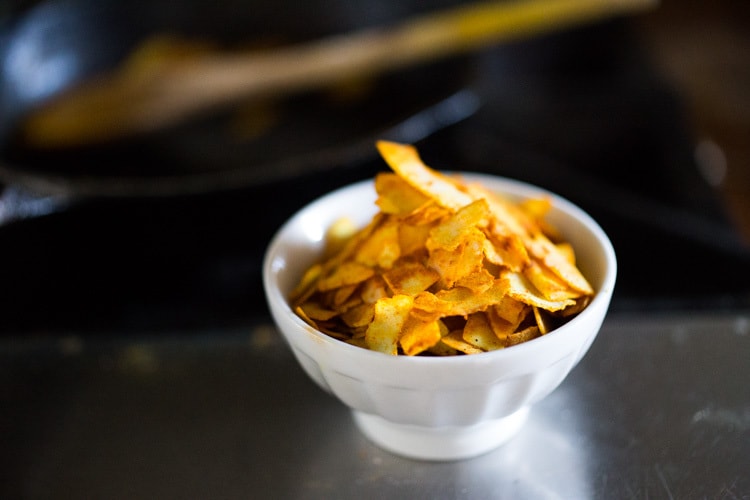 So here you have it….keep it really simple, or embellish with the Turmeric Coconut Chips. Serve over rice, or a big bowl of spinach, or with naan, or all of the above!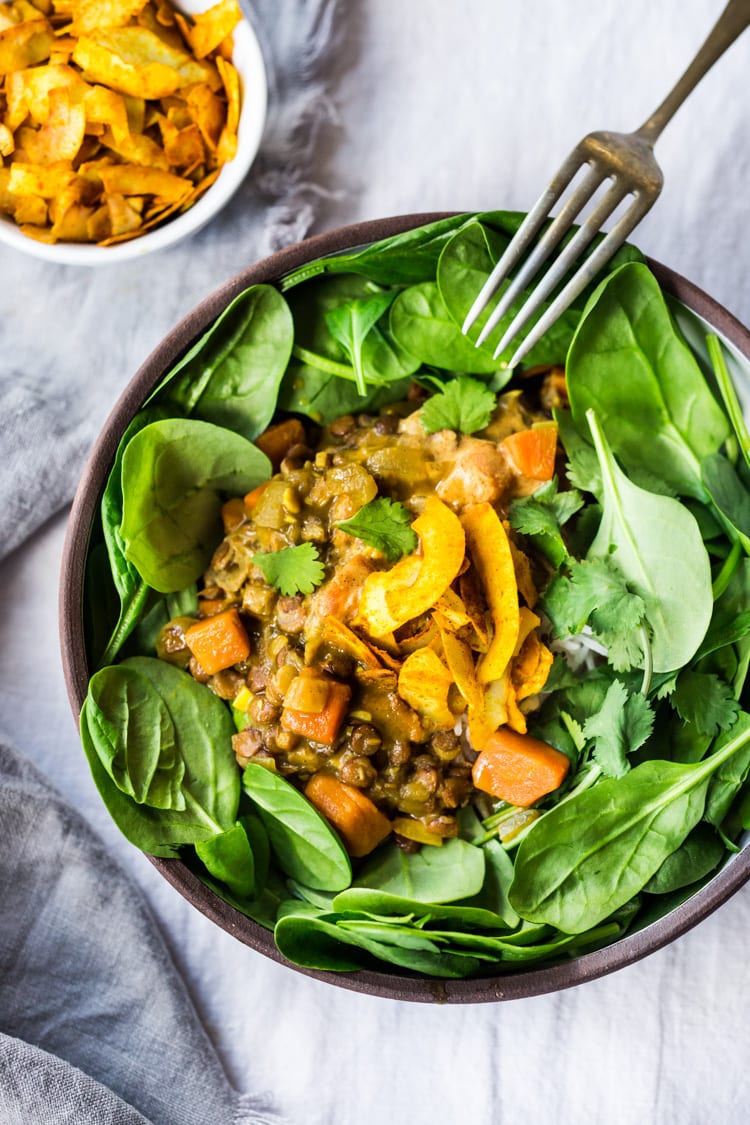 These vegan Indian Coconut Curry Lentils are healthy and filling and perfect for the colder months when you are craving something a little heartier.
For a lighter, leaner version of lentil soup- be sure to try this one!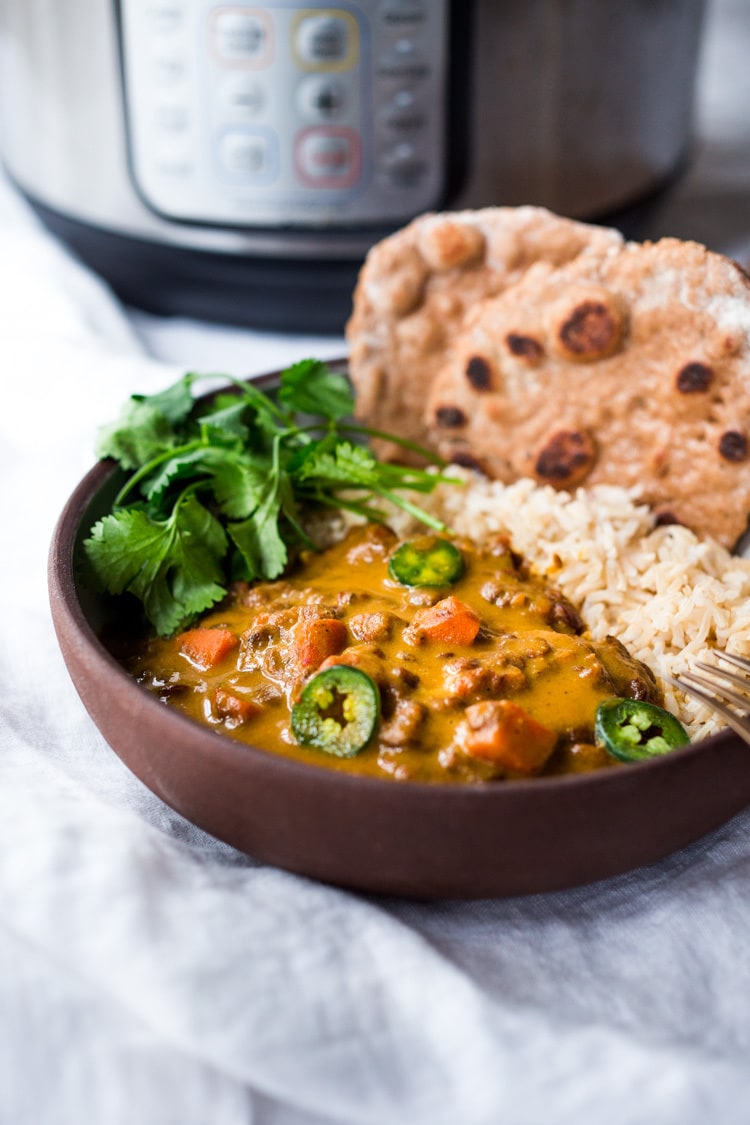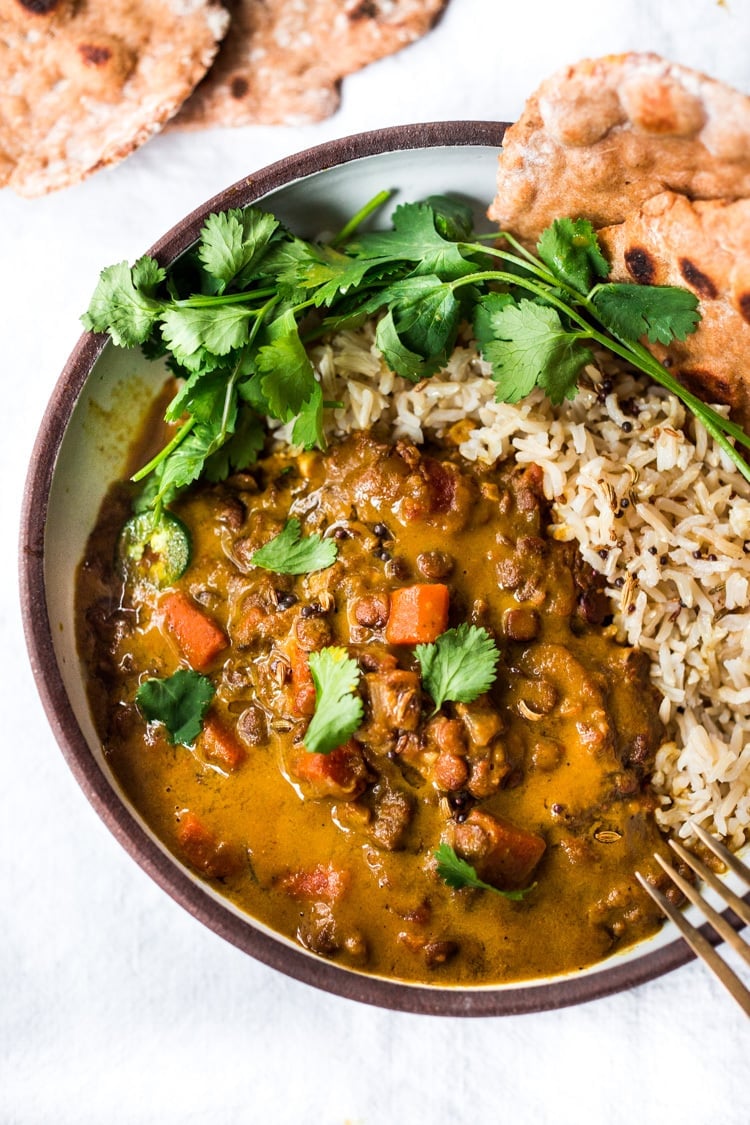 On the homefront. As some of you know, I went to India. It has was an amazing trip on so many levels. And as you can imagine, it was food heaven. The flavors!
I wanted to share a personal experience here with you about my trip. I brought my parents ashes along with my ex sister in law's to a very old city called Varanasi, where the River Ganges runs through. Hindus believe that when you release the ashes of the dead into their sacred river, souls will go straight to the Divine and be liberated from the cycle of reincarnation, a term they call "Moksha".
I loved this idea and yearned for this for my parents and for Wendy. What I couldn't predict, was how the act would actually affect me. It was a much-needed release, a letting go on a deeper level, that until the moment it happened, I didn't even know I needed.
I left there feeling joyful, light and alive. I felt a sense of moksha (freedom, liberation) in my heart. I am constantly amazed at how wise are our souls are, and how they lead us directly to the experiences we need.
No life is without heartache. And sometimes, holding on to these for too long, we prevent ourselves from fully feeling all the beauty, aliveness and love that surrounds us right now.  This heartache for me was like a very subtle greying filter, muting the colorful brilliance and experience of being alive. It was so subtle I hardly knew it was there.
Yet it was. And now it is not.
Now, I don't believe you need to go to Varanasi specifically to have this experience. But the ritual was meaningful and I think we could create this wherever  we are. Releasing pain doesn't mean we stop loving those who are gone. It frees up our heart to love even more. At least that is how it feels to me.
More recipes you may like:
For more Globally -inspired Instant Pot Recipes check out some of my favorites here!
Hope you are staying warm and cozy this week.
xoxo
Print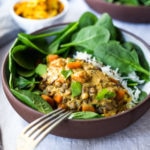 Instant Pot Lentil Curry
Author:

Sylvia Fountaine

Prep Time:

10

Cook Time:

20

Total Time:

30 minutes

Yield:

6

1

x

Category:

vegan, main, stew, instant pot

Method:

instant pot

Cuisine:

Indian
---
Description
This Instant Pot Lentil Curry can be made in an Instant Pot  in about 30 minutes.( Or make this on the stove top- see notes!)  Infused with fragrant Indian spices, this recipe is not only delicious, it is is vegan and gluten free! Serve it over a bed of spinach, basmati rice or with homemade naan bread!
---
1

–

2

tablespoons coconut oil, or ghee(ghee tastes best)

1

onion, diced

6

garlic cloves, rough chopped (

3

–

4

tablespoons)

2 tablespoons

ginger root, finely chopped

2

cups

carrots, diced (or sub 1 cup celery)

1 tablespoon

cumin (seeds or ground)

2 teaspoons

coriander ( seeds or ground)

2 teaspoons

salt

1 1/2 teaspoons

ground turmeric ( or

1 tablespoon

fresh grated)

1 teaspoon

paprika (not smoked, or sub chili powder)

2 teaspoon

dried fenugreek leaves (optional, but elevates)

1 teaspoon

garam masala

1/2 teaspoon

nutmeg

1/4

–

3/4

teaspoon cayenne (or chili flakes) more to taste

1 tablespoon

tomato paste ( or add

1

small-medium diced tomato)

2

cups

water

1

cup

brown lentils (or large green- do not use split)

13.5 ounce

can coconut milk (ADD AFTER YOU COOK THE LENTILS)
To further elevate: add 1 teaspoon black mustard seeds and 1 teaspoon fennel seeds.
Optional Additions: baby spinach, cilantro, turmeric toasted coconut, fresh tomatoes, avocado slices, fresh chilies, naan bread, fluffy basmati rice.
---
Instructions
Set Instant Pot to the Saute function, heat the oil and saute the onion, until fragrant, about 3 minutes. Add the garlic, ginger and carrots, saute 3 more minutes, stirring.  Add all the spices, salt and tomato paste, stir for 1 minute. Add the water and scrape up any browned bits from the bottom of the pan.
Add the brown lentils, give a stir and pressure cook on high for 10 minutes. If using other lentils, see notes. Manually release!
Stir in the coconut milk.
At this point, if you wanted, you could also add other veggies- peas, cauliflower, or a handful of spinach to wilt.
Re-taste for salt, adding more if necessary (especially if adding a lot of veggies)  and add more Garam Masala to taste, or chili flakes. If it seems watery, saute or keep on warm, uncovered for a bit. The Coconut Lentil Curry will also thicken slightly as it cools.
Serve over a bed of baby spinach, over basmati rice (or both) or with homemade Naan.
To make the Turmeric Coconut Chips, heat a small skillet over medium-low heat. Add ¼ cup coconut flakes and sprinkle with ½ teaspoon ground turmeric. Dry fry for a couple of minutes, stirring constantly until fragrant and lightly toasted.  Turn off heat.  These are too easy to burn, so don't walk away!
---
Notes
STOVE TOP : To make on the stove top(about 45 mins total)  heat  oil in a large dutch oven or heavy bottom pot. Saute onion over medium high heat until fragrant and golden, 4-5 minutes. Add garlic, ginger and carrots and cook another 3 minutes until you smell the garlic. Add salt, spices, tomato paste and stir for 1-2 minutes. Add the water, scraping up the browned bits. Add an additional ¼ cup water (so a total 2 ¼ cups water)  and the lentils. Bring to a boil, cover, then simmer on low heat until lentils are cooked through, about 25 minutes. Stir in the coconut milk. Adjust heat ( adding more cayenne or chili flakes. )
*** If using smaller lentils, decrease pressure cooking time. 5-7 minutes???
Nutrition
Serving Size:

1 cup

Calories:

312

Sugar:

3.2 g

Sodium:

628.1 mg

Fat:

18.8 g

Saturated Fat:

15.6 g

Carbohydrates:

29.8 g

Fiber:

5.3 g

Protein:

10.4 g

Cholesterol:

5.1 mg
Keywords: coconut curry lentils, coconut lentil curry, indian curry lentils, vegan curry lentils, instant pot curry lentils, instant pot lentil curry