This. vegan Tikka Masala is loaded up with healthy veggies and optional tofu, chickpeas or paneer! It's a simple delicious one-pot weeknight meal that can be made in under 25 minutes! Make it on the stovetop or in an Instant Pot!  With a Video.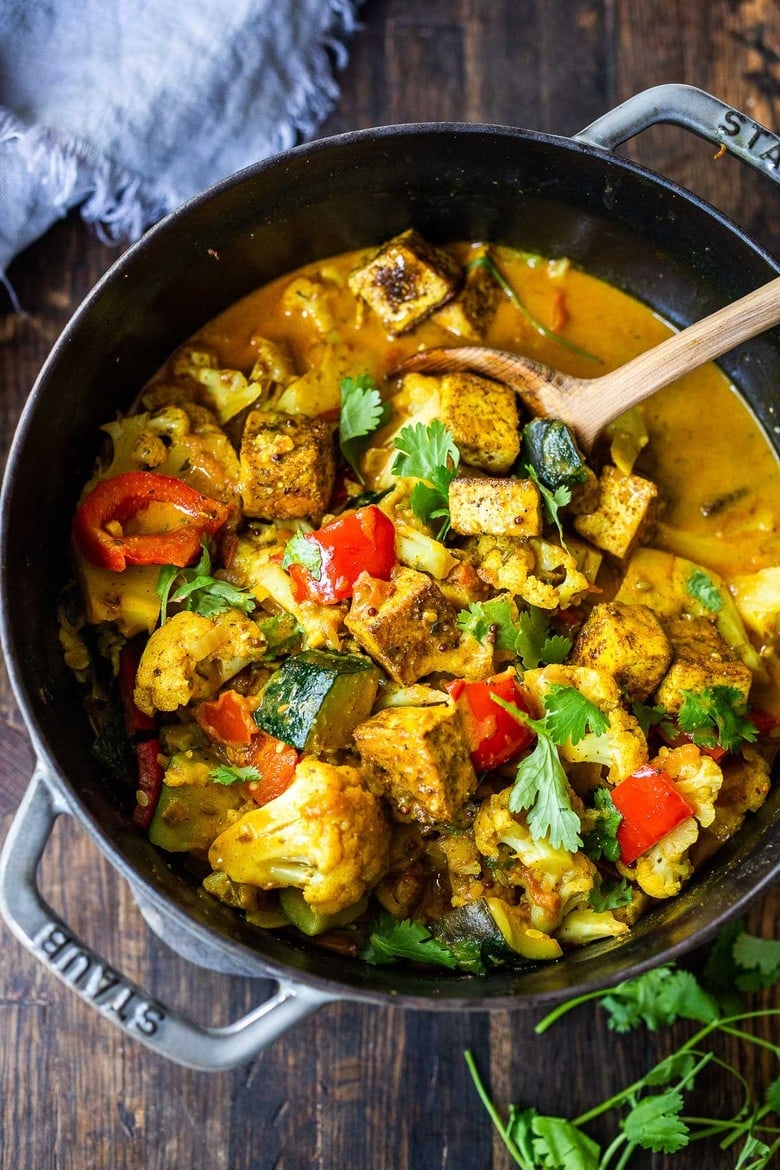 Always in the big woods when you leave familiar ground and step off alone into a new place there will be, along with the feelings of curiosity and excitement, a little nagging of dread. It is the ancient fear of the Unknown, and it is your first bond with the wilderness you are going into.~ Wendell Berry~
This recipe for Vegan Tikka Masala is full of healthy veggies and comes together in about 25 minutes flat. It is  infused with fragrant Indian spices that truly warm the soul.
This version is vegan, made with coconut milk instead of yogurt, and can be made with tofu, chickpeas or paneer for added protein. Cauliflower is featured prominently here, which is not only nutritious but filling too!
It's a quick, satisfying meal that feels clean, light, and so nourishing. Feel free to embellish with other veggies like peas, asparagus, new potatoes, winter squash or sweet potatoes. It's a very adaptable recipe that can easily reflect the seasons or what you have in your fridge.
Vegan Tikka Masala| 45-sec Video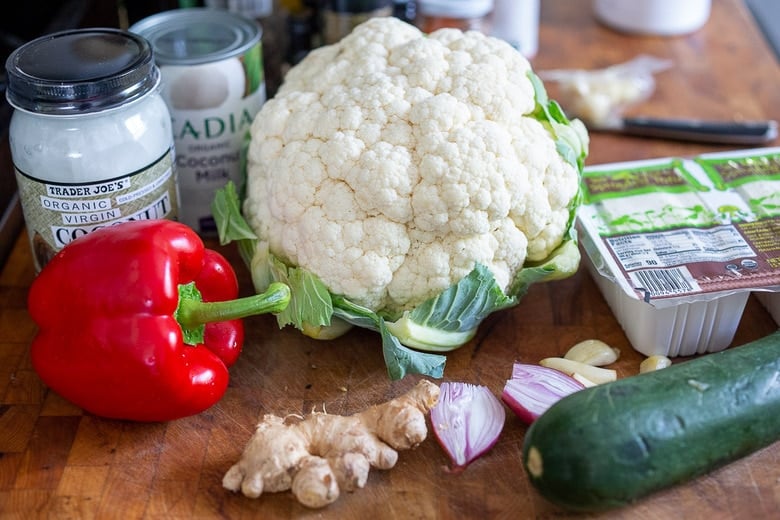 Ingredeints in Tikka Masala Sauce
Fragrant colorful spices like cumin, coriander, turmeric, paprika and garam masala (or curry powder)  give this Vegan Tikka Masala recipe its beautiful color. To bring it up a notch, add mustard seeds, fennel seeds and fenugreek leaves – all optional, but tasty.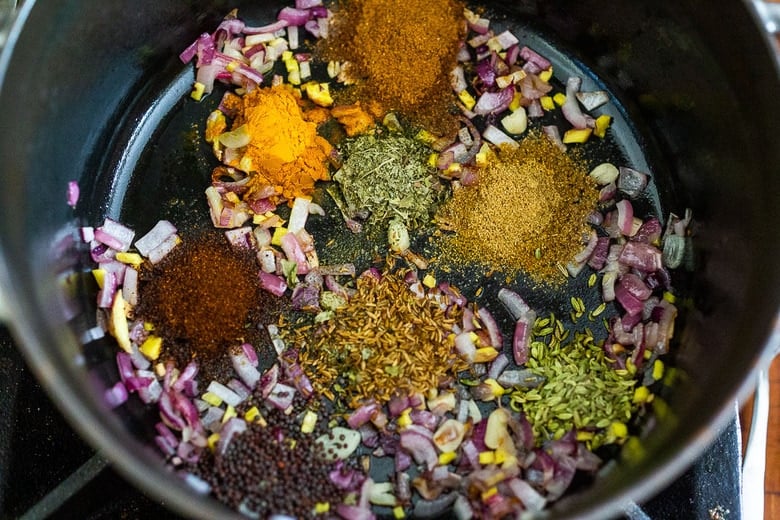 How to make Vegan Tikka Masala:
Step 1: Saute shallot, garlic and ginger in coconut oil until tender.  Add the fragrant spices and toast for one minute.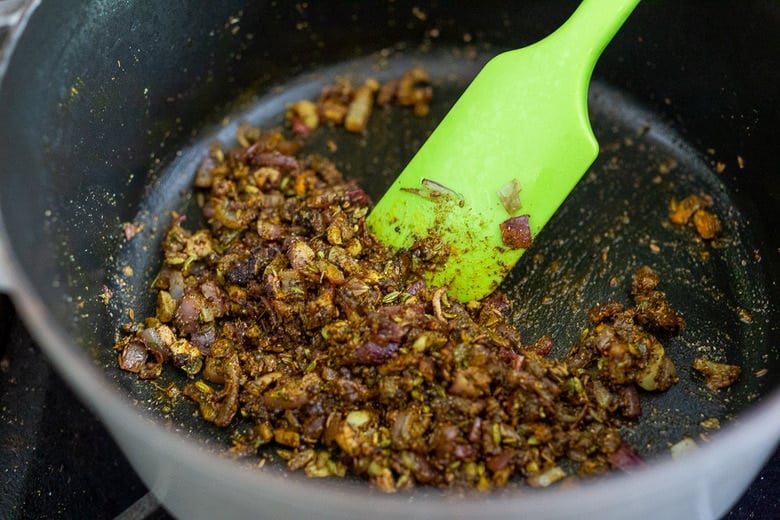 Step Two: add diced tomato and saute for 2-3 minutes.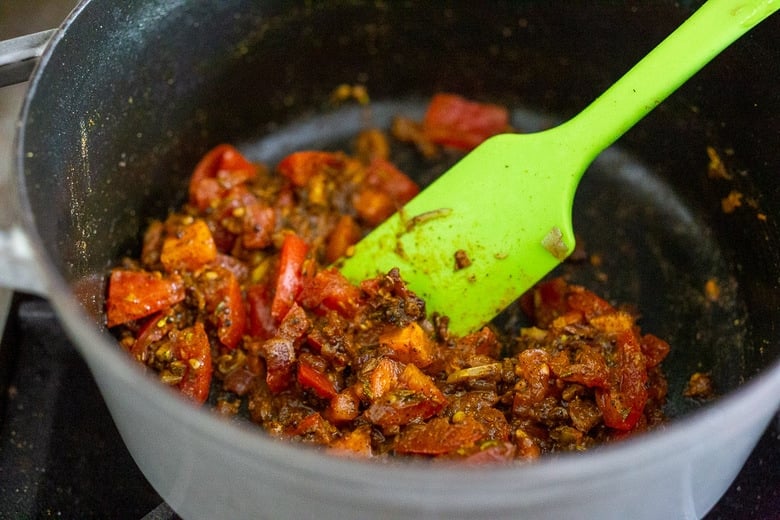 Step 3: add coconut milk and bring to a gentle simmer.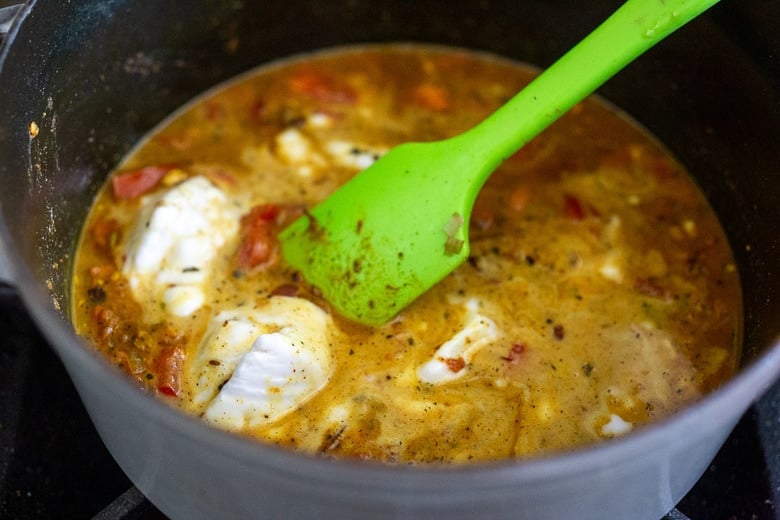 Step 4: prep the veggies, cut them into bite-sized pieces.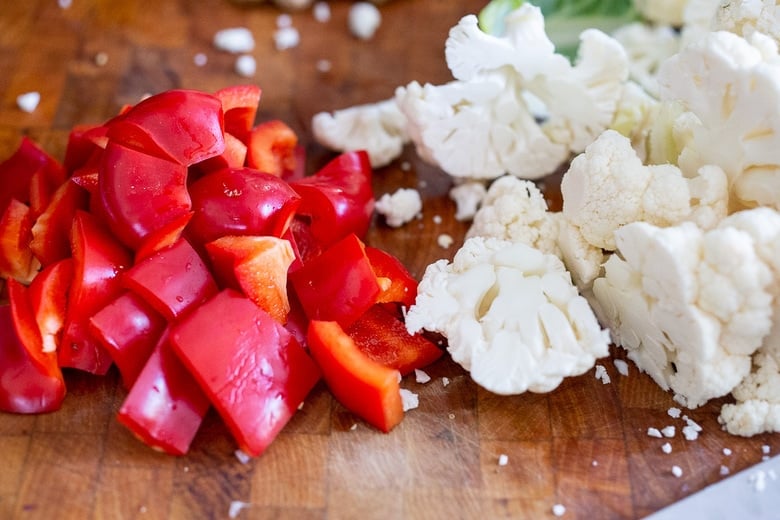 Step 6: Add the veggies to the fragrant Tikka Masala sauce.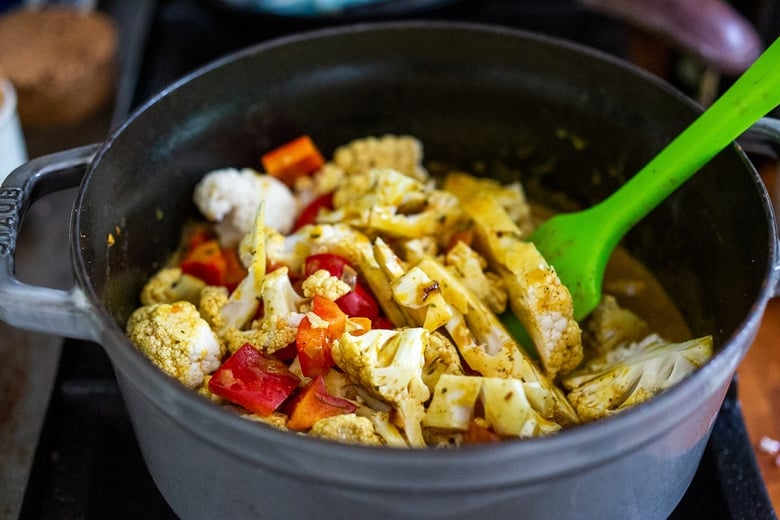 Step 7: Cover and simmer until veggies are cooked through.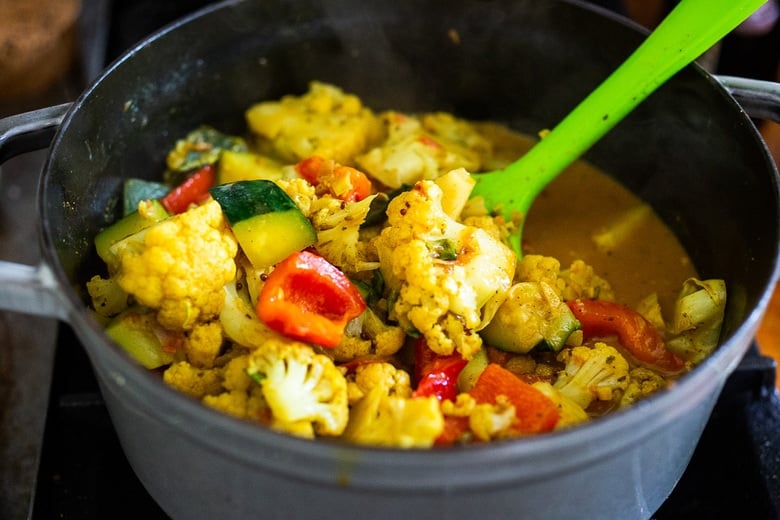 Step 8:  Make crispy tofu if adding, or pan sear paneer cheese, or drain and rinse canned chickpeas.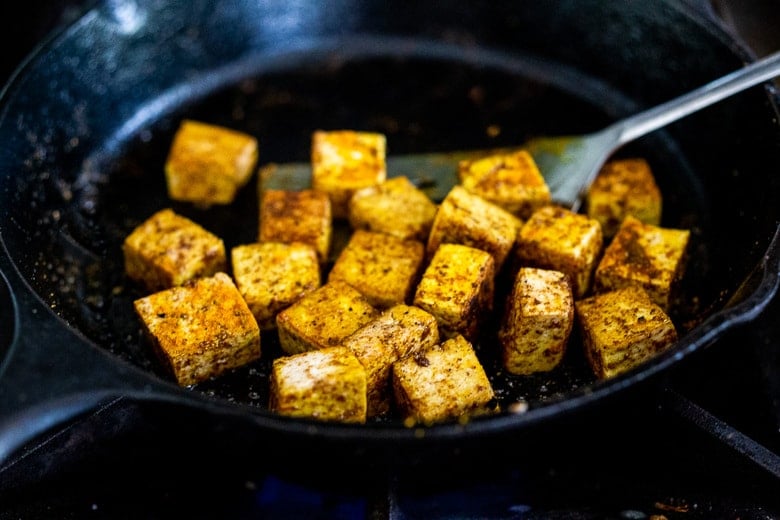 Fold it into the tikka masala.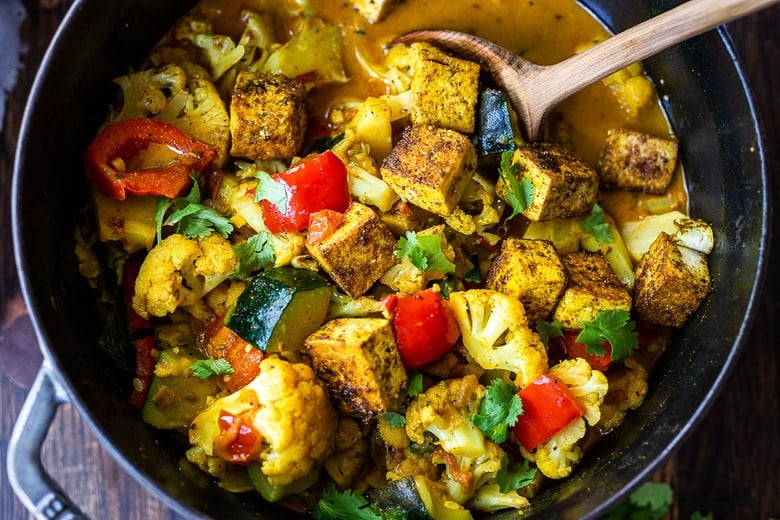 Step 9:  Taste and adjust spices and salt, add a squeeze of lemon or lime. Garnish with cilantro and serve!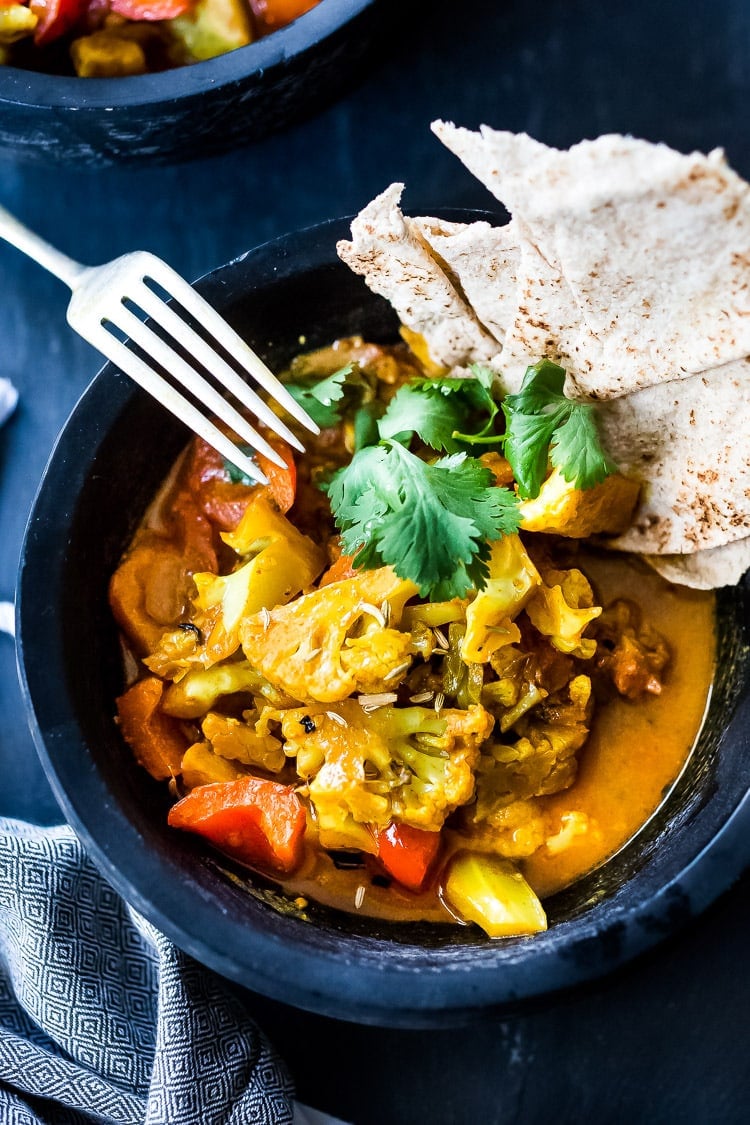 Simple, nourishing Vegan Tikka Masala- a fast and easy plant-based meal that is full of Indian flavor! Make this on the stovetop or in an instant pot.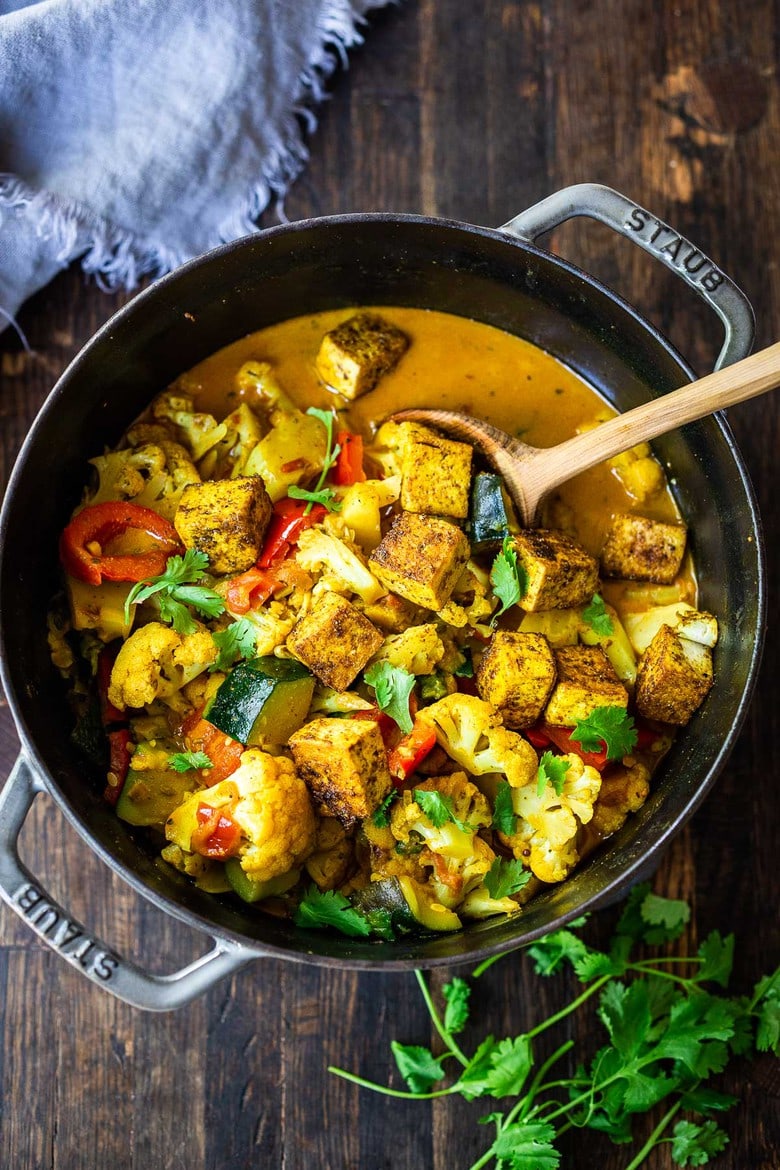 The leftovers taste especially good the next day after the flavors have time to meld.
On the home front: Oh my goodness friends…  huge changes happening this year! I'm excited and scared-to-death at the same time. As some of you know, we've been catering for the last ten years.  I feel blessed because our business, Feast, has thrived. But as you can imagine, it's challenging work, not only physically, but mentally and emotionally because events can be really stressful! We primarily cater weddings, and big corporate events-  gatherings of 100-400 people.
For the last couple of years, we have gradually and quietly cut back. This year even more so. It goes against everything I was taught in business (basically to grow as big as possible and create an empire-haha!).  But this slow-down has felt incredibly healing and has greatly enhanced the quality of our lives.
And as some of you can imagine, it has been easier on our marriage too -because we work together. Just picture for a moment working with your spouse in a high-stress situation weekend after weekend. Not always pretty. 😉  So there is that, too.
What I'm getting at here in a roundabout way is that we made a huge decision to retire from catering (completely) after this year and simplify our lives, focus on the blog full time and create a more balanced life.
This is my favorite work of all, being here creating recipes for you, and I'm so excited to be able to get do this full-time. Yes, blogging is a business too. 😉 The best part is that we can do this from anywhere, and I can work in my PJs!
All thanks to you- for visiting the blog and sharing it with your friends.  I have so much gratitude for you in my heart right now, I can hardly contain it. Thanks for being on this journey with us.
xoxo
More recipes you may like:
Print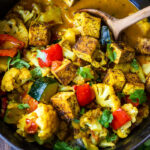 Vegan Tikka Masala
Prep Time:

10

Cook Time:

20

Total Time:

30 minutes

Yield:

4

1

x

Category:

Vegan, Gluten Free, Main

Method:

Stove top, instant pot

Cuisine:

Indian

Diet:

Vegan
---
Description
Vegan Tikka Masala with Vegetables and your choice of protein can be made in an Instant Pot or on the stovetop in under 25 minutes! An easy, healthy, keto-friendly weeknight meal!
---
1

–

2

tablespoons coconut oil, olive oil or ghee

1

extra-large shallot – chopped (or sub

1/2

a red onion)

1 tablespoon

chopped ginger

4

fat garlic cloves, rough chopped

1 teaspoon

cumin

1 teaspoon

coriander

1 teaspoon

ground turmeric

1/2 teaspoon

paprika or chili powder

1 teaspoon

garam masala or curry powder

1 teaspoon

black mustard seeds– optional

1 teaspoon

fennel seeds– optional

1 teaspoon

fenugreek leaves– optional

1 teaspoon

salt

1 1/2

cups

tomatoes, diced ( or sub a 14-ounce can diced tomatoes)

1

can full fat coconut milk

1

red bell pepper – big diced

1

small head cauliflower – sliced into

1

-inch pieces, or small florets

1

zucchini- cut into 1-inch thick half-moons (or quarters)
squeeze of lemon
cilantro for garnish
optional additions: Crispy tofu, pan-seared paneer cheese, or 1 can of chickpeas ( drained, rinsed)
Serve with naan or Indian basmati rice.
---
Instructions
Heat oil in a large heavy bottom pot or Dutch oven over medium-high heat. ( See notes for Instant Pot)
Add shallot, ginger and garlic, and reduce heat to medium to prevent burning, stirring frequently about 3 minutes until fragrant and golden. Add spices, seeds and salt and lightly toast, while stirring 1-2 minutes, which will enhance their flavor.
Add the diced tomato, cook 2 more minutes, until they soften, then add the coconut milk and stir to incorporate, bringing to a simmer. Add cauliflower, red bell pepper, and zucchini, give a stir, cover and let simmer 10-12 minutes on medium low heat. Check the cauliflower – it should be just tender, or continue simmering uncovered until desired tenderness (the smaller you cut the pieces the faster this will cook).
Taste, add a squeeze of lemon juice. Add more salt if necessary. If you like it spicy, add cayenne to taste.
Gently fold in the crispy tofu, seared paneer or chickpeas and give a stir and warm through.
Serve in bowls over basmati rice or with naan  Garnish with cilantro.
The Tikka Masala will keep up to 4 days in the fridge.
---
Notes
The optional spices really do elevate here. 😉
If cooking in an Instant Pot, set to "sauté"  function and sauté shallot, ginger and garlic in oil for 3 minutes or until fragrant. Add spices, seeds and salt and cook for 1 minute. Add remaining ingredients, stir and set instant pot to pressure cook on high for 5 minutes. Manually release. It will thicken as it cools. adjust salt and add a squeeze of lemon.
Feel free to add a can of drained chickpeas for extra protein!
The tofu is coated in Garam Masala Spice and pan-seared in oil that has been seasoned with salt.
Nutrition
Serving Size:

1 ½ cups (with tofu)

Calories:

307

Sugar:

6.1 g

Sodium:

672.6 mg

Fat:

21.7 g

Saturated Fat:

11.8 g

Carbohydrates:

19.5 g

Fiber:

6.8 g

Protein:

14.4 g

Cholesterol:

0 mg
Keywords: vegan tikka masala, vegetable tikka masala, vegan tikka masala recipe, vegetarian tikka masala, cauliflower tikka masala, keto tikka masala, vegan keto recipes, tikka masala vegetarian, cauliflower tikka masala, gobi masala