Vegan Tikka Masala– a simple delicious one-pot weeknight meal, that can be made in under 25 minutes! Make it on the stovetop or in an Instant Pot! Serve with naan, basmati rice or over a bed of baby spinach! Vegan and Keto! Add chickpeas for extra protein.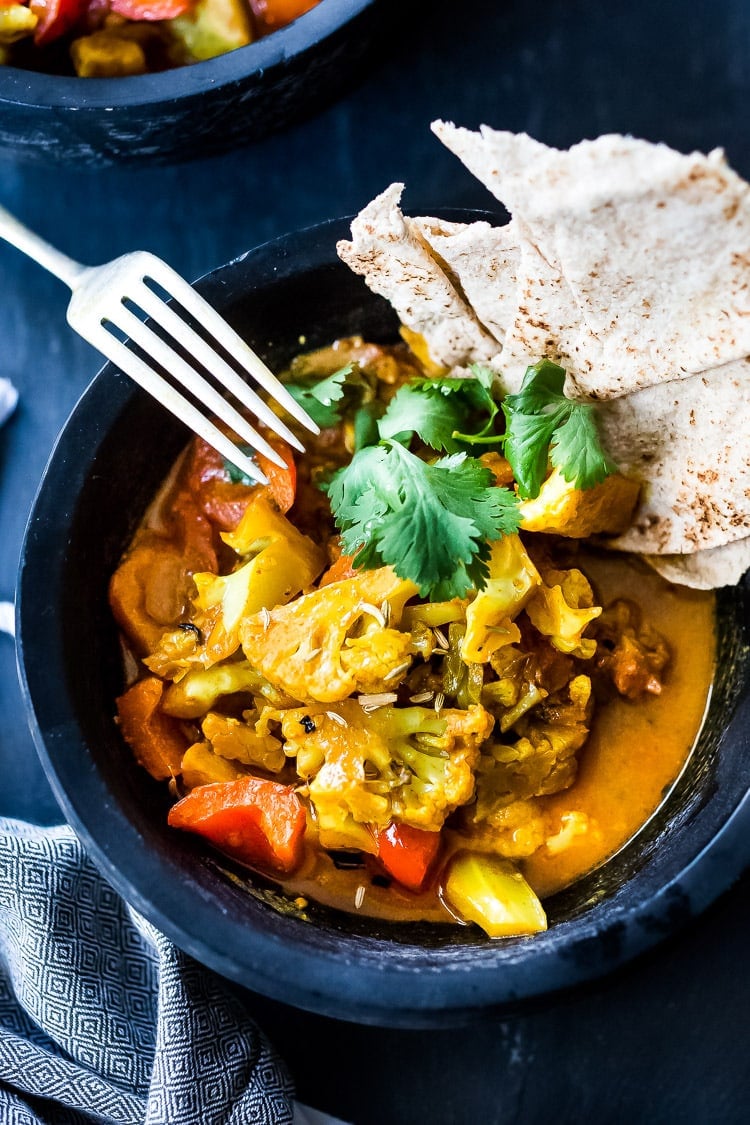 Always in the big woods when you leave familiar ground and step off alone into a new place there will be, along with the feelings of curiosity and excitement, a little nagging of dread. It is the ancient fear of the Unknown, and it is your first bond with the wilderness you are going into.
~ Wendell Berry~
This tasty Vegan Tikka Masala with Cauliflower (aka Gobi Masala) comes together in about 25 minutes flat. This version is vegan, made with coconut milk instead of yogurt, and can be served with naan bread, pita or fluffy basmati rice.
It's a quick, satisfying meal that feels clean, light, and nourishing. Feel free to embellish with other veggies like peas, asparagus, or new potatoes, or add chickpeas or chicken for additional protein.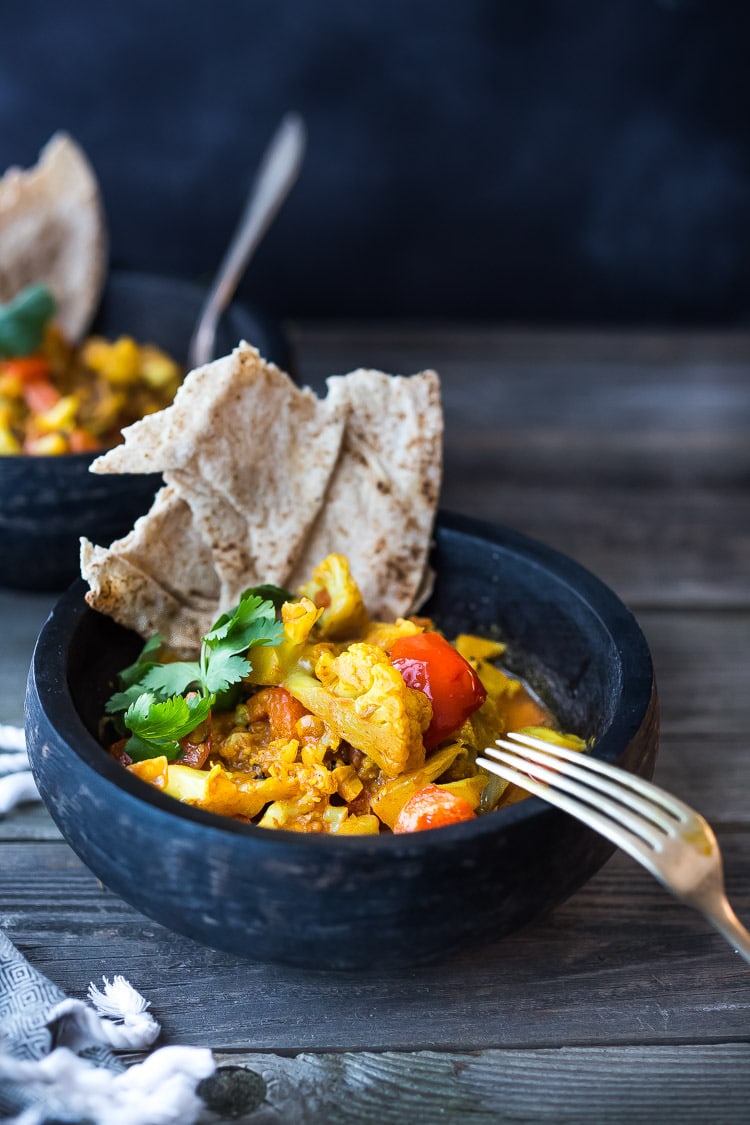 Fragrant colorful spices like cumin, coriander, turmeric, paprika and garam masala (or curry powder) give this Vegan Tikka Masala recipe its beautiful color. To bring it up a notch, add mustard seeds, fennel seeds and fenugreek leaves – all optional, but tasty.
To up the protein, add chickpeas.
Simple, delicious, Vegan Tikka Masala with Cauliflower- a simple, fast, stovetop or instant pot meal that is flavorful and nourishing . . . hope you like it!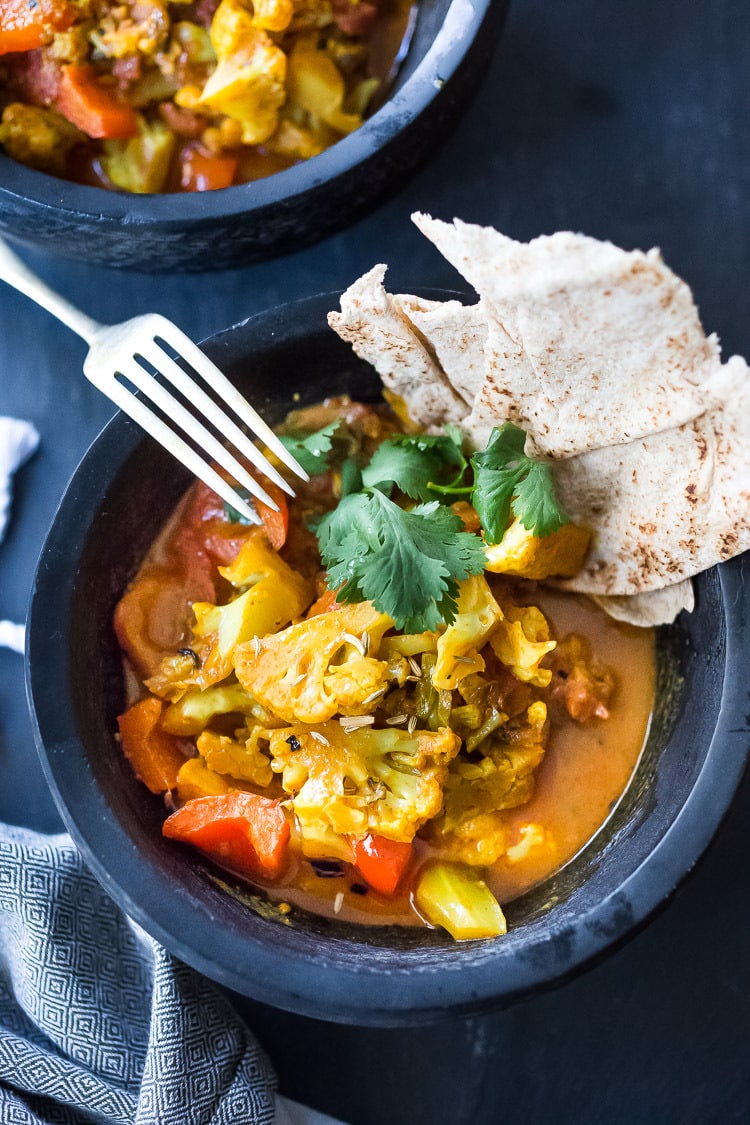 On the home front: Oh my goodness friends . . . huge changes happening this year! I'm excited and scared-to-death at the same time. As some of you know, we've been catering for the last ten years. I feel blessed because our business, Feast, has thrived. But as you can imagine, it's challenging work, not only physically, but mentally and emotionally because events can be really stressful! At times I can literally feel the cortisol levels rising in my body.
For the last couple years, we have gradually cut back. This year even more so. It goes against everything I was taught about business (basically to grow as big as possible and build an empire-haha!). But this slow-down has felt amazing and has really enhanced our quality of life.
And as some of you can imagine, it has been easier on our marriage because we work together (picture for a moment working with your spouse or partner, in a high-stress situation. Not always pretty!). So there is that, too. What I'm getting at here in a roundabout way is that we made a huge decision to retire from catering after this year and simplify our lives, focus on the blog full time and create space for downtime and travel.
This is my favorite work of all, being here creating recipes for you, and I'm so excited to be able to get do this full-time! And the best part is that we can do this from anywhere!
However, one of the conditions of this change was "downsizing". Selling our house – the one with the big beautiful white kitchen that Brian remodeled that I love so much. The idea of downsizing, I'll be honest, was hard to accept at first. Truthfully, when I think about it, my whole life has been mostly about up-sizing! Downsizing, living a simpler life, is my husband's influence. It took some convincing, but eventually, I began to see how doing this would give us so much more time and freedom and allow us to live the life we wanted. The house was way too big for just two of us, and filled to the brim with too much stuff we don't need. It began to feel heavy and burdensome. But somehow I felt so stuck. Where would I put all my stuff? Haha! 😉
In the beginning, I just began to notice, how much stuff I had collected and packed into every corner of the house and into that giant basement of ours. With the passing of two parents, I inherited many of their things which I could not part with emotionally. Even though a lot of their things, I actually didn't use, I kept down in the basement, because to get rid of it felt almost felt like a betrayal – disrespectful and unloving. Because these were the things they loved, and it was all I had left of them. So I thought.
I began noticing how much emotion I had tied up into all these things. While on our trip to Bali, I listened to the podcast called The Minimalists. They have a book, too. All I can say is, it really helped me understand my emotional attachment to "things." It helped me realize the memory would not disappear if I let go of the object attached to the memory. My parents were a part of me, and not a part of their things. When we got home from our trip, we had a HUGE garage sale. Eventually I ended up just giving so many things away to people who expressed an appreciation for something. I can't tell you the joy this has brought me. It feels so freeing. It feels so good knowing that these objects are bringing someone else joy.
One of the last rooms for me to go through in our house was our kitchen and pantry. Oh the things I discovered! So many jars, I could probably open up a mason jar store with all my inventory. Thirteen packages of opened pasta. Six cans of pumpkin puree and I don't even like pumpkin puree. Six jars of sesame paste. A ridiculous amount of different flours, grains, beans, legumes, that I have had for probably a decade. It was disturbing! I went through my two freezers. Same thing. Packages of edamame dated 2014. Meat from a quarter of a cow I purchased in 2012. I have kept these things because… what if I'm starving and need them someday? Honestly, friends, I am ashamed to say, I could probably live another 5 years without buying one more ingredient.
My closet was the same. No, I haven't worn those jeans in 10 years, but I might get skinny again, so I better keep them just in case. A vintage dress I've had for 20 years that I've never worn, but still I need it because, well, it's vintage and it's part of my identity and makes me feel cool I guess, just knowing it is there, even if I never ever wear it.
It turns out that it looks better on my friend, who immediately wore it the day after I gave it to her. At least now I get to see it out and about in real life rather than stuffed in the back of my closet. The funny thing is that I basically wear the same thing every day, with minor variations. Why on earth do I feel the need to hang on to 90% of clothes I do not wear? Of course, there are clothes that contain memories. Can I still hold on to the memory of that special day, without having the actual dress? Still working on this one . . .
Oh the stuff I've held on to – like a weight. Slowly but surely, room by room, I shed the weight. It feels glorious. It feels liberating. It feels like I'm making room for more of what I really want in this life – creativity and adventure. And the things that remain, are more precious to me because they are fewer. And I can actually see them now because there is some space around them. 🙂
So here's a little snapshot of our lives right now. It has been such a learning experience for me.
And now back to the Vegan Cauliflower Tikka Masala . . . I should note the leftovers taste especially good the next day after the flavors have time to meld. Let us know how you like it in the comments below!
For more fast and healthy dinner ideas… GO HERE!
Print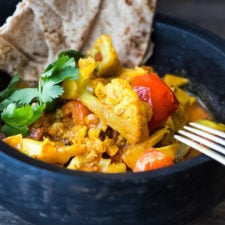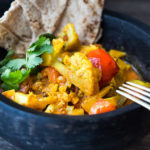 Vegan Tikka Masala with Cauliflower (Stovetop or Instant Pot )
Author:

Sylvia Fountaine

Prep Time:

10

Cook Time:

20

Total Time:

30 minutes

Yield:

4

Category:

Vegan, Gluten Free, Main

Method:

Stove top, instant pot

Cuisine:

Indian
---
Description
Vegan Tikka Masala with Cauliflower that can be made in an Instant Pot or on the stovetop in under 25 minutes! An easy, healthy, keto-friendly weeknight meal! | www.feastingathome.com
---
---
Instructions
Heat oil in a large heavy bottom pot or Dutch oven over medium-high heat. ( see notes for Instant Pot)
Add shallot, ginger and garlic, and reduce heat to medium to prevent burning, stirring frequently about 3 minutes until fragrant and golden. Add spices, seeds and salt and lightly toast, while stirring 1-2 minutes, which will enhance their flavor.
Add diced tomato, cook 2 more minutes, then add the coconut milk and stir to incorporate, bringing to a simmer. Add cauliflower and red bell pepper, give a stir, cover and let simmer 10-12 minutes on medium low heat. Check the cauliflower – it should be just tender, and continue cooking uncovered until desired tenderness (the smaller you cut the pieces the faster this will cook).
Taste, add a squeeze of lemon juice. Add more salt if necessary. If you like spicy, add cayenne to taste.
Serve in bowls over basmati rice or with naan or pita bread. Garnish with cilantro.
---
Notes
The optional spices really do elevate here. 😉
If cooking in an Instant Pot, set to "sauté"  function and sauté shallot, ginger and garlic in oil for 3 minutes or until fragrant. Add spices, seeds and salt and cook for 1 minute. Add remaining ingredients, stir and set instant pot to pressure cook on high for 5 minutes. Manually release. It will thicken as it cools. adjust salt and add a squeeze of lemon.
Feel free to add a can of drained chickpeas for extra protein!
Keywords: vegan tikka masala, vegan tikka masala recipe, vegetarian tikka masala, cauliflower tikka masala, keto tikka masala, vegan keto recipes, tikka masala vegetarian, cauliflower tikka masala, gobi masala