Vietnamese-style Shrimp Lettuce Wraps with Nuoc Cham, a light and refreshing appetizer, perfect for hot summer days. Flavorful, healthy and low in carbs and calories.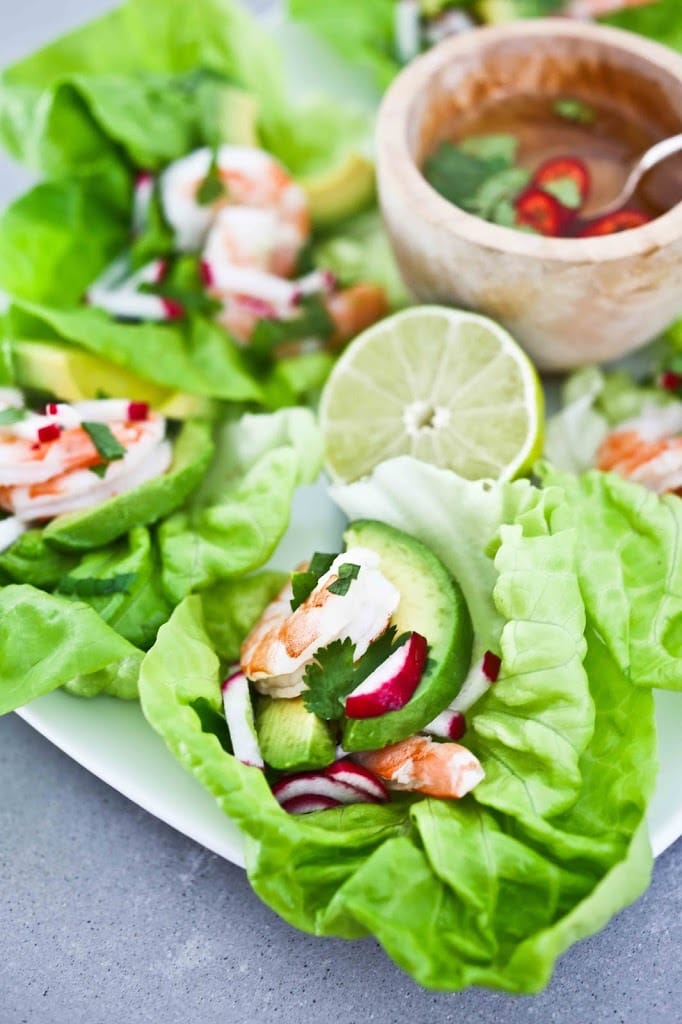 The summer we have wished for all winter long is finally here- with its all its heat and intensity. The last time I was this hot, we were in Vietnam, last spring, staying in a little town called Hoi An.  The heat literally melted our appetite away. I began to feel this way a few days ago and remembered how light and cooling Vietnamese dishes could be, so I recreated a salad we had there, into these shrimp lettuce wraps.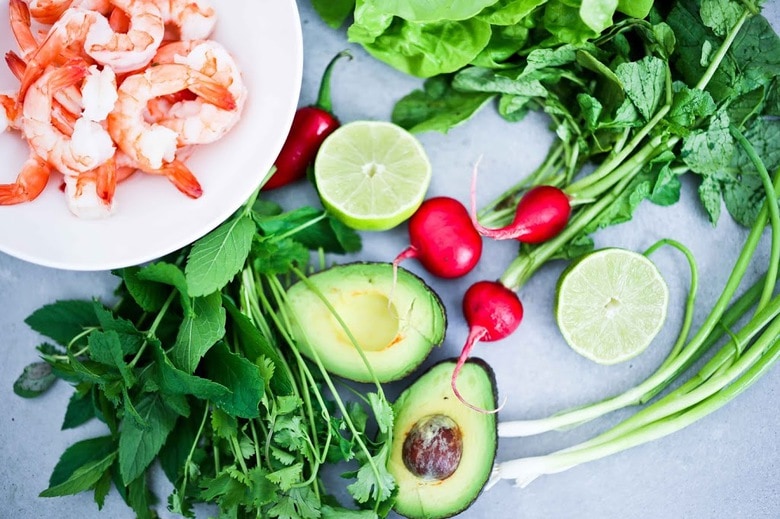 This recipe starts with fresh ingredients and lots of fresh herbs. Butter lettuce seems to work the best as the wrap or cup. For each bunch of butter lettuce, plan on 12 good size leaves.
Avocado gives this a little more heartiness and is the only "fat" in the recipe. The flavorful dressing,
Nuoc Cham
, a traditional Vietnamese condiment, is completely free of oil. The result is a cooling and satisfying summer dish, which is healthy, low fat, and full of Vietnamese flavor.
In our catering business, we often serve variations of these on large platters as appetizers. It seems to be a big hit during the hot months.  Tonight, it serves as our dinner. The good thing is… it's very easy and fast to prepare, and involves no stove or oven, keeping your house nice and cool.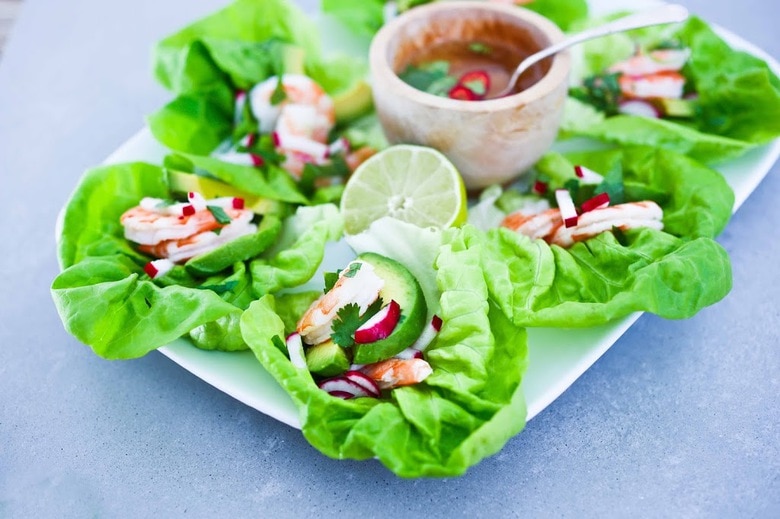 In Vietnam, salads were often prepared with daikon. Diakon is a type of radish, white and long, that I use interchangeably in this recipe, but today I happened to have farmers market radishes.  Radishes, including daikons, are naturally cooling and their pungent flavor is highly regarded in eastern medicine for their ability to decrease excess heat in the body that can build up during the warmer months.
They are cruciferous vegetables, along with broccoli and cabbage and share the same cancer-fighting properties. In Eastern and Ayurvedic healing practices, radishes are believed to be able to draw toxins out of the body, by helping to break them down and eliminate cancer-causing free radicals in the body.
They also happen to add a nice peppery crunch.
Nuoc Cham, a Vietnamese dressing or condiment is easy to make and requires only a few ingredients. Lime juice, sugar, fish sauce, chili pepper, garlic and water. For those of you wrinkling your nose at fish sauce,  know this: When properly balanced, you don't really taste it. Without it, the dish falls short. I do understand this requires a bit of trust.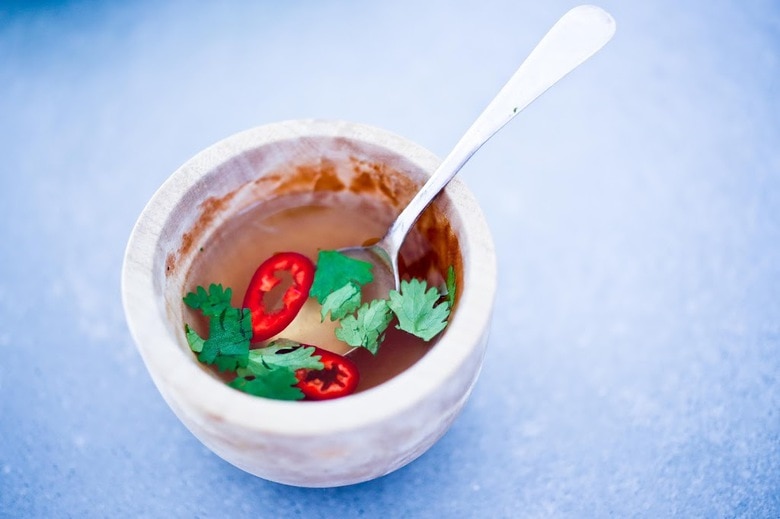 In Vietnam, Nuoc Cham Dressing is a staple, like ketchup is here.  Variations of the basic recipe are used to flavor many dishes, and we most commonly know it as- the sauce that is served with fresh spring rolls.
The sauce is a delicate balance between sour, sweet, salty and spicy, bringing all the elements together in harmony.   If you have an aversion to fish sauce, my guess is …you had something where it was overpowering and not properly balanced. Try giving it another shot. Once you experience Nuoc Cham, in its balanced state, you will fall in love. And fish sauce, believe it or not, is really good for you too.
Once the dressing is made, the rest comes together very quickly. I can put this together in 10-15 minutes if I work fast.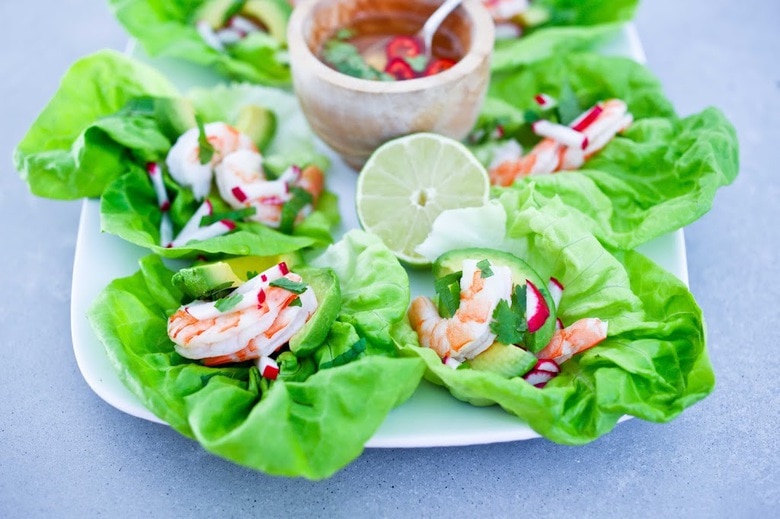 Shrimp Lettuce wraps, Vietnamese Style!
xoxo
Print
Vietnamese Shrimp Lettuce Wraps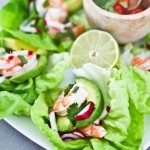 Vietnamese-style Shrimp Lettuce Wraps with Nuoc Cham, a light and refreshing appetizer, perfect for hot summer days. Flavorful, healthy and low in carbs and calories.
Author: Sylvia Fountaine
Prep Time:

20

Total Time:

20

Yield:

12

lettuce wraps

1

x
Category:

appetizer

Method:

assemble

Cuisine:

Vietnamese
Scale
Ingredients
 1 Head Butter Lettuce
 1 large avocado, sliced (optional)
 12 large prawns – cooked, peeled with tails off ( if they are very small, double the amout and do two prawns per wrap)

6

radishes- sliced or cut into thin strips
optional veggies-grated or match stick carrots, shredded cabbage, sliced cucumber

1/2 cup

chopped mixed herbs ( mint, basil, cilantro)

2

scallions diced
Nuoc Cham Dressing
Instructions
Instructions:
Make
Nuoc Cham
. Stir sugar into lime juice, then add the rest of the ingredients. Garnish with a few herbs and a couple of slices of fresh chili.
Assemble wraps. Arrange butter lettuce leaves on a platter. Distribute prawns on each leaf. Add a slice of avocado and divide the veggies among each leaf. Sprinkle liberally with fresh herbs and scallions and a light sprinkling of kosher salt.
Serve immediately with Nuoc Cham.
Keywords: shrimp lettuce wraps, Vietnamese lettuce wraps