Kale Caesar Salad with Millet Croutons. The croutons are gluten- free and fun to make!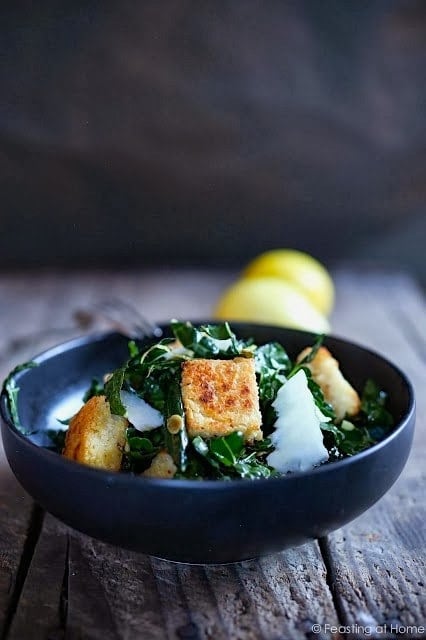 Here's a tasty recipe for Kale Caesar Salad with Millet Croutons.  I finally got inspired to try something new with millet, and after several attempts, these millet croutons came about. My husband has been on a gluten-free kick and sadly, bread has become pretty scarce around here, so real croutons were not even an option tonight.
Even more tragic, I let our sourdough starter die, so even if I did want to make bread, I would have to begin at the very beginning- which could be a good thing to eventually share here …how to make your own starter and how make the very best homemade sourdough bread….but for now, I'll just show you how to make gluten-free, golden, warm and crunchy millet croutons.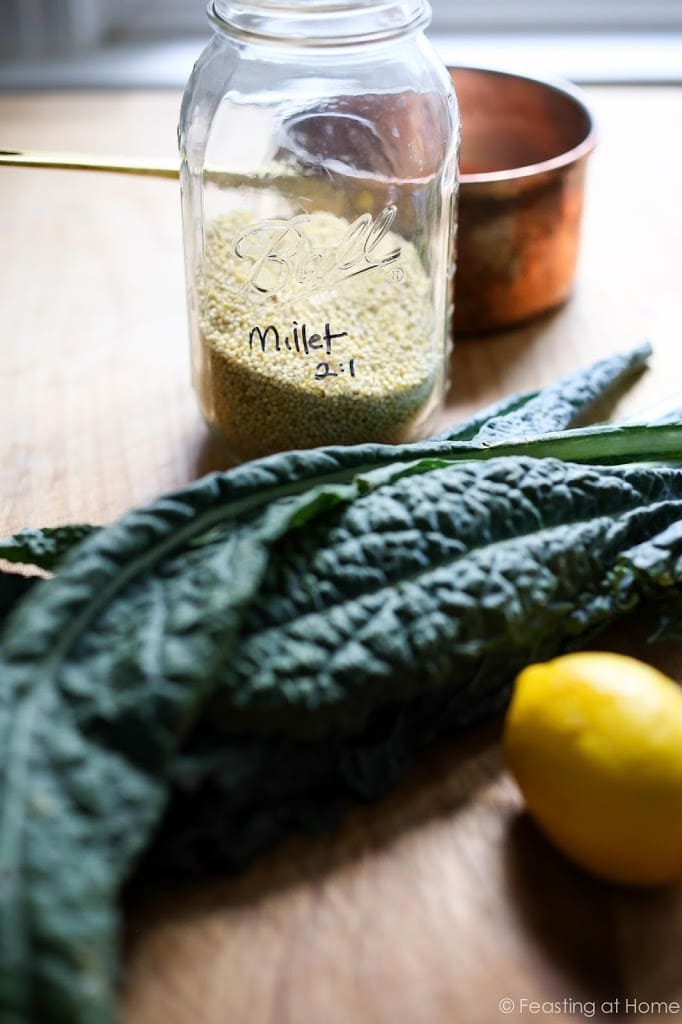 Millet, an ancient seed is a bit of a mystery. Some believe that it was first cultivated over 10,000 years ago.  Recently, in Northern China, archaeologists discovered a 4000 year old bowl full of very old noodles, made, surprisingly not from wheat, but from millet. In ancient China, millet was one of the five "sacred crops" and very highly revered. Millet was also the traditional grain used to make couscous, thousands of years ago before wheat or semolina.  There seems to be some debate on where it originates… some say it comes form the drier regions of Africa where it is still widely used to make beer, and others say it originates from the Far East.
One thing is for sure, it's making a quiet comeback here in the States because unlike most grains, it is completely gluten-free. Another interesting fact about millet is that is quite alkaline, helping to balance the body's natural tendency towards acidity. It's alkaline properties make it easily digestible and soothing to the stomach. Millet is high in fiber, iron, B vitamins, manganese, phosphorus, and magnesium – and is basically just really good for you.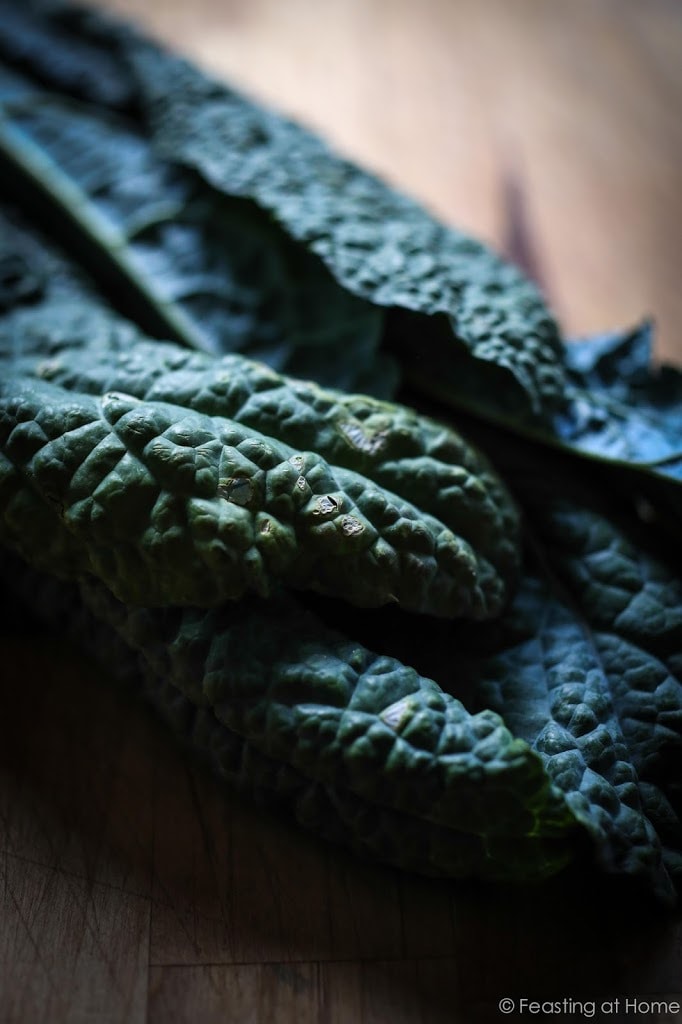 I have come to love the versatility of this tiny seed. It can be cooked like quinoa or rice, fluffed with a fork and seasoned with a little olive oil, salt and pepper. Toasting it beforehand gives it a delicious nutty aroma and flavor. It can be made into a savory "risotto" or turned into a healthy breakfast porridge with maple, pecans and dried fruit- or buttered up like grits. It also can be made into firm cakes that hold their shape- using this very basic crouton recipe.  I also like millet raw and tossed in granola or granola bars, or baked in breads or muffins. Toast the seeds and sprinkle on a salad for added texture. Or use cooked left-over Millet to make a gluten-free grain salad, like tabouli.  There so are many ways to use this healthy gluten-free grain… play around and experiment. It's fun!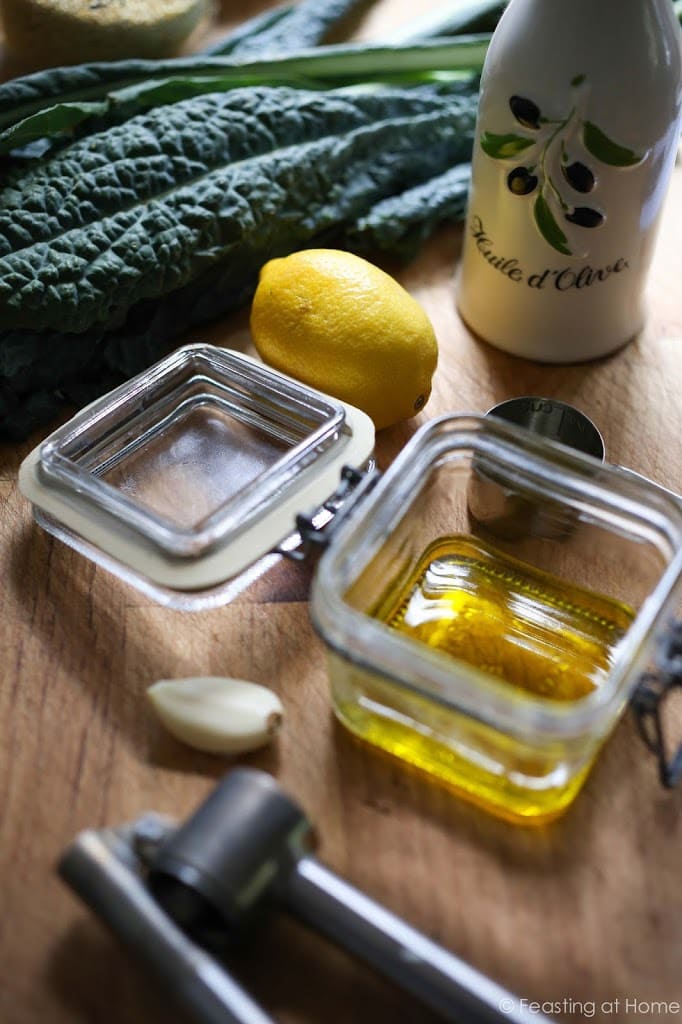 This recipe for Tuscan Kale Caesar is fairly basic, using Lacinato kale – a variety of Kale popular throughout Tuscany. Lacinato Kale is easily recognizable by its beautiful blue hue and embossed wrinkly texture on the leaves. I won't go into the health benefits of kale – by now, we all know.
Tips to making a good kale salad:
1. Remove the dense fibrous ribs by tearing the leaves off of them before cutting. The ribs are a little too toothsome to be eaten raw. Cut the leaves in smaller pieces.
2. Give the kale a good rub-down. Massage the kale leaves with your hands until they become pliable and appear deeper in color, about 5 minutes. The more you massage the sweeter and less bitter they will become. You can rub them undressed, but I prefer to massage them with a little drizzle of olive oil and a pinch of salt and then let stand for 10-15 minutes before tossing with the rest of the ingredients. Remember Kale is a tough winter green that requires a deep-tissue massage when eating raw to help it tenderize. The great thing about a Kale salad, is it tastes great the next day too.
Lastly, if you are new to eating Kale raw and in the salad form, I highly recommend starting with baby kale and working your way into the less-tender and more bitter, Lacinato Kale. Like many things, it is an acquired taste. But once you acquire it, you will love it!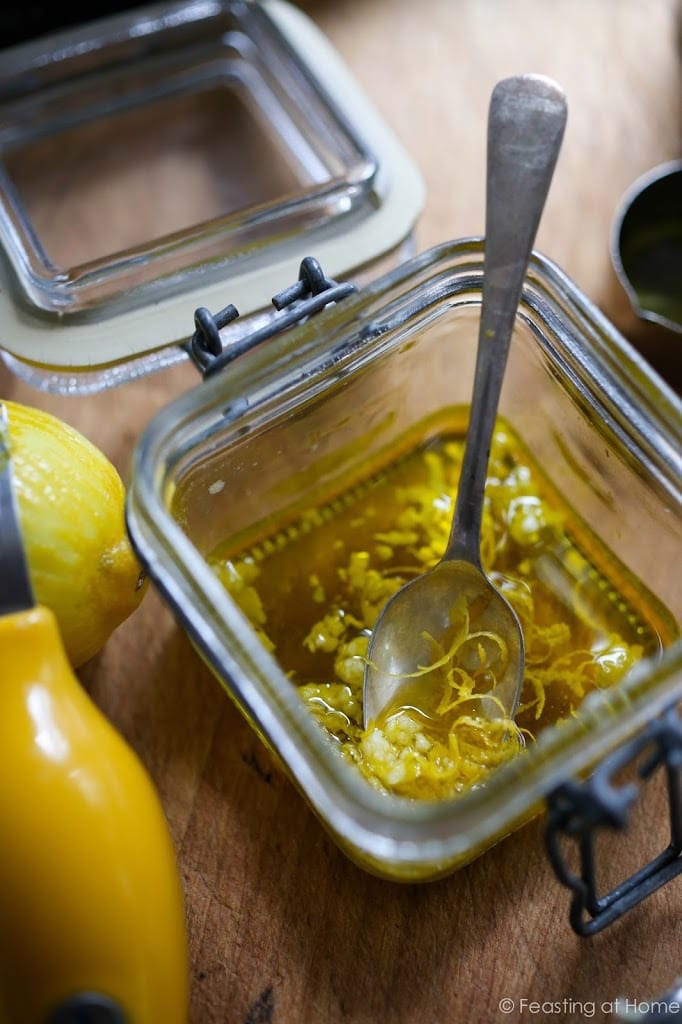 I call this a "Caesar dressing", but it's a very loose translation. It's a very simple non-traditional version using good quality olive oil, fresh lemon juice, garlic, salt and pepper. No egg, no Worcestershire. Sometimes I'll add capers or minced anchovies- but I always add a lemon zest to brighten it, and finish the salad with a little shaved pecorino or Parmesan to give depth. This is a tad on the tart side, so pair it wisely.
To make the Millet Croutons….place the millet, water and salt in a small pot, and bring to a boil. Cover, turn heat to low and let simmer for 25 minutes. Stir in 1/2 C Parmesan cheese and any seasonings or herb you like, like rosemary, thyme or sage. It will feel like a stiff porridge.
Using a greased spatula, spread it in a well-oiled loaf pan, to about 1 inch thick. Whatever size the pan- obviously my pan was too large- you want it an inch thick. Don't worry if it doesn't fill the whole pan, it's very mold-able, and stays put. Brush olive oil over the top and either place in the freezer for 45 minutes, until cold and set, or 4- 6 hours in the fridge. If you try to bake these without letting them cool and set, you will end up with a mess. The best option is to make these the night before, giving them ample fridge time.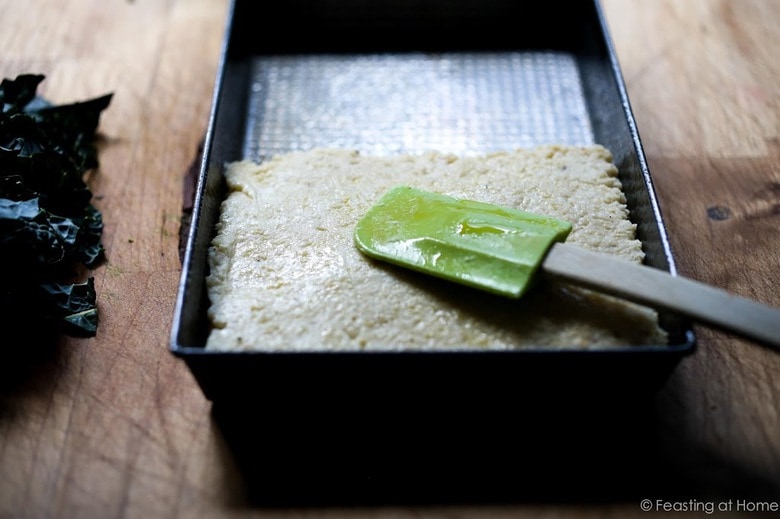 Cut into 1 inch cubes and place upside down, on parchment lined sheet pan.
Place in a hot oven at 425 F until crispy, about 25-35  minutes. For extra crunch- broil for a few minutes.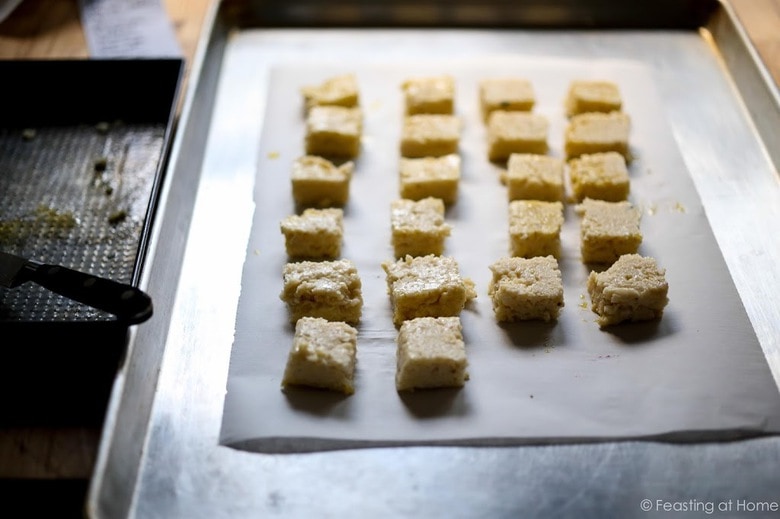 When they come out, they will be golden, crunchy and crouton like.  They also make a tasty snack. For my catering business I can already think of a hundred different things to do with these.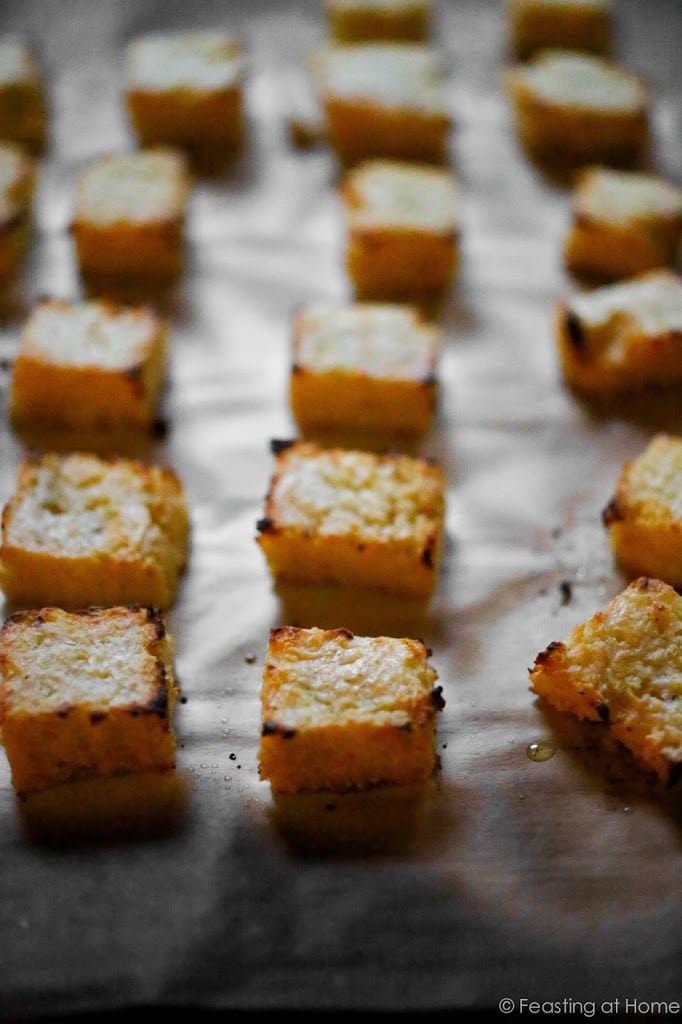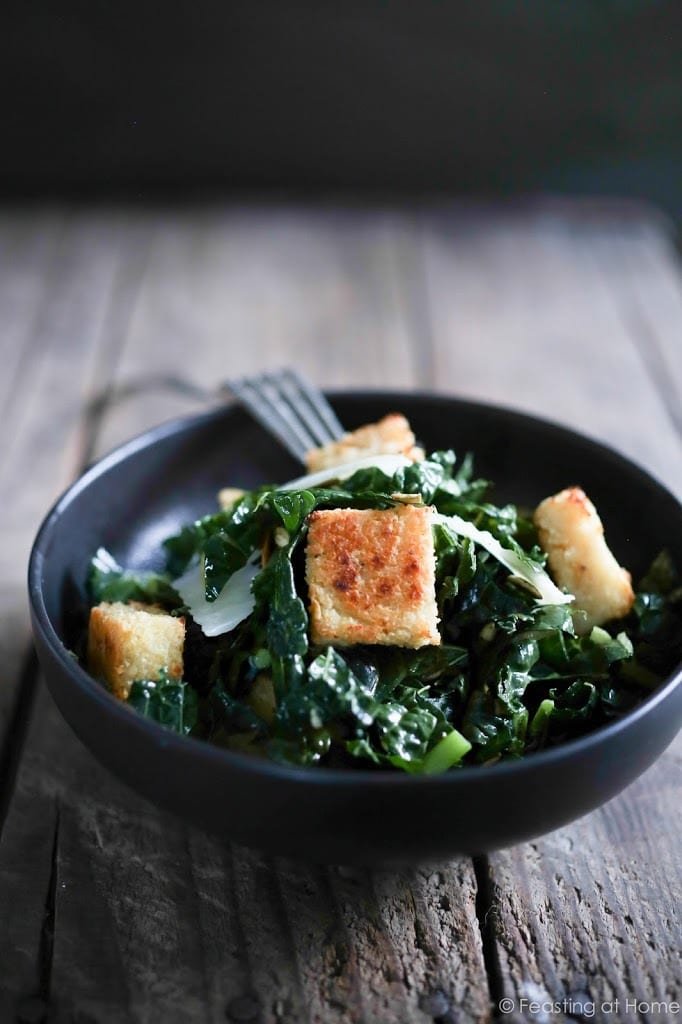 Print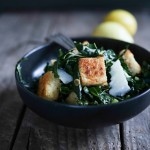 Kale Caesar Salad with Millet Croutons
Prep Time:

1 hour

Cook Time:

1 hour

Total Time:

2 hours

Yield:

4

-

6

1

x

Category:

salad, gluten-free

Method:

baked

Cuisine:

pacific northwest
---
Description
Kale Ceasar Salad with Millet Croutons by sylvia fountaine, feasting at home blog September-14-2013 A twist on the familiar-kale replaces romaine and millet replaces bread…a great gluten free caesar salad
---
Scale
Ingredients
1

Bunch Lacinato Kale, ribs removed
Drizzle olive oil
Pinch Salt
Shaved pecorino or Parmesan -for tossing

2

T Pine nuts or toasted pumpkin seeds– optional
Lemony Caesar Dressing:

1/8

C plus 1 T good quality olive oil

2

T fresh lemon juice
Zest from

one

lemon

1

garlic clove minced

1/8 tsp

salt plus more to taste

1/4 tsp

pepper

1

minced anchovy ( optional)

2 tsp

capers ( optional)
Millet croutons ( makes 20 x one inch croutons)

1/2

C millet

2

C water

1/2 tsp

salt

1/2 tsp

granulated garlic

1/2

C packed grated Parmesan

1/2 tsp

fresh rosemary- optional
---
Instructions
Make croutons. Place all millet ingredients except for the cheese in a small pot. Bring to a boil. Cover and turn heat to low, and let simmer for 25 minutes. Stir in cheese, taste for salt, add pepper if you want.
Using olive oil, grease a loaf pan or small sheet pan. With a greased spatula, spread millet evenly to about 1 inch thick. Brush olive oil over the top and place in the freezer for 45 minutes or fridge for 4-6 hours until firm and set.
Once cool and firm, cut into 1 inch cubes and place on a parchment lined backing sheet -up side down. ( So the top of cooled millet will now be on the bottom). If you don't have parchment, make sure to grease a sheet pan well, and use a metal spatula to loosen them. Parchment helps a lot.
Bake in a 425 F oven until golden and crispy, about 25-35 minutes. While croutons are in the oven prepare the salad.
Cut de-ribbed kale into small size pieces. Massage with a little olive oil and pinch salt until tender (about 5 minutes). Massaging will make kale less bitter. Let stand 10-15 minutes. Make the dressing by combining all ingredients together in a small bowl or jar. Toss some dressing with the massaged kale ( you may not need all) and add the warm croutons and some shaved pecorino cheese. Sometimes I'll add toasted pine nuts or pumpkin seeds as well. Enjoy!
---
---
Keywords: kale caesar, gluten free croutons, millet recipes, millet croutons, kale caesar salad recipe,