This hearty Fall Salad with Roasted Sugar Pumpkin, Kale, Apples, and Black Rice is topped with Maple-glazed Pecans, Dried Cranberries, and a scrumptious Fall-inspired Vinaigrette. Vegan and Gluten-free!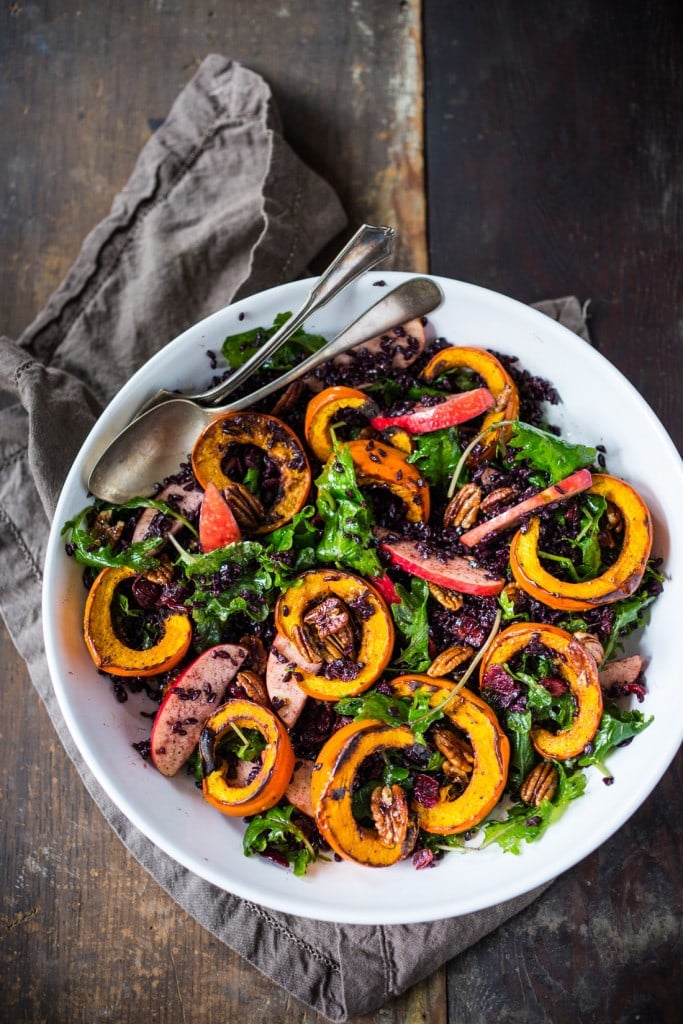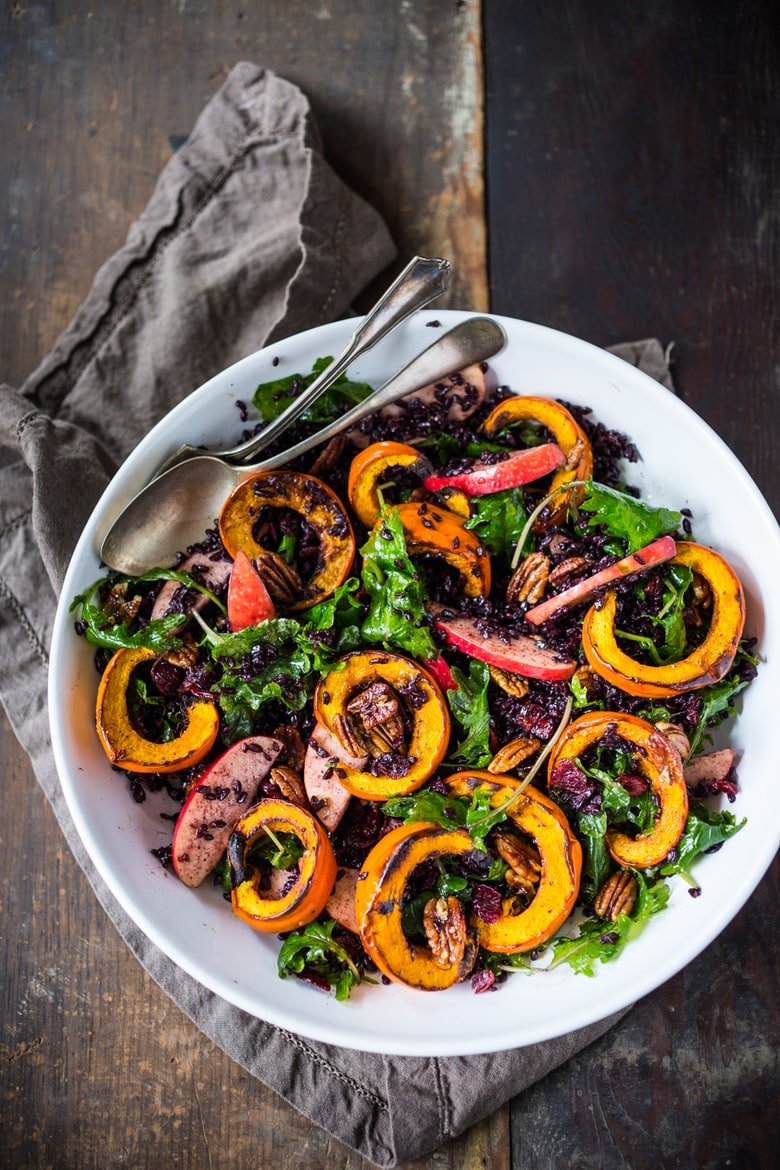 Here's a beautiful Fall Salad that would be a delicious addition to your Thanksgiving table or simply served up as a healthy vegan dinner. Roasted Pumpkin, black rice, apples and kale are tossed in the most delicious dressing – and topped with maple glazed pecans. Add dried cranberries or currants if you like.
Hearty and filling, this could also work as a vegan main dish. For extra richness feel free to add crumbled goat cheese, or try farmer's cheese. A very beautiful autumnal salad!
Here I've used little sugar pumpkins, but if you can't find them, feel free to use delicata squash, butternut squash or acorn squash!
What are Sugar Pumpkins?
Sugar Pumpkins are little orange pumpkin-like winter squash also called "pie pumpkins" or "sweet pumpkins" that have a beautifully creamy, orange, sweet flesh when roasted.
They're perfect for roasting, making salads or soups, or even making homemade pumpkin puree for pies- not just for their sweetness and flavor, but because of their texture- so creamy vs. stringy!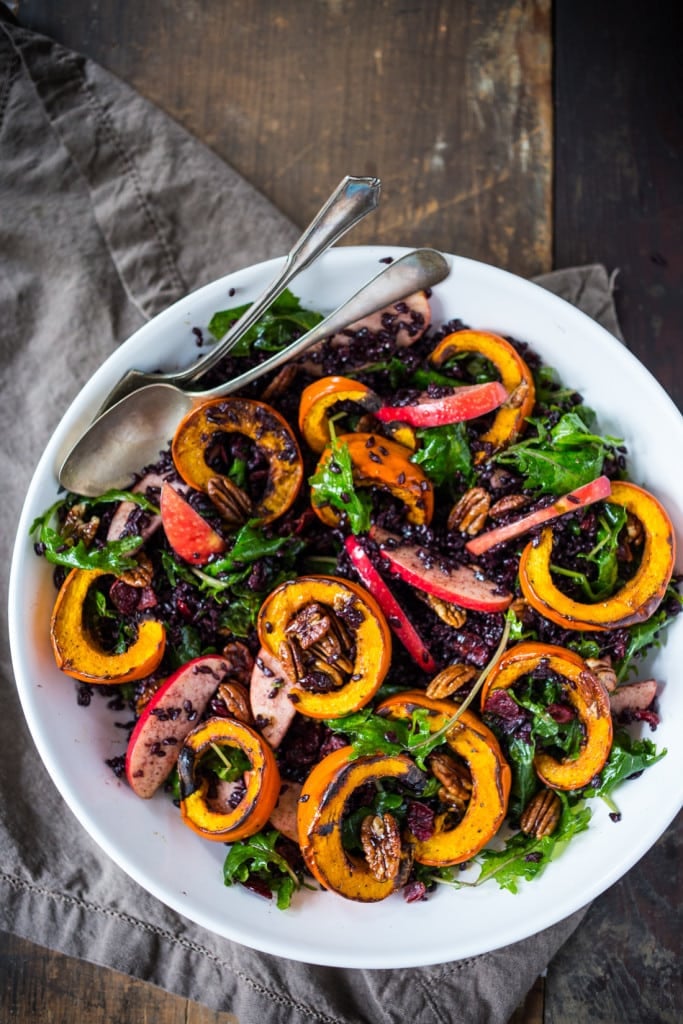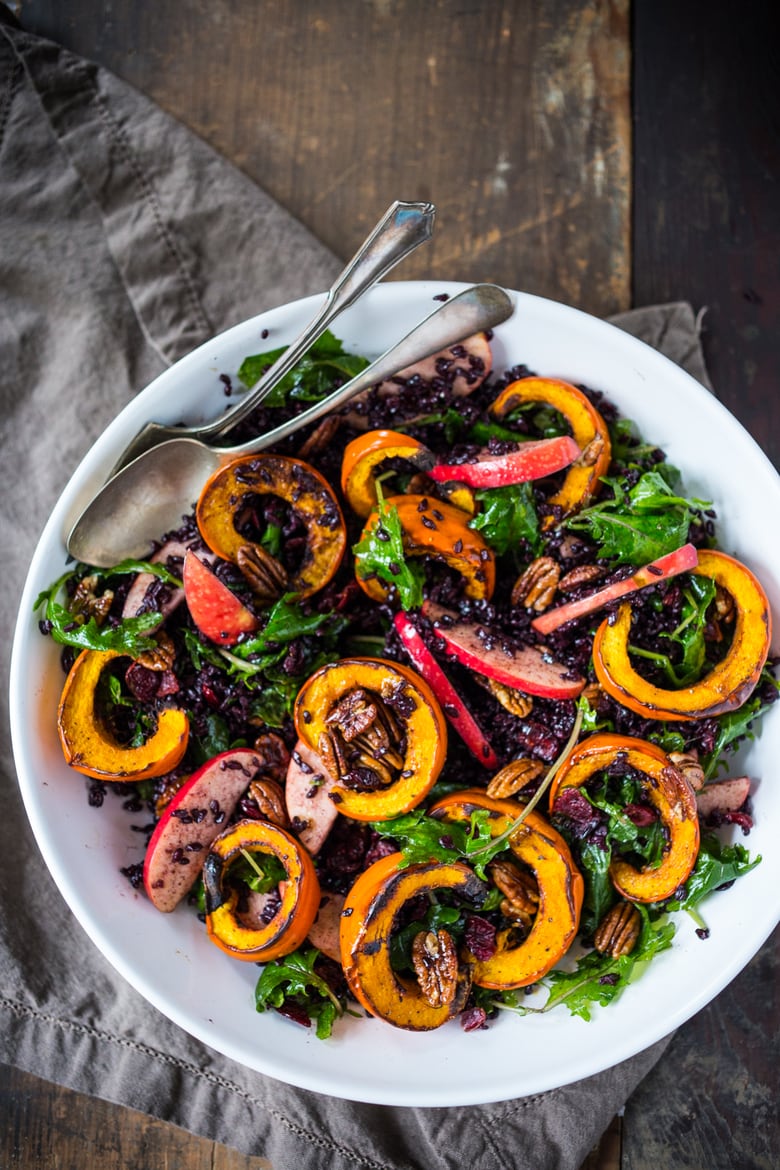 On the home front: For the past week, we've been out of power along with thousands of others here in Spokane, after a huge wind storm blew down hundreds of old trees, taking the power lines down with them.  With frigid temperatures at night, it has been challenging trying to keep our house warm so the pipes and pets don't freeze.
For the first day or two it felt like camping –  ha!  Playing games by candlelight, having fires, listening to the battery-powered radio and reading with a headlamp. Fun in a way, exciting!
But as the days wore on, and I awoke this morning with an aching head and scratchy throat, missing my mother. With Thanksgiving only two days away and a houseful of guests planning to come over, I felt quite glum. The opposite of thankful.   
At least we didn't have a tree crash into our living room like our neighbors, my husband kept reminding me.  At least we weren't Syrian refugees fleeing for our lives, another friend piped up. Yep, true, it can always be worse.
But I don't want to feel gratitude because we fared better, compared to others, or because it could be worse.  I don't want to feel it because I would feel guilty if I didn't, or because my rational brain (or Oprah) tells me I should.
I want to feel it, because I feel it.
So I sit here.  I stir the fire. I let my brain calm and let my heart open…and wait.  Nothing. And wait.  And wait…
And then something shifts, a feeling of acceptance, ever so brief. A feeling that no matter how difficult our lives can be at times, I'm honored to be alive and experience all of it. Even the hard stuff. Which in perspective, turns out is not really that hard.
Because in some way, it's all perfect. 
I want to hang on to this feeling forever… but it is fleeting.
There seems to be a deeper level of gratefulness that we can tap into. One that is constant and unconditional regardless of external circumstances.
I haven't evolved far enough as a human to be able to remain tethered to this place, but I can sense its presence under the surface and dip into every now and again, and it feels transformative. I wonder how my life would change if I could feel it daily.
I wonder how this world would change if we could all feel it.
Wherever Thanksgiving finds us this year, may we find gratitude, even amidst the chaos, if only for a brief and sparkling moment. May it seep into our bones and infuse our day… and infuse those around us.
Happy Thanksgiving friends. Love and hugs.
Print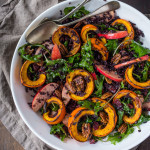 Roasted Pumpkin Salad with Black rice, Apple and Kale
Prep Time:

15 mins

Cook Time:

30 mins

Total Time:

45 mins

Yield:

6

1

x

Category:

Salad

Method:

Roasted

Cuisine:

Northwest
---
Description
A Fall-inspired Roasted Pumpkin Salad with Apple, Kale and Black Rice tossed in a maple vinaigrette, topped with Maple Pecans and dried cranberries. A tasty Thanksgiving Salad, or vegan dinner idea!
---
1

small sugar pumpkin cut into 3/4 inch wedges. (

5

–

6

inches in diameter) Or use a delicata squash

1 Tablespoon

oil
Salt and Pepper

3

cups

cooked black rice (or wild rice, or any cooked grain- farro, quinoa, freekah,etc. )

4

ounces

baby kale (or arugula)

1/4

cup

dried cranberries ( or dried currants)

1

apple, ( honey crisp are great!) sliced into thin wedges (or try a persimmon)

1/2

cup

sliced green onion
Maple Glazed Pecans: ( you'll use half) 
Maple Vinaigrette:
---
Instructions
Preheat oven to 375 F
Cut pumpkin in half and scoop out seeds. Cut into ¾ inch wedges (leave skin on) and toss with olive oil, salt and pepper, and place on a parchment-lined backing sheet and roast in the oven until fork tender, about 30- 35 minutes.
Make the Maple Glazed Pecans, baking at the same time. (see notes)
In a large mixing bowl, add cooked rice, kale, apple, scallions, half of the pecans and dried cranberries and give a stir.
Add vinaigrette ingredients and toss. ( Or make it separately, and toss before serving)
Spread out on a platter and tuck warm roasted pumpkin wedges over top. Scattering with remaining pecans and cried canberries.
Add crumbled goat cheese or farmers cheese if you like (feta may be too salty)
---
Notes
Note: You can make maple glazed pecans at the same time (or ahead).  In a bowl, toss pecans with  maple syrup, and season with salt and pepper. Place on a parchement-lined baking sheet and roast in the oven, 13-14 minutes, giving a stir halfway through. Let them roast until they just darken slightly. Remove from oven, and using a metal spatula, loosen, then let cool 5-10 minutes, and loosen again. Let cool completely. scrape up, breaking apart, and store in an airtight container.
Feel free to sub delicata squash, sliced into rings.
Make the maple glazed pecans ahead and keep on hand for salads and such.
Nutrition
Serving Size:
Calories:

281

Sugar:

12.4 g

Sodium:

200.8 mg

Fat:

15.8 g

Saturated Fat:

1.9 g

Carbohydrates:

34.1 g

Fiber:

3.9 g

Protein:

4.8 g

Cholesterol:

0 mg
Keywords: Fall salad, fall salad recipe, fall salads, fall salad recipes, wild rice salad, thanksgiving salad, harvest salad, pumpkin salad, thanksgiving salad recipes, thanksgiving salads