Lemony Chickpea Soup with Fennel & Sumac  is infused with Middle Eastern flavors- and served over warm quinoa with flavorful Zhoug. A healthy vegan soup, full of flavor!  ( This can also be made in an Instant Pot, see recipe notes)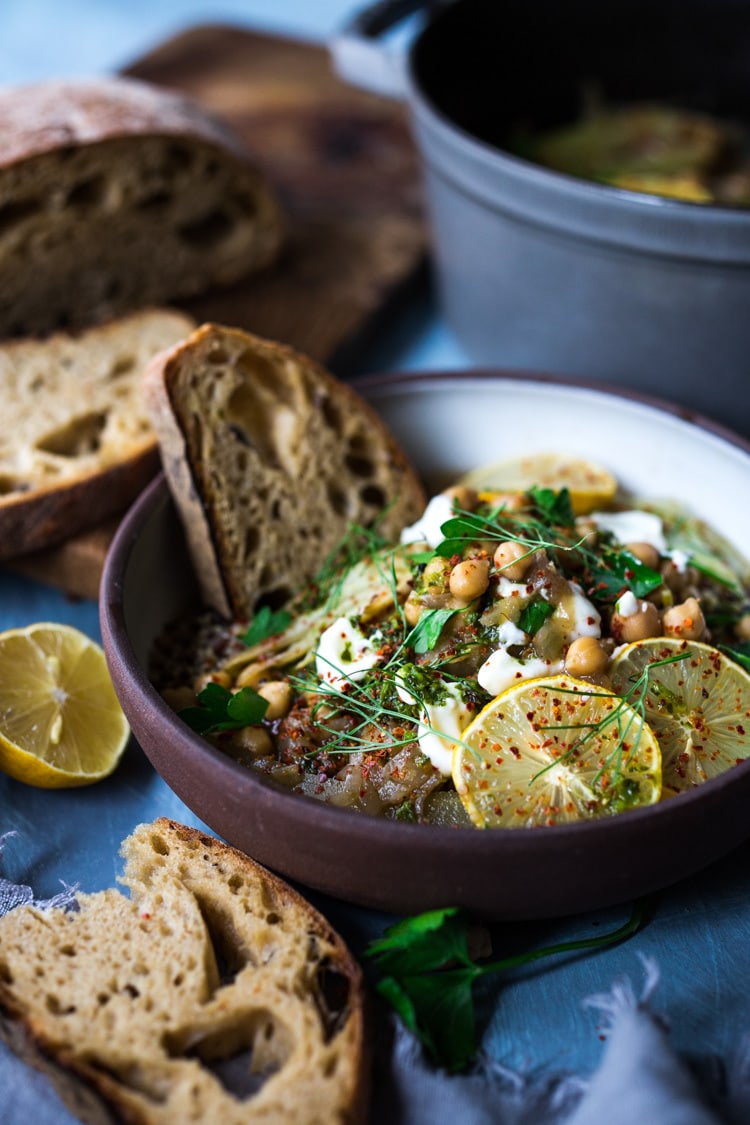 In my dream, the angel shrugged and said, if we fail this time, it will be a failure of imagination and then she placed the world gently in the palm of my hand. ― Brian Andreas
This Lemony Chickpea Soup with Fennel is seasoned with Middle Eastern spices and served over warm quinoa, then drizzled with flavorful zhoug, a spicy Middle Eastern Cilantro Sauce that adds flavor, brightness and a little heat. Add small dollops of yogurt, or keep it vegan with a drizzle of olive oil.  Hearty and filling, this flavorful vegan soup satisfies!
On the home front: Brian and I have been trying to embrace winter and get outside and just be in it.  Or rather I should say, Brian is embracing it fully … and I am trying.
We spent the New Year in Nelson, BC and skied in the sunshine and hung out with friends. Good for the soul. Here, back at home, it's rainy and dreary. To help fend off the winter blues, we've been making a point of lighting candles, drinking chai, and making things feel extra cozy. Also, if you've been here a while, you'll already know my secret weapon in the kitchen. Lemons!
So bright and cheery, the aroma alone uplifts. They've been in my morning water, and are the inspiration for this soup. I hope you enjoy….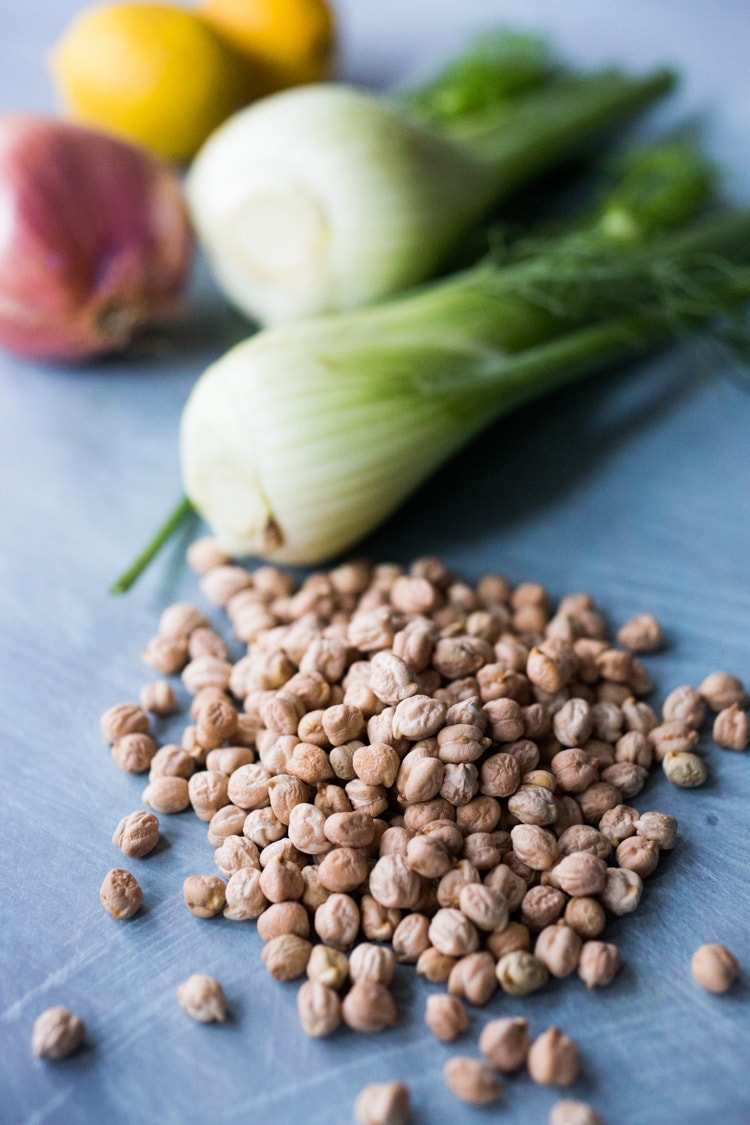 This Chickpea Soup can be made with dry or canned chickpeas. If using dry, make sure to soak them in water for 8-12 hours first.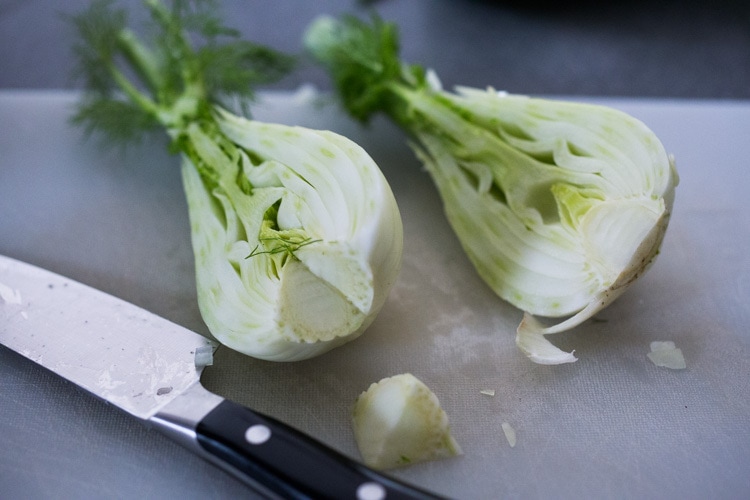 Fresh fennel bulb is cored and sliced lengthwise.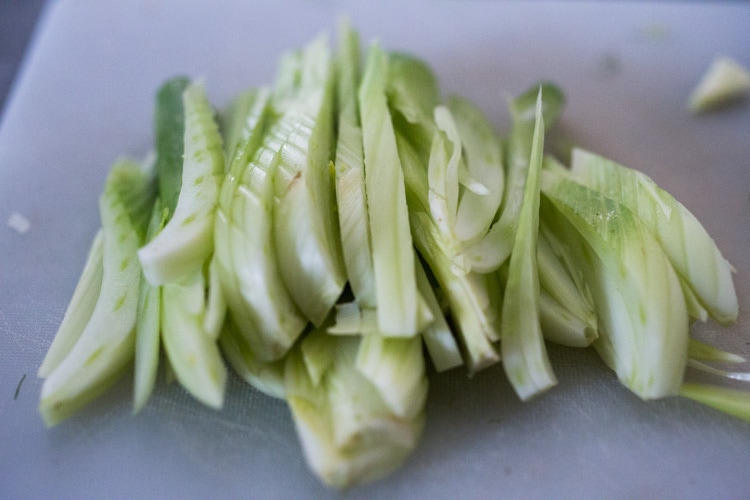 The fennel and onion are sautéed for 10-15 minutes until tender, then the rest of the chickpea soup is pretty hands off. Soaking the chickpeas significantly shortens the cooking time while allowing the fennel bulb to still keep its shape. After adding the chickpeas, water and seasonings, this cooks in about 15-20 minutes, an ideal weeknight meal.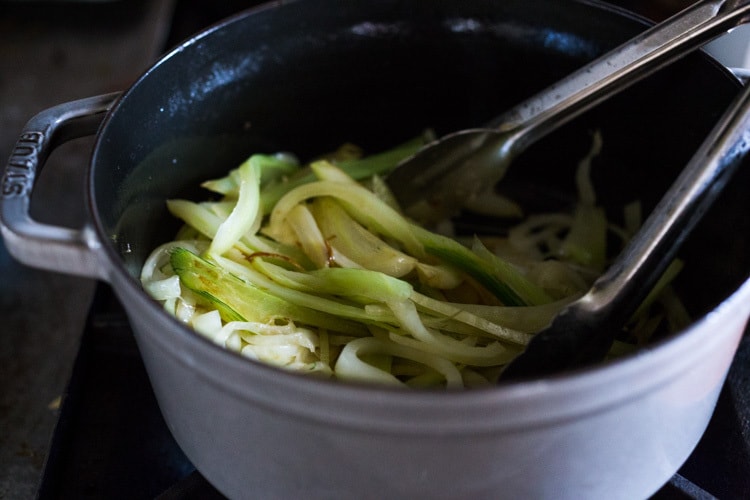 While the chickpea soup is cooking, make the zhoug sauce and quinoa. Or serve this with crusty bread.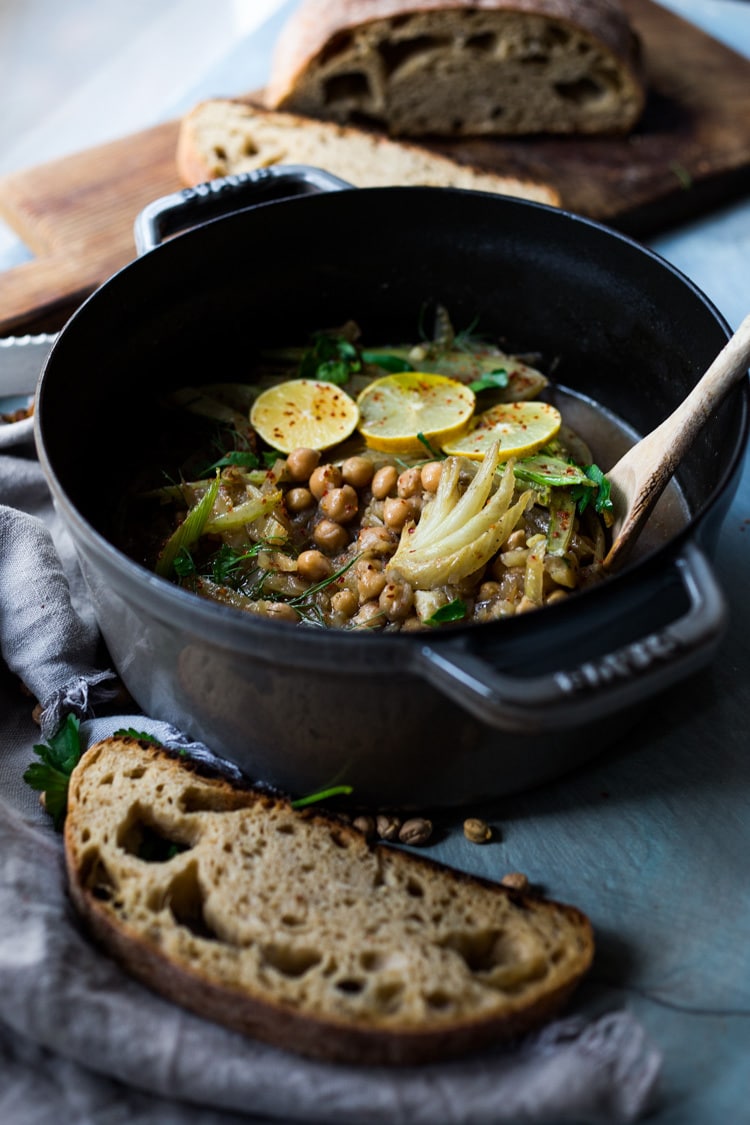 If you prefer a thickened soup versis a brothy soup, blend 1 to 2 cups of the chickpea soup in a blender, adding it back into the soup to thicken.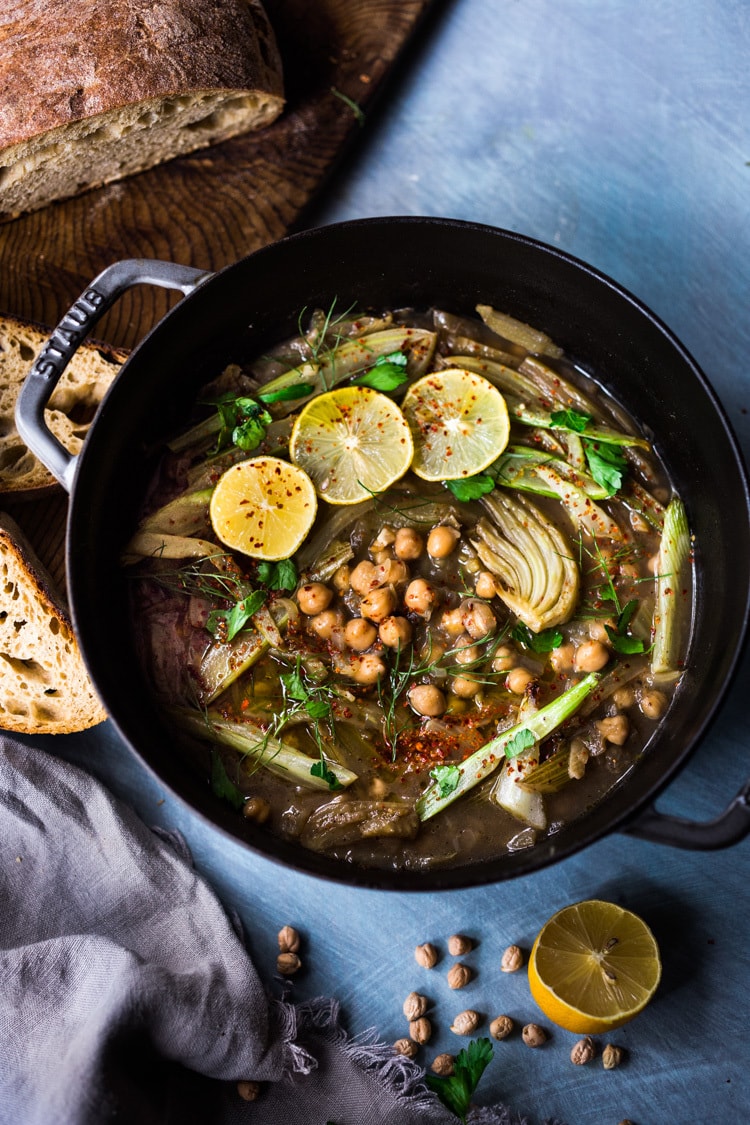 The lemon and sumac give the chickpea soup life, waking it up with a delicious brightness. Perfect for winter.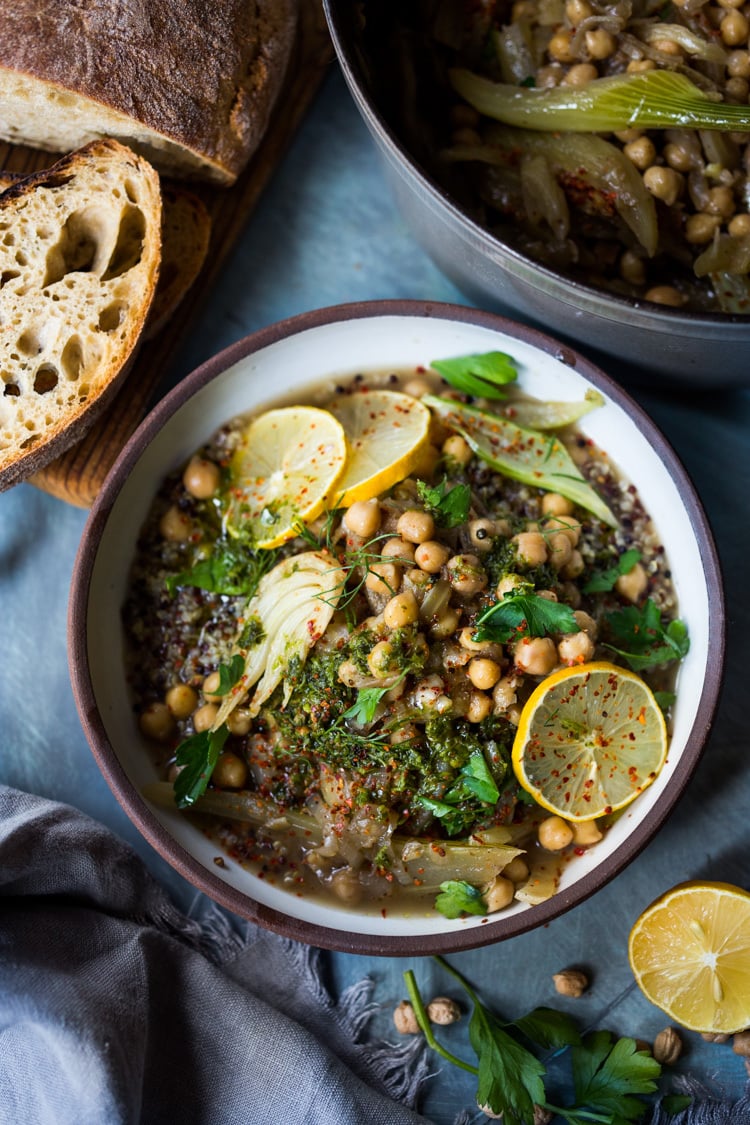 But to me, it is the zhoug sauce, with its hint of cardamom, that really elevates this Chickpea Soup to its highest potential – so try not to leave this out if possible.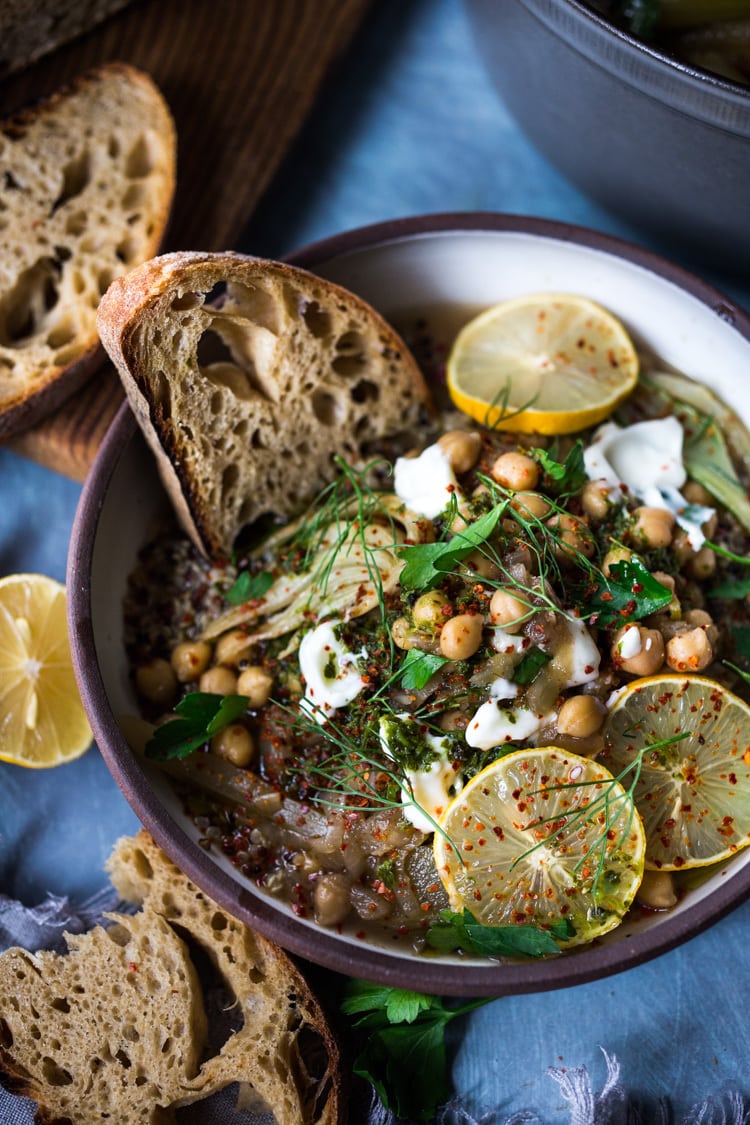 Hope your New Year is off to a healthy and delicious start. Hope you enjoy this Lemony Chickpea Soup and make sure to make the zhoug to go with it!!!
Make this ahead on Sunday for healthy weekday lunches or dinners!
For more cozy soup recipes…. go to Our Top 25  Vegetarian Soups !
xoxo
Print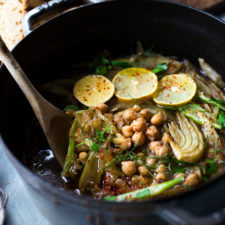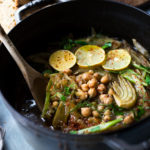 Lemony Chickpea Soup with Fennel and Sumac
Author:

Sylvia Fountaine

Prep Time:

15

Cook Time:

30

Total Time:

45 minutes

Yield:

4-6

Category:

soup, vegan, stew

Method:

stove top or instant pot

Cuisine:

middle eastern
---
Description
Lemony Chickpea Soup with Fennel & Sumac served over warm quinoa with flavorful Zhoug Sauce. A healthy vegan soup, full of flavor!
---
Ingredients
1 cup

dry chickpeas, soaked 8 hours (or sub

2

cans, drained)

2 tablespoons

olive oil

1

white or yellow onion, thinly sliced

1

extra large fennel bulb, thinly sliced

4

garlic cloves, rough chopped

5 cups

water

2 teaspoons

kosher salt

2 teaspoons

cumin

2 teaspoons

coriander

1 teaspoon

sumac (optional)

1 teaspoon

dried dill (or use fresh as a garnish)

2

–

4

tablespoons lemon juice
 optional: pinch of chili flakes, aleppo or Urfa Biber ( Turkish Chili Flakes)
Serve with crusty bread or serve over cooked grains (like quinoa). All optional.
Garnish with fresh dill or parsley, zhoug, olive oil, yogurt, avocado, or sour cream. I highly recommend making the zhoug,  you won't be disappointed. 
---
Instructions
If using dry beans, soak in cold water for 8 hours or overnight.
In a large dutch oven, or heavy bottomed pot, heat oil over medium high heat. Add fennel slices an cook for 5 minutes, stirring. Add onion, and continue cooking until tender, another 5 minutes. Add garlic, lower heat to medium and cook 2-3 more minutes until fragrant. Add water, chickpeas, salt, cumin, coriander, optional sumac and dill.  Cover, bring to a boil, then simmer on medium low for 15 minutes, or until chickpeas are tender.
Add lemon juice and taste. You want this pretty lemony.
Add optional  chili flakes, Aleppo chili flakes or try Urfa Biber chili flakes from Turkey.
Serve this its own, with crusty bread, or over a bowl of cooked grains ( like quinoa), and/or  topped with peppery greens like arugula or micro greens.
---
Notes
You could make this in the instant pot, but make sure to soak the chickpeas first. My first attempt failed. I tried this with unsoaked dry chickpeas, 35 minutes on high pressure, but the fennel bulb turned out WAY overcooked. Soaked garbanzos took only 12 minutes in on high setting in the Instant Pot, and fennel kept its shape.
Keywords: chickpea soup, chickpea soup recipe, chickpea and fennel stew, chickpea and fennel soup, vegan soups, vegan chickpea soup, lemony chickpea soup,