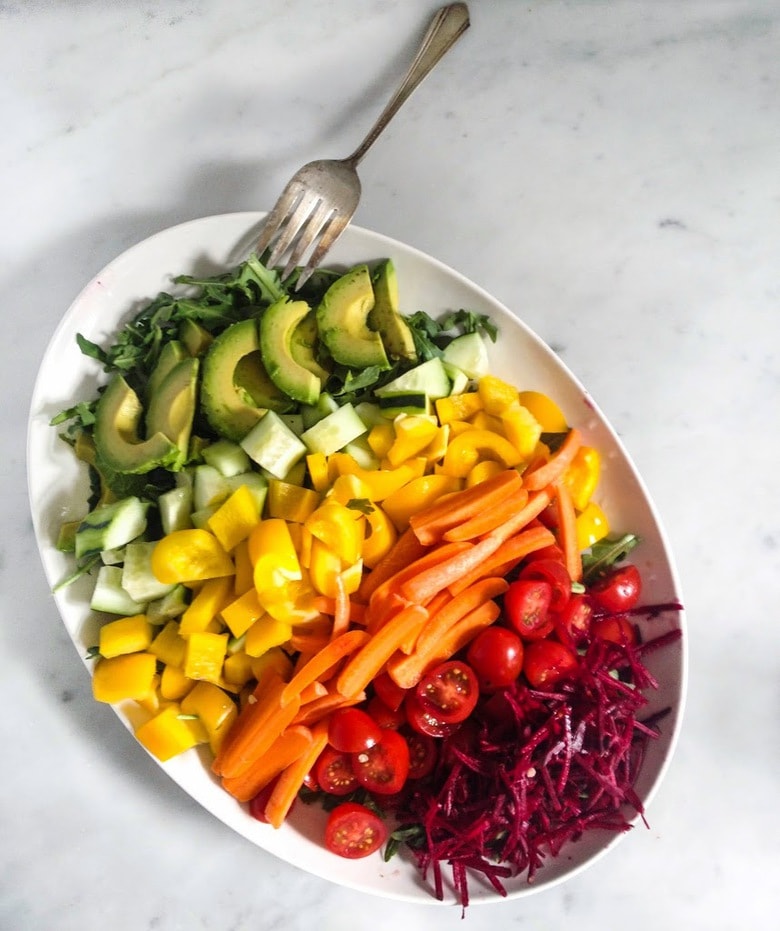 All progress occurs because people dare to be different. ~Harry Millner
This salad hardly warrants a recipe. It changes throughout the year depending on what's in season, but surprisingly, no matter what time of year it is, even in the dead of winter, it makes it possible to create a colorful bright rainbow right in your kitchen. Somehow this brightens even the darkest of days. I happened to snap these pictures in late summer when tomatoes were still decent, but in winter, I rely heavily on colorful root vegetables. Grated and eaten raw, red and golden beets, carrots, kohlrabi and turnips are refreshingly crunchy and delicious.

Diakon

radish, fennel bulb and

jicama

are great too along with avocado. Crunch is really key here, and served over a bed of your favorite greens, the Creamy Dill Dressing with just a hint of horseradish gives the salad a satisfying richness. It's a great way to incorporate a wider variety of veggies into our diets.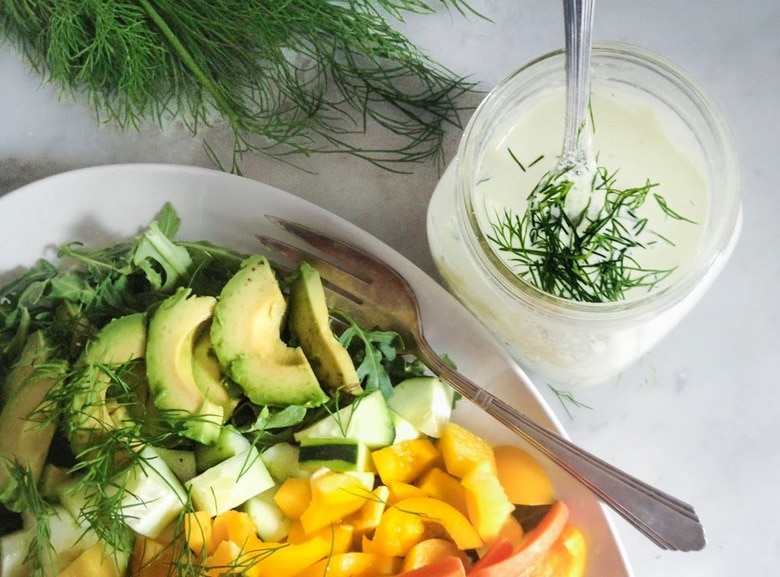 When making this salad, walk down the grocery store isle, or if you are lucky enough to live someplace warm, head to a farmer's market and pick out six to eight different vegetables of a variety of colors.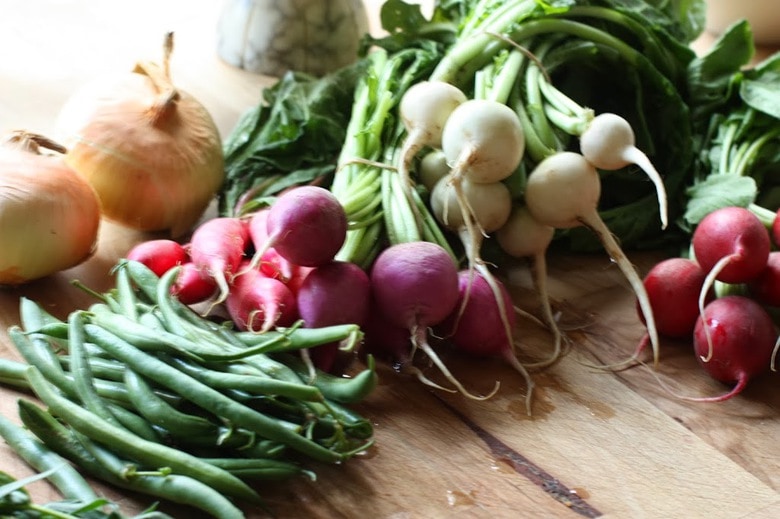 Not only do the colors vary, so do the textures. For the most part, I like to use veggies in their fresh raw state, crunchy and full of nutrients. But a light blanching is an option too, like with green or yellow wax beans.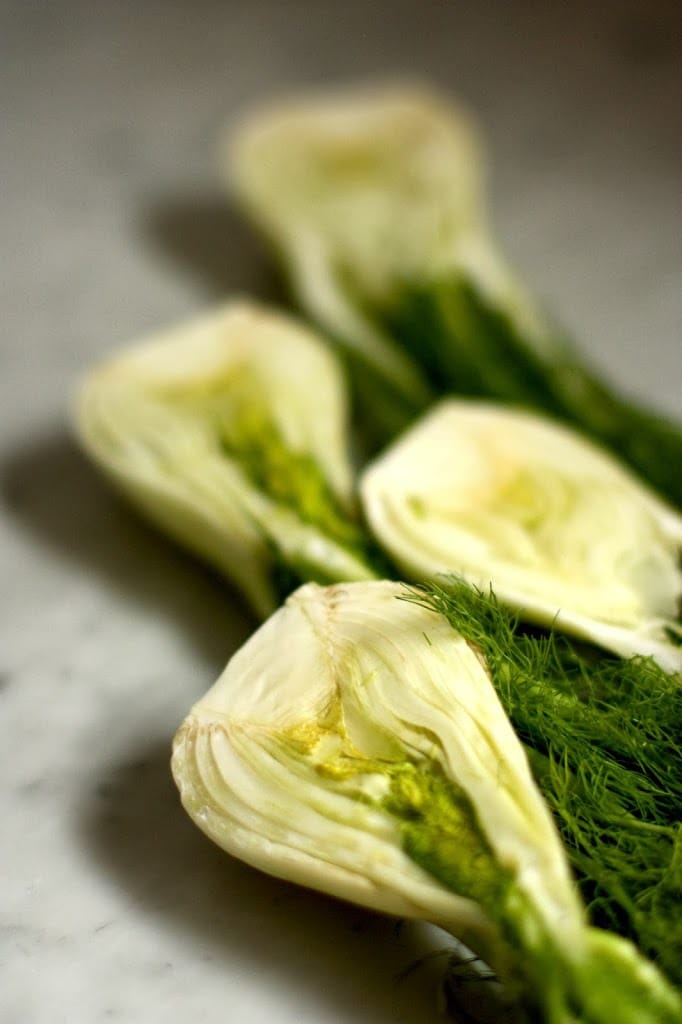 Somehow the combination of crunchy veggies, pairs well with the creaminess of the dressing.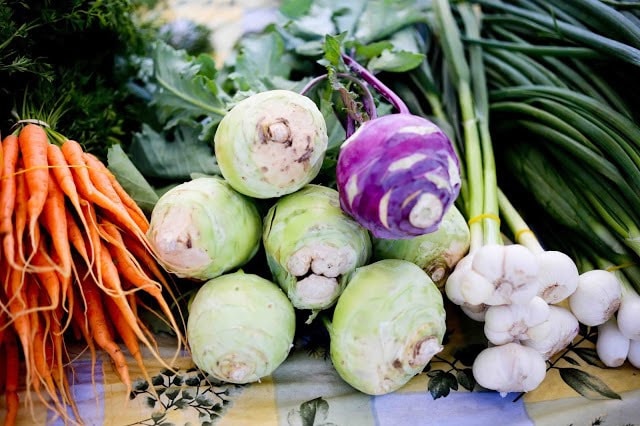 Kohlrabi, if you can find it is great raw, either grated or cut up into fine matchsticks.
Beets, either golden or red, have such great flavor in the raw. Peel them and grate them, and add them to salads for amazing sweet earthy flavor and satisfying crunch. Raw beets are my new favorite.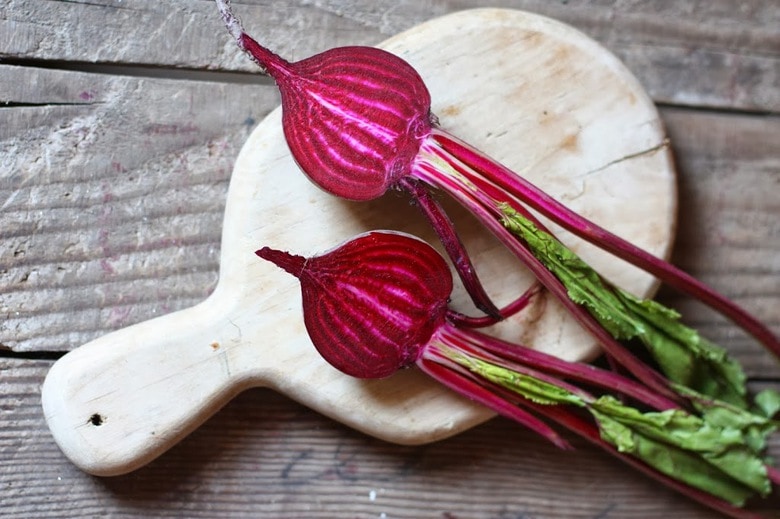 Make a bed of salad greens….I really love the peppery bite of baby arugula- but spring mix, romaine, baby spinach or other lettuces work great too.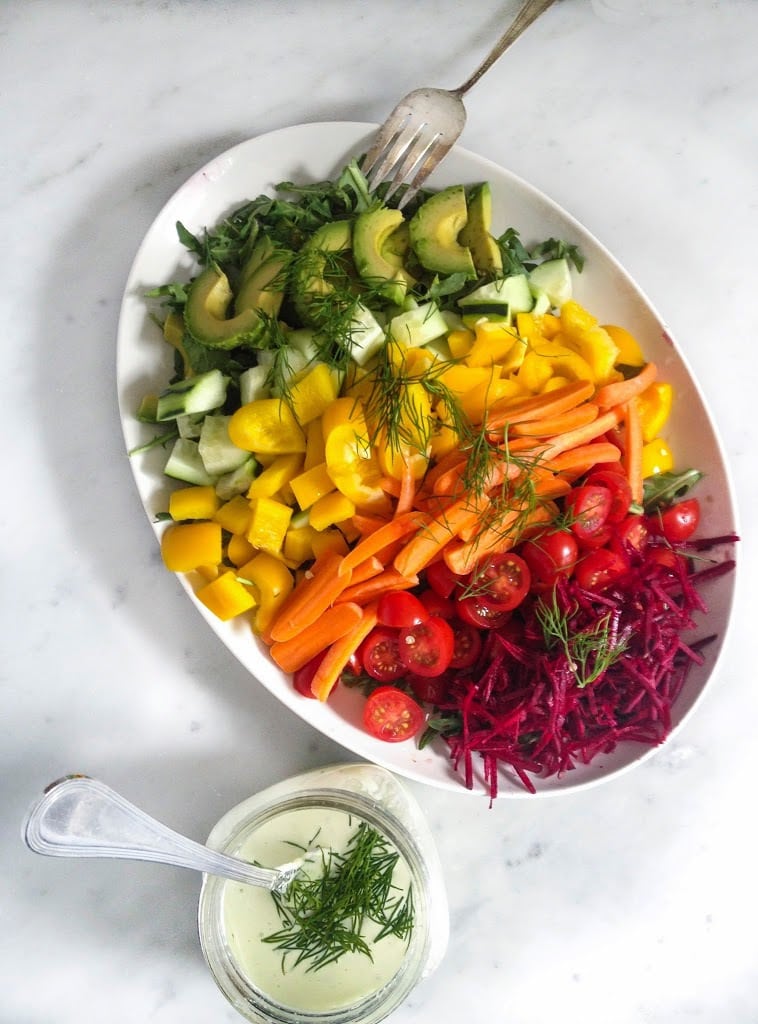 Then start arranging your prepped veggies in rows over the bed of greens, to create a rainbow.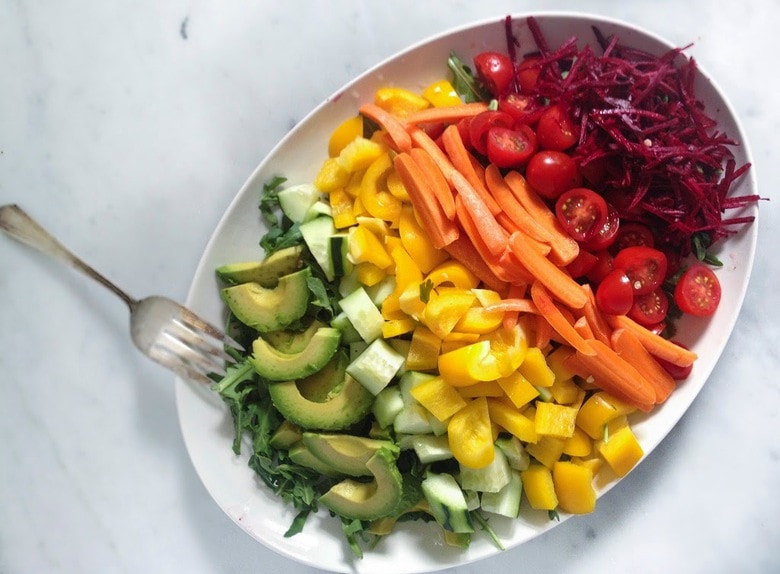 Serve with the Creamy Dill Dressing on the side.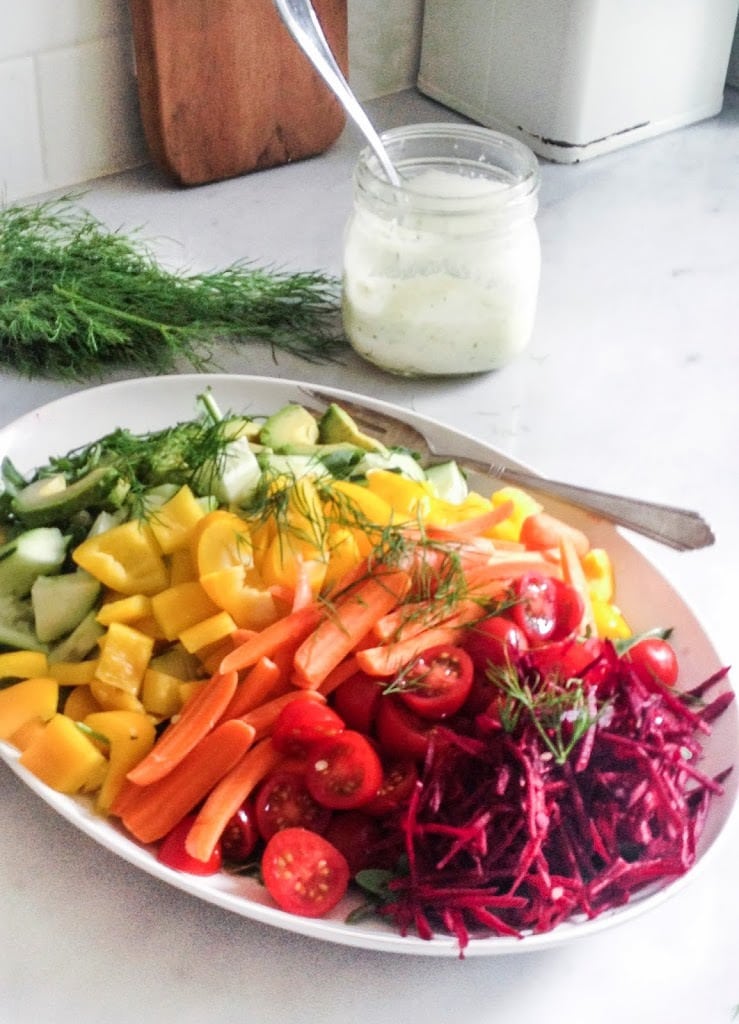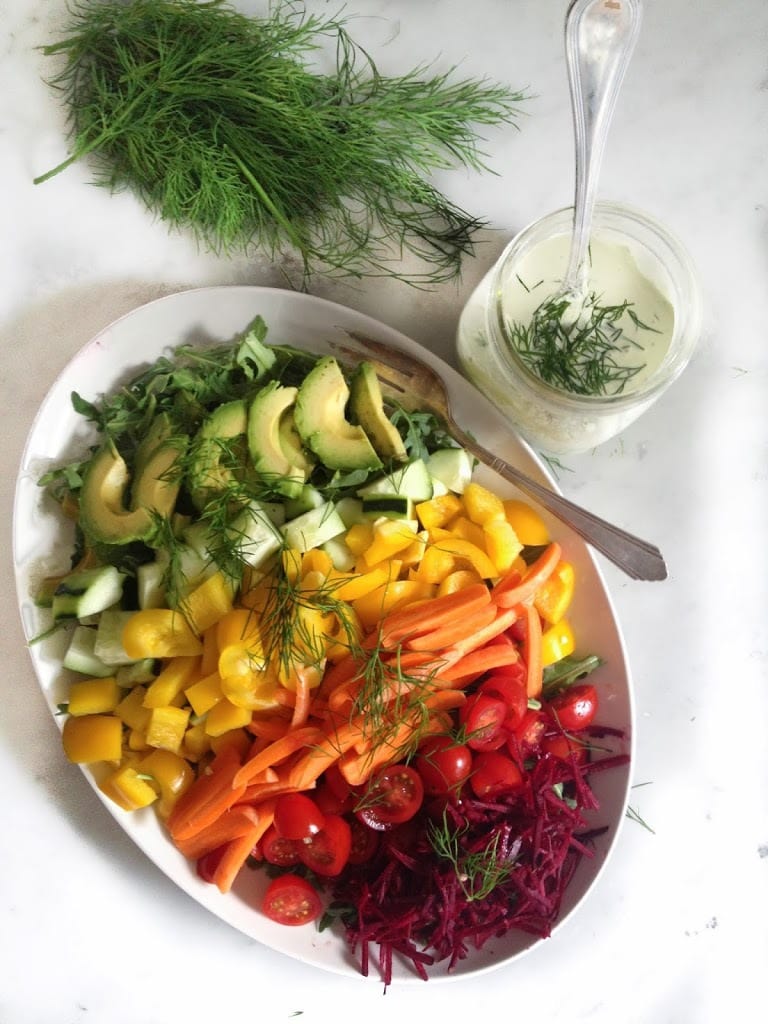 Thanks for reading! For more Feasting at Home …
and subscribe to receive new posts via email.
print recipe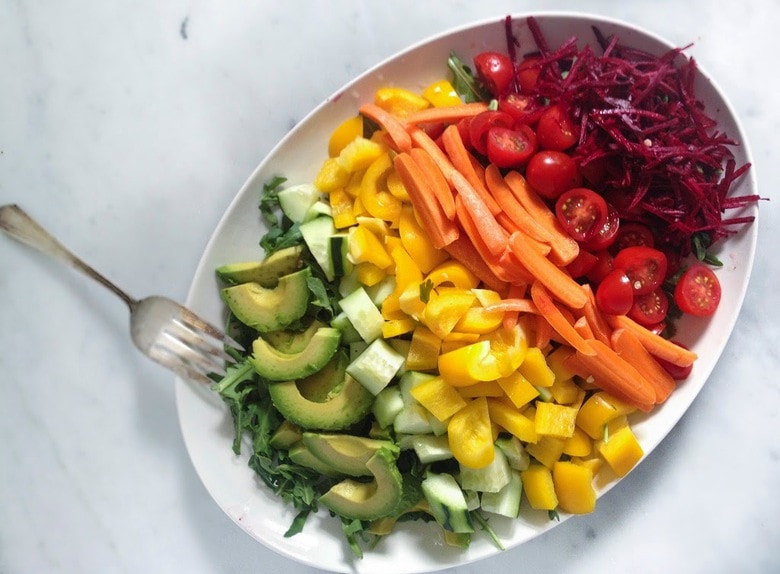 Crunchy Rainbow Salad with Creamy Dill-Horseradish Dressing
Serves 2-4
Ingredients:
Lettuce- Arugula, kale, Romaine, Spinach, Spring Greens – enough to create a "bed"
6-8 raw vegetables in different colors -have fun, and pick what's in season!
Here are some ideas:
1 small red beet, peeled, grated ( or tomatoes when in season)
1 small golden beet, peeled, grated ( or yellow pepper- sliced)
1 large carrot, peeled, grated
1 white vegetable like diakon, jicama, turnip, kohlrabi or even cauliflower- cut into small pieces or matchsticks
1 avocado, sliced
1 cucumber, diced
1 C purple cabbage shredded
Lay the lettuce down on a platter, enough to feed 2-4 people. Arrange the prepared veggies in separated rows. Serve with the creamy dill salad dressing, on the side.
Creamy Dill Dressing:
1/2 cup mayonnaise
1/3 cup sour cream
1/3 cup chopped fresh dill
1 1/2 tablespoons fresh lemon juice
1 clove garlic, finely minced
½ to 1 teaspoon horseradish or more to taste ( start with ½ teaspoon, taste)
⅛ teaspoon kosher salt
Cracked pepper
Whisk all together in a small bowl. If you like a looser dressing, add 1-2 Tablespoon water.
Details
Prep time: 20 mins Yield: 2-4