With the summer season coming on we have put together a collection of 35 Best Potluck Ideas!  These are some of our most popular tried and true recipes, loaded with delicious comforting flavors that appeal to all ages.
Our Favorite Potluck Ideas
Many of these potluck ideas are easy to make ahead of time with some recipes that can be prepared quickly for those spontaneous last-minute potluck invites!

A simple French Potato Salad with fresh herbs – tarragon, parsley and chives, with a flavorful Dijon Vinaigrette. Healthy, vegan and light with no mayo!  This salad is so easy to make, so flavorful and so perfect for sharing!  Take it to the potluck, your friends will thank you!

Quick and easy to make, this Spring Pea Pesto is deliciously vibrant with fresh herby flavor.  Perfect for bringing to a potluck- it can be used as dip, spread or as a sauce to compliment many other dishes. Make this with fresh or frozen peas in under 10 minutes.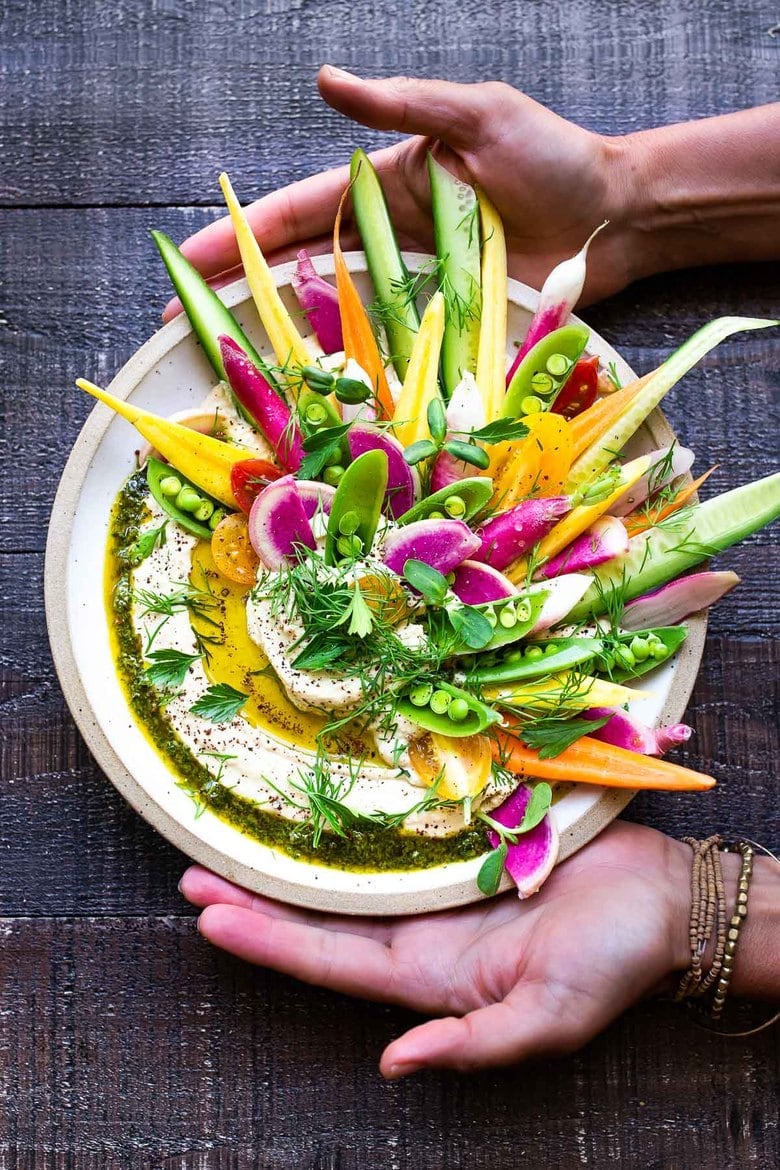 An easy potluck idea that everyone loves: Hummus! This authentic hummus recipe is light and creamy and so easy to make. Use canned or dried chickpeas and serve it up with fresh garden veggies, a good option if wanting to make something ahead, an easy potluck idea!

How to make the most delicious guacamole! A simple easy recipe for Guacamole that will be the hit of the potluck! A flavorful Mexican appetizer that is vegan, gluten-free and healthy.

Warm olives with rosemary, garlic, and almonds – a simple, delicious appetizer that is full of amazing flavor, that can be made very quickly and easily!  This potluck idea is perfect for those last minute invites.

These savory Grilled Veggies are smoky and caramelized.  Delicious as is or ready for most any sauce and protein paring, making them a popular contribution to the potluck table!  Here is a simple basic method for grilling veggies on the BBQ.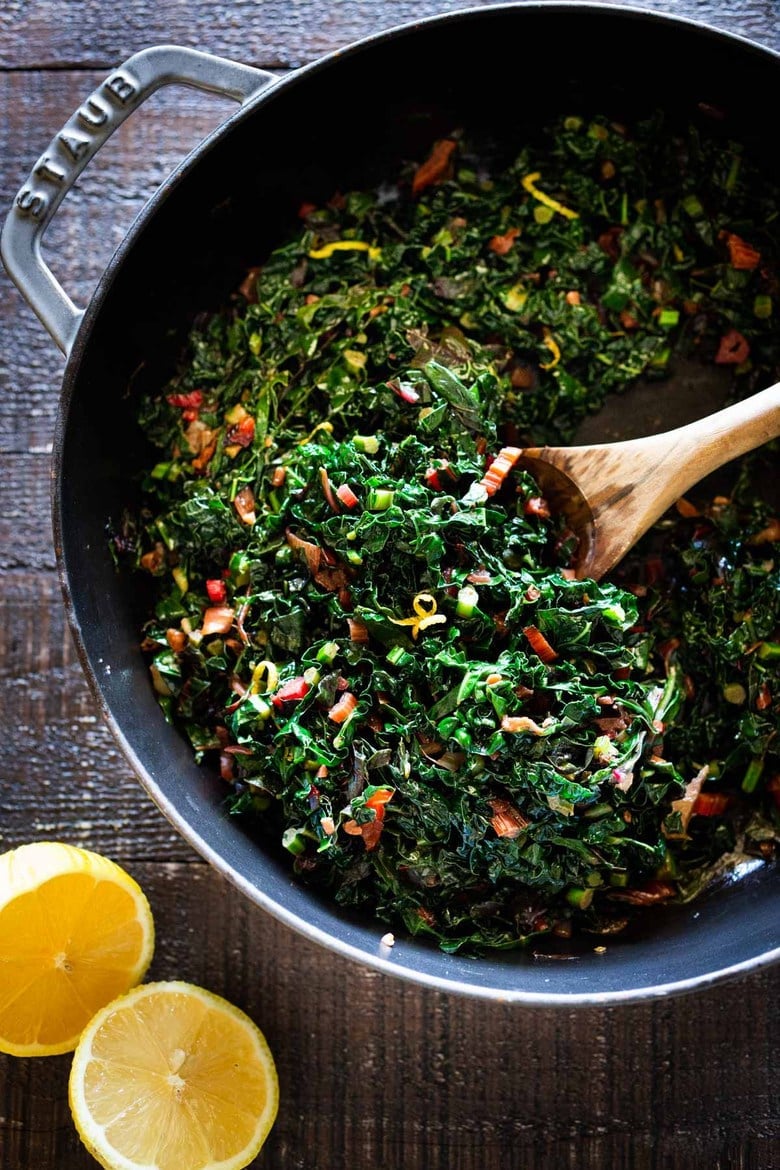 A healthy potluck idea: Simple Sautéed Greens– Kale and chard with garlic, shallots and lemon – a simple side dish that is vegan, low carb, Keto and full of healthy nutrients!  Quick and full of delicious flavor.  Can be made in 20 minutes!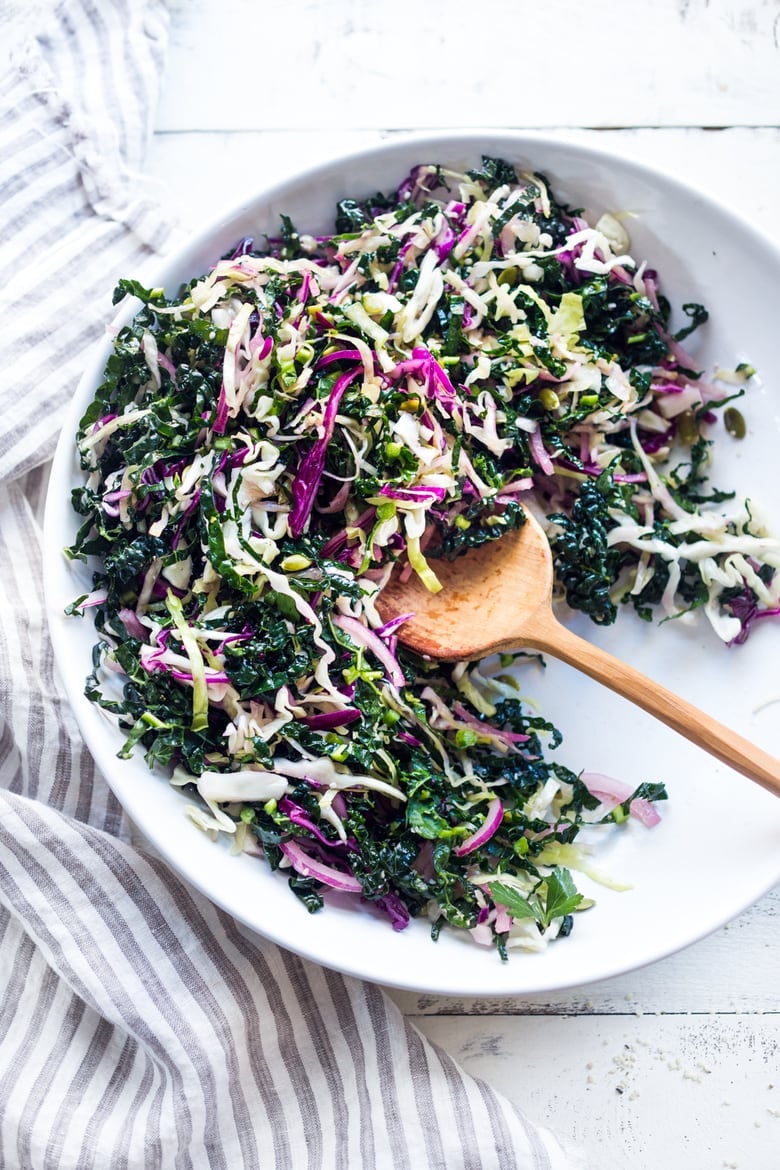 Make this Everyday Kale Salad with simple Lemon Dressing hours or even days ahead of time for your potluck gathering!  Vegan and Gluten Free, this amazing kale slaw goes with most everything!  Keeps for up to five days in the fridge.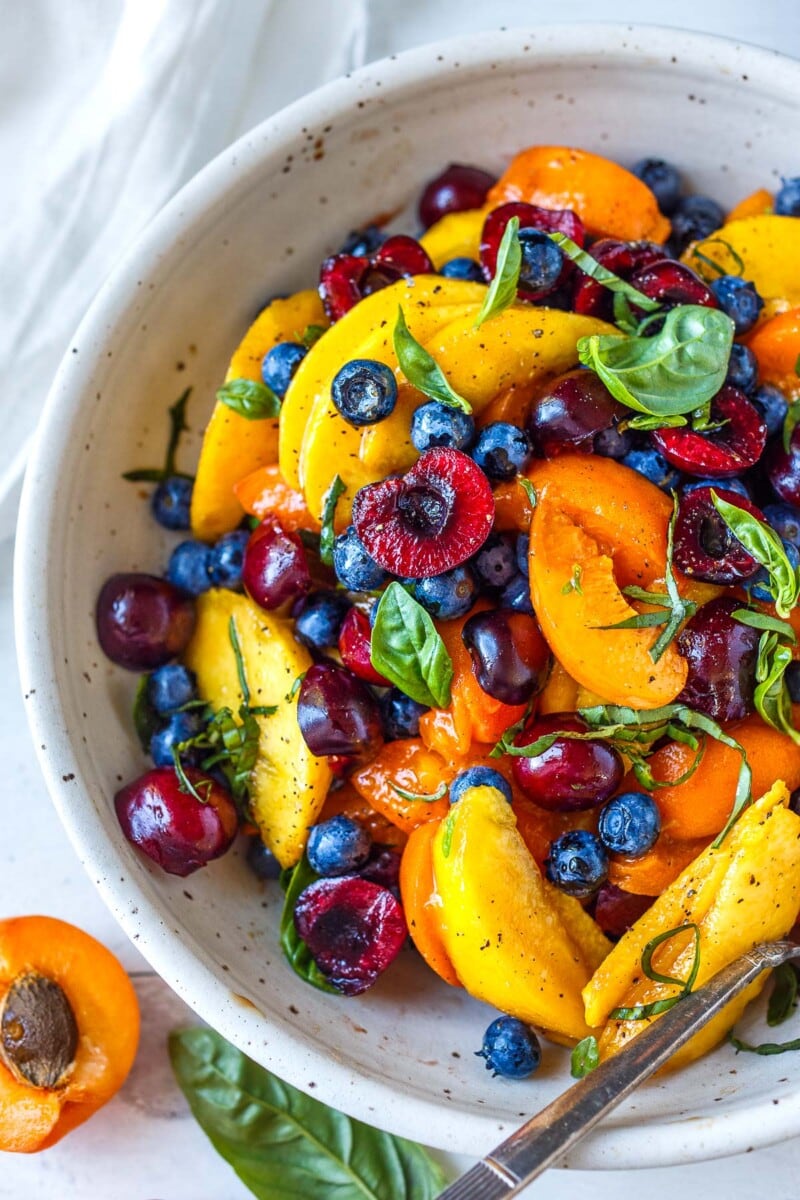 This luscious Fruit Salad is made with summer ripe stone fruit and berries. Cherries, peaches, and apricots along with blueberries and fresh basil- tossed in a delicious vanilla balsamic dressing.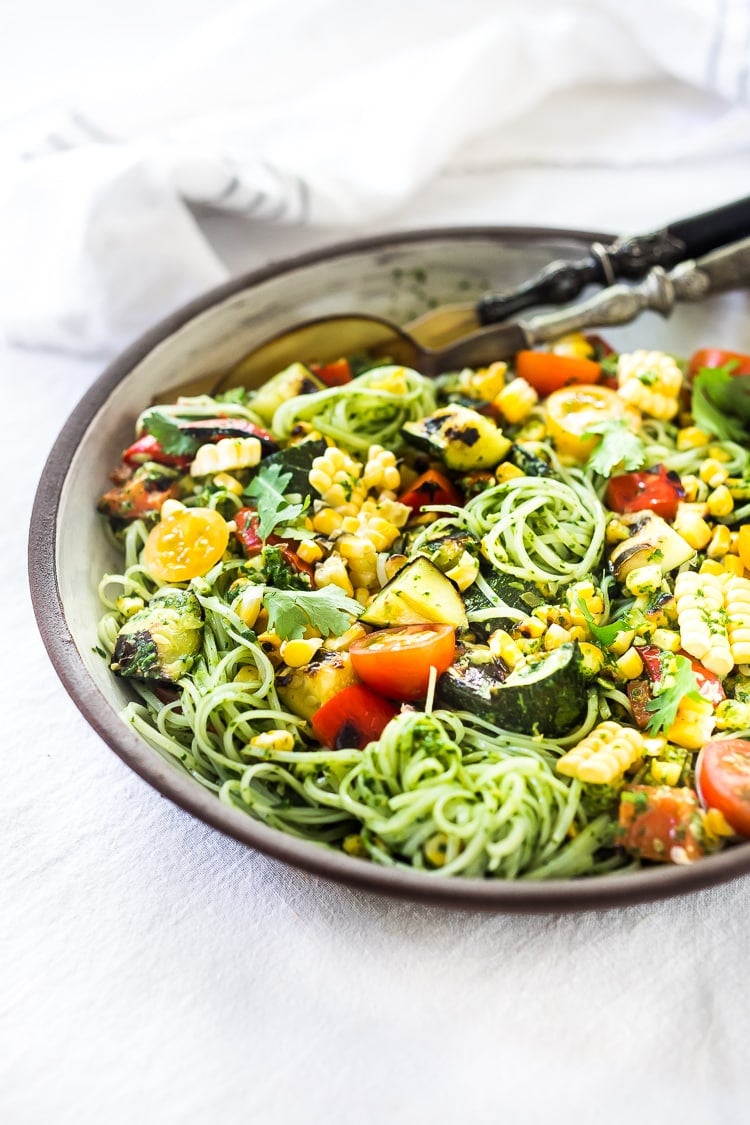 Summer Pasta Salad w/ Grilled Zucchini, Corn and Cilantro Pesto is made with gluten-free rice noodles and loaded up with healthy summer veggies, then tossed in the most flavorful Cilantro Pesto…. deliciously addicting and a perfect potluck recipe.  Vegan and Gluten-free!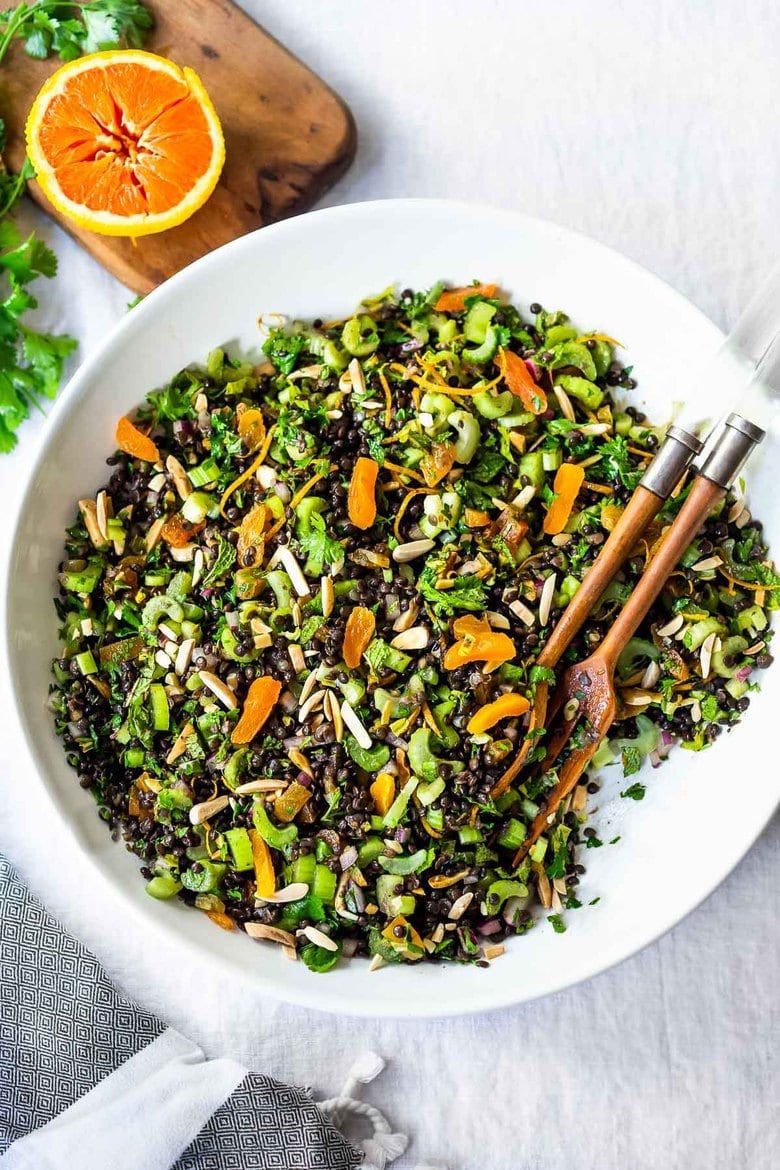 The BEST Lentil Salad infused with Moroccan Spices, this healthy vegan lentil salad can be made ahead and keeps for 4 days, perfect for making ahead for your potluck gathering!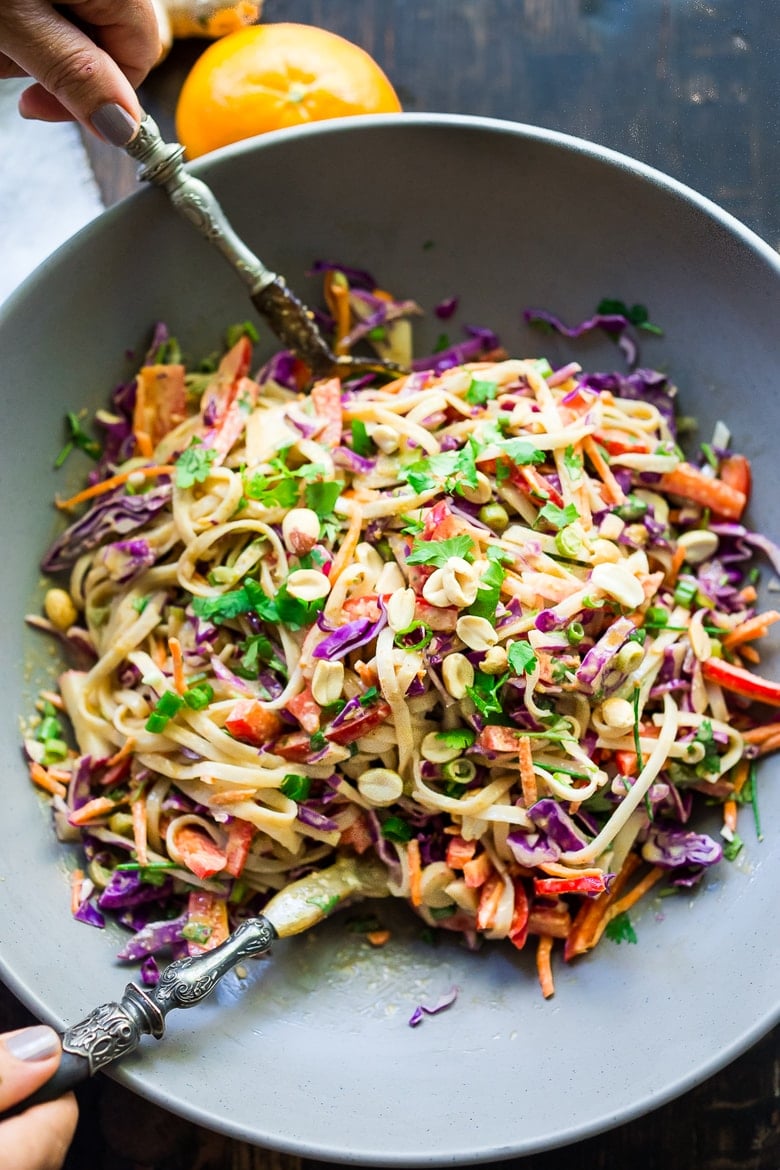 A potluck recipe favorite with adults and kids alike, Thai Noodle Salad with Peanut Sauce is loaded up with healthy veggies and the BEST Thai Peanut Sauce EVER! Vegan & Gluten-Free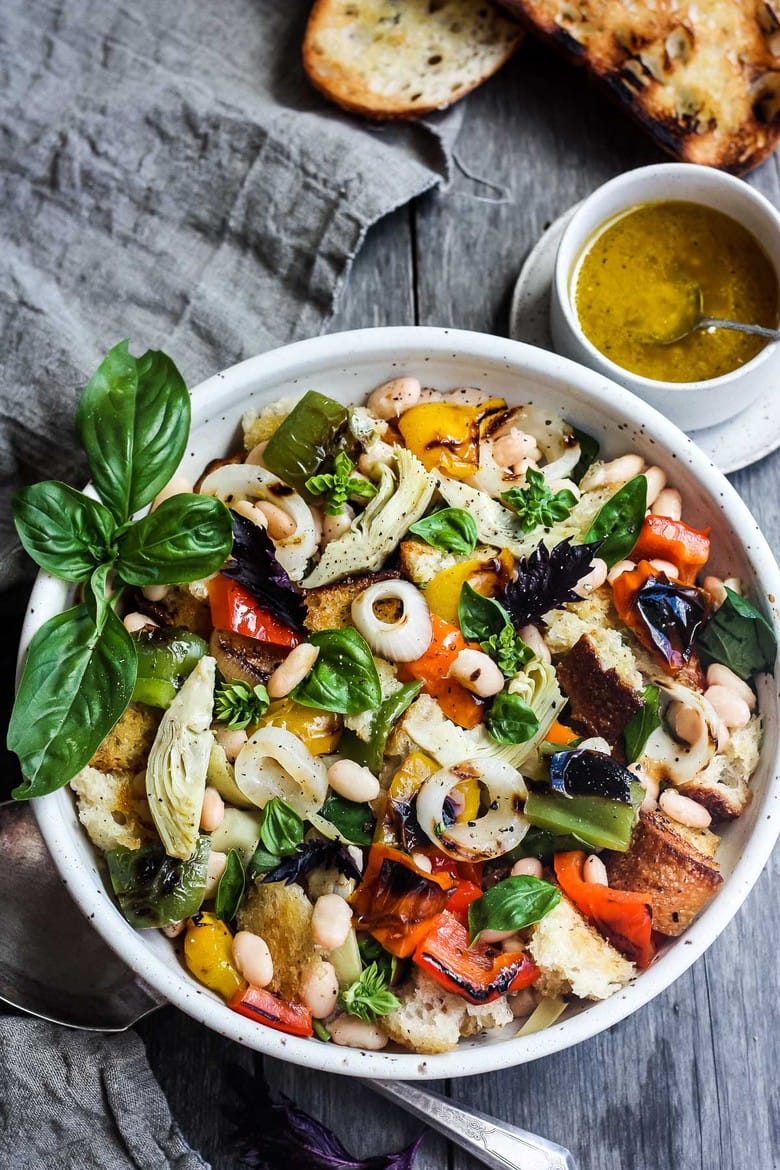 Delicious Grilled Panzanella Salad with colorful sweet bell peppers, artichoke hearts and white beans tossed in a flavorful white balsamic dressing.  Be prepared, everyone at the potluck is going to want the recipe for this one! (Vegan!)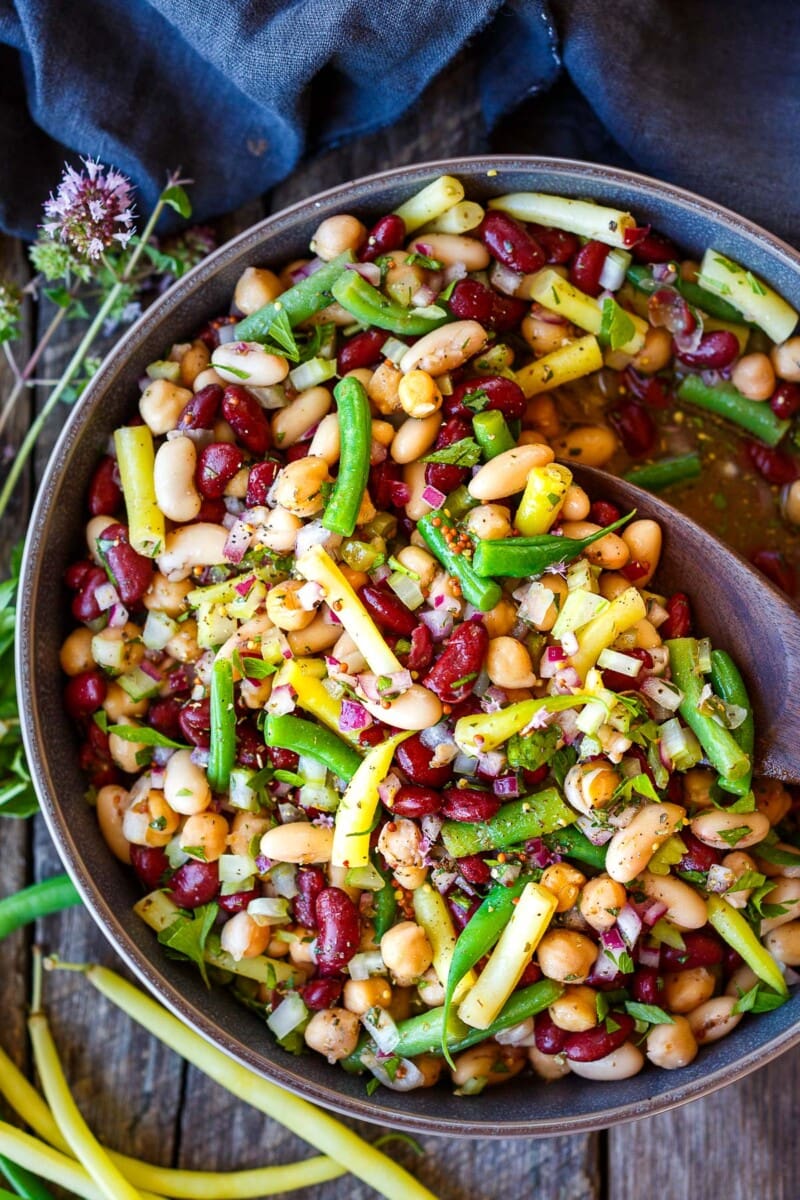 This classic Three Bean Salad recipe is full of tangy flavor, fiber and lots of plant protein! An easy make-ahead side dish for picnics, potlucks, and BBQs. Vegan and Gluten-Free.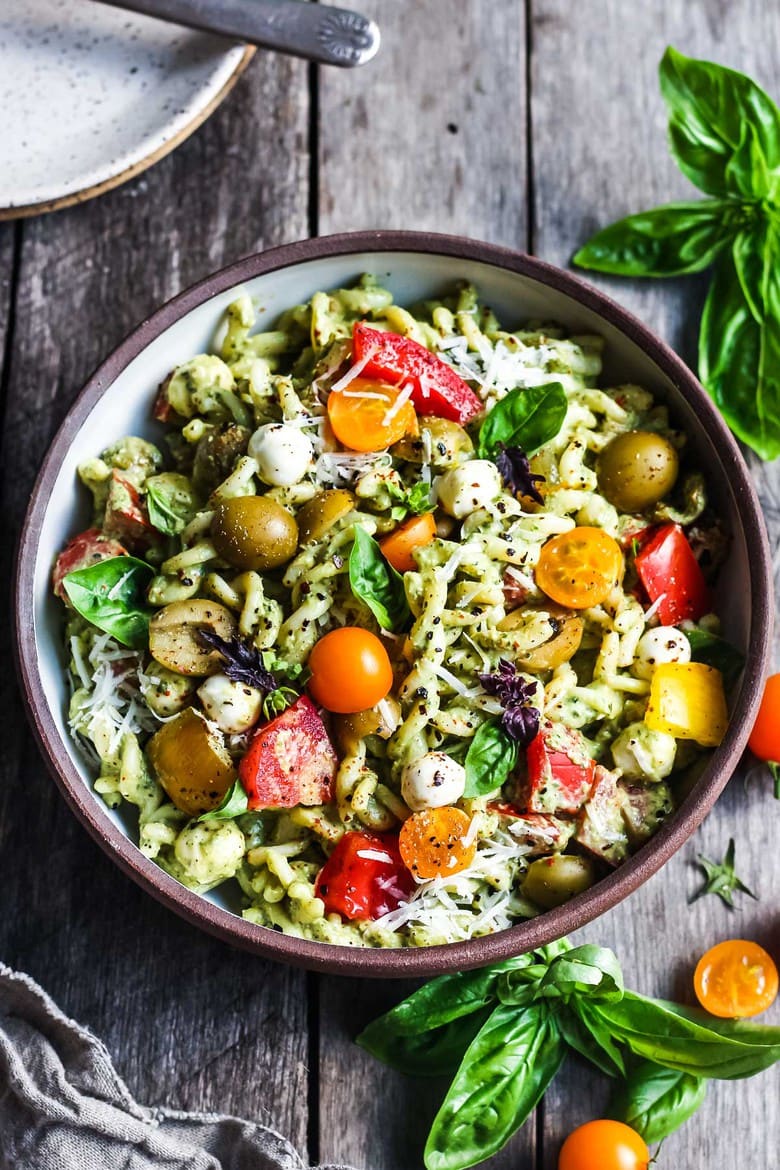 Pesto Pasta Salad w/ cherry tomatoes, baby mozzarella, olives & fresh basil tossed in a Creamy Pesto Dressing. A classic potluck recipe favorite! Vegan and gluten-free adaptable.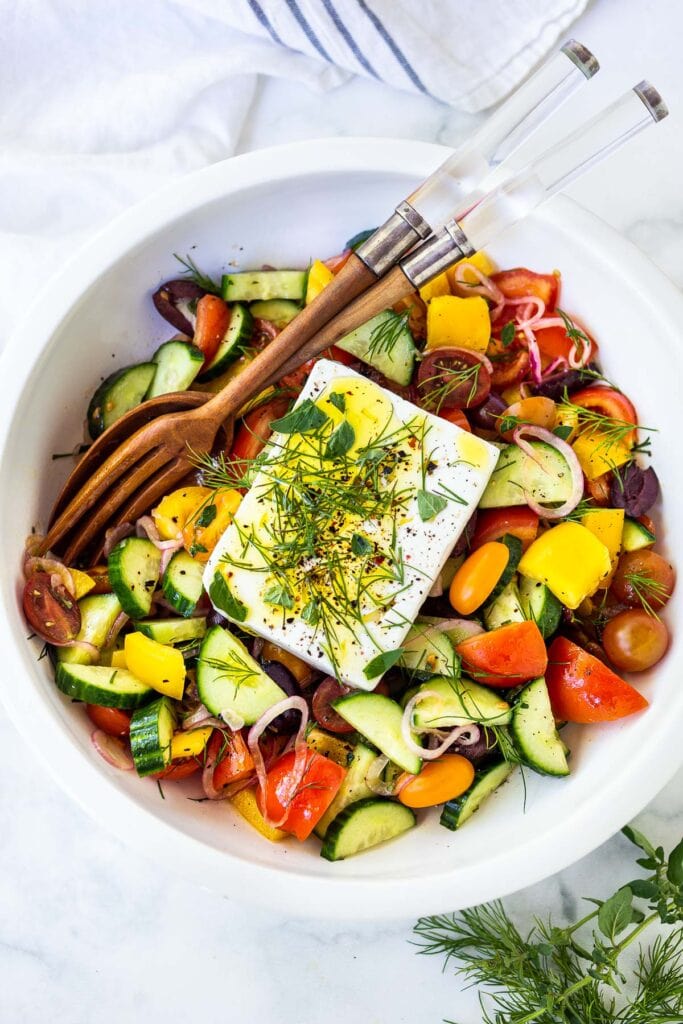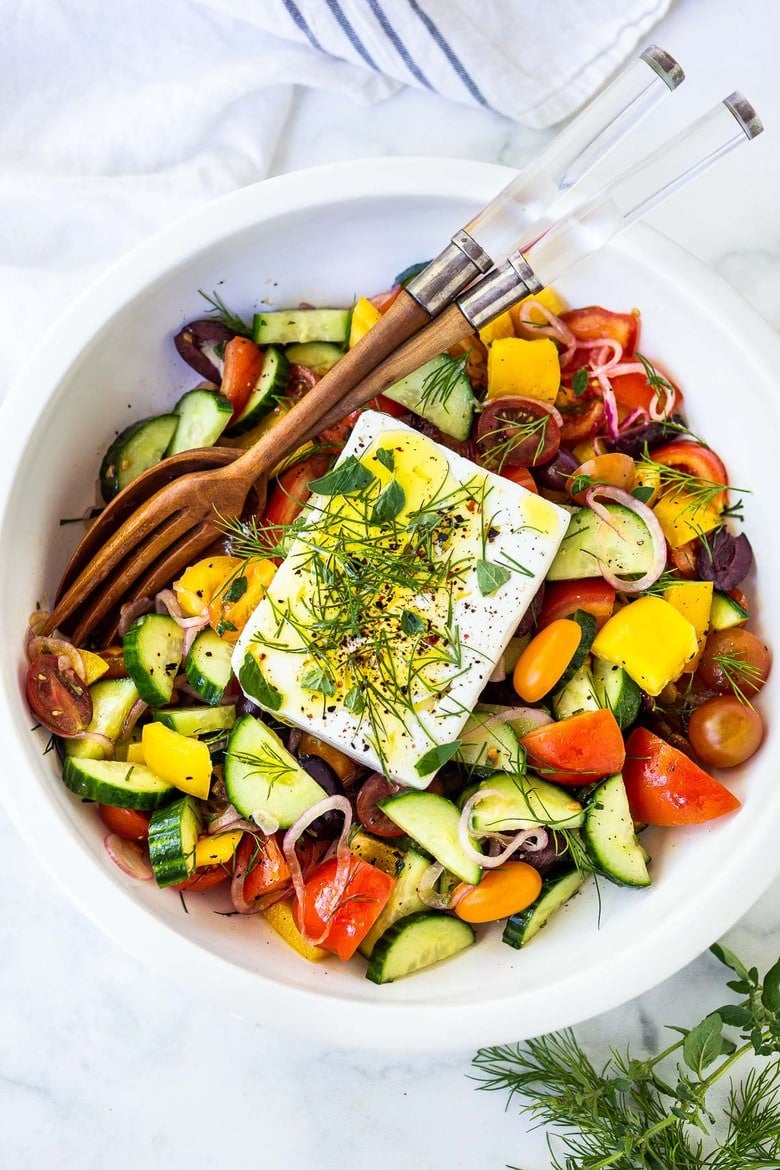 An easy potluck recipe, this classic Greek Salad is bursting with summertime flavor! Made with vine-ripened tomatoes, cucumbers, bell pepper, kalamata olives and sheep's milk feta, this salad highlights the best of summer produce and lets the vegetables shine!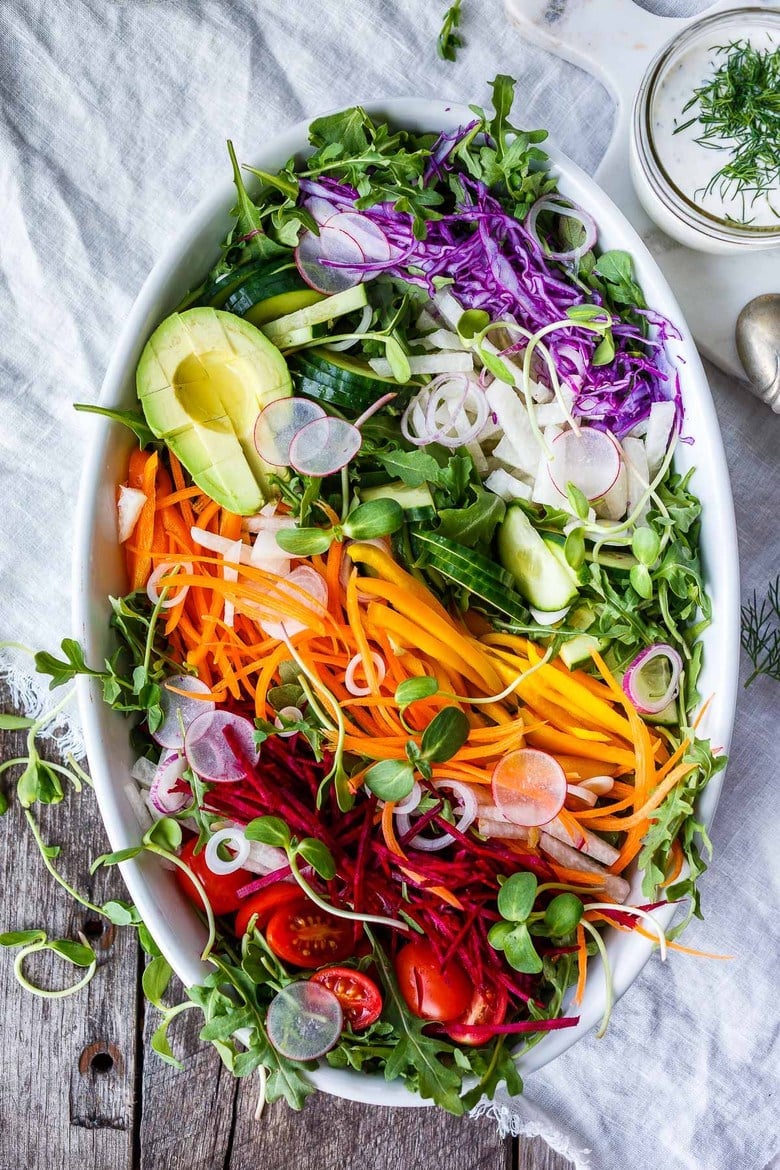 This beautiful Rainbow Salad is full of healthy seasonal veggies and can be made ahead.  A perfect potluck idea! Vegan adaptable!  Serve it with Herby hemp Dressing or Dilly Ranch Dressing. Vegan Adaptable!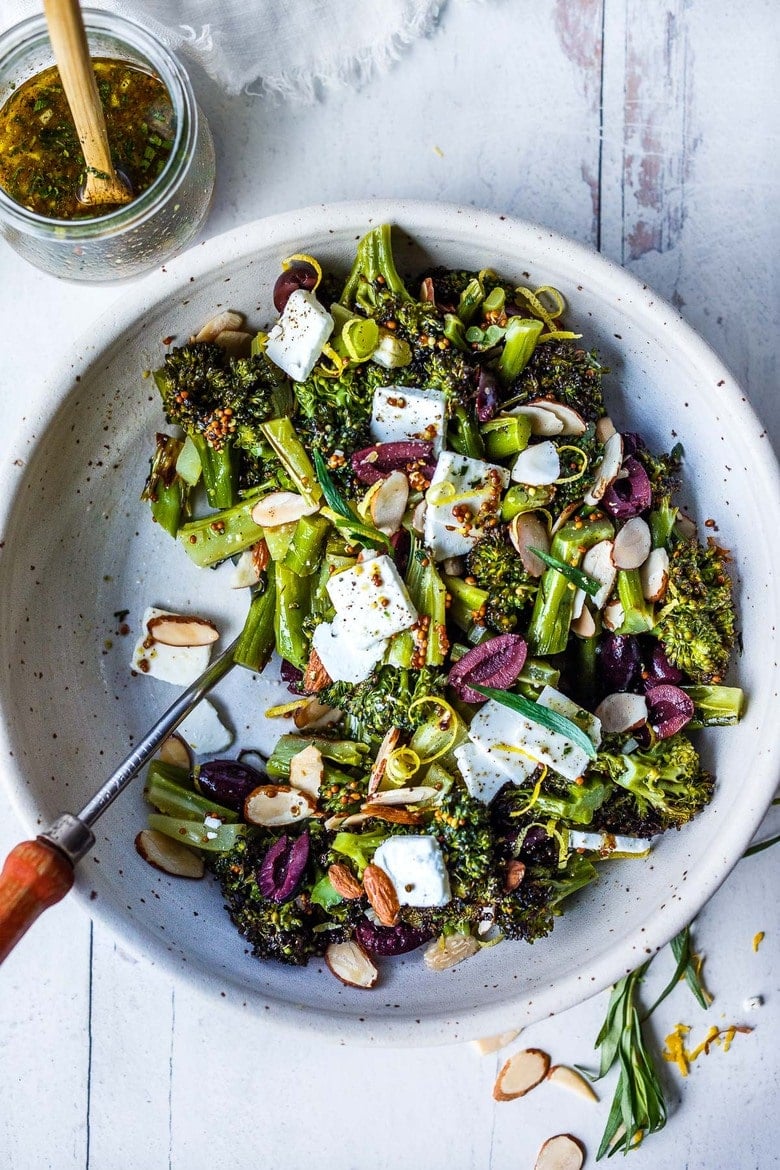 Easy Roasted Broccoli Salad with toasted almonds, kalamata olives, and lemon zest, drizzled with delicious Mustard Seed Maple Dressing, a perfect potluck recipe!  Amazingly simple, yet filled with so much vibrant flavor!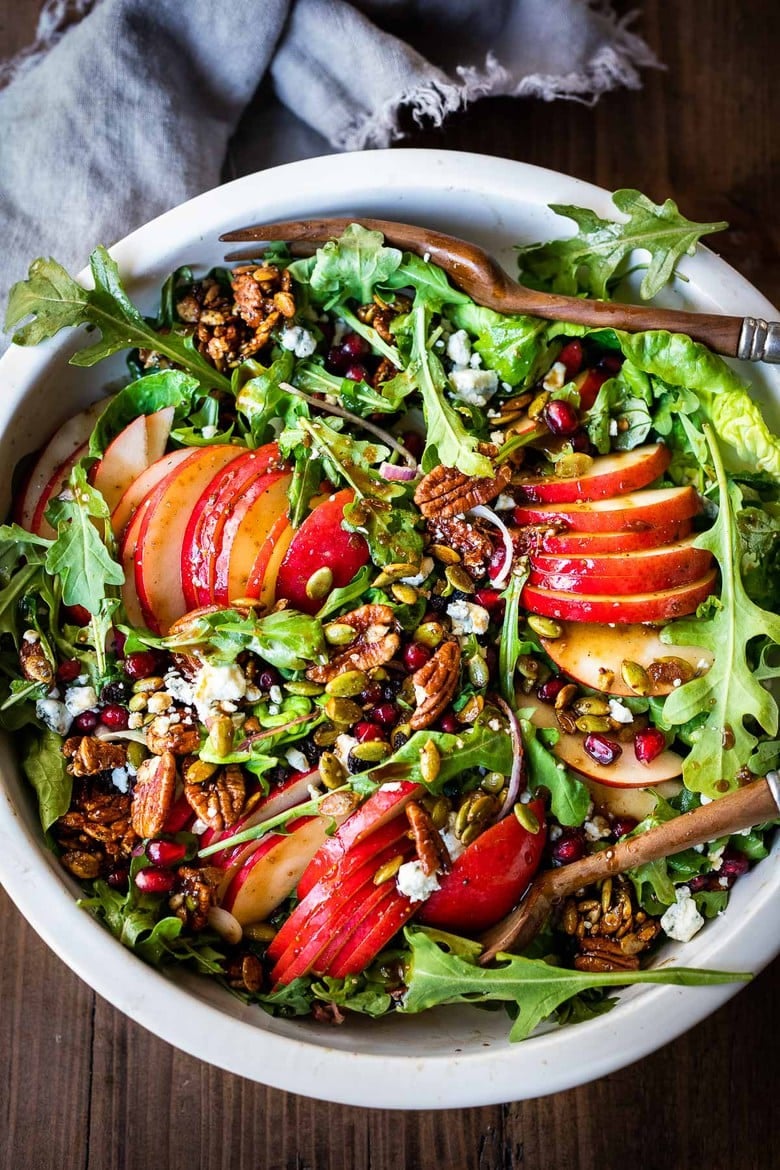 This Pear Salad is over the top potluck recipe perfection. Juicy ripe pears, arugula, spiced nuts, pomegranate seeds, dried currants and gorgonzola are all tossed in a flavorful Vanilla Fig Dressing to create the most delicious balance of flavors.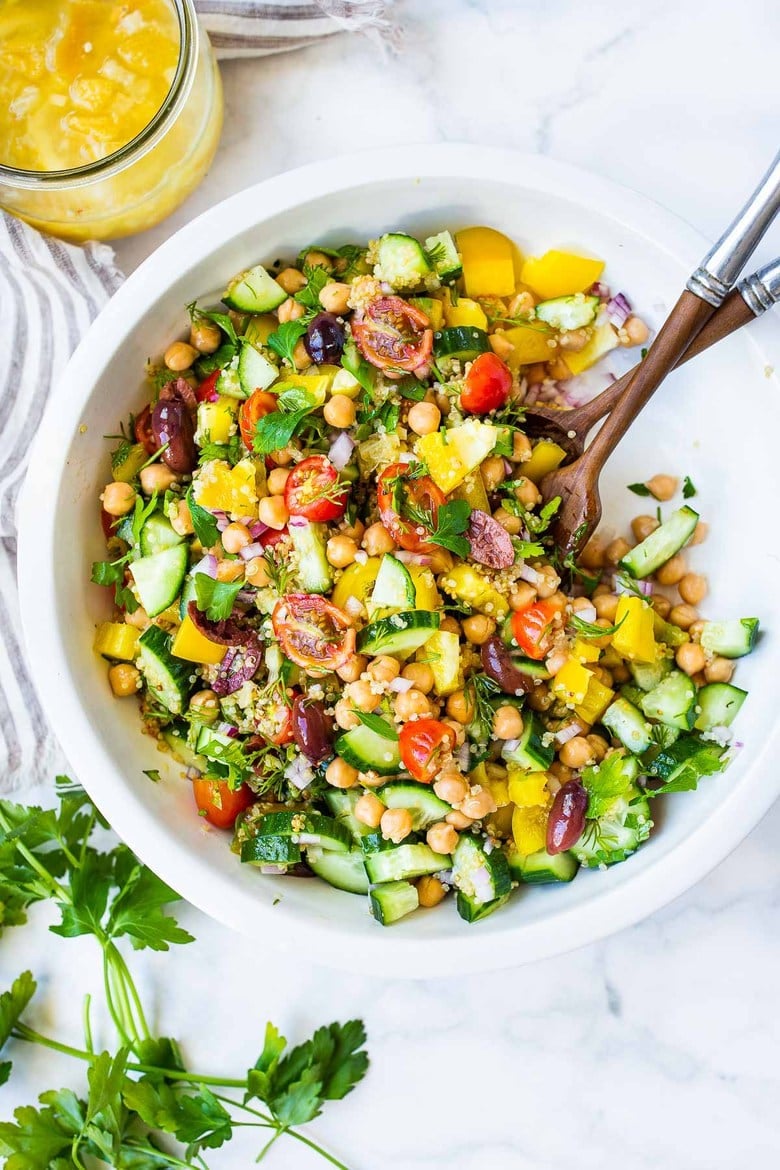 One of our most popular salads, this Lemony Chickpea Quinoa Salad with cucumber, tomato, dill, parsley and Preserved Lemon Dressing.  A delicious potluck idea!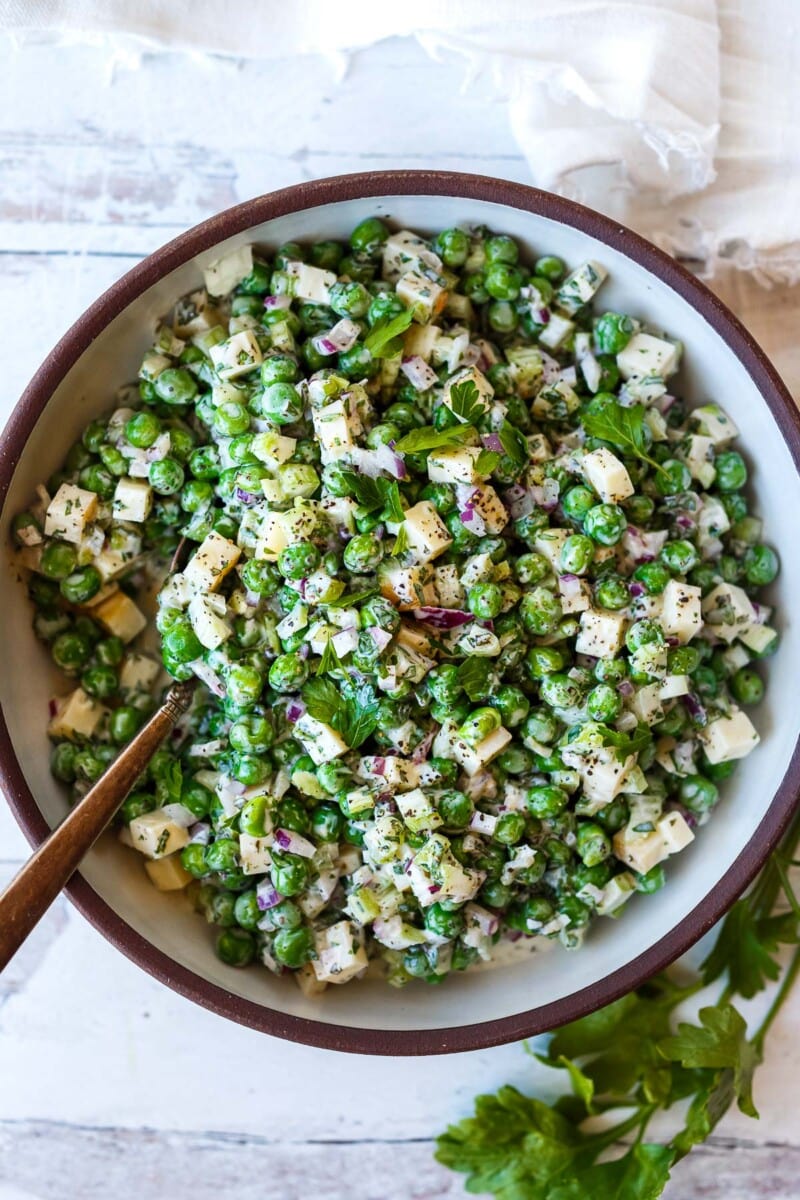 A healthy spruced-up version of classic Pea Salad tossed in a creamy Greek yogurt dressing with lots of fresh herbs and smoked cheese. Tangy, delicious, and made in one bowl in about 20 minutes! Vegetarian, GF, Vegan-adaptable!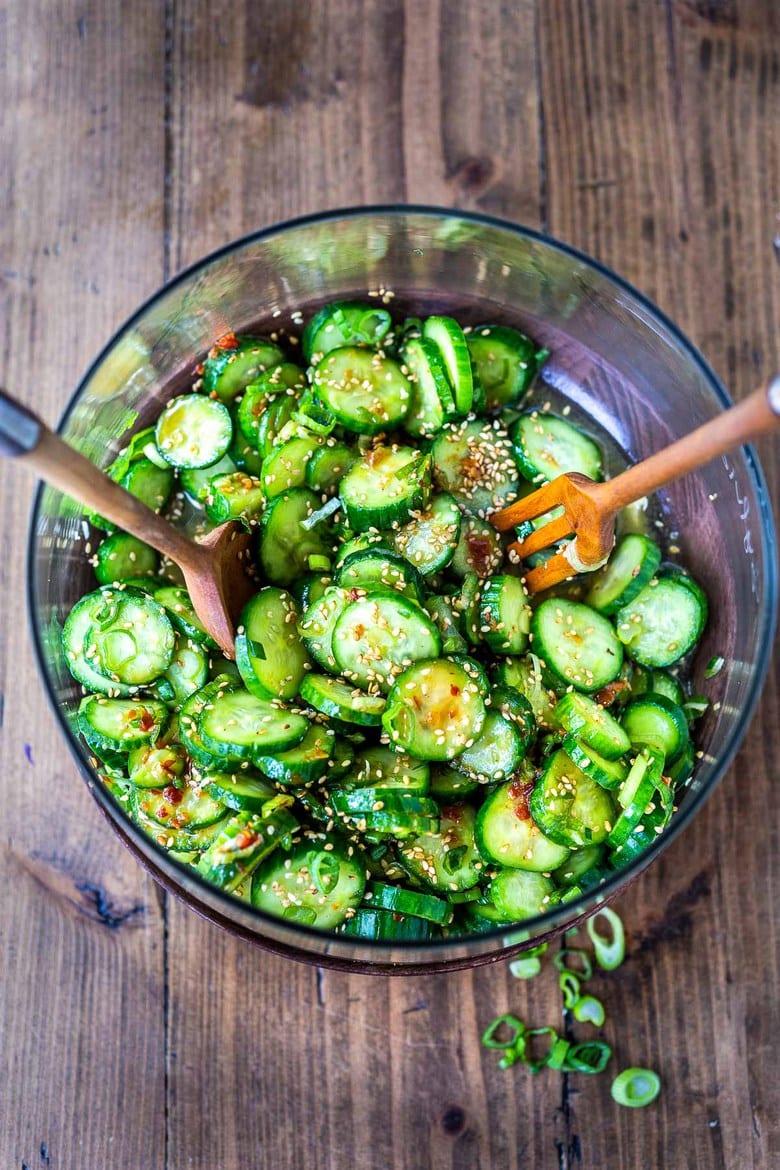 Asian Cucumber Salad is made with rice vinegar, sesame, ginger, garlic and soy, cool and refreshing and pairs well with many things. It's vegan and gluten-free!  This comes together fast for a sure potluck recipe pleaser!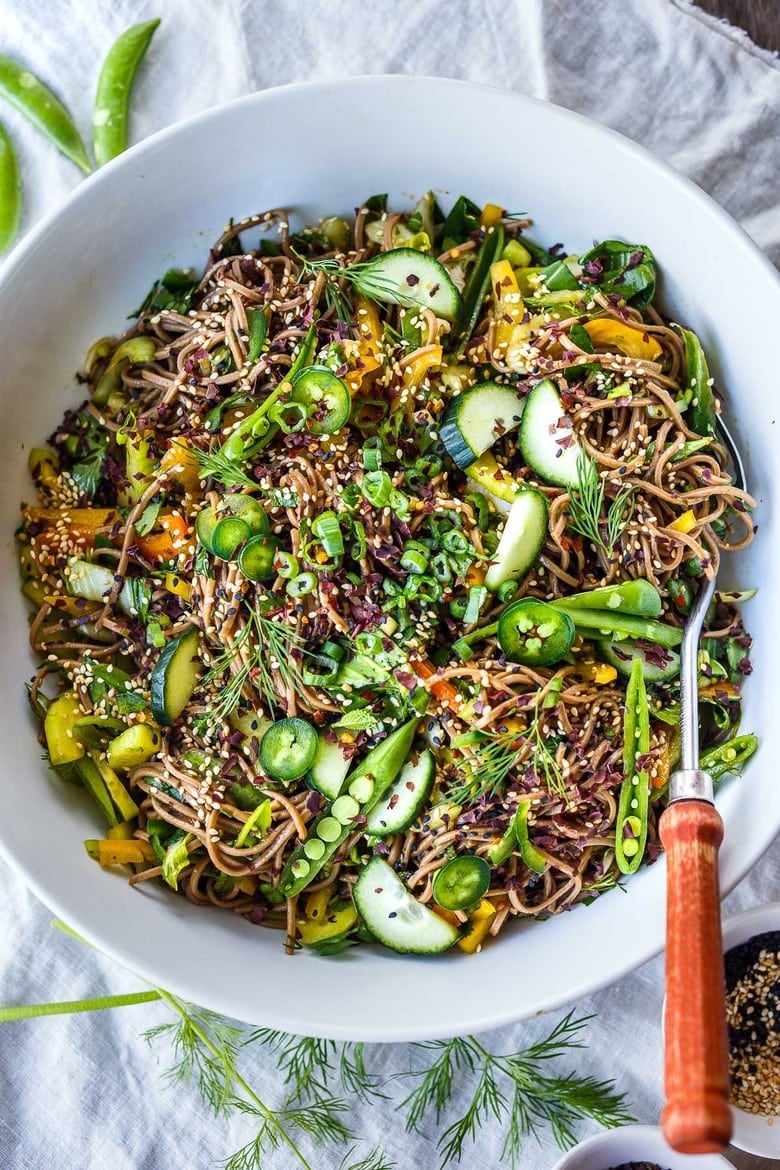 A simple recipe for Soba Noodle Salad, loaded with veggies, that is adaptable and vegan!  For a protein boost, top with savory baked tofu, smoked salmon, grilled chicken.  A potluck idea favorite- we love our noodles!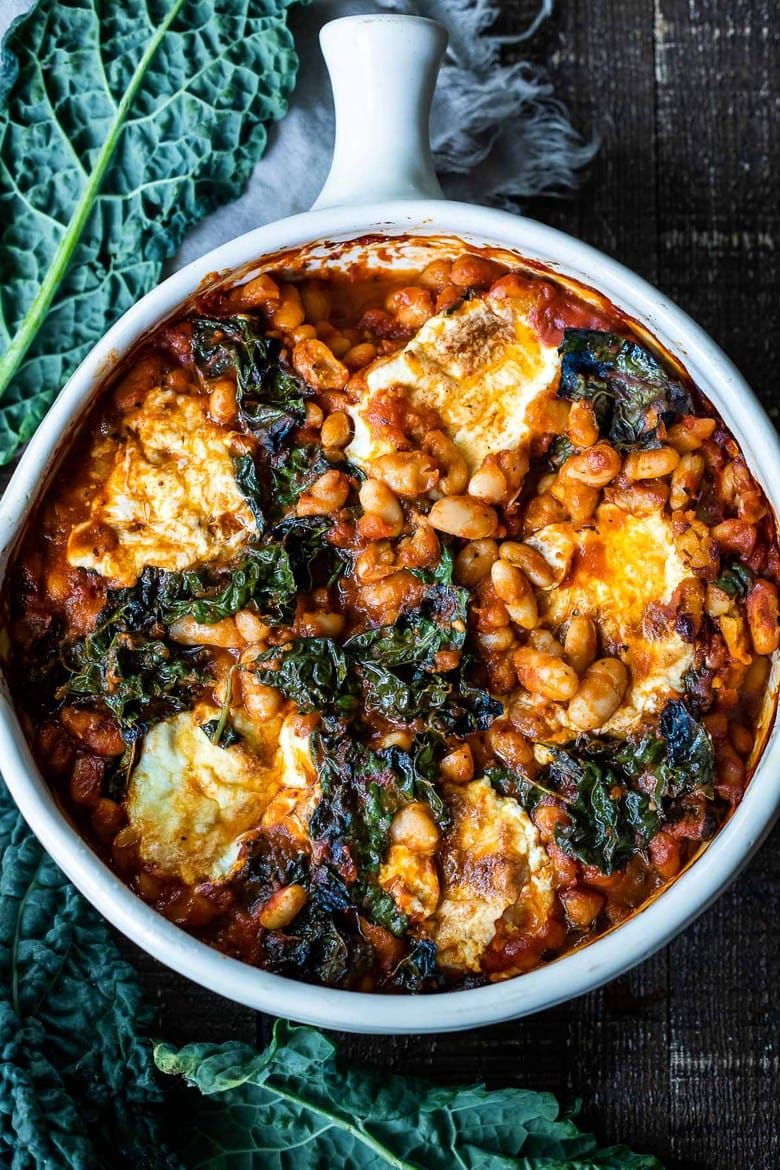 A simple recipe for Italian Baked Beans, made with cannellini beans, kale, and your favorite homemade (or store-bought) Marinara sauce, and baked in the oven until golden and bubbling. A delicious vegetarian main dish and a perfect potluck recipe!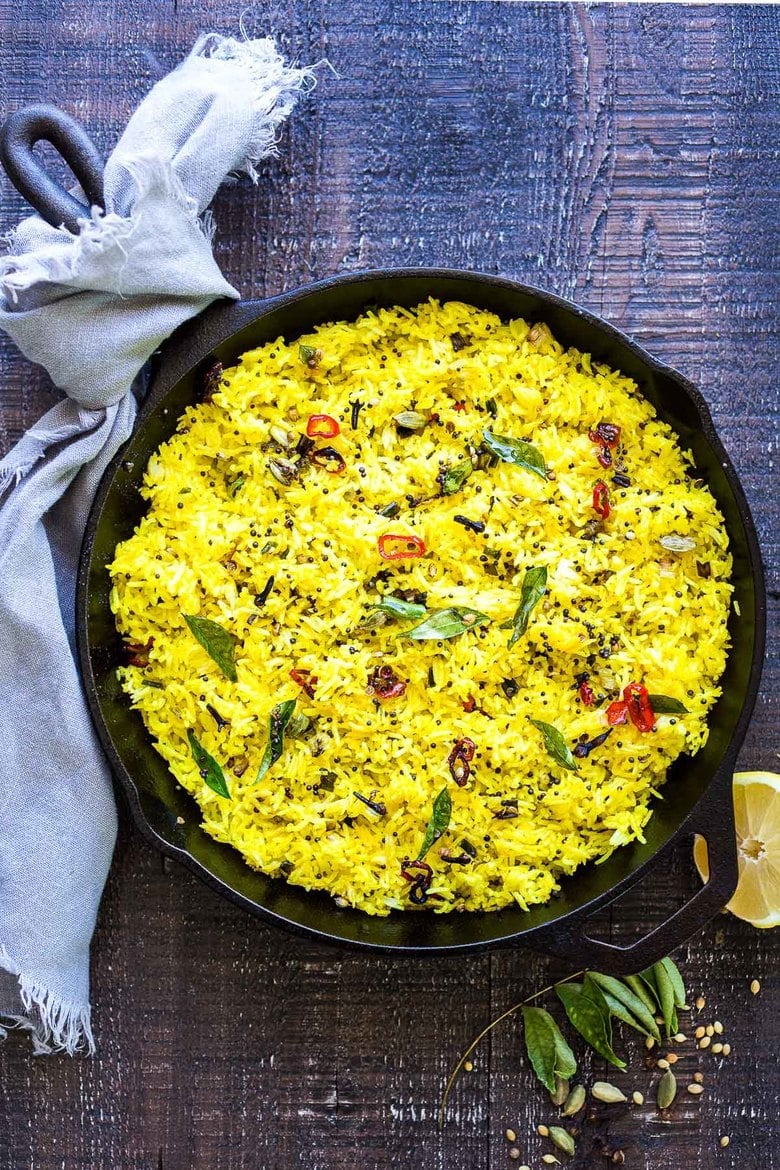 How to make Indian Lemon rice. Infused with Indian spices, this fragrant rice dish is the perfect side to your Indian meals.  This color alone makes the potluck table happy!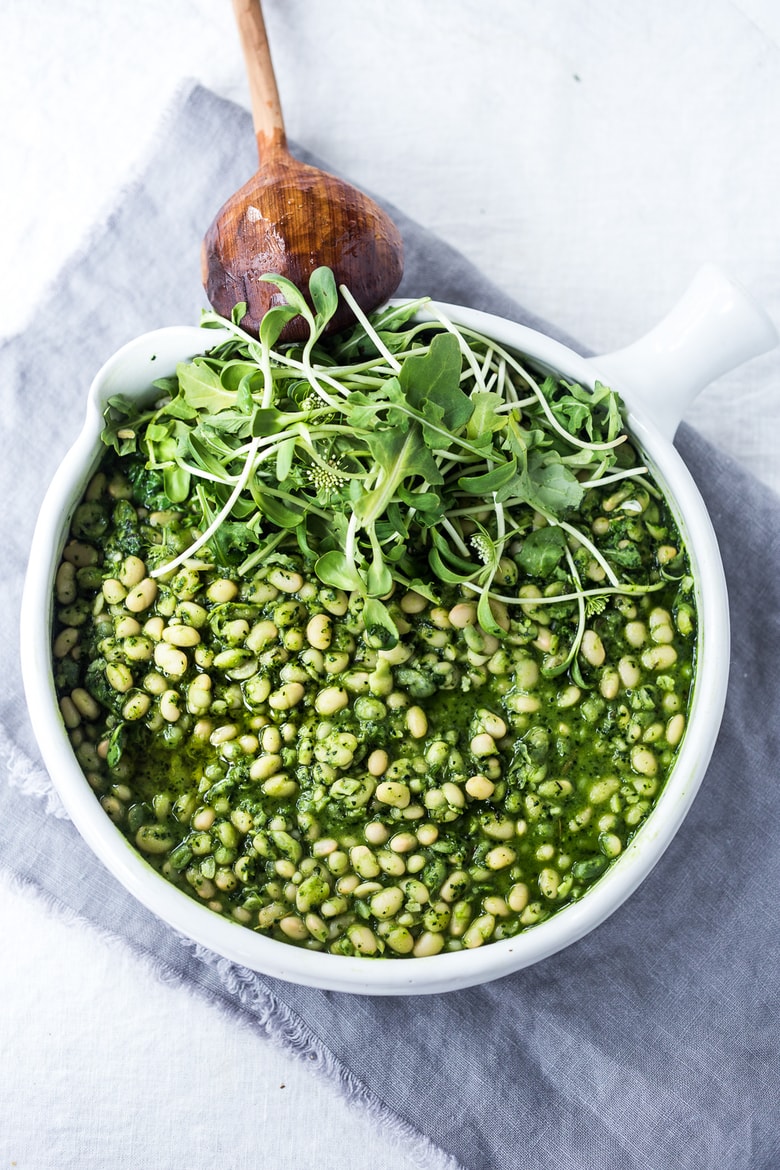 Cassoulet Vert – a modernized White Bean Stew with Lemony Kale Pesto that is meat-free and that can be made in an Instant Pot! Fast, healthy delicious and a worthy potluck idea!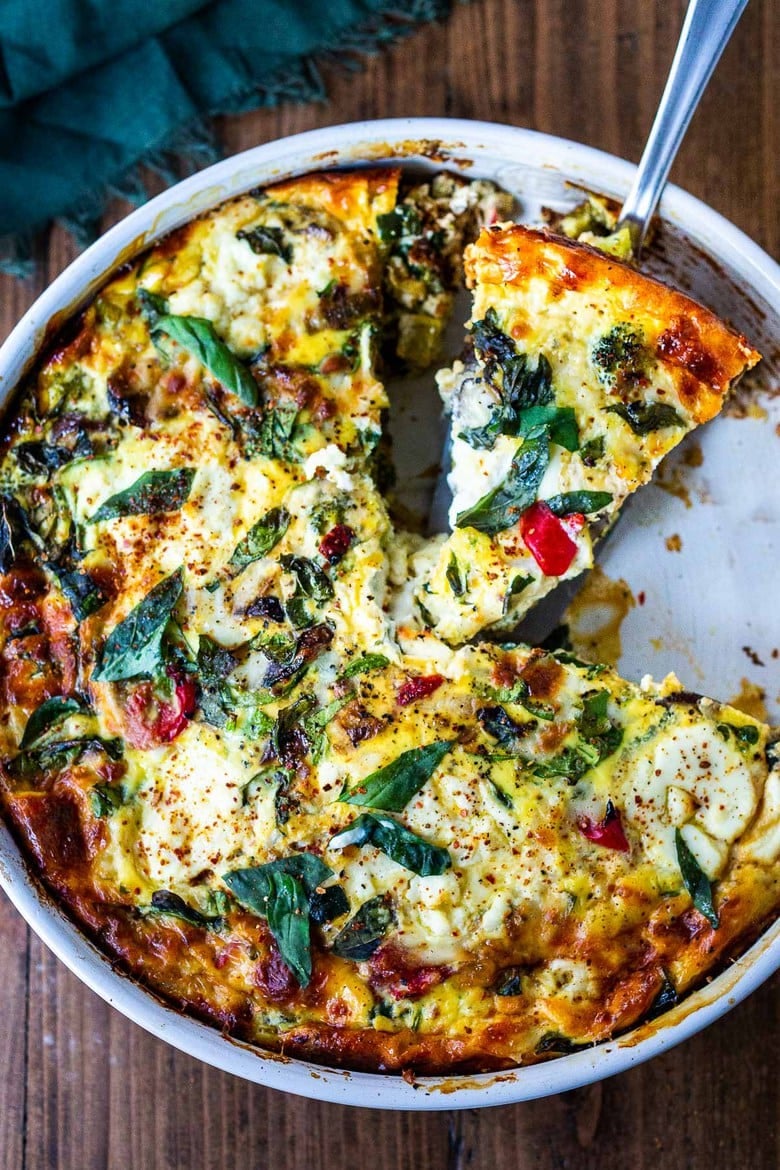 This delicious Frittata is full of healthy vegetables, baked in the oven, versatile, easy to make and delicious warm or served at room temperature.  Make it ahead, take it to your potluck and watch it disappear!

A simple, flavorful no-boil, Mushroom Baked Ziti with Spinach and Ricotta ( or sub tofu ricotta) that can be made in one pan and requires no pre-boiling of pasta.  A perfect family potluck idea, kids love this one!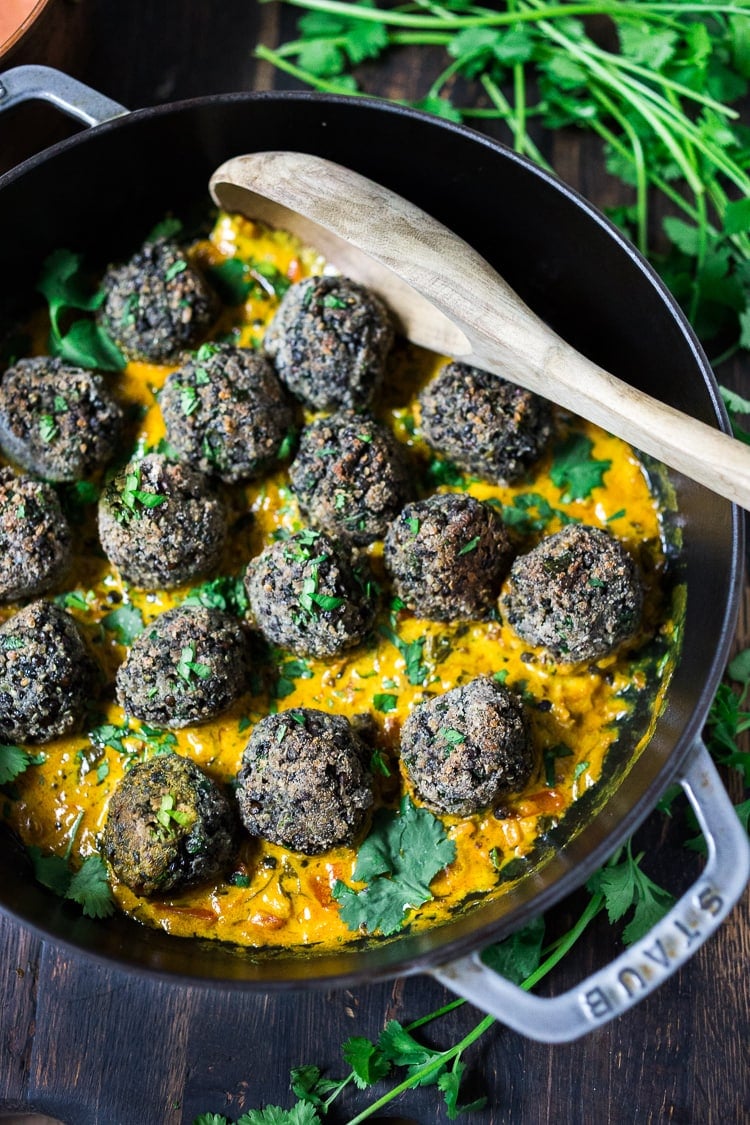 Vegan Lentil Meatballs with Coconut Curry Sauce- a delicious healthy meal infused with fragrant Indian spices. Meatballs are always a potluck hit, these will make your veggie friends very happy!  Vegan and Gluten Free!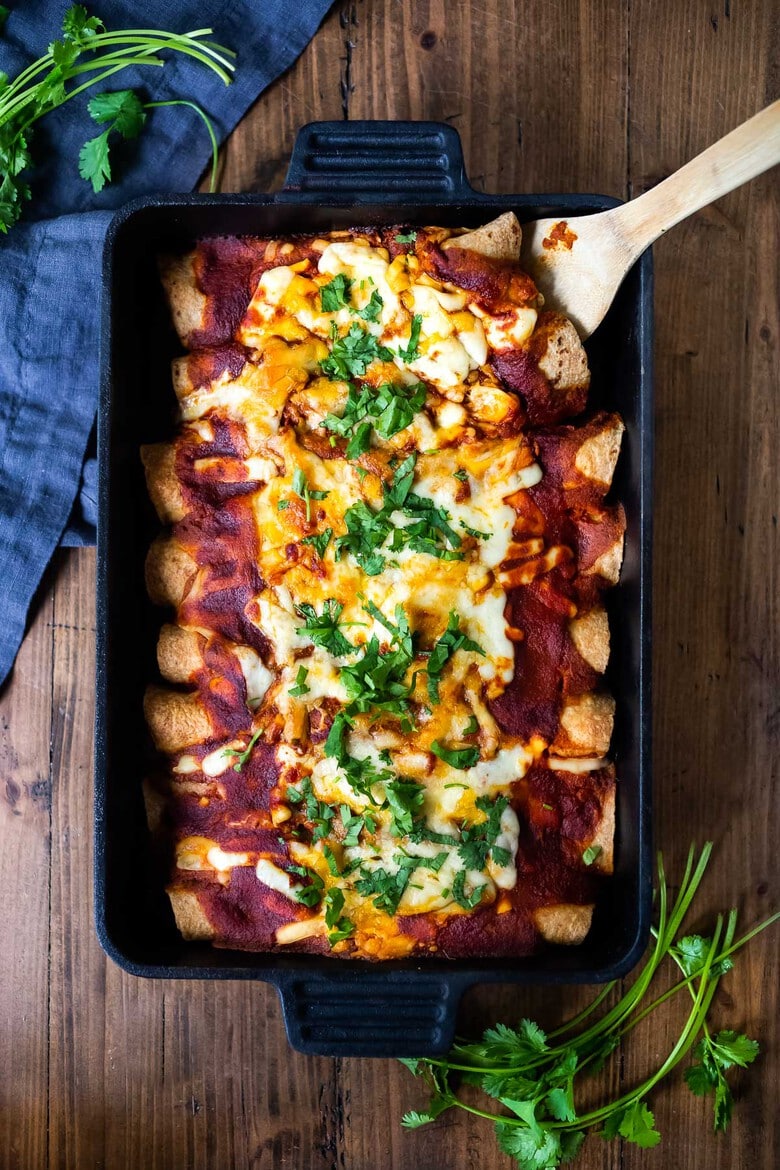 Simple Vegetarian Enchiladas– with black beans and your choice of veggies (like red bell pepper, zucchini and corn)and Homemade 5 Minute Enchilada Sauce! Easy, Healthy and full of delicious Mexican Flavor- a potluck recipe favorite! Vegan and Gluten-free adaptable!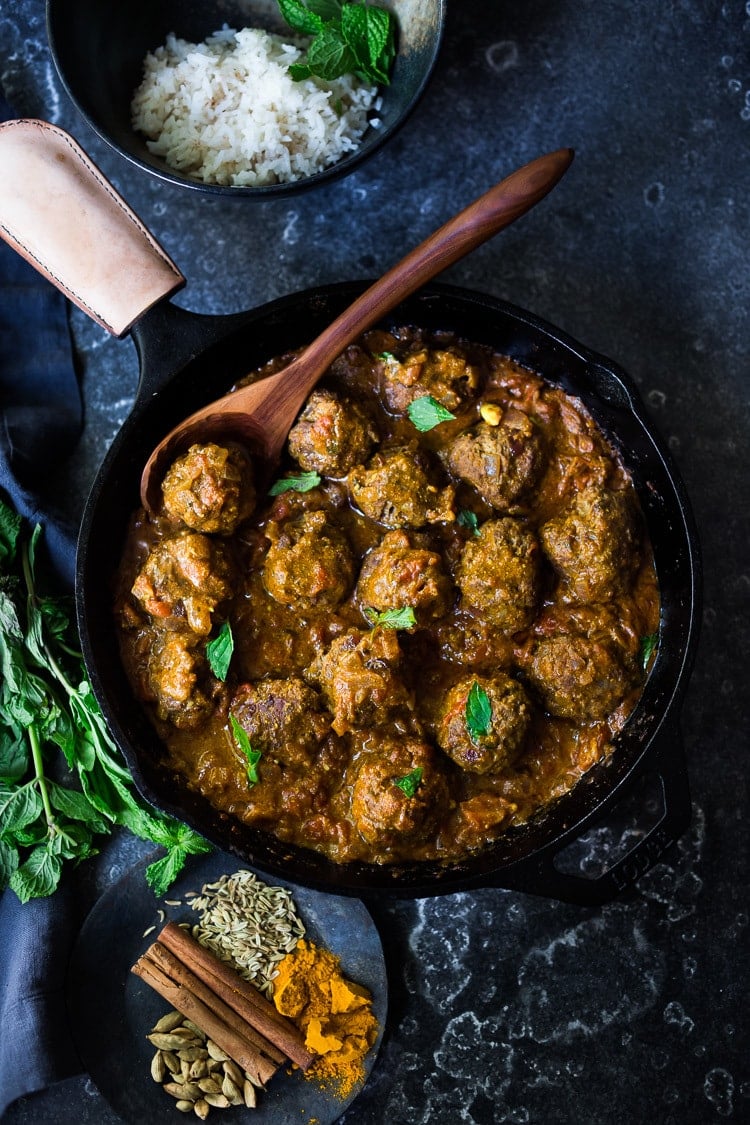 Lamb Meatballs with Indian Curry Sauce- a simple easy potluck recipe! Gluten-free, keto and Paleo!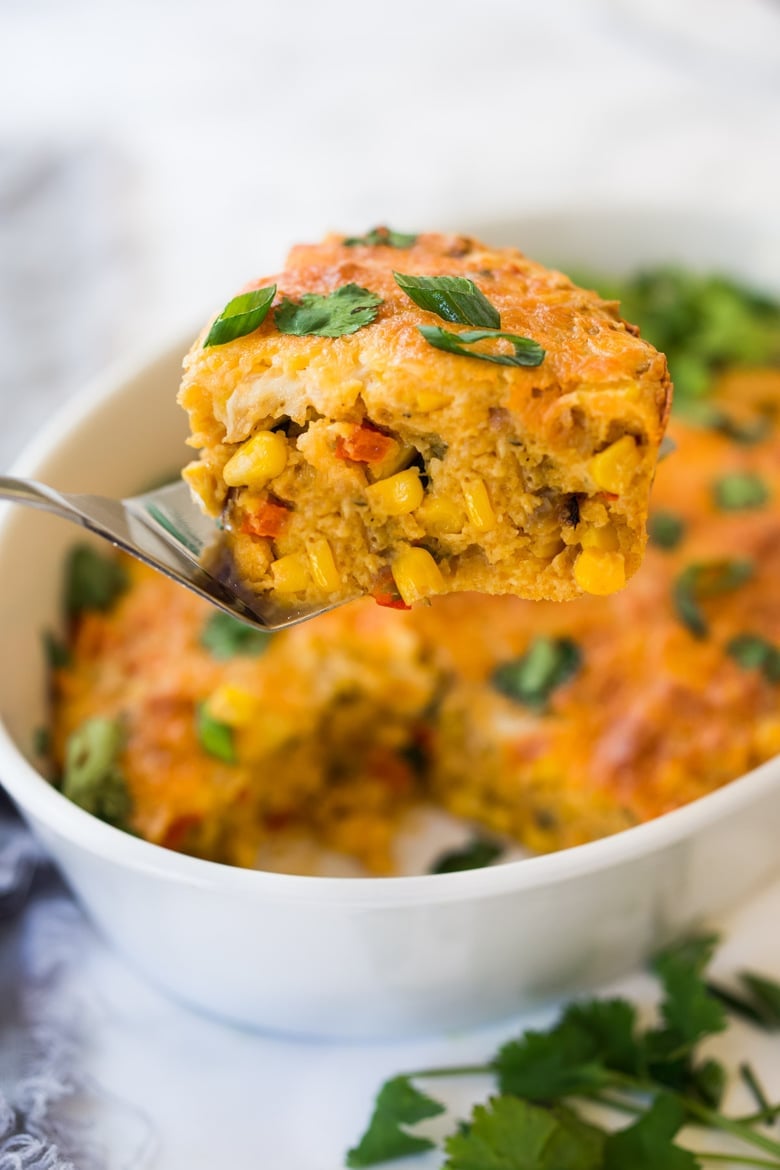 Cornbread Casserole-a potluck recipe must! Seasoned with Mexican spices and filled with healthy veggies and cheddar cheese, this easy corn casserole can be put together in just 20 minutes before baking in the oven.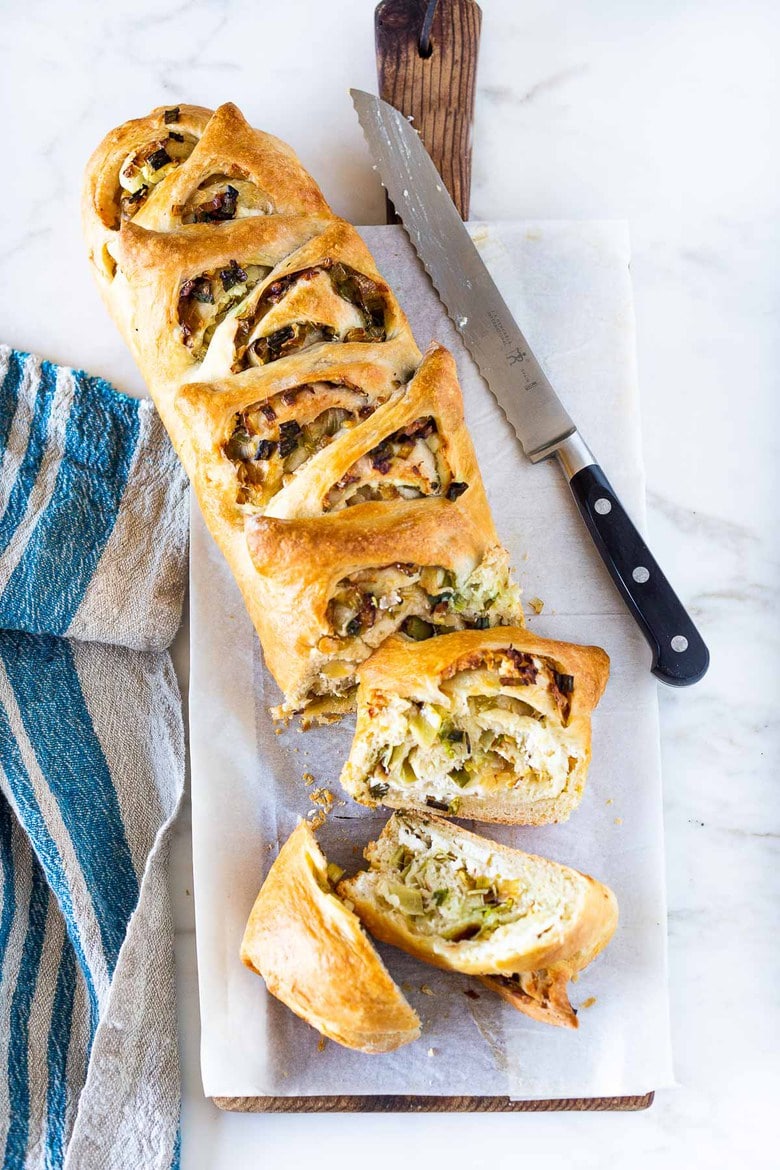 A simple delicious recipe for Leek Bread!  Perfect for potluck sharing, it will vanish before your eyes!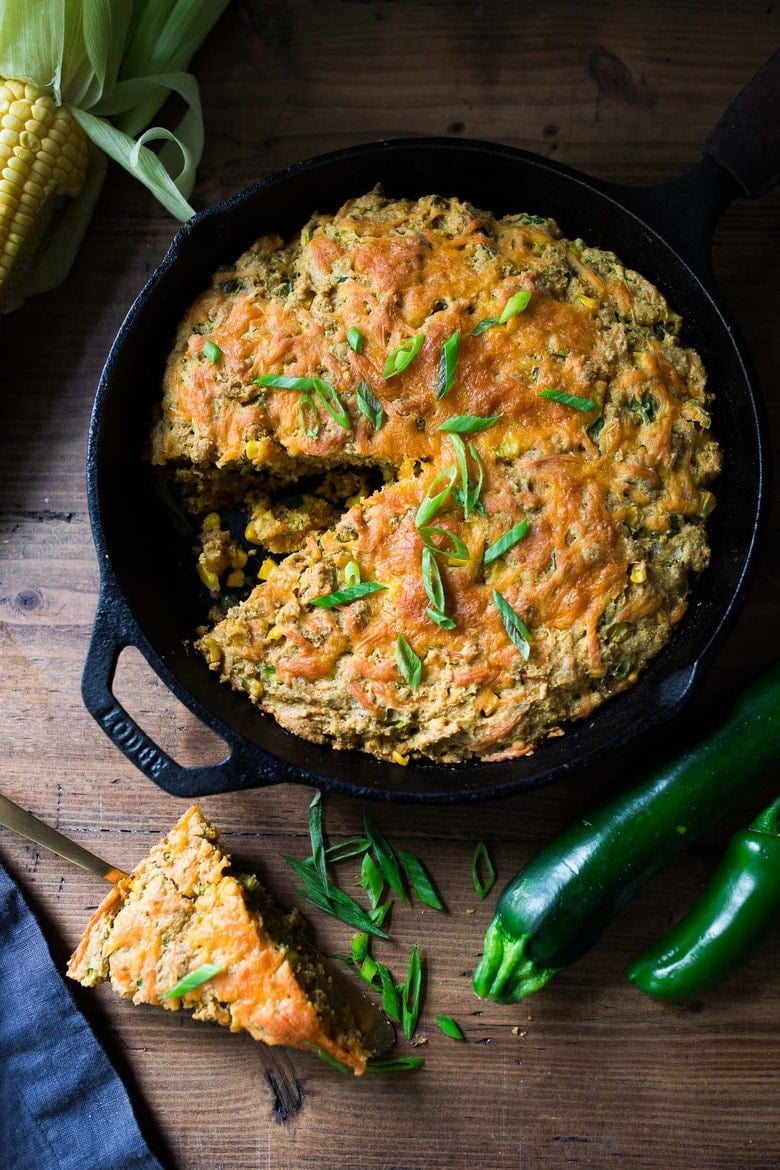 Zucchini Cornbread! A savory zucchini bread infused with Mexican spices, cornmeal, fresh corn and sharp cheddar cheese, baked in a skillet.  Familiar cozy flavors make this a huge potluck hit!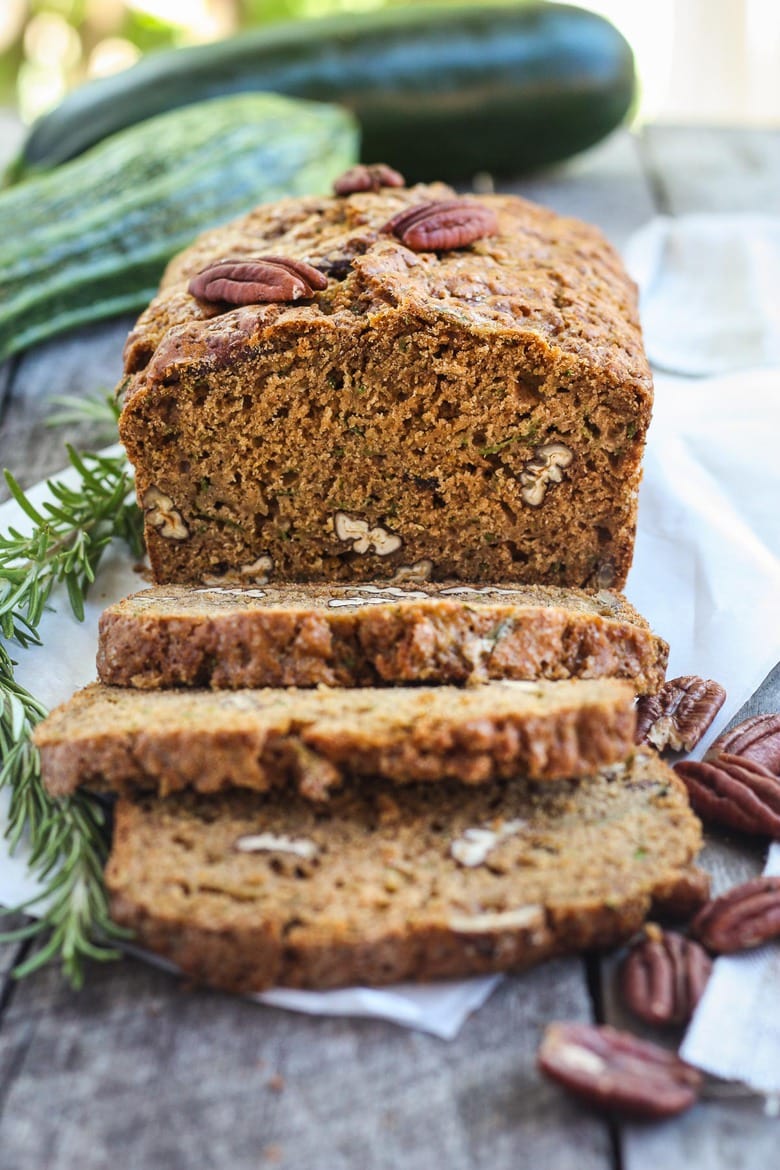 This healthy wholesome Zucchini Bread is tender and full of flavor.  Made with whole wheat pastry flour and coconut sugar with a touch of orange and rosemary, packing a whole pound of zucchini in one loaf!  Try this potluck recipe and watch it disappear!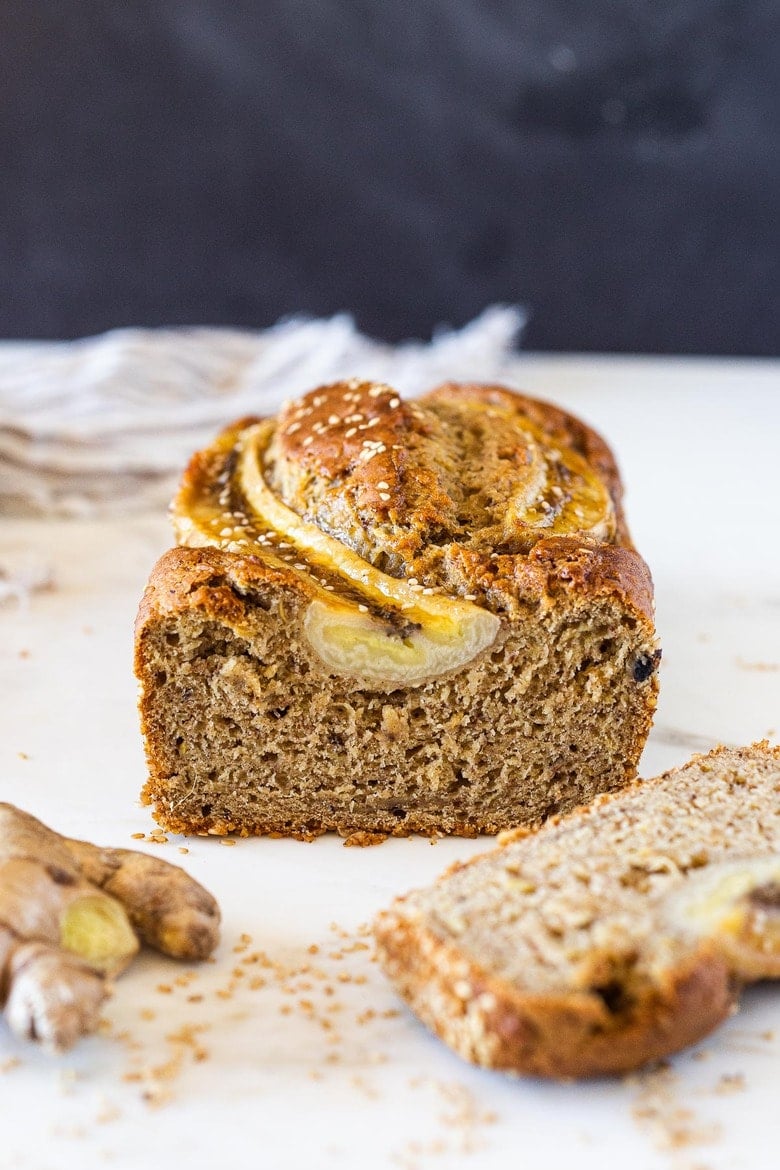 This Vegan Banana Bread is not only healthy, it's made with sourdough starter or discard! Infused with ginger and sesame it is full of amazing flavor!  A simple potluck recipe to share.  This is so yummy you may need to make two!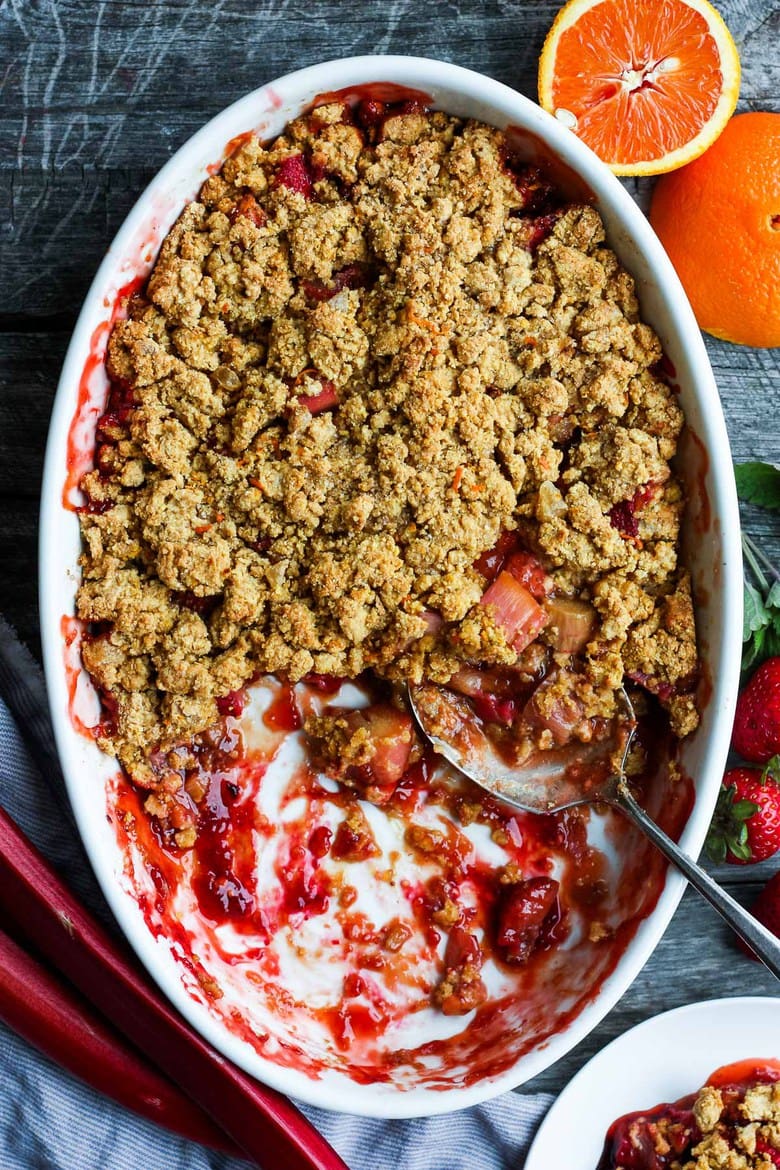 A scrumptious Strawberry Rhubarb Cobbler is infused with ginger and orange zest and topped with a golden corn flour crust.  Definitely potluck worthy!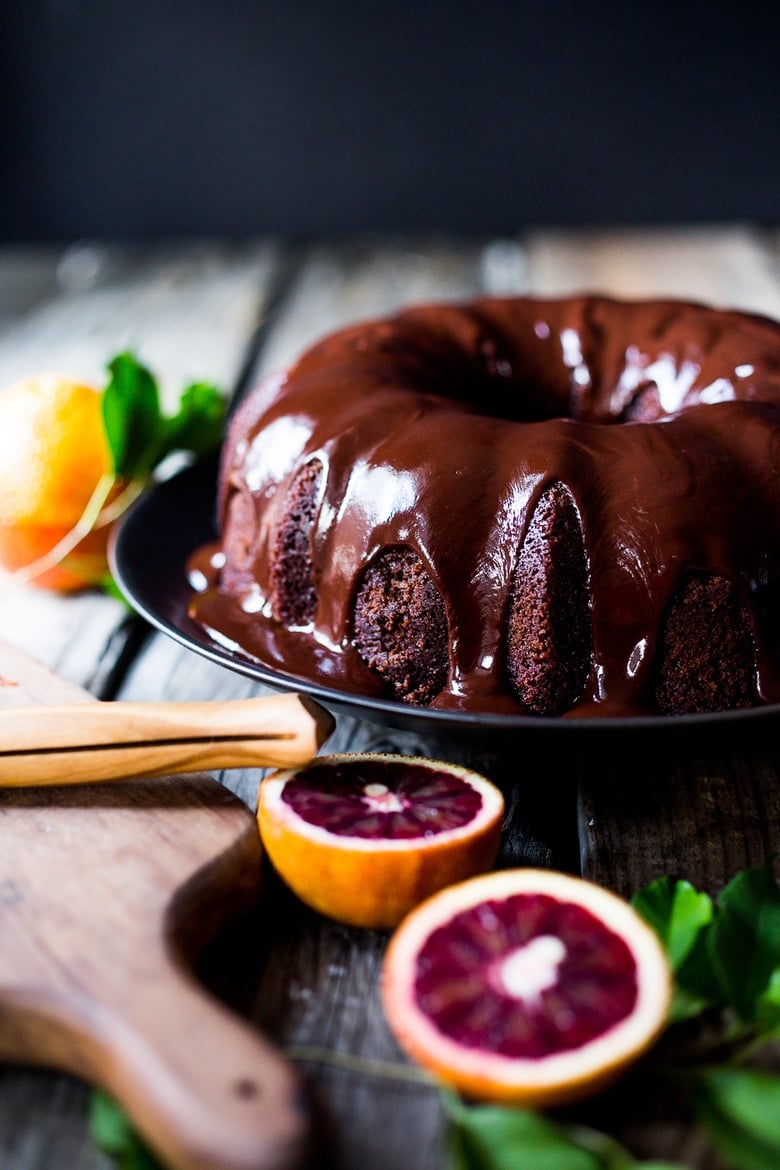 Dark Chocolate Bundt Cake with Blood Oranges and a Chocolate Ganache icing. Simple, moist, flavorful and absolutely scrumptious!  You will be the hero of the potluck with this one!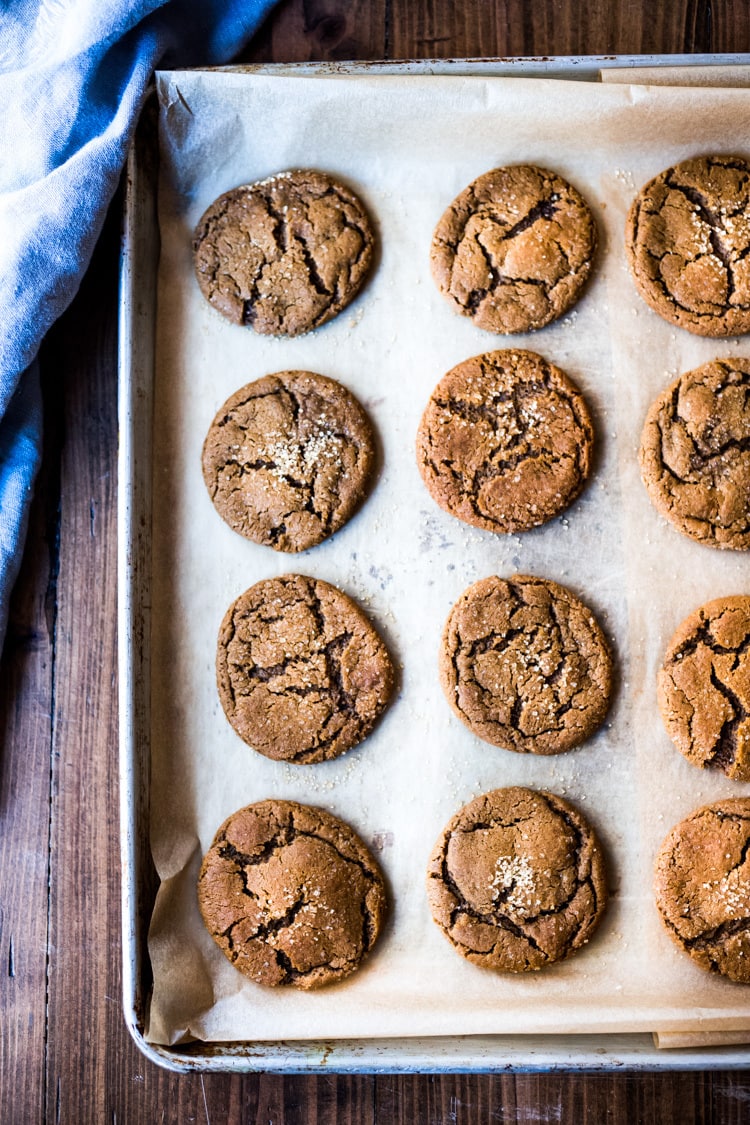 Spicy Chai Molasses Cookies are soft and chewy on the inside and crispy on the edges. Seasoned with chai spices, these take old-fashioned Molasses Cookies to whole other level!  A perfect potluck idea for a delicious treat!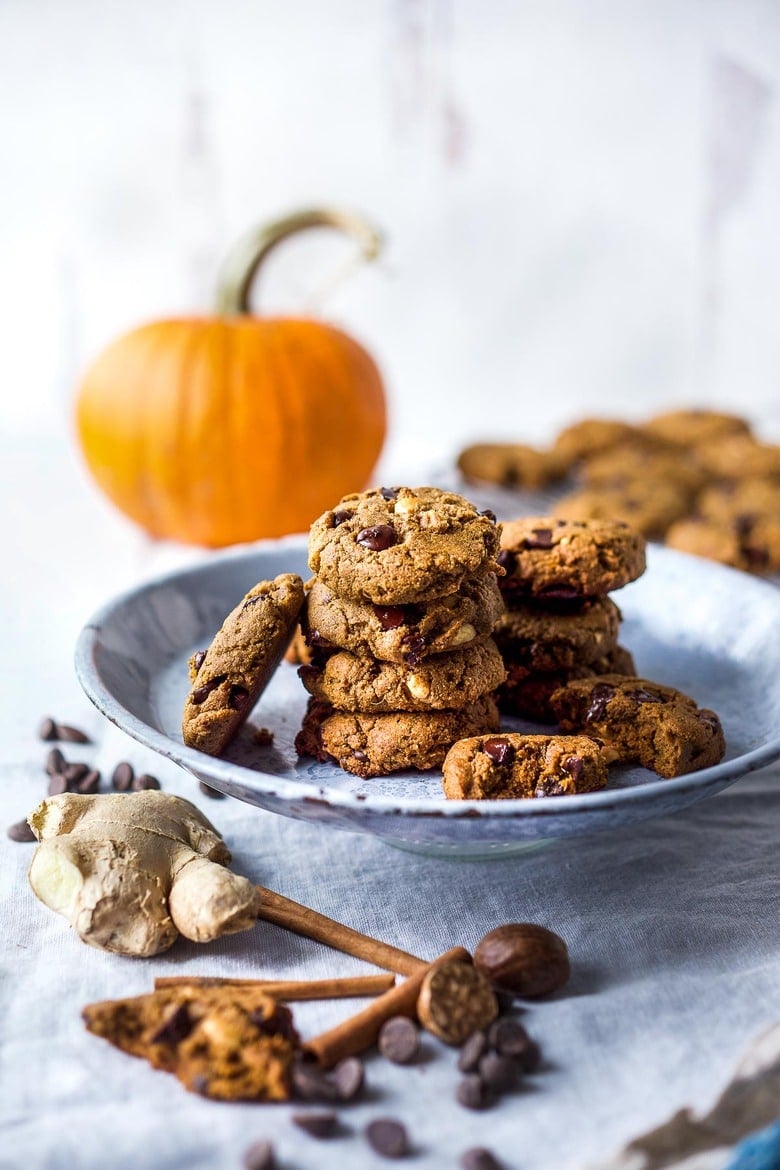 One-bowl Vegan Pumpkin Cookies with hazelnuts and chocolate chips are lightly sweetened with coconut sugar and accented with fresh ginger.  These cookies are healthy, delicious, gluten-free and can be made in 30 minutes!  Serious crowd-pleasers, take these to the potluck and make new friends!
The thing we love about potlucks is that they offer the perfect way to take the pressure off of hosting.  It becomes even more special as we all contribute to make a beautiful feast and enjoy good company!  We hope you enjoy these dishes for Potluck Ideas!
We'd love to hear some of your favorite dishes to share with others!
More Potluck Ideas you might enjoy!
Print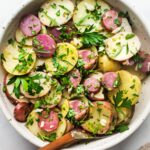 35+ Best Potluck Ideas!
Author:

Tonia | Feasting at Home

Prep Time:

20

Cook Time:

15

Total Time:

35 minutes

Yield:

6

-8

1

x

Category:

potluck ideas

Method:

stovetop

Cuisine:

American

Diet:

Vegan
---
Description
35 Best Potluck Ideas! Easy, packable, and full of flavor- many can be made ahead or prepared in minutes: French Potato Salad.
---
2

pounds

fresh potatoes, sliced 1/4-inch thick (little, thin-skinned potatoes work best here)

2 tablespoons

of sea salt

2

large garlic cloves
Dijon Vinaigrette:
Fresh Herbs:
1/4

cup

fresh flat-leaf parsley, roughly chopped

2 tablespoons

fresh tarragon, roughly chopped (or sub

1/4 cup

dill or basil ribbons)

2 tablespoons

fresh chives (or sub green onions), minced
---
Instructions
Boil the Potatoes: Place the sliced potatoes in a large saucepan cover completely with cold water.  Sprinkle in salt and bring to a boil.  Add the 2 cloves of garlic, reduce heat and simmer 5 minutes or until potatoes are just tender.
Make the Vinaigrette: While potatoes are simmering, make the vinaigrette by whisking together dijon, oil, vinegar and pepper in a small bowl. Set aside.
Assemble: Drain potatoes and garlic.  Place potatoes mostly single layer on a baking sheet to cool.  Mince the cooked garlic and add to the vinaigrette.  Drizzle the vinaigrette evenly over the warm potatoes.  Let sit at room temperature for about 10-15 minutes. 
Serve: Add to a serving bowl gently tossing with the chopped fresh herbs. Serve at room temp or refrigerate and chill.
---
Nutrition
Serving Size:

¾ cup

Calories:

165

Sugar:

1.3 g

Sodium:

650.4 mg

Fat:

9.5 g

Saturated Fat:

1.4 g

Carbohydrates:

18.5 g

Fiber:

2.9 g

Protein:

2.1 g

Cholesterol:

0 mg
Keywords: potluck ideas, potluck recipe, potluck recipes, easy potluck ideas