This healthy, wholesome Zucchini Bread is tender and full of flavor. Made with pecans and a hint of orange and rosemary, it packs a whole pound of zucchini in one loaf!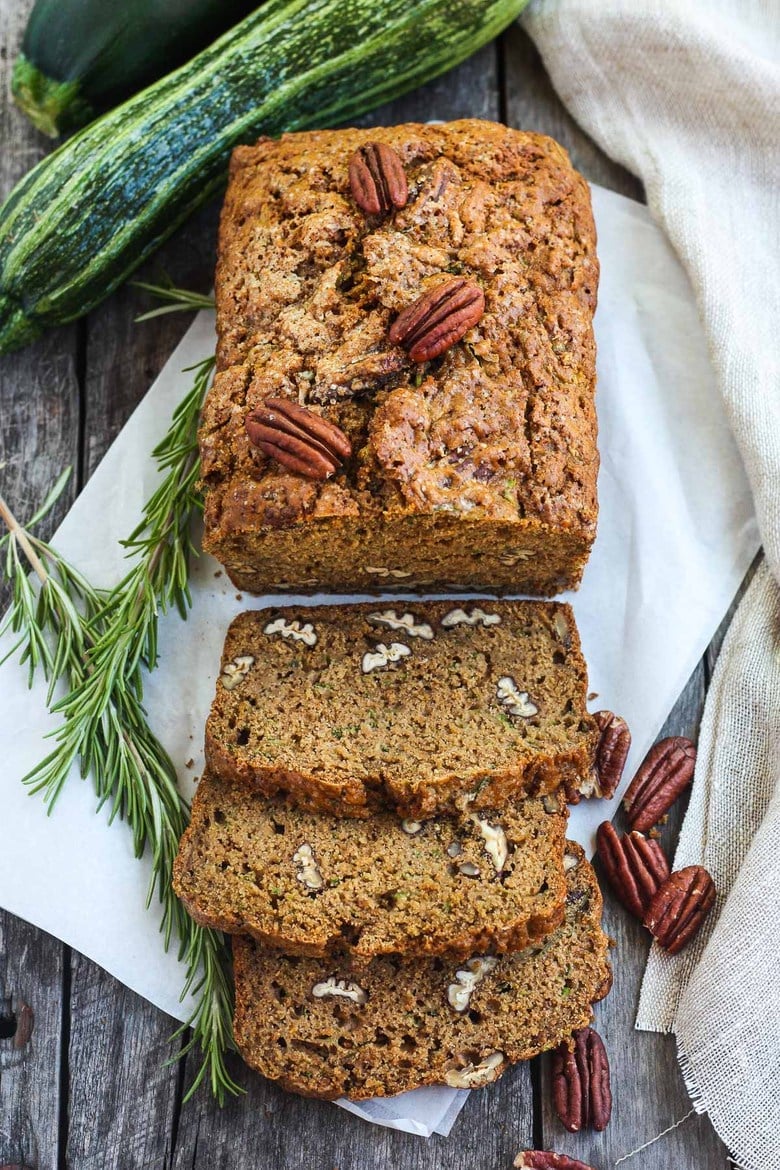 Sit and be still, until in the time of no rain you hear beneath the dry wind's commotion in the trees the sound of flowing water among the rocks, a stream unheard before, and you are where breathing is prayer.

Wendell Berry
It is that time of year when the zucchini is coming on strong. Gardens are overflowing with produce. It is really amazing and somewhat daunting to process all the abundance available! My goal was to try to pack as much zucchini in one loaf as is reasonable.
This zucchini bread just has a touch of sweetness and a bright balance from the orange zest. Using whole wheat pastry flour gives an earthy deeper flavor. Fresh rosemary is subtle but adds that herby dimension that I love. Tucking herbs into food just elevates that lively green flavor plus there is a whole host of nutrients that fresh herbs add! Check out 30+ Mouthwatering Zucchini Recipes! For more delicious quick breads try Banana Bread with Sesame Seed Crust and Huckleberry Cake.
Ingredients in Zucchini Bread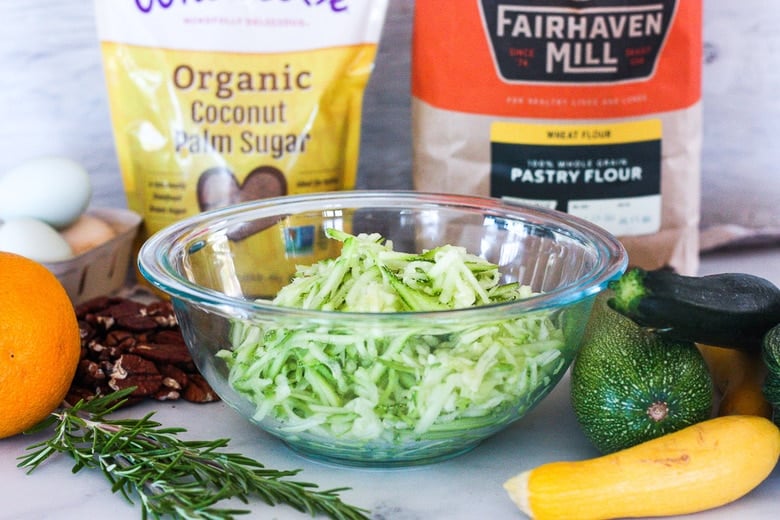 Zucchini Bread Ingredients
Zucchini– any variety will work!
Flour– try whole wheat pastry flour (our choice) or all-purpose flour or a combo with whole wheat flour.
Large Eggs- to give the bread loft and structure.
Sugar– we like coconut sugar, regular sugar work. Coconut sugar is not as sweet; adjust to taste.
Spices– cinnamon, ground cloves and nutmeg.
Orange– zest and juice brighten things up.
Rosemary– this herby piney flavor really elevates.
Avocado oil– this keeps the bread moist. If you prefer olive oil or butter (the flavor is richer) go ahead and use it, the bread will be slightly drier at room temperature but will soften when heated.
Vanilla extract– to add a lovely flavor.
Pecans- we love the caramelly flavor though hazelnuts or walnuts will be good too. Always an option to leave the nuts out.
Optional Additions: chocolate chips, cranberries, prunes, dried figs, raisins
Why You Will Love This Zucchini Bread!
It's healthy & wholesome! This zucchini bread uses a whole pound of zucchini, whole wheat flour, healthy fat, and is minimally sweetened.
Great for utilizing all the garden abundance!
Orange and rosemary give a delightful enhancement, elevating the flavor.
It stays fresh on the counter for a few days and makes amazing toast!
It freezes beautifully! Your future self will be so happy to find some extra loaves in the freezer come autumn!
Zucchini Bread Instructions
Step one: Grate zucchini easily with a box grater, and set aside in a colander or strainer.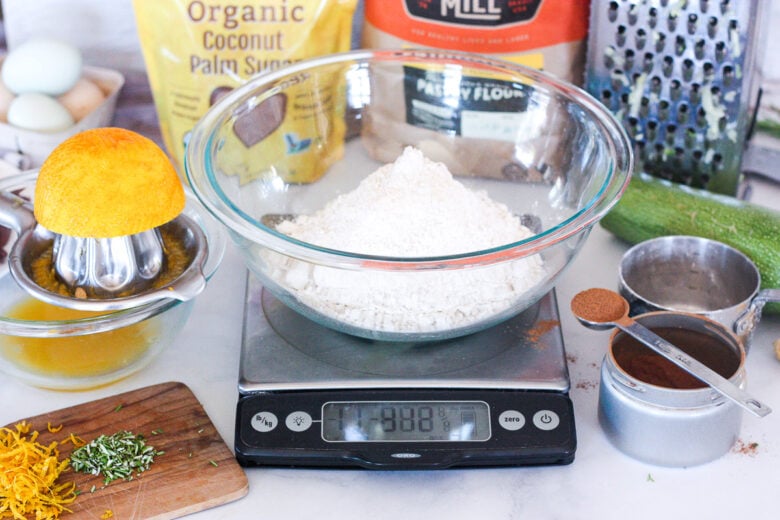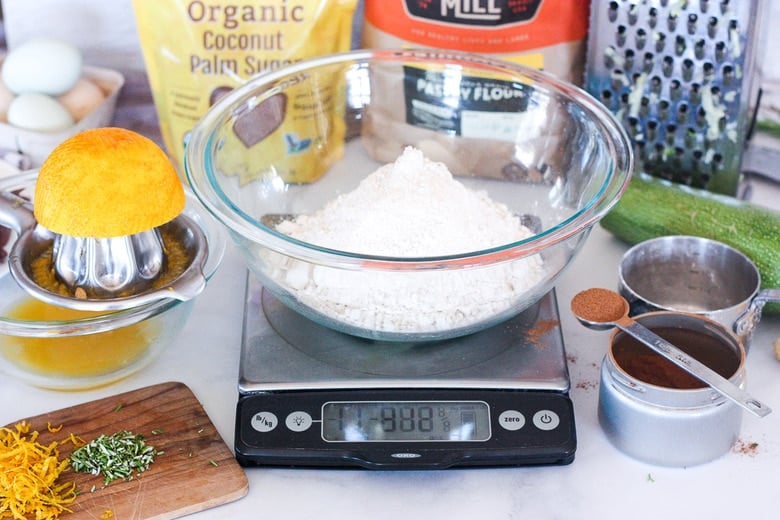 Step two: Measure dry ingredients into a bowl.
Tip: Using a scale to weigh the flour will help so much with the texture of your finished zucchini loaf!
Step three: Whisk together the orange juice, eggs, oil and vanilla.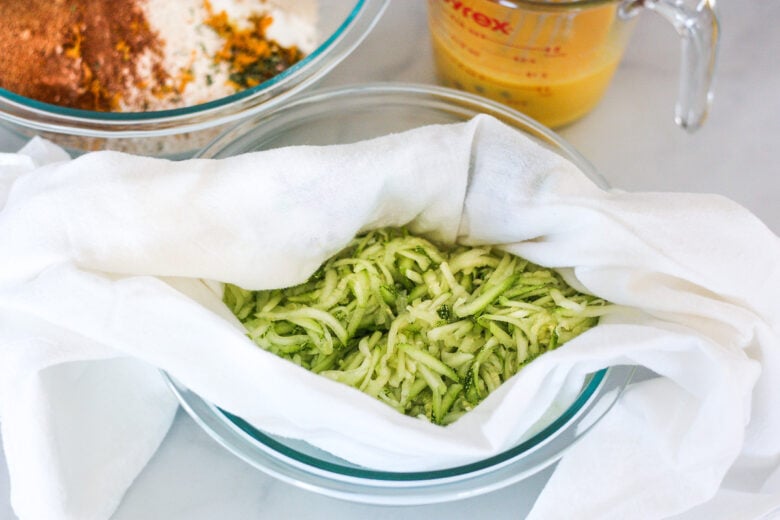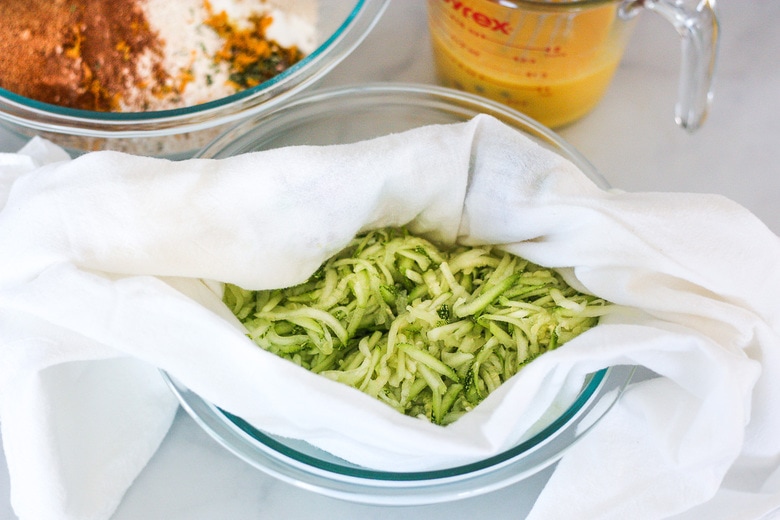 Step four: If needed, squeeze out some of the excess moisture in the zucchini. Some zucchini are wetter than others. You want to have some moisture, just not dripping. I do this with a clean kitchen towel. You can also use a potato ricer or press through a colander or strainer with your hands. Discard the zucchini juice or throw it in your smoothie!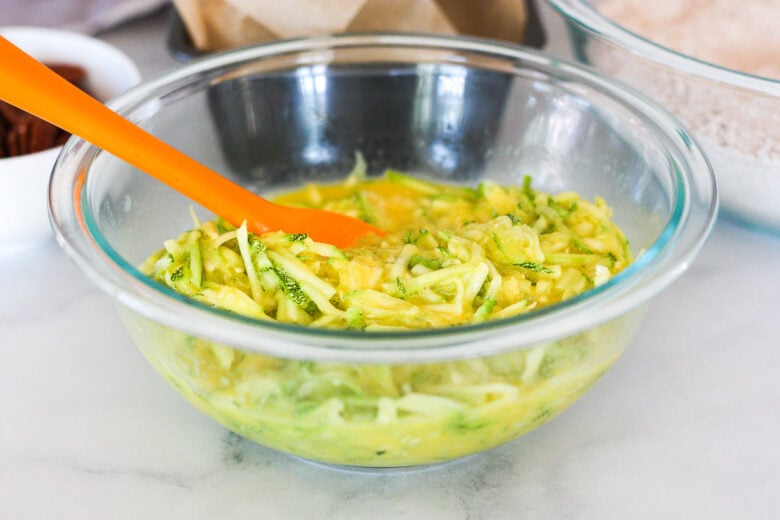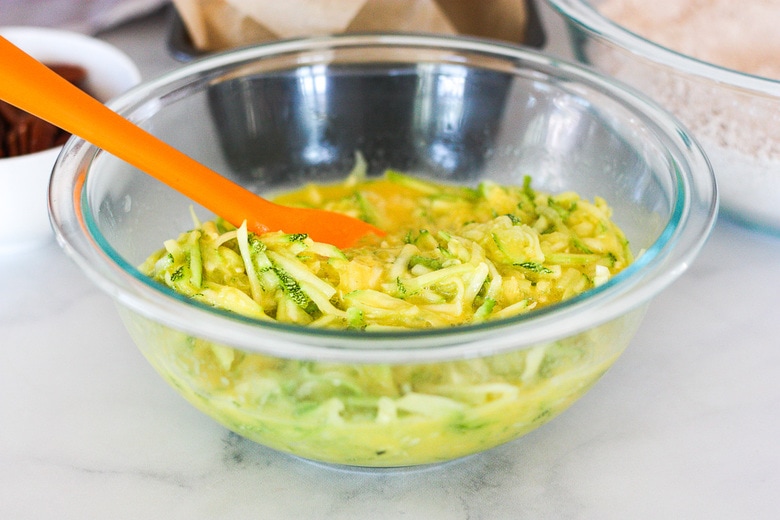 Step Five: Mix grated pressed zucchini into the egg mixture.
Step Six: Add dry ingredients to the wet ingredients along with the toasted nuts and stir in incorporate. I leave the pecans whole. They will slice up right along with the bread.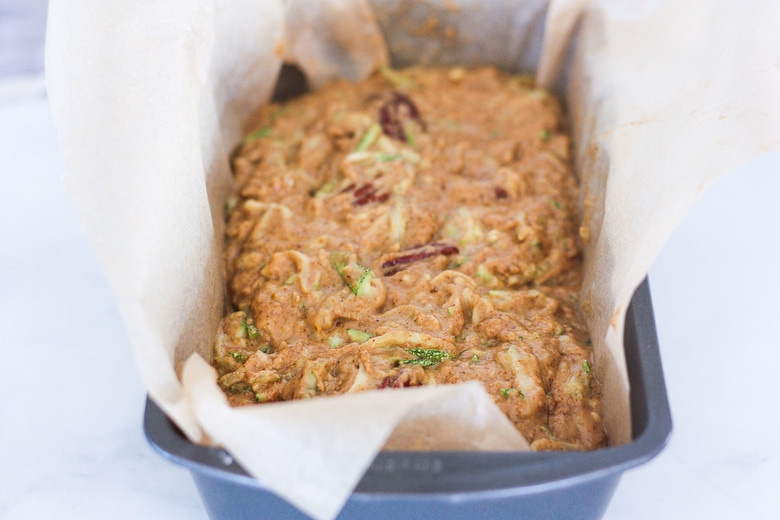 Step Seven: Pour into prepared baking pan. Place in preheated oven and bake for 50 minutes.
Check for doneness- clean toothpick test or test with a thermometer at -200 degrees internal temperature will ensure the bread is cooked. Let the bread cool on a wire rack.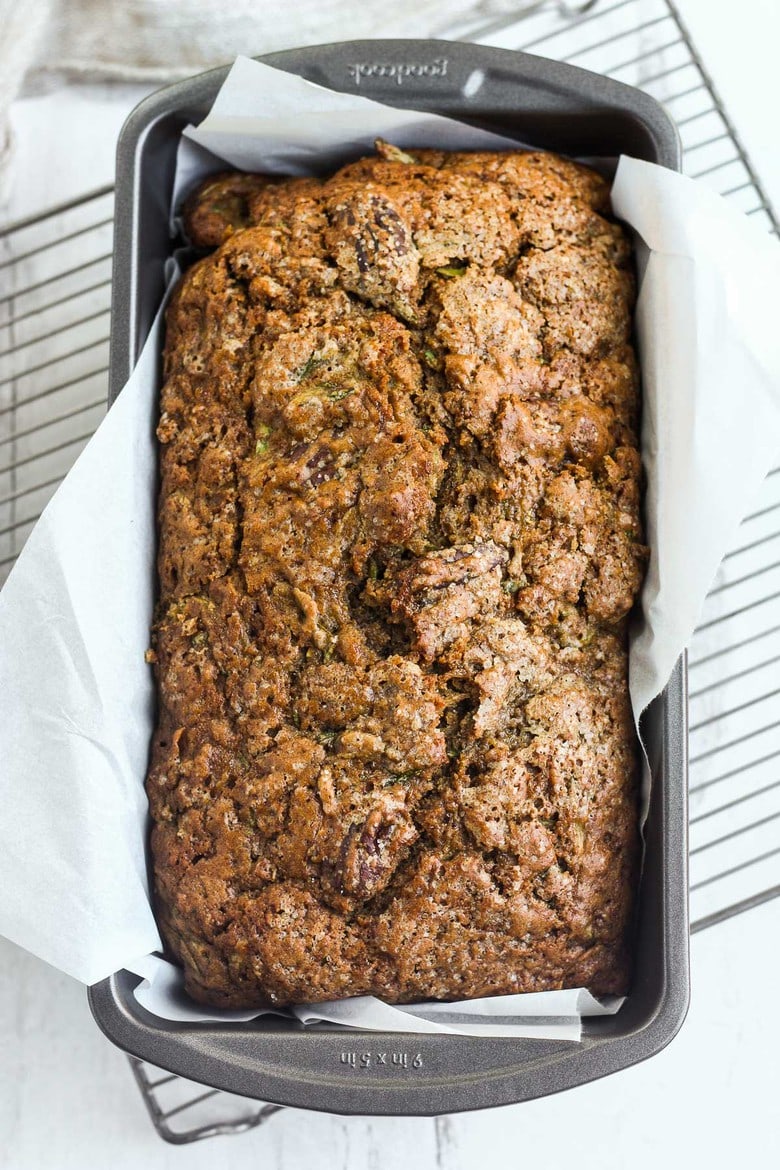 Serving Suggestions
Here are some delicious ways to serve zucchini bread:
Plain and Simple: Slice a piece of zucchini bread and enjoy it as is. The tender and flavorful bread is perfect on its own, making it a great option for breakfast or a snack. You can also spread a little butter or cream cheese on top for extra indulgence.
Toast and Spread: Toasting zucchini bread adds a delightful crunch to the outer edges while keeping the center moist and tender. Once toasted, you can spread your favorite toppings such as nut butter, jam, honey, or even cream cheese. The combination of the warm, toasty bread and the creamy spread is absolutely delightful.
Zucchini Bread French Toast: Elevate your breakfast or brunch by turning zucchini bread into a delicious French toast. In a shallow bowl, whisk together eggs, milk, vanilla extract, and a pinch of cinnamon. Dip slices of zucchini bread into the egg mixture, making sure both sides are coated. Cook the soaked bread on a griddle or in a skillet until golden brown and cooked through. Serve with a drizzle of maple syrup, fresh berries, and a sprinkle of powdered sugar.
Gift it! Wrap it up and give it as a hostess gift.
Whether you choose to enjoy it plain, toasted, or as a French toast, zucchini bread is sure to be a delightful treat any time of the day.
Zucchini Bread FAQS
Do you leave the skin on when making zucchini bread?
No need to peel. The grated zucchini will melt right into the bread while baking. There are a lot of nutrients in the peel that you don't want to miss out on!
Can I freeze zucchini bread?
Yes. Cool completely, seal tight and freeze for up to 3 months.
Why is my zucchini bread dry?
It may be overbaked, an instant-read thermometer is helpful here, the internal temperature will be around 200F when done. Oil will leave your quick bread more moist than butter and coconut oil, we like using either olive oil or avocado oil for their superior nutritional benefits.
More recipes you may enjoy
Why Bake with Zucchini?
Zucchini is not only delicious but also packed with health benefits. Here are five benefits of incorporating zucchini into your diet:
Rich in Nutrients: Zucchini is low in calories and high in vitamins and minerals. It is a good source of vitamin C, vitamin A, potassium, and manganese. These nutrients are essential for supporting overall health and well-being.
High in Fiber: Zucchini is rich in dietary fiber, which aids in digestion and promotes a healthy digestive system. Fiber also helps maintain a feeling of fullness and can assist in weight management.
Hydration: Zucchini has a high water content, which helps keep the body hydrated. Staying hydrated is vital for many bodily functions, including regulating body temperature, lubricating joints, and flushing out toxins.
Antioxidant Properties: Zucchini contains antioxidants like vitamin C and carotenoids such as lutein and zeaxanthin. These antioxidants help neutralize harmful free radicals in the body, protecting cells from damage and reducing the risk of chronic diseases.
Promotes Healthy Digestion: The high water and fiber content in zucchini can support regular bowel movements and prevent constipation. Additionally, zucchini contains natural enzymes that aid in breaking down food and improving digestion.
Incorporating zucchini into your meals can be an excellent way to boost your nutrient intake and enjoy these health benefits.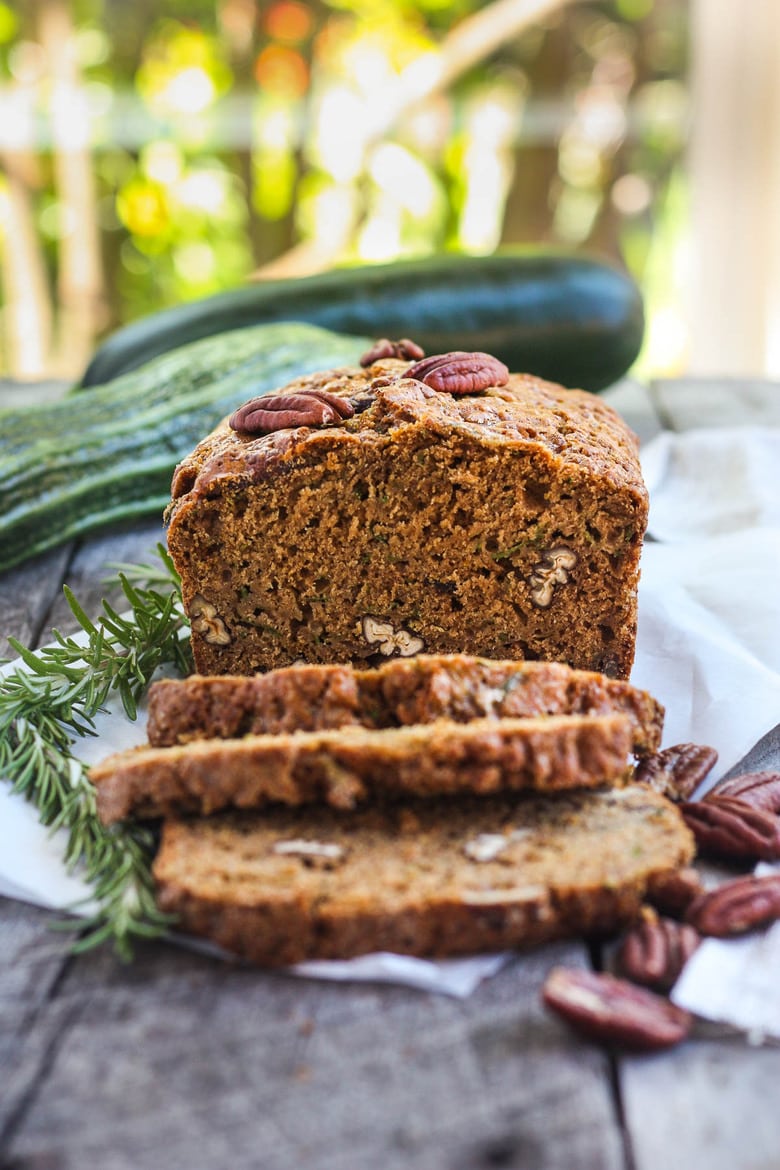 More Delicious Zucchini Recipes!
This healthy zucchini bread is delicious for days, especially toasted!
Hope you enjoy!
Print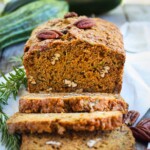 Zucchini Bread Recipe
Prep Time:

30

Cook Time:

1 hour

Total Time:

1 hour 30 minutes

Yield:

1

9×5 inch loaf

1

x

Category:

Quick Bread

Method:

Baked

Cuisine:

American

Diet:

Vegetarian
---
Description
This healthy wholesome zucchini bread is tender and full of flavor. Made with whole wheat pastry flour and coconut sugar with a touch of orange and rosemary, packing a whole pound of zucchini in one loaf!
---
3 1/2

cups

zucchini (about 2 medium sized), 1 lb grated zucchini, about 350 grams when squeezed

2 1/2

cups

all-purpose flour- or try whole wheat pastry flour,

240

grams

1

cup

sugar- or try coconut sugar (see note on sugar)

1 teaspoons

baking powder

3/4 teaspoons

baking soda

3/4 teaspoon

salt

1 teaspoon

ground cinnamon

1/2 teaspoon

ground cloves

1/2 teaspoon

nutmeg

2 teaspoons

orange zest

2 teaspoons

fresh rosemary, minced

1/3

cup

orange juice

1/2

cup

avocado oil (or olive oil)

2

eggs

2 teaspoons

vanilla extract

1

cup

pecans, or walnuts, toasted
---
Instructions
Preheat the oven to 350 degrees.
Prepare a 9 x 5 inch loaf pan with parchment or oil.
Grate the zucchini set aside.
Mix together flour, sugar, baking powder, baking soda, sea salt, cinnamon, cloves, nutmeg, rosemary, and orange zest.
In a separate bowl whisk orange juice (squeezed from the orange you zested), oil, eggs and vanilla.
Gently squeeze out excess moisture from the zucchini. This works well in a dish towel or just press in a colander.
Mix together with the egg mixture. Add flour ingredients and mix until just combined. Add nuts, leaving them whole if desired, they will get chopped up as you slice the finished loaf.
Pour batter into your pan. Bake for 50-60 minutes until done. The middle should read 200 degrees on a thermometer.
---
Notes
This bread is not very sweet! Add more sweetener if desired! Coconut sugar is less sweet than cane sugar. Use the same amount of cane sugar for a sweeter bread or add more coconut sugar.
Freezes well! Let cool completely, seal completely in plastic wrap. Keeps "fresh" in freezer at least up to 3 months.
Nutrition
Serving Size:

1 slice

Calories:

362

Sugar:

20.6 g

Sodium:

300.5 mg

Fat:

20.5 g

Saturated Fat:

2.4 g

Carbohydrates:

41.3 g

Fiber:

4.5 g

Protein:

6.5 g

Cholesterol:

37.2 mg
Keywords: Zucchini Bread, how to make zucchini Bread,