Rustic Zucchini Tian with Middle Eastern Spices served over rice for a simple vegetarian meal, or as a delicious side dish. It's meltingly tender, flavorful, healthy and Vegan!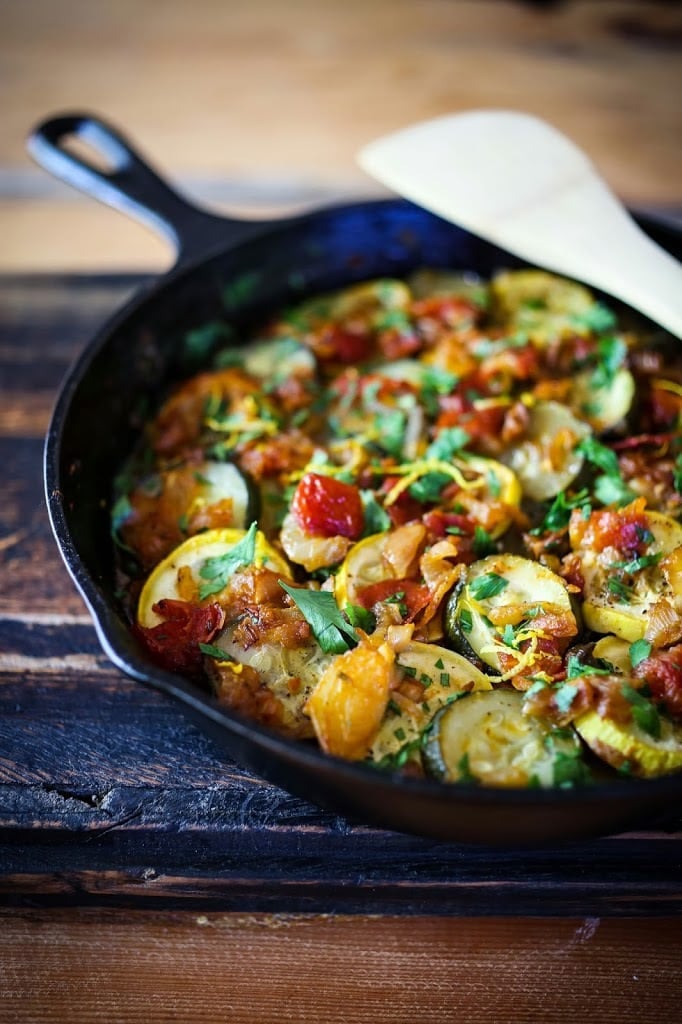 This baked zucchini dish, or Rustic Zucchini Tian is one of my favorite dishes from childhood. My Egyptian father would make this as a side dish when having guests over – or as a vegan main, served over rice – but he would never call it anything this fancy.
To him, it was simply "baked squash". In our house, my dad was often in the kitchen along-side my mom. He loved to cook. He had a way with vegetables, turning simple produce into something spectacular, often without the use of meat or dairy.
I believe he learned this from growing up in a small primitive Egyptian village, where food was scarce. They had to make do with what they had, creating flavor out of the simplest of ingredients. He cooked with nothing but a good palate, practice and a little intuition. As an adult, even when he became moderately successful, he was always frugal, especially in the kitchen.
The story of how he ended up in Los Angeles, all the way from a tiny poverty-stricken village in Egypt is one of my favorites. And it is the reason that I truly believe anything is possible for us in this life.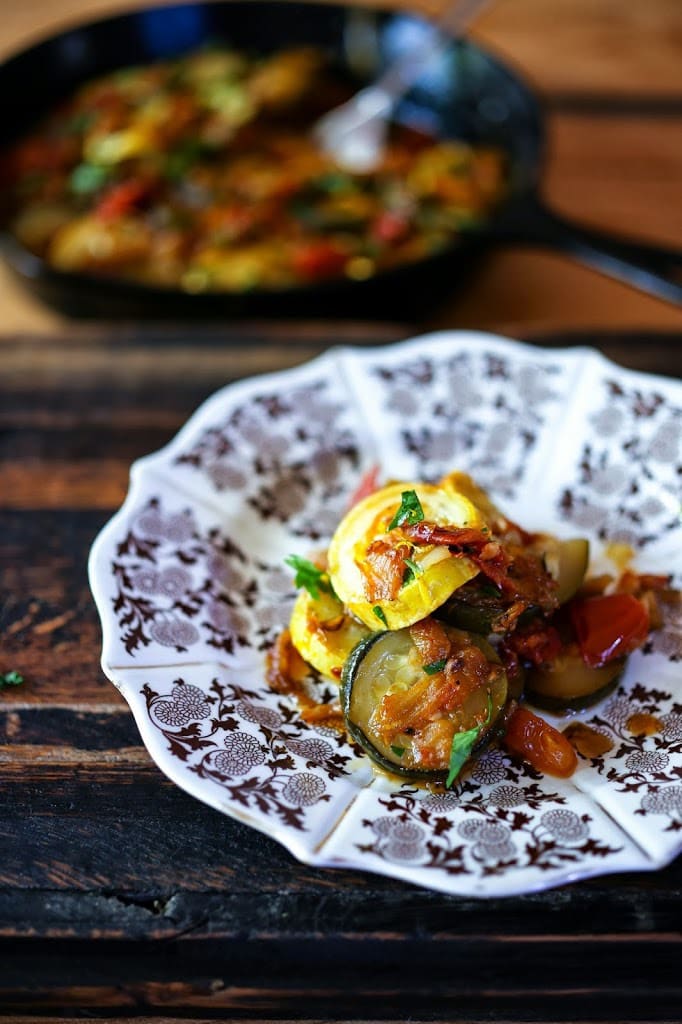 In my dad's recipe, zucchini (or summer squash) is layered with caramelized onions, lots of garlic and a rustic homemade tomato sauce seasoned with cumin and coriander seeds and lemon zest. It's baked in the oven until succulent. When it comes out, drizzle it with olive oil and sprinkled it with fresh parsley.
It melts in your mouth. Over the years I've fiddled with it -adding goat cheese or parmesan or other vegetables, and while good, I always seem to prefer his basic vegan recipe. I hope you like it too.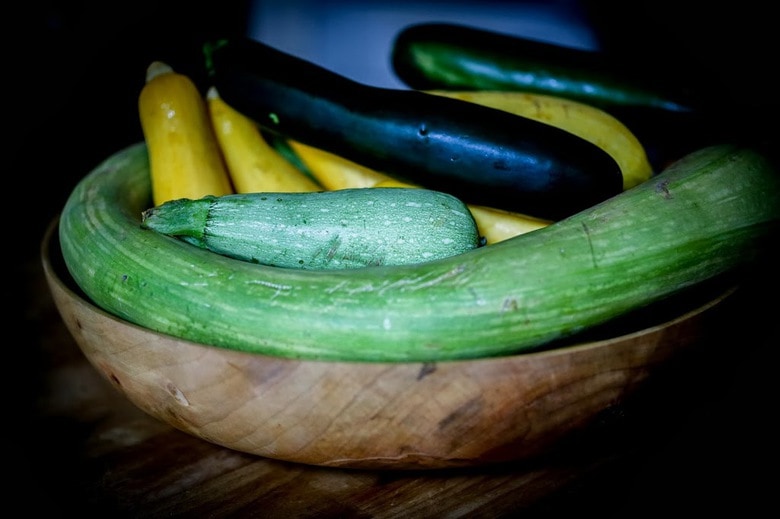 Any type of summer squash will work. Cut to 1/4 inch thin rounds.
Caramelize two sliced onions until succulent.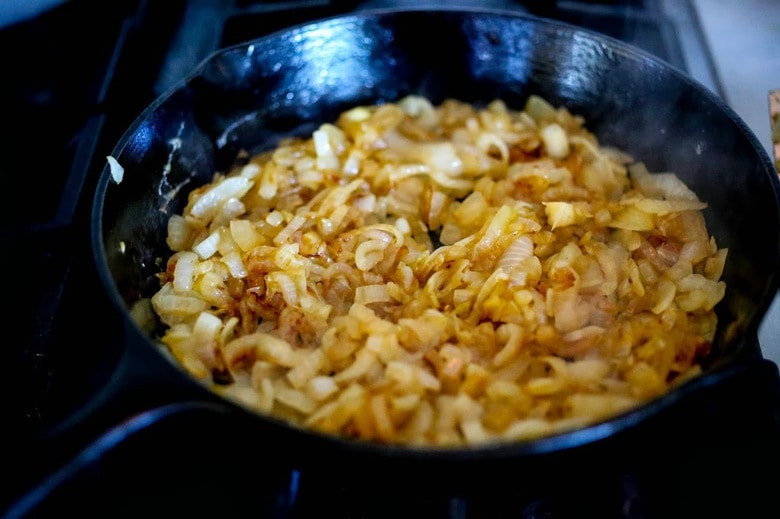 Add garlic and fresh tomatoes… to make a rustic style tomato sauce. Season with whole cumin seeds and coriander.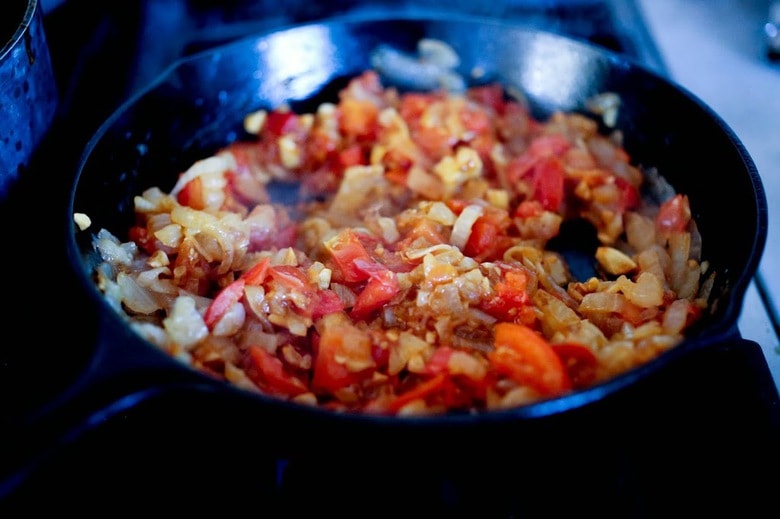 Set aside 2/3 thirds of the sauce, leaving 1/3 in the skillet. Layer the squash over top, and sprinkle with salt and pepper. It doesn't have to look perfect. Think Rustic.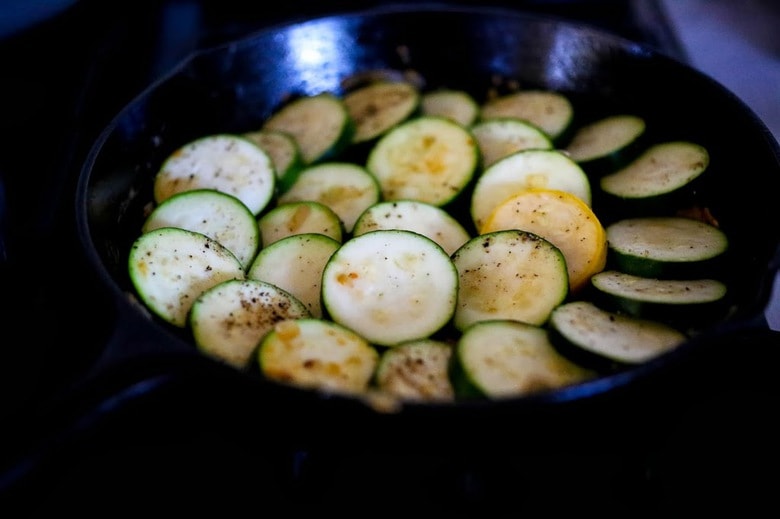 Add another third of the sauce.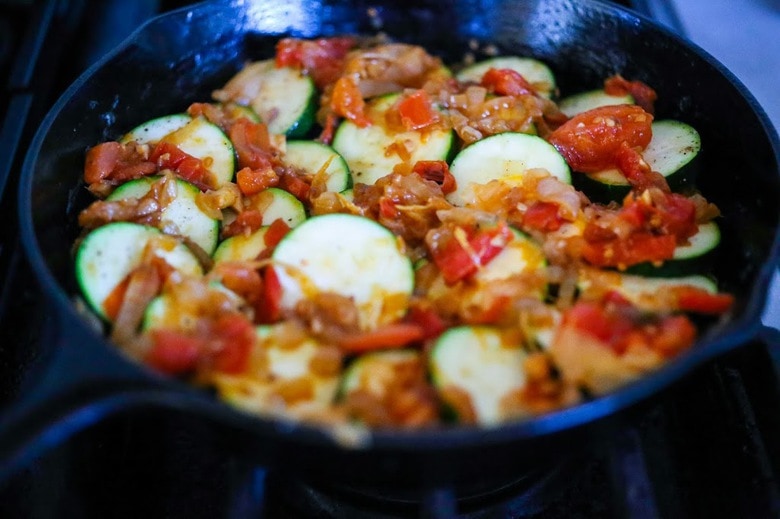 Add another layer of squash. Season with salt and pepper.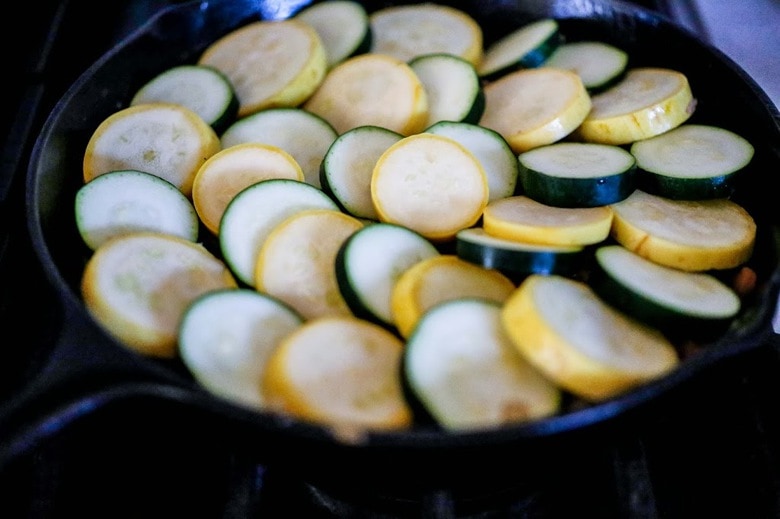 And finish with the remaining tomato sauce.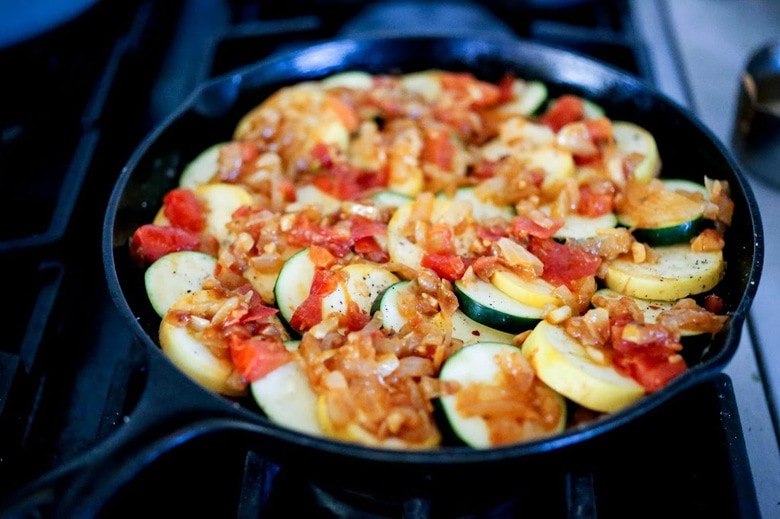 Cover with foil and place in a hot oven for 40 minutes. Give a good shake, uncover and bake for an additional 15 minutes.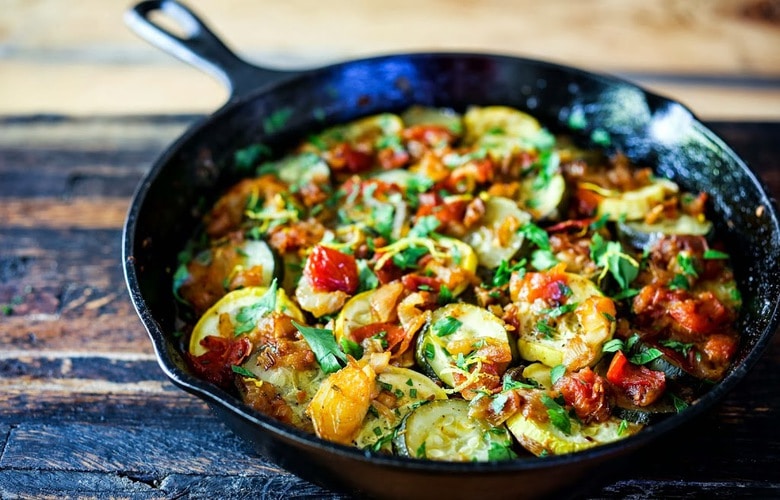 Let the Rustic Zucchini Tian sit 10-15 minutes before serving.
Enjoy!
Print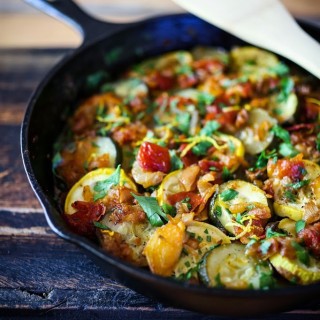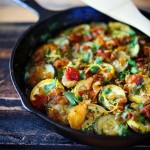 Rustic Zucchini Tian
Prep Time:

15 mins

Cook Time:

1 hour 20 mins

Total Time:

1 hour 35 minutes

Yield:

4-6

Category:

Vegan, Side dish,

Method:

Baked

Cuisine:

Middle Eastern
---
Description
Baked Zucchini Tian with Middle Eastern Spices served over rice for a simple vegetarian meal, or as a delicious side dish. Meltingly tender, flavorful, healthy and vegan!
---
2

large onions, sliced

2

T olive oil

10

garlic cloves, roughly chopped

4

large tomatoes, diced

1

small Lemon – zest and 1 T juice

2 tsp

cumin seeds ( whole)

1 tsp

ground coriander

1/2 tsp

kosher salt, plus more for sprinkling
cracked pepper

2

lbs zucchini or summer squash- sliced into

1/4

inch disks

1/4

C chopped Italian parsley
---
Instructions
In a 10 inch, heavy-bottomed, ovenproof skillet (cast iron works great), heat olive oil until hot on medium heat. Add onions and saute for 10 minutes, stirring occasionally until golden brown and fragrant. Add garlic, stirring more frequently, until garlic is golden.
Turn heat to med- low and add diced tomatoes, lemon zest and lemon juice, salt, pepper and spices. Simmer on low until tomatoes cook down a little, about 5 minutes. This will seem like a fairly "dry" tomato sauce, but remember, zucchini will release their liquids in while baking.
Remove all but 1/3 of the rustic tomato sauce, placing 2/3 in a separate bowl.
Spread the remaining tomato sauce (about 1/2 cup) evenly on the bottom of the pan. Place one single layer of zucchini in slightly overlapping concentric circles.
Sprinkle with a generous pinch of kosher salt and pepper.
Spread another third of the rustic tomato sauce over the zucchini, as evenly as possible. It won't seem like a lot, but don't worry.
Add the second and final layer of slightly overlapping zucchini. Sprinkle with salt, pepper and the rest of the tomato sauce.
Cover with foil. Place in 350 F oven for 40 minutes. Uncover and give a good shake, and bake uncovered for an additional 15 minutes. Let stand 10 minutes before serving. Sprinkle with parsley and a give a good drizzle of olive oil.
---
Notes
Feel free to make this ahead and reheat.
---
Keywords: Baked Zucchini, baked zucchini recipes, zucchini tian, baked summer squash, zucchini bake,