Have an abundance of Zucchini? This flavorful, luscious Zucchini Soup is infused with basil and garlic and has a lovely flavor with the silliest texture. Keep it vegan, or swirl in some yogurt at the end for extra creaminess. Quick and easy! Gluten Free.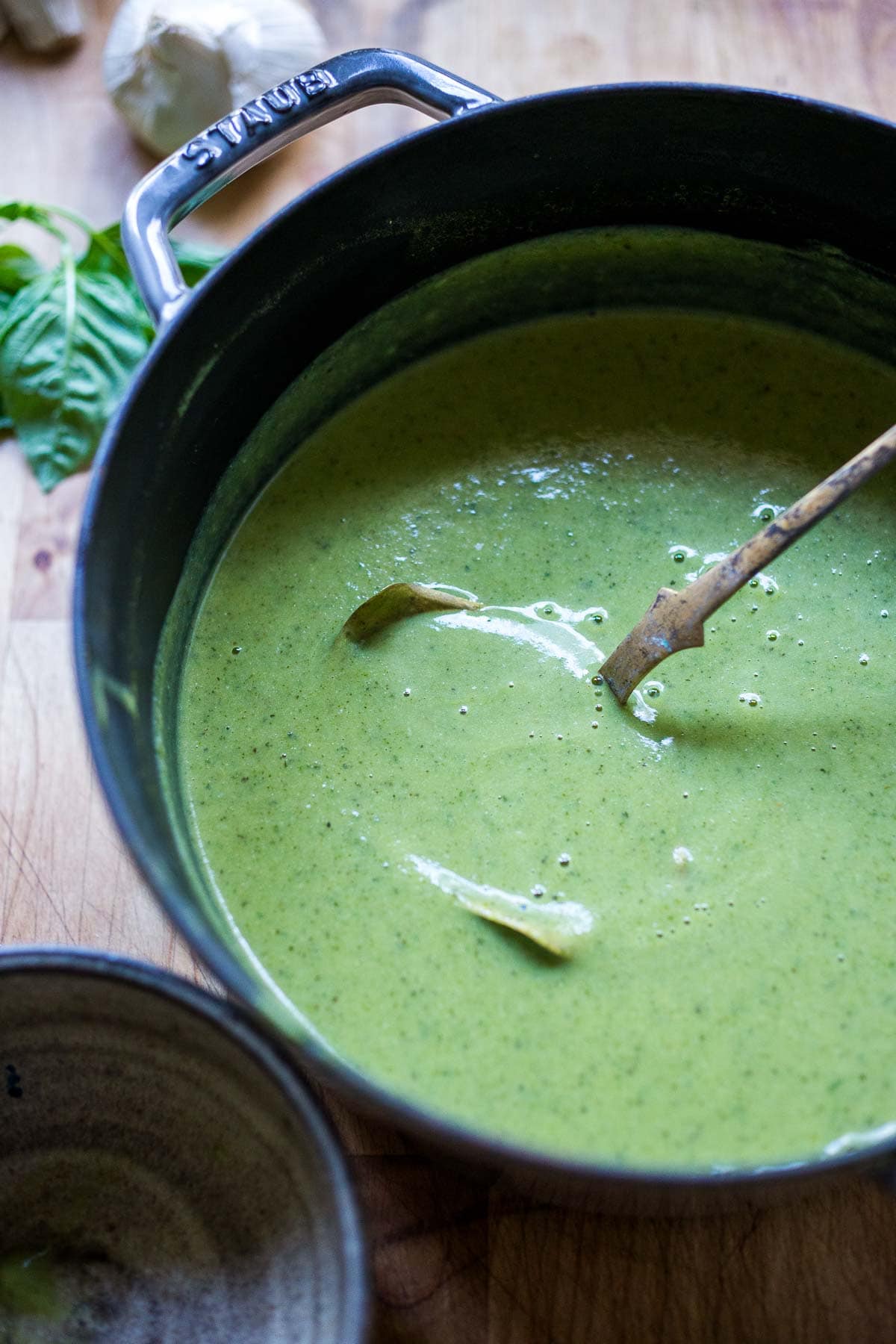 There is no charm equal to tenderness of heart.

Jane Austen
This quick an easy Zucchini Soup recipe requires very few ingredients and can made in 20 minutes flat. It's vegan and full-flavored, my favorite kind of recipe. Infused with basil it's the perfect soup for the end of summer and a great way to use up all your zucchini!
Keep it vegan, or for heartier appetites, swirl in a little plain Greek yogurt or sour cream at the end. Yes, you can use vegan yogurt, of course! You could also top with crunchy croutons, or parmesan. The zucchini gives the soup a luscious, silky quality that is really pleasant on the palate. Serve it with crusty bread and a salad….and dinner is ready! For more inspiration, here are a few more Zucchini recipes to try: Zucchini Hummus, Rustic Zucchini Tian, and Zucchini Fritters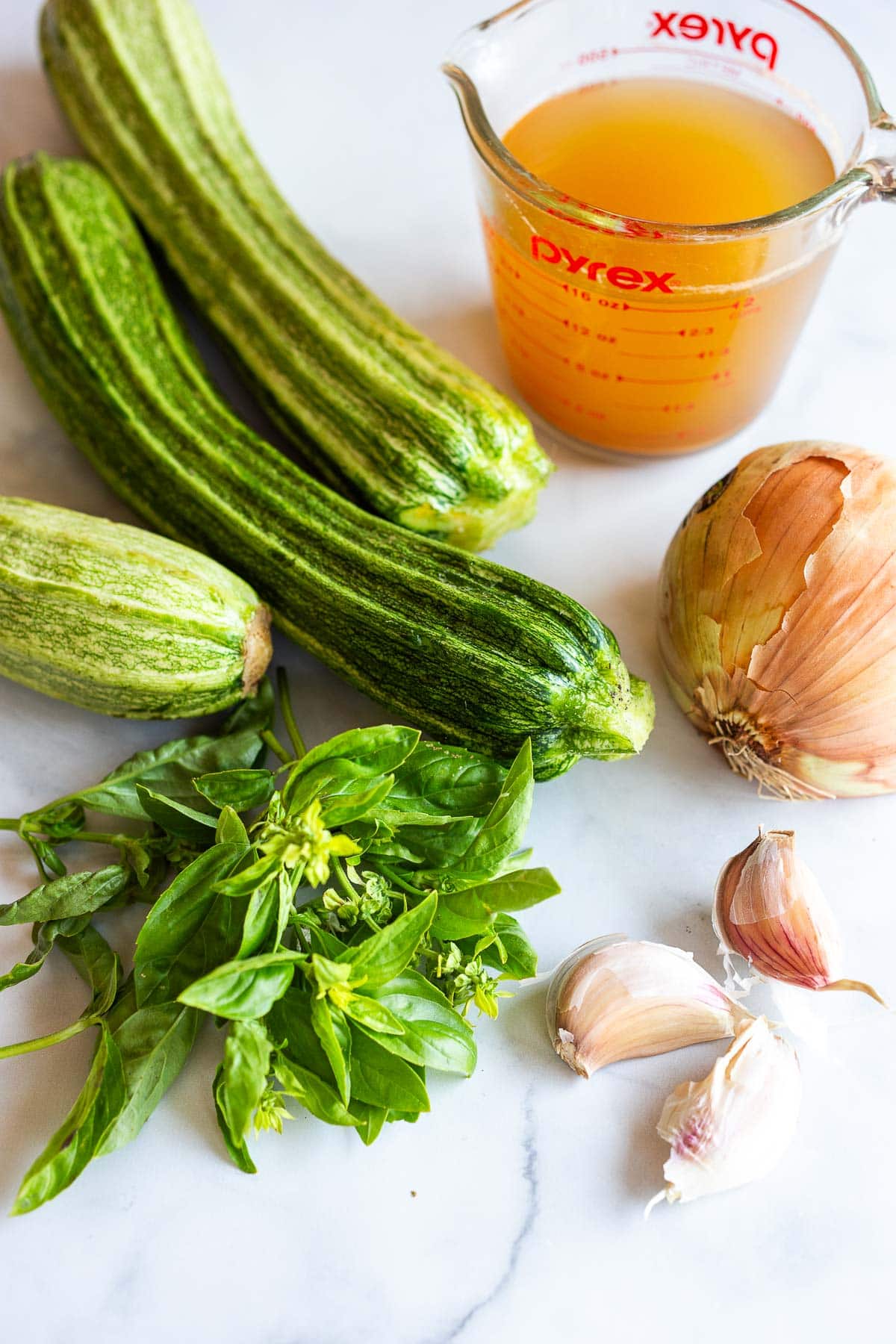 Zucchini Soup Ingredients
Onion– Use yellow onion, white onion, or leeks if you have them!
Olive oil– Just a little for sauteing. It adds richness and a hint of fruity flavor. for extra richness fell free to use butter or ghee.
Garlic cloves– cloves of garlic add depth and richness to the soup with its aromatic and slightly spicy nature.
Zucchini– The star ingredient of the soup, it gives the soup a luscious and smooth texture. When cooked, zucchini becomes tender and adds a mild, slightly sweet flavor.
Water or vegetable stock – Provides the liquid base for the soup. You can use plain water or vegetable broth for added flavor.
Salt & black pepper– Adjust to taste.
White vinegar– Adds a touch of acidity and brightness to the soup, enhancing the overall flavor. Feel free to use apple cider vinegar, white wine vinegar or lemon juice.
Fresh basil leaves– Lend a lovely fragrance and a pop of green color to the soup. You can also substitute fresh mint or cilantro for a unique twist.
Optional Garnishes: plain yogurt or a dollop of sour cream. You can also use vegan yogurt or vegan sour cream ( if going dairy free) , or add parmesan cheese, croutons, red pepper flakes.
See the recipe card below for a full list of ingredients and measurements.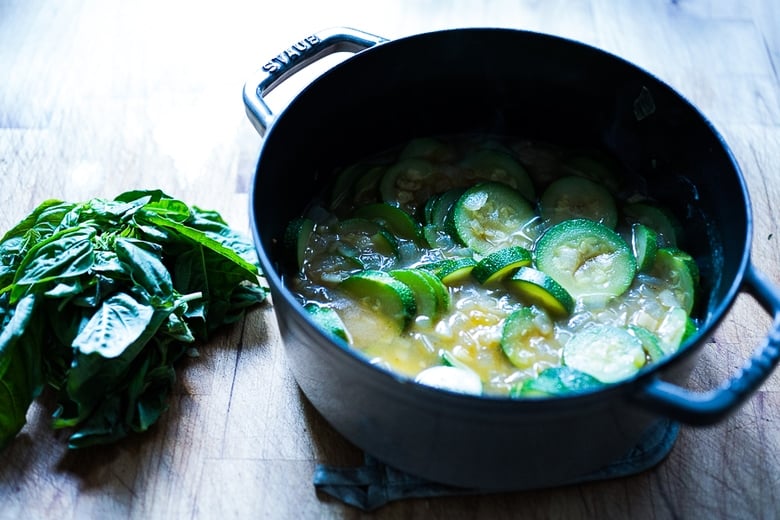 Zucchini Soup Instructions
Saute. In a large saucepan or Dutch oven, over medium heat, saute the onion, garlic clove, and zucchini in olive oil.
Simmer. Add the 2 cups vegetable stock and simmer until tender. Add the basil.
Blend. Blend with a blender or immersion blender, until silky smooth!
Garnish with any of the optional garnishes!
Ready to serve! Store leftovers for up to 3 days in the fridge, or freeze for later!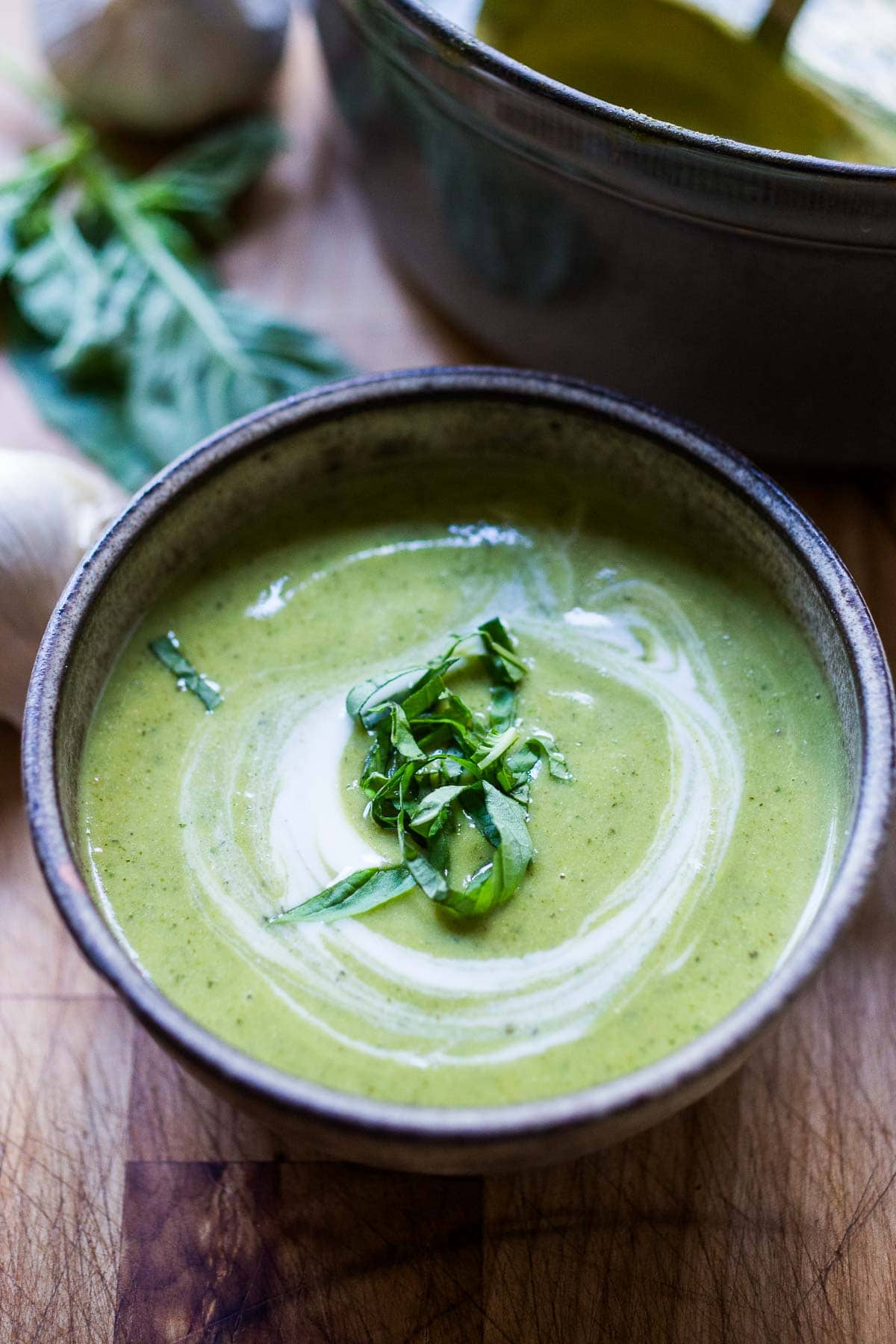 Health Benefits of Zucchini
Zucchini, also known as courgette, is a versatile and nutritious vegetable. Here are a few health benefits of zucchini:
Low in calories and high in nutrients: Zucchini is a low-calorie vegetable that is rich in important nutrients such as vitamin C, potassium, and manganese. It is also a good source of dietary fiber, which aids in digestion and helps maintain a healthy weight.
Promotes healthy digestion: The high fiber content in zucchini supports healthy digestion by adding bulk to the diet and promoting regular bowel movements. It can also help prevent constipation and maintain a healthy gut.
Rich in antioxidants: Zucchini is packed with antioxidants, including vitamin C and beta-carotene. These antioxidants help protect the body against free radicals, which can cause cell damage and contribute to chronic diseases such as heart disease and cancer.
Supports eye health: Zucchini is a good source of lutein and zeaxanthin, two antioxidants that are beneficial for eye health. These compounds help protect the eyes from damage caused by harmful UV rays and may reduce the risk of age-related macular degeneration.
Hydrating and aids in weight management: Zucchini has a high water content, making it hydrating and a great choice for those looking to manage their weight. The fiber content also helps promote a feeling of fullness, reducing the likelihood of overeating.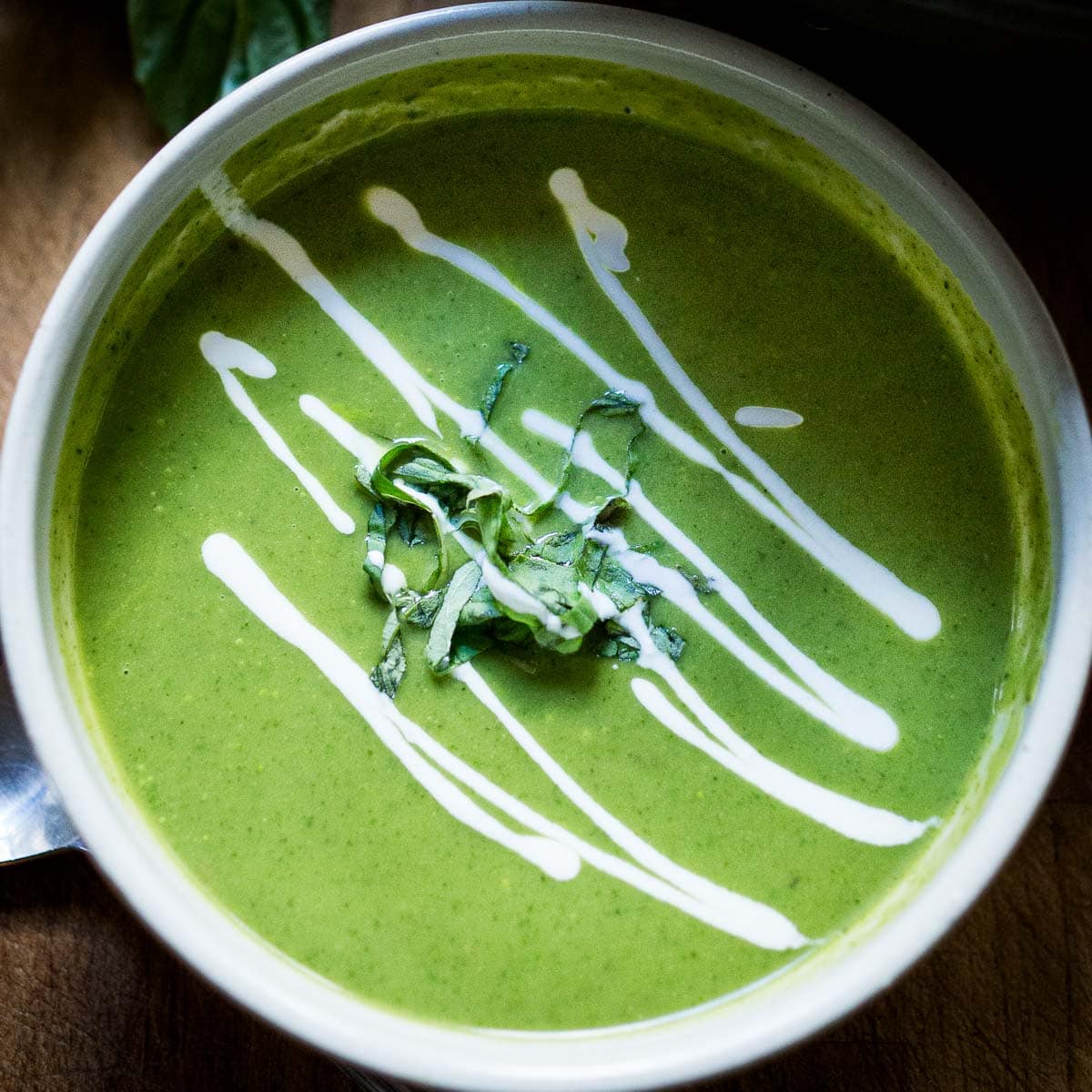 Zucchini Soup FAQS
Can I make this soup ahead of time?
Yes, you can make this soup up to 3 days ahead of time. Once the soup is cooked and blended, you can let it cool and store it in the refrigerator for up to 3 days. When ready to serve, simply reheat the soup. It is also good cold!
Can I use other herbs instead of basil in this soup?
While basil adds a delicious flavor to this soup, you can experiment with other herbs such as mint, cilantro, or parsley. Each herb will give the soup a unique and refreshing twist.

Can I substitute vegetable broth with chicken broth?
You can substitute vegetable broth with chicken broth. The chicken broth will add a savory depth of flavor to the soup.
Can Zucchini Soup be frozen?
Yes, freeze zucchini soup in a quart mason jar (with one-inch headroom for expansion) for up to 6 months. Thaw in the fridge overnight and reheat.
What to serve with Zucchini Basil Soup
Serve Zucchini Soup with crusty bread, biscuits, cheddar scones or top with croutons!
More Zucchini Recipes to Love!
Have a mountain of zucchini to use up? Don't despair, there is so much to do with this versatile veggie!
Do you have a few stray zucchini hiding in your fridge that you've been putting off using? We did, and this is what became of them last night!
Love this recipe? Please let us know in the comments and leave a 5-star ⭐️⭐️⭐️⭐️⭐️ rating below the recipe card.
Print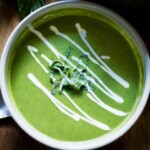 Zucchini Soup
Prep Time:

5 mins

Cook Time:

20 mins

Total Time:

25 mins

Yield:

4 cups

1

x

Category:

Soup

Method:

Stove top

Cuisine:

Northwest

Diet:

Vegan
---
Description
A flavorful, healthy Zucchini Soup, with luscious smooth texture. Keep it vegan or swirl in a little yogurt at the end. Easy and fast!
---
2 tablespoons

olive oil

1

medium onion, chopped

4

garlic cloves, roughly chopped

1 1/2

pounds

zucchini, sliced ( about 3 med-large zucchini)

2

cups

water or veggie stock

3/4 tsp

salt, more to taste
cracked pepper to taste

1/2 tsp

white vinegar

1

cup

fresh basil leaves, packed, plus more for garnish ( or sub fresh mint, or cilantro)
garnish: plain yogurt or sour cream ( optional)
---
Instructions
In a medium pot, heat oil over medium-high heat. Add onion and saute for 2-3 minutes until just tender. Add chopped garlic, turn heat to medium-low, and continue sauteeing for 3-4 minutes, until garlic is fragrant and golden.
Add chopped zucchini and water ( or stock), salt and pepper. Bring just under a boil over high heat, cover, turn the heat down to med-low, and simmer for 15 minutes, giving a stir halfway through. Cook until zucchini is translucent and fork tender.
Blend in batches until it is a very smooth puree, adding the fresh basil directly into the blender with the soup–being careful to cover the blender lid with a kitchen towel, holding it down firmly, to prevent a blender explosion. See note. Alternatively, use an immersion blender.
Return the blended soup to the pot. Stir in vinegar, adjust salt if necessary.
To Serve: Garnish with basil ribbons. For extra richness, add a swirl of plain yogurt or sour cream, vegan yogurt, parmesan, or croutons.
---
Notes
Always be careful blending hot soup in a blender, fill only halfway full and start on the lowest speed, increasing gradually. Hold the lid down as hard as you can with a kitchen towel. Or use an immersion blender!
Nutrition
Serving Size:

2 cups, without yogurt

Calories:

200

Sugar:

6.9 g

Sodium:

880.6 mg

Fat:

14.3 g

Saturated Fat:

2.1 g

Carbohydrates:

18 g

Fiber:

3.3 g

Protein:

3 g

Cholesterol:

0 mg
Keywords: zucchini soup recipe, zucchini soup, vegan zucchini soup, healthy zucchini soup
SaveSave
SaveSave