How to make Zucchini Fritters! An easy recipe for Zucchini Fritters with dill, feta and Tzatziki sauce. Serve with a hearty green salad – a simple, delicious vegetarian meal!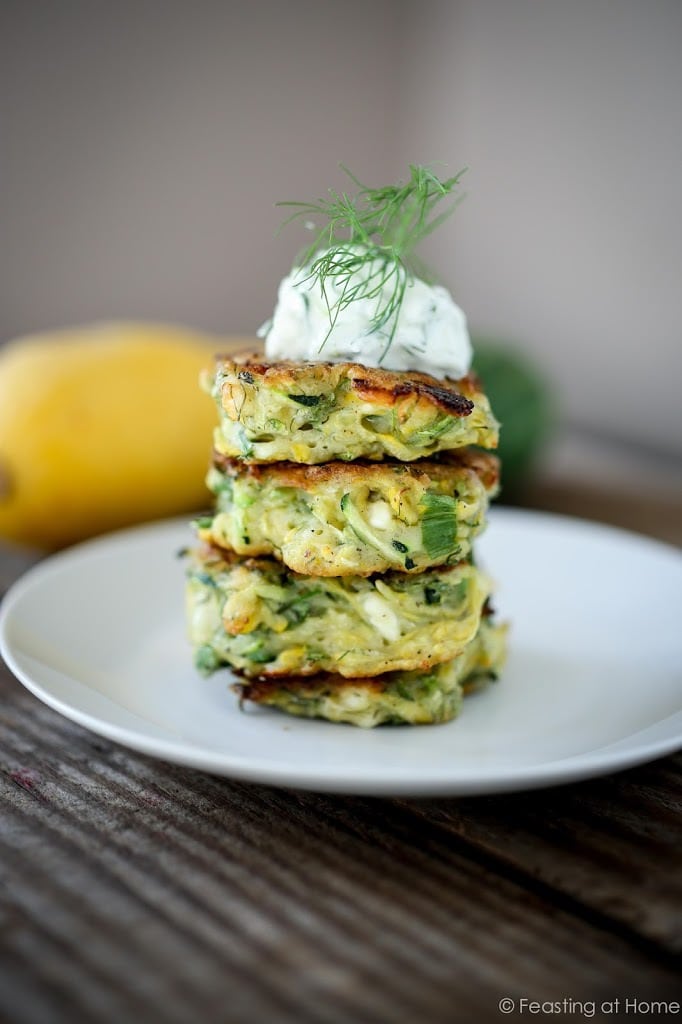 If you are like me, you've probably come close to your fill of zucchini and summer squash for the season. When we get to this point at our house, I know it is time to whip up these beautiful Zucchini Fritters.
I've discovered that my husband Brian will eat pretty much anything that comes in the form of a fritter, so this is a tactic I often emply when trying to get through the last mound of summer produce.
Zucchini Fritters seasoned with fresh dill and feta cheese are full of flavor and make for delicious vegetarian meal alongside a hearty green salad. Topped with creamy Tzatziki Sauce, they are dreamy!
What I love about these fritters, is they are heavy on the zucchini and summer squash, and very light on the "batter".  They do not tasty "eggy" or heavy- but rather light and healthy!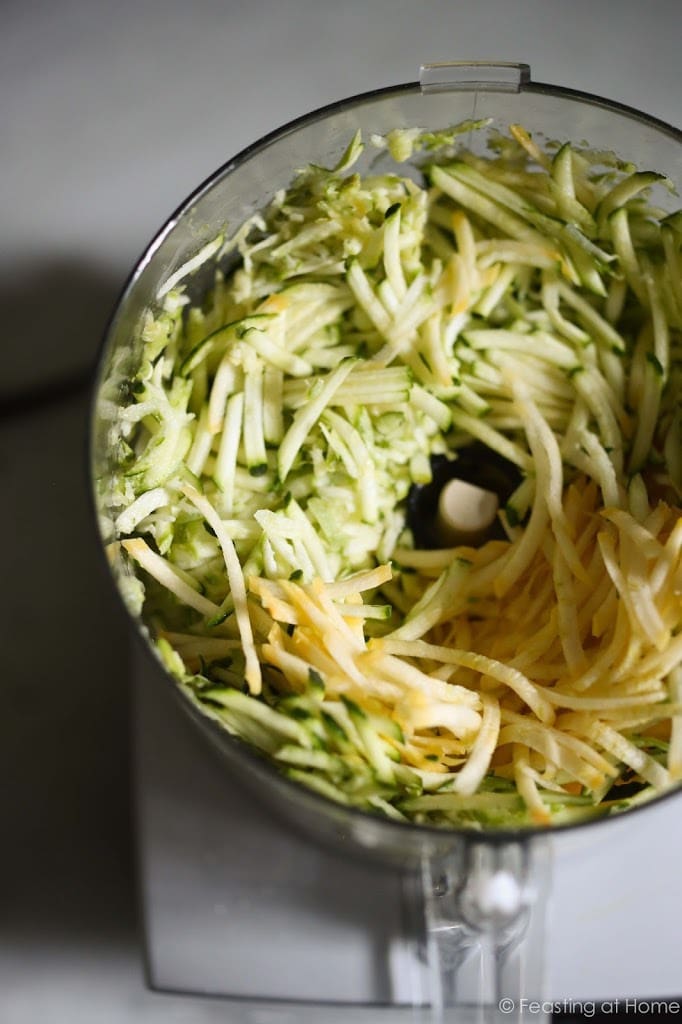 Grate the zucchini by hand ( largest holes) or use a food processor with the grater attachement.  You'll need 4- 5 cups.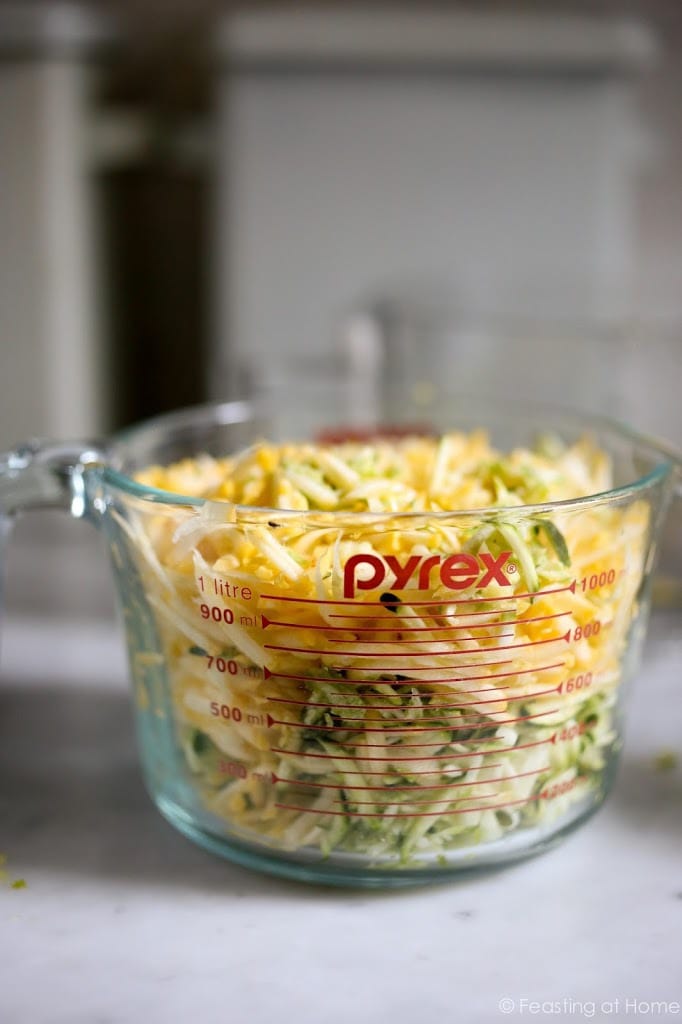 Next you'll salt the zucchini, to help it release its liquid.  It only requires a 15 minute period of salting, so not too long, and this is when I prep the other ingredients and make the
Tzatziki Sauce
.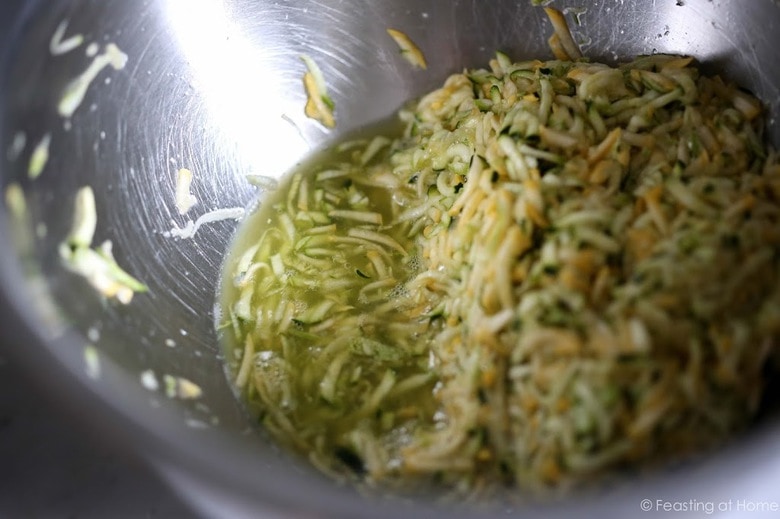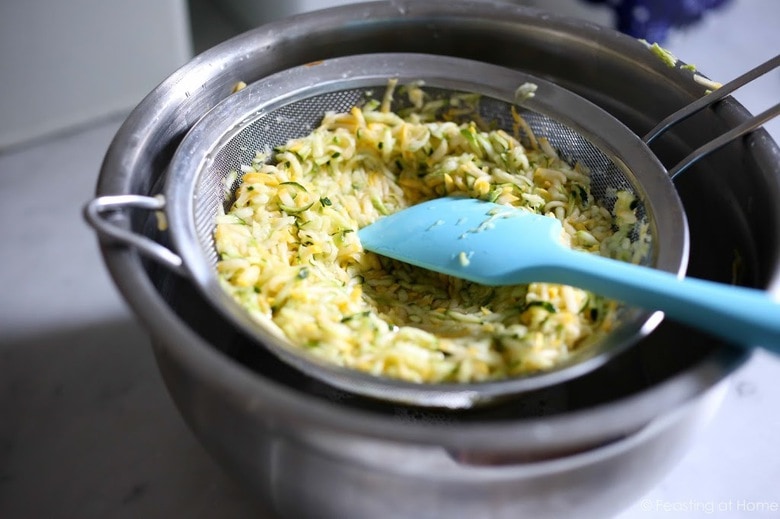 After it releases its liquid, place in a strainer and press as much of the water out.  Blot with paper towels. Get them dry.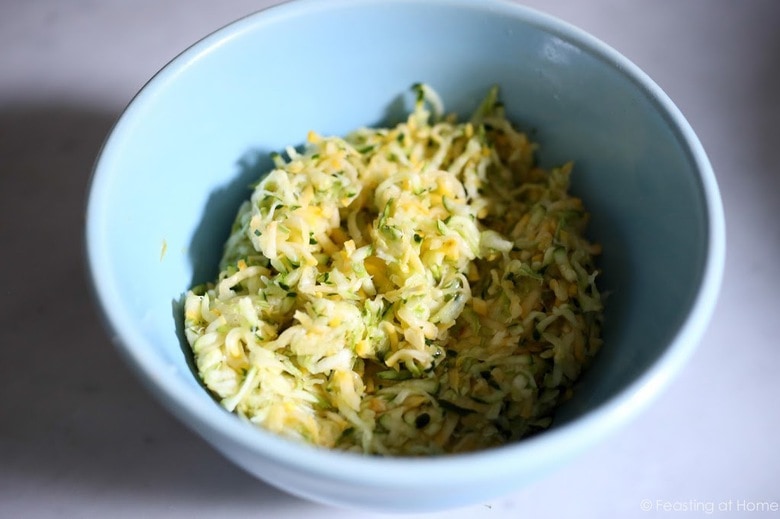 Place in a bowl, and add the remaining ingredients.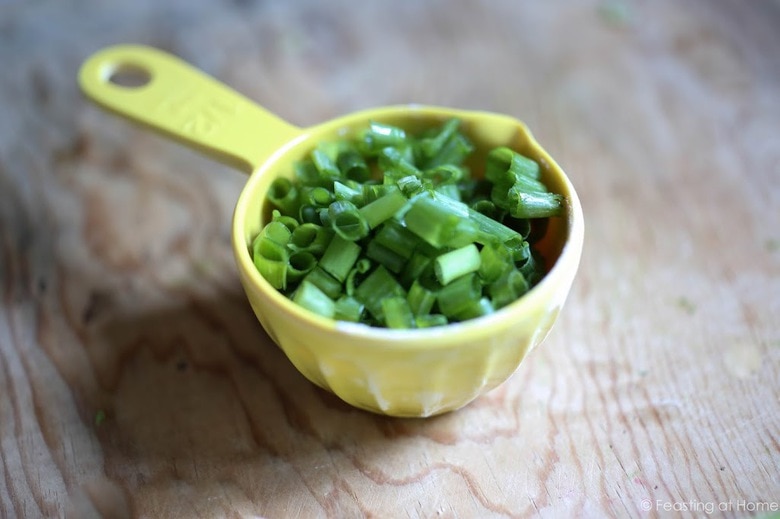 Fresh scallions and fresh dill give the fritters good flavor.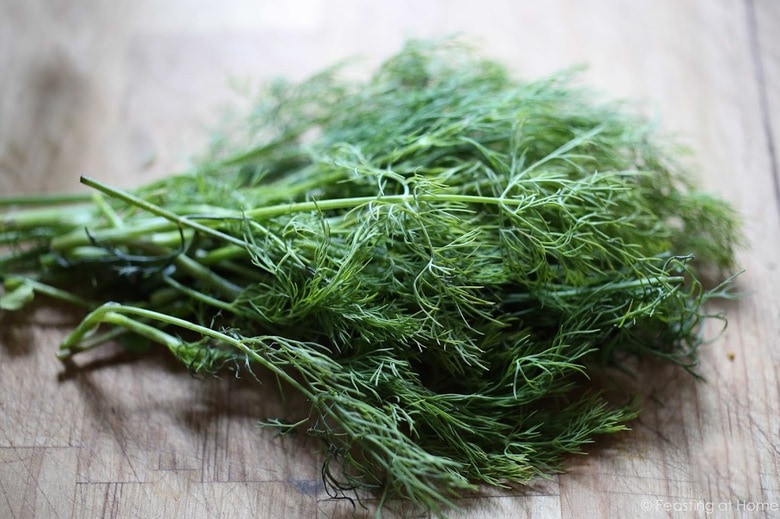 Mix in the rest of the ingredients and you will end up with a thick "batter", which will be full of good zucchini flavor and texture, and not taste too eggy.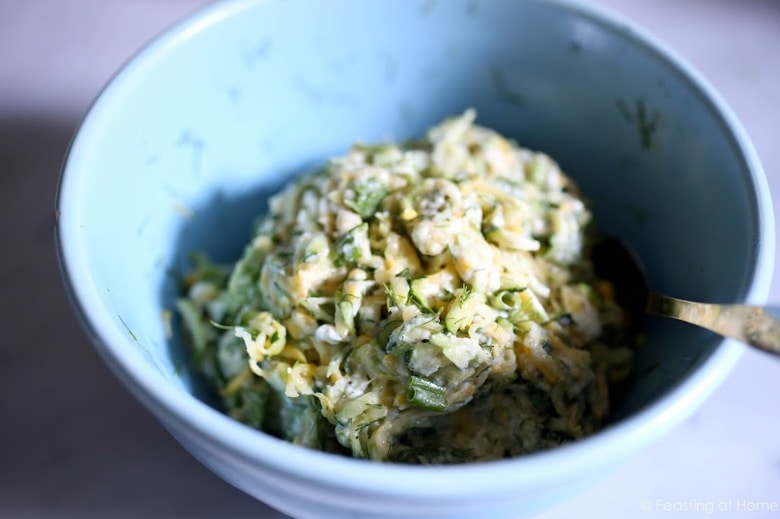 Place ping-pong sized balls of the fritter batter in a hot skillet with
olive oil
and sear until golden brown. About 3-4  minutes each side.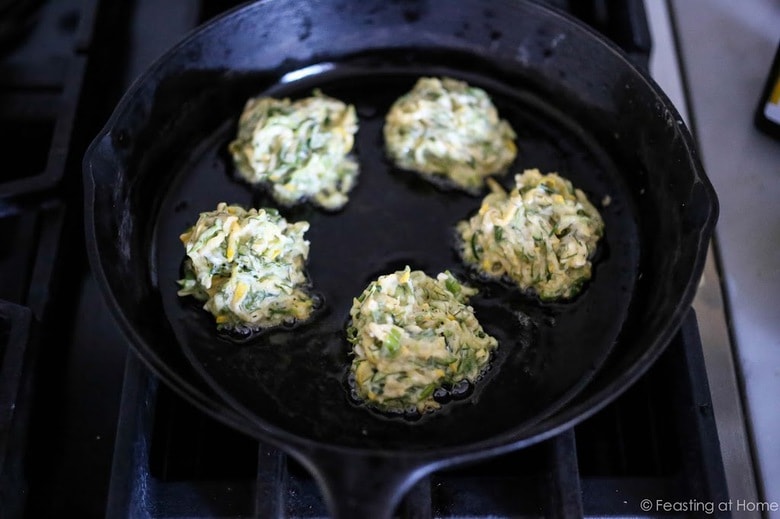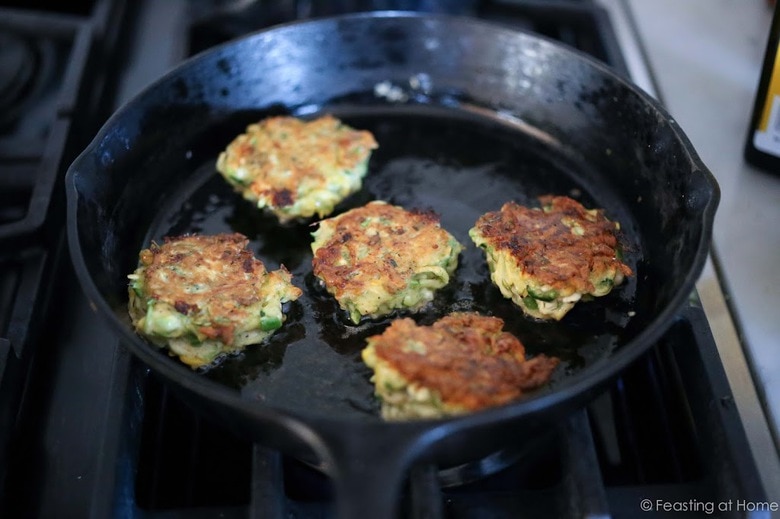 Then place the fritters on a parchment-lined sheet pan, or on a wire rack to finish cooking all the way through in the oven- without letting them get too dark on the outside.
You will know they are done in the inside when they start to puff up slightly.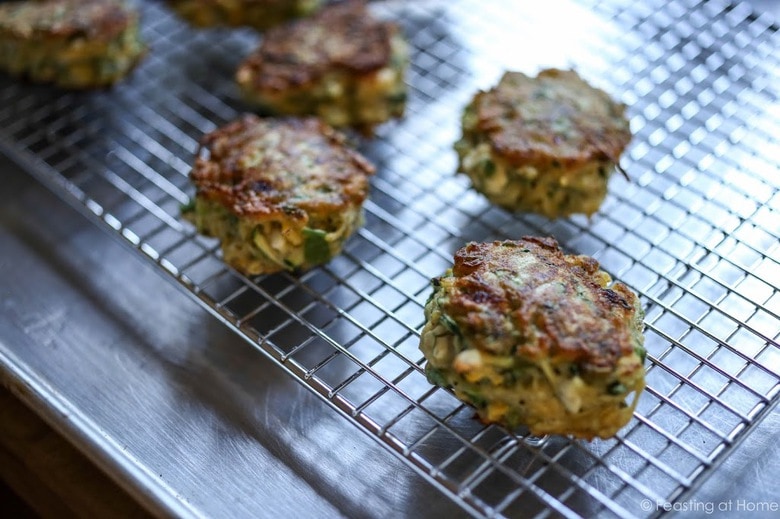 Make your Tzatziki Sauce.  If you are swimming in Zucchini, Tzatziki can also be made with zucchini instead of the traditional English cucumber!
Tzatziki, a Greek-style yogurt sauce is a really refreshing and cool topping for the crispy warm fritters.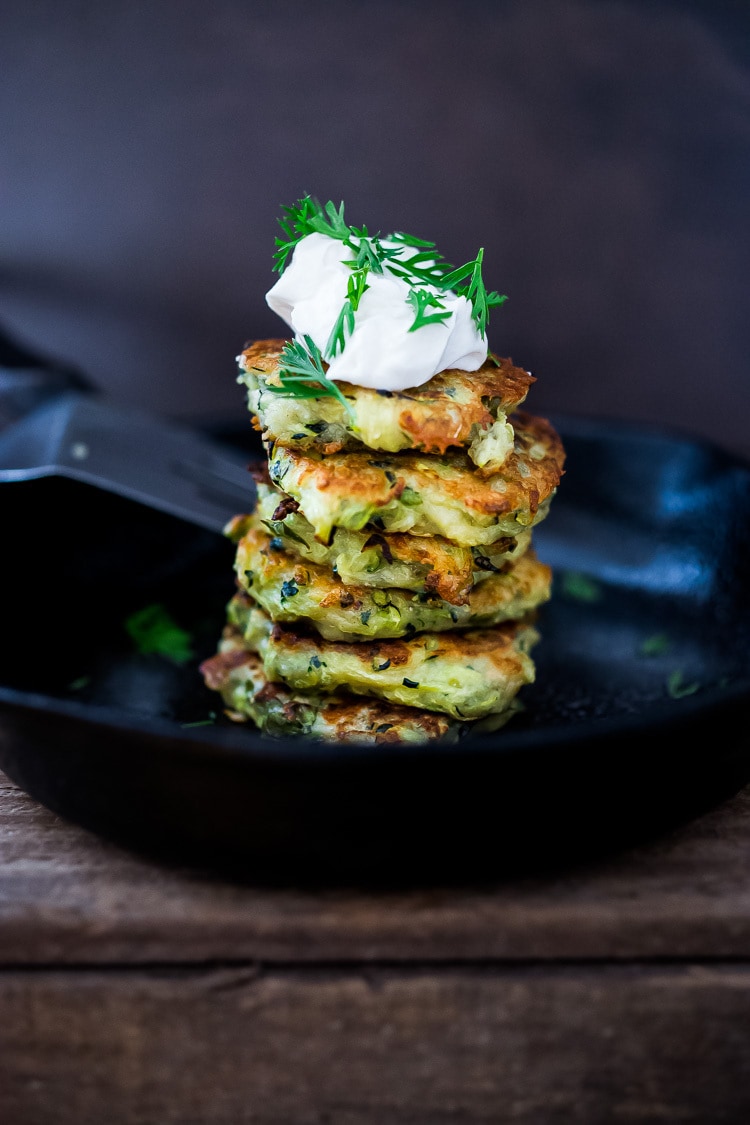 Pull the zucchini fritters out of the oven and serve warm. Leftovers can be stored in the fridge and reheated, uncovered in a toaster oven and surprisingly will get crispy again. Every time I make zucchini fritters, I often wish I would have made a double batch. They tend to go very quickly.
Spoon a dollop of tzatziki sauce on top and serve with a salad. This can be a light dinner or hearty lunch.
Or, to serve as a fun appetizer, make much smaller fritters ( 1 1/2  inch in diameter) and top with tzatziki and a fresh sprig of dill -and pierce a mini fork down through the top, for the perfect appetizer bite.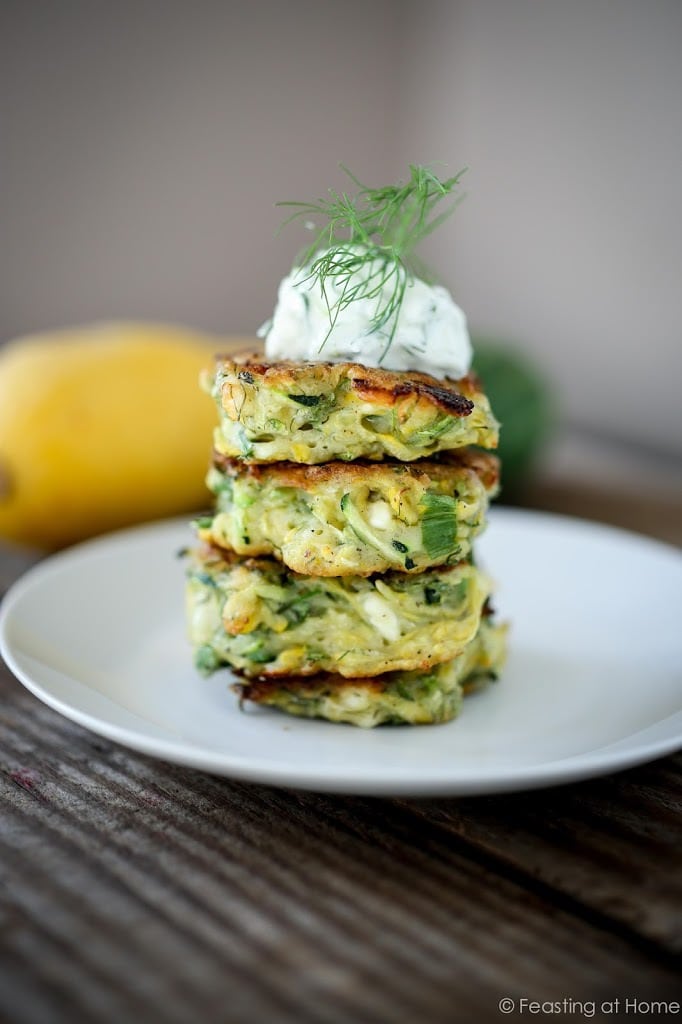 I'm so excited for you to try these Zucchini fritters with
Tzatziki Sauce
! So tasty!
Print
Zucchini Fritters with Dill, Feta and Tzatziki Sauce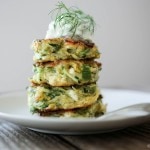 How to make Zucchini Fritters! An easy recipe with dill, feta and tzatziki sauce. A Greek spin on our favorite fritters !
Prep Time:

20 mins

Cook Time:

20 mins

Total Time:

40 mins

Yield:

12

fritters

1

x
Category:

Appetizer

Method:

seared

Cuisine:

Greek
Scale
Ingredients
1 1/2

lbs small summer squash (about

3

medium zucchini)

1 tsp

salt

1/2

C chopped scallions

1/3

C chopped fresh dill

1/2

C crumbled feta

1

large egg

1/2

C all-purpose flour (or GF flour) or dry bread crumbs

1/2 tsp

baking powder

1/4 tsp

fresh nutmeg
Get the recipe for Tzatziki Sauce Here! 
Instructions
Using a grater or food processor, grate the zucchini. You need about 4 Cups grated, placed in a med-sized bowl. Sprinkle with 1 tsp kosher salt, stir well, and let sit for 15 minutes, stirring occasionally. (This will release the water.)
Make the Tzatziki Sauce.
 Place the zucchini in a strainer, and using your hand or a spatula, press down firmly to remove as much water as possible.  You really want to get these fairly dry.
Preheat oven to 350F
Place the grated zucchini in a bowl, adding dill, scallions, feta, nutmeg, and one egg. Mix well.
In a separate bowl mix flour and baking powder together. Add flour mixture to zucchini, incorporating all. This will be a fairly thick batter.
In a heavy bottom skillet, heat 1-2 T olive oil or butter over medium heat. When the oil is hot, spoon ping-pong sized balls of the batter. Brown each side until golden about 3 minutes each side, and place in a warm oven- either on a wire rack or on a parchment-lined sheet pan.
Make in batches, letting fritters finish at least 10 minutes in the oven, or until they puff slightly.
Serve with a dollop of Tzatziki Sauce
Notes
Can be made ahead and reheated!
Keywords: Zucchini Fritters, zucchini fritters recipe, how to make zucchini fritters