Soba Noodle Salad with Smoked Salmon, cucumber, scallions and a simple sesame dressing. Sub smoked tofu for the salmon and keep it vegan.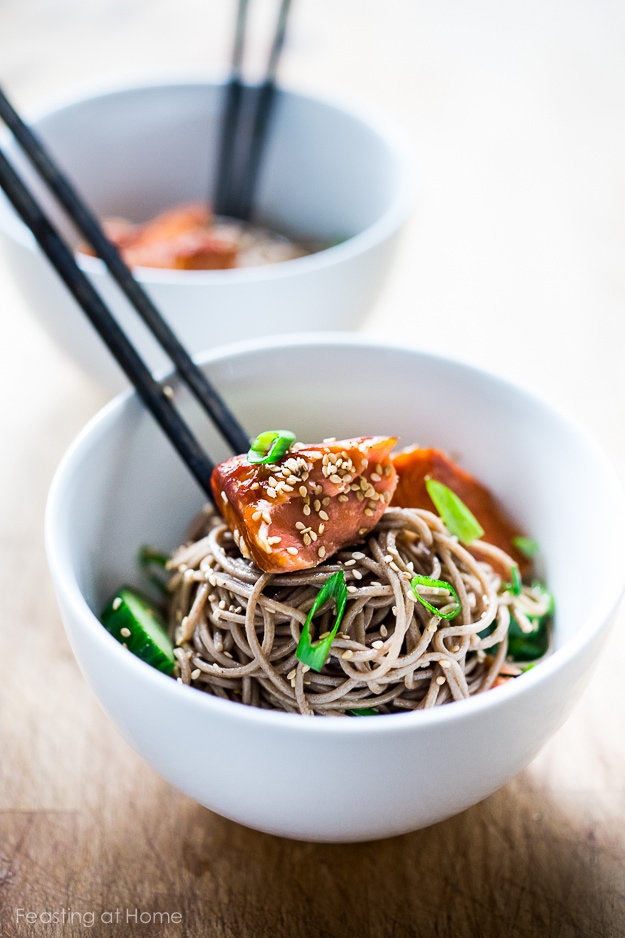 When you say "yes" to what is, you become aligned with the power and intelligence of Life itself.
Eckhart Tolle- from Stillness Speaks
This Soba Noodle Salad with smoked salmon, scallions, cucumbers and a simple sesame dressing is a quick healthy meal. To keep it vegan, sub smoked or baked tofu for the salmon. It can be served warm as a main, or chilled as a salad. Of course you can always add more veggies! Soba noodles, if unfamiliar, are Japanese noodles made out of buckwheat, an ancient grain, that is actually and surprisingly wheat and gluten free. I've been gobbling them up all week, in soups, warm noodle dishes and salads. Hearty, healthy and delicious!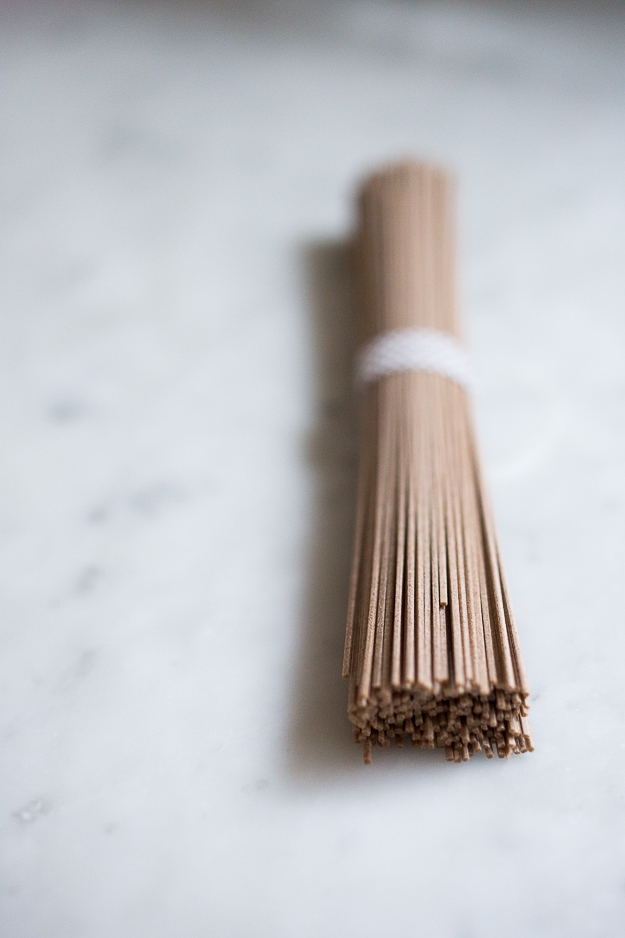 Despite its name, buckwheat, is completely unrelated to wheat, and is totally wheat free, coming from a totally different plant, more closely related to rhubarb. A blessing to those with gluten intolerance or celiac, it is an amazing source of fiber, protein and nutrients. But besides all its incredible health benefits, it tastes great! I love it for its hearty, filling, energy creating qualities and its nutty flavor. If going gluten free make sure your soba noodles are made with 100% buckwheat, and no added wheat flours. Eden Foods makes soba noodles that are totally gluten free.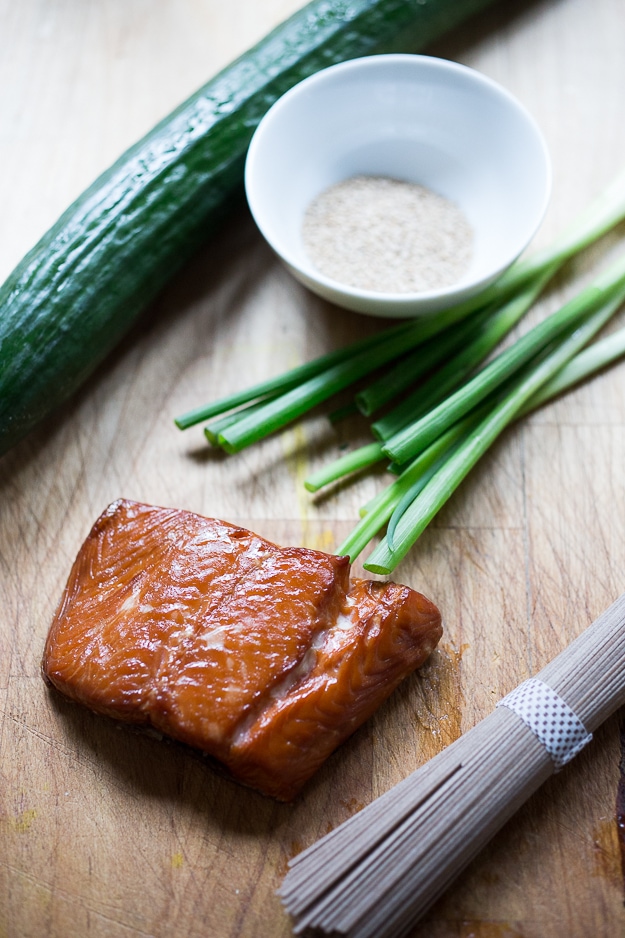 The noodles take 4 minutes to cook. Another plus, in my opinion. Bring a pot of water to boil. Add the noodles, keep at a rapid boil for 4 minutes.
Strain
, Rinse.
For an even nuttier flavor,
soba noodles
can be toasted in the oven first, before boiling, to bring out more depth and toasty nutty goodness. Give it a try sometime.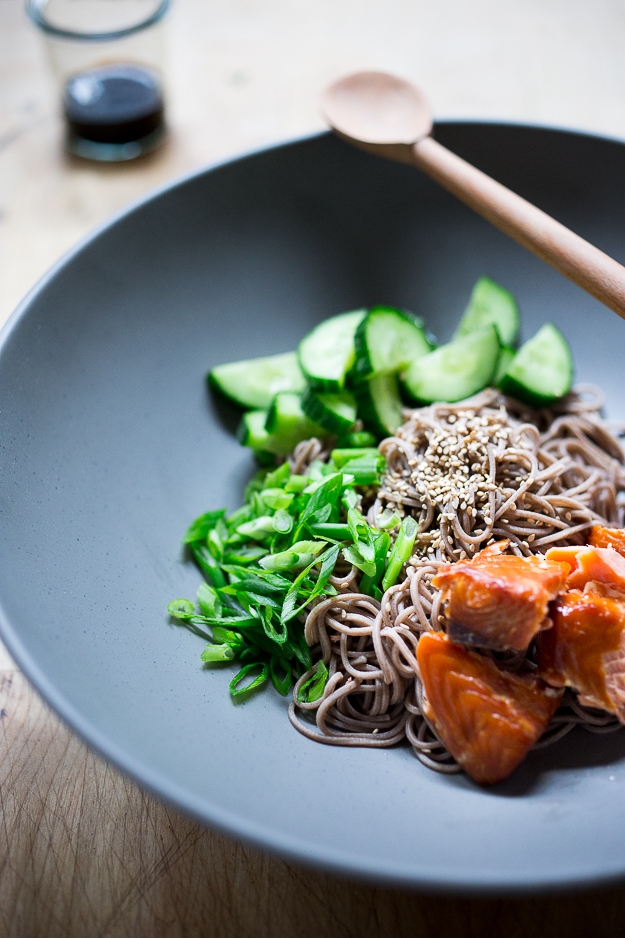 While the noodles are boiling, prep your veggies. I usually include cucumbers and scallions. Sometimes I'll add bell pepper, carrots or even snow peas. Play around with what you have on hand. Even a hand full of spinach tossed in would be tasty. Or baked or smoked tofu. And if you have more time, make a quick oven roasted miso-glazed salmon, for the top. So tasty.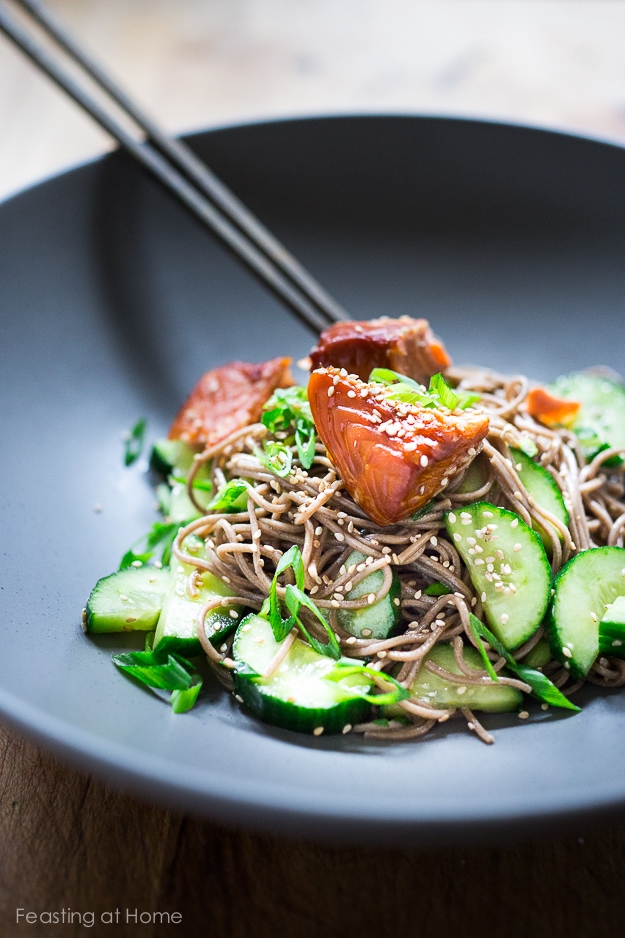 Toss all together in a bowl – with a simple dressing of equal parts: toasted
sesame oil
,
rice wine vinegar
and tamari ( or try Bragg's Liquid Amino Acids).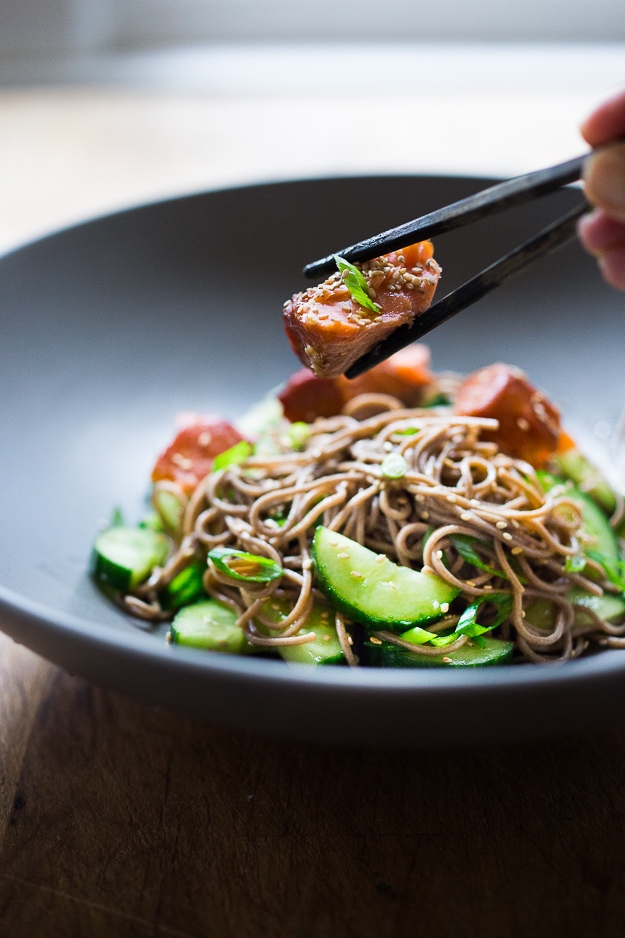 This soba noodle salad, makes for a quick and healthy meal.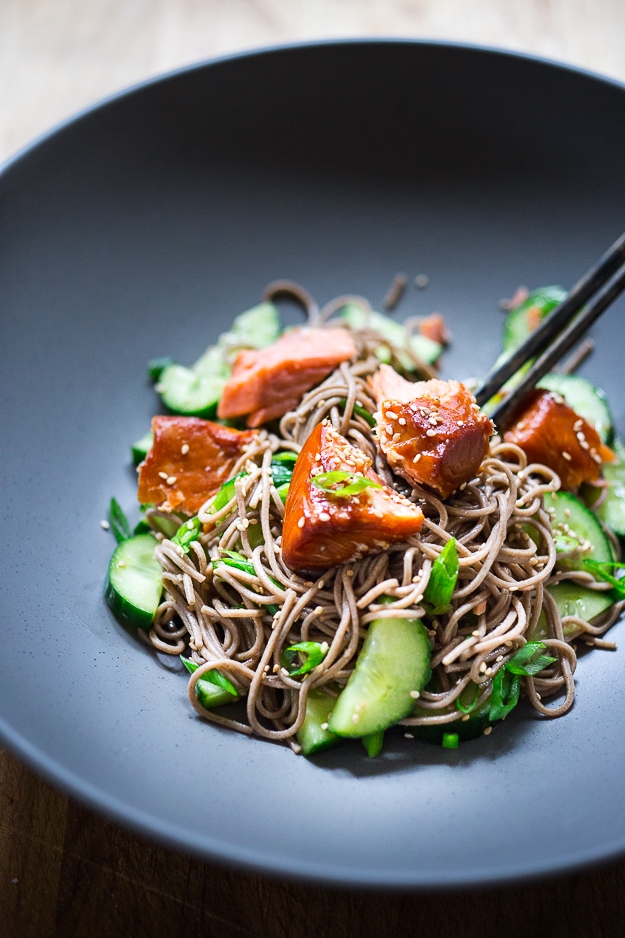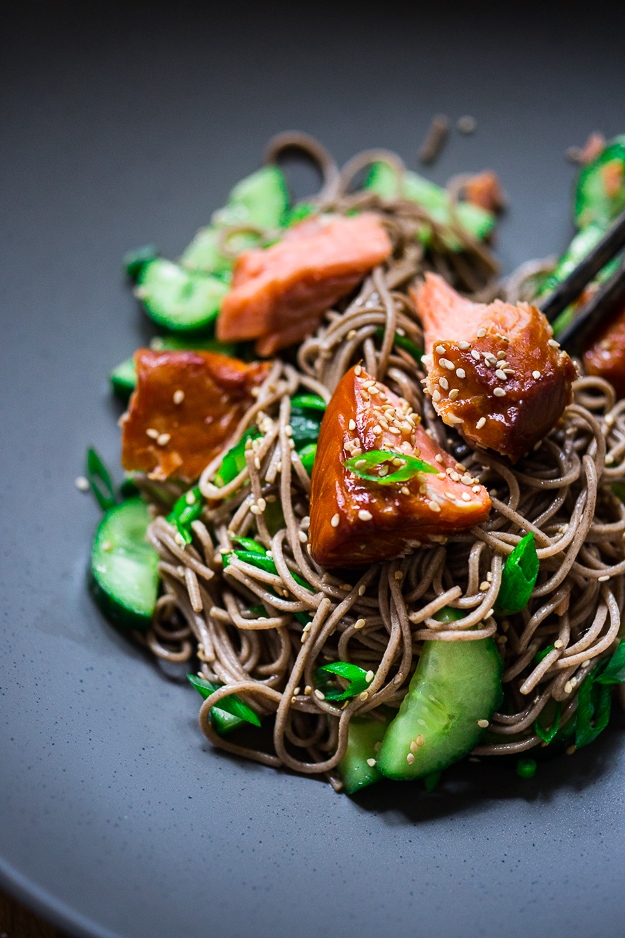 Print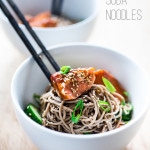 Soba Noodle Salad with Smoked Salmon ( or tofu) and Cucumber
Prep Time:

15 mins

Cook Time:

15 mins

Total Time:

20 mins

Yield:

2

Category:

salad, main,

Method:

stove top

Cuisine:

Japanese
---
Description
Soba Noodle Salad with Smoked Salmon ( or tofu) , Scallions and Cucumber and a simple sesame dressing.
---
---
Instructions
Cook soba noodles, according to directions, about 4 minutes in boiling salted water. Drain, rinse with cold water, place in medium bowl and drizzle with sesame oil, soy and vinegar. Toss to coat.
Add cucumber, scallions and sesame seeds.
Divide among two bowls, and top with smoked salmon or smoked tofu.
---
---
Keywords: soba noodle salad, soba noodles, soba noodle salad recipe, smoked salmon noodle salad recipe, soba salad