A quick and easy recipe for homemade Marinara Sauce using fresh garden tomatoes or canned tomatoes simmered on the stovetop in under 30 minutes. Freeze for winter! Video.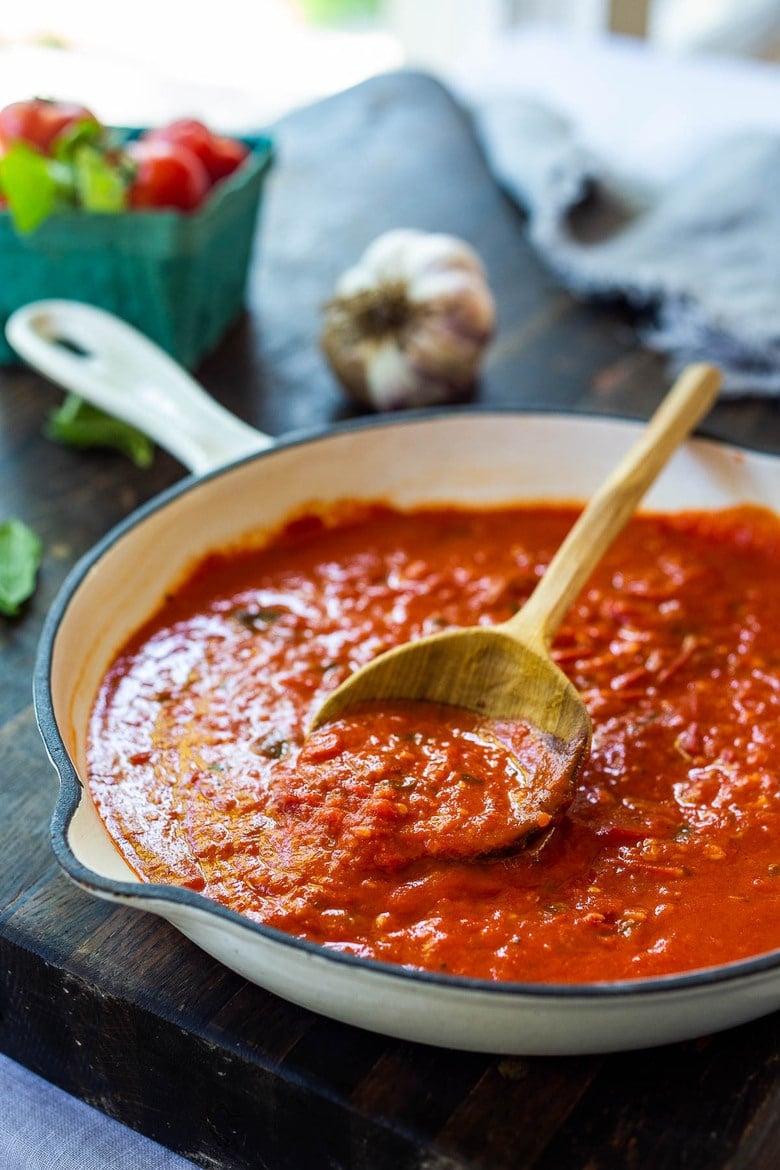 Learning to live with ambiguity is learning to live with how life really is, full of complexities and strange surprises.

James Hollis
Harvest season is upon us and many of you have been very busy making our Roasted Tomato Sauce, but I wanted to share a very quick and easy recipe for Marinara Sauce that can be made on the stovetop in just a few minutes. Perfect for busy weeknights. It's full of flavor and couldn't be more delicious.
It can either be made with fresh, ripe summer tomatoes or canned San Marzano tomatoes when tomatoes are no longer in abundance. The recipe makes the same amount of marinara sauce you would get in a jar of store-bought marinara sauce- roughly 3 cups. If you happen to be lucky enough to have a garden full of tomatoes, make a big batch and freeze the Marinara sauce to pull out during the cold months.
Here are a few more recipes to celebrate fresh tomatoes Grilled Tomatoes and Tomato Vinaigrette! So delicious!
Easy Marinara Sauce | 60-sec Video
Why You'll Love This Marinara Sauce!
Quick and Easy: This marinara sauce recipe can be made on the stovetop in under 30 minutes, making it perfect for busy weeknights when you need a delicious meal in a pinch.
Versatile: Use this classic marinara sauce on pasta, pizza, or meatballs. It's incredibly versatile and can elevate a variety of dishes.
Full of Flavor: With the combination of fresh or canned tomatoes, garlic, onions, oregano, and basil, this marinara sauce is packed with delicious flavors that will enhance any dish.
Freezer-Friendly: Make a big batch of this marinara sauce and freeze it to enjoy during the colder months when fresh tomatoes aren't readily available. It's a convenient option that allows you to enjoy the taste of summer all year round.
Health Benefits: Tomatoes, the main ingredient in this marinara sauce, are rich in nutrients and antioxidants. They are known to be beneficial for heart health, and skin health and may even have anti-inflammatory properties.
Authentic Italian Flavor: This marinara sauce captures the essence of Italian cuisine with its simple yet robust flavor profile. It's a true taste of Italy in every bite.
Homemade Goodness: Making marinara sauce from scratch allows you to control the quality of ingredients and customize the flavors to your liking.
Ingredients in Marinara Sauce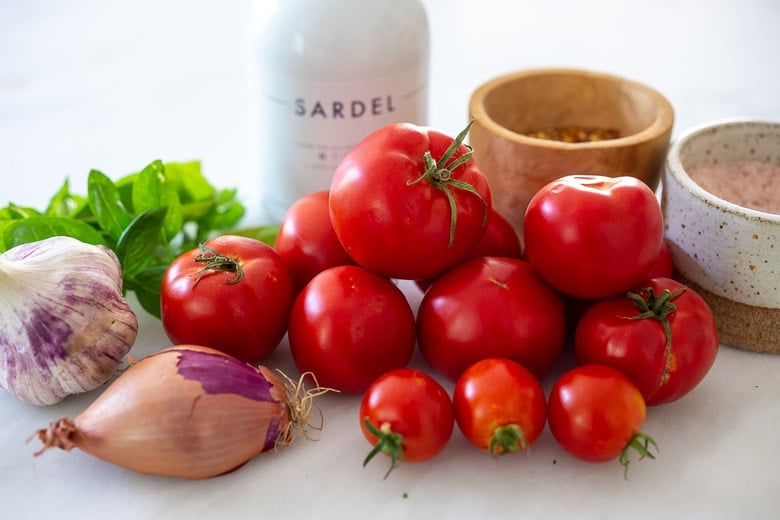 Ingredient Notes
Onion or shallot– Choose whichever you prefer or have on hand.
Garlic cloves– Garlic cloves add a delicious flavor to the sauce.
Chili flakes– If you like a bit of heat, add chili flakes to spice up the sauce. Adjust the amount based on your desired level of spiciness.
Tomatoes– Fresh, ripe summer tomatoes or canned San Marzano tomatoes.
Fresh herbs: Oregano, whether fresh or dried, adds an aromatic and earthy flavor to the sauce. Fresh basil leaves are a classic addition to Marinara Sauce. Tear them and add them to the sauce to infuse a fresh and herby flavor.
Salt and Pepper– Adjust to taste.
Optional– Tomato paste- If your fresh tomato sauce lacks sweetness, stir in some tomato paste (or maple syrup or honey) to sweeten.
How to make Marinara Sauce
Step 1: Prep the tomatoes
A fast and easy way to prep fresh tomatoes is simply to blend them up, skins and all. Yup, I know, this is not traditional but it is really time-saving – and I happen to like, even prefer the skins in here because they contain a higher concentration of healthy flavanols ( see #10).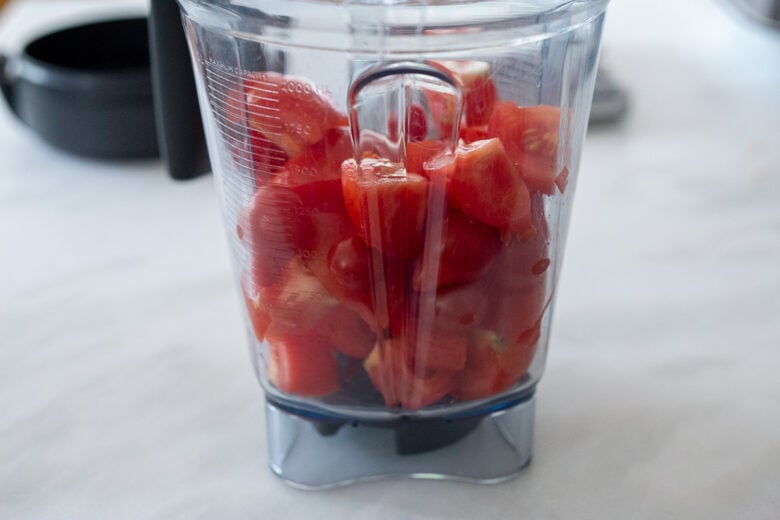 Alternatively, you can slice the tomatoes in half and grate them, leaving the tomato skins out. This is also relatively fast and easy. In either case, you'll end up with roughly four cups of tomatoes, which will end up reducing down to three.
Step 2: Saute!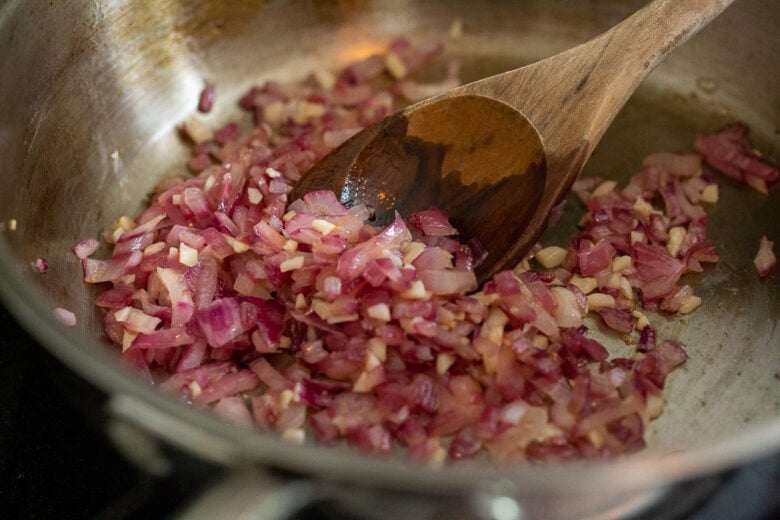 Saute the shallot or onion in a generous amount of olive oil for a few minutes, then add the garlic., chili flakes, and oregano.
Step 3: Simmer!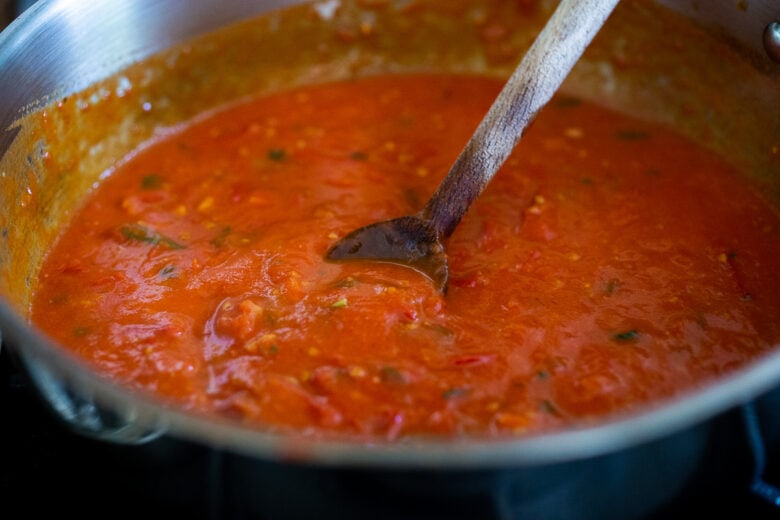 Add the grated or blended tomatoes, salt and pepper. (See recipe notes for canned Tomatoes.) Simmer the Marinara Sauce uncovered on the stovetop for 10 minutes over medium heat until reduced by one cup. Add the fresh basil.
Step 4: Taste and Adjust Seasonings
If your fresh tomato sauce lacks sweetness, stir in some tomato paste (or maple syrup or honey) to sweeten it. Adjust salt, pepper and chili flakes to your liking. In the end, you'll have enough sauce for a batch of pasta or several pizzas.
FAQS
1. What is marinara sauce?
Marinara sauce is a classic Italian tomato-based sauce known for its simplicity and bright flavors. It is typically made with tomatoes, garlic, onions, herbs, and spices.
2. Is marinara sauce the same as spaghetti sauce?
While marinara sauce is often used as a base for spaghetti sauce, the two are not exactly the same. Marinara sauce is a simple tomato sauce, while spaghetti, or pasta sauce, often includes additional ingredients like meat, vegetables, or cheese.
3. Can I use either fresh tomatoes or canned tomatoes in marinara sauce?
Yes, you can use fresh tomatoes in marinara sauce. Fresh tomatoes will give the sauce a subtly different flavor and texture compared to canned tomatoes. For canned tomatoes, I highly recommend San Marzano Tomatoes.
4. How long does it take to make marinara sauce from scratch?
The cooking time for marinara sauce can vary, but it takes just about 30 minutes to make this delicious homemade marinara sauce.
6. What are some dishes that can be made with marinara sauce?
Marinara sauce is incredibly versatile and can be used in various dishes. Some popular options include pasta dishes like spaghetti or lasagna, pizza sauce, eggplant Parmesan, chicken Parmesan, and as a dipping sauce for garlic bread or mozzarella sticks.
7. Can I adjust the spiciness of marinara sauce?
Yes, you can adjust the spiciness of marinara sauce to your liking. You can reduce or omit the chili flakes if you prefer a milder sauce. For a spicier kick, you can add more crushed red pepper or cayenne pepper.
8. Do I need to use tomato paste in marinara sauce?
While tomato paste is not always mandatory, it is commonly used in marinara sauce recipes to enhance the tomato flavor and add a little sweetness.
9. How do I store Marinara sauce?
Properly stored in an airtight container, the Marinara Sauce will keep for up to 4 days in the fridge. Marinara Sauce can also be frozen in a mason jar – just be sure to leave an inch of headroom for expansion.
10. Can I substitute dried basil for fresh basil in marinara sauce?
While fresh basil will provide the best flavor, you can substitute dried basil for fresh basil in marinara sauce. Keep in mind that dried herbs are more concentrated, so you will need less. As a general rule, use about 1 teaspoon of dried basil for every tablespoon of fresh basil.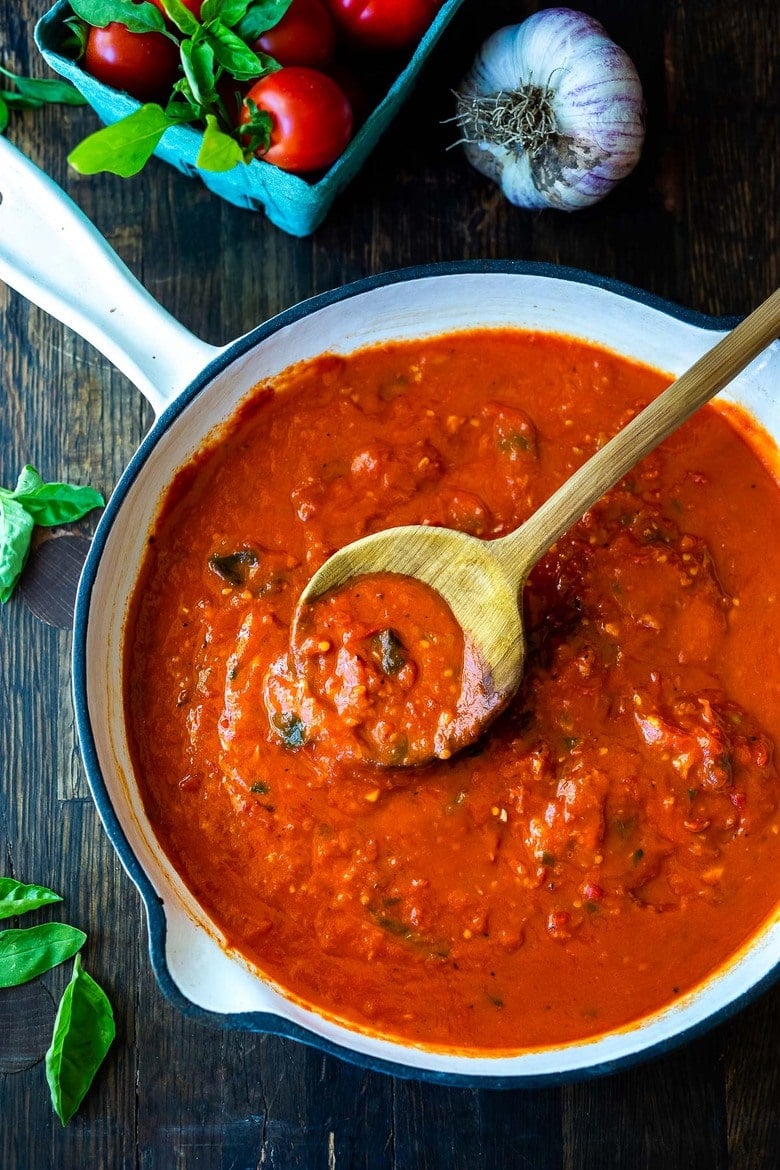 More Saucy recipes you'll love!
Ways to use Marinara Sauce!
Italian Meatballs
Spaghetti with fresh Tomato Sauce
Pizza!
Stuffed Zucchini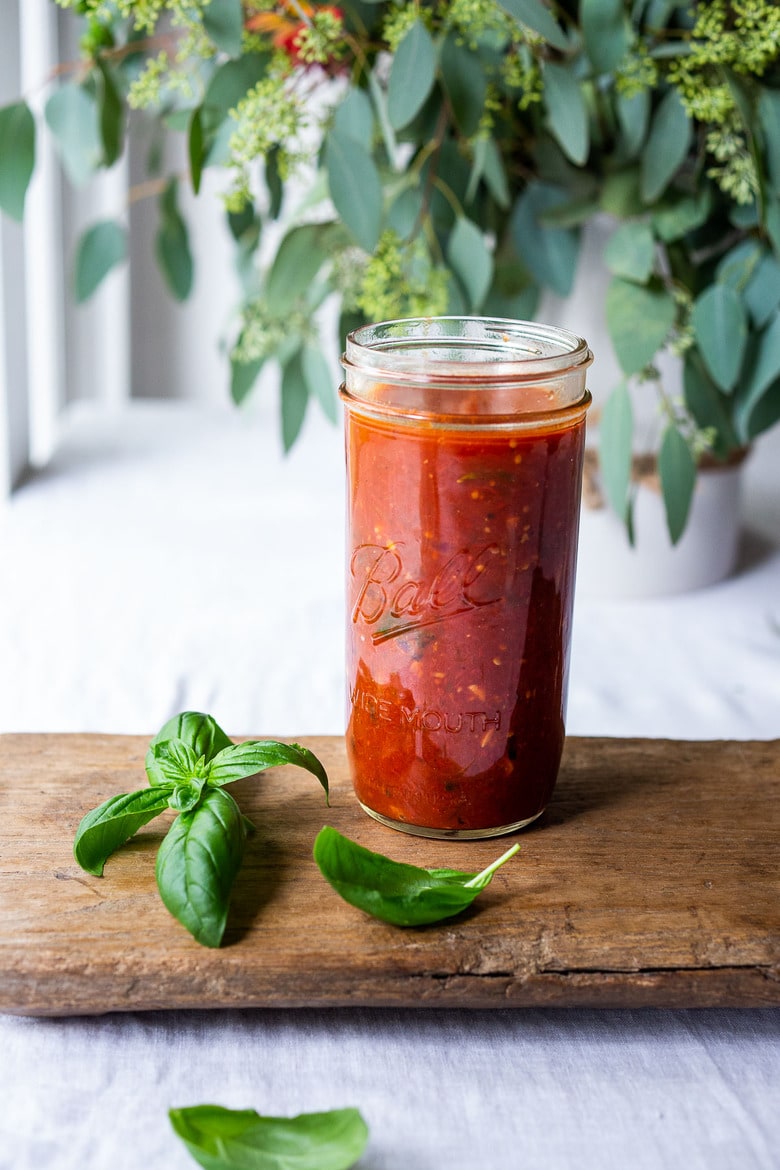 I know you'll find a lot of uses for this Easy homemade Marinara Sauce recipe. Tuck it in your back pocket!
Have a beautiful weekend, friends!
xoxo
Print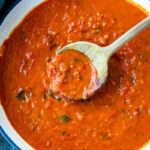 Marinara Sauce Recipe
Prep Time:

10

Cook Time:

20

Total Time:

30 minutes

Yield:

3 cups

1

x

Category:

sauce, vegan

Method:

stovetop

Cuisine:

Italian

Diet:

Vegan
---
Description
A fast and easy recipe for Marinara Sauce using fresh or canned tomatoes, with garlic, onions and oregano and basil cooked on the stovetop in under 30 minutes. Use this classic Marinara Sauce on pasta, pizza or meatballs.
---
3 tablespoons

olive oil

1/2

cup

shallots or 1 cup onions, diced

4

–

6

garlic cloves
pinch red pepper flakes (or up to 1/4 teaspoon for a nice kick)

2

pounds

ripe tomatoes (or 28-ounce can San Marzano tomatoes– see notes)

1 tablespoon

fresh oregano (or

1 teaspoon

dried oregano)

1/2 teaspoon

salt,more to taste

1/4 teaspoon

black pepper, more to taste

8

–

10

basil leaves, torn
optional: 1-2 tablespoons tomato paste, 1-2 teaspoons maple syrup or honey
---
Instructions
Prep the tomatoes: If using fresh tomatoes, quarter them and blend in a blender. Alternatively, slice them in half and grate the flesh, leaving the skins behind.
Saute: In a saute pan, saute shallot or onion over medium heat, for just a few minutes until just tender and fragrant, add the garlic, saute 1-2 minutes. Add the chili flakes and stir for one minute. Add the oregano, and give a stir. Add the tomatoes and all their juices. (If using canned tomatoes, break them apart with a metal spatula as best you can and add all the juice from the can-then add one cup of water rinsing out the can. ) Stir in the salt and pepper.
Simmer: Bring to a simmer, uncovered, and simmer gently 8-10 minutes over medium-low heat, stirring occasionally, until sauce begins to reduce and thicken. Reduce by one cup ( so you'll end up with 3 cups). If you used the canned whole tomatoes, feel free to blend them with an immersion blender.
Stir in the torn basil leaves. Taste, adjust salt, pepper, and chili flakes, and add more if you like. If your sauce lacks sweetness, stir in some tomato paste and/or maple syrup. If your sauce seems watery, just continue to cook it gently uncovered for a few more minutes. If it gets too thick add a splash of water, or if too sweet, balance it with a few drops of vinegar.
Use on pasta or spaghetti or on meatballs. To use as a pizza sauce, cook it down just a few more minutes, to thicken a little more if you like. 😉
---
Notes
San Marzano Tomatoes, have amazing flavor and break down into a sauce beautifully. They make a better sauce than diced or crushed tomatoes.
The sauce will keep 4 days in the fridge- or can be frozen. If freezing the sauce in a mason jar, leave 1-inch headroom for expansion.
If your fresh tomatoes are acidic, a reader suggested adding finely diced carrots along with the onions to help sweeten the sauce naturally. Love this idea!
Nutrition
Serving Size:
Calories:

154

Sugar:

7.6 g

Sodium:

305.3 mg

Fat:

11.1 g

Saturated Fat:

1.6 g

Carbohydrates:

14.1 g

Fiber:

3.9 g

Protein:

2.9 g

Cholesterol:

0 mg
Keywords: Marinara Sauce Recipe, easy marinara sauce, quick marinara sauce