This Thai-inspired Peanut Dressing is nutty and citrusy with a hint of sweetness, and a whisper of heat. Toss it with your favorite slaw mix, crunchy veggies, or leafy greens for a burst of sunny flavor.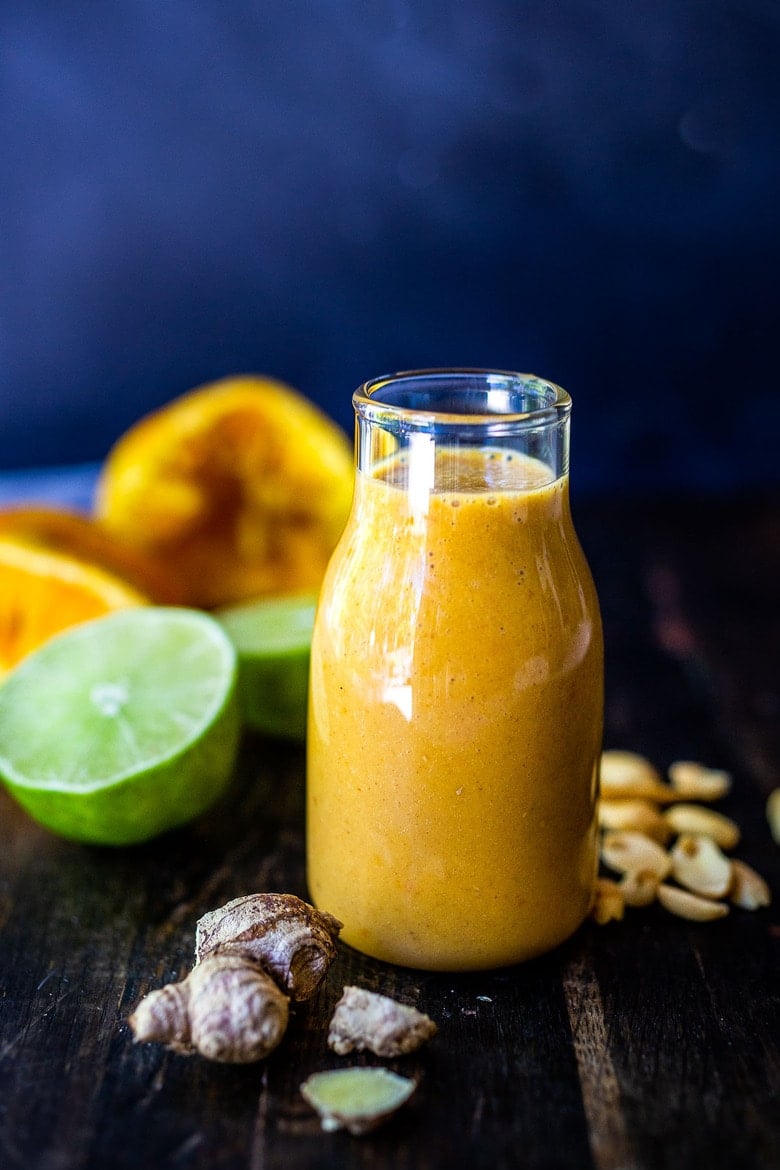 When things change inside you, things change around you.

Unknown
This Thai Peanut Salad Dressing has been on the blog for quite a while- first introduced in the Thai Crunch Salad, many years ago now. Several people have requested the peanut dressing recipe on its own with independent nutritional values, so this one is for you!
It is fairly similar in flavor to the Peanut Sauce we have on the blog, but its consistency is better suited to be tossed with salad greens or crunchy slaws.
Why You will Love This Peanut Dressing!
Deliciously Nutty: The rich and creamy flavor of peanut dressing adds a delightful element to your dishes. It complements a variety of ingredients, from fresh veggies to grilled meats, creating a harmonious taste.
Vegan and Dairy-Free: Rich and creamy made without animal products, making it a delicious choice for many types of diets.
Versatile: Peanut dressing can be used in various ways: drizzle it over slaws and salads to add depth and creaminess, use it as a dip for spring rolls or chicken satay, create simple lettuce wraps with tofu, or even toss it with noodles for a quick and satisfying meal.
Balanced and Creamy: Peanut dressing strikes a perfect balance between sweetness, tanginess, and creaminess. The combination of peanut butter, soy sauce, lime juice, and other ingredients creates a harmonious blend that tantalizes your taste buds.
Easy to Make: Making peanut dressing at home is a breeze. With just a few simple ingredients and a blender or whisk, you can whip up a batch in no time. Plus, you have the flexibility to adjust the flavors to suit your personal taste preferences.
Why make homemade Salad Dressing?
All too often, store-bought dressings are made with low-quality, inflammation-causing seed oils (canola, soy oil, sunflower, corn, grapeseed, rice bran, or safflower) because these are much less expensive to produce than high-quality olive oil.
The process by which these oils are made (heated to very high temps, then treated with chemicals to remove bad smells and dark color) is what is harmful to the body. Research shows that consuming too much of these seed oils creates inflammation in the body, damages our immune system, creates metabolic disease, type 2 diabetes, and the list goes on. Type 2 Diabetes did not exist until we introduced these "new" seed oils into our diets in the 1970s. A healthy diet consists of 2-4% of polyunsaturated fats, but now we are seeing an average of 10-20% of these oils in western diets, because of all the processed foods were consuming.
Store-bought salad dressing- even seemingly "good" brands that tout "Organic" and "non-GMO" are guilty of including these less expensive, harmful seed oils. Always check the labels. For more info on seed oils – read this and scroll all the way to the bottom.
The thought of people taking the time to create a beautiful, nourishing salad, then dousing it with seed oils makes me shudder! So please friends, check the labels or make your own.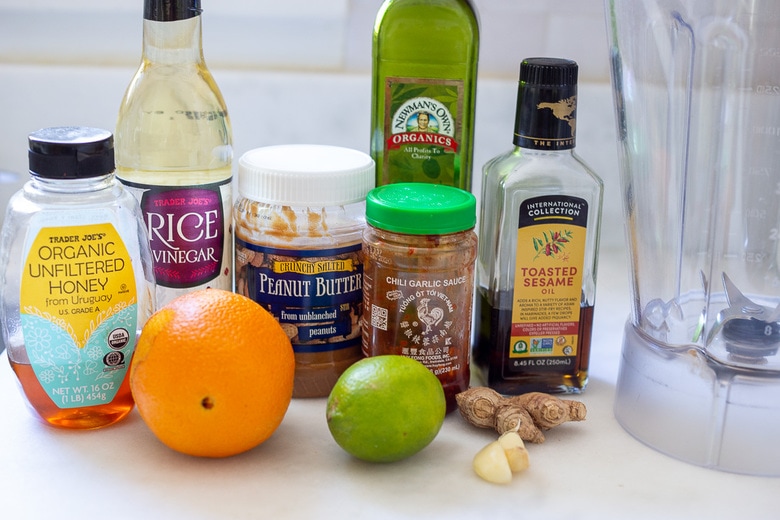 Ingredients in Thai Peanut Dressing Recipe:
Orange: You'll need the juice of an orange to add a tangy sweetness to the dressing. Make sure to use a fresh orange for the best flavor.
Lime: The juice of a lime will provide a refreshing citrus flavor and balance out the richness of the peanut butter. Again, fresh lime juice is best!
Garlic cloves: Use fresh garlic cloves for a bold and aromatic flavor.
Ginger: Fresh ginger adds a warm and slightly spicy kick to the dressing. Peel and grate the ginger before incorporating it into the mixture.
All-natural peanut butter: Opt for unsweetened, natural peanut butter without any added oils or sugars for a healthier choice. The creamy texture and nutty flavor will greatly enhance the dressing.
Toasted sesame oil: Add a few drops of toasted sesame oil for its distinct and nutty aroma. Be mindful not to overpower the dressing with too much sesame oil.
Soy sauce, Tamari, Coconut Aminos or Braggs Liquid Aminos: Any of these options will provide a savory umami taste to the dressing. Gluten-free varieties are available.
Rice vinegar: This mild and slightly sweet vinegar adds a tangy note and helps to balance the flavors. You can substitute with apple cider vinegar if needed.
Sambal or sriracha sauce: These spicy condiments add a nice heat to the dressing. Start with a small amount and adjust according to your preference for spiciness.
Sweetener: Depending on your taste, you can use honey, maple syrup, agave, or brown sugar to add a touch of sweetness. Adjust the amount based on your preference.
See the recipe card below for a full list of ingredients and measurements.
How to make Peanut Dressing: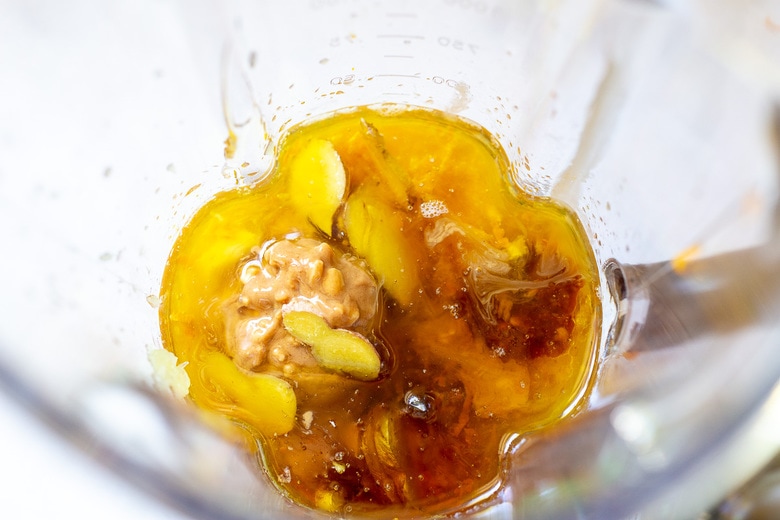 Peanut Dressing requires 5 minutes of hands-on time. Simply place the ingredients- peanut butter, olive and sesame oil, orange juice, lime juice, rice vinegar, soy sauce, garlic, ginger, and seasonings, in a blender and blend until smooth. (You can use a food processor, it just may not get as smooth.)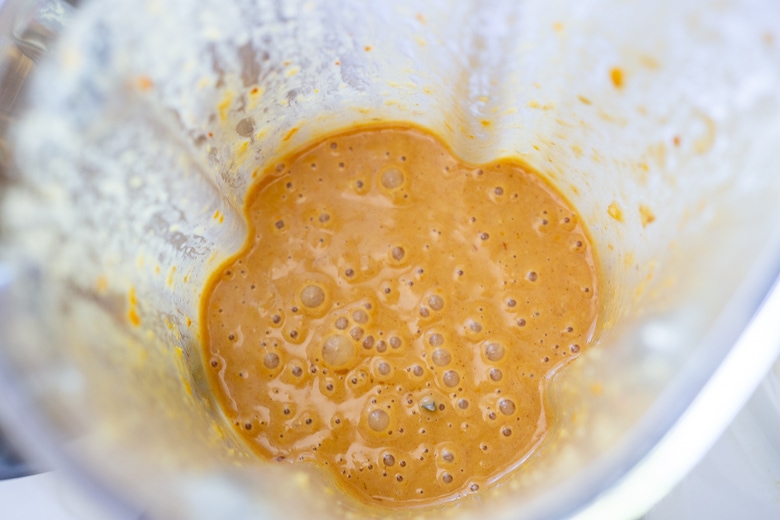 Pour the dressing into a sealed jar or salad dressing bottle. How easy is that?
Store the Peanut Dressing in the fridge for up to 7 days- a nice thing to have on hand!
Ways to use Peanut Dressing
Peanut Dressing FAQS
What is peanut dressing made of?
Natural and unsweetened peanut butter, orange juice, lime juice, garlic, ginger, soy sauce, sesame oil, and a sweetener like honey or brown sugar. It can also include additional seasonings and spices to enhance the flavor.
Is Thai peanut dressing high in calories and carbs?
The calorie and carbohydrate content of Thai peanut dressing can vary depending on the specific ingredients and quantities used. Peanut butter itself is relatively high in calories and carbohydrates, but when used in moderation, the dressing can still be a healthy addition to your meals.
What does peanut dressing taste like?
Peanut dressing has a rich and creamy flavor with a combination of nuttiness, tanginess from the citrus juices, and a hint of sweetness from the sweetener. It may also have a subtle spicy kick if you choose to add ingredients like sriracha or sambal.
Is peanut dressing healthy?
Peanut dressing can be a healthy choice when made with natural ingredients and consumed in moderation. Peanut butter provides healthy fats and protein, while citrus juices add essential vitamins. However, it's important to be mindful of portion sizes and the amount of sweetener added.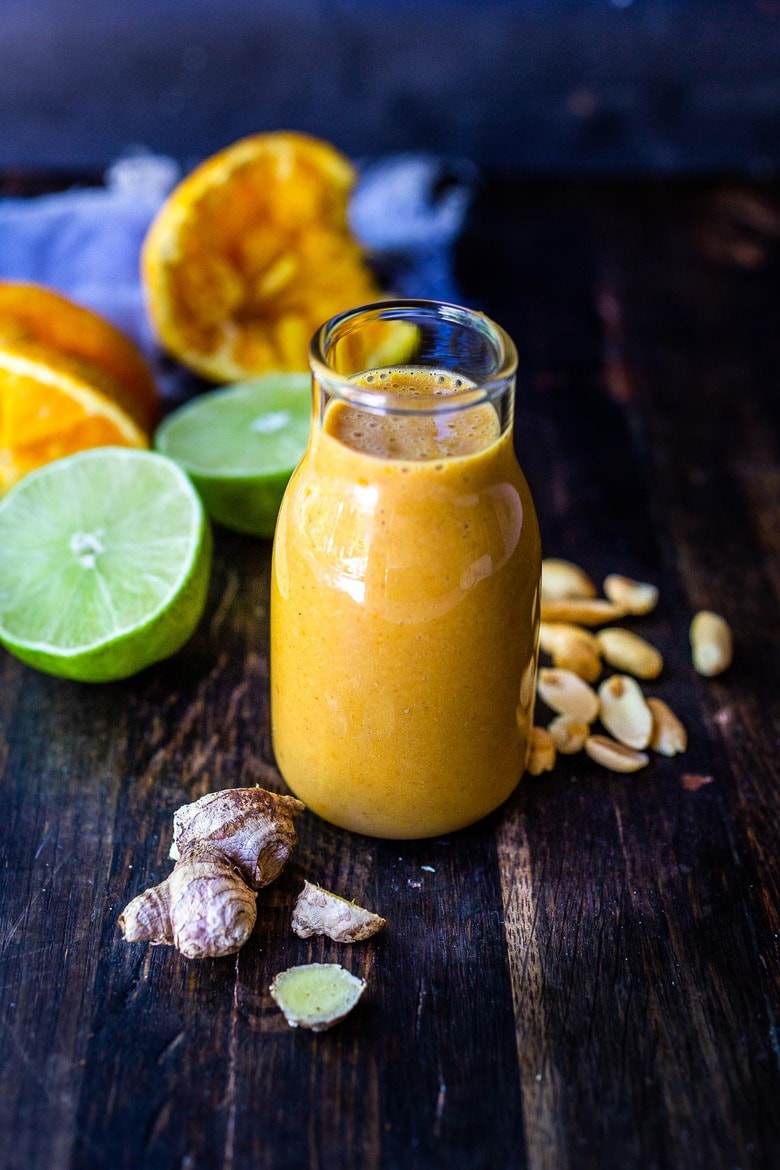 More Dressings and Sauces to Enjoy:
My favorite way to enjoy this Thai Peanut dressing is tossed with cabbage slaw– utilizing all the beautiful fall cabbages in season right now! Or pick up a bag of shredded broccoli or shredded carrots and create your own mix. The peanut slaw keeps in the fridge for a few days and is great in tacos, on burgers or as a side to what you are already serving.
Have a beautiful fall weekend friends,
Love this recipe? Please let us know in the comments and leave a 5-star ⭐️⭐️⭐️⭐️⭐️ rating below the recipe card.
Print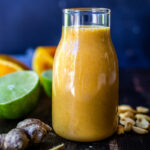 Peanut Dressing
Prep Time:

5

Total Time:

5 minutes

Yield:

1 ⅛ cups

1

x

Category:

dressings,

Method:

blended

Cuisine:

thai

Diet:

Vegan
---
Description
This Thai-inspired Peanut Dressing is delicious tossed with slaws and salad greens. It's nutty, citrusy, subtly sweet with a tiny bit of heat that you can kick up a notch to taste. It's delicious tossed with crunchy slaws!
---
1

orange, both zest and juice (

1 tablespoon

zest,

1/3 cup

-1/

2 cup

juice)

1

lime, juice (

1/4 cup

)

3 tablespoons

honey, maple, agave or brown sugar

2

garlic cloves

3

thin sliced disks of ginger (about

1 1/2 tablespoon

)

1/4

cup

olive oil

1 tablespoon

toasted sesame oil

1 tablespoon

soy sauce or Braggs Liquid Amino Acids (GF)

1 tablespoon

rice vinegar

1/2

–

1

teaspoon sambal (red chile paste) or sriracha sauce, or a pinch of red pepper flakes

1/2 teaspoon

salt, more to taste.

1/4

cup

peanut butter (*see notes)
---
Instructions
Place the orange juice, orange zest, lime juice, sweetener, garlic, ginger, olive oil, sesame oil, soy sauce, vinegar, optional chili paste, salt, and peanut butter in a blender, and blend until smooth.
Store in a sealed jar or salad dressing bottle in the fridge.
---
Notes
Peanut Dressing will keep up to 7 days in the fridge.
The dressing will thicken while refrigerated, just simply whisk it up to the desired consistency, and make it thinner with a little water or orange juice if needed.
We use unsweetened lightly salted peanut butter with no added oils.
Nutrition
Serving Size:

2 tablespoons

Calories:

124

Sugar:

5.6 g

Sodium:

166.6 mg

Fat:

10.3 g

Saturated Fat:

1.7 g

Carbohydrates:

7.8 g

Fiber:

0.4 g

Protein:

1.7 g

Cholesterol:

0 mg
Keywords: peanut dressing, thai peanut dressing, peanut dressing. recipe