Quick and healthy Greek Salad Dressing is delicious, easy to make and so versatile.  A tasty perk for vegetable salads, pasta salad, chicken marinade, and more!  Pair it with our classic Greek Salad!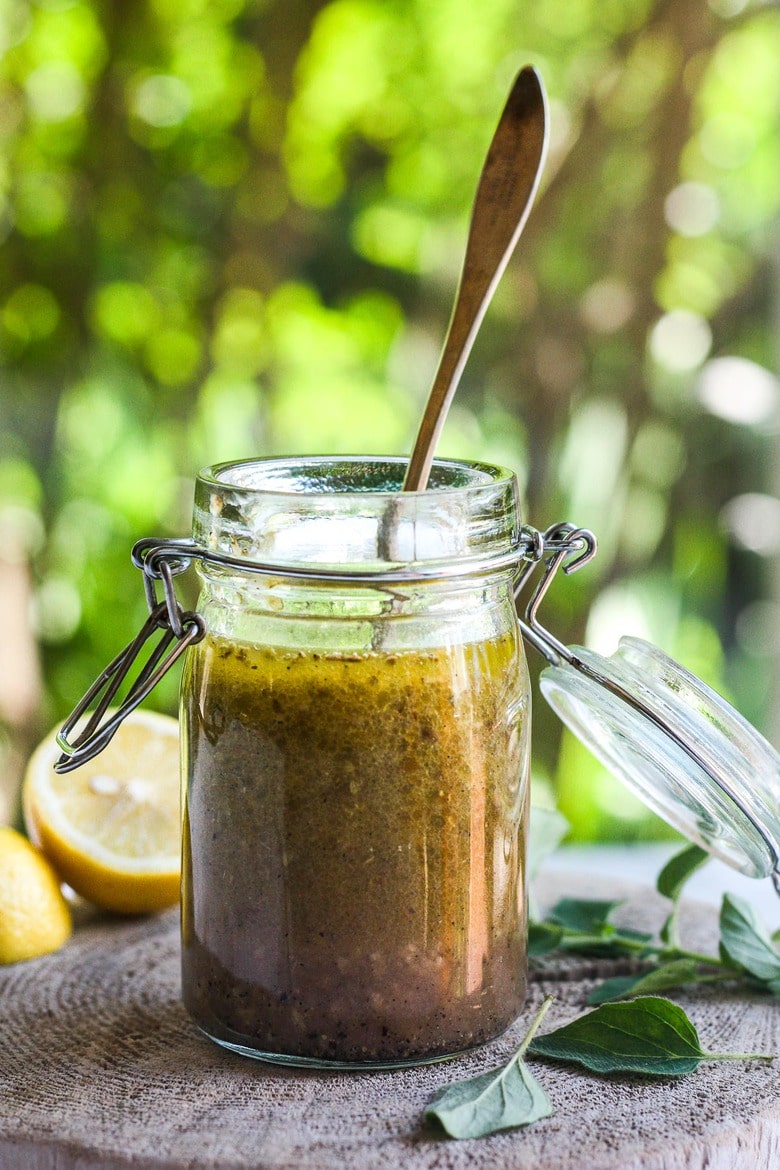 Vegan, keto-friendly, sugar-free, and gluten-free, this Greek Salad Dressing is a good staple to have in the fridge.  It takes about 10 minutes to whisk up and keeps in the fridge for up to 2 weeks!
The lemon juice softens the vinegar, giving a bright tang. Fresh garlic and dried oregano add a zesty depth. The savory flavors pair with a myriad of greens, vegetables, grains, pasta, and greens. Works great as a marinade for grilled chicken or drizzled over steamed kale. Double up on the recipe to have on hand for quick meal prep, you will thank yourself!
Why make homemade Greek Salad Dressing?
All too often, store-bought dressings are made with low-quality, inflammation-causing seed oils (canola, soy oil, sunflower, corn, grapeseed, rice bran, or safflower) because these are much less expensive to produce than high-quality olive oil.
The process by which these oils are made (heated to very high temps, then treated with chemicals to remove bad smells and dark color) is what is harmful to the body. Research shows that consuming too much of these seed oils creates inflammation in the body, damages our immune system, creates metabolic disease, type 2 diabetes, and the list goes on. Type 2 Diabetes did not exist until we introduced these "new" seed oils into our diets in the 1970s. A healthy diet consists of 2-4% of polyunsaturated fats, but now we are seeing an average of 10-20% of these oils in western diets, because of all the processed foods were consuming.
Store-bought salad dressing- even seemingly "good" brands that tout "Organic" and "non-GMO" are guilty of including these less expensive, harmful seed oils. Always check the labels. For more info on seed oils – read this and scroll all the way to the bottom.
The thought of people taking the time to create a beautiful, nourishing salad, then dousing it with seed oils makes me shudder! So please friends, check the labels or make your own.
Greek Salad Dressing Ingredients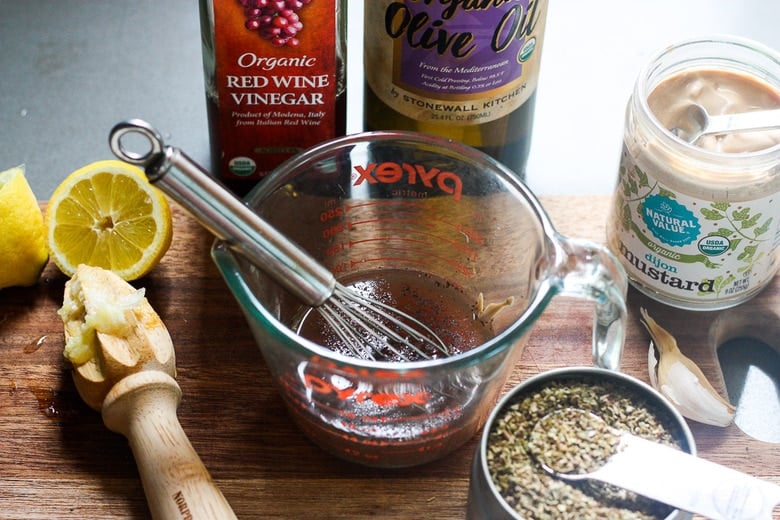 Greek Salad Dressing Notes
Red wine vinegar– classic flavor for Greek dressing, don't try to substitute.
Fresh lemon juice– brightens it up.
Dijon mustard– stone ground mustard will work too if you prefer.
Fresh garlic cloves– adjust depending on the size of your garlic and how much you love it!
Dried oregano- go ahead and use fresh if available! 1 tablespoon fresh= 1 teaspoon dried
Olive oil- extra virgin is nice here.
Tip: Good quality ingredients are key for optimum flavor.  Make sure to use high-quality olive oil for the best flavor!
See the recipe card below for a full list of ingredients and measurements.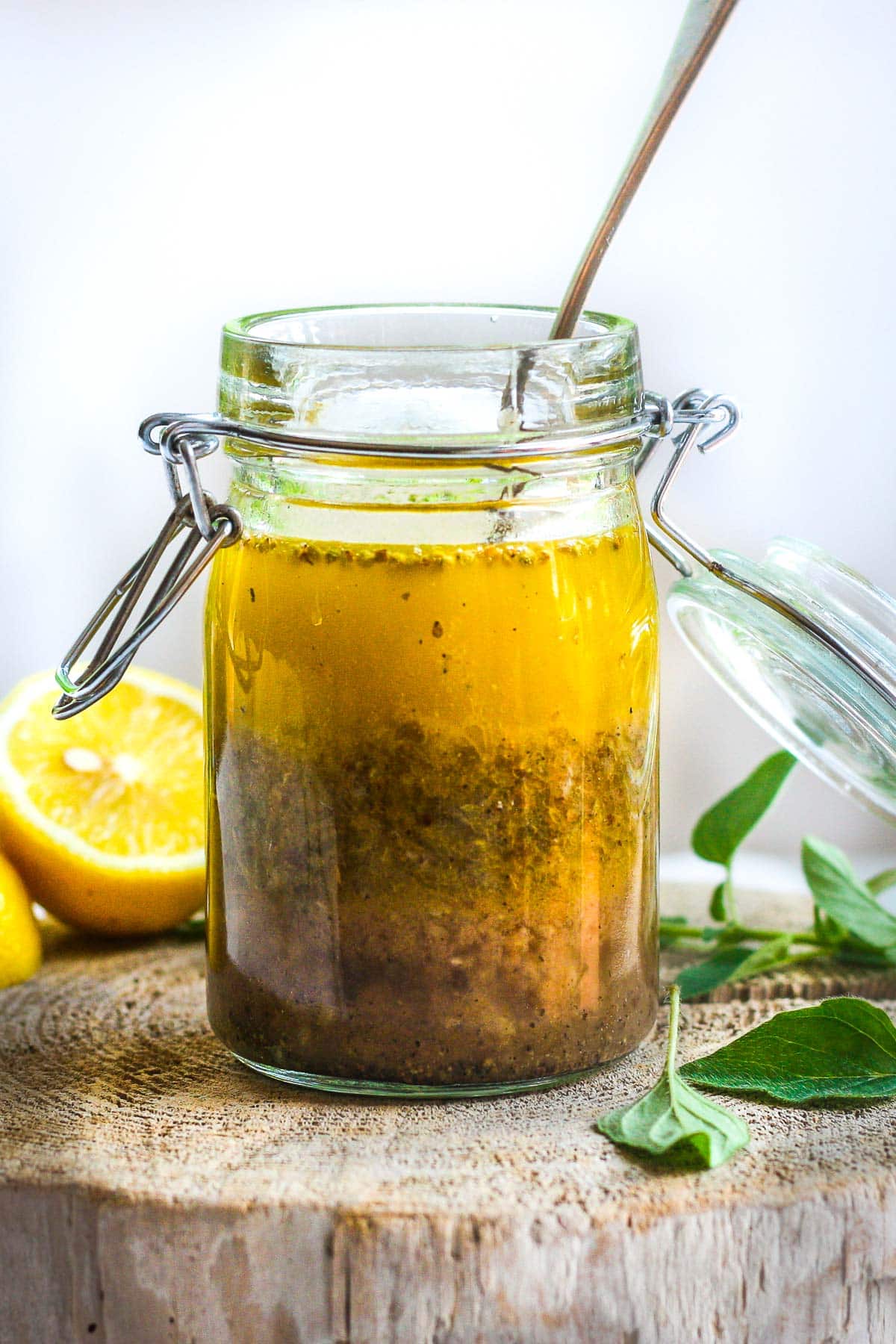 How to Store Greek Salad Dressing
Place the dressing in a salad dressing bottle or sealed mason jar or weck jar in the fridge. The dressing will keep up to two weeks, perfect for making ahead!
Ways to use Greek Salad Dressing
This amazing dressing can be used on our classic Greek Salad, in Pasta Salads or as a marinade for Grilled Chicken!
Greek Salad Dressing FAQS
How long will Greek Salad Dressing last?
The dressing will last up to two weeks in the fridge.
What does Greek Salad Dressing taste like?
Bold and tangy with sharp hints of garlic and vinegar, giving your salad a big punch of flavor.
Is Greek Salad Dressing Vegan?
Greek salad dressing is vegan and plant-based! It is comprised of olive oil, vinegar, garlic and herbs.
More Salad Dressing Recipes!
Love this recipe? Please let us know in the comments and leave a 5-star ⭐️⭐️⭐️⭐️⭐️ rating below the recipe card.
Print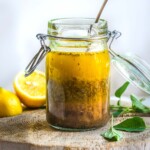 Greek Salad Dressing
Prep Time:

10 minutes

Total Time:

10 minutes

Yield:

1 cup

1

x

Category:

dressings

Method:

whisked

Cuisine:

Mediterranean

Diet:

Vegan
---
Description
Quick and healthy Greek Salad Dressing is delicious, easy to make and so versatile.  A tasty perk for vegetable salads, pasta salad, chicken marinade and more!
---
---
Instructions
Whisk together red wine vinegar, lemon juice, dijon mustard, garlic, dried oregano, salt, and black pepper.
Drizzle in olive oil, whisking all the while to emulsify.
Refrigerate in a sealed container,  and mix thoroughly before using!
---
Notes
Optional: For creamy dressing add 2 tablespoons of greek yogurt and 1 tablespoon crumbled feta.
Will keep refrigerated for up to 2 weeks.
Nutrition
Serving Size:

2 teaspoons

Calories:

126

Sugar:

0.2 g

Sodium:

307.8 mg

Fat:

14 g

Saturated Fat:

2 g

Carbohydrates:

1.1 g

Fiber:

0.2 g

Protein:

0.1 g

Cholesterol:

0 mg
Keywords: Greek Salad dressing, greek dressing recipe, Greek Salad Dressing recipe, the best Greek Salad Dressing, greek vinaigrette,