This Vanilla Fig Balsamic Dressing is a delicious vegan salad dressing recipe, perfect for fall salads. We love it on our Pear Salad!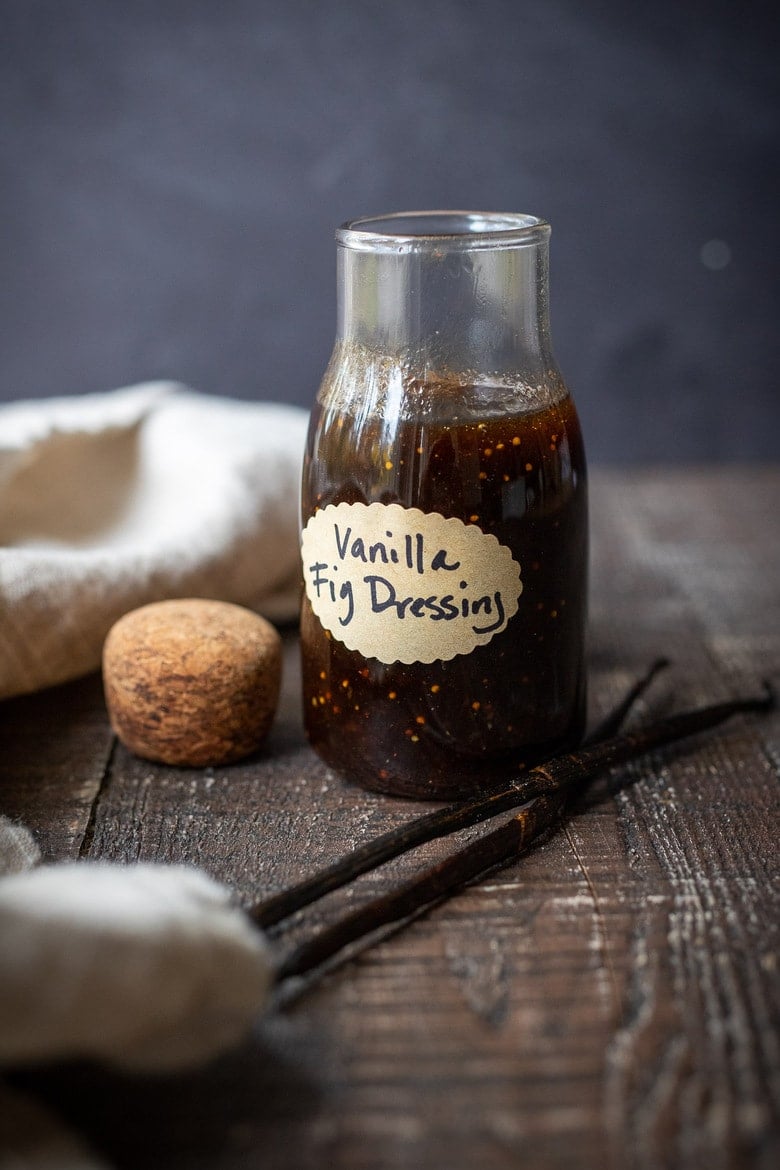 In my dream, the angel shrugged and said, if we fail this time, it will be a failure of imagination and then she placed the world gently in the palm of my hand.

Brian Andreas
This Vanilla Fig Salad Dressing makes me happy in two ways. First, it's just delicious. Plain and simple. Total yum….. especially paired with fall salads that need a little sweetness- like Apple salads or this Pear Salad.
Second, it's a great way to use up fig jam. If you are a cheese platter kind of person (like me), it's more than likely you have an open jar of fig jam in your fridge ( and if you don't, you need to!). This recipe takes full advantage of that.
It's ridiculously easy and you'll love it. I promise. The vanilla is divine here. Homemade salad dressings are a simple way to really elevate your salads. This dressing is featured on this addicting Pear Salad with Vanilla Fig Dressing, give it a try!
Why You'll Love Vanilla Fig Dressing!
Delicious Flavor: The combination of sweet fig jam, tangy balsamic vinegar, and aromatic vanilla creates a unique and delightful taste. It adds a burst of flavor to your salads and other dishes.
Versatile: Vanilla Fig Dressing is extremely versatile. It can be used for various purposes, such as dressing salads, dipping sauces, or marinades. You can even use it as a condiment for sandwiches and wraps!
Easy to Make: Making Vanilla Fig Dressing is incredibly simple. All you have to do is whisk together the ingredients in a bowl, and you'll have a tasty dressing ready to go.
Pairs Well with Fall Salads: This dressing is particularly well-suited for fall salads. Its sweetness complements ingredients like apples, pears, and roasted vegetables, adding a perfect touch to your autumn-inspired dishes.
Great Use for Fig Jam: If you have a jar of fig jam sitting in your fridge, Vanilla Fig Dressing is a fantastic way to put it to good use. It maximizes the flavor of the fig jam and creates a tangy and sweet dressing.
Give Vanilla Fig Dressing a try and experience its deliciousness and versatility for yourself!
Ingredients in Fig Balsamic Dressing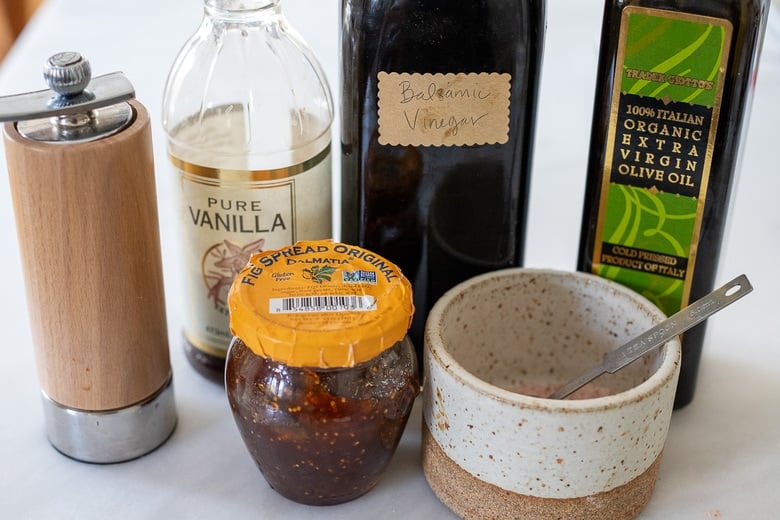 Ingredients Notes
Olive Oil: Use a good quality extra virgin olive oil for the best flavor.
Balsamic Vinegar: Opt for a high-quality balsamic vinegar, as it will make a difference in the taste of the dressing.
Vanilla: Use pure vanilla extract or vanilla bean paste for a rich and aromatic flavor.
Fig Jam: Look for a high-quality fig jam that is not overly sweet and has minimal ingredients.
Salt and Pepper: Season the dressing to taste with salt and freshly ground black pepper.
Garlic Clove: Adding a minced garlic clove can add a subtle savory note to the dressing. If you prefer a milder flavor, you can substitute with minced shallot instead.
See the recipe card below for a full list of ingredients and measurements.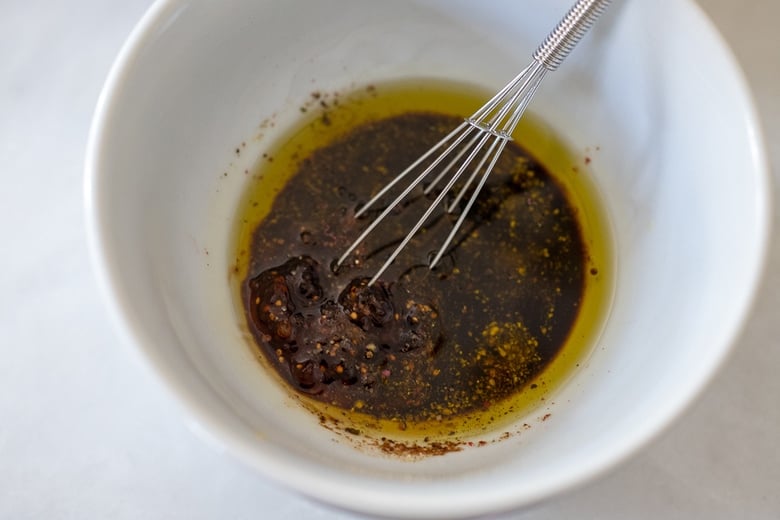 How to make Fig Balsamic Dressing
Simply whisk all the ingredients together in a bowl. For bigger batches, use a blender.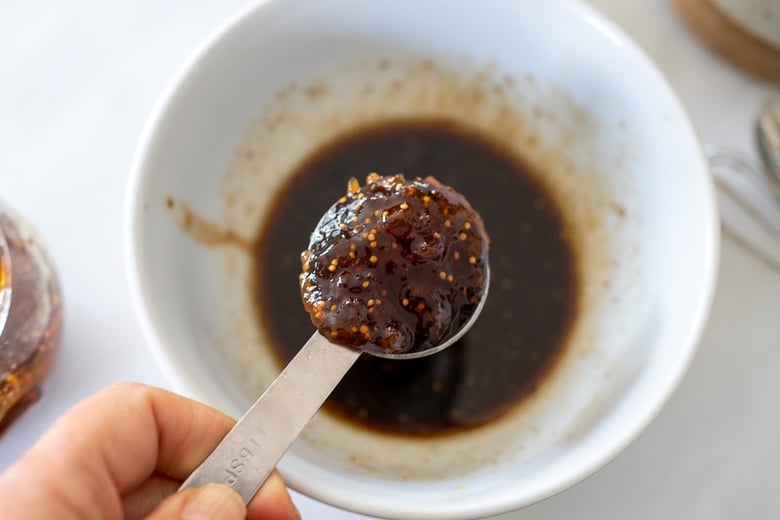 The fig dressing will keep up to 10 days in the fridge, or can be frozen.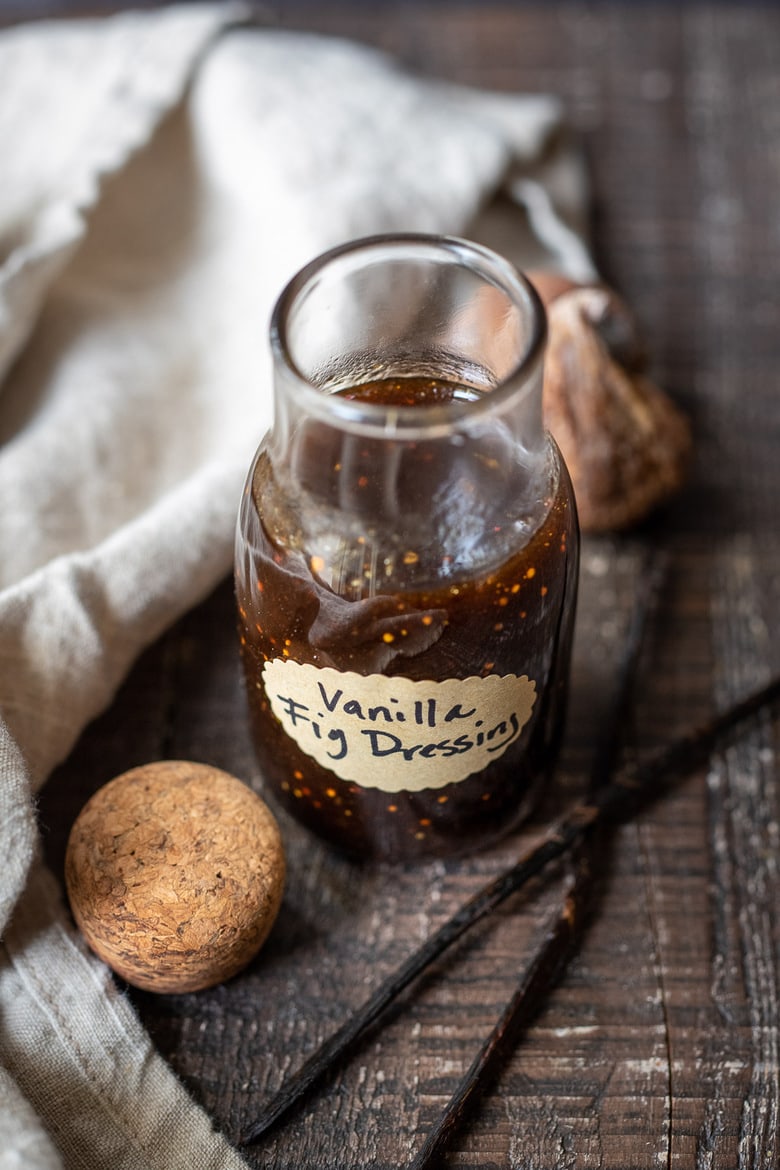 Fig dressing is versatile! Here are some fun ideas on what fig dressing is good on:
Salads: The sweet and tangy flavors of fig dressing complement leafy greens, fruits, and vegetables. Try it on green salads, mixed fruit salads, or even grain salads.
Cheese Platters: Fig dressing pairs wonderfully with cheese, especially soft or creamy varieties. Drizzle it over a cheese platter or use it as a dipping sauce for cheese and crackers.
Sandwiches/Wraps: Add a unique twist to your sandwiches or wraps by spreading fig dressing as a condiment. It adds a burst of flavor that enhances both vegetarian and meat-based fillings.
Roasted Vegetables: Toss roasted vegetables with fig dressing before serving to add richness and depth of flavor. It works well with roasted carrots, butternut squash, or Brussels sprouts.
Grilled Meats: Use fig dressing as a glaze or marinade for grilled meats such as chicken, pork, or lamb. The sweetness of the figs complements the savory flavors of the meat.
Pizza Topping: Instead of traditional tomato-based sauce, try spreading fig dressing on your pizza dough. It creates a delightful sweet and savory combination with cheese and other toppings.
Feel free to get creative and use fig dressing in any way that appeals to you. Experiment with different dishes and discover your favorite combinations!
Fig Balsamic Dressing FAQS
What does Fig Dressing taste like?
Fig dressing has a unique and delicious flavor profile. The combination of sweet fig jam, tangy balsamic vinegar, and aromatic vanilla creates a harmonious blend of flavors. The fig jam adds a subtle sweetness and fruity undertones, while the balsamic vinegar adds a tangy and slightly acidic taste. The vanilla adds a warm and aromatic note to the dressing. A balance of sweet, tangy, and aromatic flavors making it a delightful addition to salads.
Can I use white balsamic instead of regular balsamic vinegar?
Yes, you can use white balsamic vinegar as a substitute for regular balsamic vinegar in the Vanilla Fig Dressing recipe. White balsamic vinegar has a lighter and slightly sweeter flavor compared to regular balsamic vinegar. The overall taste will be affected slightly, but it should still work well with the other ingredients.
Are figs healthy?
Figs are a nutritious fruit that can be beneficial for your health. They are a good source of dietary fiber, which can help promote healthy digestion and prevent constipation. Figs also contain vitamins and minerals such as potassium, magnesium, and calcium. Additionally, figs contain antioxidants that can help reduce inflammation and protect against certain diseases.
More recipes you may like
Love this recipe? Please let us know in the comments and leave a 5-star ⭐️⭐️⭐️⭐️⭐️ rating below the recipe card.
Print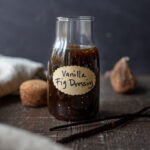 Fig Balsamic Dressing
Prep Time:

7

Total Time:

7 minutes

Yield:

⅓

. cup

1

x

Category:

dressings, salad dressing

Method:

whisked

Cuisine:

american

Diet:

Vegan
---
Description
This Fig Balsamic Dressing is infused with vanilla and is perfect for fall salads: pear salads or apple salads. Vegan and Gluten-free.
---
3 tablespoons

olive oil

2

tablespoons balsamic vinegar

2 tablespoons

fig jam

1 teaspoon

vanilla

1/4

–

1/2

teaspoon salt

1/2 teaspoon

pepper

1

garlic clove, (optional) finely minced, or sub 1 tablespoon finely minced shallot
---
Instructions
Whisk all ingredients together – olive oil, balsamic vinegar, vanilla, fig jam, salt pepper, and optional garlic clove, in a small bowl, taking care to break up all the jam bits.
Makes 1/3 cup. Enough to coat 5 ounces of salad greens. I usually make a double batch.
---
Notes
Store in the fridge for up to 10 days.
Nutrition
Serving Size:
Calories:

83

Sugar:

3.7 g

Sodium:

197.8 mg

Fat:

7 g

Saturated Fat:

1 g

Carbohydrates:

5.5 g

Fiber:

0.1 g

Protein:

0.1 g

Cholesterol:

0 mg
Keywords: fig dressing, vanilla fig dressing, balsamic fig dressing, fig balsamic vinaigrette, fig balsamic dressing