This easy Italian Dressing recipe is perfect for tossing with leafy green salads, pasta salads, bean salads, grain salads, or Antipasto Salad.  It's made with fresh herbs and a healthy alternative to store-bought dressing! Vegan.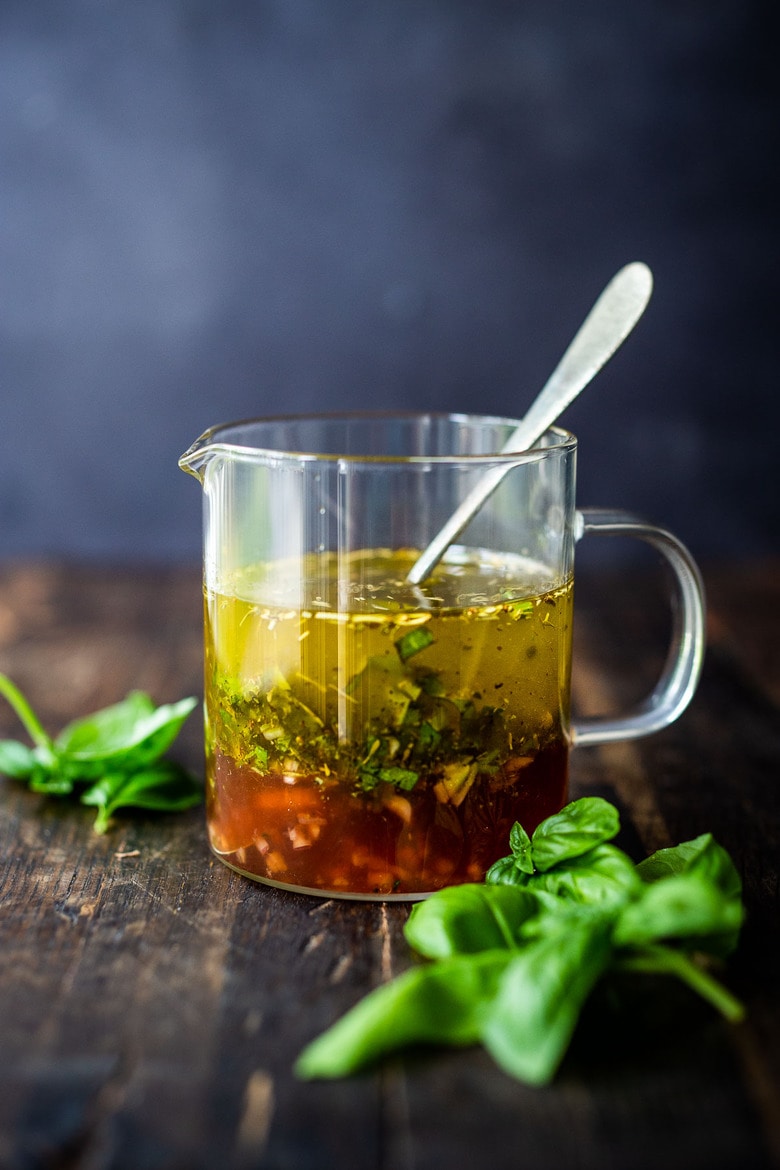 During the warm months, hearty salads are a daily occurrence. With is so much fresh abundance available this time of year, salads become a simple useful vehicle to getting these healthy nutrients into our bodies with very little cooking involved.
Each week I make a batch of homemade dressing to have on hand for quick, throw-together salads. This easy Italian Dressing (or Red Wine Vinaigrette) is one we turn to often because it compliments such a wide variety of dishes.
What I love about this homemade Italian dressing is the inclusion of fresh herbs. Adding a bit of fresh basil or Italian parsley gives the dressing a little pop of flavor, color and nutrients that you don't often get with store-bought dressings.
Why make homemade Salad Dressing?
All too often, store-bought dressings are made with low-quality, inflammation-causing seed oils (canola, soy oil, sunflower, corn, grapeseed, rice bran, or safflower) because these are much less expensive to produce than high-quality olive oil.
The process by which these oils are made (heated to very high temps, then treated with chemicals to remove bad smells and dark color) is what is harmful to the body.  Research shows that consuming too much of these seed oils creates inflammation in the body, damages our immune system, creates metabolic disease, type 2 diabetes, and the list goes on.  Type 2 Diabetes did not exist until we introduced these "new" seed oils into our diets in the 1970s. A healthy diet consists of 2-4% of polyunsaturated fats, but now we are seeing an average of 10-20% of these oils in western diets, because of all the processed foods were consuming.
Store-bought salad dressing- even seemingly "good" brands that tout "Organic"  and "non-GMO"  are guilty of including these less expensive, harmful seed oils. Always check the labels.  For more info on seed oils – read this and scroll all the way to the bottom.
The thought of people taking the time to create a beautiful, nourishing salad, then dousing it with seed oils makes me shudder! So please friends, check the labels or make your own.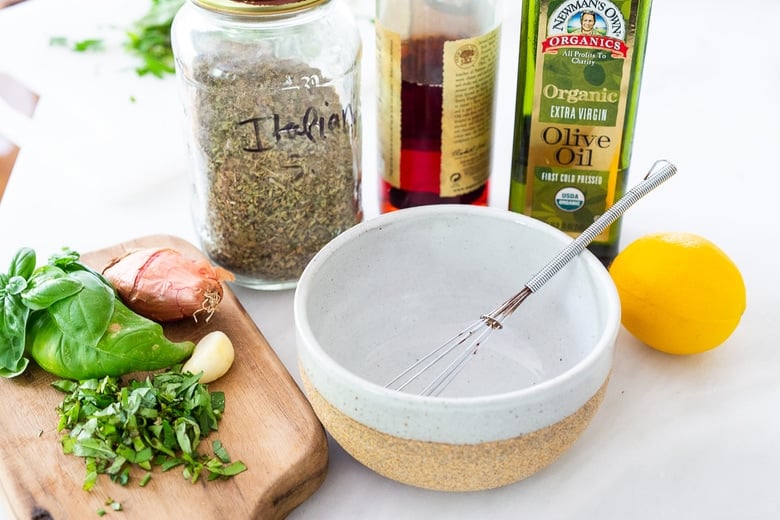 What you'll need to make Italian Dressing:
lemon
garlic
shallot
fresh basil ( or Italian parsley)
dried Italian herbs (or dried rosemary, thyme or oregano)
honey, maple or a little sugar
Salt & pepper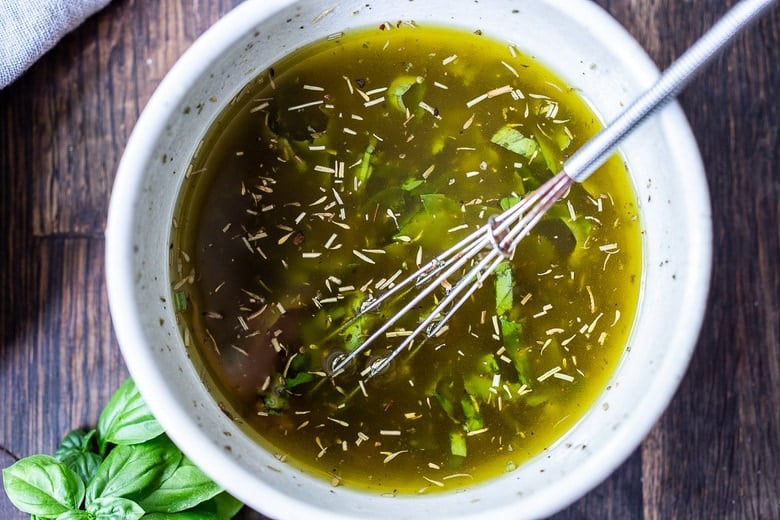 What to use Italian Dressing on?
Leafy Green salads
Bean Salads
Grain Salads
Potato Salads
Pasta Salads
As a marinade for Chicken
How to store Italian Dressing:
Store the dressing in a sealed jar in the fridge. The dressing will keep up to  7 days.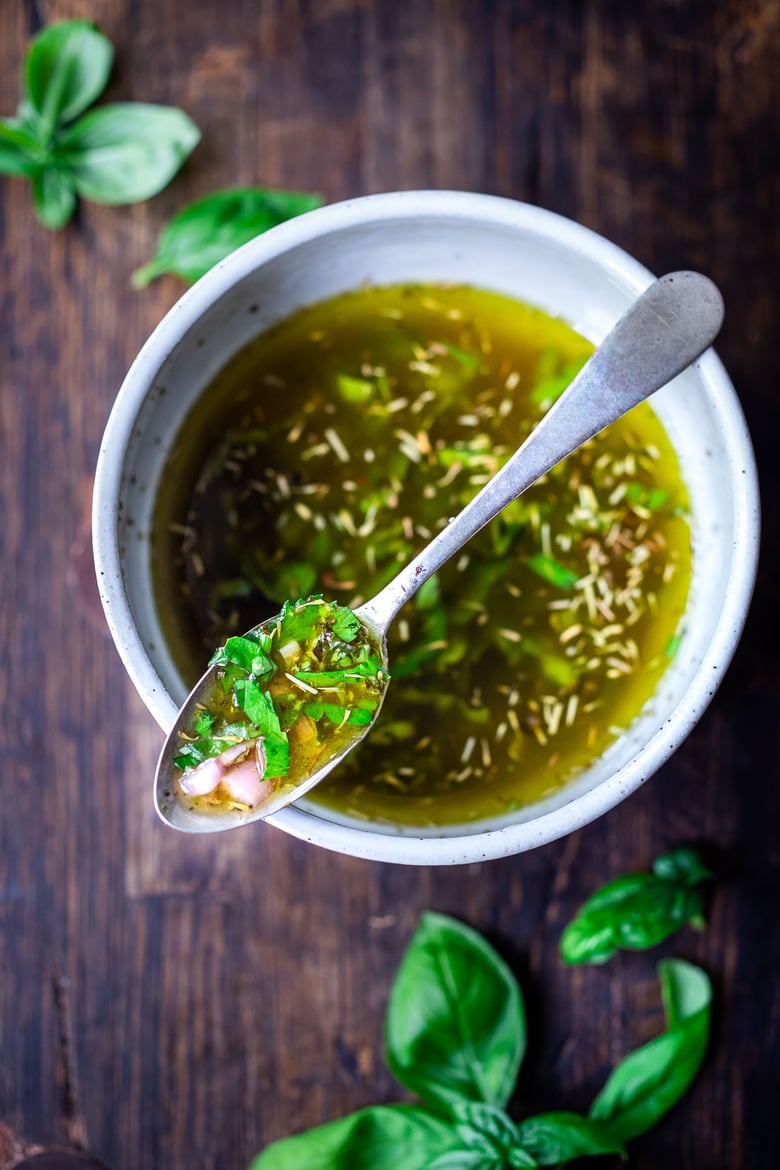 I think you'll find many uses for this Italian Dressing ( aka Red wine Vinaigrette) and please let us know what you think in the comments below!
xoxo
More salad dressing recipes you may like:
Print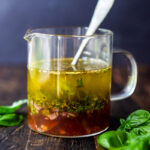 Italian Dressing Recipe
Prep Time:

10

Total Time:

10 minutes

Yield:

1 cup

1

x

Category:

vegan, dressing

Method:

stirred

Cuisine:

Italian

Diet:

Vegan
---
Description
How to make homemade Italian Dressing from scratch- a healthier alternative to store-bought dressing that tastes way better. A simple easy recipe!
---
2/3

cup

olive oil

1/4

cup

red wine vinegar

2 tablespoons

lemon juice

1

finely minced garlic clove

1 tablespoon

shallot, finely minced

1 teaspoon

maple or honey (optional- see notes)

1 teaspoon

Italian seasoning (or dried oregano, dried rosemary, or dried thyme)

2 tablespoons

fresh basil, chopped ( or sub Italian Parsley)

1/2

tsp

salt

1/2

tsp

pepper

pinch chili flakes (optional)
---
Instructions
Place all ingredients in a medium bowl and whisk.
Store in a sealed jar in the fridge for 7-10 days and shake before using.
Use on leafy green salads, bean salads, antipasto salad, pasta salads, grain salads or as a quick marinade for grilled chicken.
---
Notes
Low-carb? If leaving out the maple or honey, use slightly less vinegar and add a teaspoon of dijon mustard.
If dressing tastes overly bitter, check your olive oil– some brands are quite bitter and will affect the flavor here.
Nutrition
Serving Size:

1 tablespoon

Calories:

84

Sugar:

0.4 g

Sodium:

73.2 mg

Fat:

9.4 g

Saturated Fat:

1.3 g

Carbohydrates:

0.8 g

Fiber:

0.1 g

Protein:

0.1 g

Cholesterol:

0 mg
Keywords: Italian dressing, red wine vinaigrette, Italian vinaigrette,
a