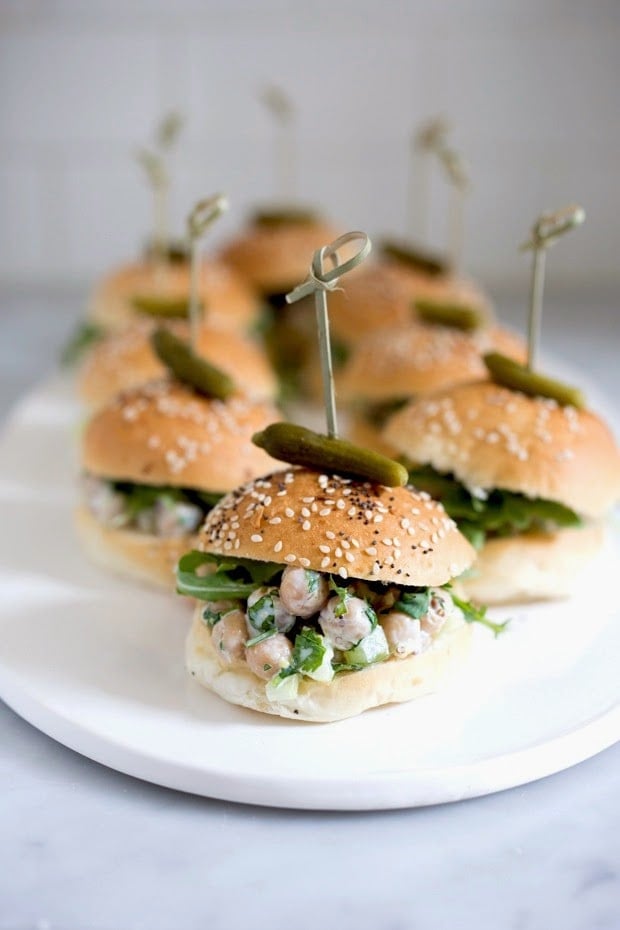 Ten times a day something happens to me like this – some strengthening throb 
of amazement – some good sweet empathic ping and swell. This is the first, the wildest and the wisest thing I know: that the soul exists and is built entirely out of attentiveness.
This recipe for Vegan Chickpea Sliders with fresh herbs, capers and arugula has become a god-send when having to whip something up quickly and inexpensively for a gathering- and when it needs it to be vegan or vegetarian -and still hearty. My friend Sherrece introduced them to me a few years ago, and I fell in love with them, putting a variation of them on our catering menu. They are always a big hit, and surprisingly, non-vegans end up devouring them too.  It's such a simple recipe that can me made in minutes. It's also perfect for easy weeknight meals, or lunches, and instead of using slider buns, the salad can be stuffed into pita bread, or into wraps. If gluten free, skip the bread all together and place a scoop of the flavor chickpea salad over a bed of dressed arugula. For those, who are not cilantro fans, substitute Italian parsley and a bit of fresh tarragon.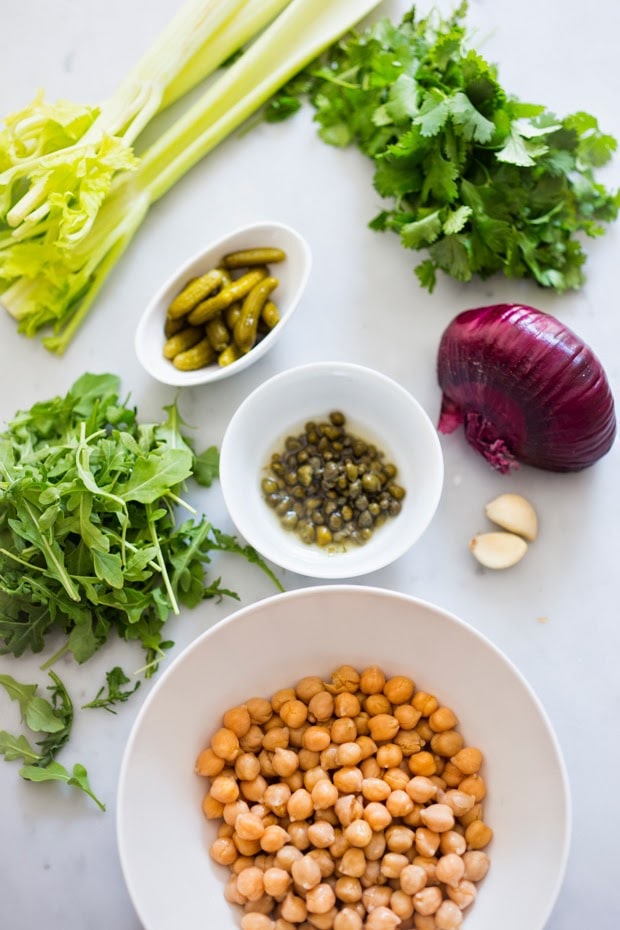 Use a cup and a half of cooked chickpeas. If short on time, canned garbanzos are just fine, and I admit, I do use them in a pinch. Make sure to rinse them well first.  But if you have time to make something extra special, try these locally produced, Palouse grown chickpeas.
These amazing little Pedrosillano Café Garbanzo Beans (or chickpeas) are tiny. But after a night of soaking, they double in size. They have a thin skin, and a creamy interior, making them a perfect candidate for this salad  (snd for hummus) because of their smooth texture, and nice snap. They have a delicious, subtle nutty flavor.
We love them so much and want to support our local growers, we actually sell them at our store,
Bowl and Pitcher
.  If you live in the Northwest, you can also find them at local grocery stores.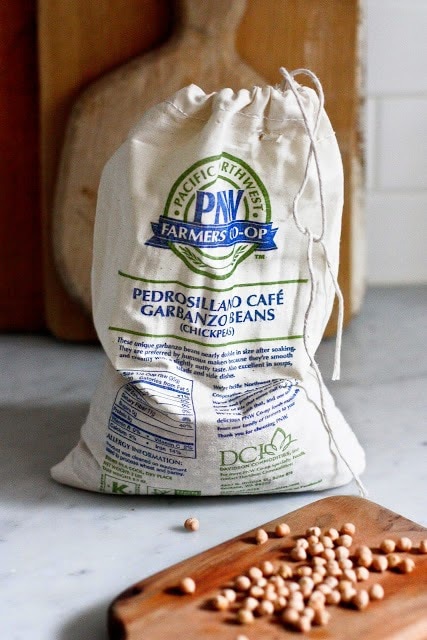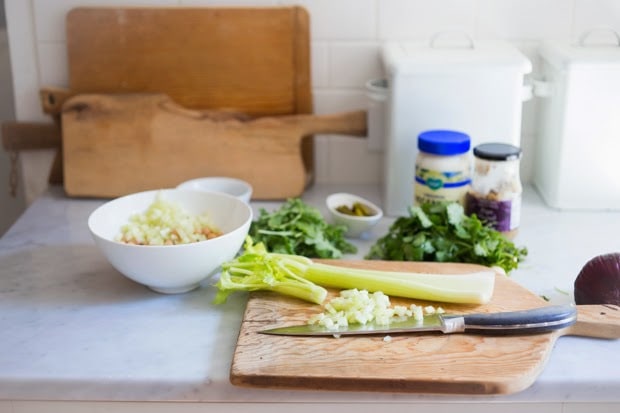 Then basically, it's all about chopping the celery, onion, herbs and mixing it all together with the
capers
, mustard,
mayo
( or Vegenaise). It takes about 5 minutes. Simple and delicious.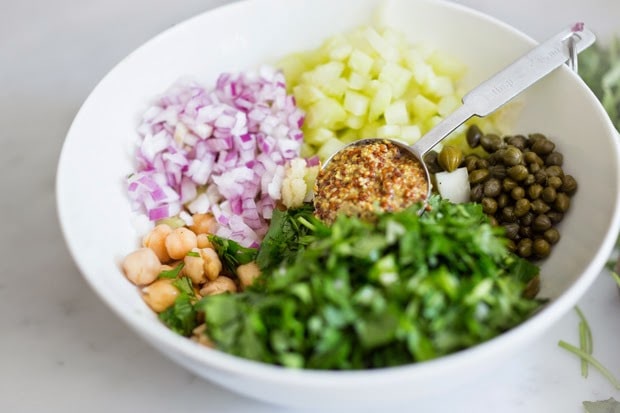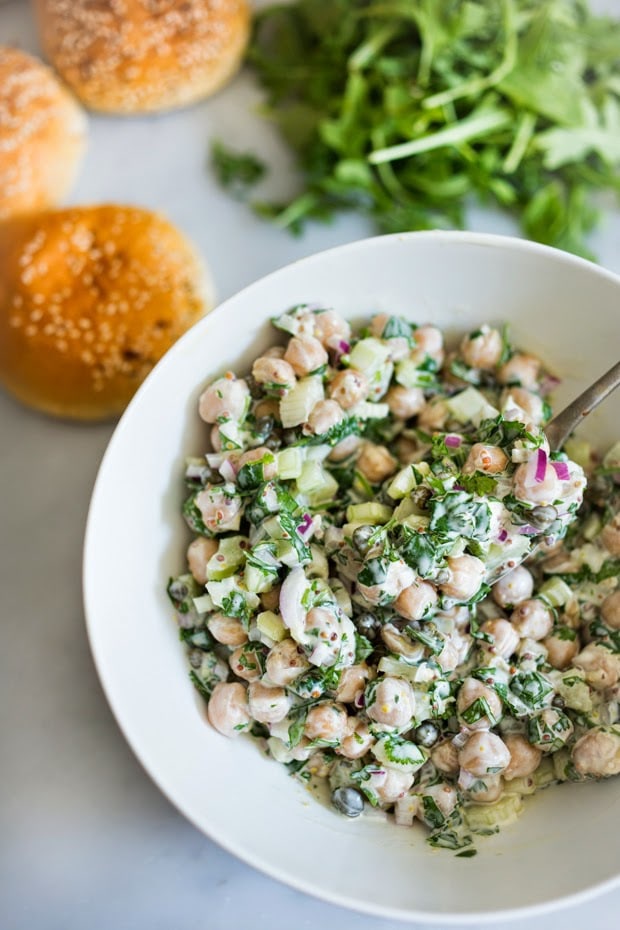 Doesn't this look tasty?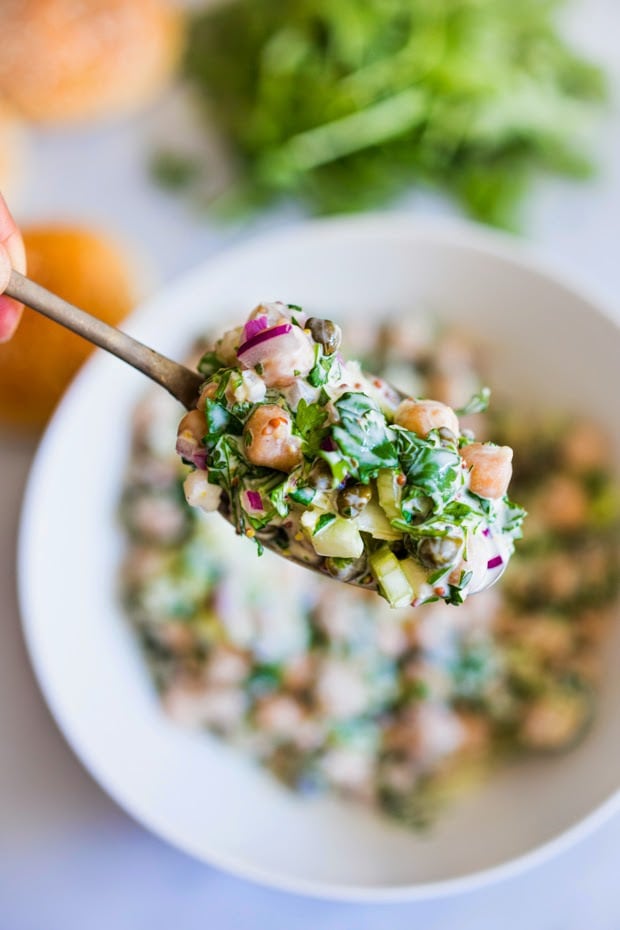 Store bought slider buns are the easiest and fastest option. Most grocery stores bake them right there in their bakery section, with less preservatives, and I like these better than packaged brand names.
Mini pitas are a fun, cute alternative.
Or, if you feeling very motivated, make your own super mini slider buns. These are the size of a walnut -literally bite-sized!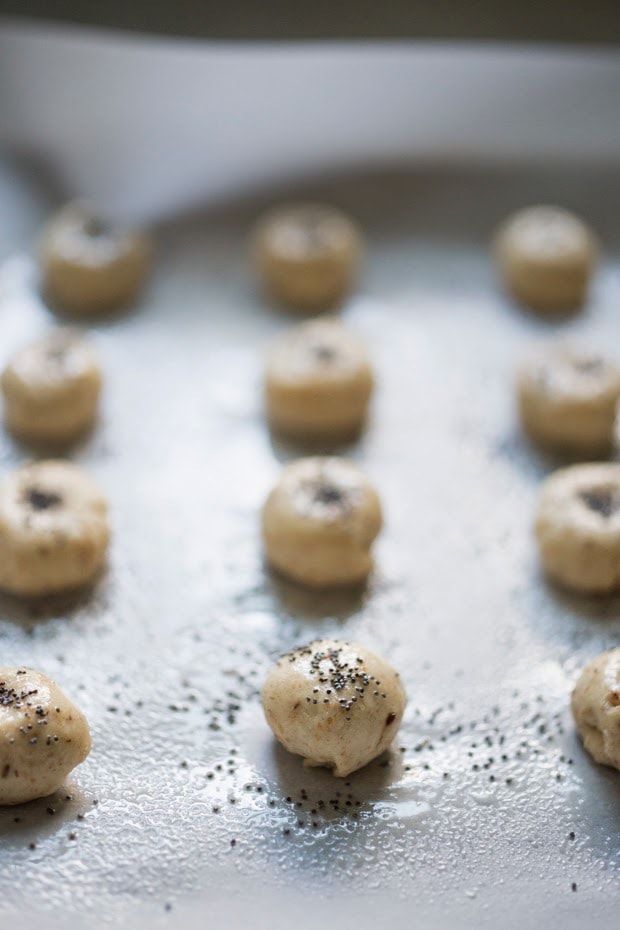 But for today, I just used store bought.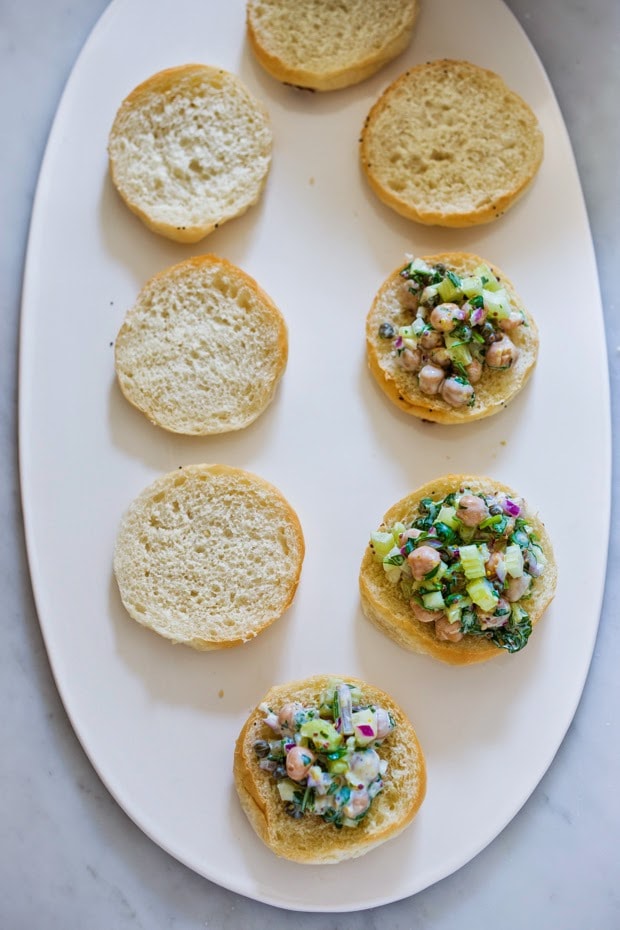 Place a hearty amount of the chickpea salad on the bun. Top with arugula, and top with the lid.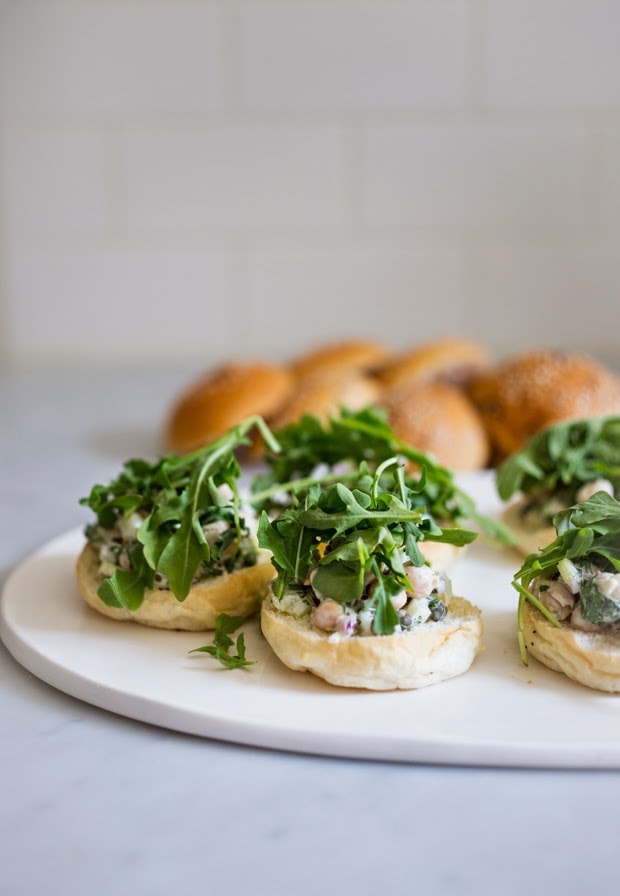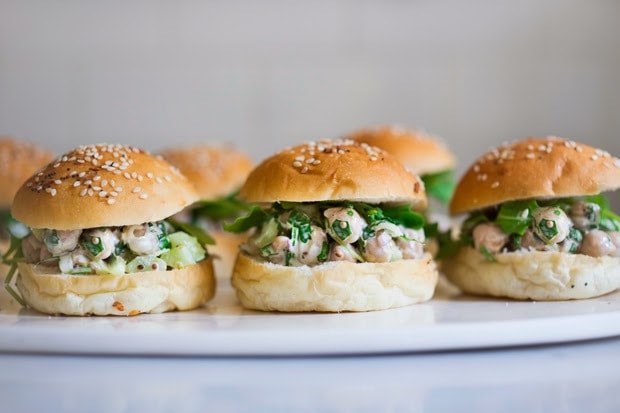 To dress them up a bit, top with a skewered cornichon, or grape tomato.
Place on a platter, and serve!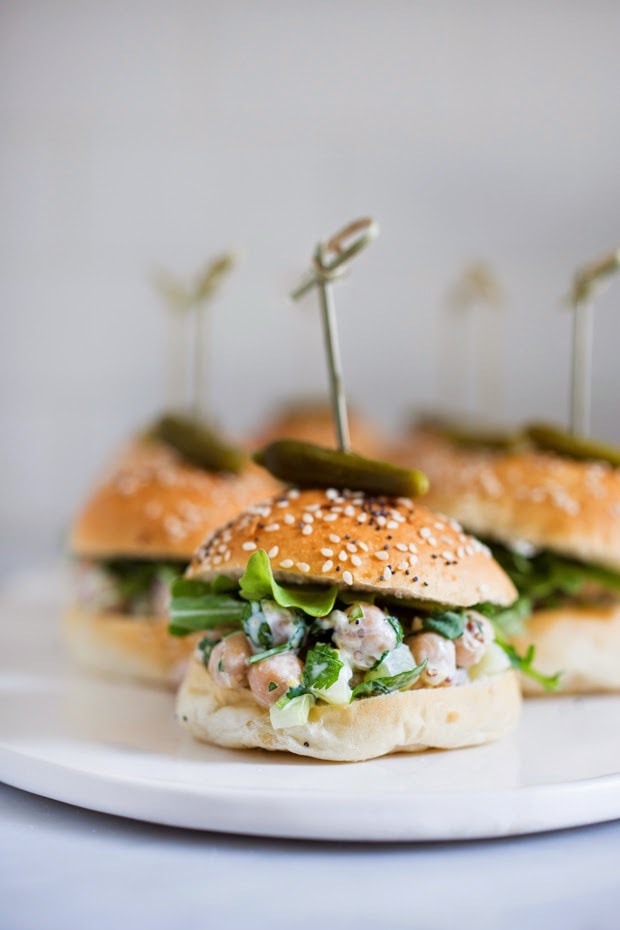 Thanks for reading! For more Feasting at Home … 
 and subscribe to receive new posts via email.

print recipe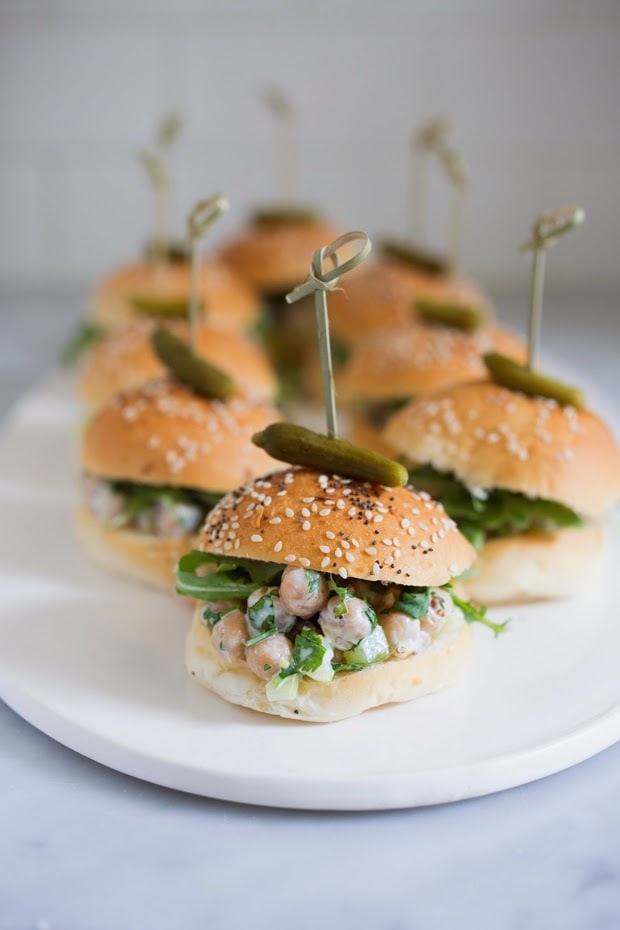 Chickpea Salad Sliders
An easy, fast Chickpea Slider recipe, vegan, healthy and full of flavor.
Ingredients
1 ½ C Cooked Garbanzo beans (1 can, rinsed, or ⅔ C dry and cooked)
2 celery stalks, finely chopped
¼ C onion, finely chopped
1 garlic clove, finely minced or grated
2 T
capers
and 1 T caper "juice"
½ C chopped cilantro ( or sub other herbs- dill, basil, italian parsley, tarragon)
⅓ C
mayo
or Vegeniase (
vegan mayo
)
1 T
whole grain mustard
salt
and pepper to taste
10 Slider Buns
1 C arugula
cornichons ( tiny pickles)
Instructions:
In a medium bowl, fold the first 8 ingredients together. Taste for
salt
. Add
salt
and pepper as needed.
Place a generous spoonful on a slider bun. Top with arugula, then bun top. Skewer with a cornishon.
Serve within the hour.
Details
Prep time: Cook time: Total time: Yield: 10-12 Sliders