A toasty Tempeh Reuben Sandwich with Smoked Mozzarella Cheese and Sauerkraut- a great vegetarian option for those who crave hearty, meaty Ruebens, but want to cut out the meat. Vegan-adaptable.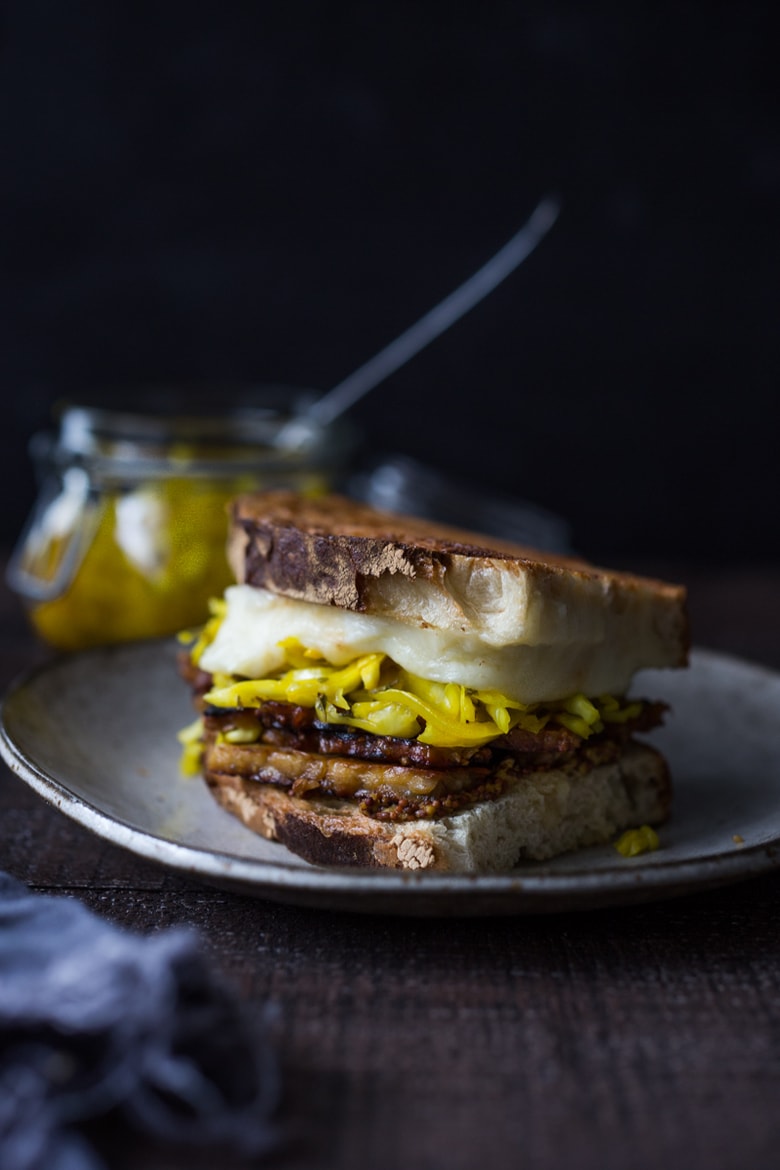 This Tempeh Reuben Sandwich with Smoked Mozzarella Cheese is a little nod to our former restaurant Mizuna, back in the day.
In the beginning, right after we opened, a woman named Lindy started coming in for lunch several times a week and always ordered the same exact thing – our Tempeh Reuben Sandwich, extra toasty.
For years, my nickname for her was "extra toasty."  Since then we've become friends and of course, now I call her by her actual name – Lindy – but every once in a while "extra toasty" still slips out of my mouth. This is for you Lindy, extra toasty.
Today we are using our Turmeric Saurkraut but feel free to use storebought. The smoked mozzarella, however, should not be skipped if you can help it, because it brings the sandwich to a whole other level. Or feel free to sub Vegan Mozzarella.
The sandwich is pretty decadent, so I'll make one and share half with Brian, with a very big salad on the side. And friends, this is how I manage all the yummy delicious food around here that isn't always light and low calorie – I'll just have little bit. That's the secret.
That way I don't feel deprived. I'll have a few slow, delicious, mindful bites and pair it with a healthy salad. The moment I begin depriving myself, I usually end up eating way more than I should. Honestly, I have zero willpower. So I allow myself decadence, in moderate doses, to prevent the battle itself.
What you'll need for a tempeh Rueben
Delicious Rye Bread- I love our sourdough bread with a bit of rye.
Sauerkraut  (either homemade or store-bought)
Mustard- whole grain is nice.
Smoked Mozzarella – is essential! ( or sub vegan Mozzarella)
Tempeh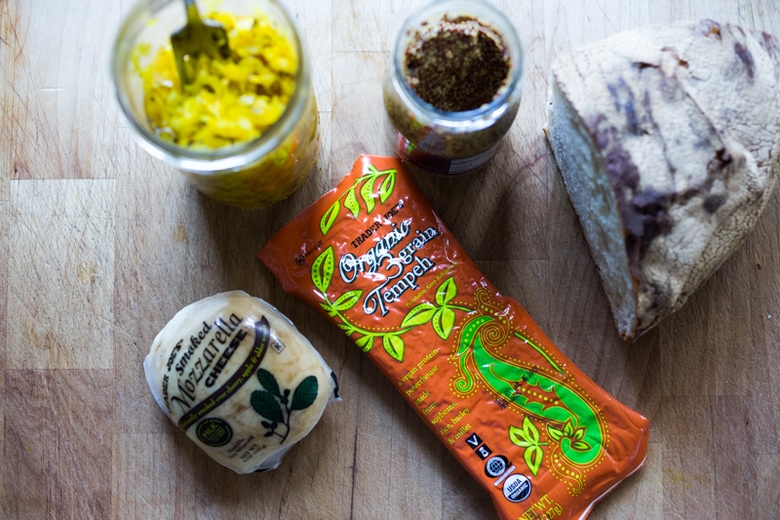 Here is where you can learn about how. tomake the turmeric sauerkraut .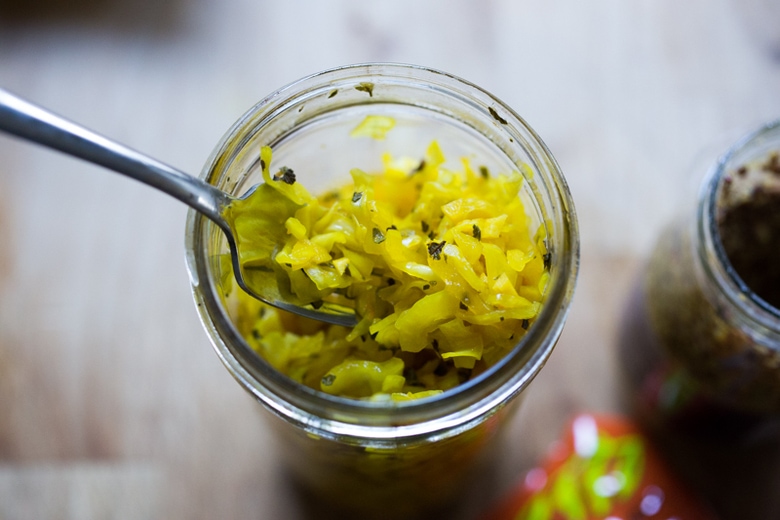 You can leave the tempeh whole, or thinly slice it and make it crispy, like tempeh "bacon".
what is tempeh?
Tempeh is a vegan "patty" made from fermented soybeans and or grains.  It is very high in protein and calcium and low in fat – with a very textured, nutty flavor. It's very firm and doesn't easily crumble like tofu. Many vegetarian and vegan recipes use tempeh as a meat substitute and it holds up well. Since it is a low-fat and high-protein food, many vegans choose to include tempeh in their diet on a regular basis.
Tempeh can be found in the refrigerated section of most health food stores and in the natural foods aisle of well-stocked grocery stores.
Expert Tip
Remember to always simmer tempeh for 8-10 minutes in seasoned water to soften and help lessen its bitterness. This can be water with a splash of vinegar and salt.
It really makes a difference! Once simmered, season it or marinate it as you wish. It is like tofu, in that it's a nice canvas for other flavors. So Flavor it up!!!
How to make a Tempeh Rueben Sandwich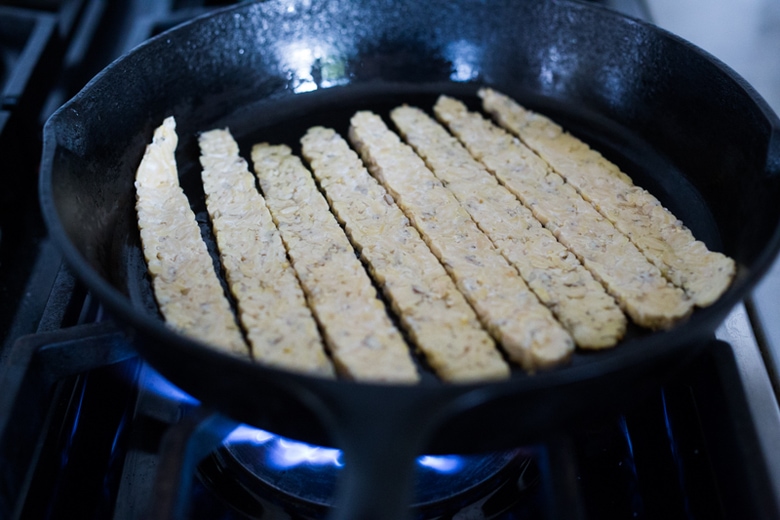 Brian likes his tempeh crispy, giving it a "bacony" texture. Cooking it this way does add calories though. To cut back, simply sear the tempeh whole.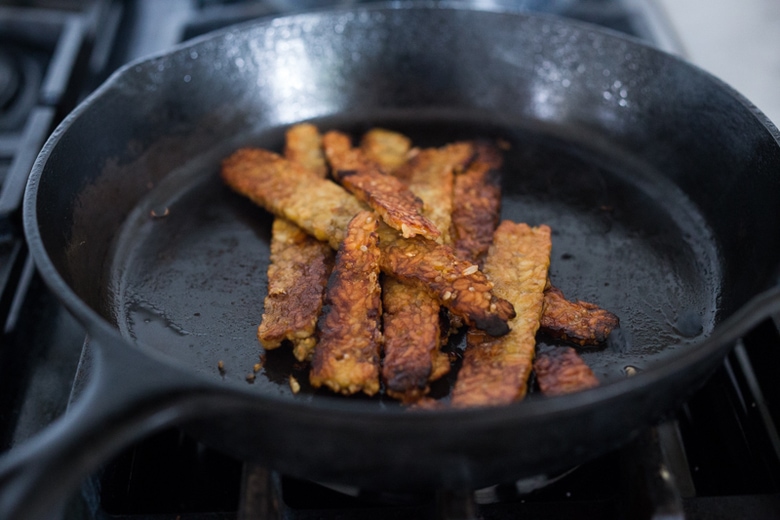 Getting it crispy gives the Reuben great texture. At the end, splash it with a little soy sauce or Braggs Liquid Aminos for added flavor and depth.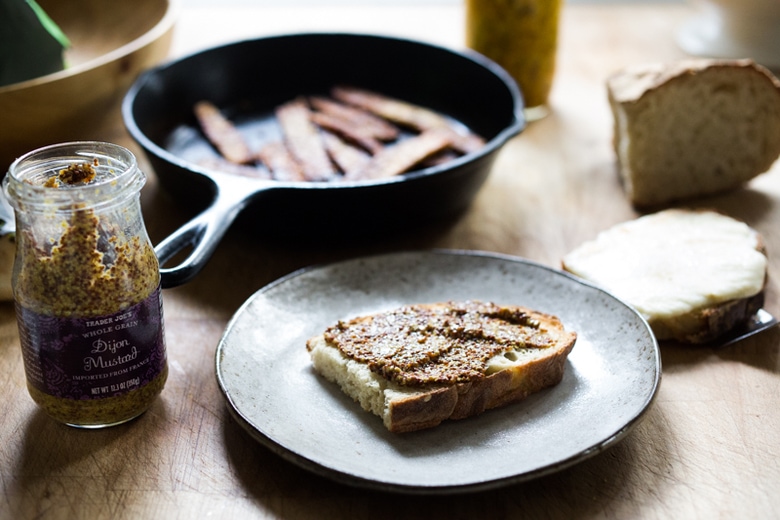 Melt Mozzarella cheese on good bread letting it get extra toasty.  Lather it with whole grain mustard.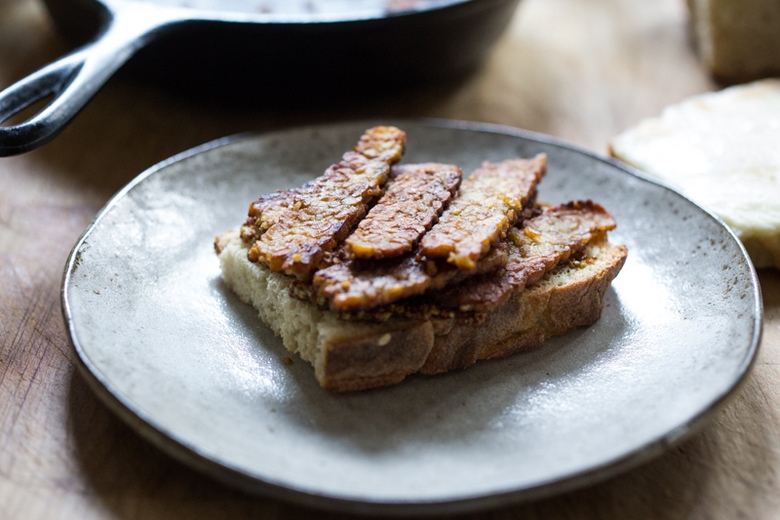 Pile up the tempeh and turmeric sauerkraut.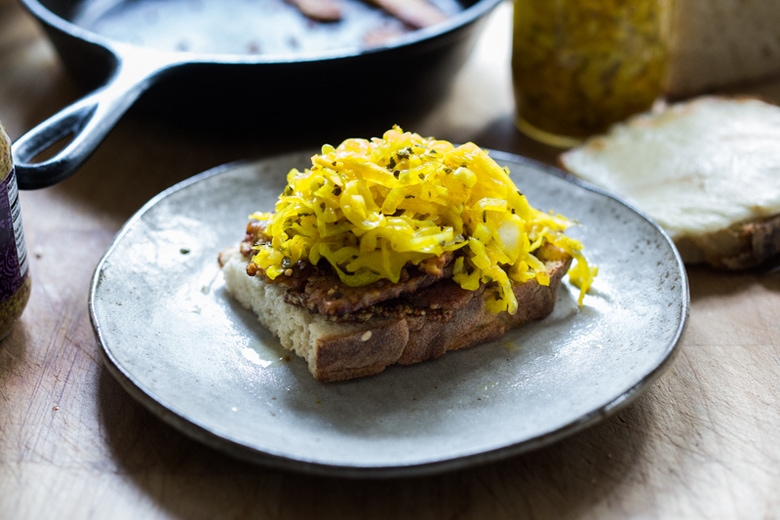 Then top with the toasted bread with the melted smoked mozzarella.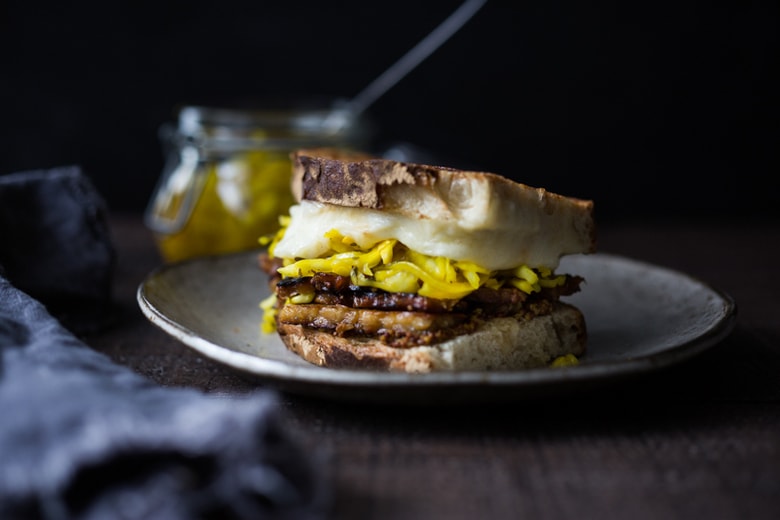 Now this is a sandwich folks – hearty, delicious, meaty and full of texture and flavor.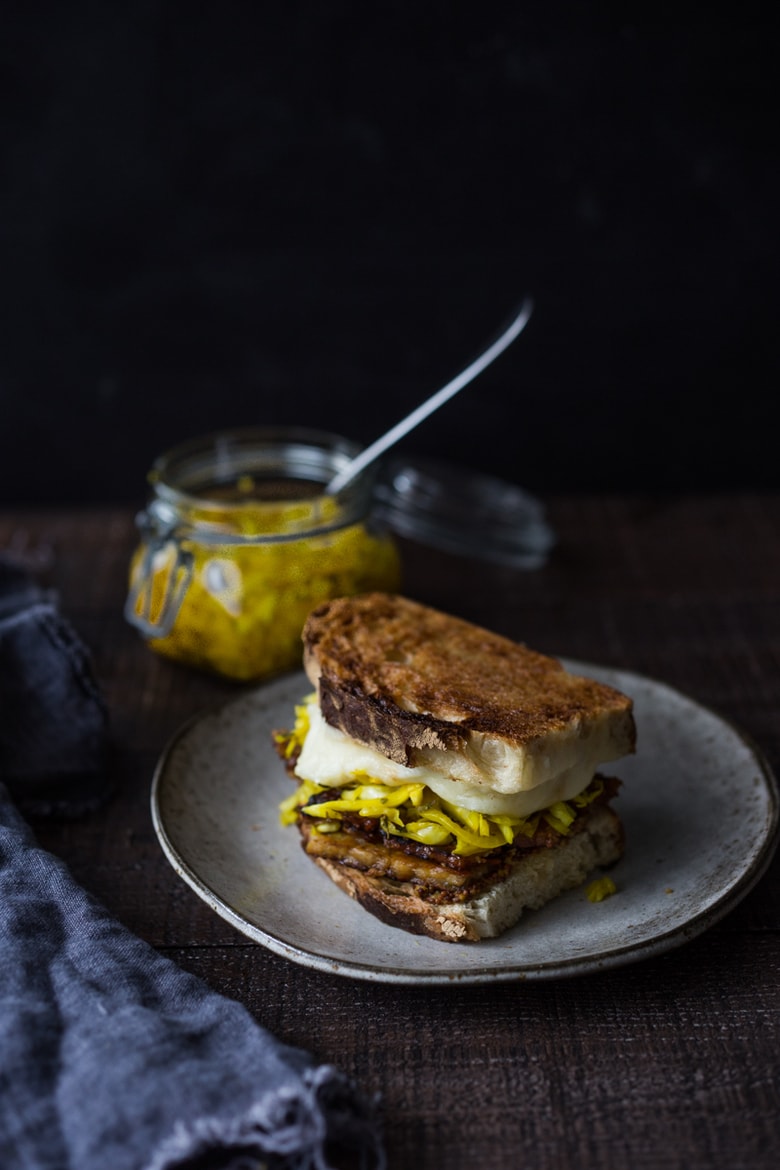 It hits the spot.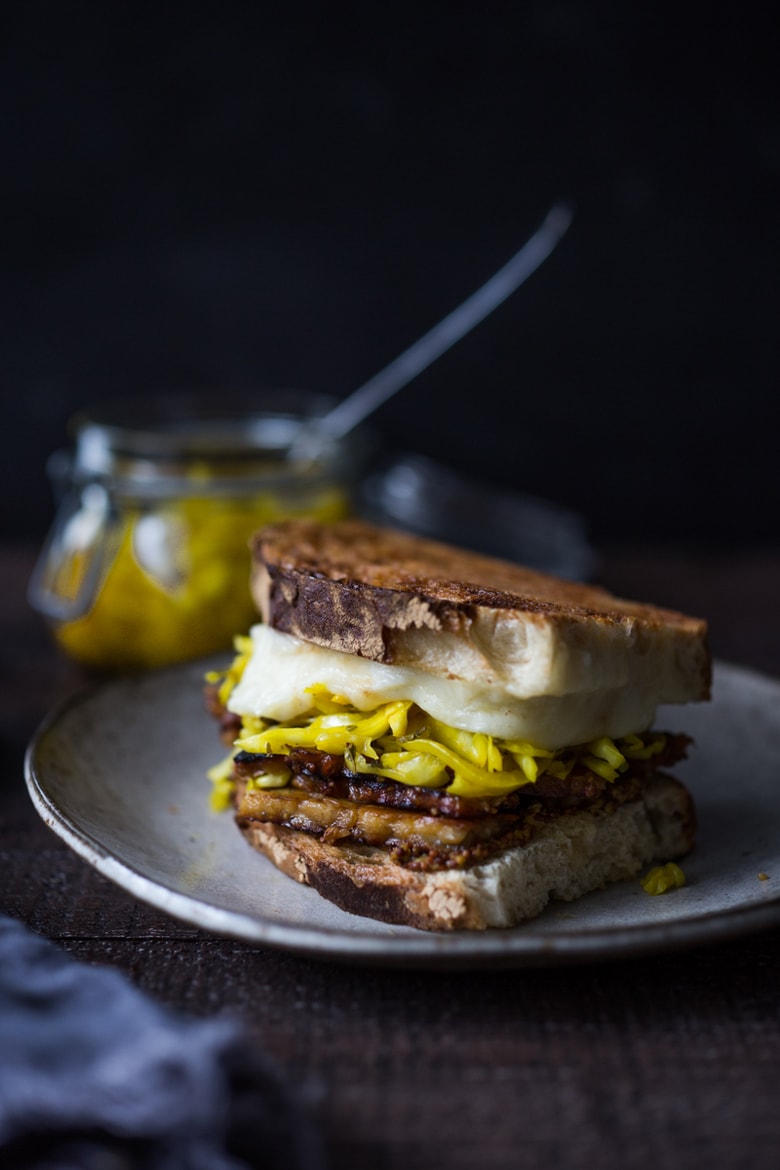 Make one and share half with a friend or family member, along with an extra large green salad.
For more tempeh recipes….check these out!
Blackened Tempeh with Avocado and Kale 
Have a delicious week!
xoxo
If you like this recipe, remember to rate it and comment below!
Print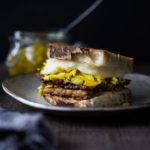 Tempeh Reuben with Smoked Mozzarella and Turmeric Sauerkraut
Prep Time:

10 mins

Cook Time:

20 mins

Total Time:

30 mins

Yield:

1

large sandwich

1

x

Category:

Sandwich, Vegetarian,

Method:

Stove-top

Cuisine:

American
---
Description
A Tempeh Reuben Sandwich with Smoked Mozzarella Cheese and Turmeric Sauerkraut ( or sub regular kraut).
---
---
Instructions
preheat oven to 400 (or use toaster oven)
Slice pre-boiled tempeh into thin ⅛ inch strips.
Heat oil in a skillet and sear each side until golden and crispy.
Drizzle with a tiny bit of soy sauce, for flavor. Go light, taste add more if you want.
Toast bread in the oven or toaster oven with mozzarella on one side, letting it melt.
One the bread is toasty, lather the piece with no cheese with whole grain mustard. Top with tempeh, sauerkraut and the toasted bread with cheese.
Cut this in half and share with a friend (or save half for later) along with a salad.
NOTES: you can also sear the tempeh whole (not sliced) searing each side until golden and heated through, then add a little splash of soy for flavor.
---
Notes
Pre boiling tempeh in water or broth takes away its bitterness. Just cover in liquid, bring to a boil and simmer 10-15 minutes. Prepare as normal.
Sometimes I'll add flavorings to the water- a splash of soy sauce (or liquid aminos) and vinegar.  Or Mexican seasonings if going that route. Or even garlic, salt and a bay leaf.
Keywords: Tempeh Recipes, Tempeh recipe, tempeh rueben, tempeh sandwich
SaveSave
SaveSave