How to make Turmeric Sauerkraut- a small-batch recipe with only 15 minutes of hands-on time before mother nature takes over. Full of healthy probiotics, use this in Bowls, wraps, sandwiches or as a tasty side dish!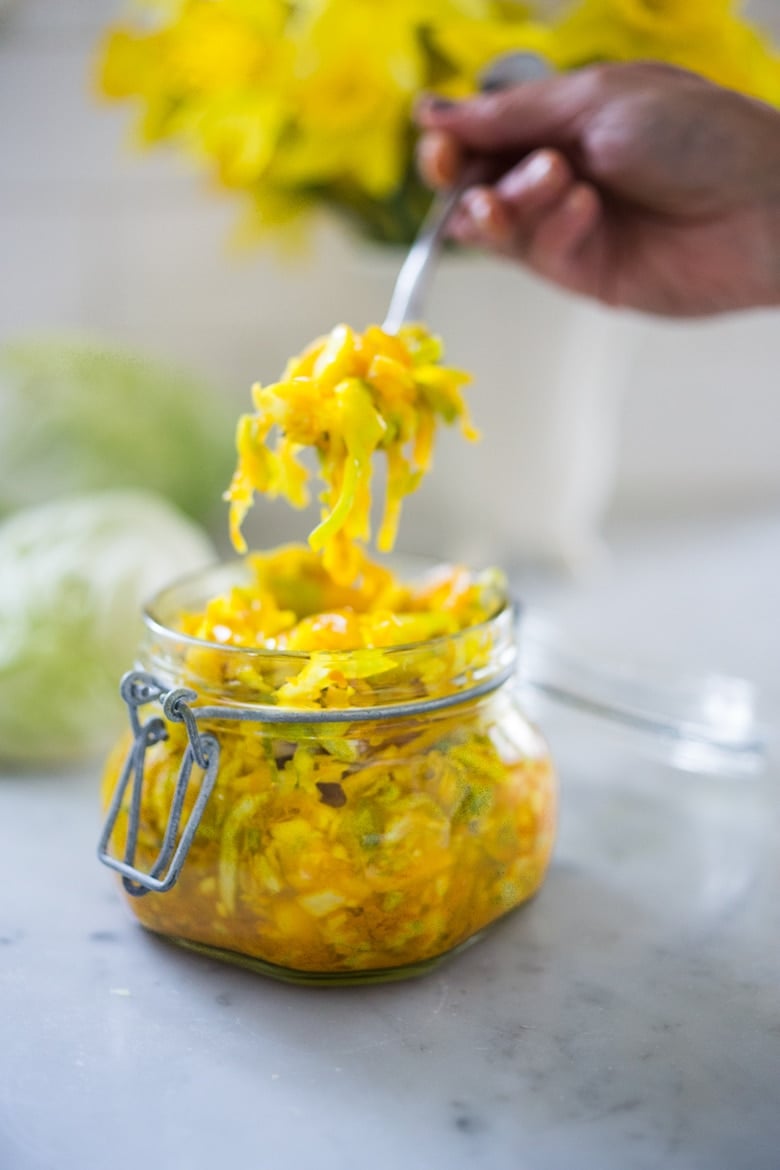 A quick, small-batch recipe for Turmeric Sauerkraut that can be mixed up in about 10 minutes before it rests on your counter for 3-5 days. Then just let nature take its course!
It's perfect for that leftover half head of cabbage in your fridge. If turmeric is not your thing, simply leave it out. You can season this sauerkraut with anything you want- but the most important thing I hope you take away here is how simple it is to make – anyone can do this! It's not scary or complicated. Here's another version using shredded beets! 
What I love about this recipe is how delicious and healthy it is. I use it in many of the healthy bowls you see here- a tangy accent to brighten up most any dish,  plus it is FULL of healthy probiotics to help heal the gut. It's also incredibly affordable.  It's delicious in this Tempeh Reuben Sandwich with Smoked Mozzarella and Turmeric Sauerkraut. So good!
How to make Turmeric Sauerkraut! | 45-second video
To start, shred a ½ head of organic cabbage, either by thinly slicing or placing in a food processor.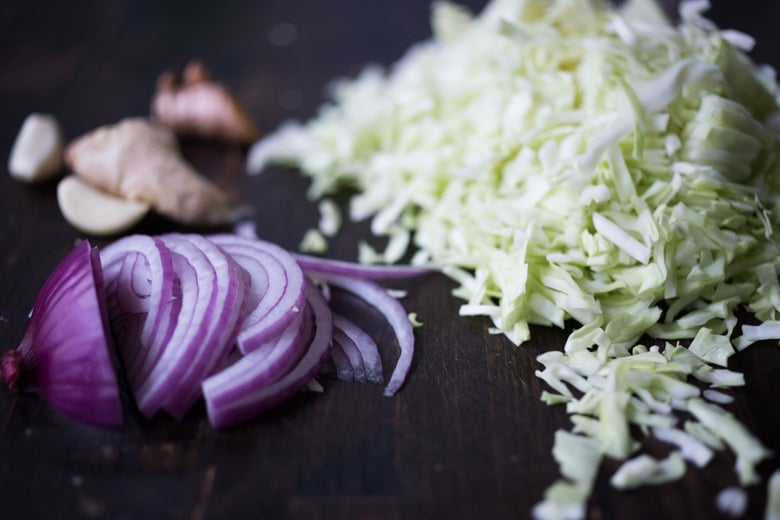 Add 1 1/2 teaspoons medium-ground sea salt and massage the cabbage well- this allows its pores to open up which helps the natural bacteria from the cabbage itself get inside the pores-  for better fermenting.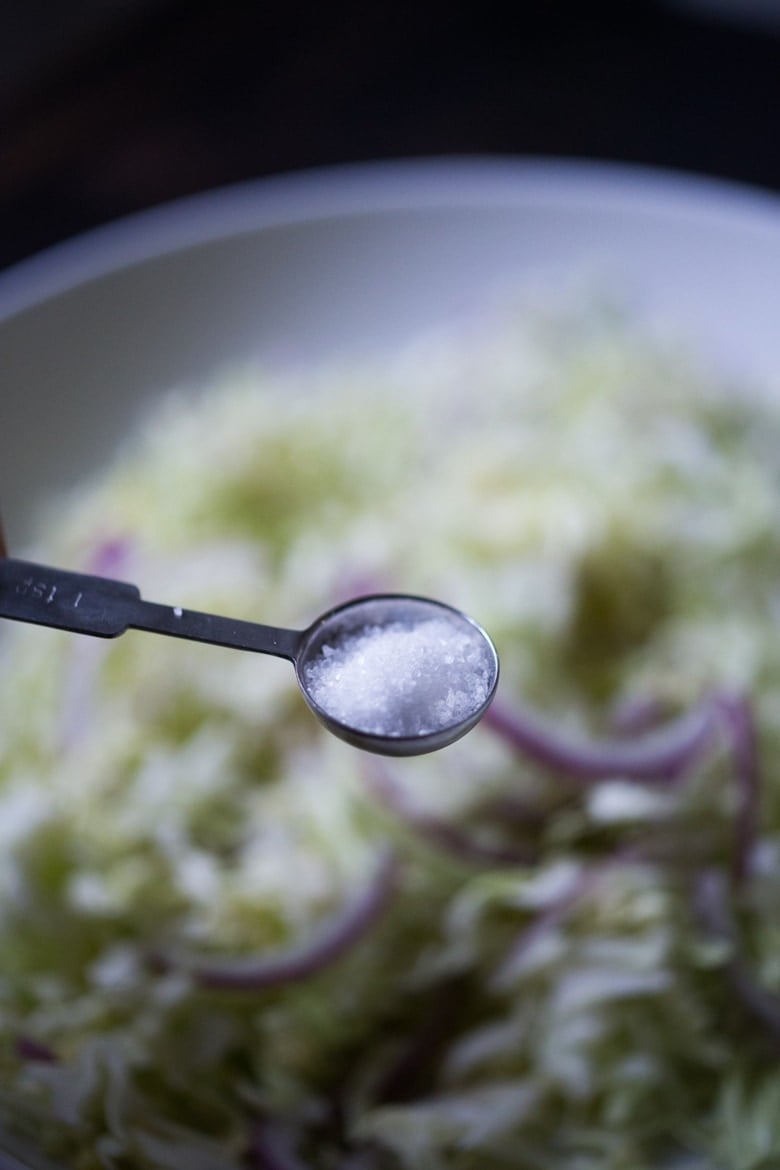 Add onion ( or shallot) and garlic and fresh turmeric. You can use ground turmeric instead of fresh, or in addition to the fresh, to boost color. Go conservative, add more to taste.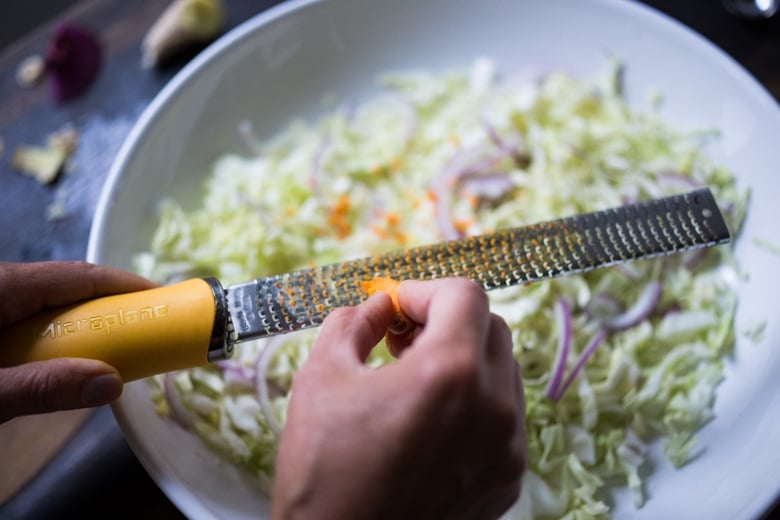 Mix well with tongs ( so your hands don't stain) and place in a jar.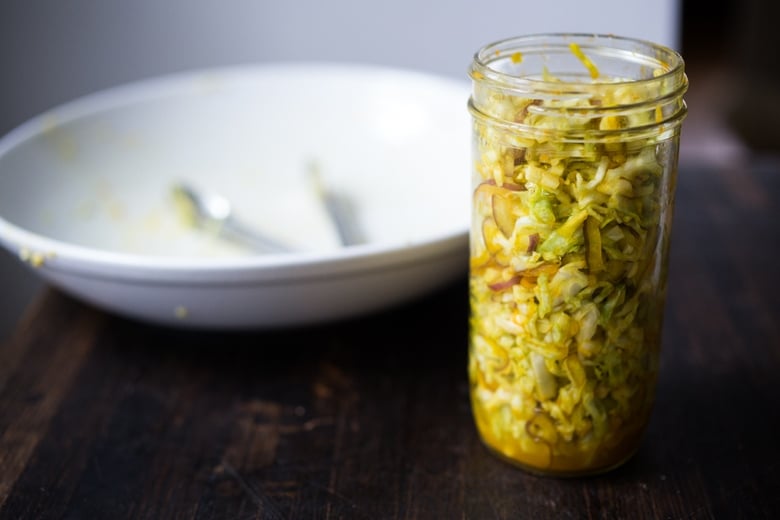 Pack the Turmeric Sauerkraut down firmly and top with a little water if the liquid does not rise above. Top with a cabbage leaf to prevent oxidation. This ½ cabbage makes about 2 cups. Not an overwhelming project whatsoever!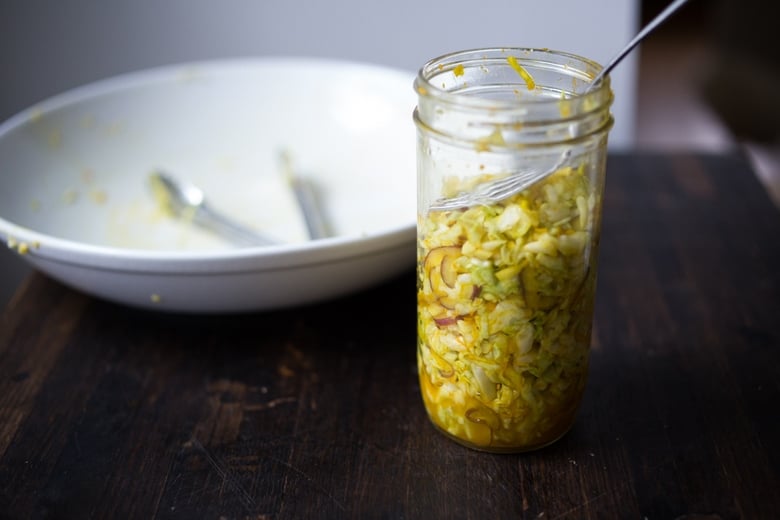 A little trick my friend Tonia taught me….place a ziplock bag filled with a little water to weigh the Turmeric Sauerkraut down. You could also fill the bag with dried beans or rice. But the water seems so simple.
I have had great success with this Fermentation Kit that has crystal weights that fit perfectly in a wide-mouth mason jar.  It is so convenient for small batch ferments. This fermentation kit includes the jars which is a great option too!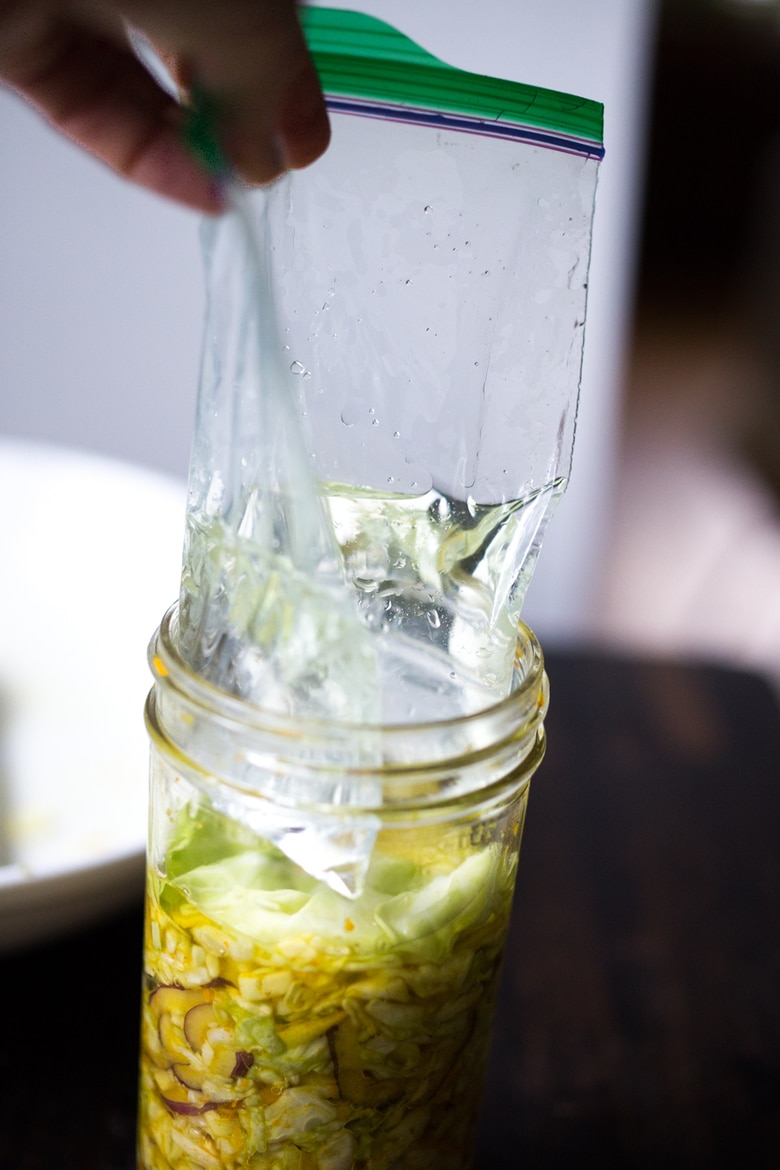 Cover loosely with a lid, set on the counter ( in a bowl), cover with a towel and let ferment for 4-5 days.
This is a shorter fermentation that will yield fresh crunchy sauerkraut, which I love. After 4-5 days, place it in the fridge and though it will slow the fermenting process down, it will still continue to develop flavor over time.
Longer fermentation, 2-3 weeks or so will produce a lovely effervescence. It will seem happy and alive.  You can always taste it and let it ferment a little longer.
The warmer the spot the faster the fermentation- so in summer you may want to place somewhere cool, like in the basement.  60-72 degrees is ideal.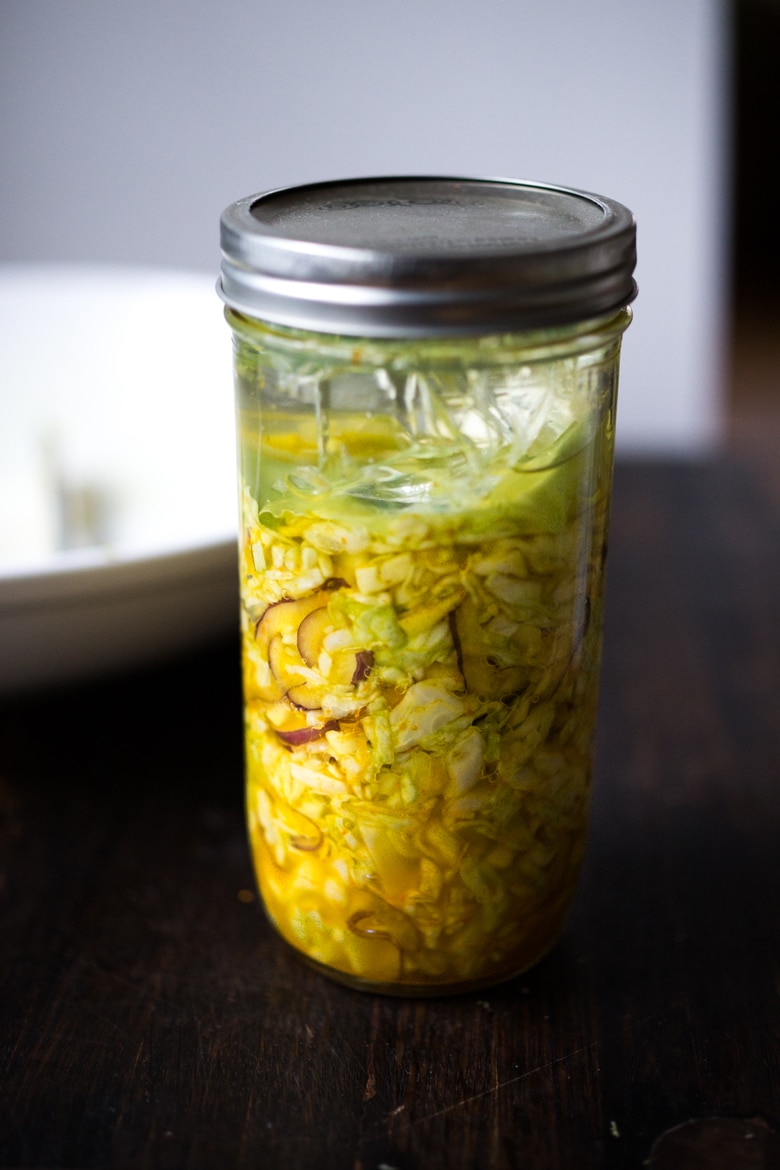 After it has fermented for a few days, feel free to place it in the refrigerator and begin using.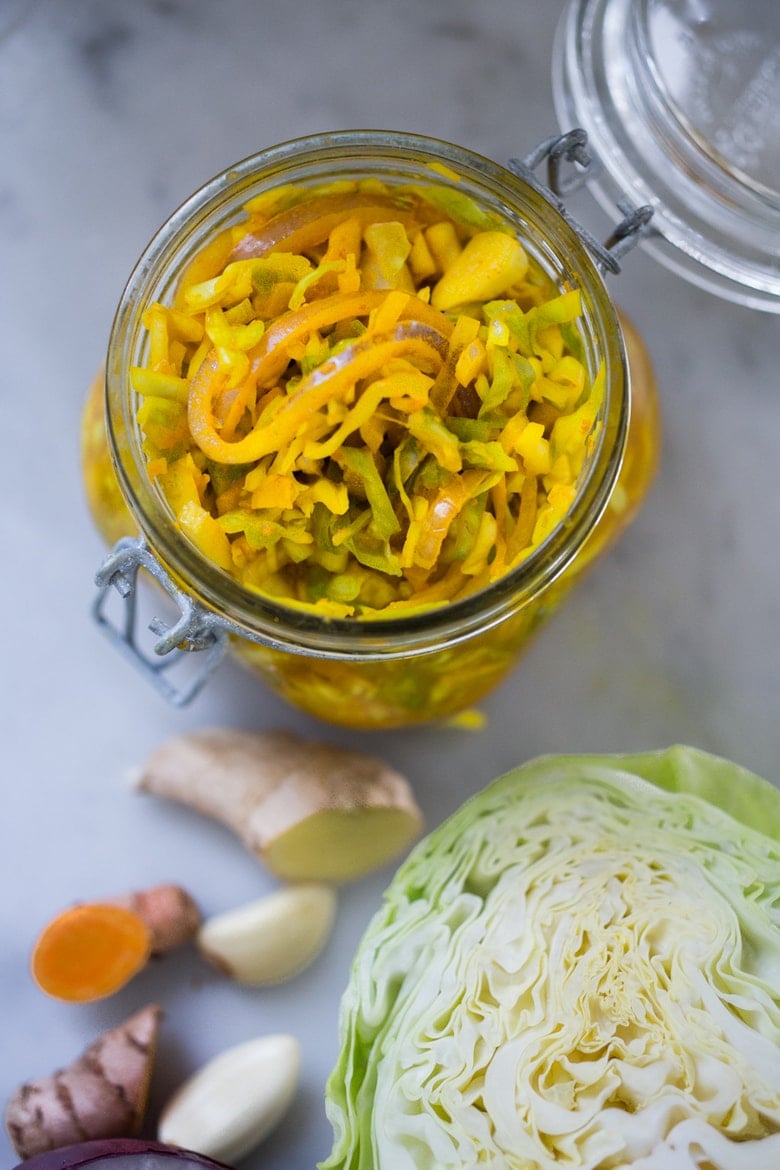 Toss it in salads, add to Buddha bowls, layer in sandwiches or wraps– you'll find a million uses.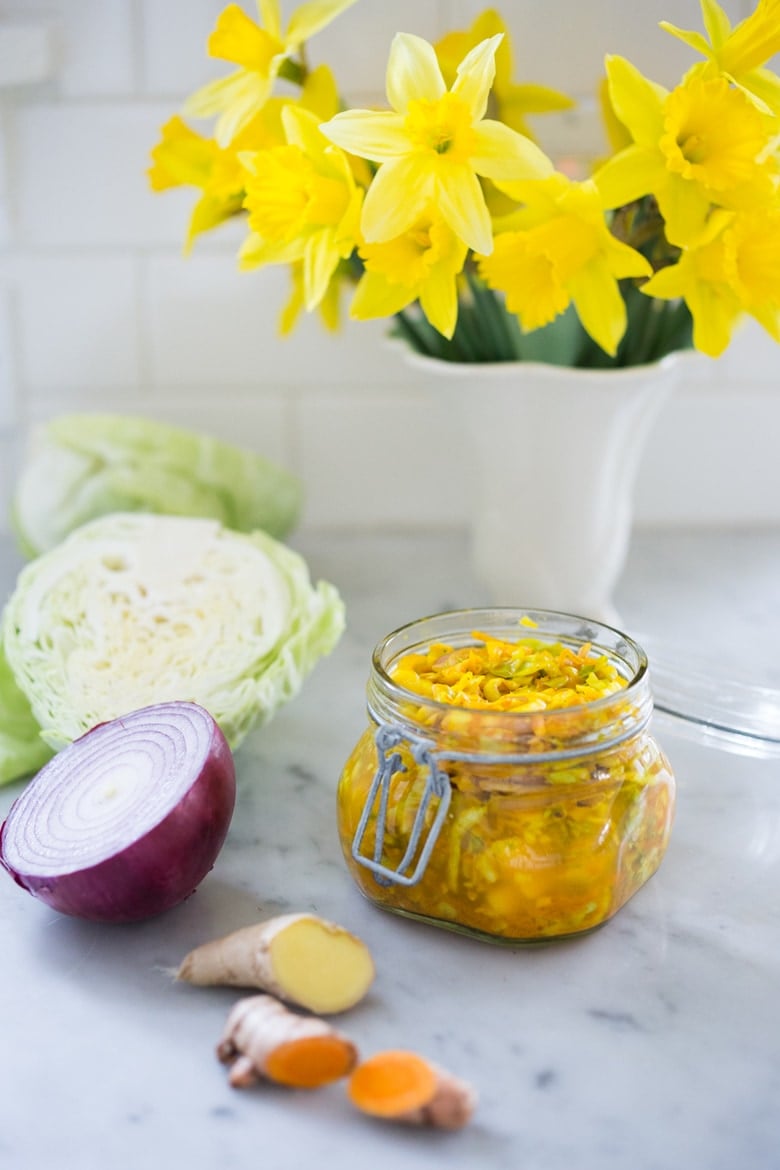 Happy alive food, that will boost your immunity and help heal your gut.
Let me know what you think!
PS. Lately, we have been using this Fermentation Kit that has crystal weights that fit perfectly in a wide-mouth mason jar.  It is so convenient for small batch ferments. This fermentation kit includes the jars which is a great option too!
Print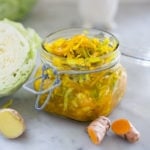 Turmeric Sauerkraut
Prep Time:

15 mins

Total Time:

15 mins

Yield:

8

servings

1

x

Category:

Preserving/ Fermenting

Method:

Counter

Cuisine:

Northwest
---
Description
How to make Turmeric Sauerkraut- a small-batch recipe that can be put together in 10 minutes, and sits on the counter for 3-5 days!
---
½

organic cabbage- (

1

pound) finely sliced, or shredded ( save

one

outer cabbage leaf for the top)

¼

onion – finely sliced

2

garlic cloves- minced

1 1/2 teaspoons

fine sea salt

1 teaspoon

fresh ginger- finely chopped

1 teaspoon

finely grated turmeric- or sub ½ teaspoon ground
Optional additions- grated carrots, whole spices like caraway seeds, cumin seeds, coriander seeds, fresh herbs- use your imagination!
---
Instructions
Chop cabbage into thin strips ( you can also shred in a food processor) and place in a bowl. Add salt. Massage cabbage well, which will open up its pores and allow for better fermentation.
Add onion, garlic, ginger and toss well using hands or tongs. Add turmeric and toss again with tongs ( turmeric will stain your hands). Let stand 15-60 minutes while you clean up.
Mix again will once more and place into jar, packing down hard. If the liquid does not come up over the cabbage while pressing down, add a little water until it does. Cover with a cabbage leaf, pressing down ( to prevent oxidation).
To keep kraut pressed down under the surface of the liquid while it ferments you could weight it down with a small zip lock bag filled with plain water. Tuck it in the jar and cover loosely with the lid.
Cover loosely with a lid and place in a bowl or pan on the counter for 4-5 days, covering with a kitchen towel, burping every day or so. ( If your lid is lose, you won't need to burp).
Fermentation will occur faster in the warmer months and slower during the cold months. It likes to be around 60-72F. In summer, find a cooler spot like in the basement. Longer cooler ferments do offer up the best flavor.
When you see a little activity,usually after about 4-5 days- gas and or bubbling when you give it a stir -feel free to taste, letting it ferment and sour longer if you prefer, or keeping it fresh and crunchy by placing it in the fridge to stop or slow the process down.
Enjoy!
---
Notes
For different sized batches….the general salt to cabbage ratio is 2 ½ -3 tablespoons salt to 5 lbs cabbage.  Or for every one pound of cabbage 1.5-1.75 teaspoons salt. (One large cabbage weighs about 2 pounds). Or if using a salt water brine, 1 ¼ teaspoons salt to 1 cup water.
Using organic or farmers market cabbage often has the BEST results- that's because the bacteria that ferments the cabbage actually comes from the surface of the cabbage to begin with. Garden grown or farmer's market cabbage has more of this live bacteria still on it compared to grocery store varieties.
Use fine SEA SALT!!
---
Keywords: turmeric sauerkraut, how to make sauerkraut, easy sauerkraut, sauerkraut recipes, best sauerkraut recipe