Here are the top 10, evidence-based health benefits of Turmeric and 10 simple Turmeric Recipes to help heal, soothe and protect. A natural anti-inflammatory and powerful antioxidant, here are 10 easy delicious recipes to harness the benefits of turmeric and easily incorporate it into our everyday diets. Vegan Adaptable!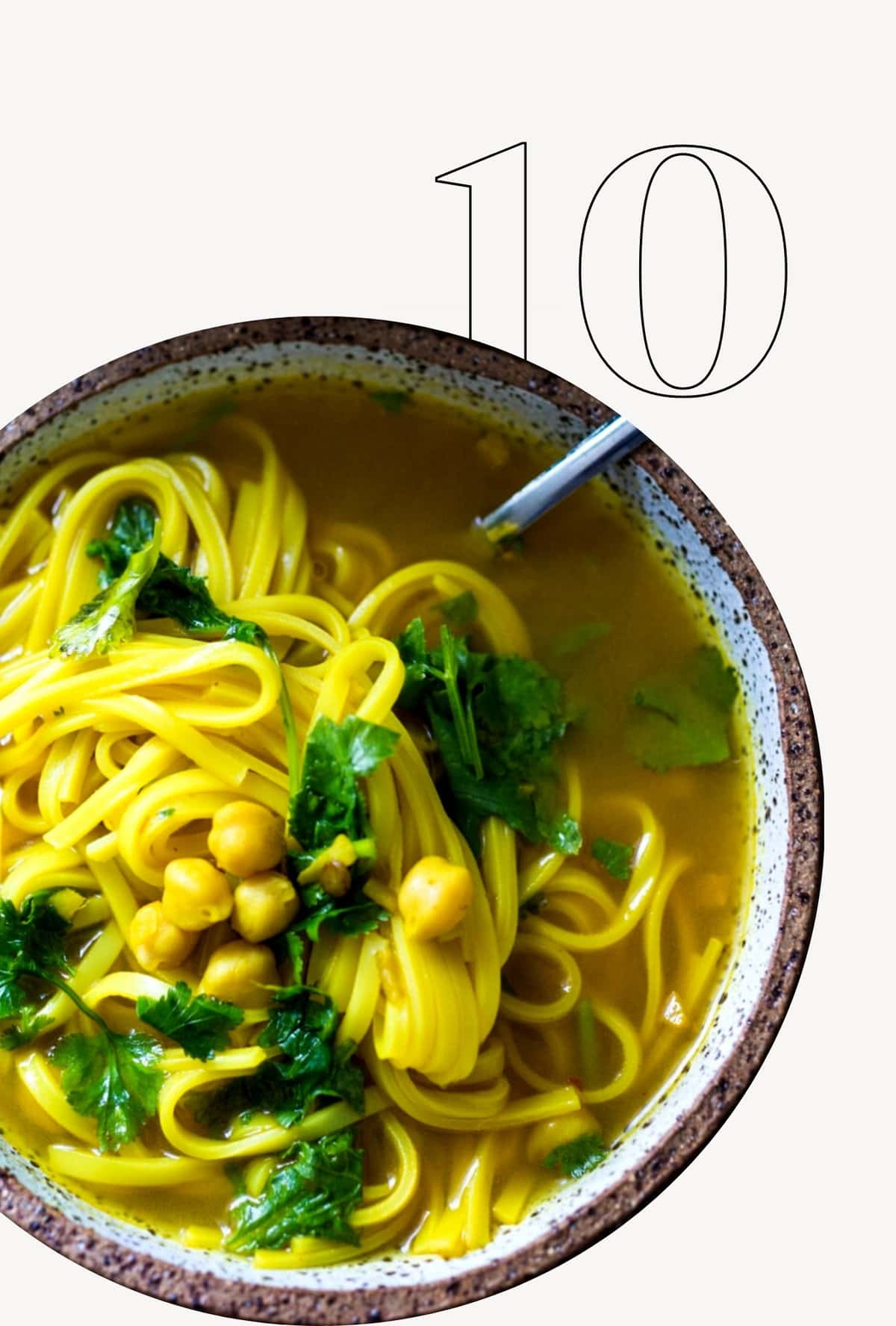 If you've been a regular at FEASTING AT HOME, one thing you will notice is how often I use fresh turmeric in recipes. To me, it's one of the first things I reach for when I'm feeling under the weather or run down. But more and more, I've been adding this fresh root to my diet on a daily basis -giving my body the little boost it needs to stay healthy and energized every day.
Modern science is finally catching up with what Eastern medicine has known for thousands of years – Turmeric is incredibly healing. The root contains powerful bioactive compounds called curcuminoids, which have medicinal properties that help our bodies in a multitude of ways. Turmeric contains 20 molecules that are antibiotic in nature, 14 that prevent cancer, 12 that actually fight cancer cells, 12 that heal and soothe inflammation, with more than 10 incredible antioxidants. A healing POWERHOUSE!
Turmeric's TOP 3 Health Benefits: 
ANTI-INFLAMMATORY: Turmeric fights chronic inflammation which plays a significant role in so many diseases – arthritis & rheumatoid arthritis, cancer, heart disease and Alzheimer's – and it does so at the molecular level. Research shows it does this just as well as pharmaceuticals, with absolutely no side effects.   It's also beneficial after surgery to decrease pain and inflammation and accelerate healing. I've often taken it for pain instead of Advil, with good results. If you are curious about the dangers (heart attack or stroke) of pharmaceutical anti-inflammatories please read this.  Don't take my word for it, do the research and see for yourselves. Seriously, it's worth looking up.
 ANTIOXIDANT: Turmeric is also a powerful purifier and antioxidant, giving our overworked liver a little boost, and helping it do its job better. Yes, we already have an incredible "built-in" detox system in our bodies – the liver – but living in this modern world, we ingest pesticides, additives, toxins, heavy metals and countless other chemicals more often than we know and should. Our liver's main function is to help expel these toxins from our bloodstream, which it does incredibly well, most of the time. The compounds in turmeric aid the liver in doing its job even better by protecting and strengthening it, supporting it and giving it a little boost. There are studies that show that turmeric can actually help rebuild the liver if damaged.
CANCER-FIGHTING: Research is showing turmeric fights cancer in three ways: it neutralizes the substances and conditions which can cause cancer; it directly helps a cell retain its integrity and heal if threatened by carcinogens; and lastly, if a tumor does grow,  the curcumins in turmeric can often destroy it. Again, not my words, do your own research and see for yourself.
Used for over 5000 years in Ayurvedic Medicine, turmeric is believed to balance the three doshas, stimulate and purify the blood, protect and fortify the liver, assist in balancing our hormones, help with digestion, and heal and soothe the skin. It truly is a golden root.
Here are 10 simple recipes to harness the power of turmeric and incorporate it into our everyday diet!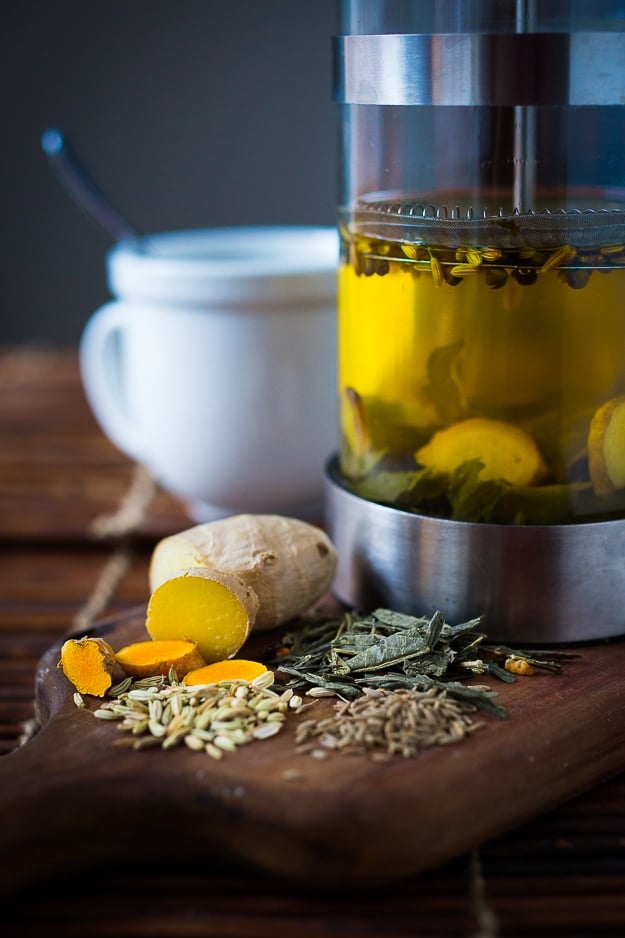 1.) Flush out toxins with this Turmeric Tea. This daily sipping tea is made with fresh turmeric root, whole spices, ginger root and your choice of tea-  green tea, yerba matte, tulsi, mint, chamomile or any herbal blend. Make a batch in the morning, then simply refill with hot water, and sip throughout the day.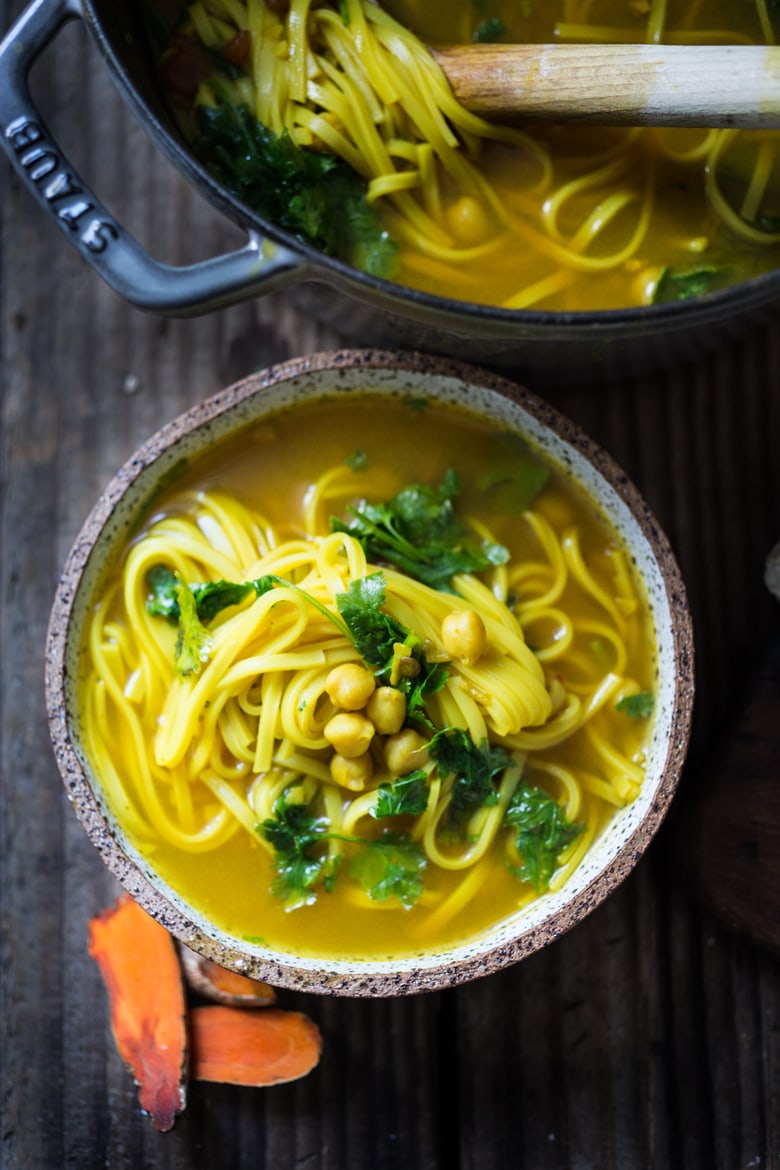 2.) Make turmeric soup. Hands down my most popular recipe to date, this healing  Turmeric Broth Detox Soup is soothing, flavorful and restorative. Adapt it to your particular taste. Simply make the flavorful base, then add rice noodles, greens & chickpeas, or chicken and rice, vegges and tofu, or seriously whatever you like….totally up to you! The healing broth is good for the tummy and very healing if feeling sick or under the weather. It is also very uplifting, and I will sometimes make it when feeling blue or in a funk. It's like a bowl of sunshine.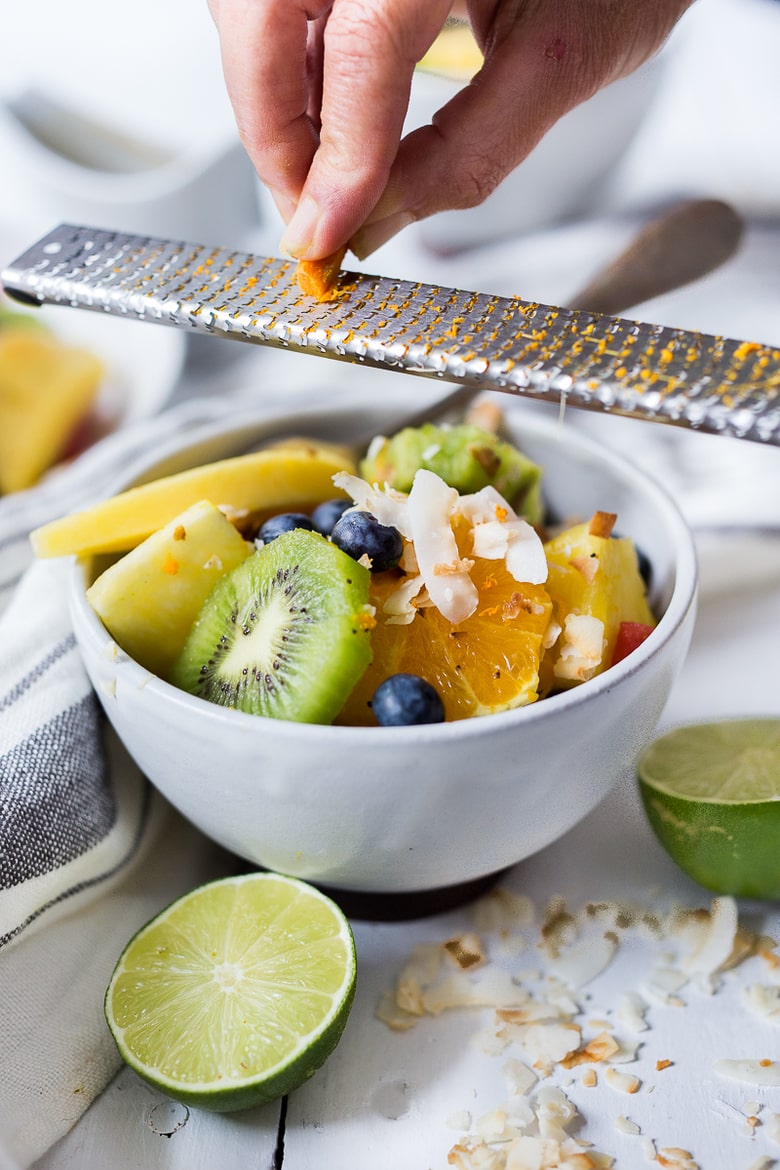 3.) Add to fruit salads and morning bowls! Grated fresh turmeric over salad like in this Turmeric Fruit Salad – Liven up your morning fruit salad with a little fresh grated turmeric and fresh squeezed lime juice. Not only will turmeric add a lovely exotic flavor, it will exponentioally increase your intake of antioxidants, and support your liver in purifying and detoxing your blood. It pairs deliciously with fresh fruit!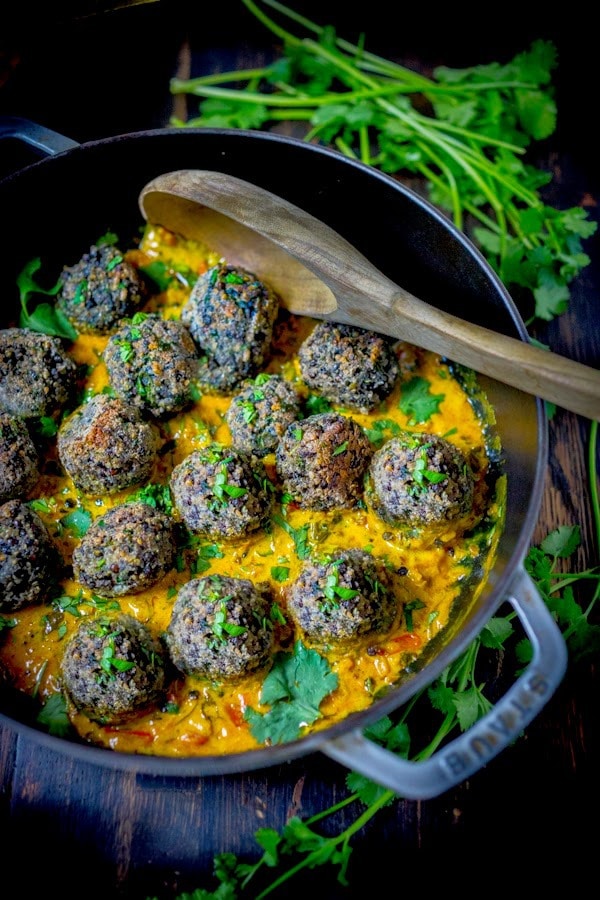 4.) Add fresh turmeric root to curries and sauces!  This recipe for vegan Lentil Meatballs with Indian Fenugreek Sauce is full of delicious flavor. One of my all-time favorites, and voted best vegan recipe on Food 52!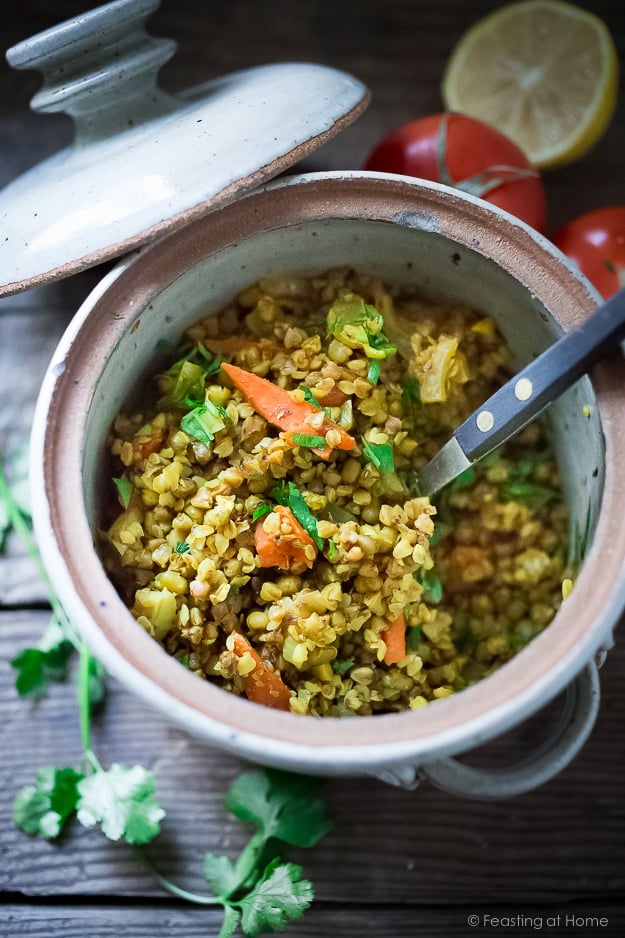 5.) Infuse grains or beans with turmeric in the cooking water.  Here is a simple healing recipe for Khichadi, an Ayurvedic Detox Bowl (also called Khichari) made w/ mung beans, kashi, detoxing veggies & soothing turmeric. Vegan and GF.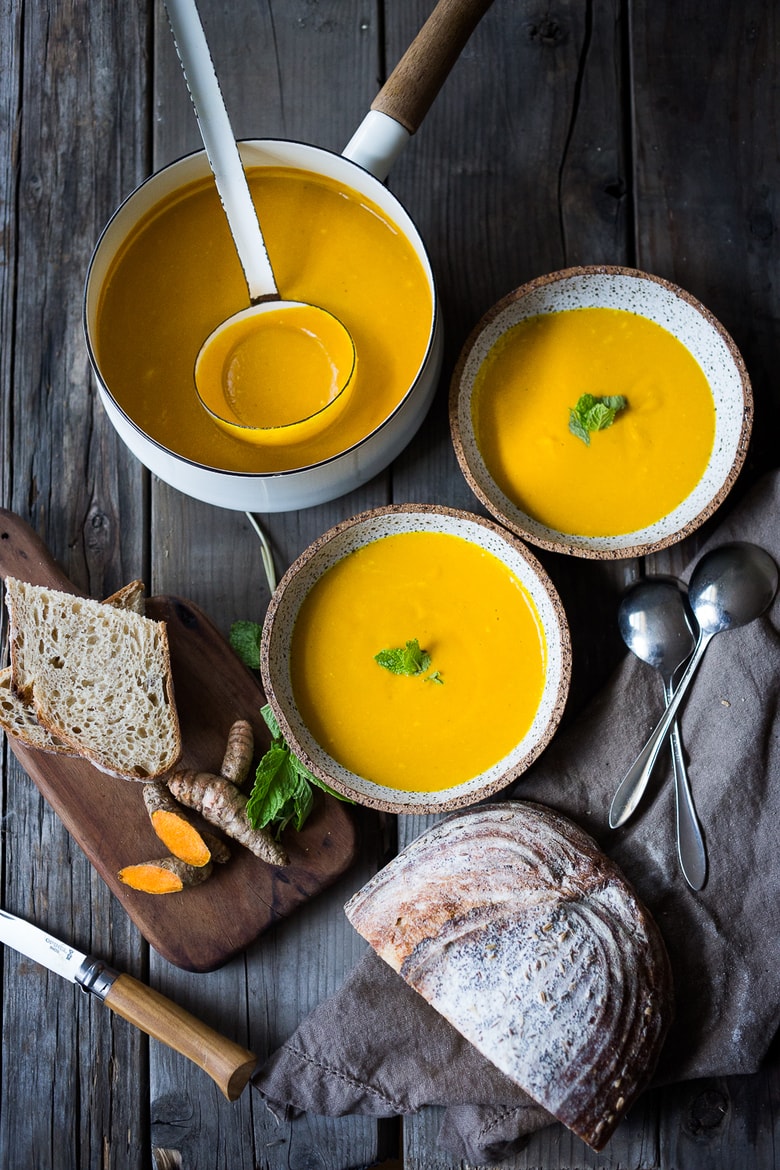 6.) Add fresh turmeric to soup! This creamy, luscious Glowing Carrot and Turmeric Soup is vegan and gluten-free. Earthy and flavorful with hints of ginger, and a subtle sweet from the carrots and coconut milk, this easy quick meal is healthy, delicious and very affordable, made with the simplest ingredients. For extra carrot flavor use fresh carrot juice instead of veggie stock. Soothing and comforting, it nurtures and heals.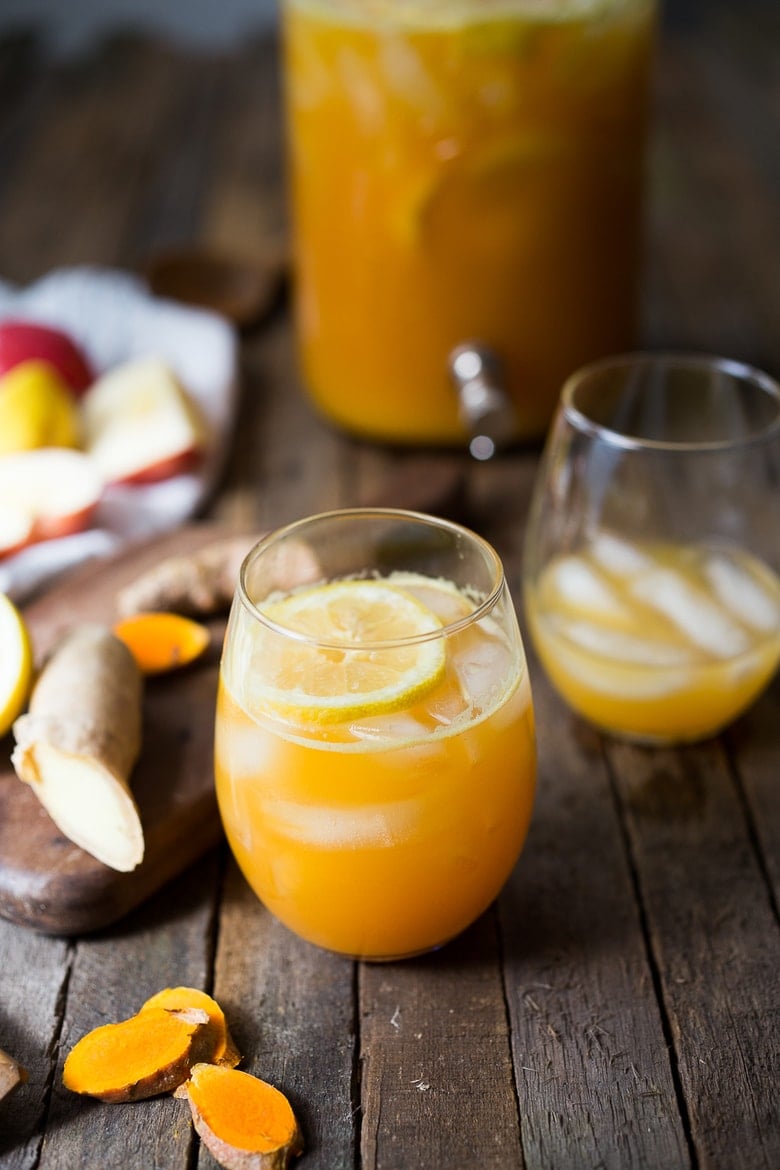 7.) Add turmeric to drinks – juice, smoothies, lemonades, spritzers and mocktails!
Turmeric Gingerade is an energizing "lemonade",  sweetened only with fresh apple juice. It's zingy and bright, the perfect afternoon pick-me-up.  Meyer Lemons are particularly tasty here and watch how this drink really uplifts the spirit. It's Like a glass of sunshine in the midst of winter. Drink it strait or dilute with sparkling water. Sometimes I'll add a shot to my morning carrot juice.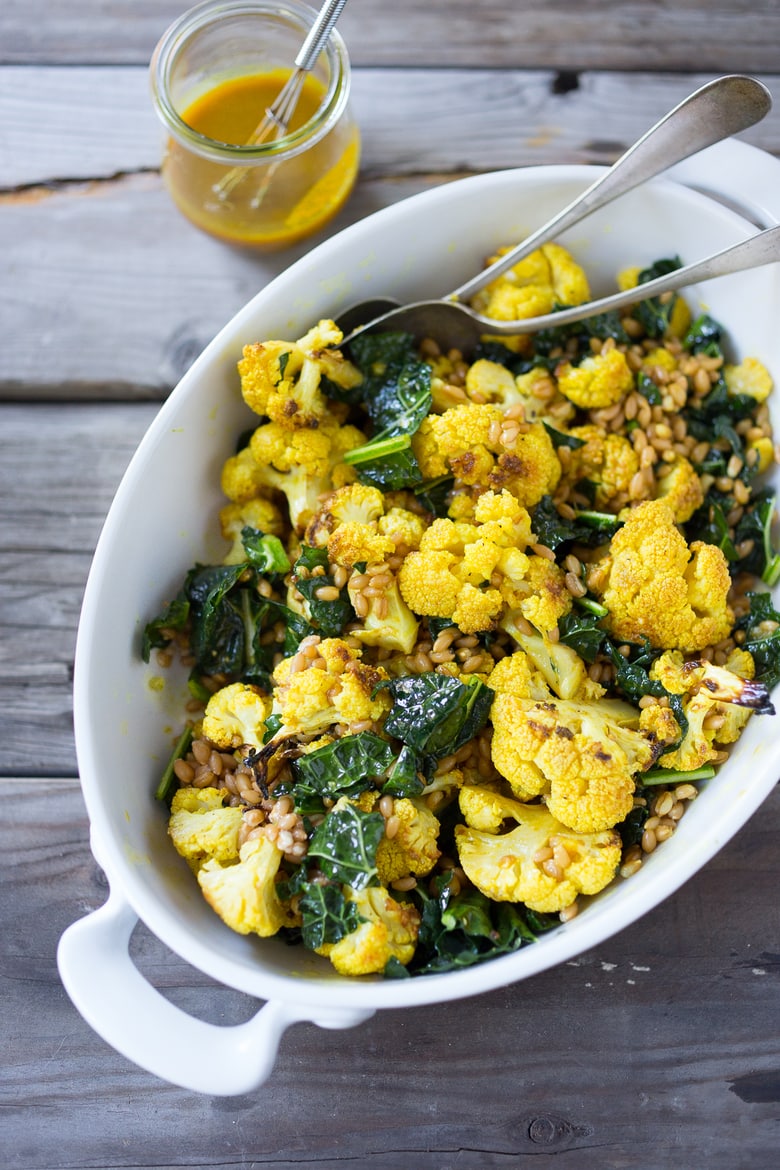 8.) Add it to vinaigrettes and dressings! This Roasted Cauliflower Salad with Kale and Farro has a simple Turmeric Dressing that can be used on other salads as well.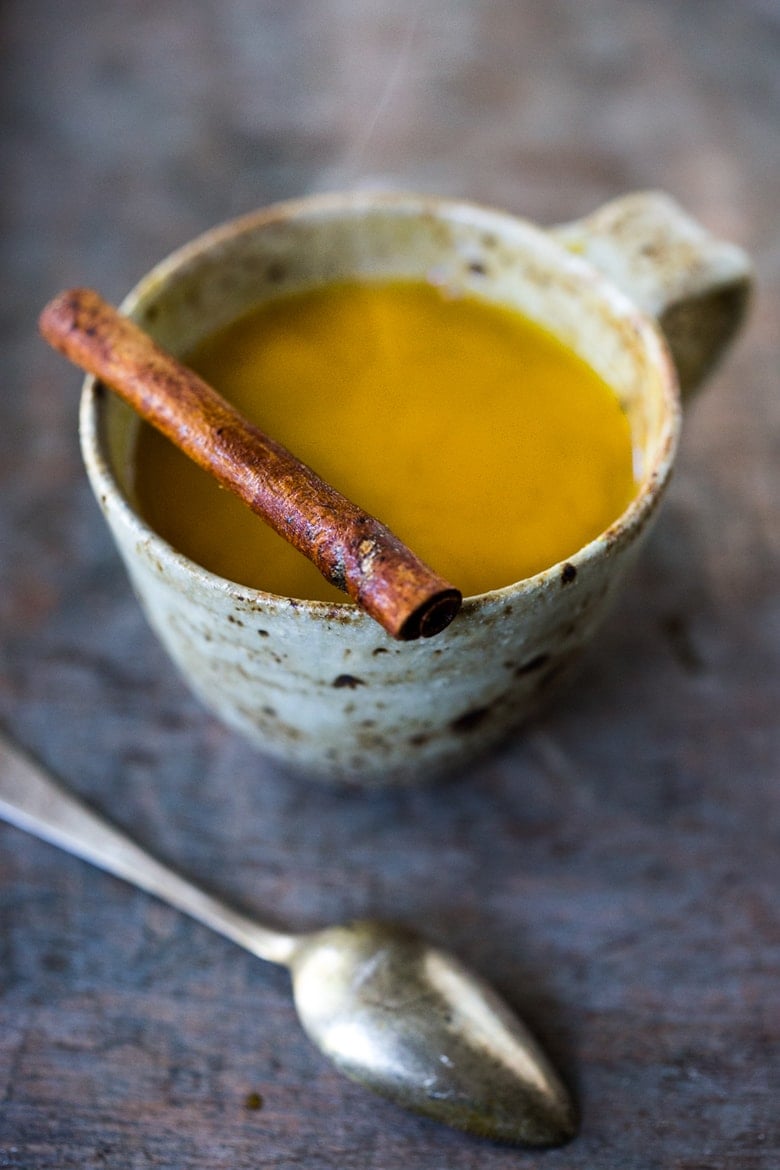 9.) Make big-batch healing elixirs! This Balinese, anti-inflammatory elixir is called Jamu Juice and it can be served hot like tea or chilled. I personally make a big batch each week, and store it in a mason jar in the fridge. In the winter I warm it up and serve it in a cozy mug like tea.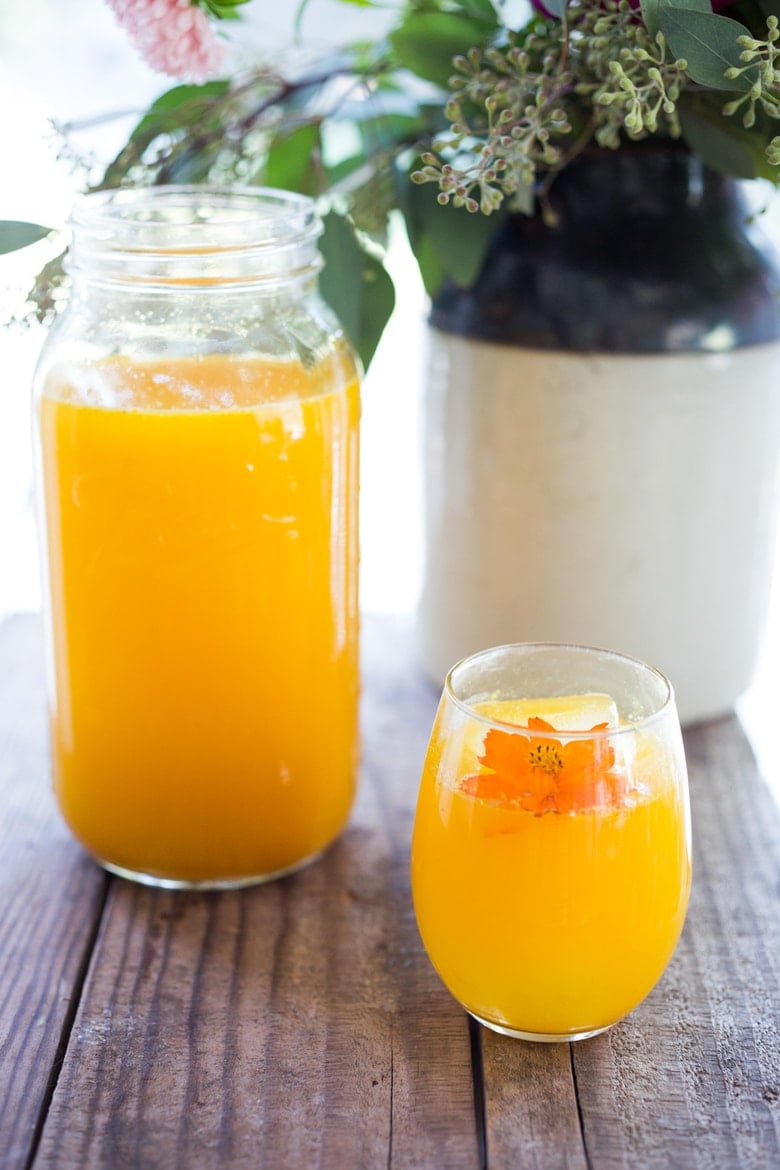 In the summer I serve Jamu Juice cold like iced tea. Very soothing to the body, and especially nice after workouts or if feeling achy, tired or sick.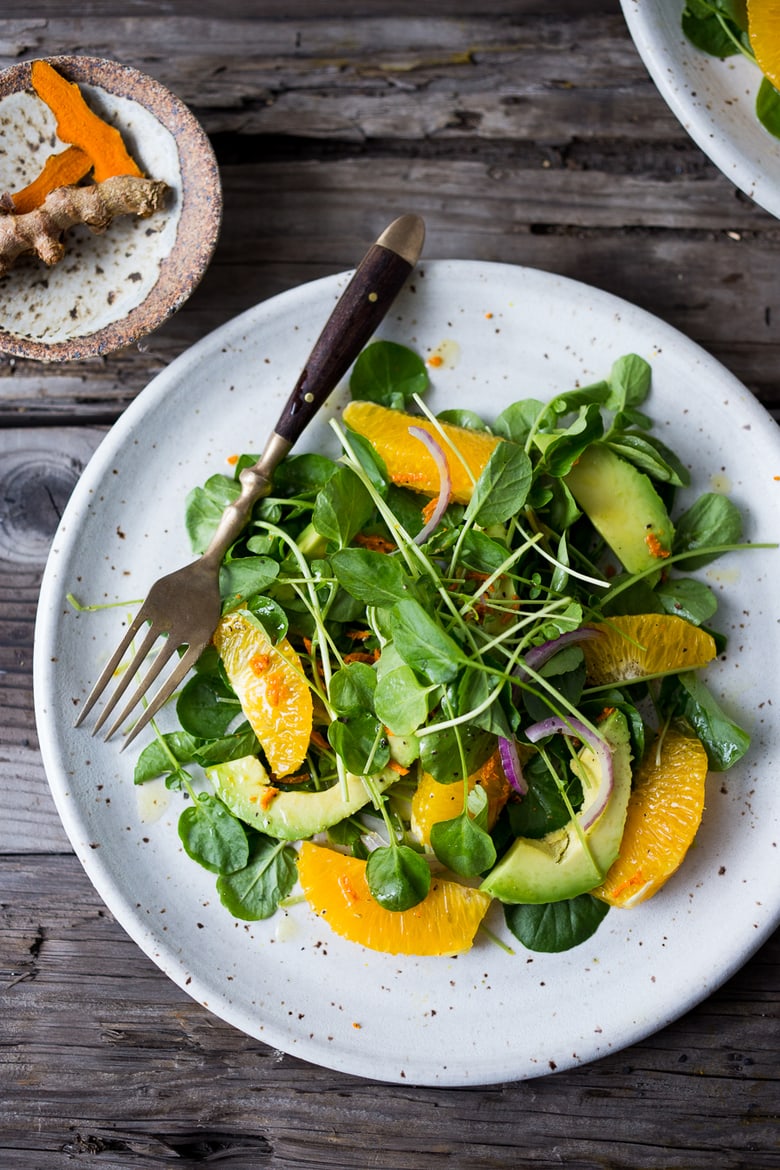 10.) Sprinkle fresh turmeric over salads. This cleansing Watercress and Citrus Salad with Turmeric Dressing is another winter favorite. Juicy oranges and ripe avocado balance the peppery cress while freshly grated turmeric gives it such a lovely exotic flavor. A boost of anti-oxidants!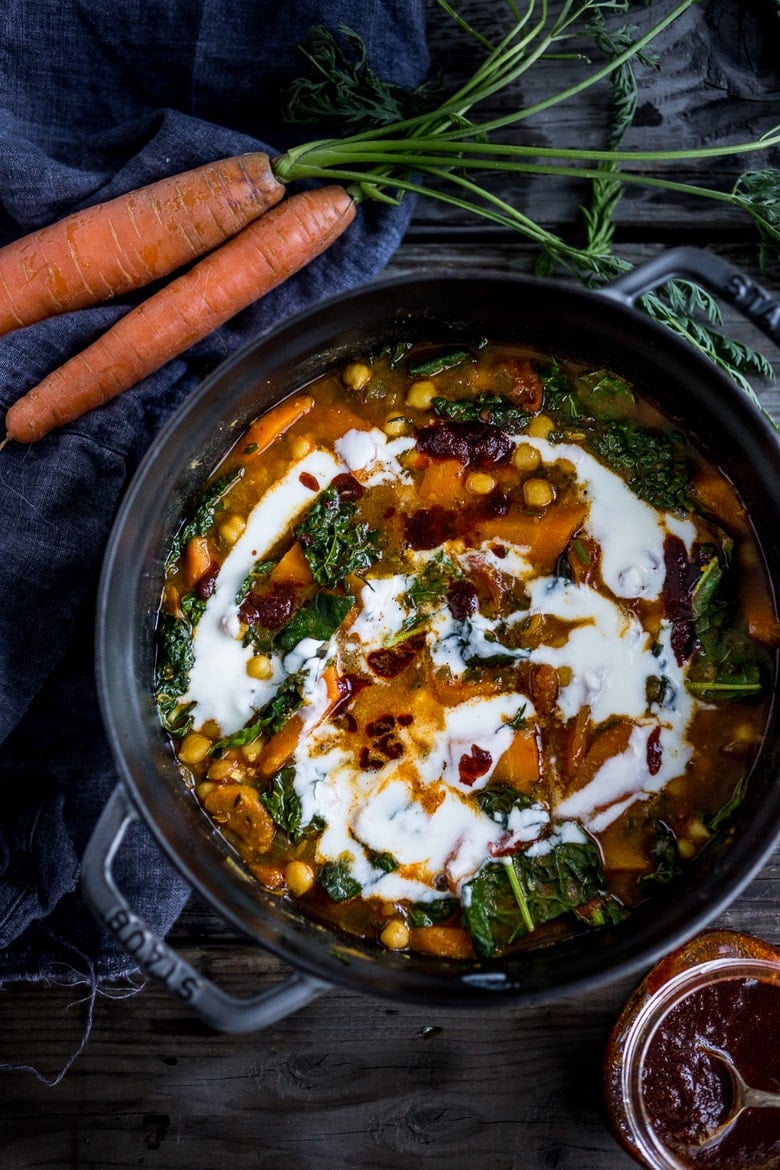 Add fresh or ground turmeric to hearty ethnic-inspired stews. This simple, healthy Tunisian Chickpea Stew with Carrot and their tops, turmeric, kale and a "Quick Harissa" sauce–  is hearty and delicious, perfect for cozy nights.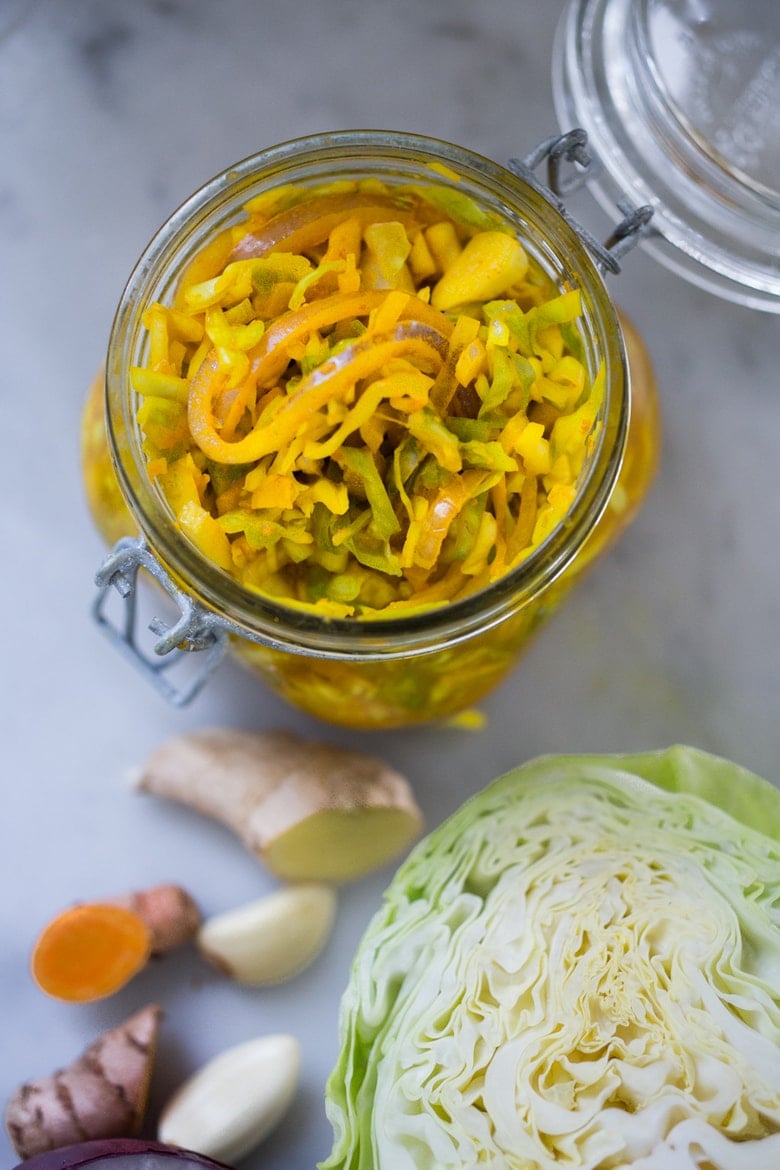 Add turmeric to pickles or fermentations. A fun little project is to make a quick, small-batch or Turmeric Sauerkruat. It is more simple than you think, just mix and set on the counter for a few day- and you'll end up with a delicious tasting condiment full of healthy probiotics that can be served alongside anything!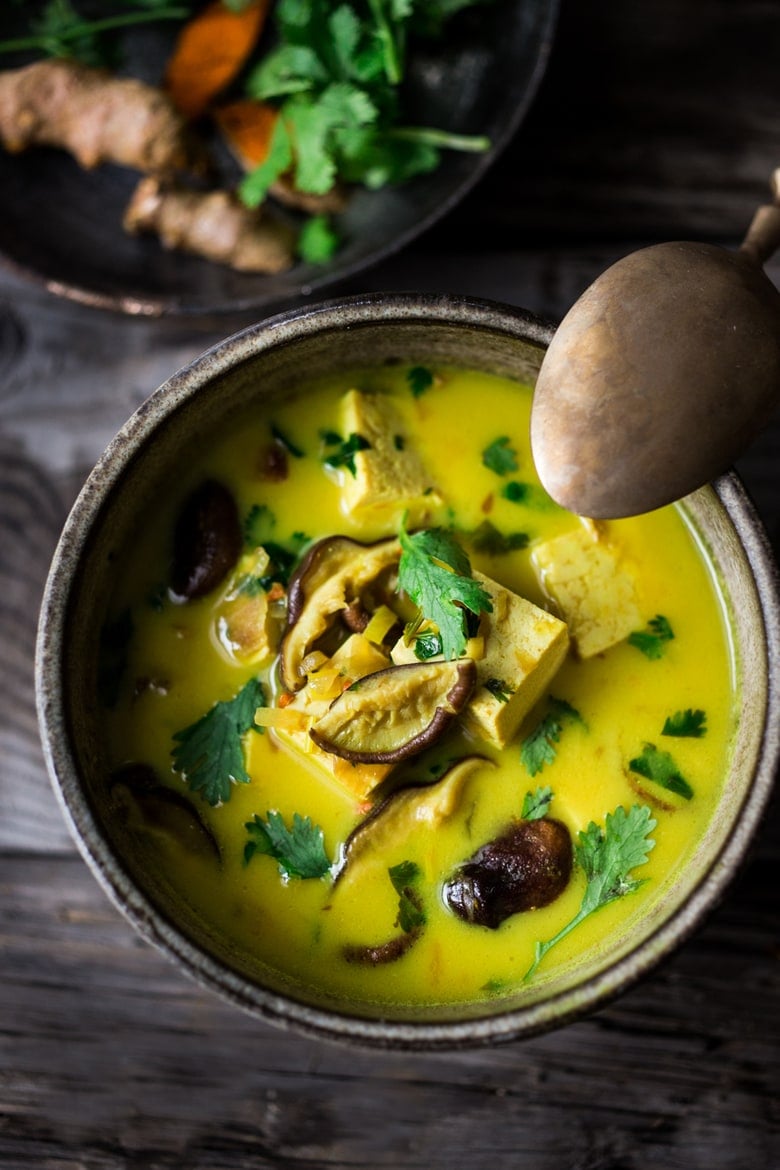 Add to Curries! This recipe for Turmeric Curry Tofu with Coconut and Shiitakes comes together in 20 minutes flat. Serve it over grains for extra heartiness, or simply have it on its own, like a thick and hearty stew. Fresh grated turmeric gives this its beautiful color, but if fresh turmeric is unavailable, ground turmeric will work fine too. Use the flavorful base to hold your favorite veggies.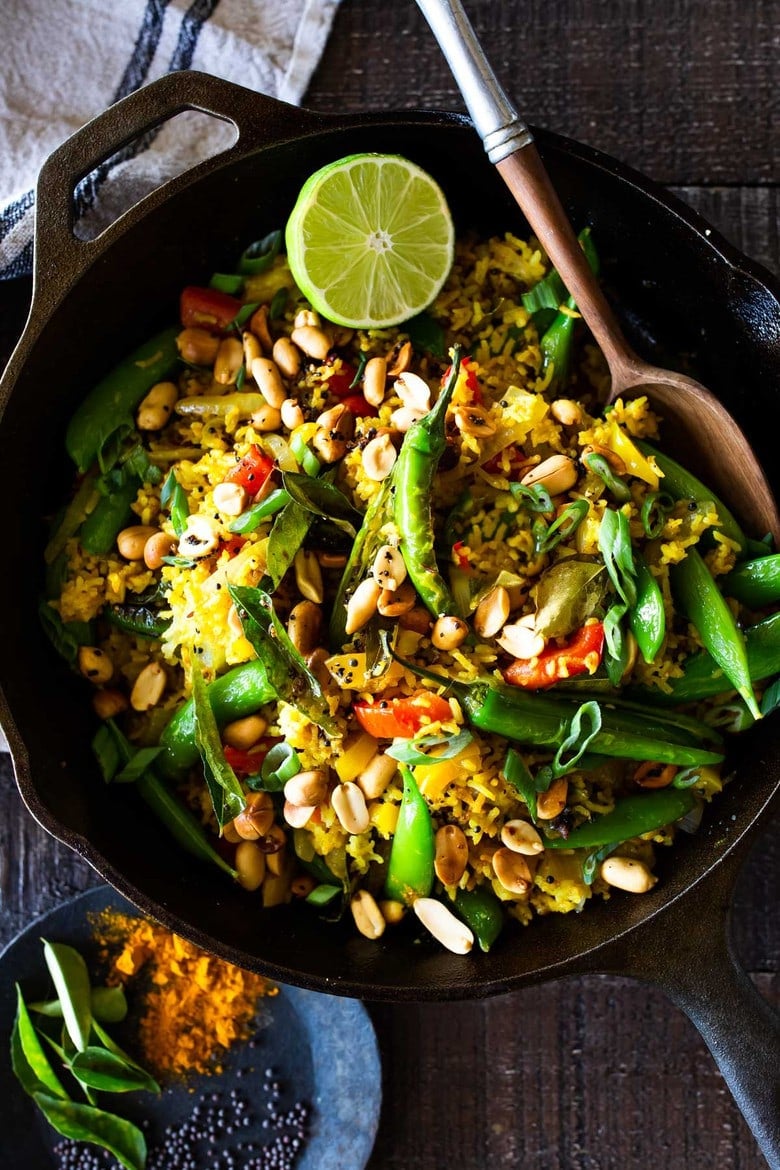 Add to Fried Rice. This Flavorful Indian Fried Rice is full of healthy veggies and can be made in under 30 minutes. Vegetarian, Vegan adaptable, fast and easy!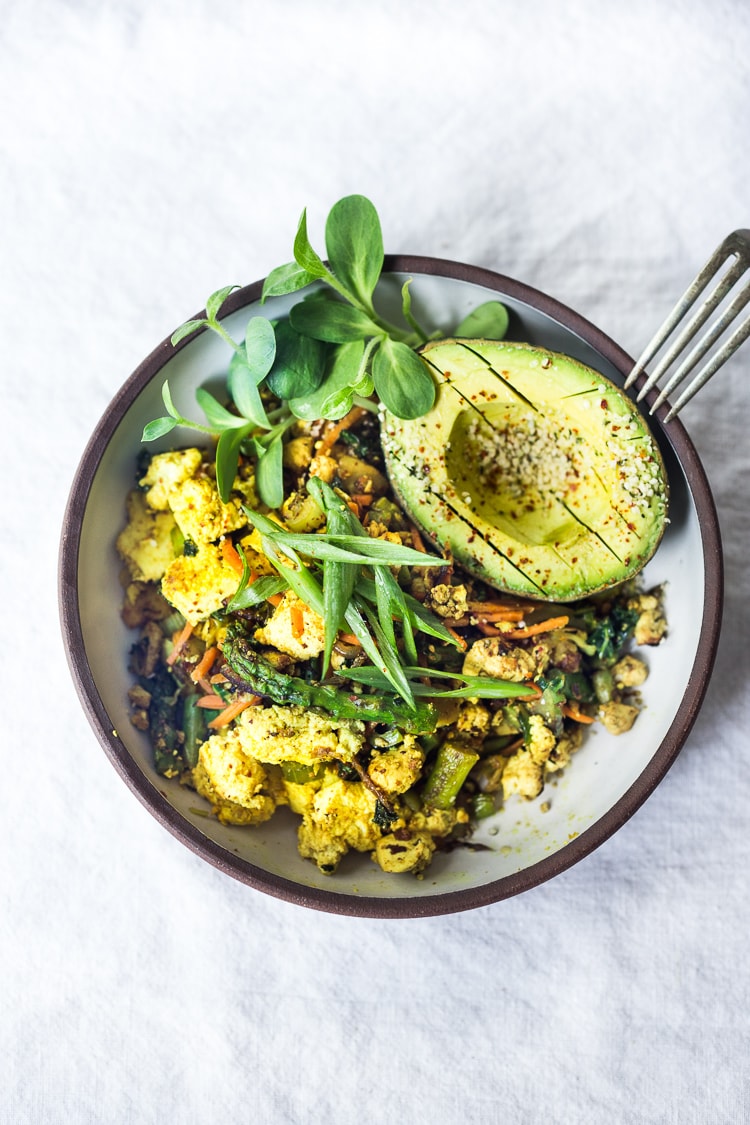 Add to your breakfast Scrambles!  This Vegan Tofu Scramble – is loaded up with healthy seasonal veggies that you already have on hand. Turmeric gives it its lovely golden color. This vegan breakfast can be made in 15 minutes flat! Healthy, Fast, delicious!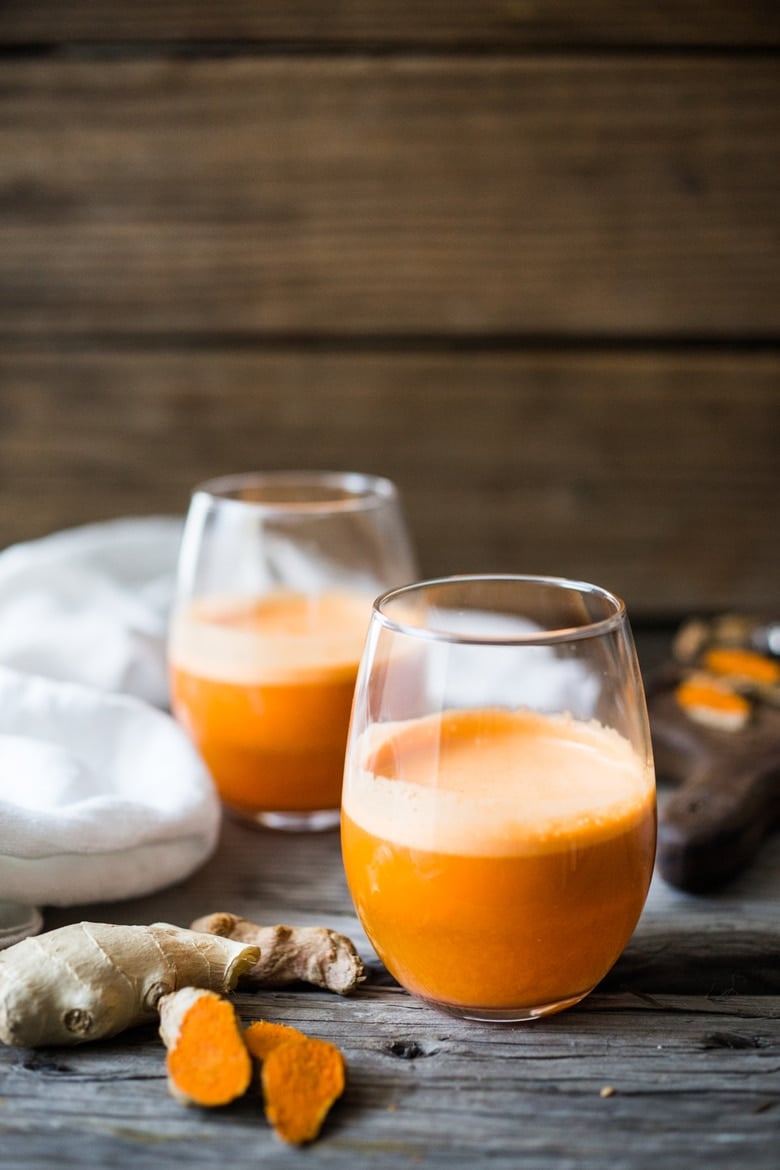 Turmeric Golden Root juice – a fresh juice harnessing the power of turmeric root – to soothe inflammation, aid in cleansing the body and fight illness.
Pick a few of these healthy, delicious  Turmeric Recipes to Heal, Sooth and Protect this week and see how you feel!
xo