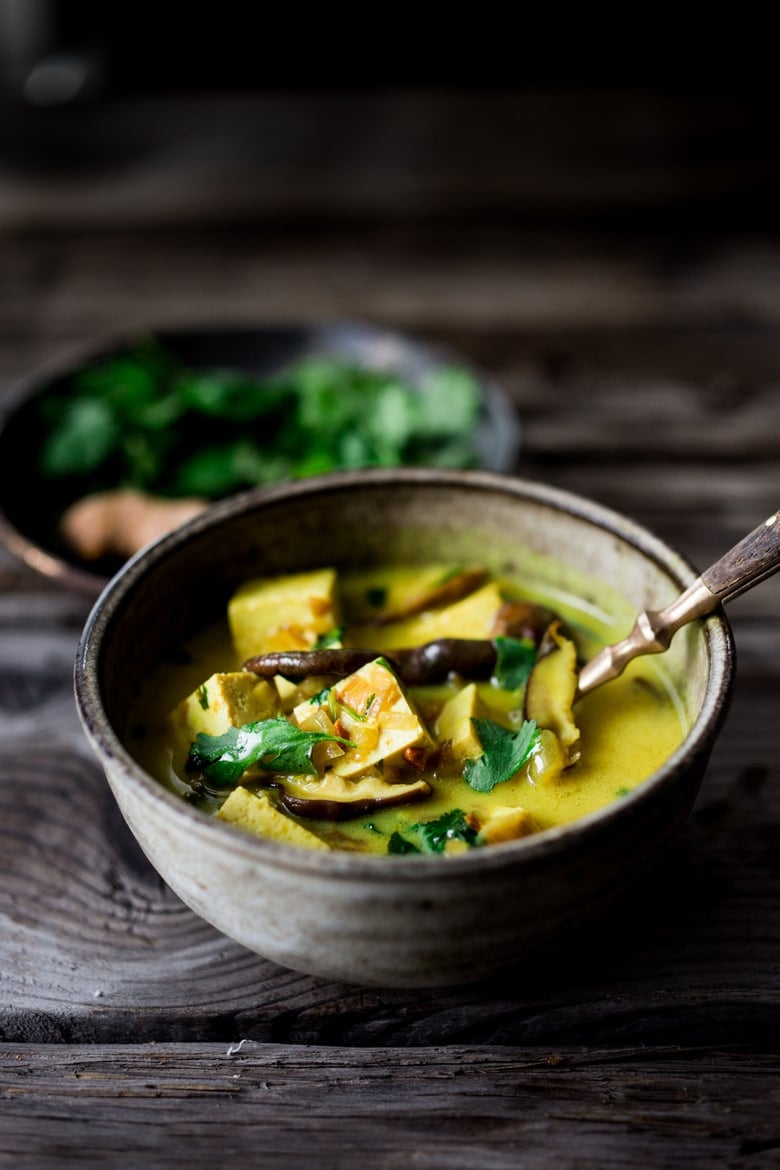 There are ways in, journeys to the center of life, through time; through air, matter, dream and thought. The ways are not always mapped or charted, but sometimes being lost, if there is such a thing, is the sweetest place to be. And always, in this search, a person might find that she is already there, at the center of the world. It may be a broken world, but it is glorious nonetheless.~ Linda Hogan~
This recipe for Turmeric Curry Tofu with Coconut and Shiitakes comes together in 20 minutes flat. Serve it over grains for extra heartiness, or simply have it on its own, like a thick and hearty stew. Fresh grated turmeric gives this its beautiful color, but if fresh turmeric is unavailable, ground turmeric will work fine too. Use the flavorful base to hold your favorite veggies.
This recipe was featured in Edible Seattle/ Edible Portland last month. If you live in the Pacific Northwest, it's a beautiful issue, definitely worth seeking out and they have been very good about featuring local growers and producers on the east side of the state as well.
The world where I live is covered in a thick blanket of snow. It's beautiful. Icicles hand down off the eaves of houses, sparkling in the sunlight whilst snowflakes float gently by. Everything is in slow motion. There is this profound quiet. An invitation to come back to oneself and just be here for a moment, here, where it's almost impossible not to feel love and gratitude for everything and everyone.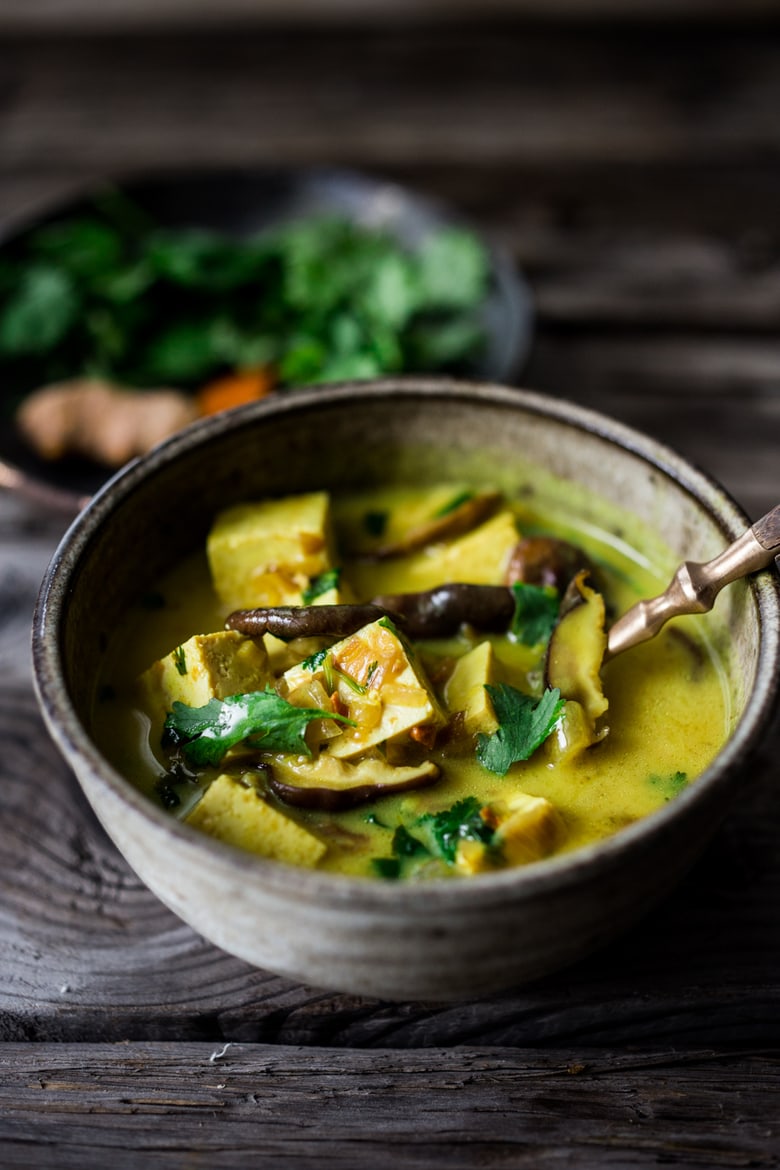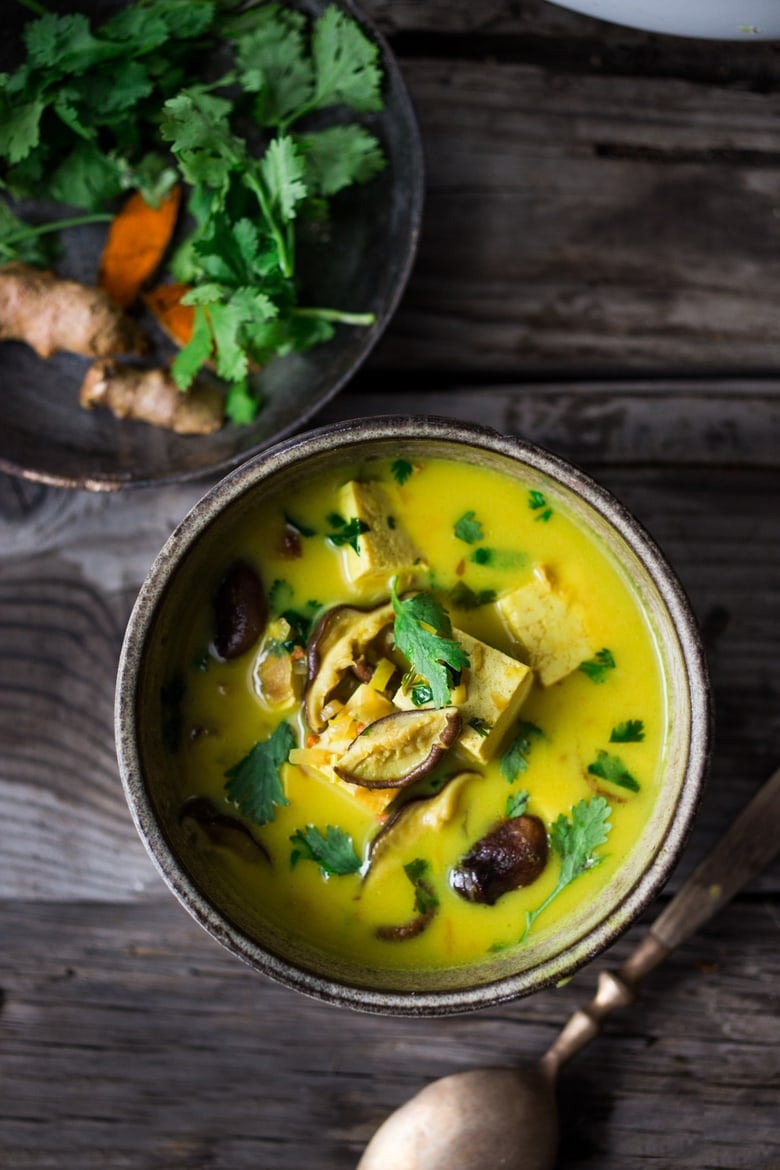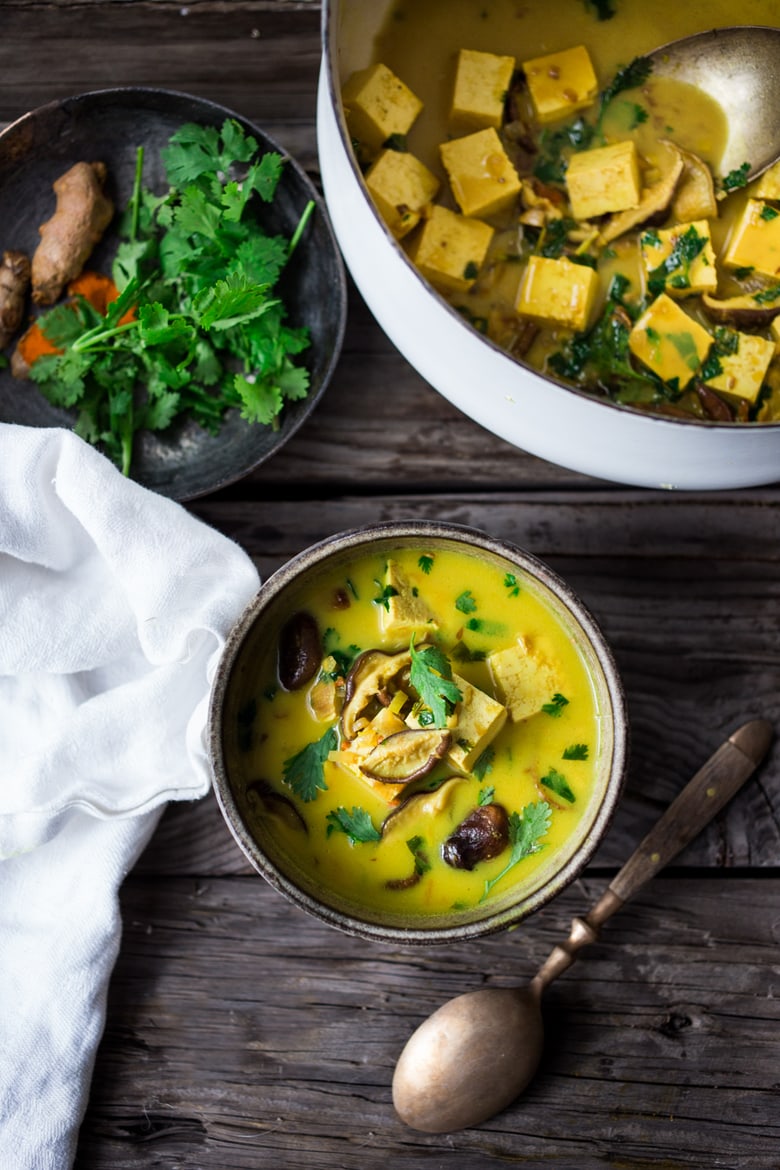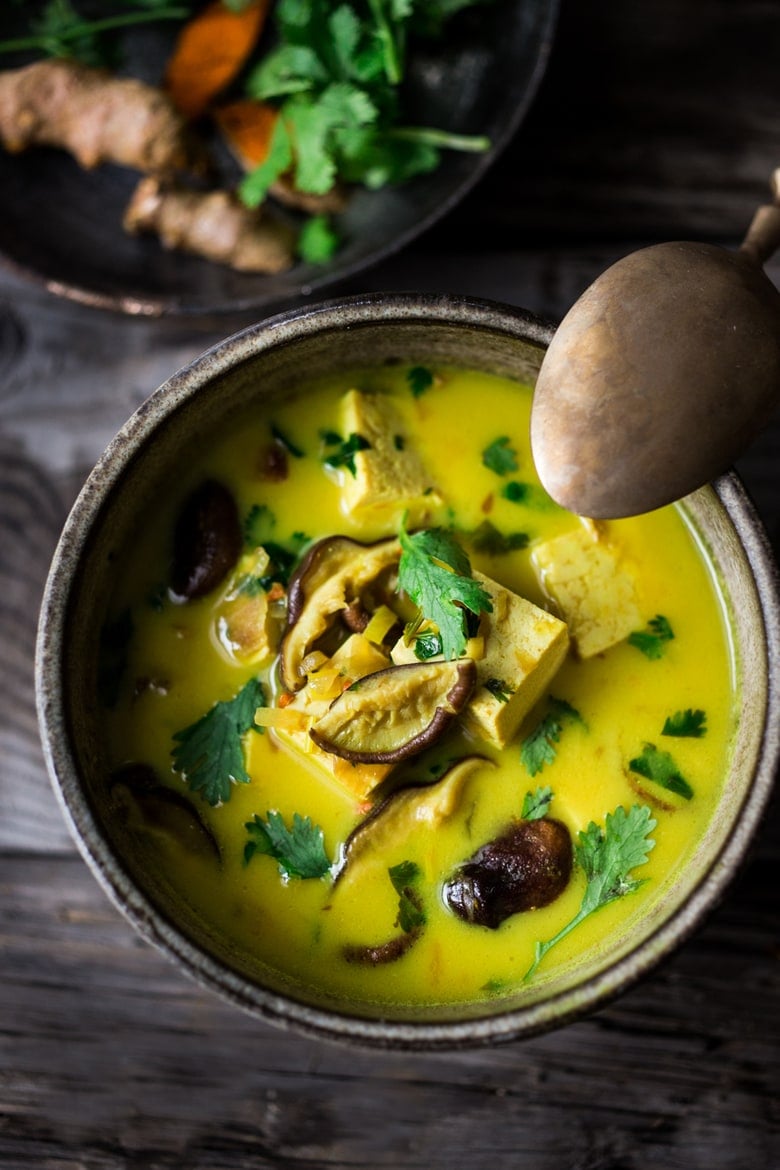 See something beautiful today. xo
s.
Print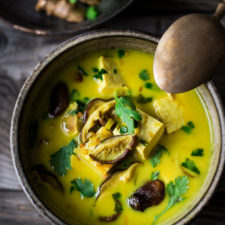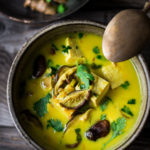 Turmeric Curry with Coconut Tofu and Shitakes
Prep Time:

5 mins

Cook Time:

15 mins

Total Time:

20 mins

Yield:

2-3

Category:

Main

Cuisine:

Vegan
---
Description
A fragrant Turmeric Coconut Curry infused with fresh turmeric root, lemongrass and ginger enveloping tofu and shiitake mushrooms. Vegan and Gluten free, can be made in 20 minutes!
---
Ingredients
A fragrant coconut curry infused with turmeric root, lemongrass and ginger enveloping tofu and shiitake mushrooms.

2 tablespoons

coconut oil, olive oil, or ghee

2

shallots- finely chopped

1 tablespoon

finely chopped lemongrass

6

garlic cloves- finely chopped

1 tablespoon

ginger- finely grated

2 teaspoons

fresh grated turmeric root

2 cups

chicken or veggie stock

1

can coconut milk

1 teaspoon

fish sauce

1 teaspoon

sugar or alternative

1/4 teaspoon

salt, more to taste

1/2 teaspoon

ground turmeric

1/4 teaspoon

cayenne, more to taste

4 ounces

shiitake mushrooms- de-stemmed and sliced

4 ounces

tofu- cut into

3/4

inch cubes

1 tablespoon

fresh lime juice

1/4 cup

chopped cilantro
---
Instructions
Heat oil In a large heavy bottom pot or skillet over medium heat. Add shallots and saute until golden and tender about 5-6 minutes. Add lemongrass, garlic, ginger and turmeric and saute 2 more minutes.
Add stock and coconut milk and bring to a simmer.
Add fish sauce, sugar, salt, cayenne and ground turmeric, stirring to combine.
Add shittakes and simmer gently 2-3 minutes.
Add tofu, and continue simmering until tofu is warmed through, about 3-4 minutes.
Add the lime, taste, and adjust salt and cayenne.
Add the cilantro.
Serve immediately, dividing among bowls.
Notes- Use the base for your own combination of veggies. Serve over grains or as a stew. if you can find fresh turmeric, just add a little more ground turmeric ( to taste).
---
SaveSave