Turmeric Broth Detox Soup– a naturally healing, soothing and comforting, Ayurvedic soup that is highly customizable to your needs. Vegan and GF adaptable, full of antioxidants. Video!
Love Turmeric? Check out our 10 Healing Turmeric Recipes (Plus Top Health Benefits)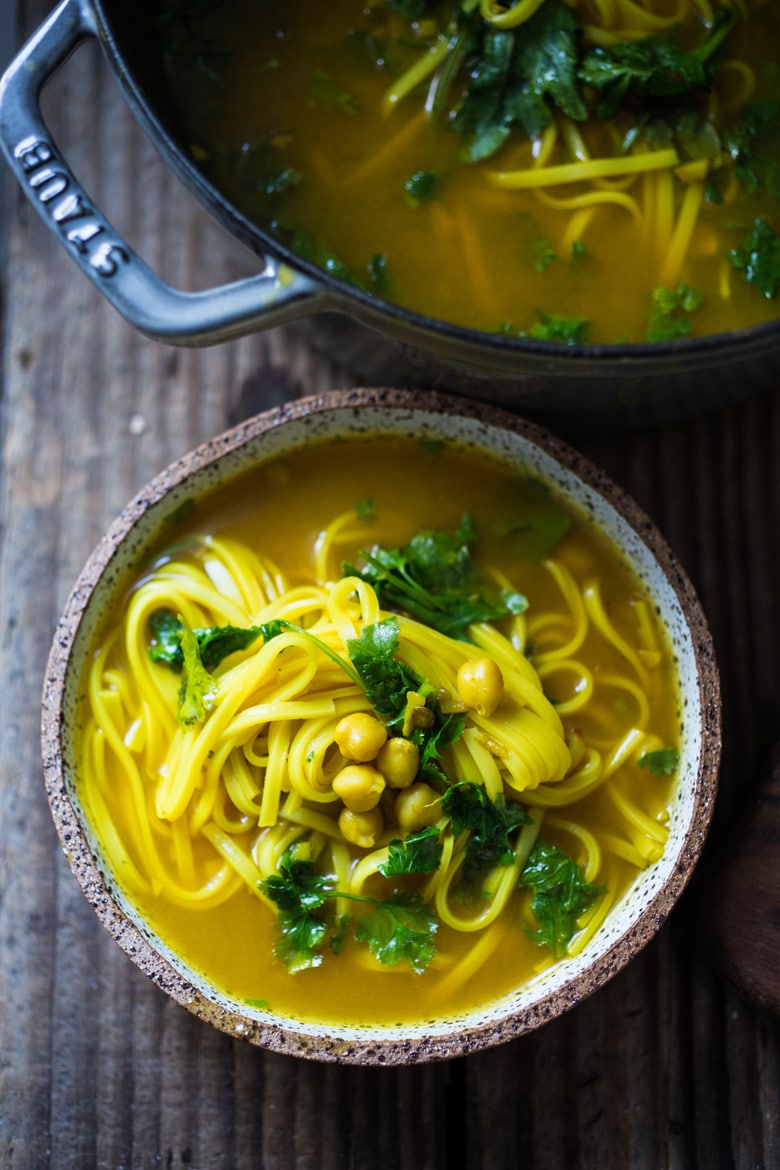 Remember the pure open sky of your own true nature.
~Tibetan Book of the Great Liberation~
Happy New Year! Here's a quick and healing recipe to help start off this beautiful New Year in a fresh and vibrant way – Turmeric Detox Broth!  Healthy and cleansing, turmeric is soothing and healing, full of powerful antioxidants and inflammation fighters that aid and restore the liver, giving it a little help. The best part is… all the ways you can customize the broth!  Watch the quick video to see my very favorite version!
Turmeric Broth Detox Soup! | 90-sec video
The Turmeric Detox Broth is a delicious base, or  "jumping off point" to whichever direction you want to take this soup. Keep it vegan by adding noodles, greens and legumes, or add leftover chicken, rice and spinach. It's pretty fool-proof once you have the nutritious fragrant broth made, which takes about 15- 20 minutes. When it is done, it's rich and flavorful and just slightly spicy, which of course you can elevate or minimize. I always feel like I'm giving my body such a gift when I make this.
It's perfect when feeling under the weather- soothes the tummy, clears the sinuses, helps with muscle aches and fatigue, and even soothes headaches!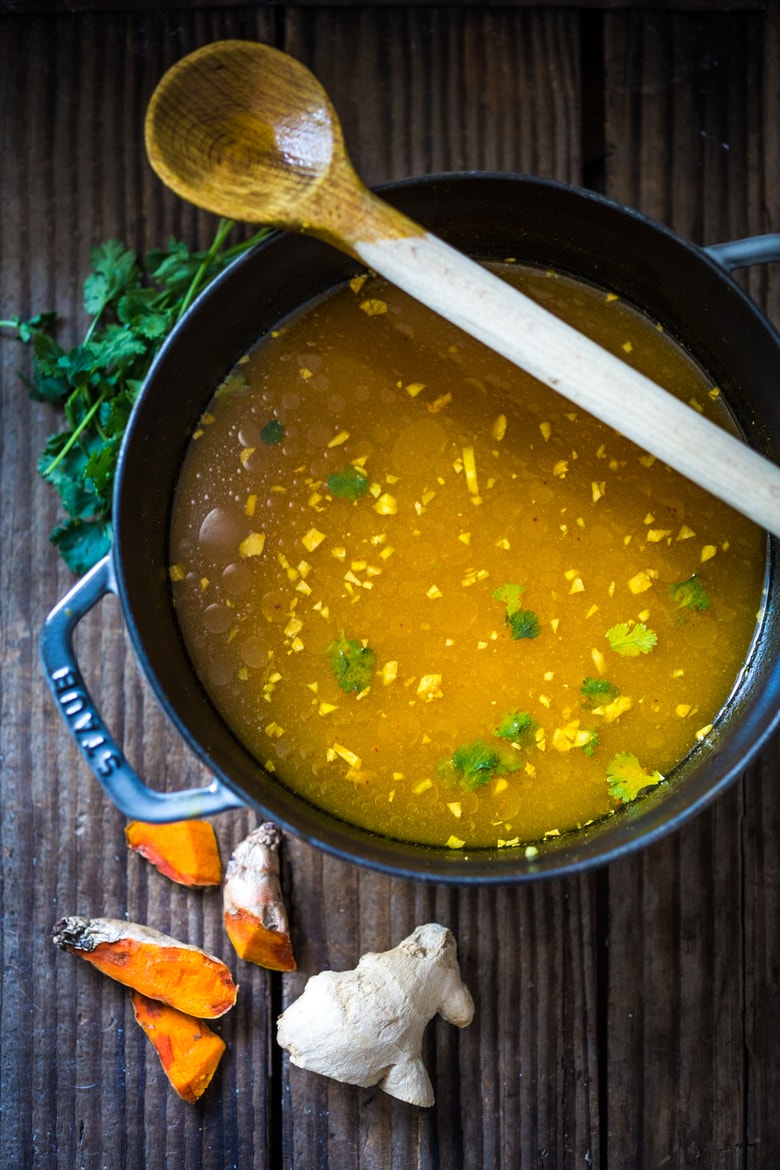 Turmeric, whether it's fresh or ground, seems to be what I turn to each New Year, to help restore myself.  It's used in Ayurveda to calm, soothe and basically aid the body in balancing and healing itself.
And maybe it's because this is the time of year I want to put an end to all the indulging from the holidays and do something good and healthy for my body. This may not be right for everyone, but I like do this  Simple 7 Day Clean Eating Plan to help myself get back the right track. If you are interested in doing it or knowing more about it…. it just sign up below the post.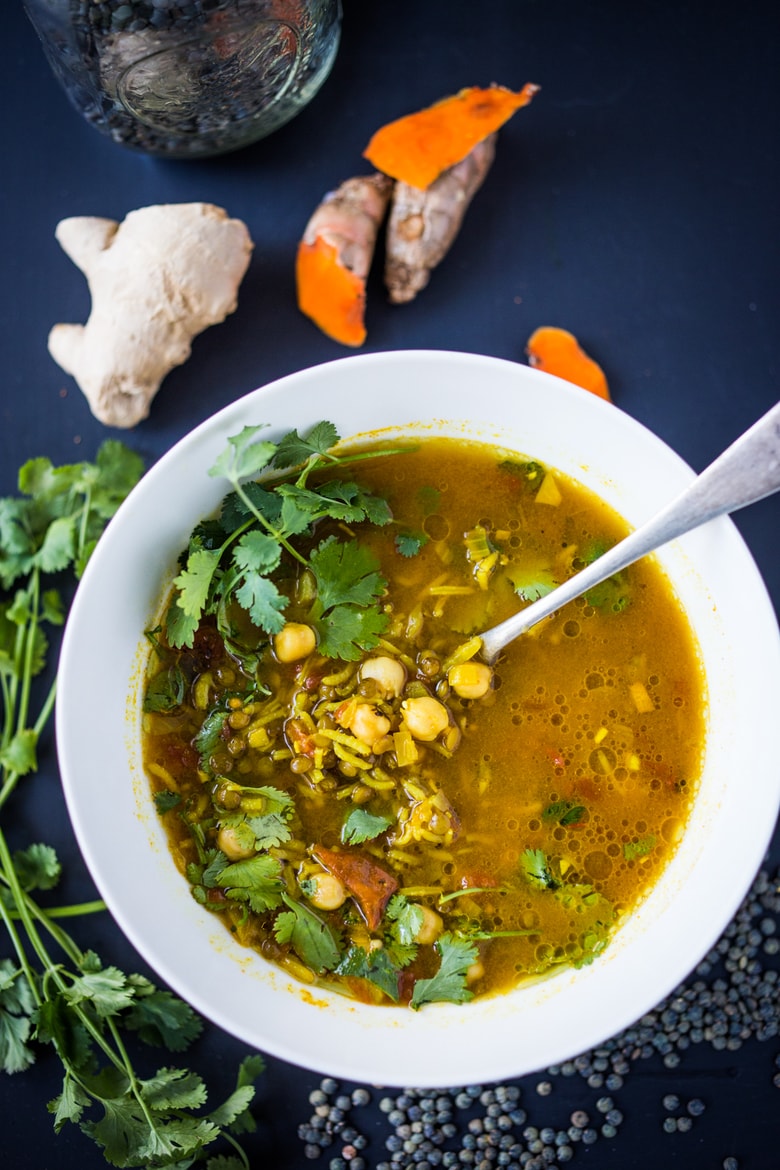 Make the fragrant detoxing Turmeric broth, then make the soup your own. This one meal can easily be made in 30 minutes or less!
Today I felt like slurping so I added rice noodles, chickpeas and kale.
Last week (above)  I added lentils, basmati rice and chickpeas….a sort of "Middle Eastern Minestrone" ( see below).  The time before that I added leftover Thanksgiving turkey, dill and quinoa, and before that, I dropped some orzo and little meatballs into the flavorful broth until they began to float.
Seriously, it's pretty hard to mess this up.
Go through your fridge and cupboards and use what you have. Use leftovers. If you have dry beans, pre-soak them over night for faster cooking and easier digestibility.
To keep the soup brothy take care not to add too much pasta, beans or rice or other things that swell, or you will end up with a stew vs. soup – which is not necessarily a bad thing. Also be mindful of cooking times. For example, basmati rice and small lentils cook at about the same rate. But pasta and un-soaked dried chickpeas do not. So be sensible and thoughtful about this and you won't go wrong.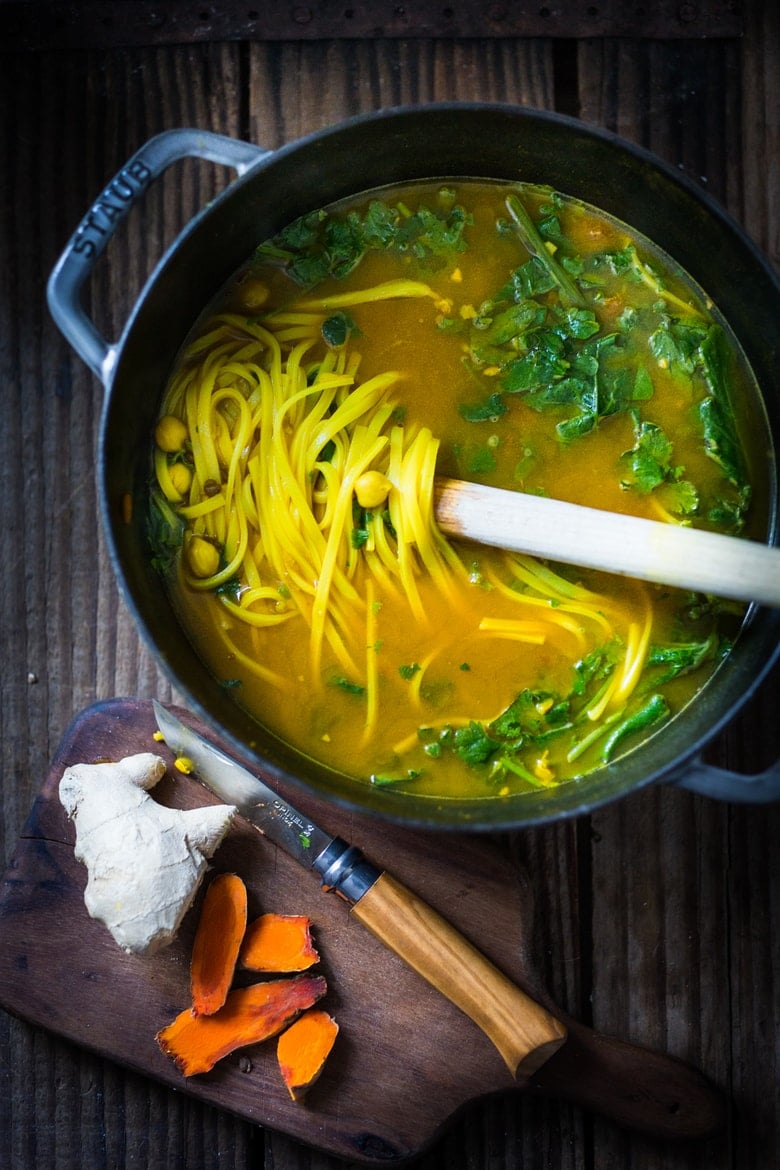 How to make Turmeric Broth
Step One: It starts with a large, heavy-bottomed dutch oven or pot to make the Turmeric Detox Broth. Saute onion, ginger and garlic and turmeric (either freshly grated turmeric or ground turmeric ) – I like to use both!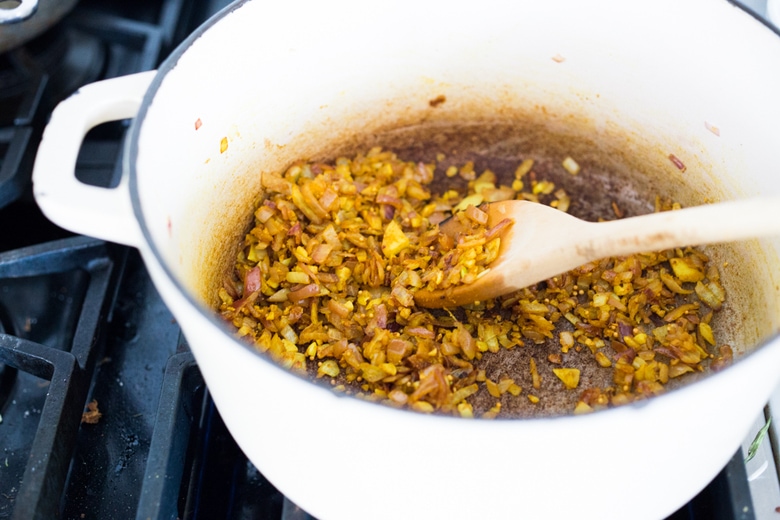 Step Two: Add the rest of the spices, salt, veggie broth or chicken stock, water, and lemon or lime.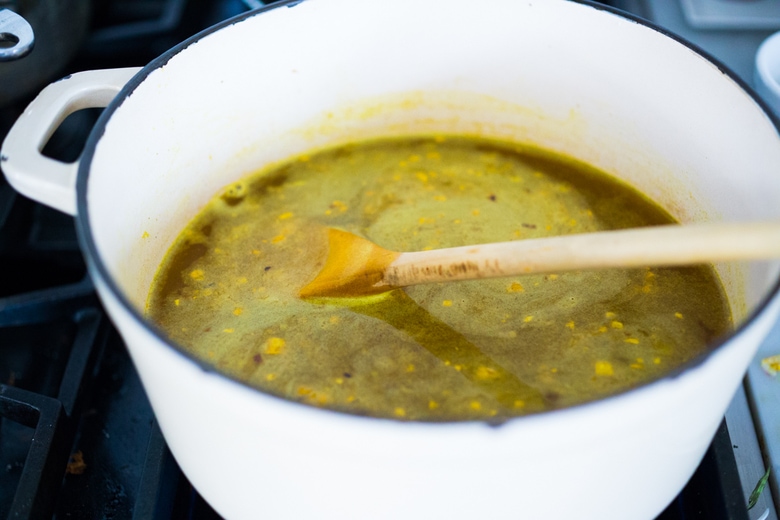 Step three: Bring to a simmer for a few minutes- and it's done! Taste and adjust salt. If it's too salty, add a little water to dilute.
At this point, you will have a delicious tasting broth- a great base for your own creations.
Now it's time to have fun.
What to add to Turmeric Broth
Protein: Add pre-soaked (or canned)chickpeas,  beans or lentils.  Or use another form of protein like cooked chicken, turkey, or meatballs.
Starch: noodles, rice, quinoa, or potatoes!
Greens:  add herbs or greens! I find that parsley, cilantro, mint and dill all work well with turmeric, but be playful and try something new if you want. Finish the soup with a handful of spinach, or other greens to bump up the nutrients.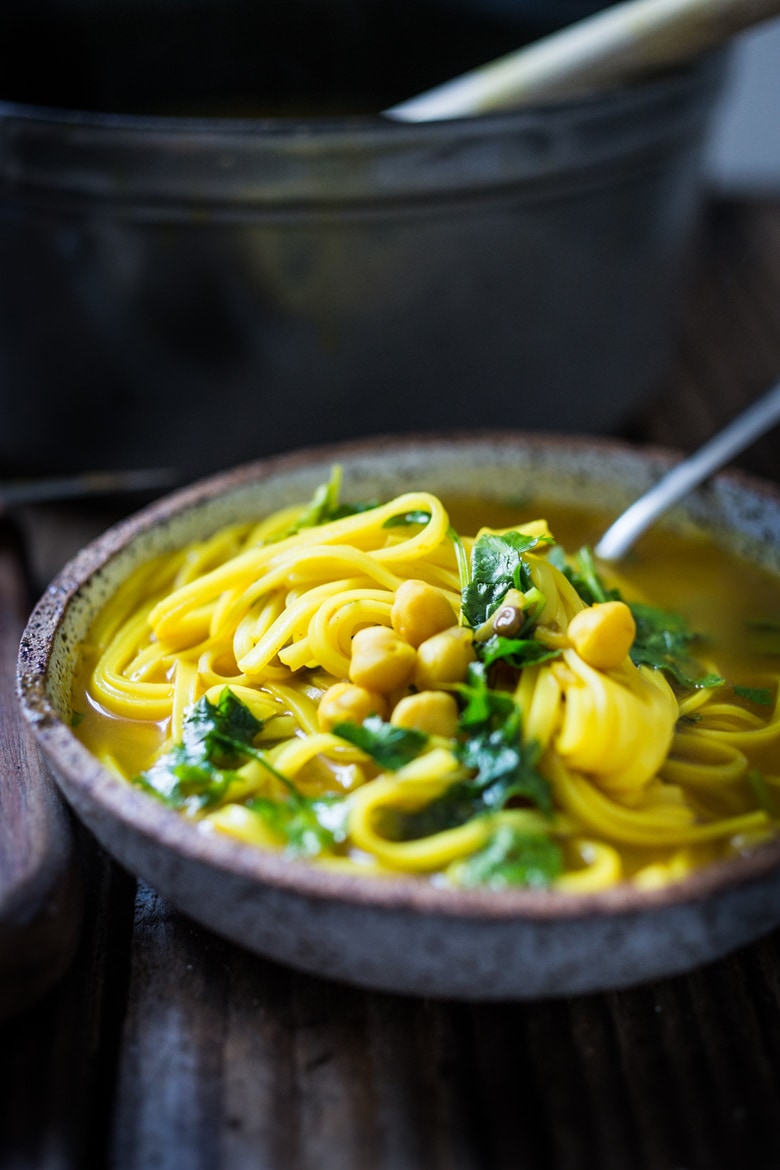 I love adding extra -antioxidants and nutrients- a couple of handfuls of chopped spinach, beet greens, chard, arugula or kale or other veggies like shredded brussel sprouts, or cauliflower!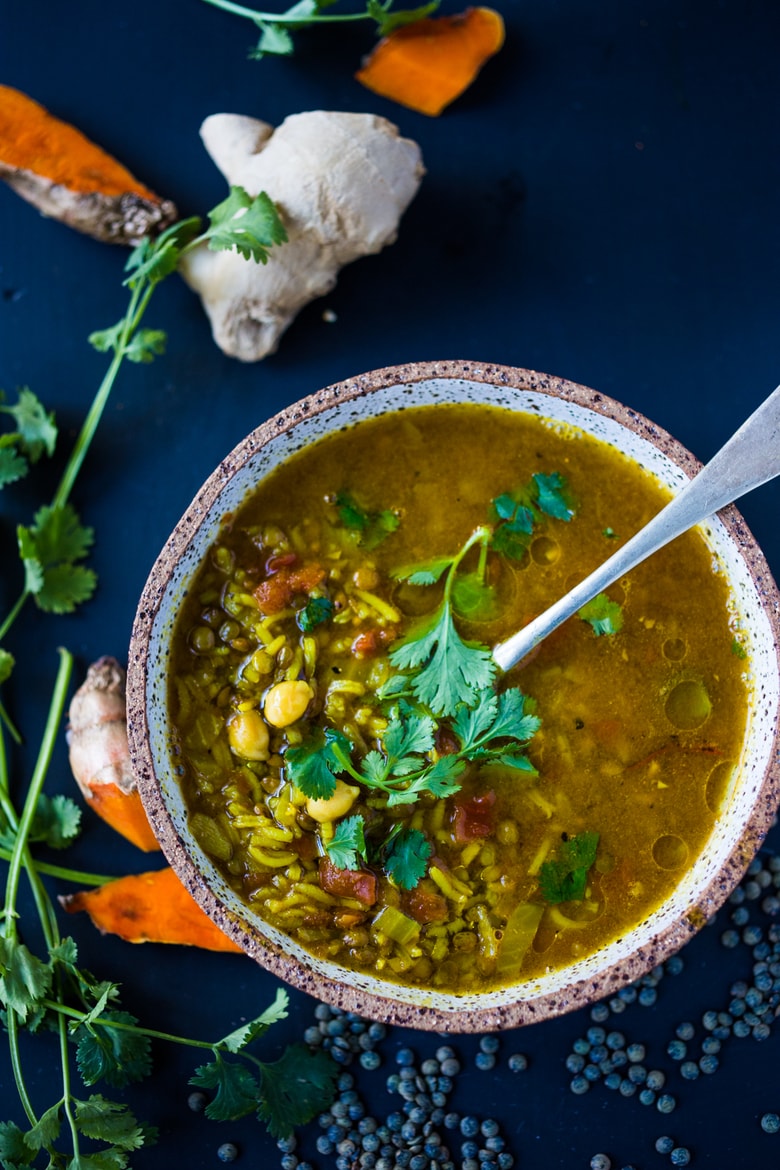 More Turmeric Recipes you may like: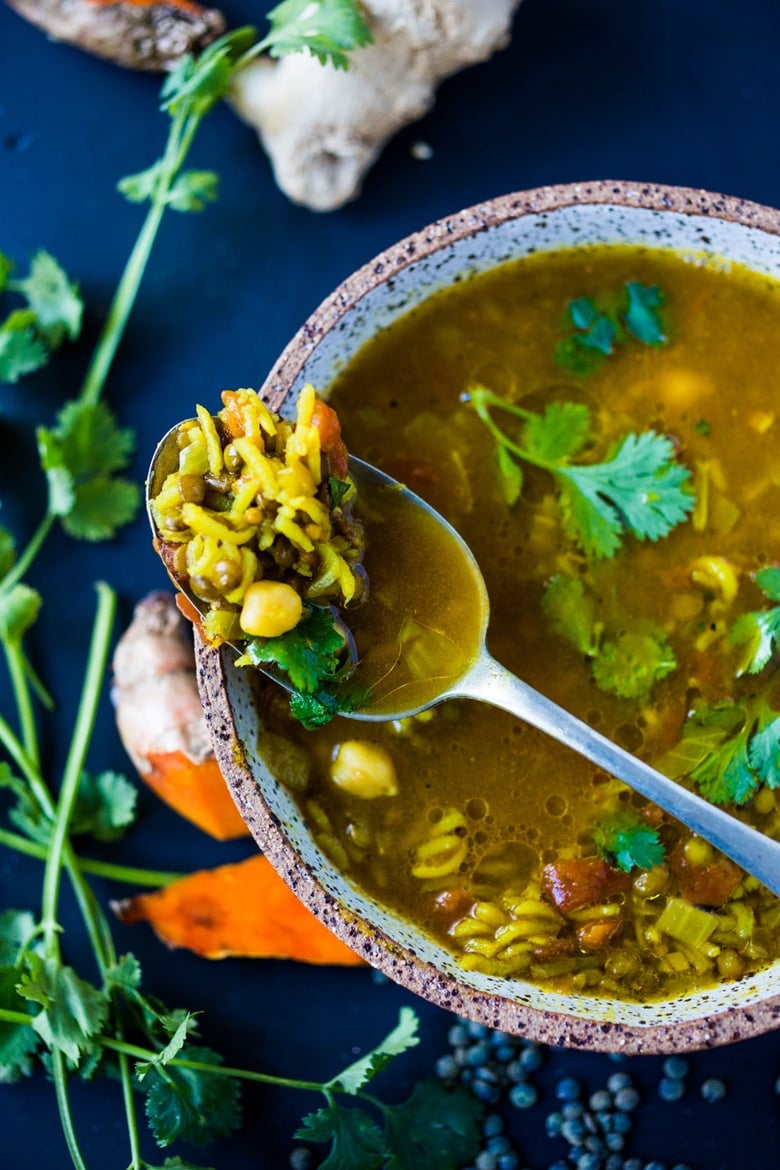 More recipes you may like:
On the homefront: As this New Year begins, I find myself asking the serious questions again. 😉
What am I here to learn? What is my "purpose?"  What am I here to do?  A  few years back, while being led in a meditation, I was directed to ask my "deepest self"  these questions. One word came to the surface. I actually gasped because it seemed so ridiculous.  SING?  My first thought was…I don't sing! That can't be right. But it was clear as a bell.
And then I conveniently forgot all about it. 🙂 Haha!
Until recently, when a strange thing happened. My elderly father fell and broke his hip. He also has dementia and the combination has been tragic.  Before the broken hip, even though he lost his memory, he was relatively "stable" – content and at peace.
His memory loss changed him into this sweet,  childlike being, dissolving away his "dark side",  and for the past 6 or 7 years, we've spent time together, allowing me the opportunity to work out all my "issues" with him. It actually has been a very healing experience.
But after the hip surgery, everything changed.  There are days when he became really miserable. Inconsolable. Depressed. Ready to leave this world.  And in these moments, I feel so helpless! It's so hard seeing someone you love suffer when nothing helps.
So out of pure desperation, I began to sing to him. My voice shaky, timing off, notes blurred, words often made up, but somehow….it soothed him. It soothed both of us.
I still don't know what my purpose is. Or what I'm supposed to learn. Or what it is that I'm supposed to do here in this life. Maybe it's as simple as just being with the suffering of another human being, and singing when words no longer have meaning.
Wow, this is depressing! Sorry.  How do I segue way into wishing you all a Happy New Year?
It's life I guess, real.
Cheers and Love,
xoxo
PS  for the rest of the story about my dad… go here.
Print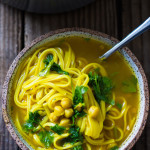 Turmeric Broth Detox Soup
Prep Time:

15 mins

Cook Time:

15 mins

Total Time:

30 minutes

Yield:

6

1

x

Category:

Vegan, Soup, detox, Gluten Free

Method:

Stove top

Cuisine:

Soup

Diet:

Vegan
---
Description
Turmeric Broth Detox Soup – a naturally healing, soothing and comforting, Ayurvedic soup that is very customizable to your needs. Vegan and GF adaptable!
---
Turmeric Broth
1

onion- diced

1 tablespoon

fresh ginger, grated or finely minced

4

–

5

garlic cloves- grated or finely minced

1

–

2

teaspoons turmeric powder (or

2

–

3

teaspoons fresh turmeric, finely grated – or a little of both, see notes)

1/4 teaspoon

mustard seed (optional)

1 teaspoon

cumin

1 teaspoon

coriander

3/4

–

1

teaspoon salt

4

cups

water

4

cups

veggie broth or chicken stock

1/4

teaspoon cayenne, or more to taste
Squeeze of lime juice or lemon juice ( to taste) or 1-2 teaspoons apple cider vinegar ( to taste)
Optional additions: veggies, beans or legumes,  greens, noodles,  whole grains, rice, crispy tofu, shredded chicken, etc.
Variations: 
Middle Eastern "Minestrone"
1/2

cup

basmati rice (dry) or pasta, quinoa (or 1 1/2 cup cooked)

1/2

cup

little dry lentils (or 1 cup cooked)

1

cup

cooked garbanzo beans (or canned, drained)

1

can diced fire-roasted tomatoes ( or use

1

–

2

cups fresh, diced tomatoes)
Chickpea Cauliflower Kale Noodle (photo in post) 
1

–

2

cups

cooked chickpeas (or chicken)

4

ounces

dry noodles ( rice noodles are good)

1

–

2

cups

chopped cauliflower ( optional)

2

large handfuls chopped kale
squeeze of lime
Garnish with fresh herbs: cilantro, parsley, scallions, dill,
Serve with lime and drizzle of olive oil. For extra richness feel free to add coconut milk.
---
Instructions
In a large heavy bottom pot or dutch oven,  saute onion in 1-2 T olive oil over medium heat for 5 minutes until fragrant and golden. Add ginger, garlic, and fresh turmeric and saute  2-3 minutes until eh garlic is fragrant and golden.  Add the mustard seeds, cumin, coriander, and optional turmeric power and saute 1-2 more minutes.
Add water, stock and salt. Bring to a simmer. Add vinegar or citrus. (I like a squeeze of lime) Taste. Adjust salt, lime and spice level to your liking. At this point you will have a flavorful base to add what you like. You can also refrigerate or freeze this in batches for later use.
Remember uncooked pasta and beans will double or triple in size, so add moderately ( 4 ounces dry pasta)
Remember to think and be sensible about cooking times for each ingredient you add. (see notes in post )
---
Notes
NOTES: If you are cooking the broth for any length of time, uncovered, remember it will reduce –intensifying the flavor and salt –so you may need to add more water, to dilute the intensity. Dilute the broth to your own taste.
Using ground turmeric gives the soup this lighter golden color you see in the photographs. Fresh grated turmeric gives the broth a deeper color, but incredible flavor. Often I'll use a little of both (because I like color AND flavor!).  Up to you. 😉 If you are new to turmeric, start conservatively, it has a very distinct flavor, that may be an acquired taste for some.
A small drizzle of olive oil ( melted ghee or coconut oil) over the soup helps the nutrients in turmeric to bind and more easily absorb into the body. You can also add coconut milk for a creamy version.
Nutrition
Serving Size:

With 1 ½ cups chickpeas and 6 ounces linguini

Calories:

220

Sugar:

3 g

Sodium:

557.8 mg

Fat:

4.5 g

Saturated Fat:

0.6 g

Carbohydrates:

38.6 g

Fiber:

5.2 g

Protein:

8.2 g

Cholesterol:

0 mg
Keywords: turmeric broth, turmeric soup, turmeric recipes, turmeric soup recipes, ayurvedic recipes, ayurveda, detox recipes, vegan soup recipes, vegan broth,