This post may contain affiliate links. For more information, please see our privacy policy.
Turmeric Gingerade! Think sugar-free lemonade meets fresh turmeric and ginger. A marriage made in heaven! (And when I say sugar-free I mean it!)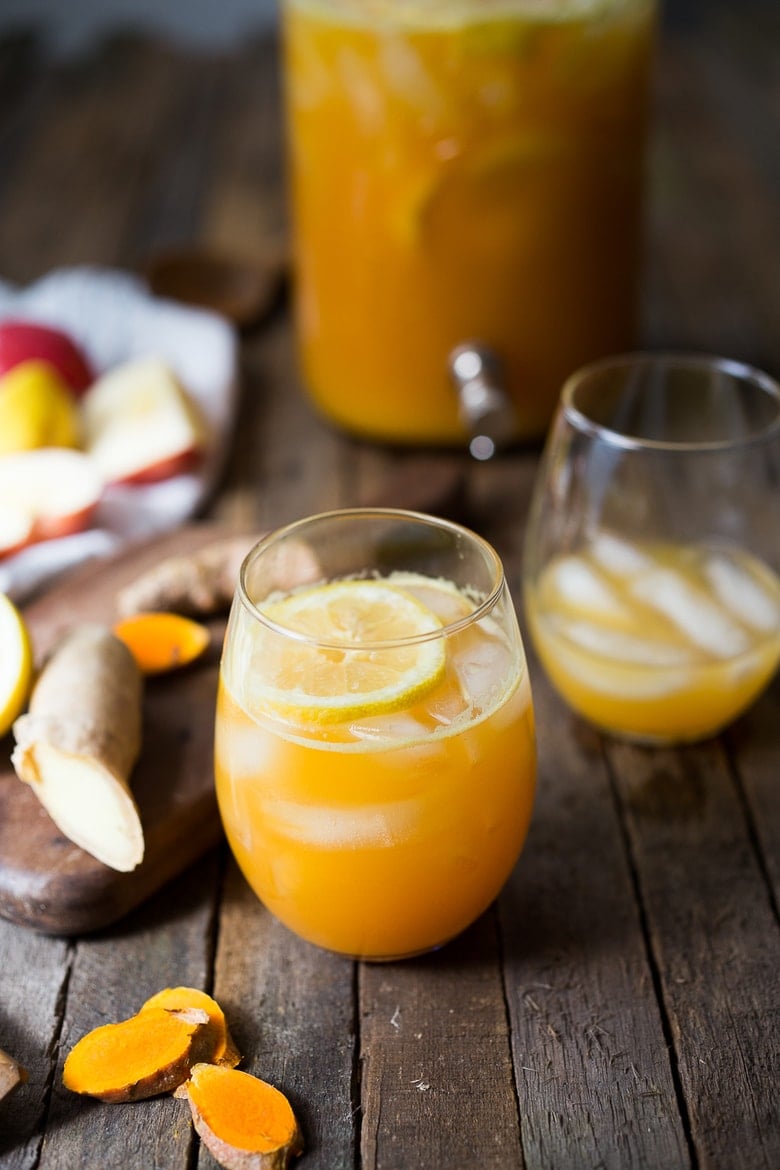 Attention is the rarest and purest form of generosity. ~Weil
I'm so excited to share this Turmeric Gingerade with you! Oh my goodness … I've haven't been this excited about a drink since Water Kefir, which of course I drink religiously, but this healing "lemonade" is, seriously, the best.  Sugar-free, it's sweetened only with fresh apple juice. Fresh squeezed lemons,  ginger and turmeric root give it such a refreshing boost of flavor – but what I love about this most is its cleansing, energizing and healing properties. It's like giving your body a healing, magical elixir.
Turmeric contains powerful anti-inflammatory compounds which sooth and heal the body. Here's a list of my top 10 Turmeric Recipes, to help heal the body!
So if you are feeling tired, achy, overworked, groggy headed, or struggle swollen joints, this will help. After a long hike or run, or a day of hard physical labor, this is a godsend.
Eastern medicine has been prescribing turmeric for thousands of years, and it's not until recently that our modern science is beginning to catch up and understand its real potential.  It seems these compounds are as powerful as "Advil" and prescription medications, believe it or not, without any negative side effects.  Don't take my word for it, do your own research and see what you find…it's pretty amazing.
Turmeric is also an incredible "detoxer"  –  giving the liver a little boost of help when overworked or tired. It's can help keep the cobwebs away in the brain, which I can always use.  But most of all, I just love the  refreshing flavor of this drink, and that there is no sugar added.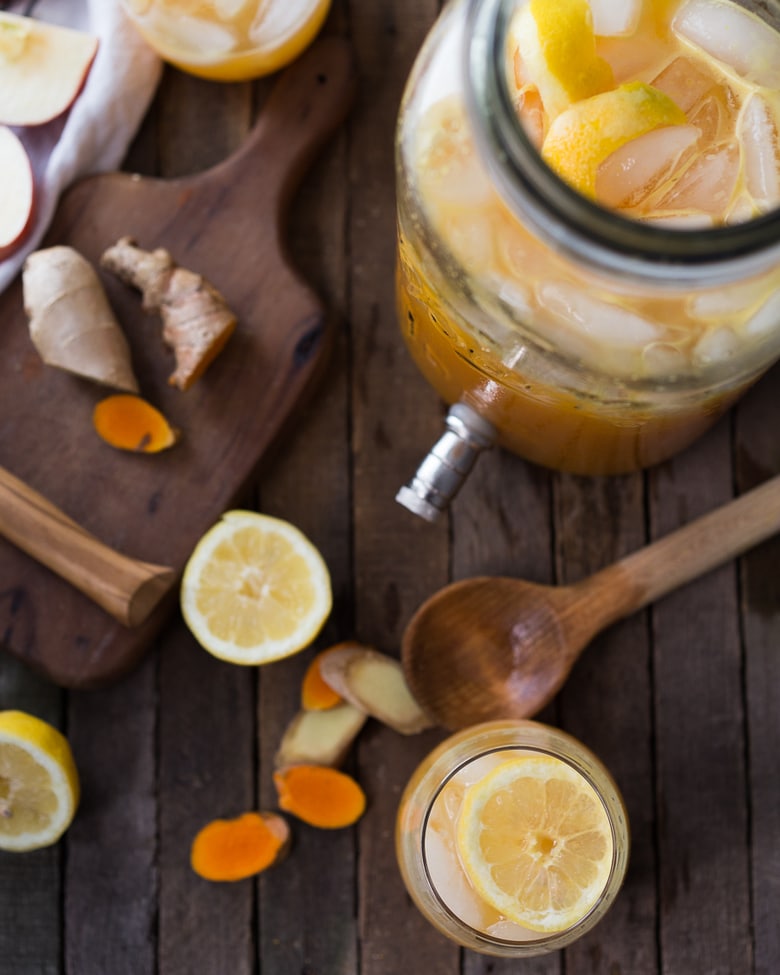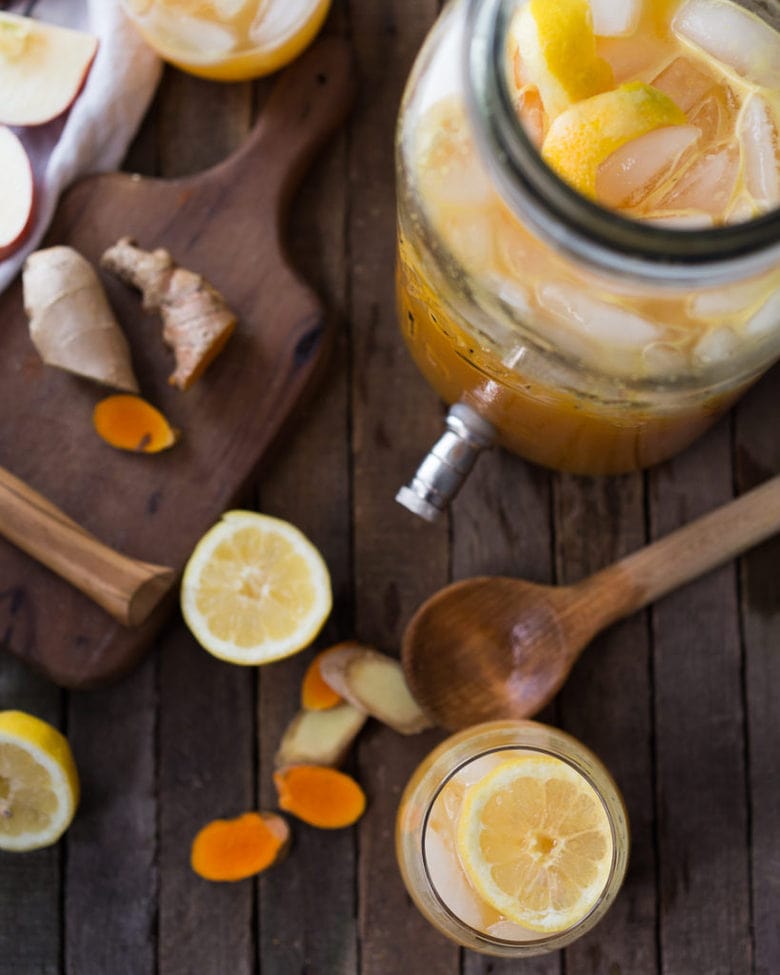 I make a big batch of this and keep it in the fridge. Pour it over ice and if you prefer, top with sparkling water.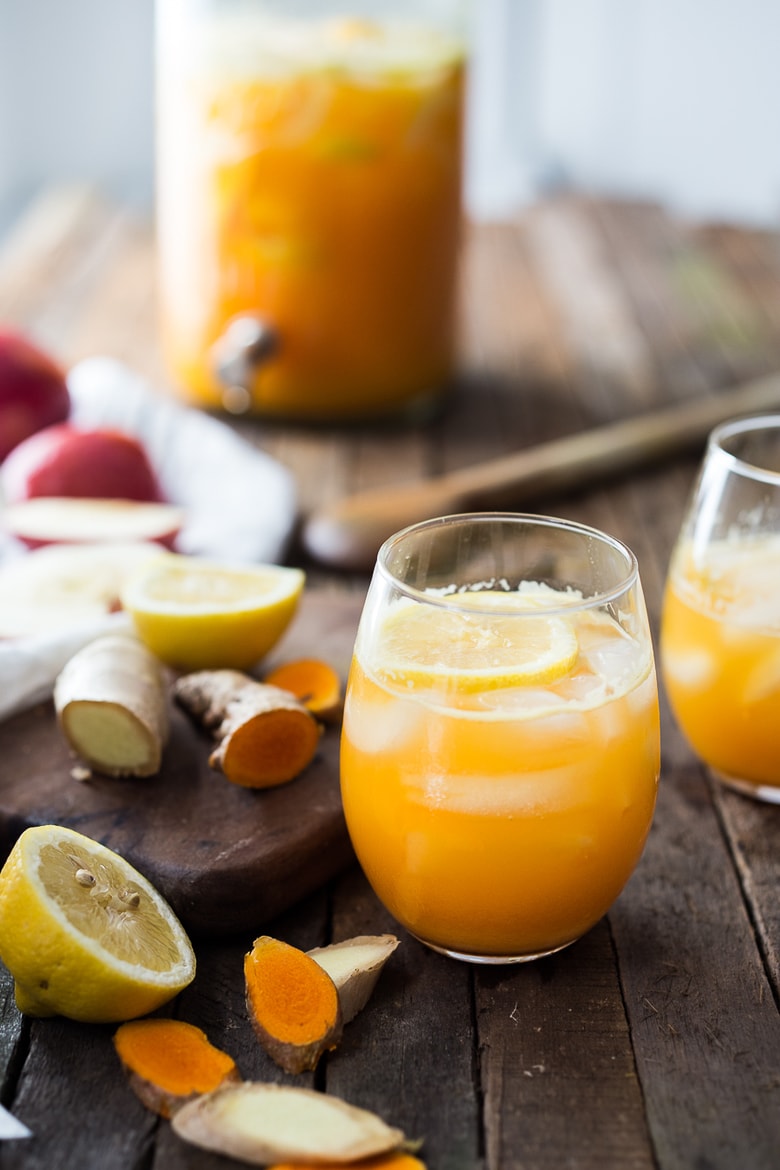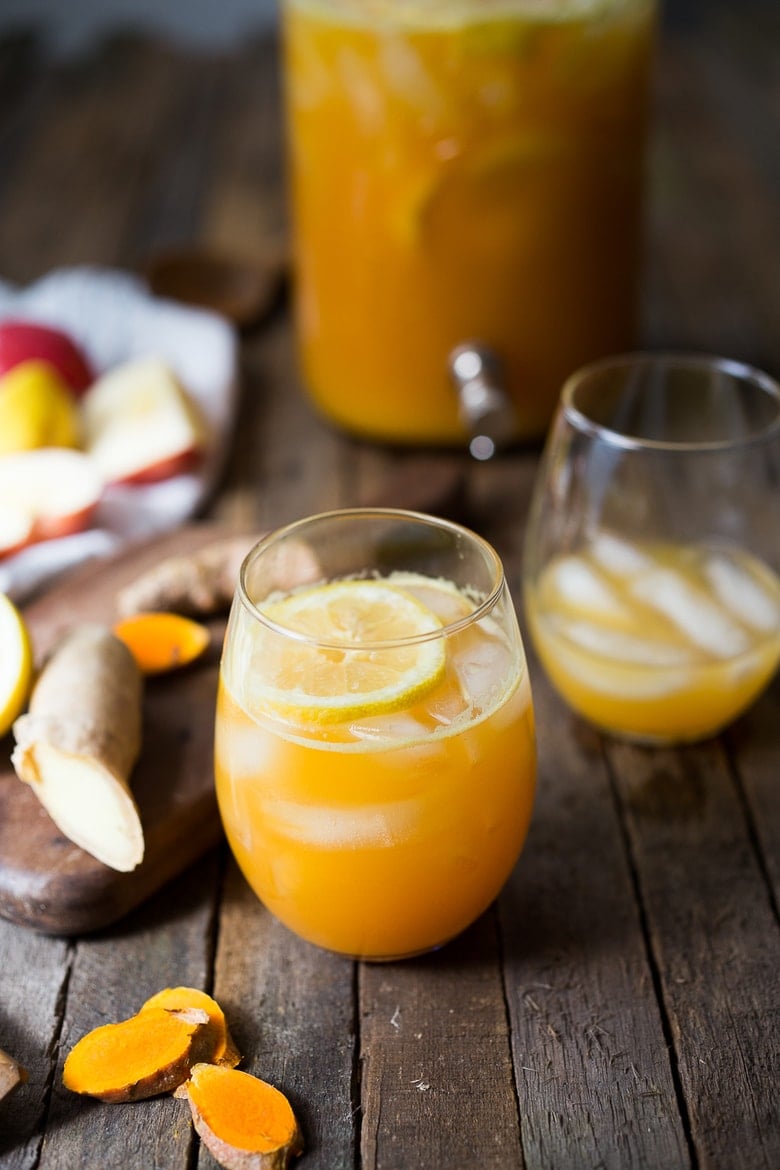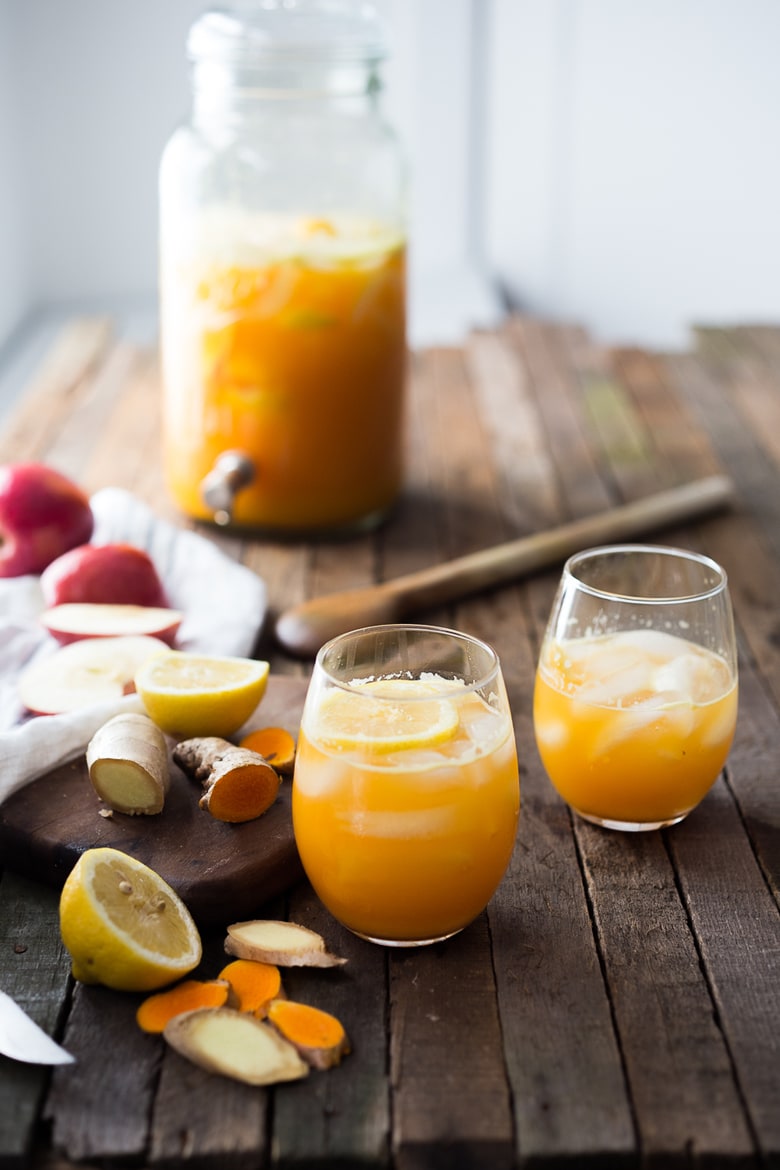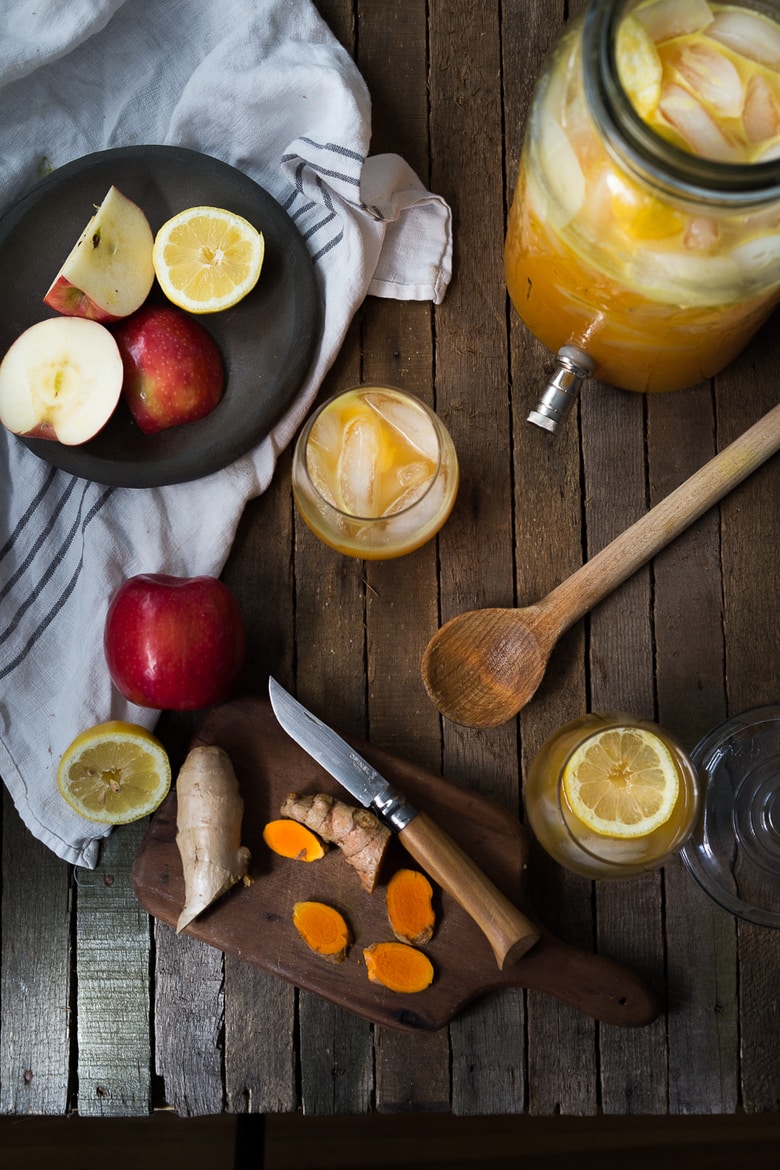 It's hard to believe summer is coming to an end. It goes so fast!  Mornings are cool, and you can sense the change in the air. With all endings there are beginnings too, the coming of fall and all its brilliant colors and of course the fresh apples…. something to look forward to and embrace.
Print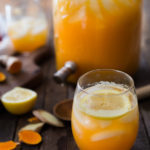 TURMERIC GINGERADE
Prep Time:

20 mins

Total Time:

20 mins

Yield:

2 Quarts

1

x

Category:

drink

Cuisine:

detox
---
Description
A flavorful summer drink that is not only refreshing, its healing soothing and detoxing.
---
6

–

7

cups

fresh apple juice (either freshly juiced apples like gala – about 12-14 apples, or fresh apple cider with no sugar added)

1

–

3

tablespoons fresh turmeric root, no need to peel ( start conservative, taste, add more to taste)

1/8

cup

–

1/4

cup, unpeeled ginger root

3/4

cup

fresh lemon juice, more to taste ( about 3-4 large lemons)
---
Instructions
Using a juicer, juice the apples and place in a large 2 quart mason jar or large pitcher. Alternatively you can use fresh apple cider ( with no sugar added).
Juice the turmeric root, starting off conservatively, then juice ginger and lemons ( peel the lemons with a pairing knife and put in the juicer.)
Stir this with the apple juice. Taste. Adjust. It should tasted balanced, sweet and tart, with the heat of ginger in the background ( add more if you want) and a hint of exotic turmeric ( add more to taste).
Note: if adding little slices of turmeric through the juicer, its ok to pour a little splash of water ( or the apple juice) through the juicer, to get the turmeric to come out.
Keep in the fridge and serve over ice for a refreshing summer drink, or top off with sparkling water.
You can also make cocktails out of this, but I didn't say that. 😉
---
SaveSave
SaveSave
SaveSave
SaveSave
SaveSave