Jamu Juice! Bali's all-natural, anti-inflammatory elixir- made with fresh turmeric, ginger, honey and a squeeze of lemon. Heals and soothes the body! Make a big batch and serve hot or cold during the busy workweek!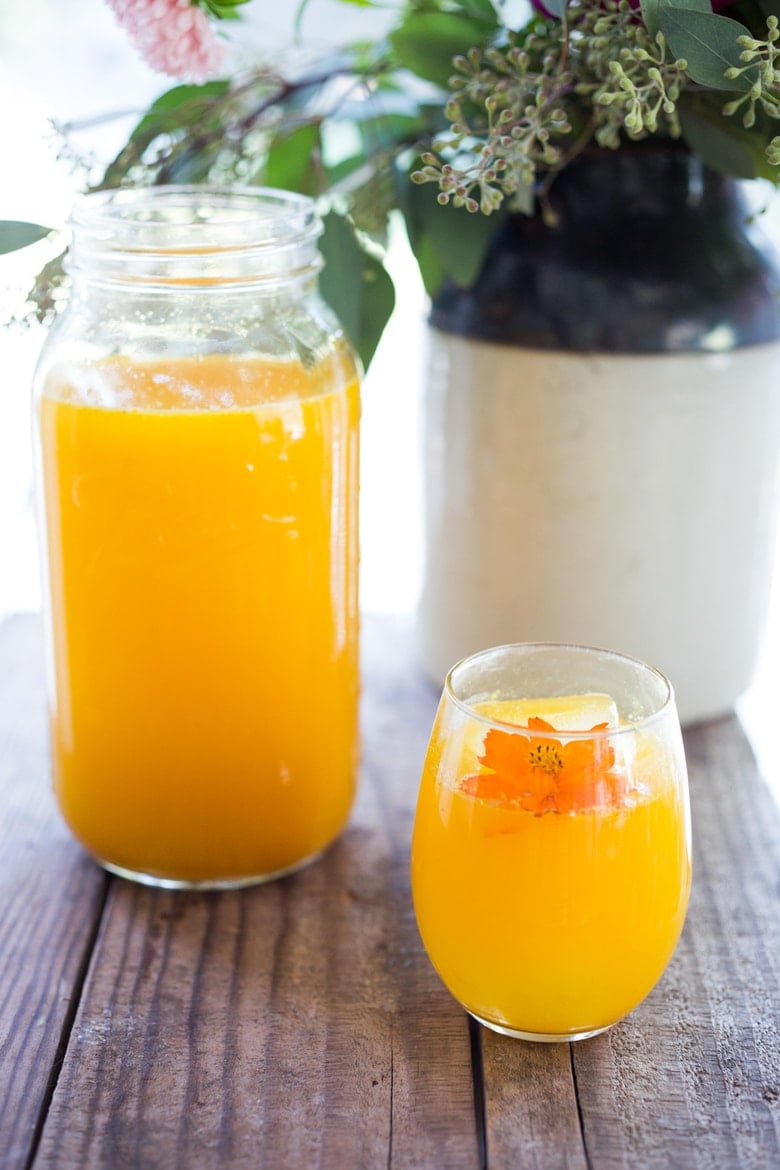 Hello friends. This is a recipe from Bali, called Jamu, or Jamu Juice! An all-natural, anti-inflammatory elixir, made with fresh turmeric, ginger, honey ( OR maple) and a squeeze of lemon – that can be served warm like tea or chilled – which has become a godsend ever since we got back from our trip there last spring.
It's very simple to make and very often I'll make a quick batch on Sunday and then drink it during the week.
It's also very soothing if you have a cold, served warm like tea before bedtime.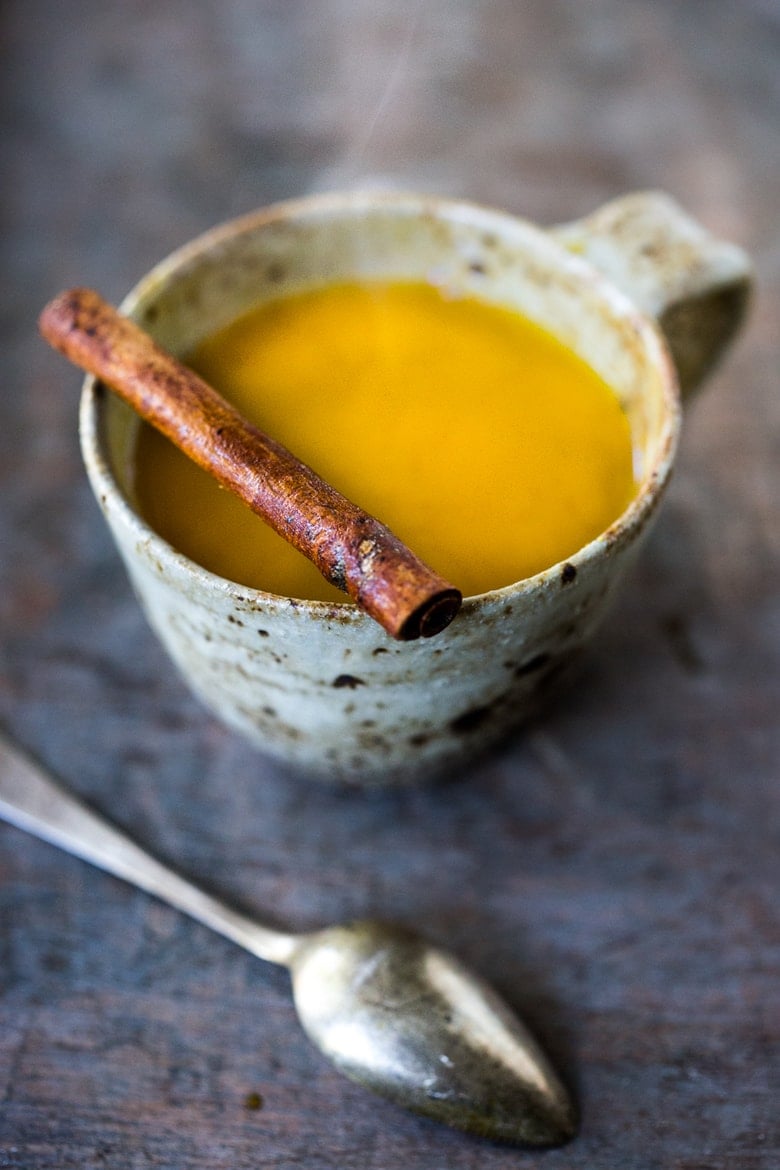 Throughout Indonesia, there are many varieties of this herbal root infusion which seem to work wonders when it comes to healing the body.
This version, the most common we found there, was made with fresh turmeric root and ginger blended up with water, then strained, and sweetened with honey , finished with a s sqeeze of citrus. So freshing during the hot months, yet soothing and warming duing the cold months.
This has a particularly soothing effect on my old tired achy bones, relieving aches and pains after workouts and hikes.
It contains powerful anti-inflammatory agents that in my opinion work just as well as Advil, without any side effects or harm to the liver.
Don't take my word for it, try it for yourself and see.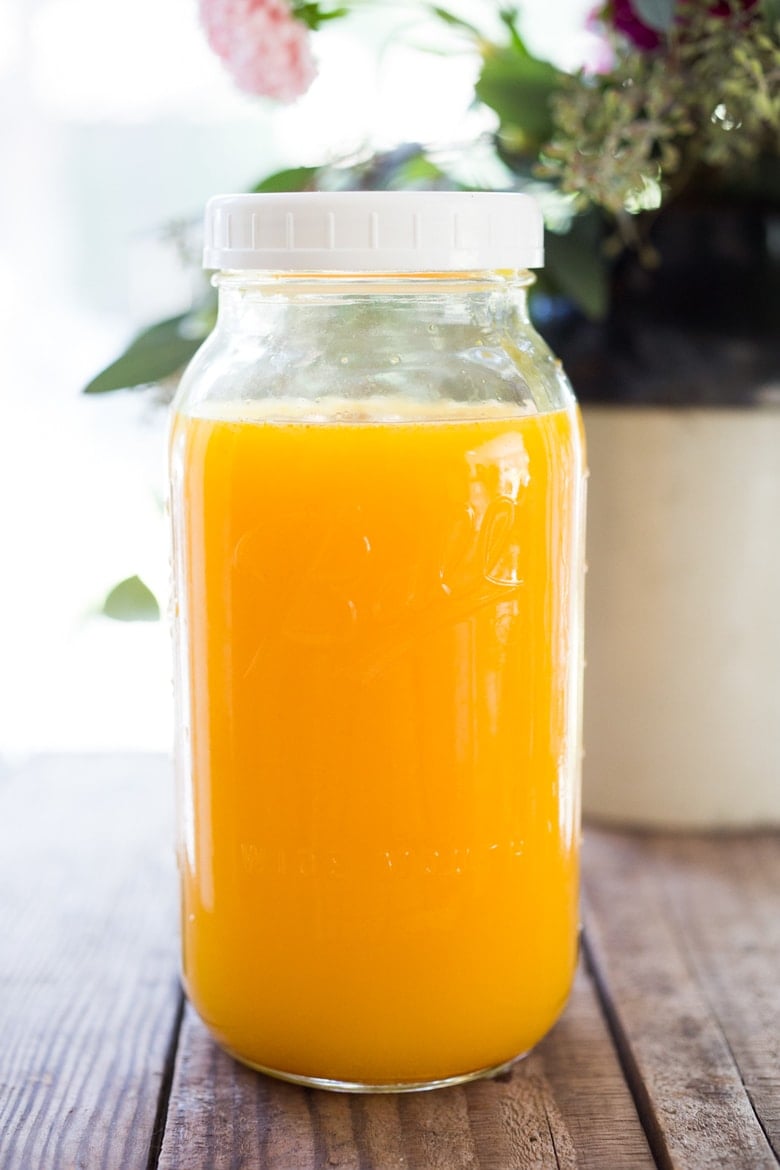 This is an extra large two quart jar that holds 8 cups of Jamu juice.
I find Brian and I can easily go through this in a week.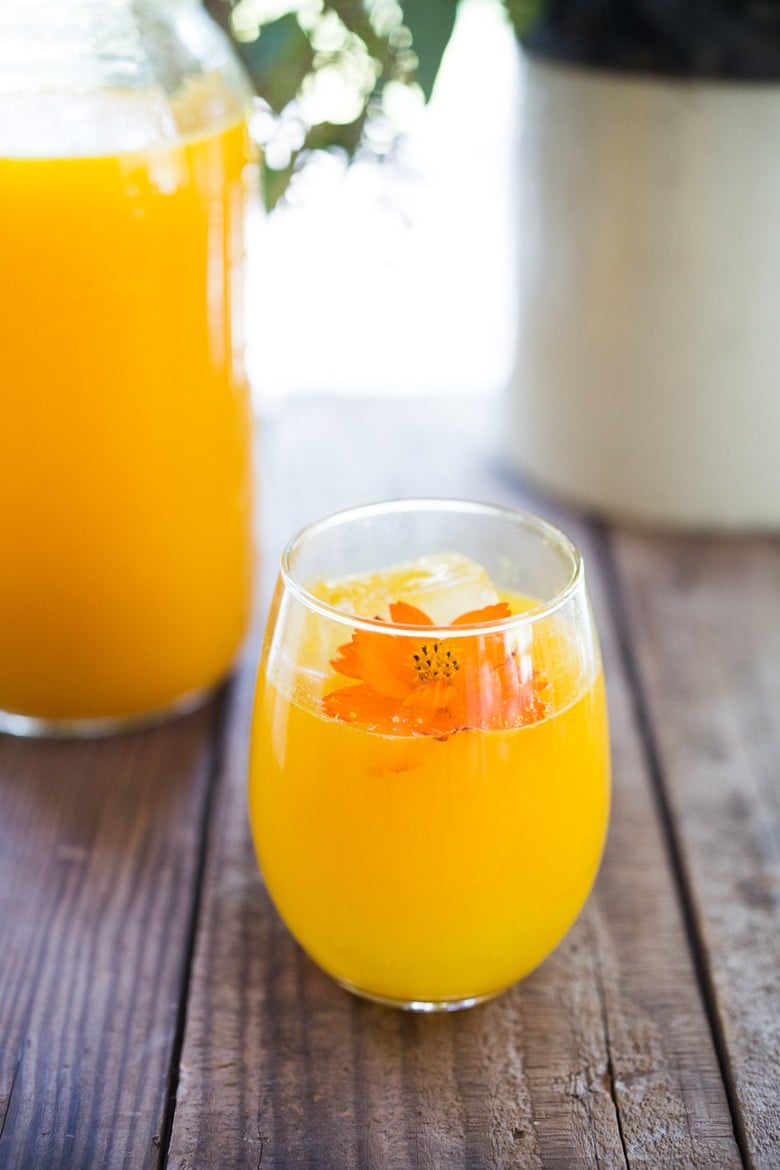 In cold and flu season, this is also really nice, heated up. Somehow it soothes sore throats and calms colds.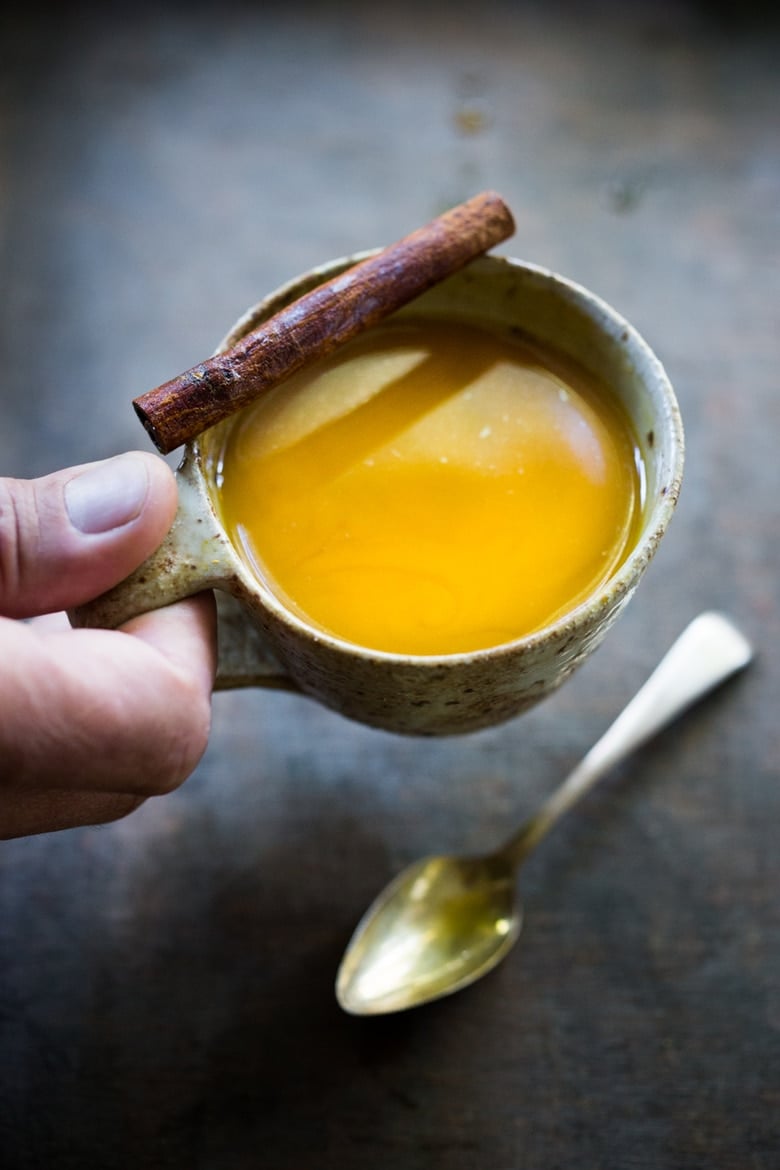 Jamu juice can be made in a blender or in your juicer– either way you'll love it's healing effects!
Print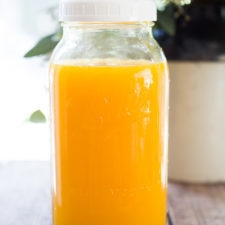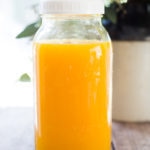 Jamu Juice Recipe
Author:

Sylvia Fountaine

Prep Time:

15 mins

Total Time:

15 mins

Yield:

8 cups

Category:

drink, juice, turmeric

Method:

juiced, blended

Cuisine:

Balinese
---
Description
Jumu Juice – a healing anti-inflammatory Indonesian drink made with fresh turmeric and ginger, honey ( or maple) and a squeeze of citrus. Soothing and healing to the body. Drink this cold or warm like tea.
---
Ingredients
½ cup

fresh turmeric roots, rinsed, no need to peel

3/4

 cup fresh ginger roots, rinsed, no need to peel

4 cups

water
honey or maple to taste
squeeze of lemon lime or citrus  to taste
---
Instructions
If making in a blender, slice the turmeric and ginger into thin disks (leave skin on) place in a blender and add 2 cups water. Blend for about 1 minute. Let stand a few minutes, strain into bowl, then pour into a quart jar, add remaining two cups of water. ( If drinking this hot, feel free to leave out the remaining two cups- see notes) You can either add the sweetener and citrus to the jar, or add to your glass when serving.
If using an electric juicer , juice whole roots. You should end up with about 1 cup  of golden liquid combined. Add a little water to the juicer to extract more of the juice if you want. Place this in a quart  jar, pitcher or container.   Feel free to fill the quart jar with water, sweetening with maple and sqeezing with citrus.
---
Notes
When serving this hot like tea, I tend to leave the jamu juice very concentrated, pouring a little ( 1/4 cup) into a mug then filling the mug with hot water, adding honey and lemon to taste. I like mine pretty strong, so perhaps start conservatively.)
Instead of sweetener, you could add fruit juice- pineapple is nice.
When serving the Jamu Juice chilled, I'll often dilute more it with water , and sweeten it right in the jar, also adding the citrus to the jar , keeping it in the fridge so its ready to pour over ice.
Keywords: jamu juice, what is jamu juice? how to make jamu juice, turmeric juice recipe, balinese turmeric drink, jamu recipe,
SaveSave
SaveSave
SaveSave
SaveSave
SaveSave
SaveSave
SaveSave
SaveSave
SaveSave
SaveSave
SaveSave
SaveSave
SaveSave
SaveSave