A simple, healthy Tunisian Chickpea Stew with Carrot and their tops, turmeric, kale and a "Quick Harissa" sauce- hearty and delicious, perfect for cozy nights.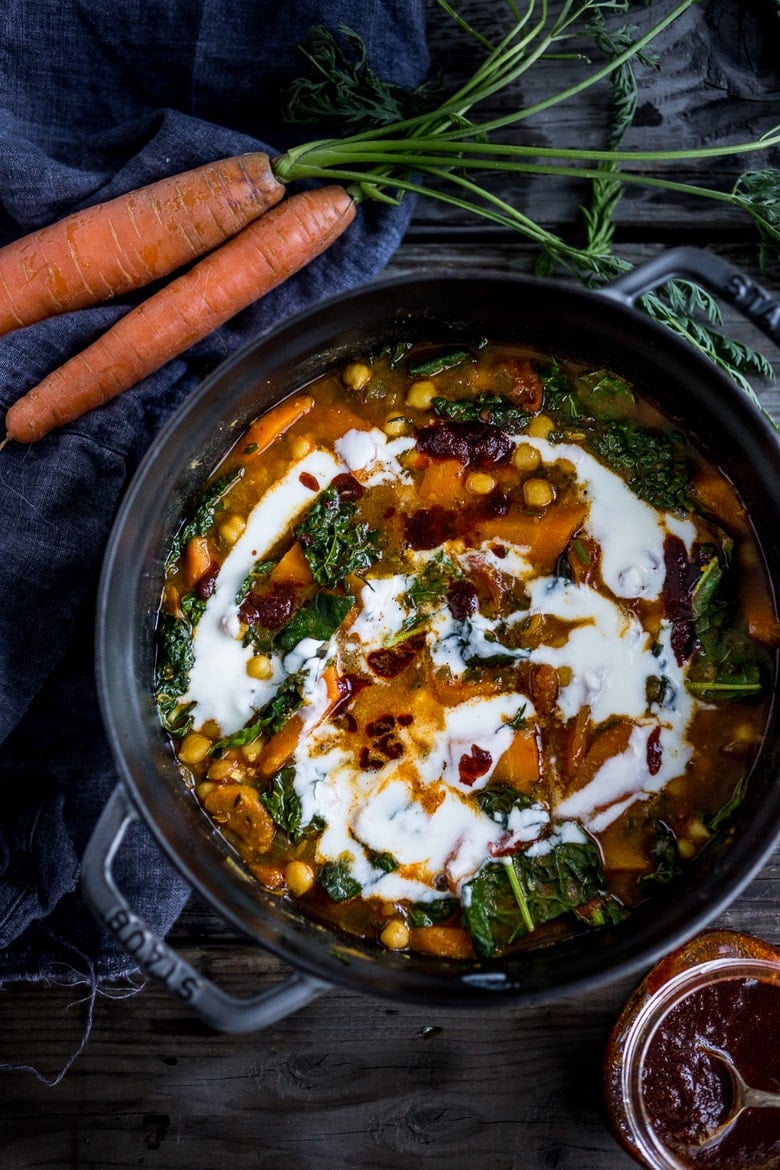 There is something deeply gratifying about making a meal out of simple, real ingredients, isn't there? I'm part of a CSA and receive a box of locally grown produce each week, but the challenge is always how to get through the box before the next box arrives. The fridge ends up getting jam-packed and it becomes overwhelming. Then there's the guilt of having to toss something out that was forgotten in that back corner drawer. The waste feels agonizing. Here's my solution.
Sort the produce into 3 groups. Soup, Salad and Lunch Bowls. For example, the group (seen below) is for soup or stew. Make another group for a salads and a third group for healthy lunch or grain "bowls". Keep it simple. At this point you could, if feeling inclined, chop and prep all your veggies and have them ready to go. I don't always go this far, but I do step 2.
Separate the tops from the veggies, chop them up, place in a ziplock and divide among the groups. I mainly use the tops for soups and stews, or sautéed for a grain bowl.
Comb through your fridge and add anything that needs to be used up immediately, to each group.
Go to the pantry and pick one pantry item for each group – 3 things total. Beans, grains, nuts, seeds… etc. Here I picked chickpeas.
Finally, the fun part, think about how to flavor these 3 groups, with the use of spices, herbs and ethnic influences. For example, this week I turned to North Africa for inspiration for the stew because I knew I already had this Quick Harissa Paste in the fridge. I keep it there for flavor emergencies. Using what you have, pair an herb or spice or ethnic profile with each group.
Write down your groups/meals/ ideas on a piece of paper. This is key and will help you follow through.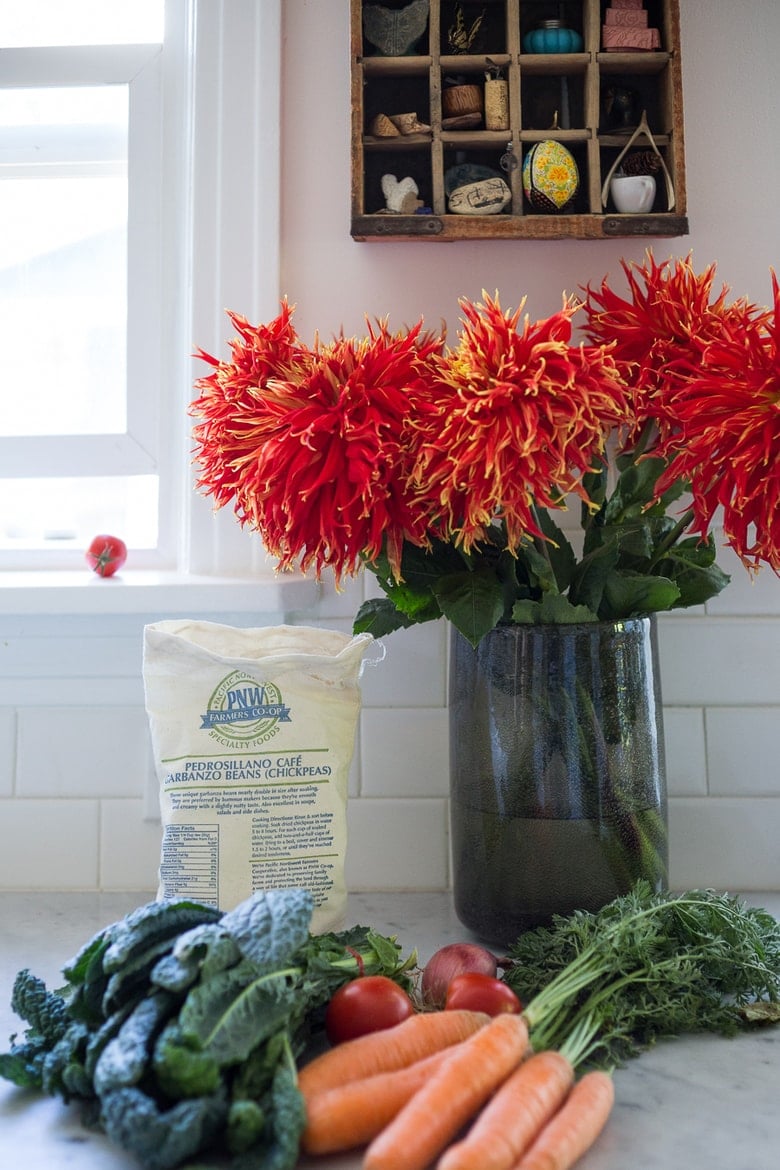 So a simple vegetable stew turns into something memorable and exotic.
Think of it like painting a painting, but with food- using color, flavor, texture, temperature, etc. It feels like art. Or perhaps the closest many of us will come to it in our daily life, but you know what? It feels incredibly creative and invigorating.
To turn simple ingredients like this…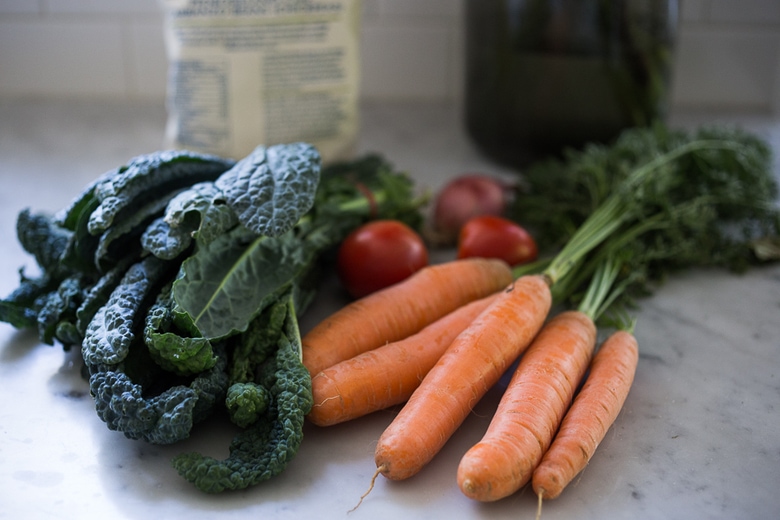 Into this.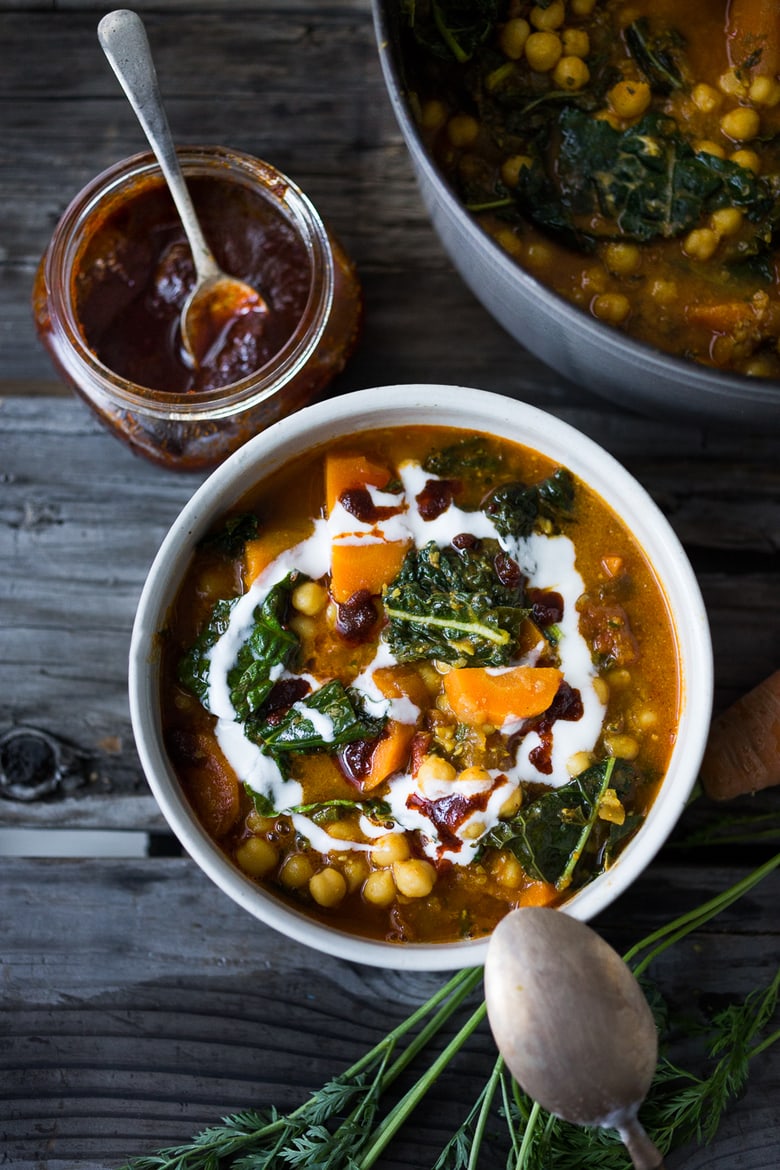 It feels like you've created a masterpiece.
You know what else feels incredible? Eating a meal that is made with the freshest ingredients possible- literally pulled out of the ground days before. Not only does the food taste better (the carrots sweeter, the tomatoes more tomato-y) our bodies feels better.
Even my meat-loving husband has to agree that eating a bowl of this "real food" with homemade bread, is so much more deeply satisfying than what he usually craves – and when I told him that everything he was eating, was grown in our area, even the chickpeas and the flour for the bread, I think he finally got it- this idea of real food.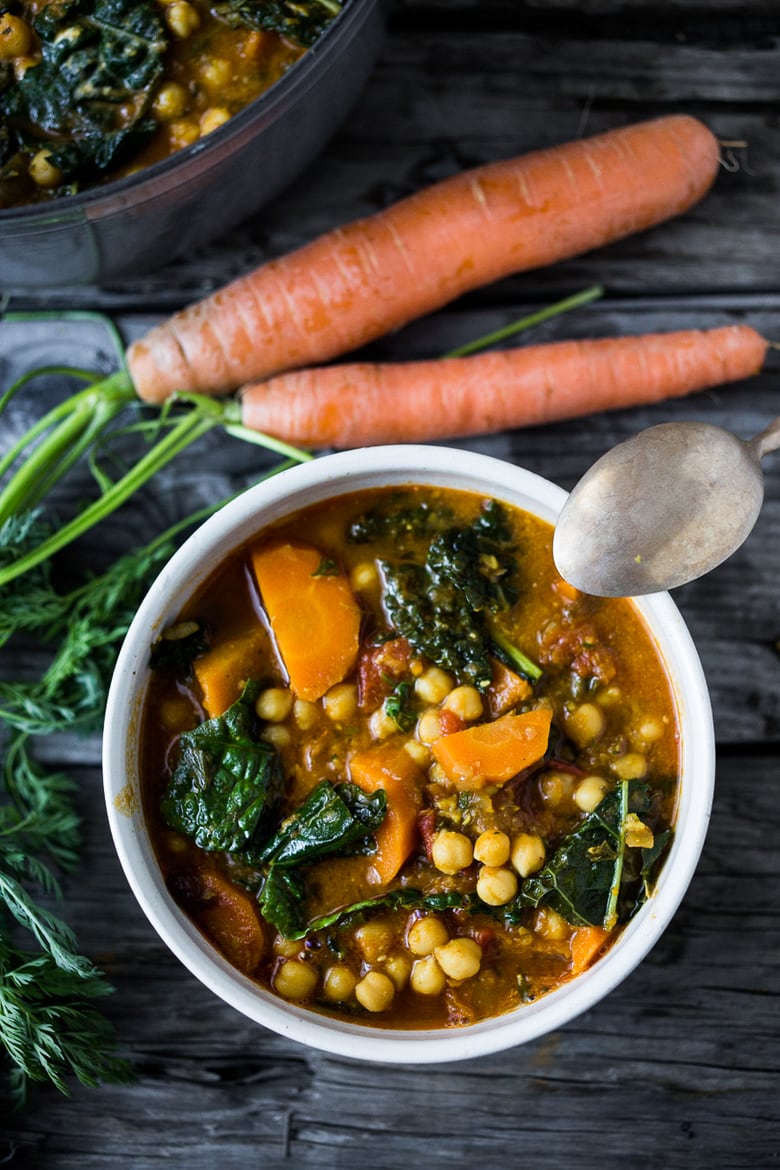 Another satisfying thing about this stew was that nothing was wasted. Even the carrot tops went into the pot – not only adding another lovely dimension of flavor, but even more nutrients.
Keep the soup vegan with a drizzle of olive oil– or swirl a little yogurt, labneh or sour cream into it for extra richness. Add harissa paste to taste, which really boosts the flavor.
I've included a quick and easy recipe for Quick Harissa Paste made with ingredients you already have- to keep and store in a jar in the fridge – for uses just like this. It's a godsend. But if you are looking to make a more authentic Harissa Paste- please try this recipe…it takes longer but is really delicious.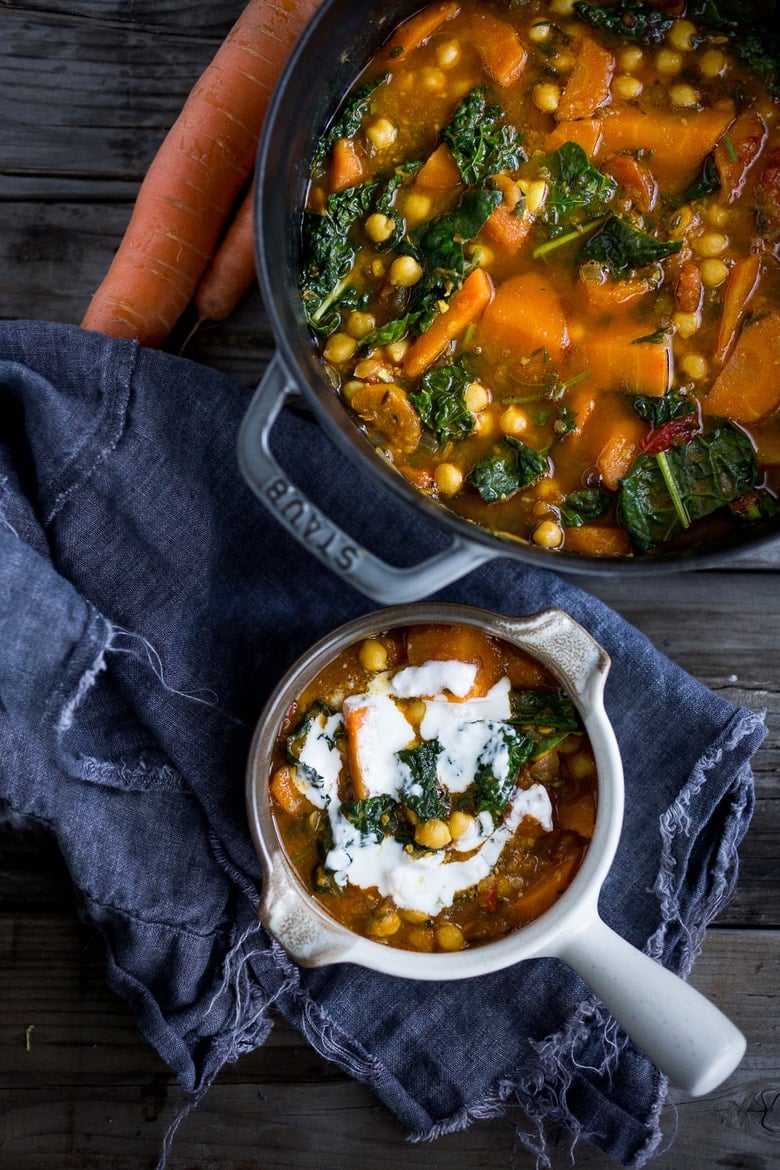 Serve over cous cous or with crusty bread to mop up all the flavorful broth.
Print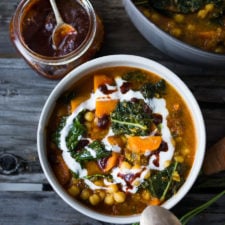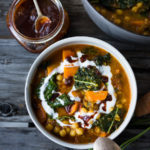 Chickpea Carrot & Top Stew with Quick Harissa
Prep Time:

20 mins

Cook Time:

30 mins

Total Time:

50 mins

Yield:

6-8

Category:

Main

Cuisine:

North African Stew
---
Description
This North African stew is hearty and flavorful – perfect for fall and winter. Serve with crusty bread or serve over cous cous. Vegan adaptable.
---
Ingredients
3

tablepoons olive oil

1

onion, diced

3

large carrots, peeled and cut into ½ inch thick half moons (and their tops, chopped -tops are optional)

6

cloves garlic, rough chopped

1 tablespoon

fresh thyme or sage ( or sub a couple bay leaves)

1 teaspoon

cumin

1 teaspoon

coriander

1 teaspoon

smoked paprika

1 teaspoon

turmeric ( or use freshly grated )

1 teaspoon

fennel seeds

2 tablespoons

tomato paste

2

medium tomatoes- diced

1 cup

white wine

4 cups

veggie or chicken broth or stock

1/2 teaspoon

salt, more to taste

4 cups

cooked chickpeas ( pre-cook

1 1/5 cups

dried- or 3 cans,drained)

1

bunch lacinato kale, chopped into

1

–

2

inch ribbons.
Garnish with- a drizzle of olive oil, or a swirl of plain greek yogurt ( or sour cream, or labneh ) and a drizzle of Harissa Paste.
Quick harissa paste
---
Instructions
In a large heavy bottom pot or Dutch oven, heat the oil over medium high heat.
Add the onion, carrot and garlic and season well with salt and pepper and sautéuntil tender about 5 minutes, stirring often. Turn heat to medium.
Add the cumin, coriander, smoked paprika, turmeric, fennel seeds and tomato paste, and salute until the paste darkens about 2 minutes.
Add the tomatoes and wine. Bring to a boil, scrapping up the brown bits. Reduce by half, about 5 minutes.
Add the broth or stock.
Add the chickpeas, kale and carrot tops and simmer on med-low heat 10-15 minutes.
Taste for salt, adjust and add more if necessary.
Swirl a teaspoon of harissa paste at a time for added flavor ( Alternatively, you could add it to individual bowls)
To serve, divide among bowls and either drizzle with olive oil, or swirl in yogurt, and a little more harissa to taste. Serve with crusty bread.
To make the Quick Harissa Paste– Place oil and vinegar in a blender, then gradually add spices, salt and garlic until all is blended well.
Store in a jar in the fridge- up to 2 weeks. Makes ¾ cup.
Notes- This smoky spicy earthy North African Harissa pasta has a multitude of uses! Use it as a flavorful marinade for meat and fish OR spoon into soups for an instant boost of flavor. Swirl a little Harissa Sauce into plain yogurt to make a "smoky yogurt sauce" that can be drizzled over your next grain bowl, pita sandwich or soup. Swirl it into sour cream for tacos or enchiladas. Add it to mayo and create a Harissa Aioli- a flavorful boost for sandwiches, burgers and fish. Also delicious tossed with baked sweet potato wedges and yummy drizzled over poached eggs…..endless possibilities!
---
SaveSave
SaveSave
SaveSave