How to make a delicious Banh Mi – a Vietnamese sandwich made with your choice of tofu, mushrooms, chicken or pork, flavorful pickled veggies, jalapeno and fresh herbs. Fresh and light, just how a Banh Mi should be! Vegan-adaptable. With a Video.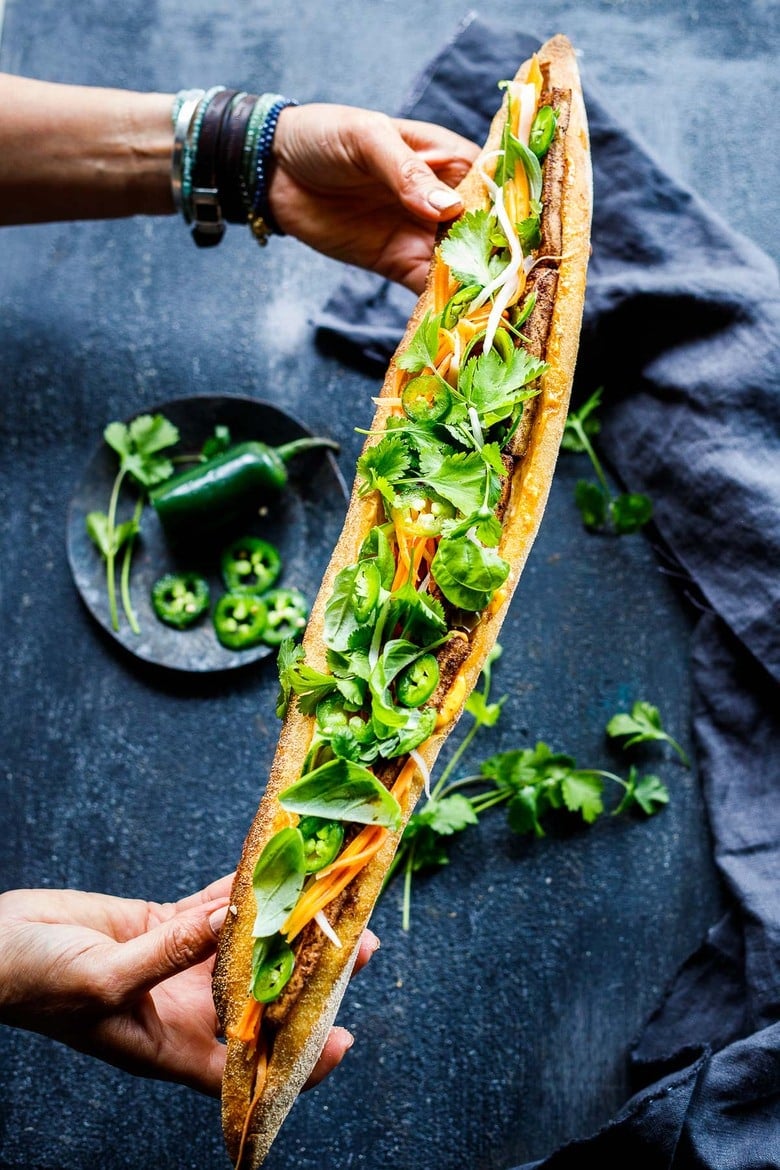 When someone asks me what is the best thing I've ever eaten, I can't help but tell them about the Banh Mi I had in the town of Hoi An, Vietnam. It was the very same street food vendor that Anthony Bourdain raved about on one of his shows, and of course, we tracked it down.
And surprisingly, the same woman was there, still selling her Banh Mi Sandwiches for only a dollar. We played the episode for her on my iPhone, and she got a little kick out of it. To this day, I think it is one of the best things I have ever eaten.
Banh Mi Video | 60-sec Video
The bread was fresh, crispy, and light. The sandwich had so many layers of flavor-depth, complexity, and intrigue with every bite. We went back many times that week, blown away every time. Truly an experience. Here is a link to Anthony Bourdian's segment.
This Banh Mi Recipe comes as close as possible to those flavors without getting overly complicated. The tofu version is every bit as good as the chicken version- and the secret ingredient here is… a hint of Chinese Five Spice. 😉 After many repeated visits to Banh Mi stands, I begin to notice the hint of five-spice in the liver pate. It elevated!
Vietnam rests right next to China geographically, so flavors tend to be fluid there, ignoring borders.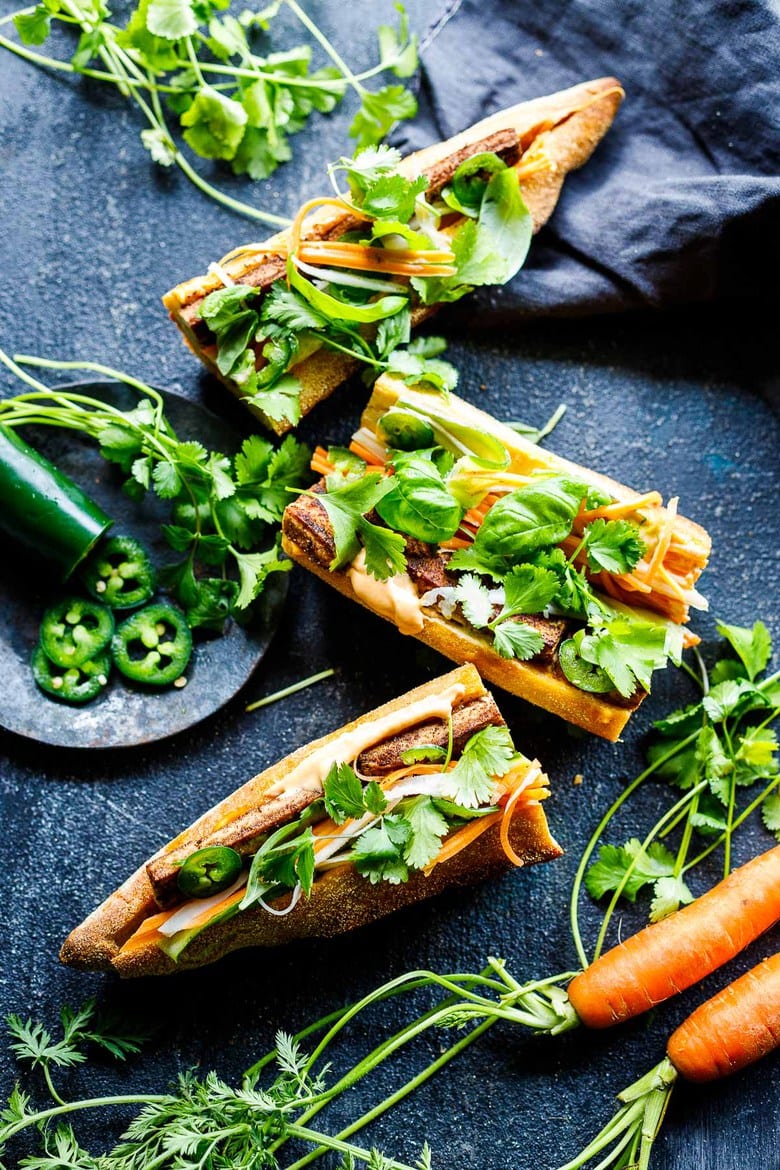 What is Banh Mi?
Originating in Saigon, Bahn Mi is a Vietnamese sandwich made with crispy, airy baguette typically filled with savory meats, mayo, a smear of rich liver pate, topped with pickled veggies, crunchy cucumbers, spicy chilies, and fresh herbs. Fresh and light but spicy and umami-flavored!
Truly, a symphony of flavors and textures, Banh Mi is a fusion of Vietnamese and French cuisine brought about in the mid- 1800s by the French occupation in Northern Vietnam.
You can see both influences clearly, the French- not only in the bread, but with the pate and mayo- and the Vietnamese, who lightened up the French baguette with rice flour, and added all the fresh and spicy ingredients.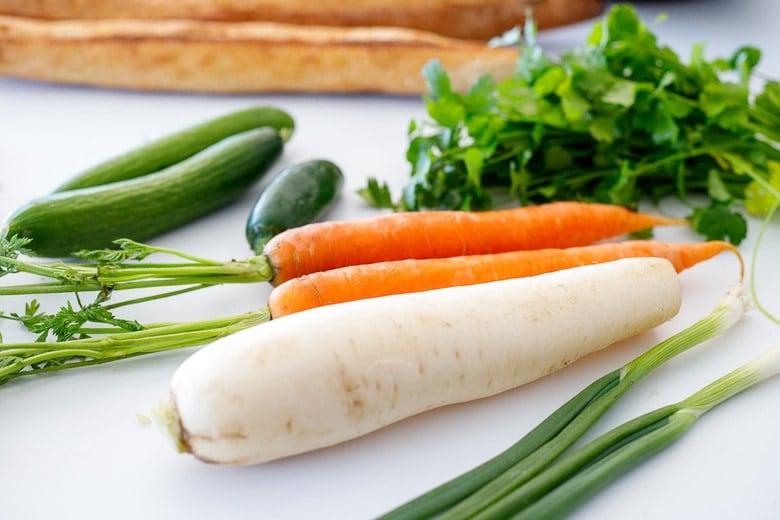 Banh Mi Ingredients
Fresh Baguette- or Banh Mi bread (made with rice flour)
mayo (or aioli, or vegan may0)
Sriracha Sauce (or garlic chili paste)
Daikon Radish (or sub radishes)
Carrot
Cucumber
Fresh herbs: cilantro, mint, or Thai basil or a combo
vinegar: rice wine (or white, or apple cider)
Sugar or honey
Fresh chili– jalapeno, Serrano
Choice of Protein: Tofu, Chicken Thigh, Mushrooms or this Five Spice Pork
Chinese Five Spice
Optional additions: Liver Pate, Microgreens, scallions,
How to Make Banh Mi
Step One: make the Pickled Veggies
Make the pickled daikon and carrots. Shred them first- this inexpensive tool can be found at most Asian markets.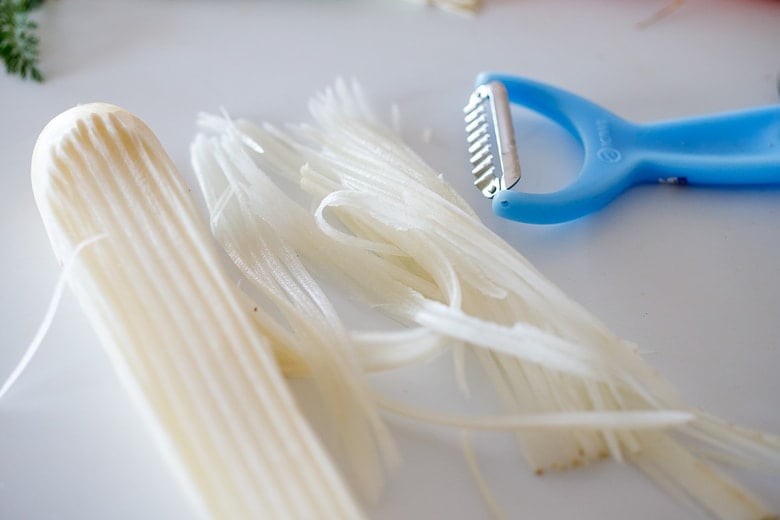 Another option is to thinly slice the daikon or carrots with a knife, stack the slices, then cut into matchsticks. Or buy matchstick carrots!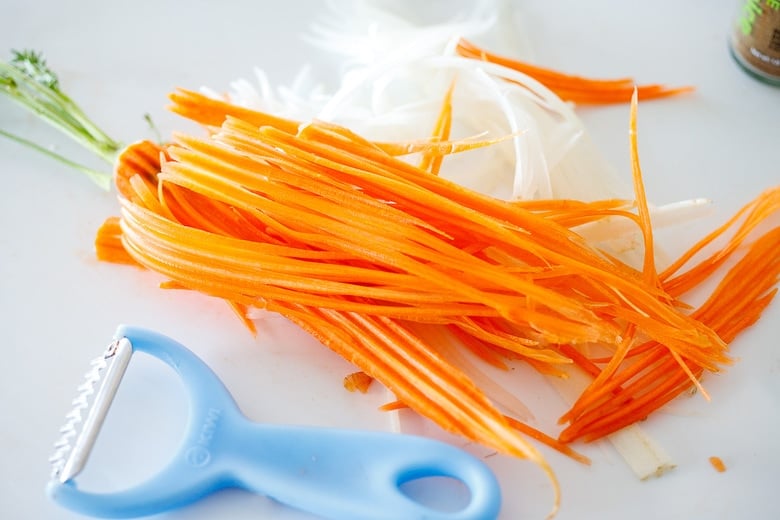 Toss the daikon and carrots with vinegar, water, sugar and salt, and bring to simmer, then cool immediately.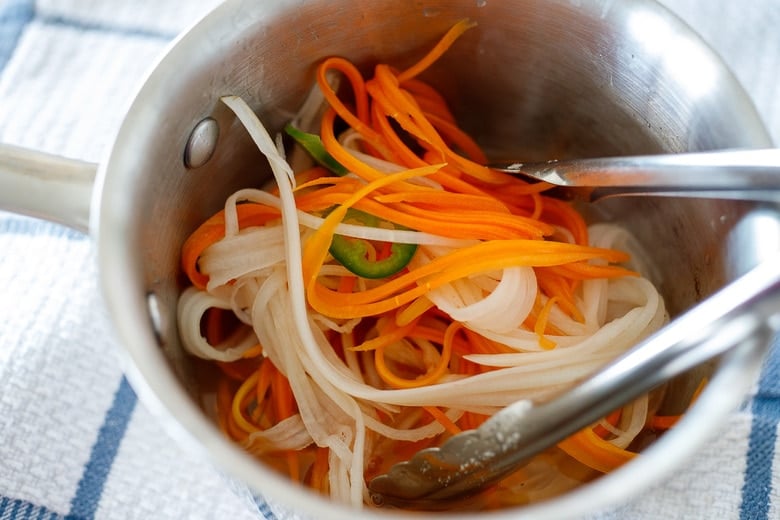 Place the pickled veggies in a jar in the fridge. YES-you can do this ahead!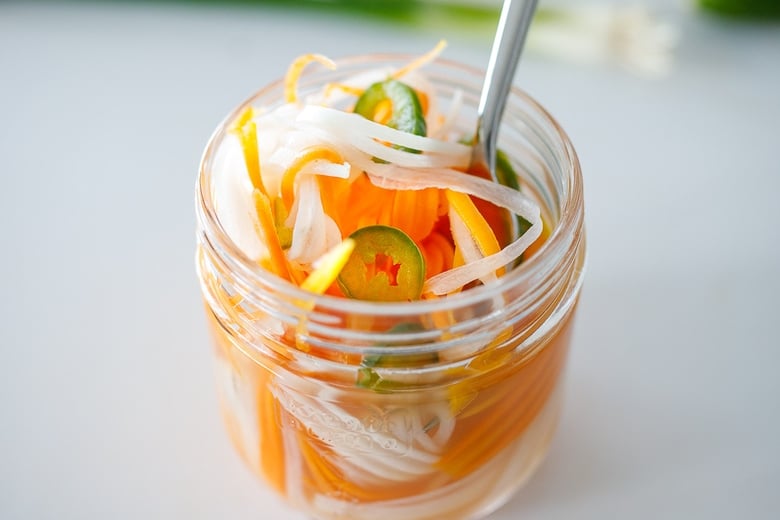 Step Two: Spicy Mayo
Using your choice of mayo ( vegan, or not)- place about ¼ cup in a bowl. Stir in a teaspoon or two of Sriracha. Set aside. Depending on the mayo, a pinch of salt may elevate.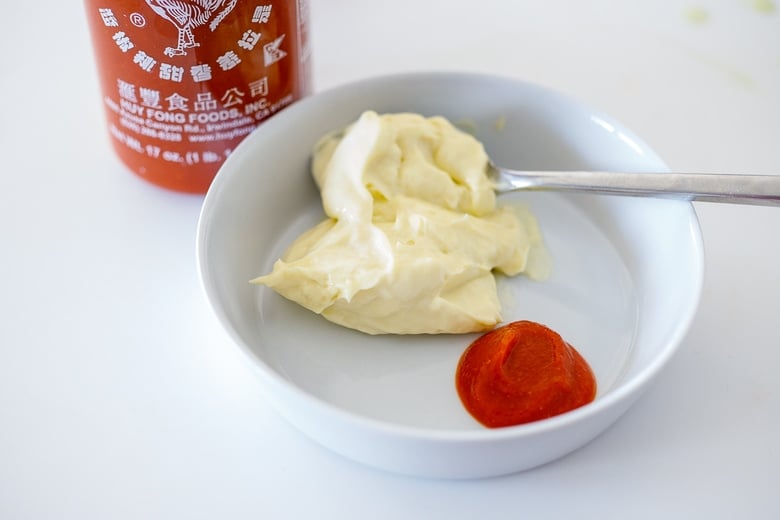 You could add a little soy sauce, or fish sauce to this for extra umami, however, this is not traditional.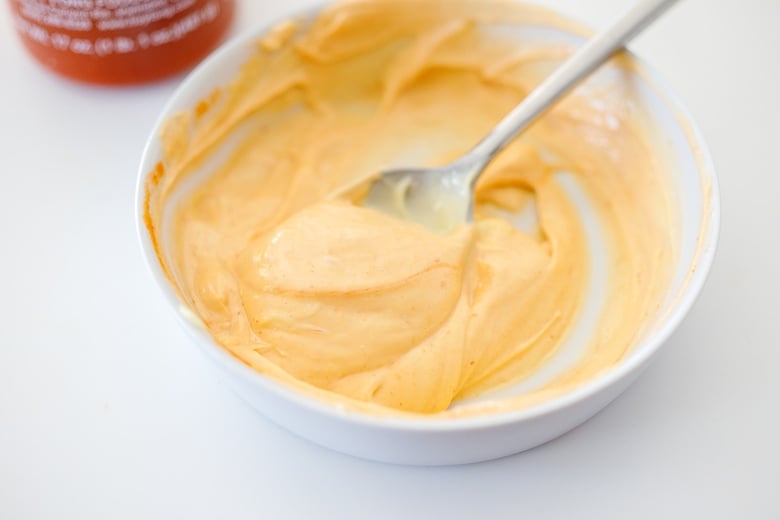 Step Three: Prep veggies and herbs
Slice the cucumber and any fresh veggies, and get your herbs ready.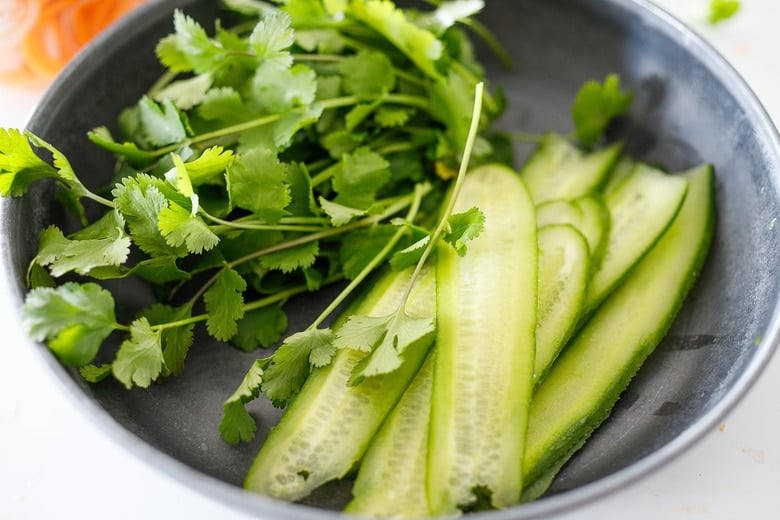 Step Four: Cook the Protein
Choose your protein! Tofu, Chicken, Mushrooms or this Five Spice Pork .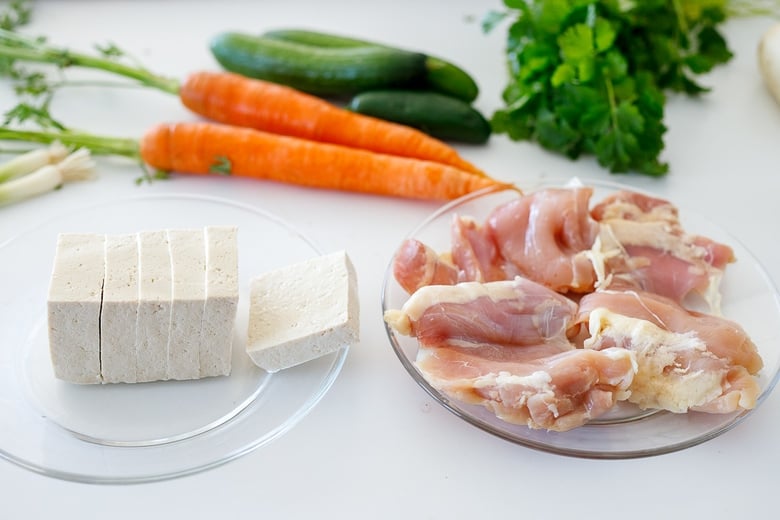 Season the chicken thighs or tofu with salt and five-spice.
Then pan-sear, getting a nice crust.
If using mushrooms, saute in olive oil, then season with salt, pepper and five-spice. You can also grill the mushrooms for even more umami!
TIP: I really love using oyster mushrooms here!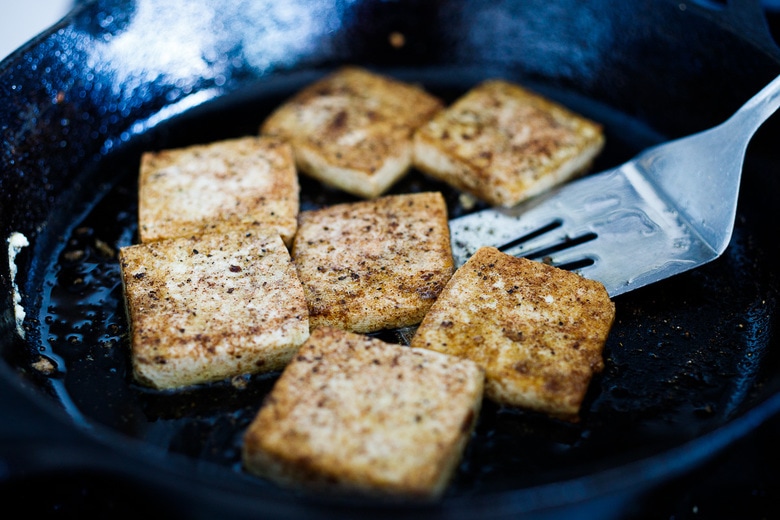 If opting for the Five Spice Pork, I recommend making this ahead.
If using Chicken thighs, after they are cooked through, shred a bit with two forks.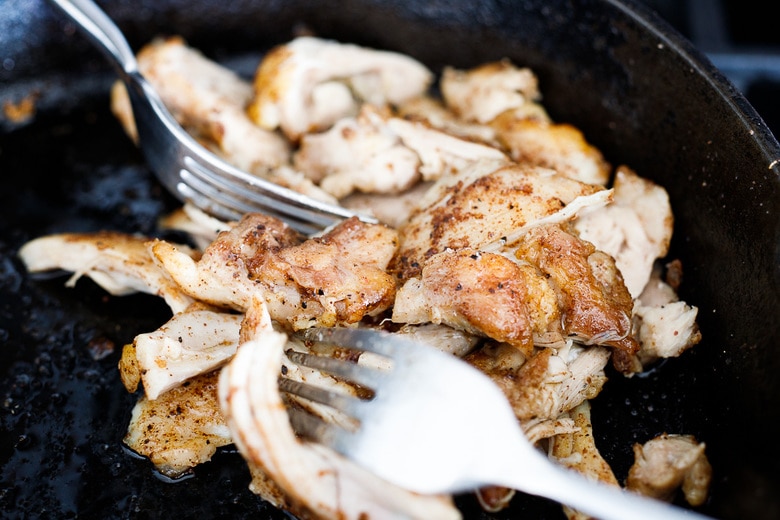 Step Five: Assemble the Banh Mi!
Cut open the baguette on one side only, opening it up like a book.
TIP: Because French baguettes are much denser than traditional Banh Mi bread- make sure to use a FRESH one.
It is worth tracking down a fresh bakery. Otherwise, the Banh mi can be too chewy.
The other option is to purchase a few buns from a local Vietnamese restaurant- usually, they are happy to sell a few.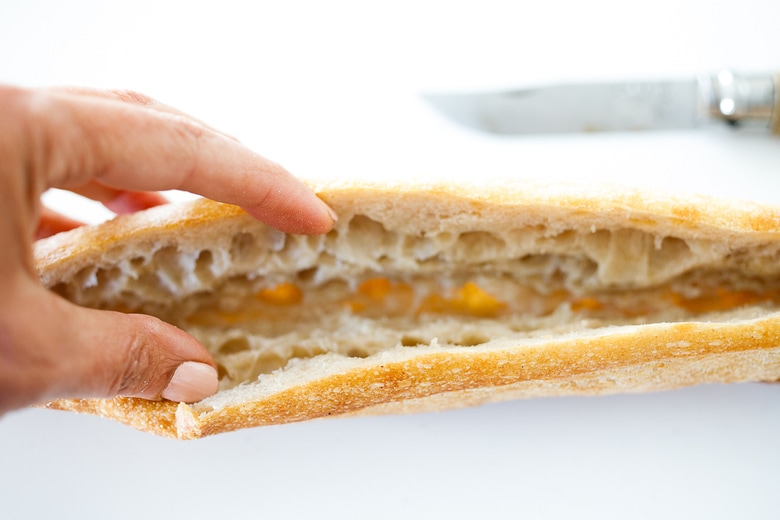 Lather generously with the Spicy Mayo.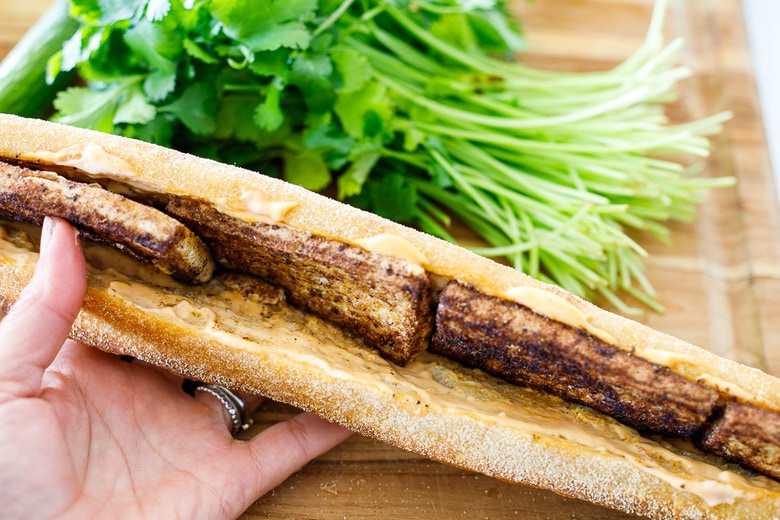 Then add the crispy tofu or chicken.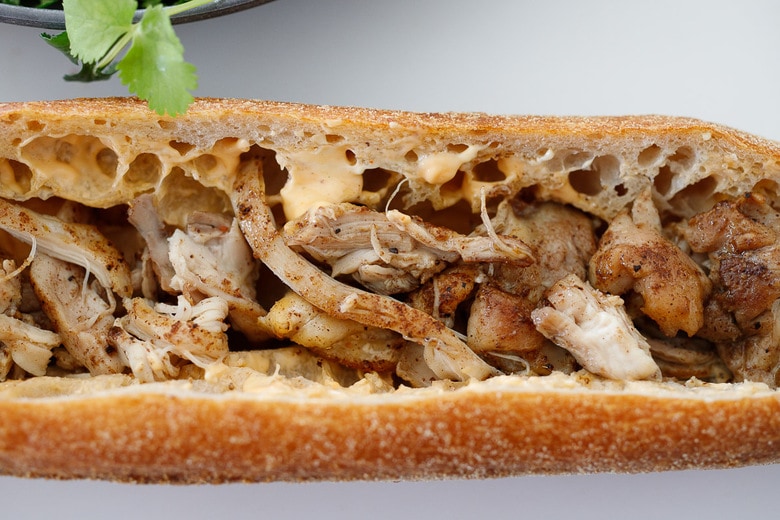 Layer with Cucumbers, Pickled Veggies, and fresh herbs.
Use a lot here!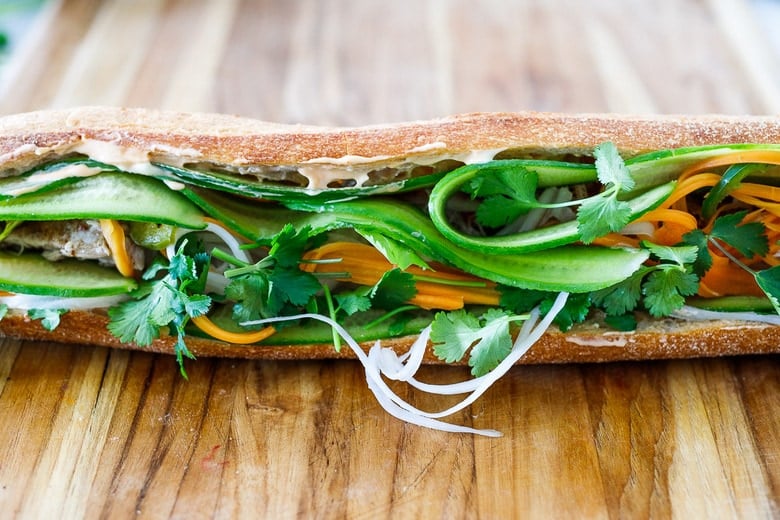 Step Six: Cut the Banh Mi
You can cut this into however many sandwiches you like. A baguette typically serves 4-5.
In our catering business, we would pierce with cute toothpicks and cut into small, 1-2-inch "finger sandwiches"- a fun appetizer.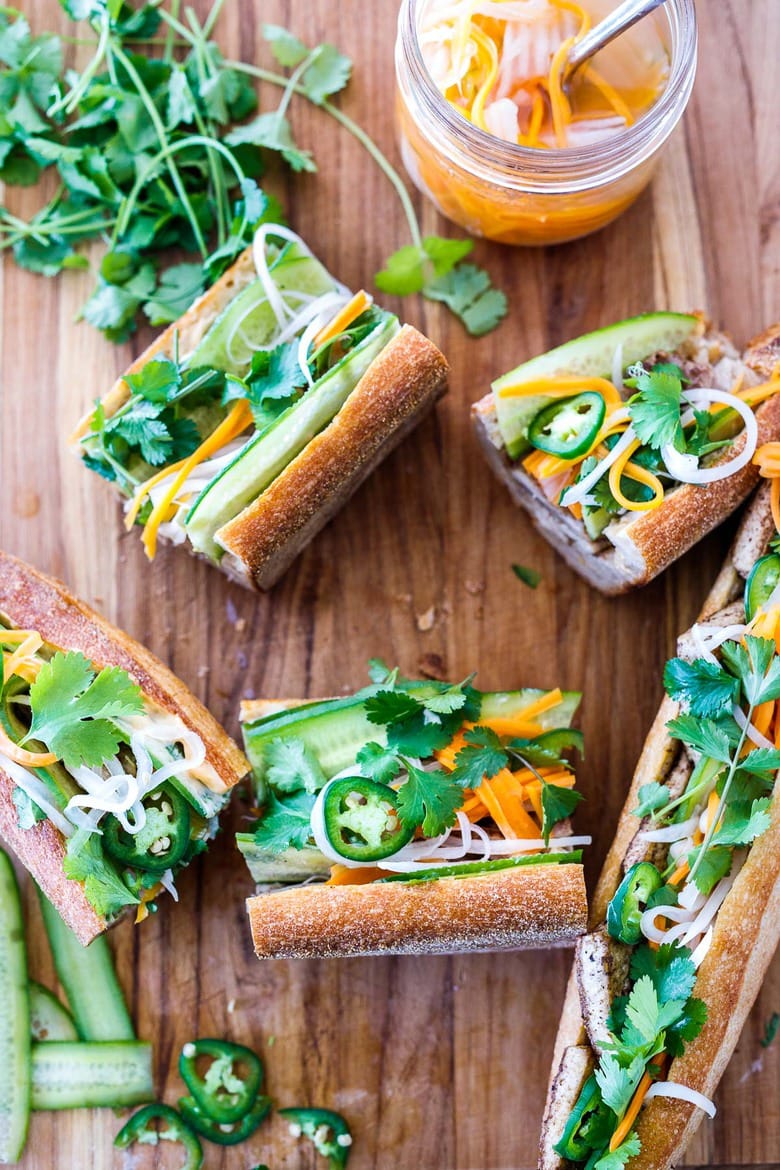 Step Seven: Serve or store.
Serve on a platter and wrap up any leftovers and store in the fridge- they are good the next day!
Recipe Tips:
Use the freshest bread you can get- crispy, light baguettes, or go to a Vietnamese restaurant and see if they will let you buy some from them.
Don's skip out on adding the sugar to the pickled veggies. Banh Mi needs that hint of sweetness to balance the flavors.
Don't skip the pickled veggies– they make the sandwich.
Balance the flavors- you need all four- umami, acid, spicy, sweet.
Consider texture– you want something crunchy in there too- that is why I do not pickle the cucumbers.
Don't be afraid of the fresh chilies! Sliced very thinly, a fresh, mild jalapeno adds so much to the sandwich. Of course you can use spicier chilies.
Use Fresh Herbs! cilantro, mint, Thai basil, regular basil or a mix is nice too!
Balance the "fat" and the fresh components. A traditional Banh Mi has a deep umami richness ( from the a smear of liver pate, mayo, or from the meat- often pork, but is balanced out by all the fresh ingredients and pickled veggies.
Elevate with Five-spice. It took me a while to figure out what made the Banh Mi in Vietnam taste so incredible. It turns our there was Five Spice in the Liver Pate. It was subtle, but really elevated the sandwich- and I fell in love with the flavor. I'm assuming most of you won't be making liver pate -so here we added five-spice to the tofu (or chicken) but you could alternatively stir a little into the mayo.

Bahn Mi FAQS
What is traditionally in a banh mi?
A crispy light Bahn Mi bun, similar to a French baguette but much lighter and airier- made with rice flour. Typically some variation of grilled pork or chicken, liver pate (made of chicken, beef or pork), pickled veggies, cucumber, fresh herbs and fresh chilies.
What is Banh Mi sauce made of?
Banh Mi Sauce is very similar Mayo- made with oil, egg, lemon, and salt. In Vietnam, sometimes they will mix this with butter- for an even richer spread.
What meats are in Banh Mi?
In Vietnam, Banh Mi is typically served with grilled pork, chicken, liver pate (made of chicken, beef or pork), thinly sliced ham, cold cuts, fried eggs, or sometimes sardines. For a vegetarian option, some will offer fried tofu.
Can Banh Mi be made Vegan?
It is very straightforward to make a vegan Banh Mi! Simply use tofu instead of meat, and substitute vegan mayo.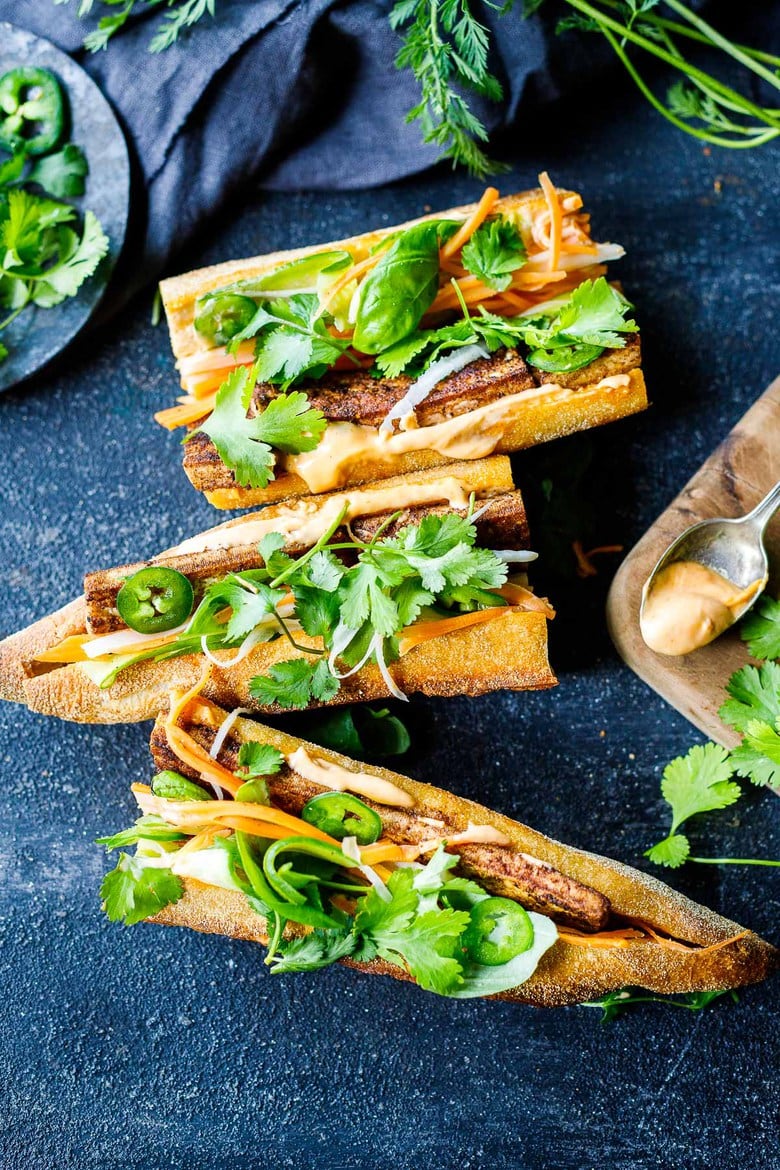 Other Vietnamese Recipes you'll enjoy!
Print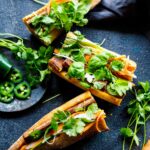 Banh Mi Recipe
Prep Time:

20

Cook Time:

20

Total Time:

40 minutes

Yield:

5

1

x

Category:

sandwich, lunch

Method:

stovetop

Cuisine:

Vietnamese

Diet:

Vegan
---
Description
How to make the most delicious, authentic Vietnamese Banh Mi Sandwich – fresh, light, complex, and flavorful with lots of umami goodness, made with your choice of tofu, mushrooms, chicken or pork and simple pantry ingredients. Vegan-adaptable.
---
Pickled Veggies:
1

small daikon radish (

3/4 cup

matchstick or grated)

1

medium carrot (

3/4 cup

, matchstick, or grated)

1/2

cup

vinegar (white, rice, apple cider vinegar

1/2

cup

water

1/2 teaspoon

salt

2 tablespoons

sugar, or sugar alternative (please don't skip)
Filling:
16

ounces

firm tofu (or chicken thighs -boneless, skinless, or mushrooms, or pre-make this pork)

3/4 teaspoon

salt, more to taste

3/4

Chinese Five Spice, or to taste
olive oil for searing

2

Turkish cucumbers- thinly sliced

1

cup

of cilantro leaves ( or a mix of cilantro, Thai Basil, mint)

1

jalapeno, (or serrano) very finely sliced
Sriracha "Mayo"
Fresh baguette, or use mini baguettes, or tradional Banh Mi buns
---
Instructions
Make the Pickled Veggies: Peel the daikon and carrot, then cut into matchsticks (thinly slice, stack, then cut into thin strips). Place in a small pot with water, vinegar, salt and sugar. Feel free to add slices of jalapeno, saving some fresh slices. Bring to a simmer, then cool immediately, placing in the fridge. You could do this a day before.
Pan Sear Tofu/or Chicken: Blot the tofu gently with paper towels, cut into 1/3 inch-thick squares or rectangles. Season both sides generously with salt, and sprinkle lightly with Chinese 5 Spice. Pan sear in oil, until both sides are crisp and golden. If using chicken, season both sides generously with salt and lightly with five-spice. Pan-sear until deeply golden. Either lower the heat and cook through or finish cooking the chicken in a 350F oven, then shred it a bit with two forks. Taste and adjust salt and 5-Spice, adding more to taste.
Sriracha "Mayo": Mix the mayo and sriracha together, adding more to taste. Sriracha has both acidity and sweetness- keep this in mind if using something else and adjust accordingly.
Assemble the Banh Mi: Slit one side of the baguette down the whole length of it, leaving the other side intact- so it hinges open, like a book. Lather both sides with Sriacha Mayo. Layer in the protein, add the cucumber slices, and pickled Carrot/Daikon mix. Top with fresh cilantro and fresh jalapeno.
Give the Sanwiche a shake, open side up, to get things to settle towards the hinge. Cut into individual sandwiches.
You could also cut these into 8-12 mini "finger" sandwiches, piercing each piece with a toothpick- for a fun appetizer like we used to do in our catering business.
---
Notes
These can be frigerated (wrap in plastic wrap or beeswax wrap) for a couple of hours before serving.
Mushrooms: Mushrooms can be sauteed in olive (and seasoned with salt and five-spice) or tossed in olive oil then roasted or grilled. Oyster mushrooms are a great option here!
Here is the Five Spice Pork Recipe-which I would make ahead.
Nutrition
Serving Size:

Made with tofu

Calories:

393

Sugar:

4.5 g

Sodium:

1103.4 mg

Fat:

16.4 g

Saturated Fat:

2.1 g

Carbohydrates:

42.8 g

Fiber:

4.4 g

Protein:

19.4 g

Cholesterol:

0 mg
Keywords: banh mi sandwich, vegan banh mi, tofu bahn mi, chicken banh mi, authentic banh mi, pork banh mi.