Delicious slow-roasted, Pulled Pork Tacos are rubbed with flavorful Five Spice seasoning and served with Asian Slaw and a Spicy Sriracha Mayo.  A flavorful Asian twist on pulled pork tacos!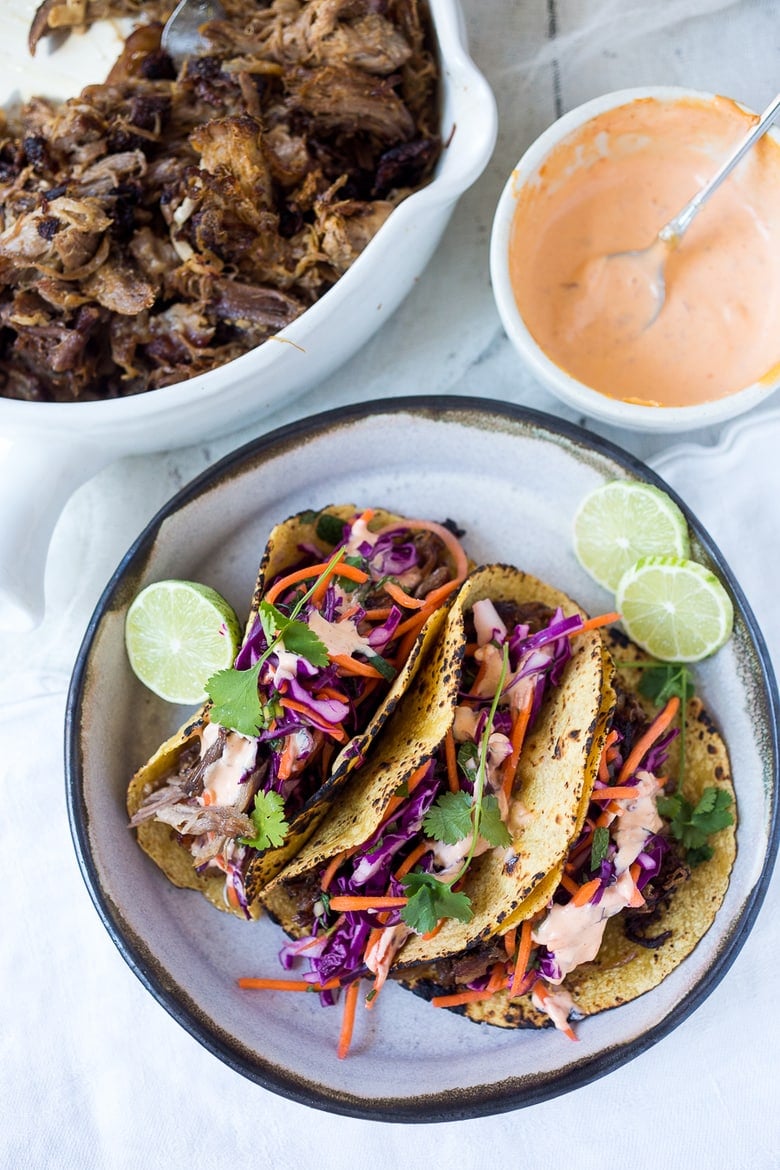 A  simple, flavorful recipe for Five Spice Pulled Pork Tacos with fresh Carrot Cabbage Slaw and Spicy Aioli inspired by ingredients from my CSA. The pork (or sub beef)  is roasted in the oven low and slow for about 6 hours on a lazy Sunday or cooked in a slow cooker during the workweek — a quick and easy weeknight meal.
When it's done, the meat is meltingly tender with a surprising exotic flavor from the five-spice. Together with the fresh and crunchy Asian Slaw and the creamy Sriracha-spiked aioli, it makes for the perfect taco.
And the leftovers make great tacos too. (For non-pork eaters, feel free to substitute a beef or lamb roast. )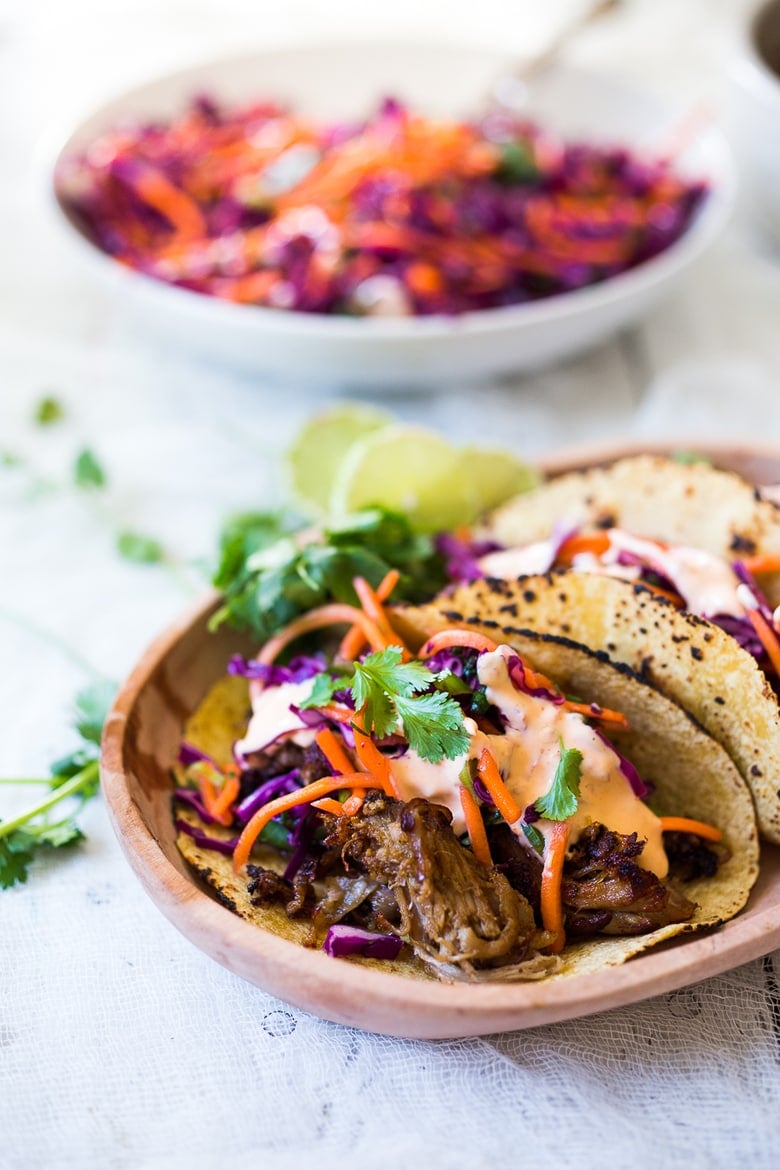 How to make Five-Spice Pork
For this recipe, use a boneless  3 ½ pound pork roast. You can substitute lamb or beef.
Coat with the five-spice rub and let it sit two hours or overnight in the fridge. The longer the better. 🙂
In the morning, place it in a 250F oven, or a slow cooker and let the delicious aromas fill your house.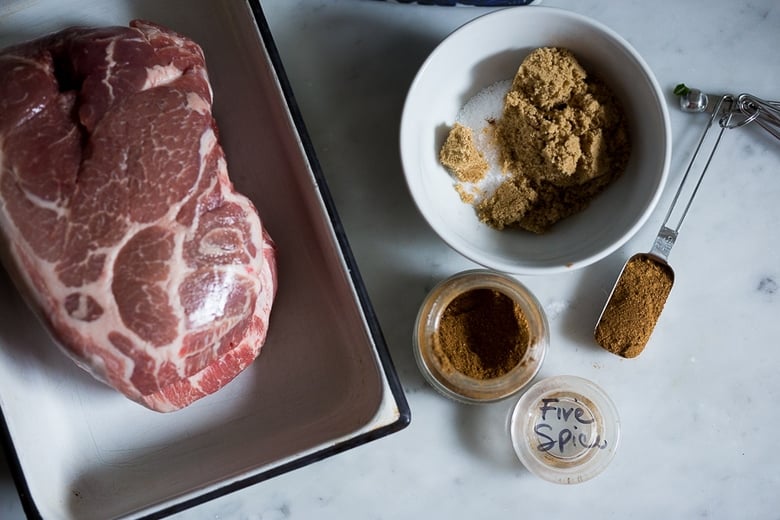 When the roast is done, the edges will be crispy and the meat ….oh so tender.
Shred with two forks and stir in a little vinegar. Voila.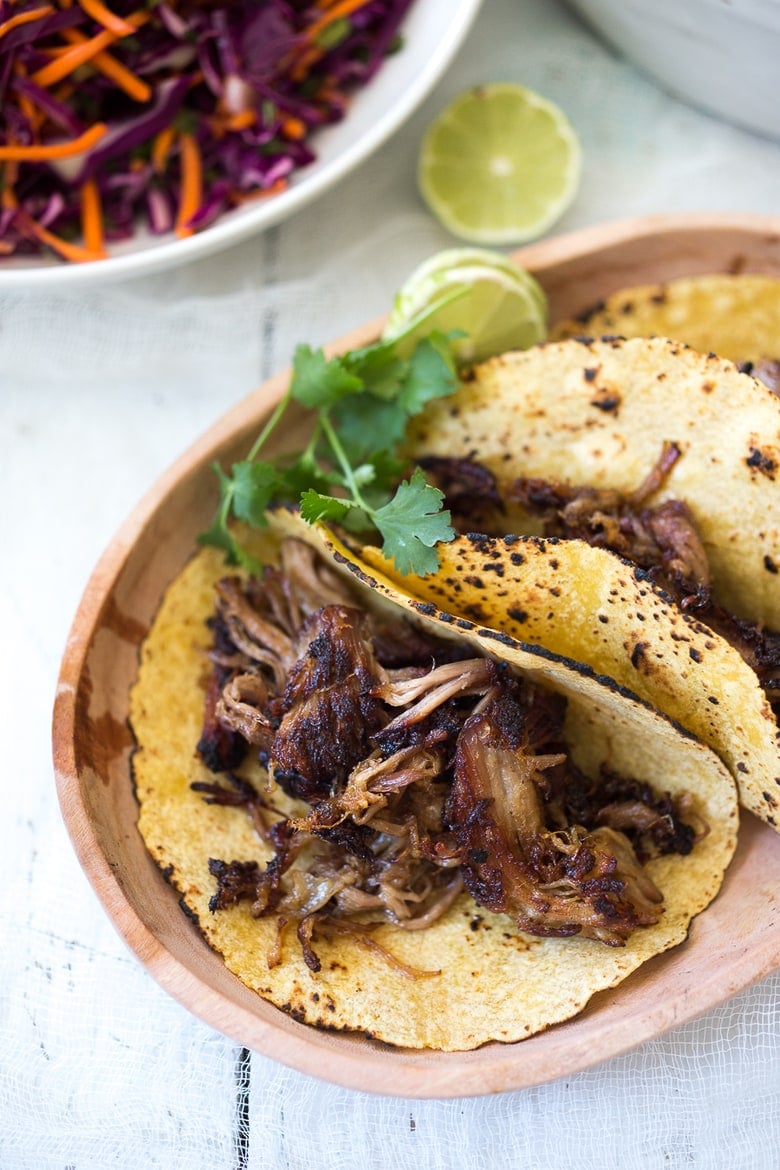 If you like your meat extra crispy, you could give it a quick stir fry in a cast-iron skillet.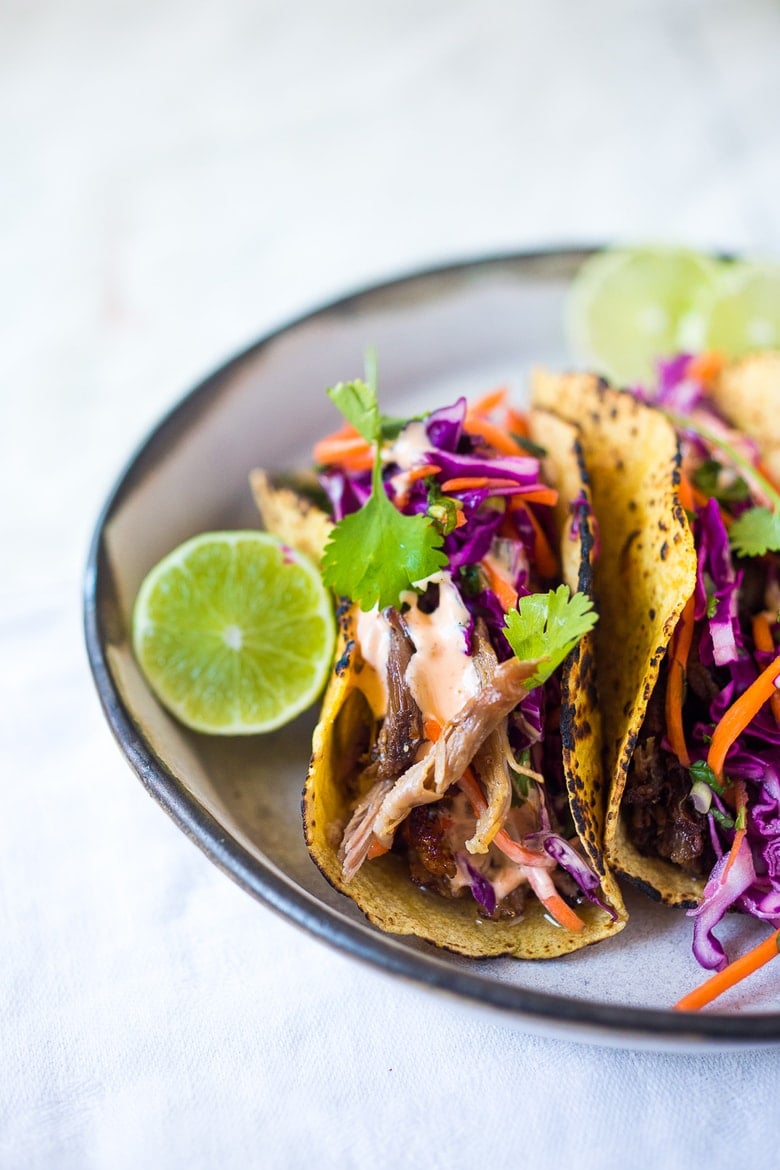 Fill toasted tortillas with the pulled pork, Asian Slaw and Spicy Sriracha Aoili.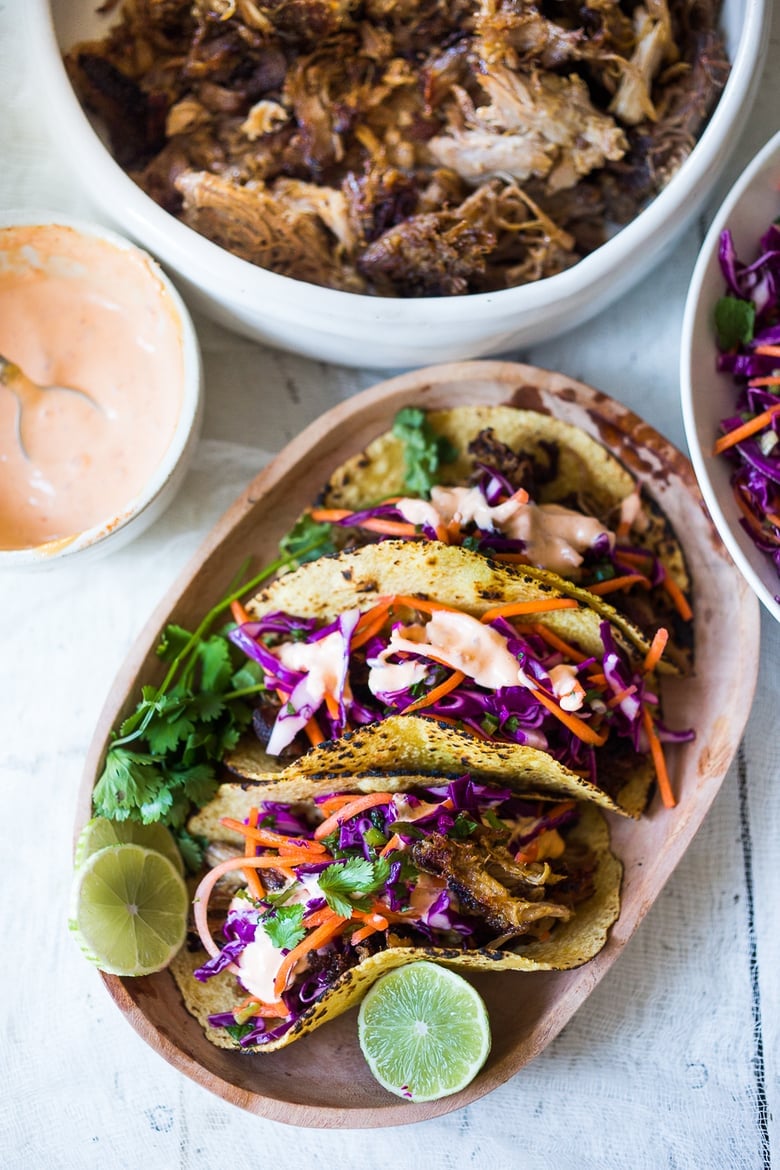 Serve the pulled pork tacos with lime, avocado and cilantro, and more Sriacha hot sauce if you like!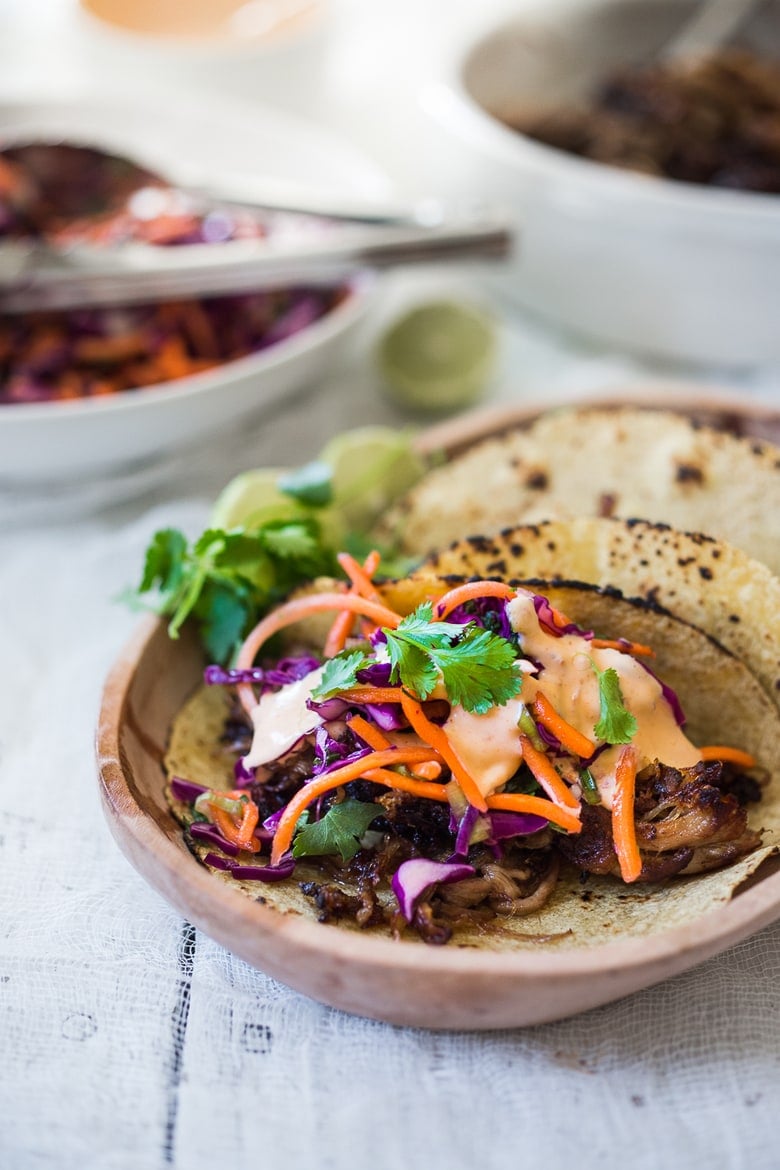 On the homefront: I have to tell you… I've been loving this summer.  I don't want to jinx it – but it almost seems a little too luxurious.  Having so much time! Bike riding, kayaking, hiking, lake time  – we cut back on the amount of wedding catering we took on this year, limiting ourselves to only one wedding per weekend, and oh my, this working less… has felt glorious!
I feel like myself again, more balanced, so much healthier on the inside compared to last summer. Do you ever ask yourself when looking back on your life, What was I thinking?  It's a reoccurring question for me…it's been such a journey! But I guess it takes the journey and all the missteps and repeated mistakes along the way, to learn what it is we need to learn, doesn't it?
I've been a painfully slow learner, going down the same dead-end road countless of times, thinking somehow, this time will be different, but no, it never is, is it?! It's the same dead-end it has always been until you take a step in another direction.
This is actually scarier than going down the same old dead-end road because, at least, you already know what's at the end of that very unsatisfying, unfulfilling, dead-end road!!! And who knows what's in the other unknown, uncharted direction? By now, the dead-end is tolerable and almost comfortable.
The question then becomes, do I want a comfortable, numb but unfulfilling life … or do I want a fuller, deeper life knowing full and well, that I will have to tolerate the anxiety that inevitably comes when choosing a new path.
And if I chose the later, what would that look like and how would that happen? Perhaps it starts with just imagining it's actually possible. Then trusting that we're strong enough to handle the anxiety of the unknown. Because we are. We don't like it, but we are capable of it.
Then just trusting the unknown itself.
More Recipes you may like:
Please tell us how you liked the pulled pork tacos …. and any changes or alterations you made.
Thanks, and looking forward to feedback!
Have a beautiful week.
Print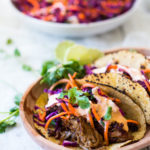 Pulled Pork Tacos with Five Spice, Asian Slaw and Sriracha Aioli
Prep Time:

30 mins

Cook Time:

6 hours

Total Time:

6 hours 30 mins

Yield:

6

1

x

Category:

Main

Method:

Roasted

Cuisine:

Asian
---
Description
Delicious slow-roasted, Pulled Pork Tacos are rubbed with flavorful Five Spice seasoning and served with Asian Slaw and a Spicy Sriracha Mayo.  A flavorful Asian twist on pulled pork tacos!
---
Pulled Pork
Cabbage Carrot Slaw
Spicy Sauce
FIVE-SPICE SEASONING
---
Instructions
Rub the Pork: Mix salt, sugar, and 5 spice together. Coat all sides of the Pork roast well, discarding excess. Place in a small baking dish and cover,  refrigerate overnight (or for at least 2 hours).
Bake in a 250F oven for 6 hours, uncovered, basting with the flavorful pan juices once every couple of hours. Pull it from the oven and let it cool a bit. ( Alternatively, if using a slow cooker, cook for 4-5 hours on high or 7 hours on low, adding a 1/4 cup of water to the bottom first)
Shred the pork with two forks. Mix in the vinegar. Keep warm in the oven, slow cooker, or refrigerate, and reheat before serving.
Make the slaw- mix all the ingredients in a medium bowl, and let stand a few minutes before serving to allow flavors to meld.
Toast tortillas in a toaster oven, or "grill" directly over a gas flame over the stove until warm.
Assemble! Place a little spicy aioli sauce on the tortilla, top with pulled pork and slaw. Garnish with an avocado slice (optional) and fresh cilantro and lime wedges.
---
Notes
To make Five Spice from scratch, toast all whole spices, then grind, add to ground spices.
To get the pork crispy, saute in a skillet, letting it brown up, right before serving.
If subbing beef for the pork, cooking time may shorten slightly- to be safe check one hour earlier.
---
Keywords: Five Spice pork, 5 spice pork, pork tacos, Asian pork tacos, pork tacos, best pork tacos, pork recipes, slow roasted pork tacos,