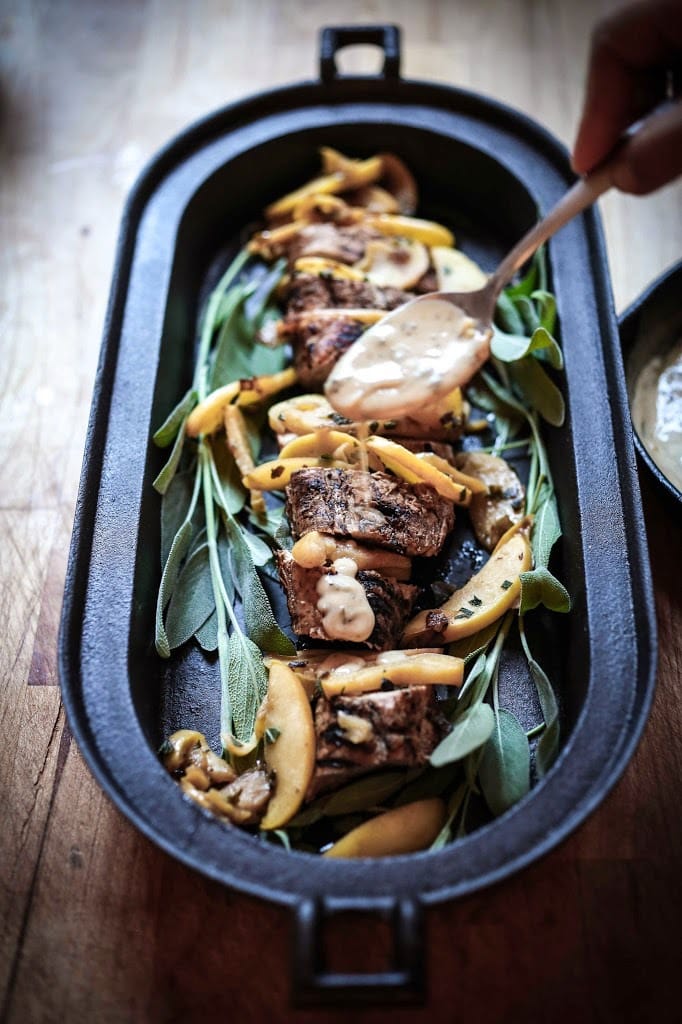 Nestled in the beautiful foothills of Mt Spokane, Green Bluff is home to over 30 family owned orchards and farms. Each fall, thousands of visitors make the 15 minute drive north of Spokane and find themselves surrounded by gentle rolling hills, charming old barns and picturesque landscapes. During the months of September and October, the apple harvest is celebrated with festivals happening each weekend. Bushels of apples are available to purchase, or venture out in the orchards and pick your own.
This apple recipe was inspired by a couple whose wedding we catered over the weekend. The groom, an avid home cook, described this dish in detail and how he wanted to have this served at their wedding reception, so for several weeks now I have fiddled and fiddled with this recipe in order to get it
just right
. The pork marinates overnight in a mixture of fresh lime juice, orange juice and
maple syrup
. A quick char on the
grill
gives it a nice smokiness. Paired with Pink Lady apples, thickly cut and sauteed with sage and topped with a hard cider sauce with Serrano chili and a little cream- even I, a person who generally shies away from pork, had to admit how delicious it was.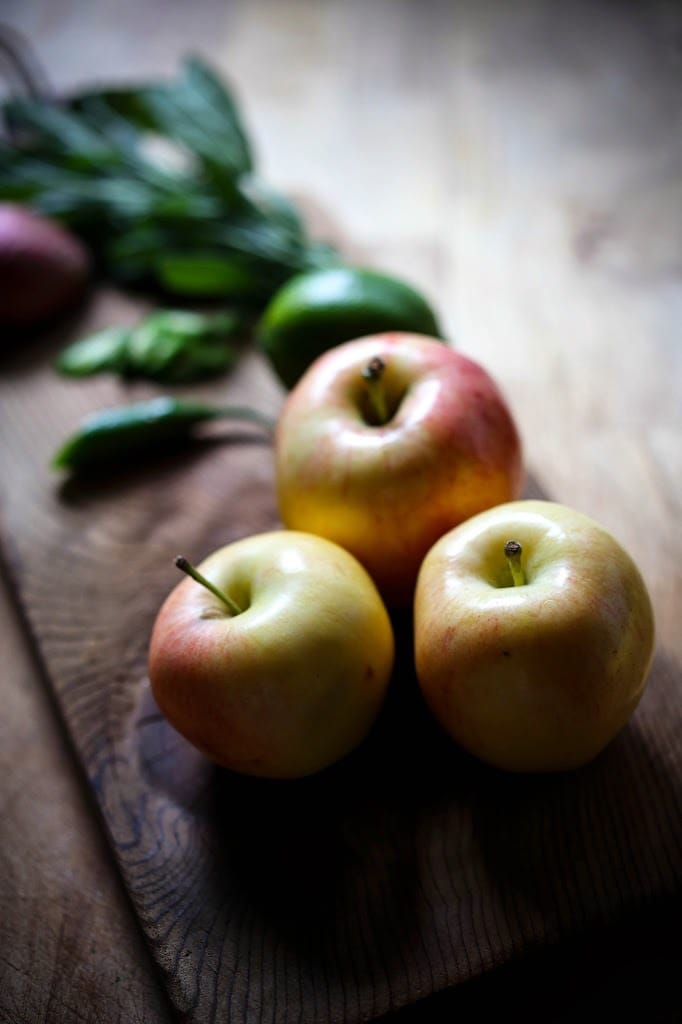 There are three tips to cooking pork loin:
Don't over cook it.
Don't over cook it.
Don't over cook it.
Pork loin is very lean and dries out easily if cooked even for a few minutes too long. For me the secret is to use a
thermometer
and to remember that even while it rests, the temperature is still gently rising.
Pork loin is too small to be treated like a roast and too big to be treated like a steak. The secret is to sear it on the
grill
, or on a
grill
– pan on the stove on a higher heat to give it a lovely char, for about 12 minutes or until the internal temperature reaches 140 F, then turn the heat off, wrap it in foil, and let it rest for 10 minutes. That's it.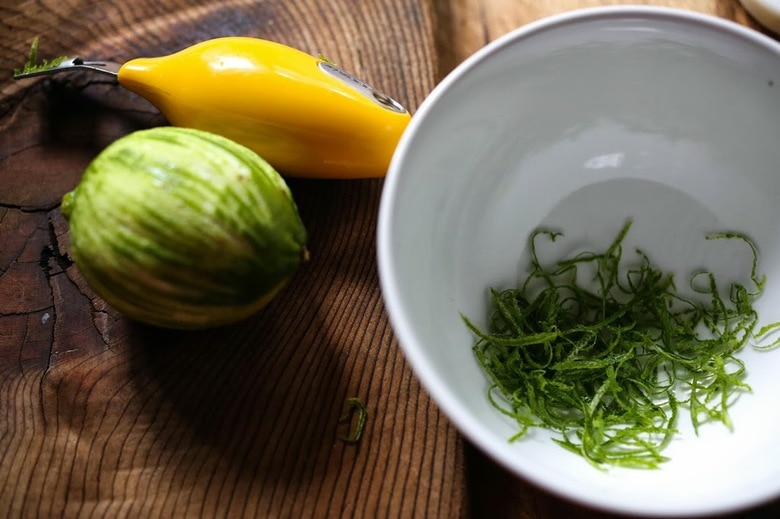 The marinade is made with fresh lime juice, orange juice, their zest and maple syrup. The pork tastes best the longer it marinates -so plan ahead.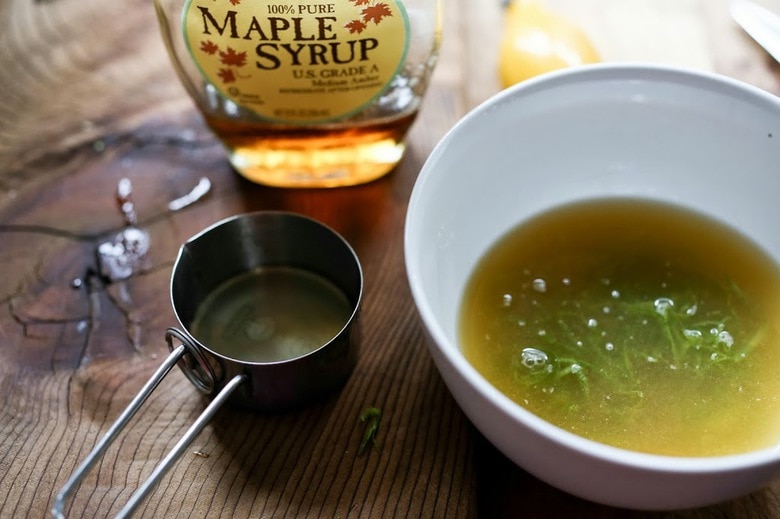 Apples are left unpeeled and sliced. Sauteed in a little butter with fresh sage, until just tender, they are the perfect compliment to pork loin.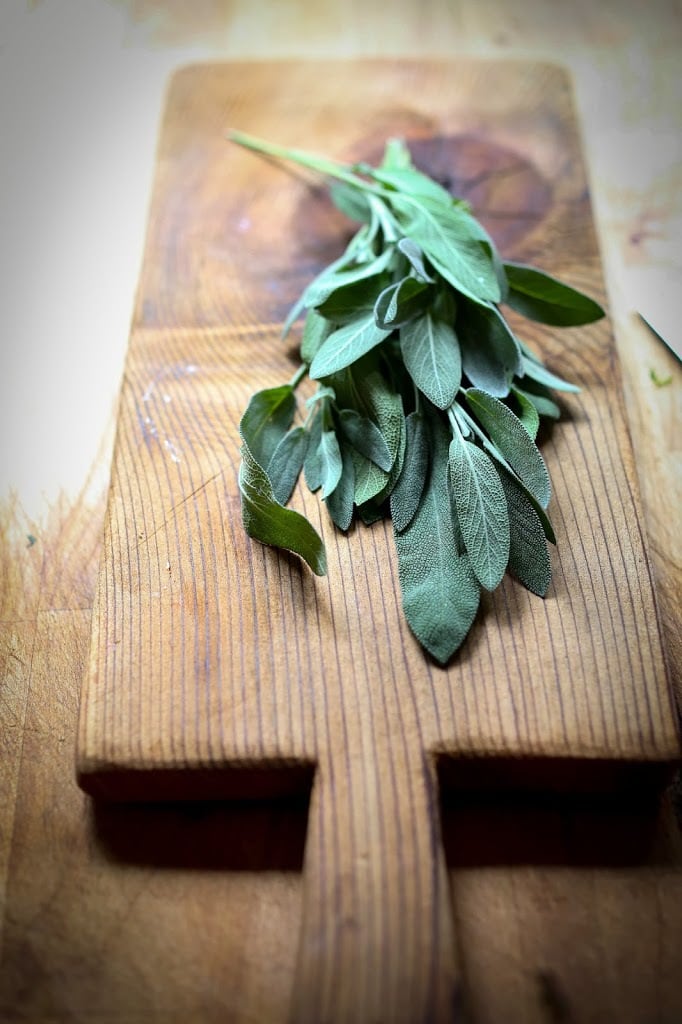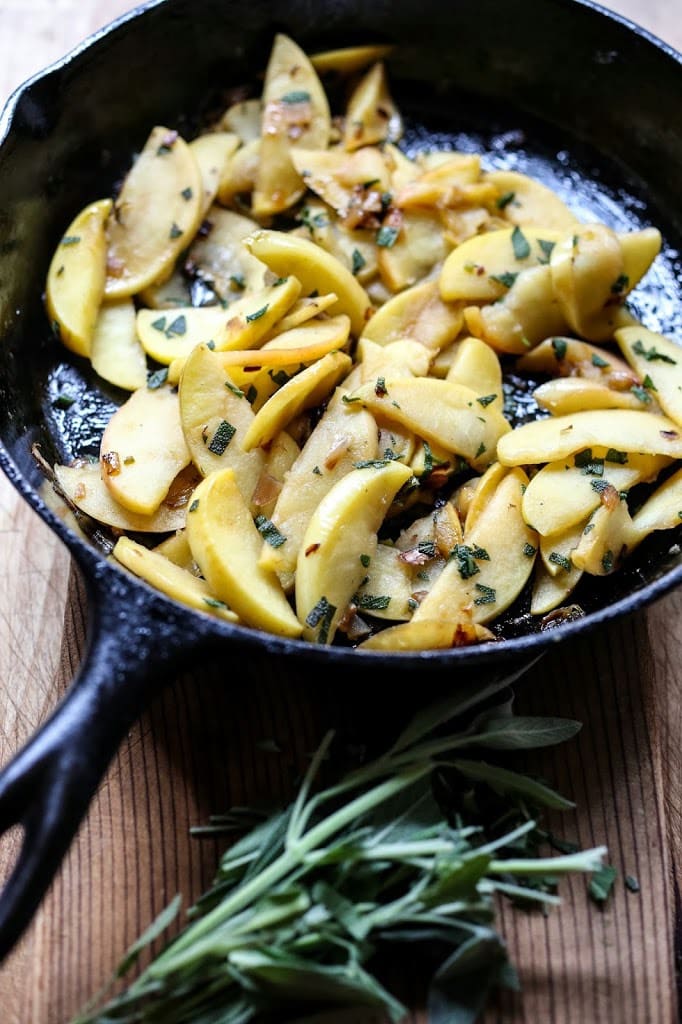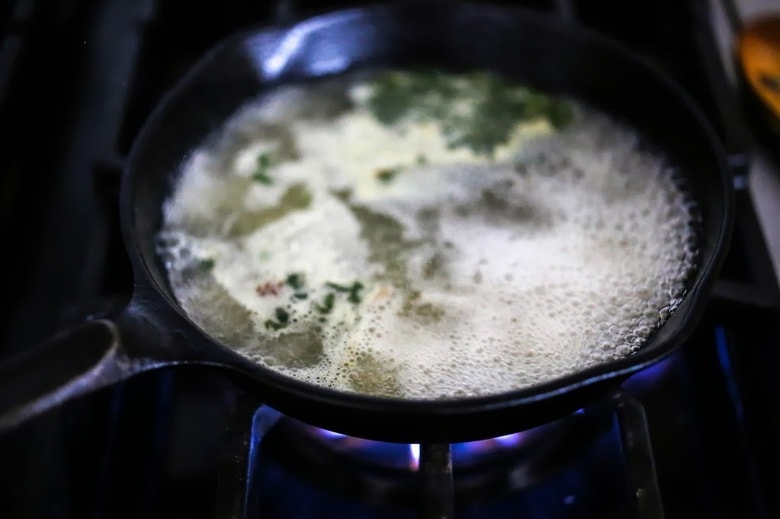 For the sauce, hard cider and chicken stock are infused with a bit of Serrano chili and reduced. A little whipping cream is added and its further reduced until it turns a lovely golden color. Do not try subbing half and half, it will separate. Leave the salting of the sauce until the very end, depending on how much the stock reduces and becomes concentrated, you may not need too much.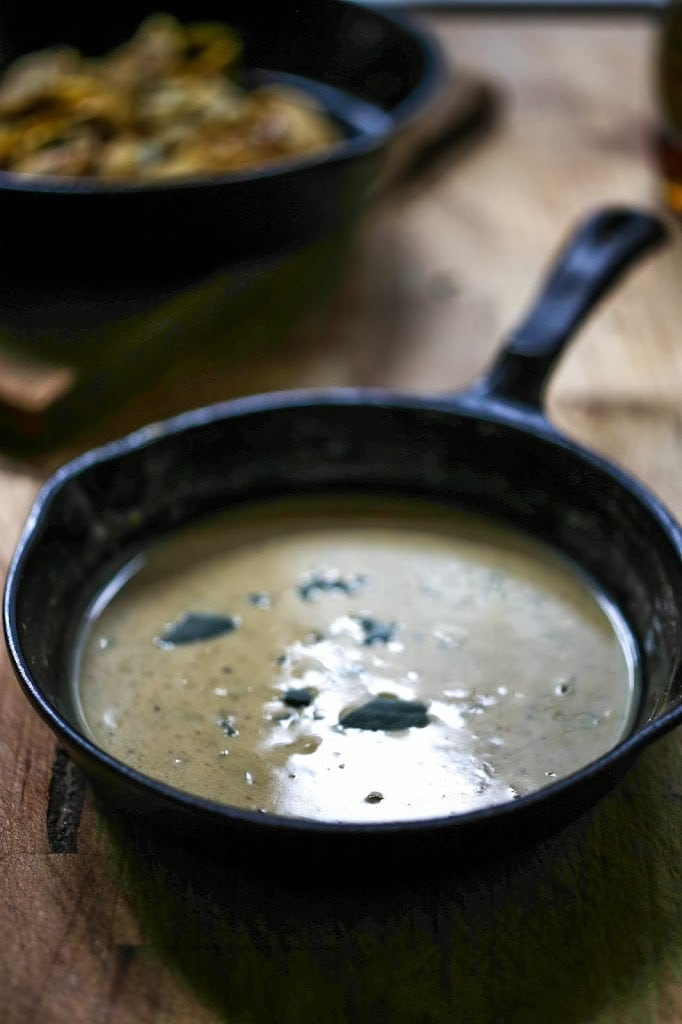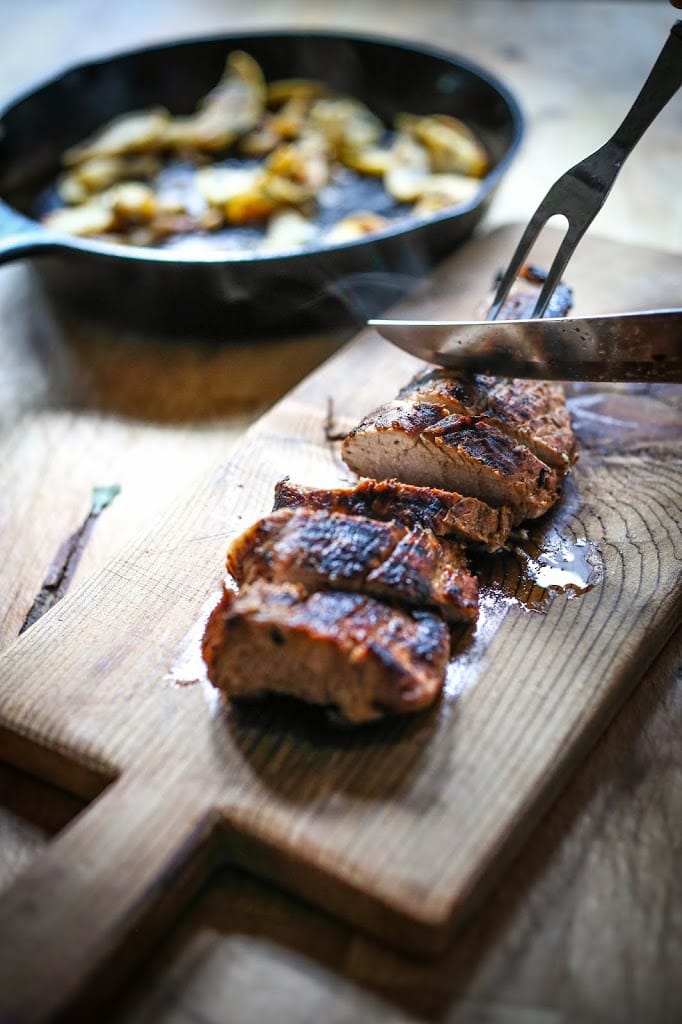 The pork is grilled on high heat until the internal temp reaches 140F, then wrapped in foil and rested for 10 minutes. Slice, arrange apple and sage mixture around and spoon cider cream sauce over it.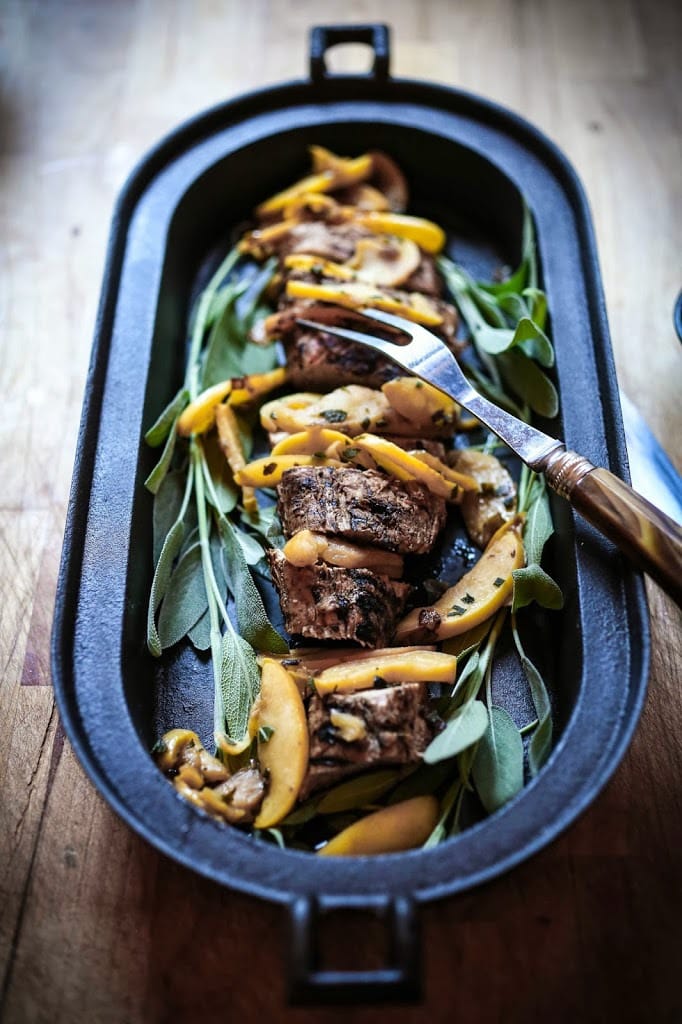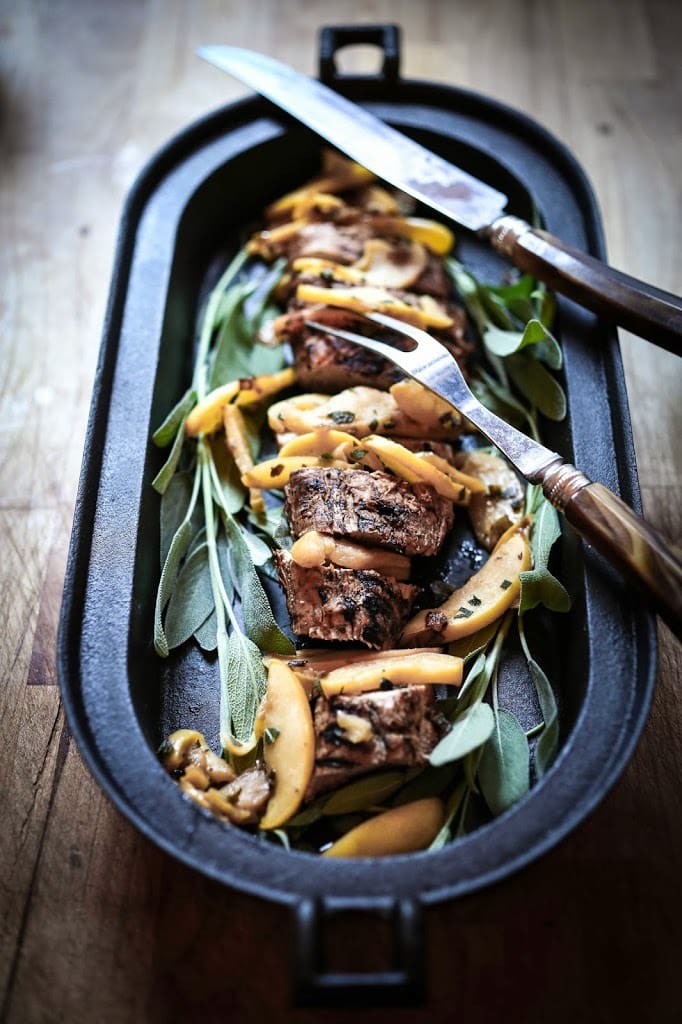 If you are more of a lean eater, leave the sauce on the side, but make sure to a least try a small spoonful of it.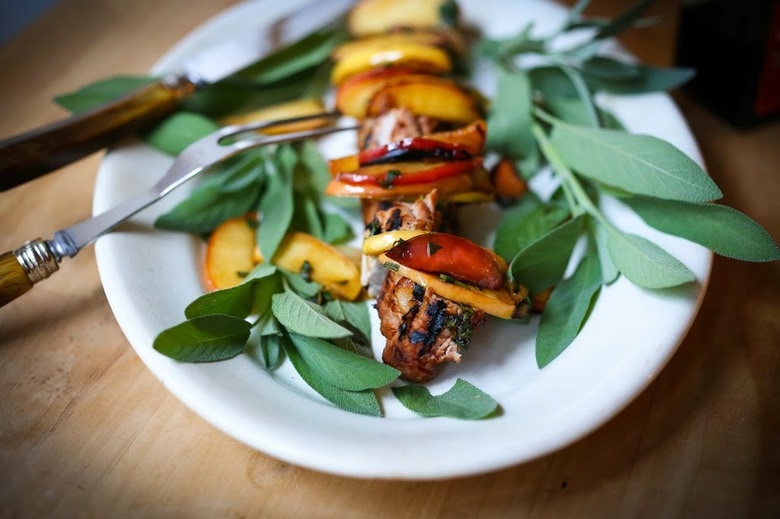 Thanks for reading! For more Feasting at Home …
and subscribe to receive new posts via email.

Print Recipe
Grilled Pork Loin with Apple, Serrano, Hard Cider Sage Cream
Pork:
1 1/2 pounds pork tenderloin whole
1/4 C fresh lime juice and zest from one lime
1/4 C fresh orange juice and zest from one orange
1/4 C
maple syrup
3 garlic cloves minced
1 1/2 tsp kosher saltHard Cider Sauce:
1 T butter
1 large shallot finely diced
1 cup hard apple cider
1/2 cup chicken stock
1/2 of a whole serrano chili, seeded and finely diced – or more for more spicy
3/4 cup heavy whipping cream ( half and half will curdle)
Freshly ground black pepper
Salt
to taste ( add last)Apples:
1 tablespoons butter
1 tablespoon
olive oil
3 Apples (
Honey
crisp,gala, granny smith) unpeeled and thickly sliced
1 tablespoon fresh chopped sage
1 1/2 teaspoons teaspoons sugar
1/4 teaspoon
salt
splash ciderInstructions:
1. Marinate pork, placing first 6 ingredients in a sealable bag, refrigerating and let marinate for at least 2 hours and up to 24 hours. The longer the better. Bring to room temperature before grilling.2. Make the Hard Cider Sauce. In a
medium pot
, saute shallot in butter until tender. Add cider, chicken stock and serrano chili, bring to a boil, then turn heat to med-low and let simmer uncovered for 20 minutes, or until reduced by half. Add heavy whipping cream. (Don't use half and half). Stirring occasionally, continue to simmer until sauce thickens and turns into a lovely pale golden color, about 15 more minutes. Add
salt
and cracked pepper to taste.
3. In a heavy bottom skillet, saute apples in butter and olive oil, on medium heat until golden and tender. Add sage, salt and sugar, and a splash of cider ( 2 T). Once cider has evaporated, turn off heat and set aside.
4. Grill Pork Loin on Medium heat, turning often until all sides are seared ( about 12 minutes) . Turn grill to low and continue to cook (or place in a 350F oven) until internal temperature reaches 140 F. This is important. Do not overcook- or pork will be dry. Once internal temp of pork is 140 F, promptly remove from heat and wrap tightly in foil and let rest for 10 minutes before slicing.
5. Slice pork into 1 inch portions, placing apple mixture over and around. Garnish with fresh sage. Spoon Hard Cider sauce over top.