A simple recipe for Five-Spice Chicken with Roasted Plum Sauce– a flavorful Chinese-inspired dinner highlighting juicy, end-of-summer plums that can be made in under an hour. Vegan-Adaptable.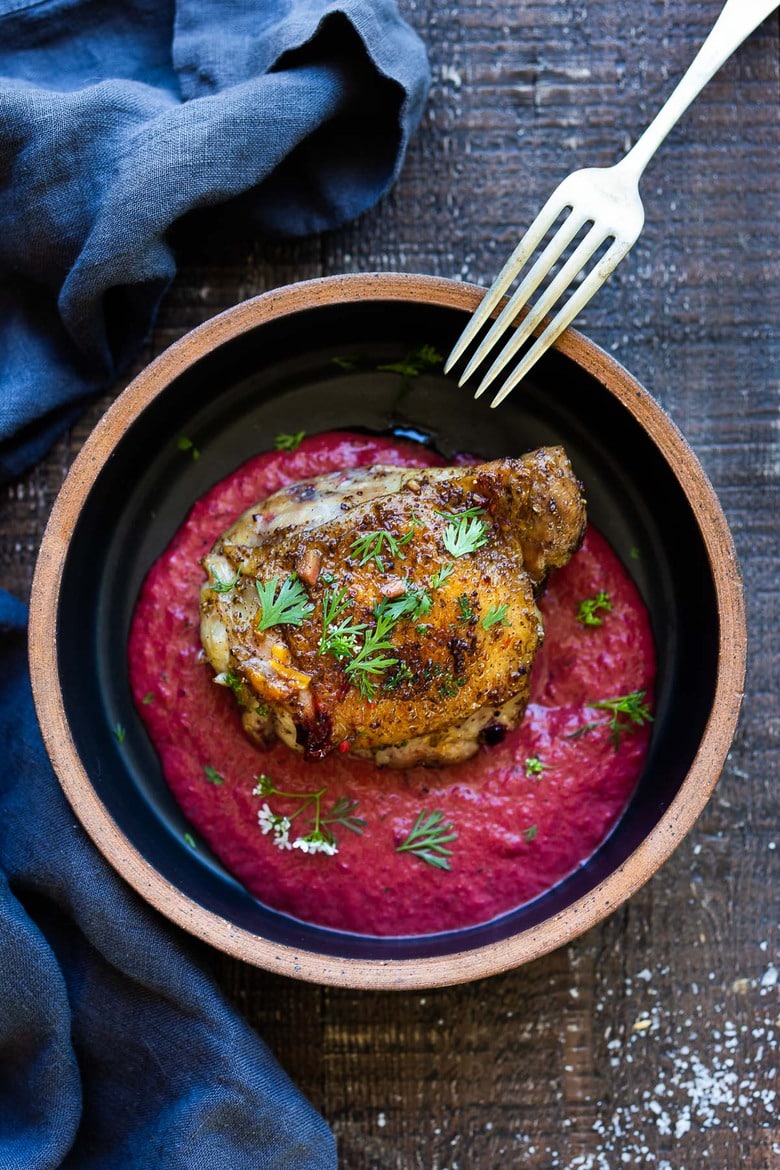 Here is one last plum recipe to try before they completely disappear for the season- Five Spice Chicken with Roasted Plum Sauce.  The Five-Spice Chicken is pan-seared on the stovetop, then finished the oven along with the roasting plums, onion, garlic and ginger.
Once the chicken is cooked through, then it's just a matter of blending up the flavorful sauce.
Use the juiciest plums you can get your hands on, and seek out red-fleshed plums which are especially beautiful here, creating a plum sauce that glows.
Serve this up with a side of rice– black rice would be especially dramatic here and maybe some broccolini or bok choy.
Vegans can sub tofu filets for the chicken, coated in the flavorful five-spice rub.
Another tasty meal that presents elegantly but takes less than an hour to make.
And I promise this Roasted Plum Sauce will make you want to lick your plate.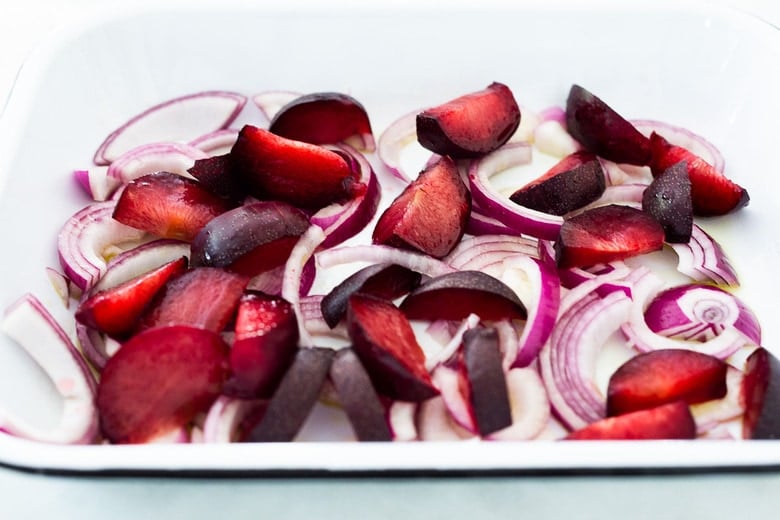 Start with cranking up your oven to 450F.
Cut the onions, plums, ginger and toss with the whole garlic cloves and olive oil.
This will get blended into the sauce.
Make the quick Five-Spice Rub: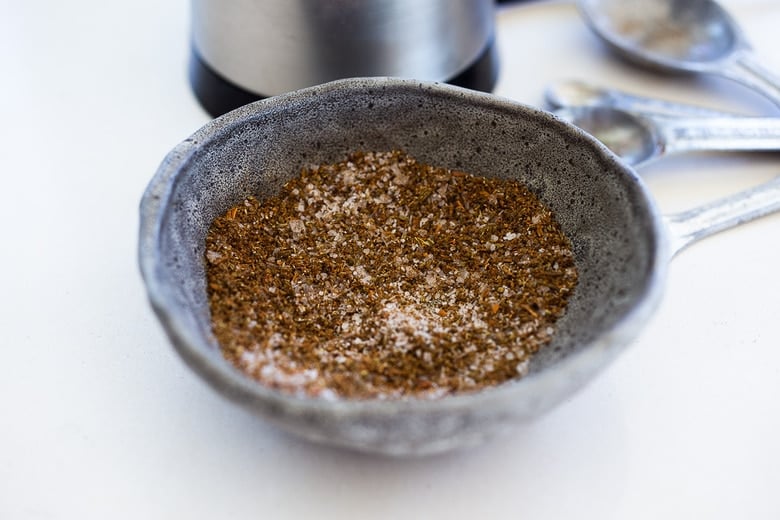 At the same time that the plums are roasting, season the chicken with the 5-Spice Rub and pan sear the chicken until golden. Keep in mind you can also use tofu filets, preparing the same way!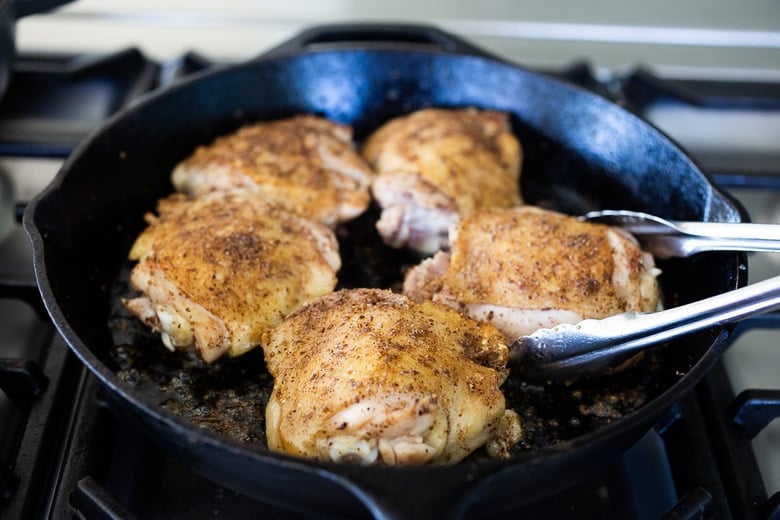 Once you have a beautiful golden crust, nestle the chicken into the plums (or feel free to keep on the side) and place in the oven until the chicken is cooked through, about 15-20 minutes.
The drippings from the chicken will add great flavor to the sauce, but if cooking for mixed households and trying to keep some vegan, finish the chicken in a separate pan.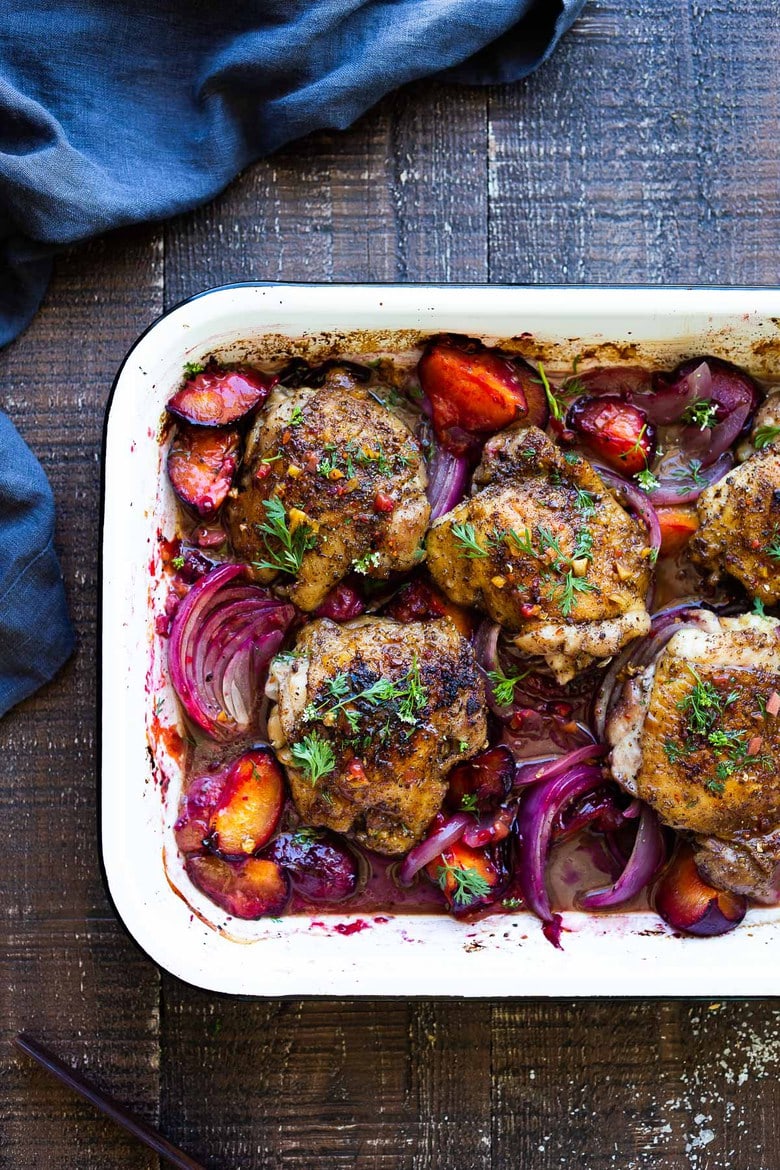 When it comes out it will smell glorious.
The five-spice paired with the roasting plums is truly heavenly. 
Set the chicken aside and cover while your blend up the roasted plum sauce adding the soy sauce, pepper, and vinegar.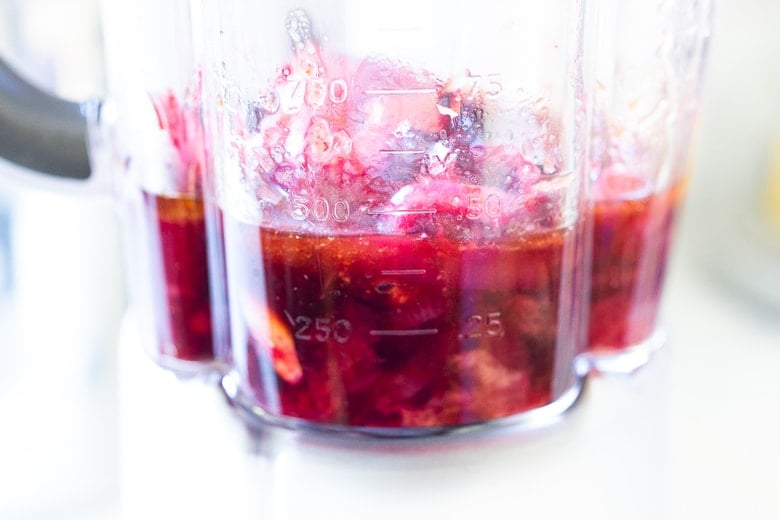 Then place the plum sauce in a little saucepan, gently warming until ready to serve.
Yes, the plum sauce can be made ahead, and even frozen for future use.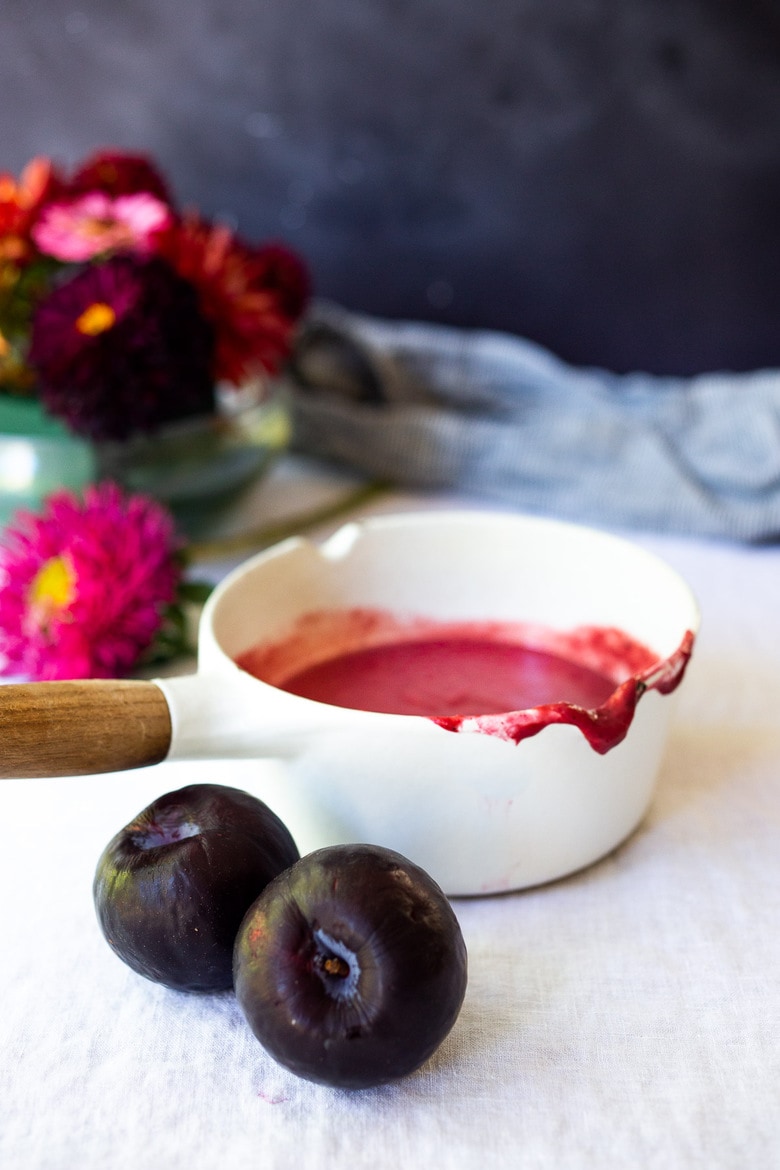 If you happen to have a plum tree, this plum sauce would make a nice gift in the middle of winter. If you are a canner, this may be worth figuring out how to can. Not sure about acidity levels here, so I stick to freezing.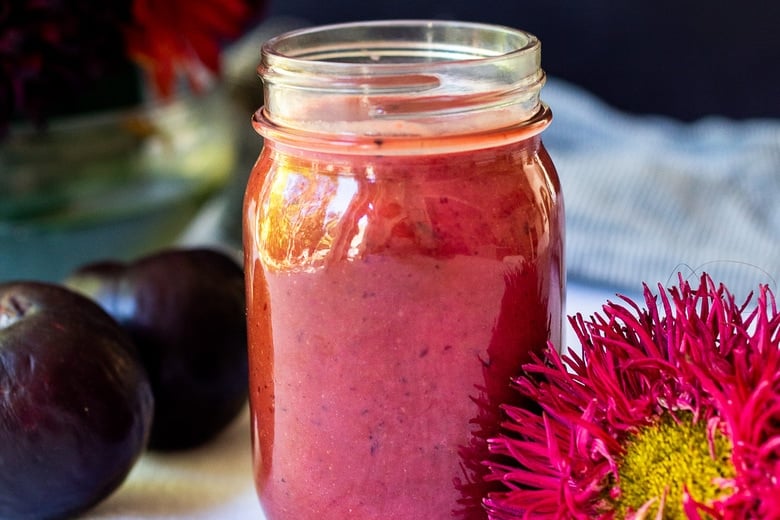 When ready to serve your flavorful Five-Spice Chicken, simply ladle a little plum sauce down on a plate, then top with the chicken. Sprinkle with chives or baby cilantro.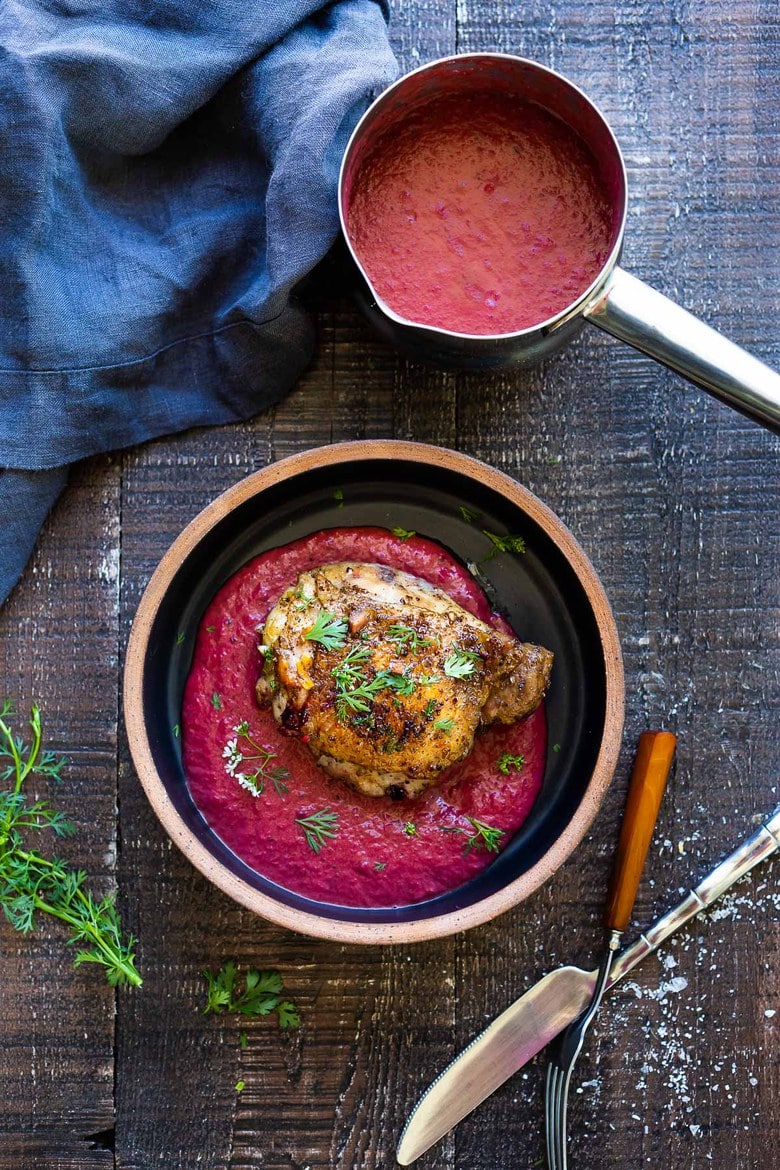 I wasn't sure my husband would like this – he tends to shun "fruity" sauces, but I was surprised when he told me he loved it.
The sauce has enough depth and complexity to balance out the sweetness of the plums.  This same recipe could be applied to a grilled 5-spice rubbed pork loin, or pan-seared duck, or even grilled lamb chops.
You could even roast a whole chicken and coat with the Five-Spice rub. Oh, the possibilities…
And again, I really enjoyed this with tofu.
Have a juicy, delicious weekend.
xoxo
More recipes you may like: 
Print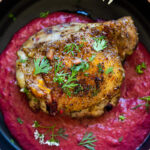 Five-Spice Chicken with Roasted Plum Sauce
Author:

Sylvia Fountaine

Prep Time:

20

Cook Time:

40

Total Time:

1 hour

Yield:

4

-5

1

x

Category:

Chicken, Dinner recipe

Method:

roasted, pan-seared

Cuisine:

Chinese

Diet:

Gluten Free
---
Description
Flavorful Pan-seared, Five-Spice Chicken with Roasted Plum Sauce– infused with ginger and garlic. A delicious Chinese-inspired dinner highlighting juicy red plums.
---
Five Spice Rub:
Roasted Plum Sauce:
1

red onion sliced into

1/2

inch rings

1

lb

plums (red-fleshed, soft and juicy!) cut into 1/2 inch thick wedges (4 extra-large plums, 6 medium or 8 tiny plums)

4

–

6

cloves garlic

3

thin

slices ginger, about the size of a quarter, the peel is OK.

2

–

3

tablespoons olive oil
2- 2 1/2 lbs chicken thighs– bone-in, skin-on (5-6 thighs). or see notes for substitutions.
Plum Sauce Seasonings:
Garnish: chives, scallions, or cilantro
---
Instructions
Preheat oven to 450F.
Make the Five-Spice Spice rub. Mix the ground five-spice, salt, granulated garlic and pepper in a small bowl.
Roast the plums: Slice the onion and plums and place in a 9 x13 inch baking dish or edged sheet-pan. Add the whole garlic cloves and slices of ginger and drizzle with oil generously to coat. Toss well and place in the hot oven. Check at 15 minutes, (set a timer) toss, lowering the heat to 4ooF.
Prep the chicken: While the plums are roasting, cook the chicken. Pat dry the chicken and coat all sides generously with the Five-Spice Rub seasoning.
Pan-sear Chicken: Heat oil in a large skillet over medium heat and once hot, pan sear the chicken skin-side-down until golden and slightly crispy, about 8-10 minutes, checking heat and lowering if browning too fast. Turn over and sear the other side 3-4 minutes.
Nestle the chicken over the roasting plums. (See note below) If the plums look especially ready to come out ( juicy, roasted with tender garlic and very tender onions), feel free to lower the heat even further, down to 375. Basically, it all depends on how fast you cook your chicken. 🙂 If it takes a while to get the chicken seared, your plums may already be done and ready to come out. Use your best judgment here. The chicken will need 15-20 minutes of roasting time. You can of course finish cooking the chicken separately if the timing is off and plums look done.
When the chicken is cooked through (165-170F), remove it from the oven and set the chicken aside, covered. Let the chicken rest 5-10 minutes while you blend the Plum Sauce.
Roasted Plum Sauce: scrape out the plums, onions, and

all the juices and browned bits

from the pan into a blender. Add the soy sauce and pepper. Blend until silky smooth. Add a little water to loosen the sauce -1 to 3 tablespoons or more. Blend again. Taste. Add honey and vinegar to taste. All plums have different levels of sweetness and tartness. For example, I added 1 tablespoon honey and 1 teaspoon vinegar. If your sauce is too sweet, add more vinegar, if too tangy add honey. If too salty, add more water. For a bit of a kick add chili flakes or cayenne.
Place the Roasted Plum Sauce in a saucepan and gently warm over low heat until ready to serve.
Ladle some roasted plum sauce on a plate, top with the chicken, and garnish with scallions, chives, or cilantro.
---
Notes
At step 6, I'll sometimes add a splash of Chinese cooking wine to the plums right before nestling the chicken. This is optional. You could sub red wine or white wine. Just 2-3 tablespoons.
Plums: Try to use red-fleshed plums for the prettiest presentation. Soft and juicy make the best sauce.
SWEETENER: Instead of honey, soak one to two prunes in hot water until softened, drain and add to the blender. 
Chicken: Feel free to use skinless, boneless thighs, decreasing searing, and roasting time.
Substitutions: Use pork loin instead of the chicken and coat with rub and either pan sear or grill. Same with lamb chops. Or try tofu filets– cut about an inch thick (pat dry, coat with 5-spice rub and pan sear until crispy and warmed though, no need to finish in the oven.)
Nutrition
Serving Size:

One skin-on thigh

Calories:

612

Sugar:

14.9 g

Sodium:

806.3 mg

Fat:

38.5 g

Saturated Fat:

9.7 g

Carbohydrates:

32.7 g

Fiber:

4.7 g

Protein:

35.2 g

Cholesterol:

189.1 mg
Keywords: Five-spice chicken, five spice chicken with plum sauce, roasted plum sauce,chinese, five spice chicken, five spice tofu,