A Chinese-inspired recipe for roasted Plum Sauce made with fresh plums, infused with garlic, shallots, chilies, ginger, and five-spice to use on chicken, pork, duck, or tofu. Freeze for the winter months!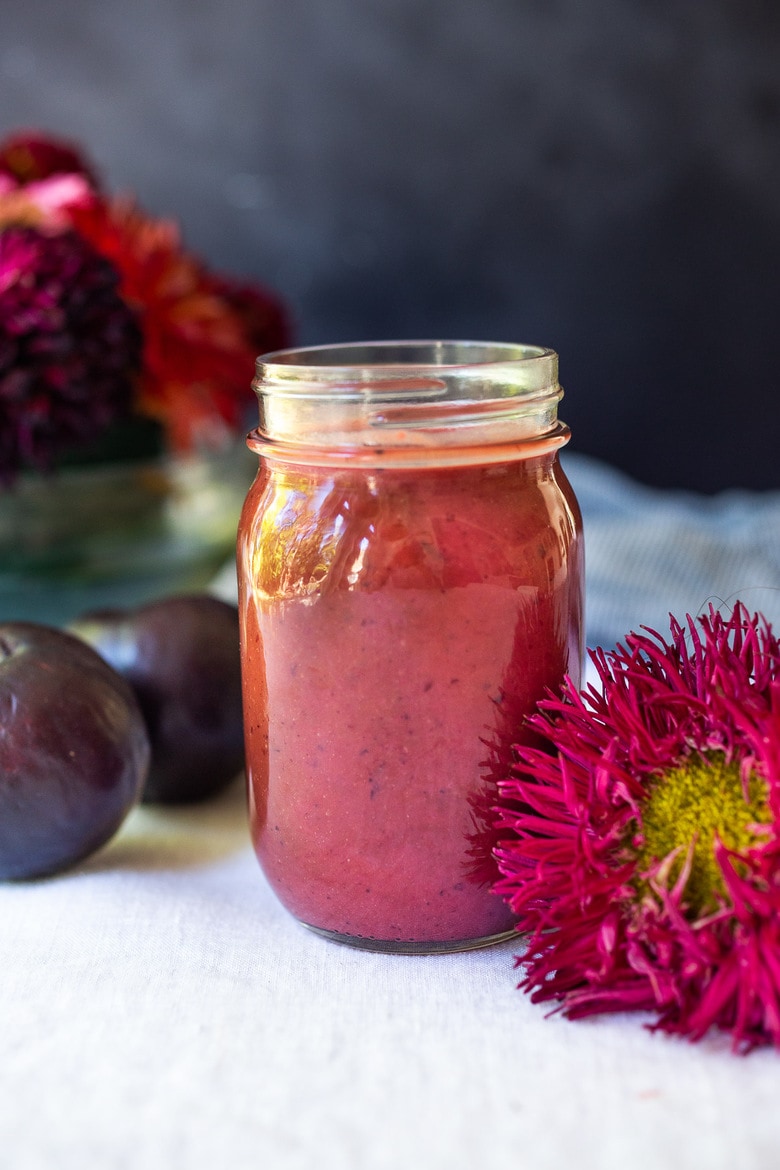 I'm kind of in love with this recipe for Roasted Plum Sauce and I think you will be too. It can be used in a myriad of ways in the kitchen. Slightly sweet, tangy with a good amount of depth and umami- the perfect sauce to pair with five-spice chicken, pork loin, lamb or tofu.
What I love about this Plum Sauce recipe is that is is not cloyingly sweet like many jarred or storebought versions, and actually tastes like plums! Here plums are roasted along with garlic, ginger and onion, until tender,  then blended into a sauce with a little rice wine vinegar, soy sauce (or Liquid Aminos)  and five-spice.
Freeze in mason jars for a delicious winter treat!
But First, What is Plum Sauce?
Chinese Plum Sauce, if unfamiliar is a Cantonese sweet and sour sauce or condiment typically used as a dipping sauce for fried spring rolls, moo shoo, or Chinese Duck. This version is not authentic but rather Chinese-inspired.
How to make Roasted Plum Sauce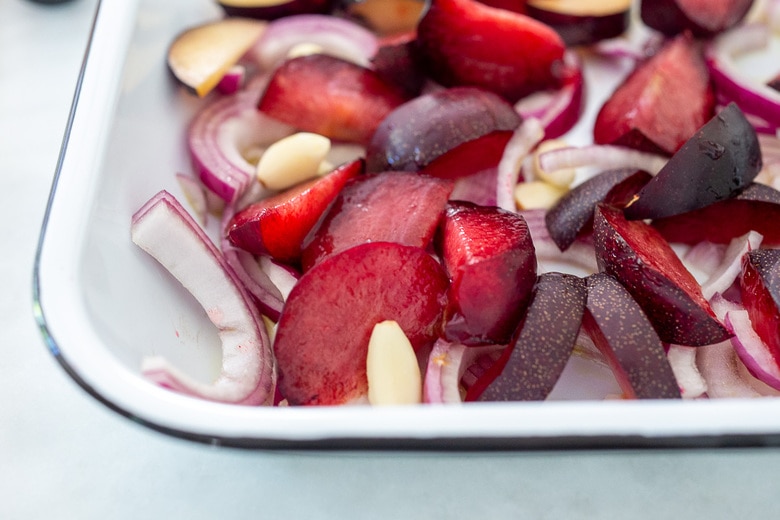 STEP 1: Toss fresh juicy plums with a little olive oil, onion, garlic and ginger. Add fresh chilies if you want a spicy sauce.
TIP: Try to seek out red-fleshed plums- they make the most beautiful sauce. Then be sure to wait until they are soft and juicy! This way you really won't need to add any sweetener.
STEP 2: Roast until tender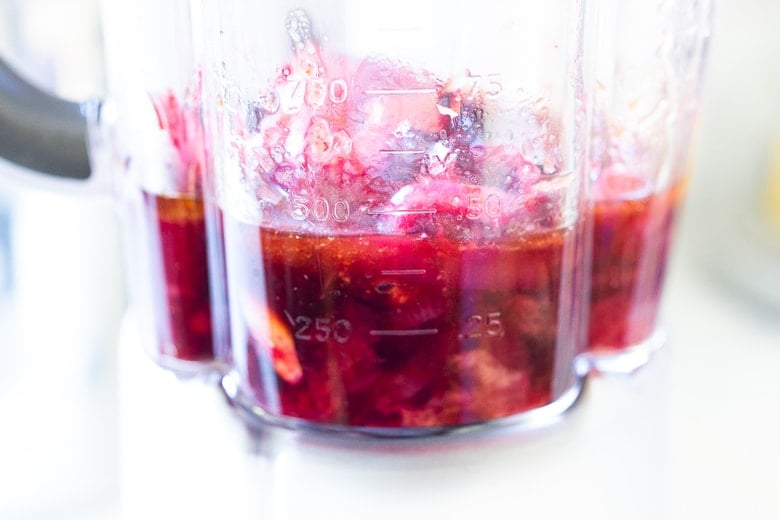 Step 3: Blend the sauce and add the soy sauce, honey, vinegar and the pinch of five-spice. Add a little honey, maple syrup or one prune for sweetness.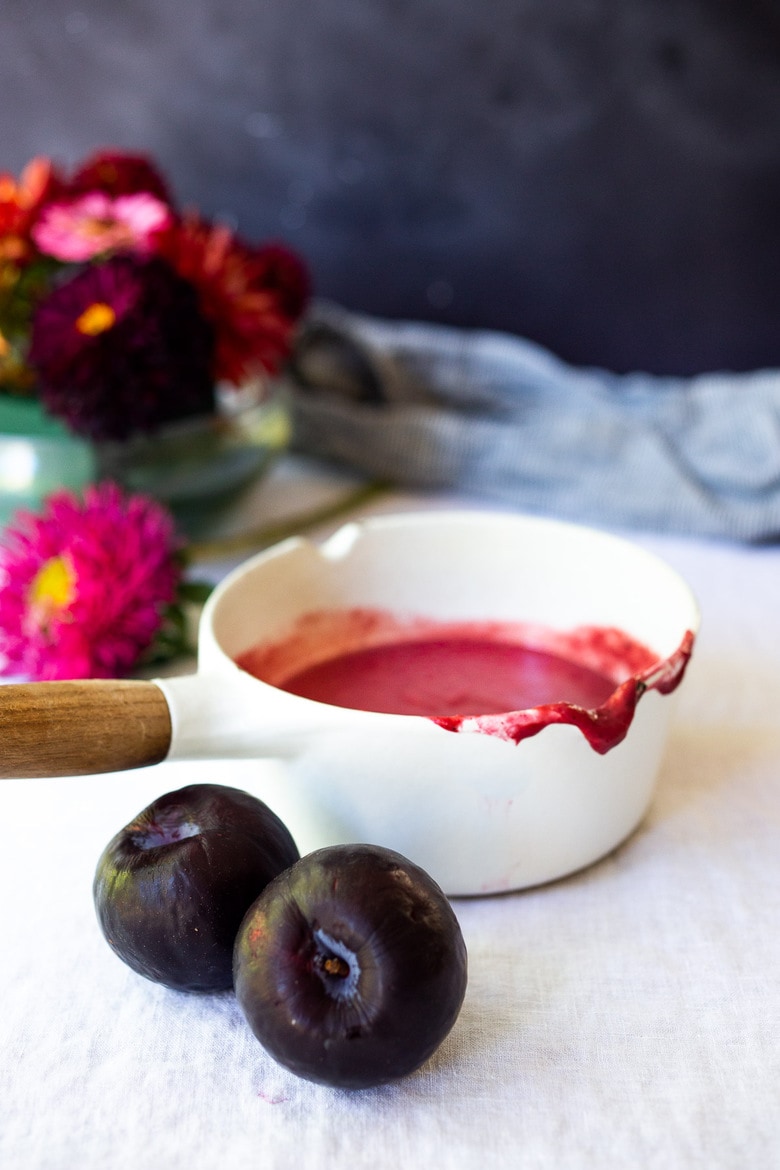 To use the Plum Sauce immediately, heat gently in a saucepan.
Or freeze for the winter months!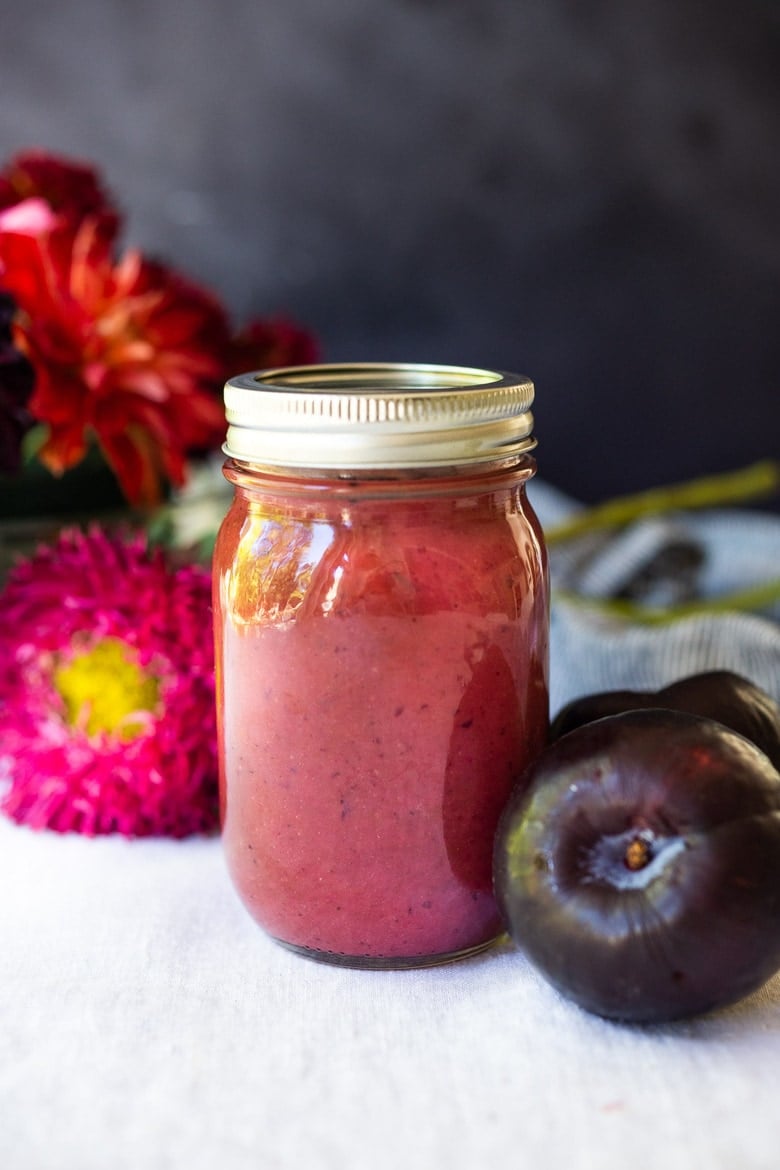 A simple way to preserve a little bit of summer for the colder months.
You may also like:
Print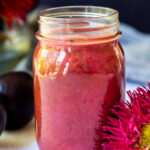 Plum Sauce Recipe
Author:

Sylvia Fountaine

Prep Time:

15

Cook Time:

30

Total Time:

45 minutes

Yield:

2 cups

1

x

Category:

sauces, condiments

Method:

roasted

Cuisine:

Chinese

Diet:

Vegan
---
Description
A Chinese-inspired recipe for roasted Plum Sauce infused made with fresh plums, garlic, shallots, ginger and five-spice to use on chicken, pork or lamb.
---
Plum Sauce:
1

red onion sliced into

1/2

inch rings

1

lb

plums (red-fleshed, soft and juicy!) cut into 1/2 inch thick wedges (4 extra-large plums, 6 medium or 8 tiny plums)

4

–

6

cloves garlic

3

thin

slices ginger, about the size of a quarter, the peel is OK.

3 tablespoons

olive oil or peanut oil.
Fresh chilies ( optional, see notes)
——-

3 tablespoons

soy sauce (or GF liquid aminos)

1

–

3

tablespoons water (optional)

1

–

3

teaspoons honey, maple syrup, (or

one

prune, soaked in hot water)

1/2 teaspoon

pepper

1/4 teaspoon

Five-Spice, more to taste.
pinch cayenne– optional

1 teaspoon

rice wine vinegar (optional)
water to desired consistency: 2-4 tablespoons
---
Instructions
Preheat oven to 450F.
Roast the plums: Slice the shallots or onion and plums and place in a 9 x13 inch baking dish or edged sheet-pan. Add the whole garlic cloves and slices of ginger and drizzle with oil generously to coat. Toss well and place in the hot oven. Check at 15 minutes, (set a timer) toss, lowering the heat to 4ooF. Roast 10-15 more minutes, until onions and garlic are tender.
Blend: Scrape the plums, shallots, garlic (optional chilies- start conservatively)  and

 all the juices and browned bits

 from the pan into a blender. Add the soy sauce and five-spice and pepper. Blend until silky smooth. Add a little water to loosen the sauce, 2 to 4 tablespoons or more. Blend again.
Taste: Add honey (or the soaked prune) and vinegar to taste. All plums have different levels of sweetness and tartness. For example, I added 1 tablespoon honey and 1 teaspoon vinegar. Find the balance. If your sauce is too sweet, add more vinegar. If  it is too tangy add honey. If too salty, add more water. If you want to taste more Five-spice, add another 1/4 teaspoon. For a bit of a kick add chili flakes or cayenne.
To serve now: Place the Roasted Plum Sauce in a saucepan and gently warm over low heat until ready to serve. Serve with pork, 5-Spice Chicken (or Tofu) or lamb!
Freeze: Let cool, then place in a mason jar with at least an inch of headroom for expansion. Tighten the lid and freeze.
---
Notes
Fresh Chilies: If you like a little spice and heat, feel free to add some fresh chilies to the roasting pan with the plums. Add gradually to the blender to taste- getting the heat level perfect for your tastes buds- you don't need to use them all- add them conservatively.  I suggest using red chilies so they don't muddy up the color, like green chilies could. 🙂 Or feel free to just add cayenne or chili flakes at the end.
Nutrition
Serving Size:

¼ cup

Calories:

103

Sugar:

9.8 g

Sodium:

164.6 mg

Fat:

5.5 g

Saturated Fat:

0.8 g

Carbohydrates:

13.8 g

Fiber:

1.5 g

Protein:

1.4 g

Cholesterol:

0 mg
Keywords: Chinese Plum sauce, Plum sauce recipe, Roasted Plum Sauce, Plum ginger sauce, plum sauce recipe, How to make plum sauce