Juicy summer plums are highlighted in this simple recipe for Plum Galette with Buckwheat Crust. The buckwheat is super tasty – but optional here, so don't let it stop you! A pinch of five-spice adds a whisper of the exotic.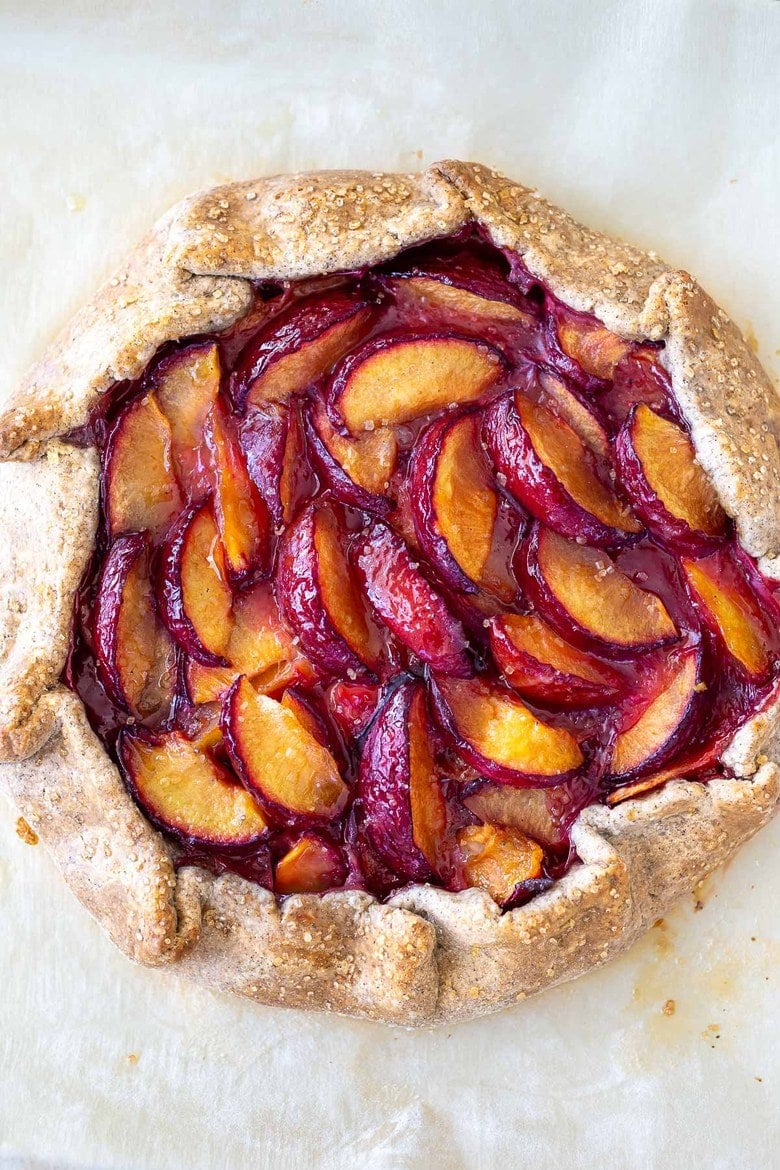 All souls sing, some more softly. ~DM Jenkins
Every time I bite into a juicy ripe summer plum, I am flooded with joy and astonishment. They do something to me. As with most ripe stone fruit, my preferred way of eating them is over the kitchen sink, juices falling where they may. If they are not juicy, they are just not ready.
Immediately transported to my growing up home, eating this way I feel like I'm a kid again. It is a glorious feeling and I highly recommend it. Good for the soul. It's hard not to feel as if plums love us.
If plums manage to make it very long around here, I'll make a galette. Or just roast them and serve warm over cardamom ice cream. It honestly doesn't happen often.
But I was inspired by my friend, Jill's Buckwheat crust, so this happened and wow, so happy it did!
So as most galettes do, it starts with the crust! To save time, make the dough ahead and refrigerate.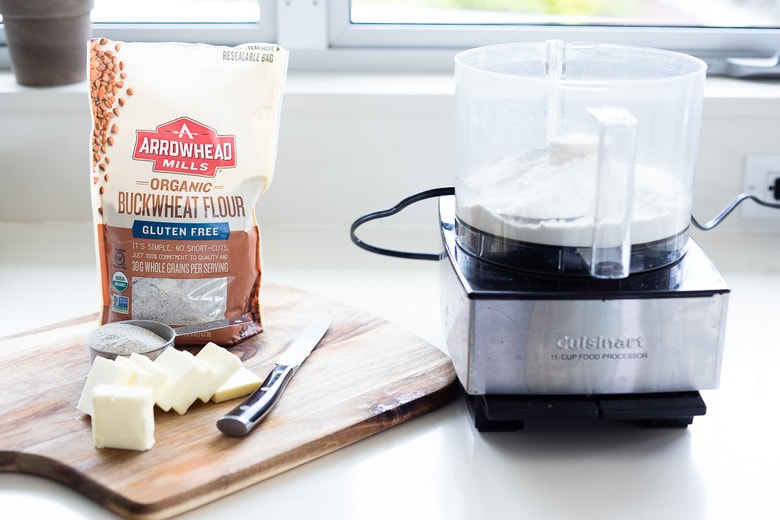 This recipe is adapted from Bon Appetit.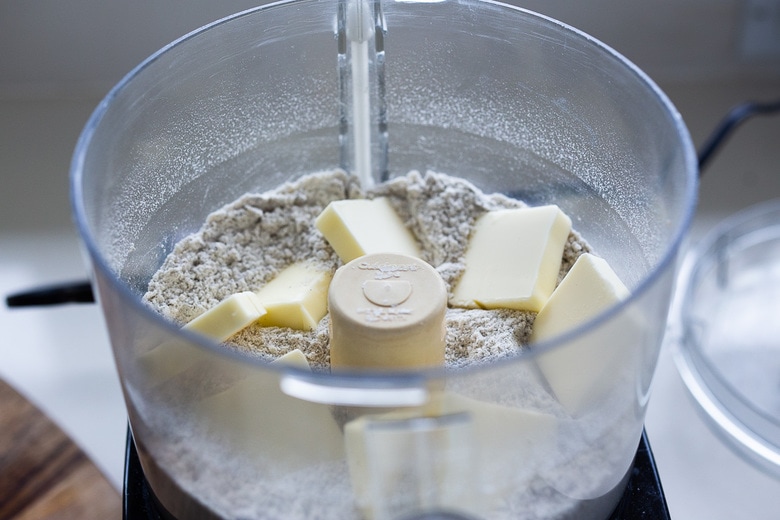 Buckwheat Crust Ingredients:
1 cup AP flour (or try spelt or Einkorn)
1/3 cup buckwheat flour (or just use more of the same above)
2 tablespoons sugar
1 teaspoon salt
10 tablespoons butter (or vegan butter)
1/4 cup ice-cold water
Pulse the dry ingredients together in a food processor.
Add the butter and pulse until coarse, like sand.
Add cold water a little at a time, pulsing until it clumps into a shaggy ball.
I added a little too much water here.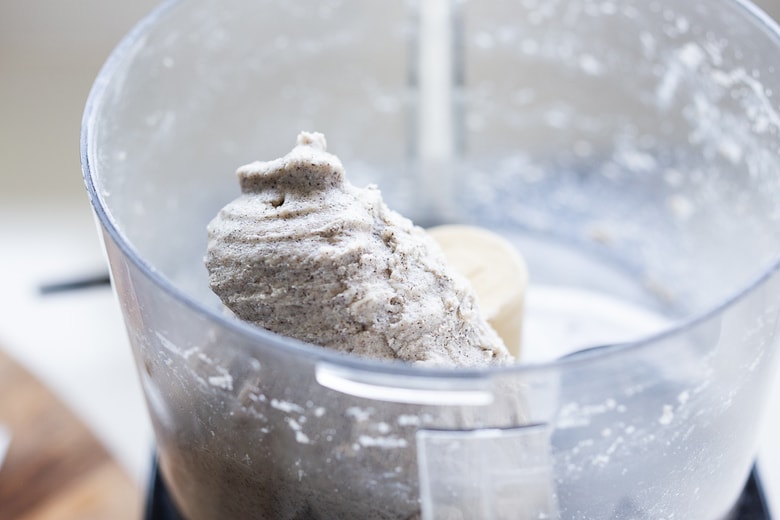 Form two to three balls, stacked, on a well-floured piece of parchment paper.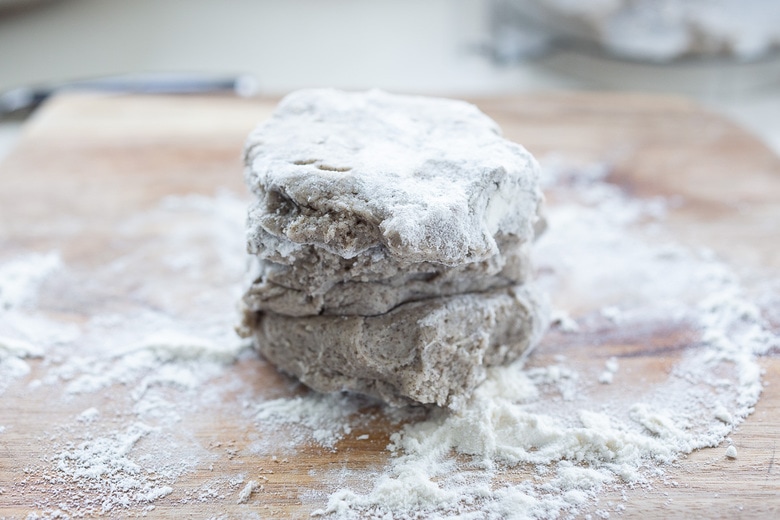 Smash them down into a disk, wrap it up, and refrigerate for 45 minutes or up to 3 days, or even freeze!
My dough is slightly wet here, so if yours looks more shaggy, this is perfectly fine! Better even.
Having a slightly drier dough, (shaggy) will lend a crispier crust.
Refrigerating not only makes the dough easier to work with, but it also allows the flour to get fully hydrated.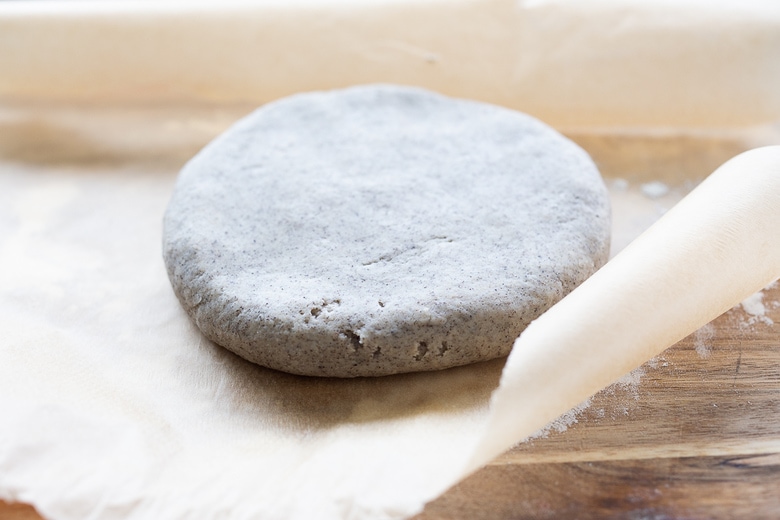 When chilled, loosen it from the parchment, re-flour the parchment and start rolling it out from the middle to the edges, turning as you go.
You'll end up with something roundish, about 13-14 inches in diameter.
Having the parchment, well-floured, will allow you to pick up those edges easily without tearing.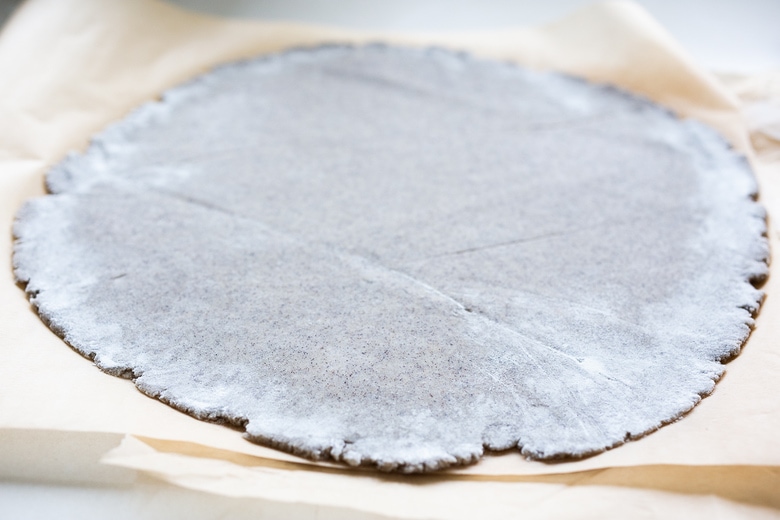 So here about I've got a 13 1/2 inch round. You can leave the edges rough like this, or tuck them in for a smoother look like below.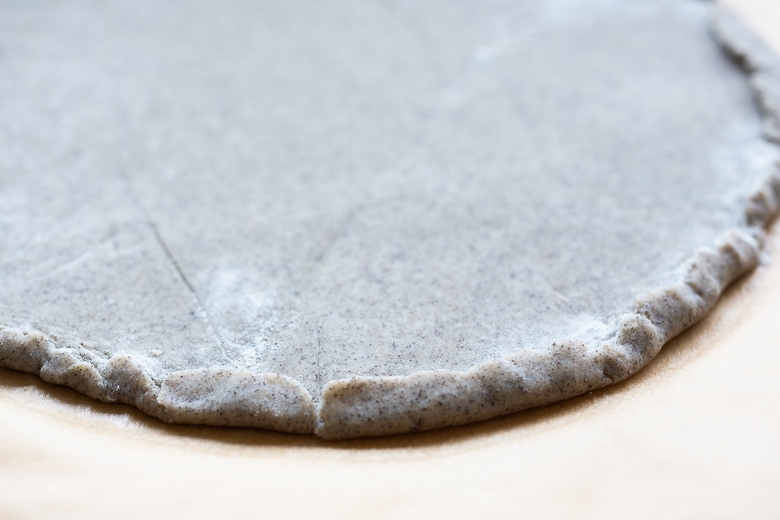 So I've turned the edge over about 1/8 -1/4 inch. No need to be perfect here. In fact, please don't be.
Keep it rustic. It's way more fun. 😉
Place it on a sheet pan.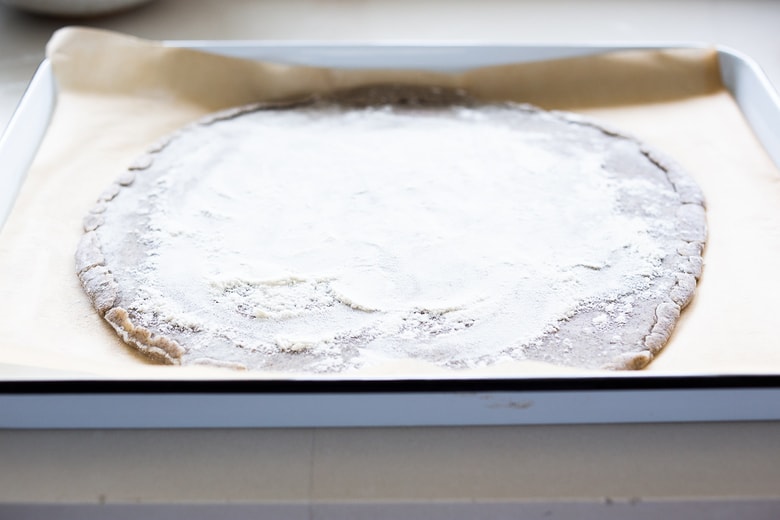 Spoon 2-3 tablespoons of flour on top of the galette crust. This will help hold those flavorful juices inside. Put this whole thing in the fridge, just like this.
Then quickly make the filling.
So it starts with a pound and half of plums.
Cut them into 1/2 inch thick wedges. This will be tricky if they are very ripe. Just do the best you can.
Please see notes for extra juicy plums- I treat them a different way than you see here.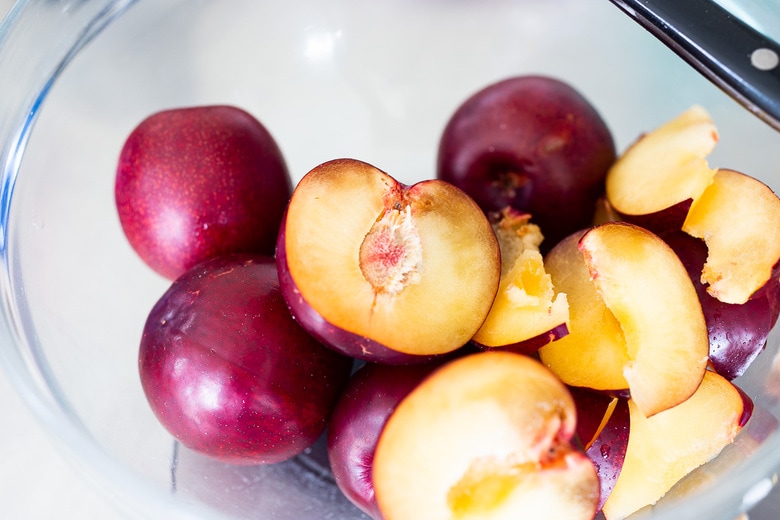 Sprinkle the plums with sugar, flour (or cornstarch) a pinch of salt and a pinch of your choice of cardamom or five-spice ( both are optional).
Mix carefully.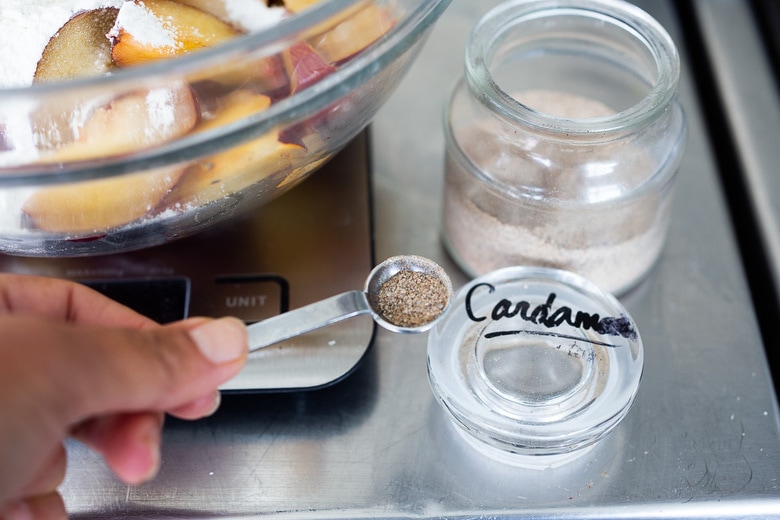 Spoon them over the floured galette dough, leaving a couple of inches of room around the edges.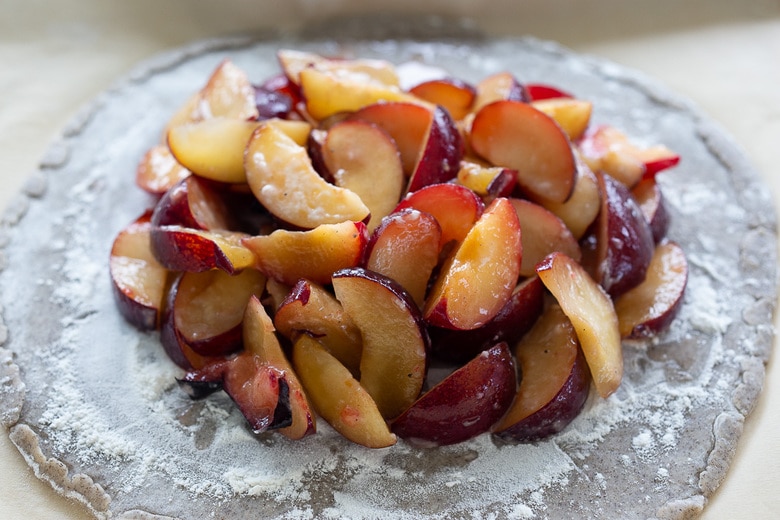 Then make some rough folds before pinching and folding over to one side.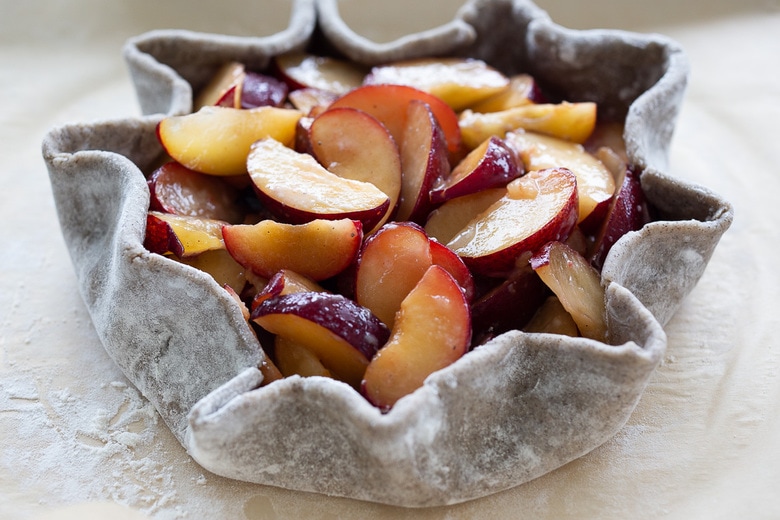 So below, see how I've pinched the folds closed. I like to give a little shake to get the plums into the edges then arrange the top.
Again, no need for perfection here.
Brush the dough with an egg or cream wash and sprinkle with turbinado sugar.
Bake on the middle rack in a 375F oven until nicely golden and bubbling, about 45 minutes or so.
Check at 30 minutes, rotating if your oven temp is uneven.
When it comes out your galette will be golden, and plums fragrant.
For a more glazed look on top, heat some jam (like plum, apricot, or peach) or butter, and brush over top for an extra glazed appearance.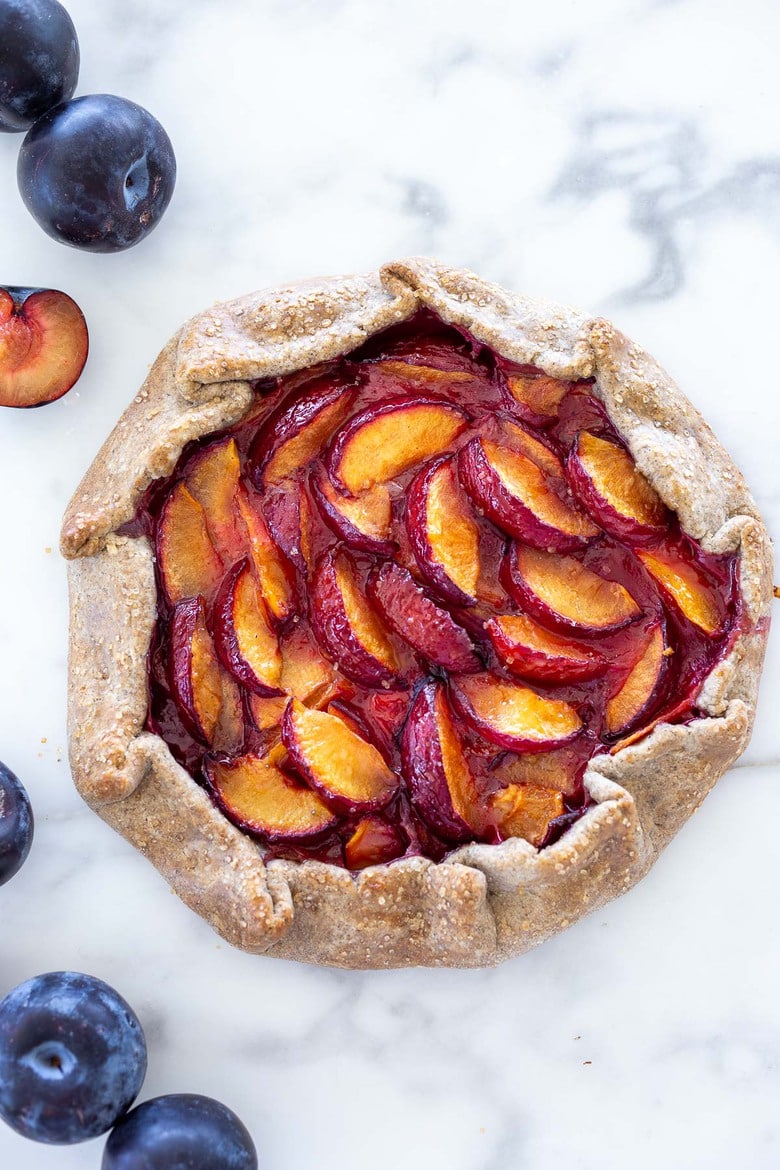 Remember to let it cool at least 20 minutes before diving into it. I swear this is the hardest part of the recipe. 😉
I find it really easy to slide off the parchment right onto the cooling rack if no juices have spilled out.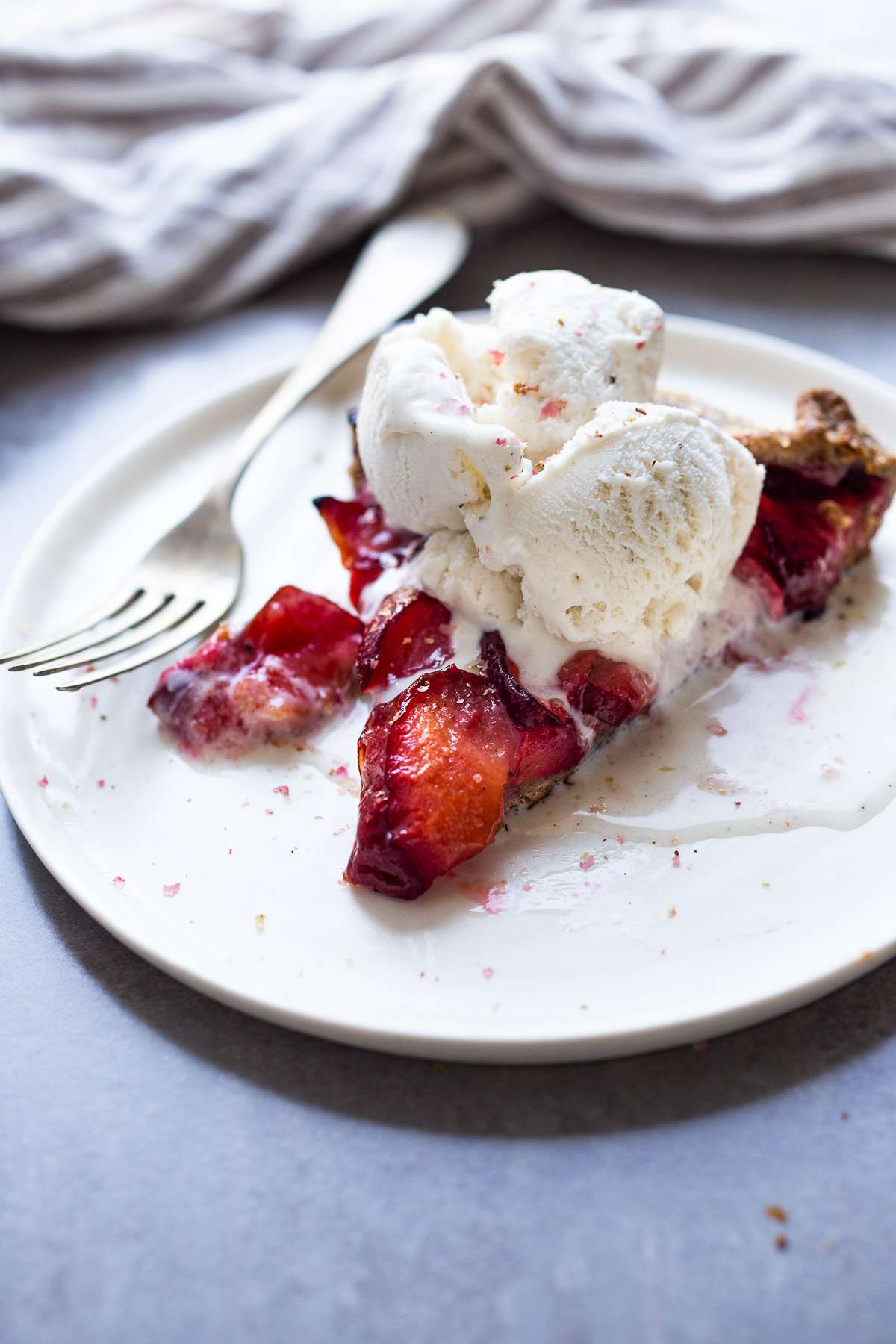 If you can find cardamom icecream, it is the perfect pairing.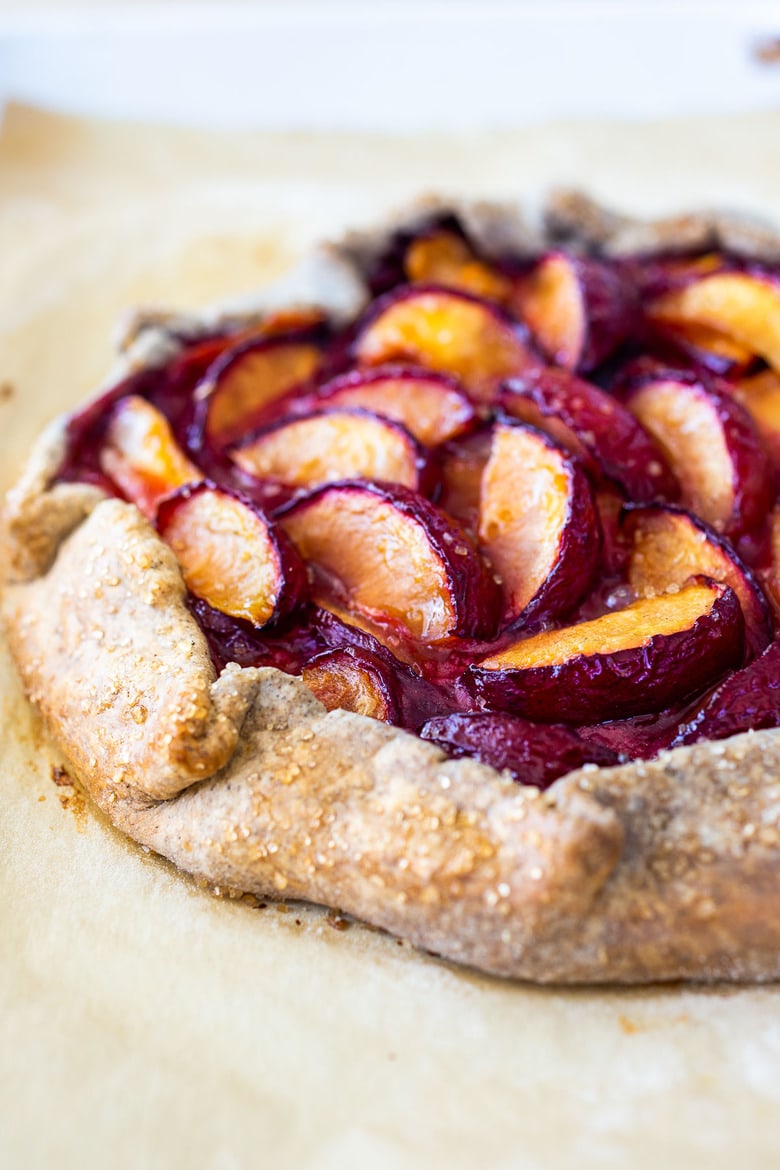 Other Recipes you might enjoy:
If you make this, let us know what you think and please share any adaptions or notes below!
Happy Tuesday,
Print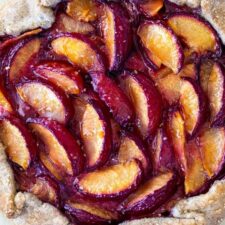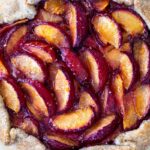 Plum Galette with Buckwheat Crust
Author:

Sylvia Fountaine

Prep Time:

60

Cook Time:

45

Total Time:

1 hour 45 minutes

Yield:

8

Category:

dessert, galette, tart

Method:

baked

Cuisine:

French
---
Description
A simple recipe for Plum Tart (or Plum Galette) with Buckwheat Crust and a hint of cardamon or five-spice. A light and delicious summer dessert, perfect served with ice cream.
---
Crust:
1 cup

AP flour (or sub spelt or Einkorn) more for rolling out

⅓ cup

buckwheat flour (or use same flour above)

2

–

3

tablespoons Sugar. (Use

3

if plums are not fully ripe and juicy)

1 teaspoon

salt

10 tablespoons

cold butter, 1 stick plus two tablespoons, cubed

1/4

–

1/3

cup ice water (lesser is better)
Filling:
1 1/2

lbs plums ( see notes for really ripe)

1/2 cup

sugar

2 tablespoons

flour (or cornstarch)
pinch salt

1/4 teaspoon

5-spice or cardamon,(optional)
---
Instructions
Make the Galette Dough:
Place both flours, salt and sugar in a food processor. Pulse until combined. Add the cubed butter. Pulse repeatedly until it becomes like coarse sand.
Turn the food processor on, and add the water a little at a time… and just add water until the dough clumps into a shaggy ball. Turn it off and place galette dough on a well-floured piece of parchment paper large enough to roll the dough out.
Divide into 3-4 balls, flatten them and place them on top of one another. Flatten into a one-inch thick disk (6 inches wide) Wrap it up and refrigerate 40 minutes or up to 3 days.
Preheat oven to 375F
Remove the dough from the fridge, unstick it, re-flour the parchment (well) and roll it out on the parchment, from the middle outwards, turning, rolling into a 13-14 inch round. You really want to make sure there is a little flour under those outer edges.
To get a cleaner edge, fold an 1/8 of an inch up. ( See photo.) Spread out 2-3 tablespoons flour over the crust to soak up juices.  (See photo.) Place the whole thing, parchment and all, on a sheet pan and if possible, stick it in the fridge. If not possible, then work quickly. 😉
Mix the filling: Cut plums in half and cut into 1/2 inch thick wedges. If your plums are extra juicy, you may need to just cut them away from their pits, on their side on a cutting board. Just do the best you can. If your plums are extra juicy ripe, falling apart plums- see notes. 
Place in a bowl, toss with the sugar, salt, flour and optional spice.
Spoon into the center of the floured-coated galette dough.  Create rough folds in the dough- see photos, bringing all the edges up before folding to one side and pinching. Give a little shake letting the plums settle into those edges. Arrange the top to your liking.
Brush the exposed galette dough with an egg wash (1 beaten egg with 1 tablespoon water) or with cream (or half and half) and sprinkle dough and plums with 1 tablespoon coarse sugar.
Bake on the middle rack until golden and bubbling, 40-50 minutes, checking at 30 minutes and rotating if need be. Get the crust deeply golden.
Let cool on a wire rack for 20 minutes, before serving.
Serve with ice cream. 😉
---
Notes
If your plums are extra juicy and difficult to cut – do not mix them in the bowl with the flour and sugar they will disintegrate. You want to handle them as little as possible. Sprinkle the galette dough with 3-4 tablespoons flour and 1/4 cup sugar. Some folks add ground almonds (3 tablespoons) here to help mop up the juices even more. Spoon the plums in the center leaving 2-3 inches on the edge. Sprinkle with the remaining 1/4 cup sugar, pinch salt and optional spice. Fold edges up and continue with the recipe.
If you are one that likes using less sugar than called for in desserts, but end up with an overly tart, galette, pour a little maple syrup over the baked tart to help mitigate the tartness.
Keywords: plum galette, plum tart, plum crostata, plum dessert recipes, plum recipes, buckwheat crust, buckwheat galette,