Roasted Fig Tart with Goat cheese, Mascarpone Honey and rosemary….using fresh figs, lightly roasted and caramelized in the oven.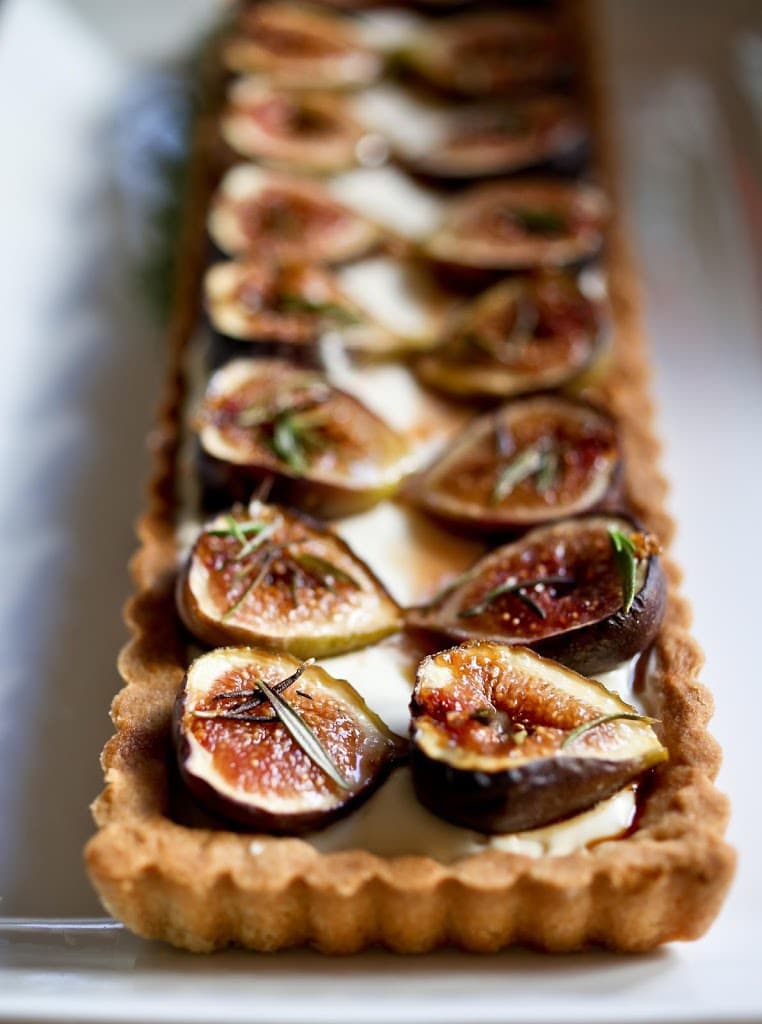 We do not see things as they are. We see them as we are. —The Talmud
Though not local to our area, figs are one of those irresistible fruits that are impossible for me to walk past when they show up at the grocery store each summer. Where I grew up in Southern California, fig trees were a part of the everyday landscape. My next door neighbor had a fig tree and each summer when they ripened, all of us neighborhood kids would sit around the tree and gorge on figs, like hungry little vampires.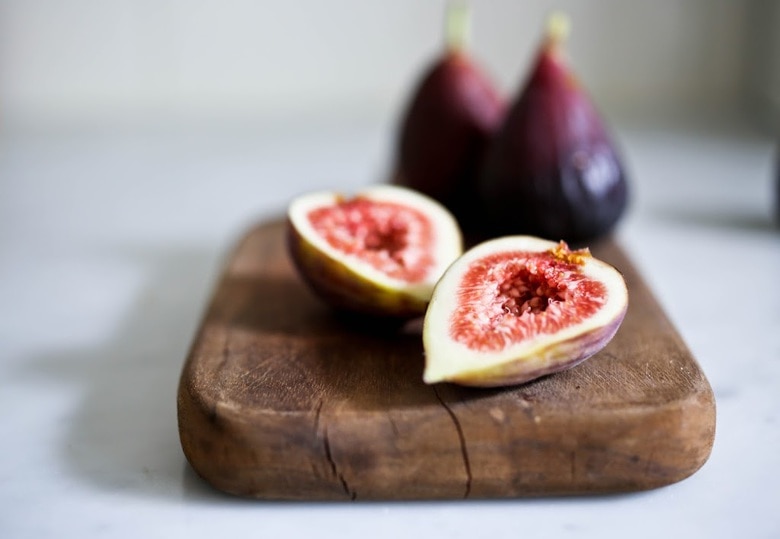 Recently for a friend's birthday, I made this caramelized fig tart with rosemary.  In this dessert recipe figs are sprinkled with brown sugar and fresh rosemary, broiled in the oven until slightly caramelized, and placed on top of a luscious creamy filling made of whipped mascarpone or cream cheese,
goat cheese
(optional) and
honey
, all inside a buttery tart crust. It's an easy recipe and the crust is especially forgiving.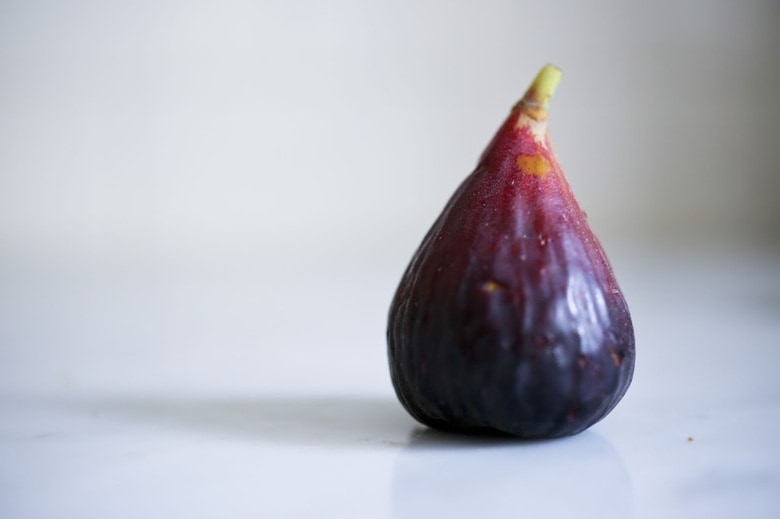 Originating from the Middle East, figs are considered one of the first fruits cultivated by humans, going as far back 9000 BC.  Most people are familiar with them in their dehydrated or dried form- or from the oh so popular cookies, Fig Newtons.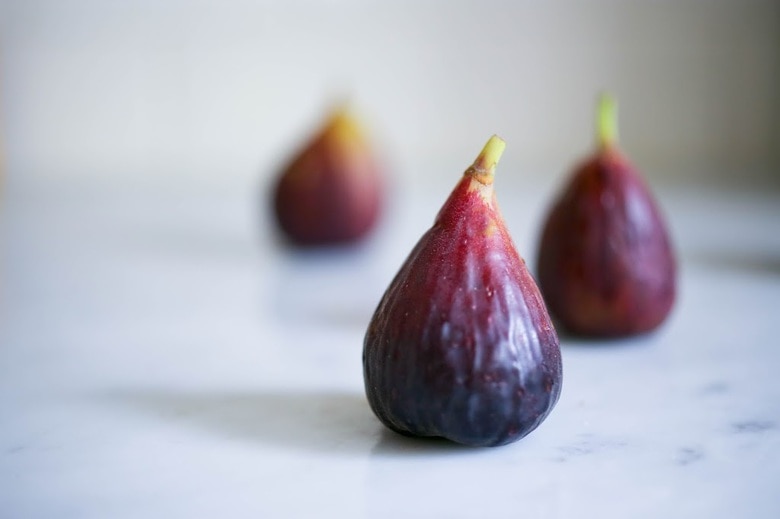 But to taste a fresh fig is a completely different experience.  Ranging in hues from deep aubergine to creamy chartreuse, their colors capture the eye. Soft tender fruit with smooth skin, sumptuous interiors and tiny crunchy poppy-like seeds, figs are a textural delight. Their subtle sweetness entices the taste buds, with a lingering hint of something hidden and mysterious.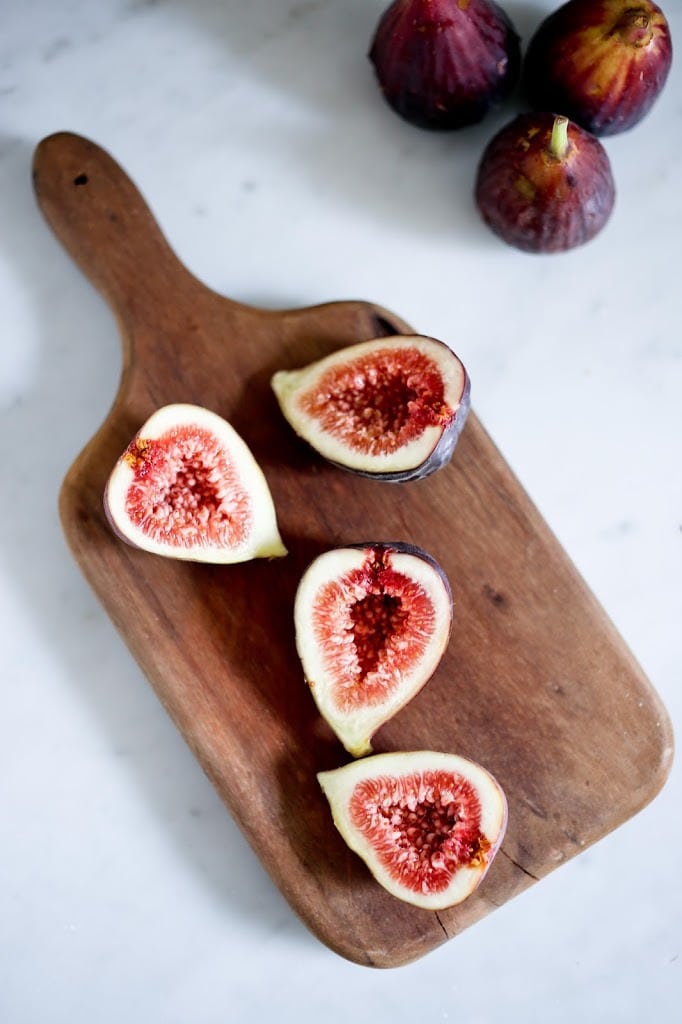 In our catering business and at home we use fresh figs in many different ways, both savory and sweet. Quartered or sliced, drizzled with
honey
and served with a blue-veined cheese, like gorgonzola or cambozola, figs elevate the ordinary cheese plate into something extraordinary.  Atop warm grilled bruschetta, lathered with
goat cheese
, drizzled with
honey
and toasted
pine nuts
, it makes a perfect appetizer bite. And perhaps my favorite way, and one of the easiest, is using fresh figs in salads, tossing with baby arugula, a little crumbled cheese,
toasted almonds
or hazelnuts and a balsamic vinaigrette. So good. But I also love them sweet, in tarts. When catering we often do a mini tart version of these, but today, I used a rectangle tart pan for a more dramatic effect.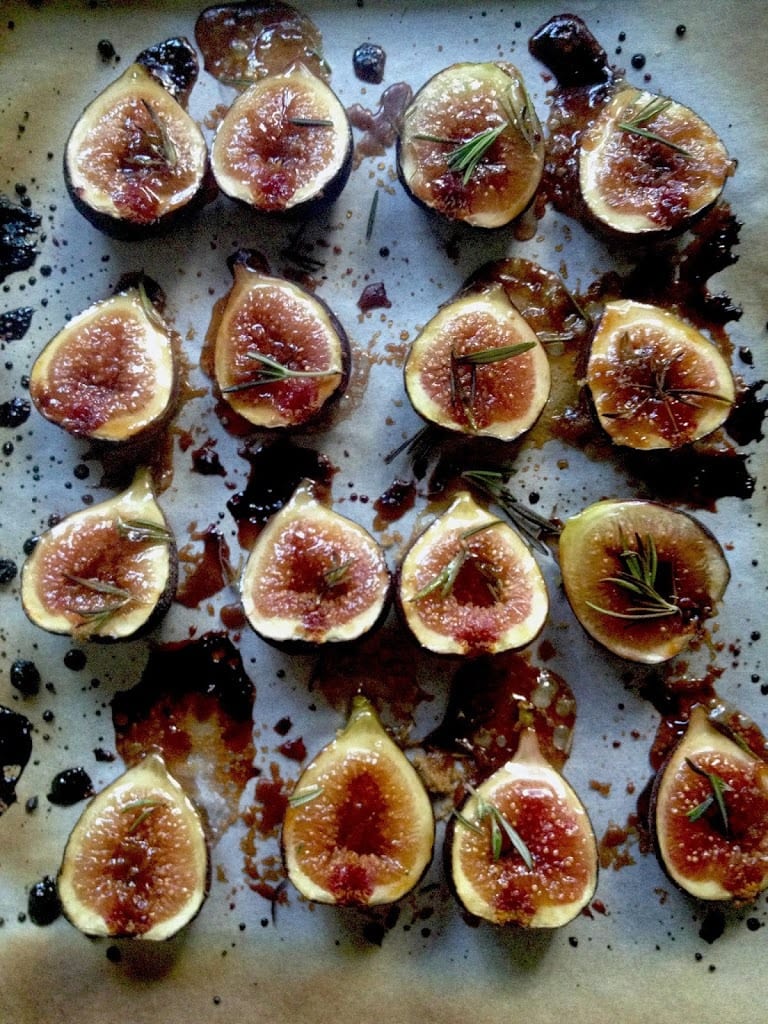 For this tart, the figs are cut in half and placed on a baking sheet lined with
parchment
, sprinkled with brown sugar and a few sprigs of rosemary, and broiled in the oven for just a few minutes until the sugar  caramelizes.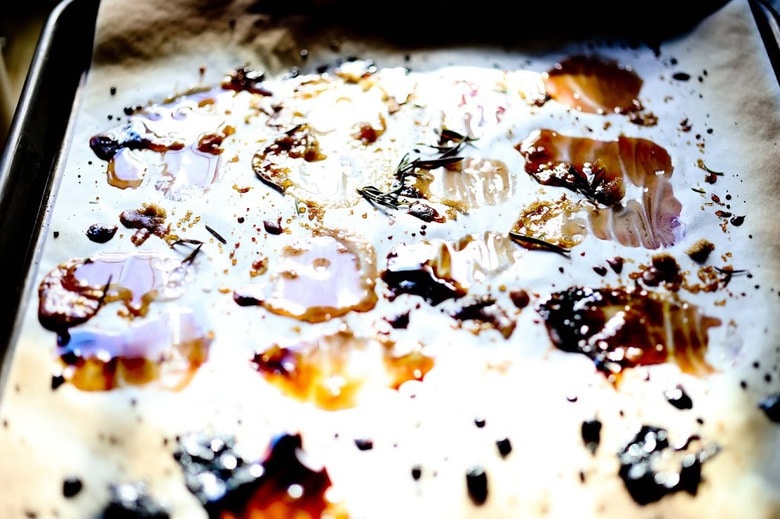 The crust, Pate Sucree, comes together easily and is blind baked in the tart pan first. I love this crust, not only for its buttery nutty taste and texture, but also for it's workability. It's very forgiving.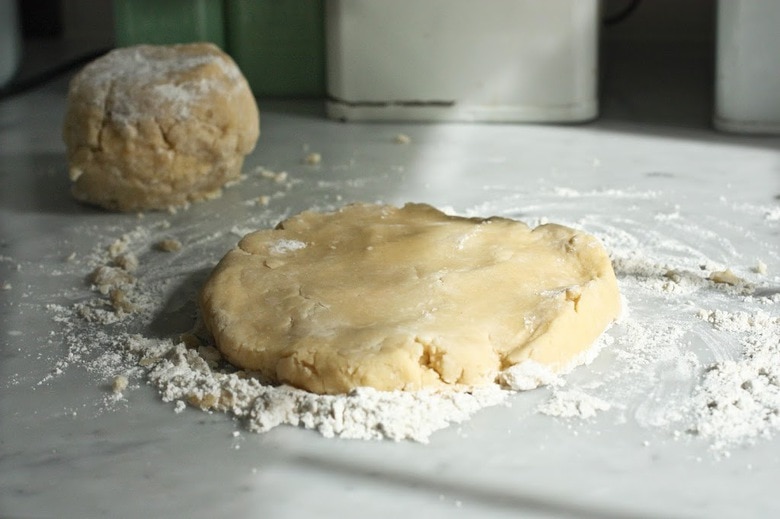 I normally make a double batch of the crust and save one in the freezer, double wrapped in plastic, for another use. Its nice to have one on hand.
Bake the crust in a tart pan with removable bottom and let cool.  Whip up the room temperature  mascarpone or cream cheese with
goat cheese
adding the
honey
and yogurt.  If you are a little unsure about adding
goat cheese
to a "dessert" tart, swap it our for more cream cheese. I like the
goat cheese
for the depth, hint of saltiness and tartness. It adds subtle dimension which foodies will enjoy.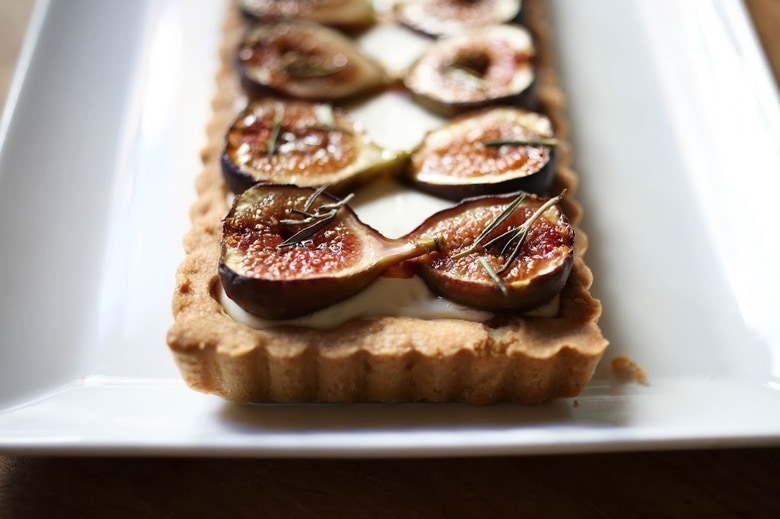 Fill the cooled crust with the filling and top with the figs. Refrigerate until ready to serve.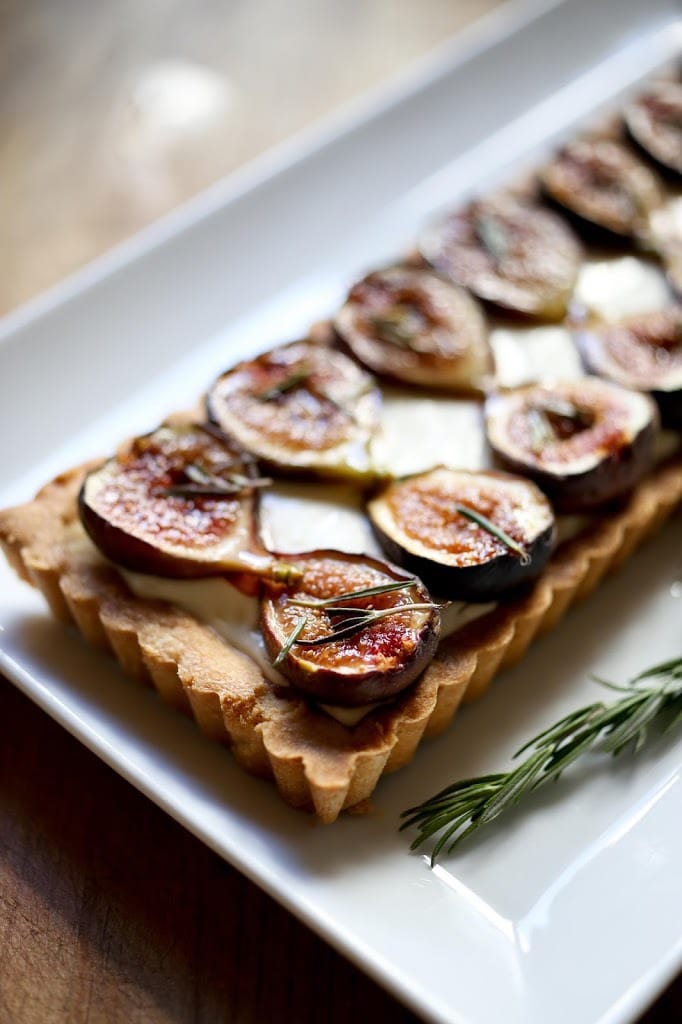 Sometimes I drizzle a little reduce balsamic syrup over the top.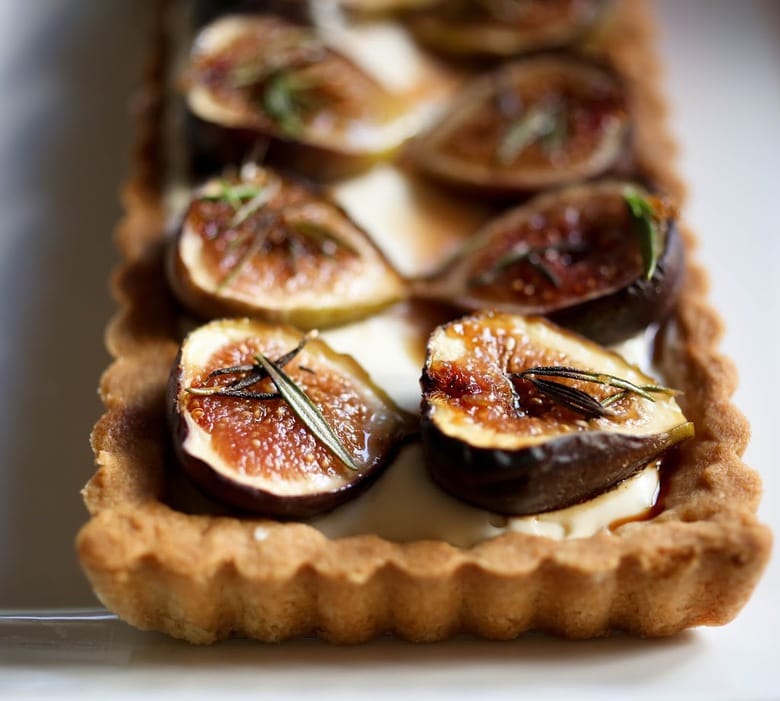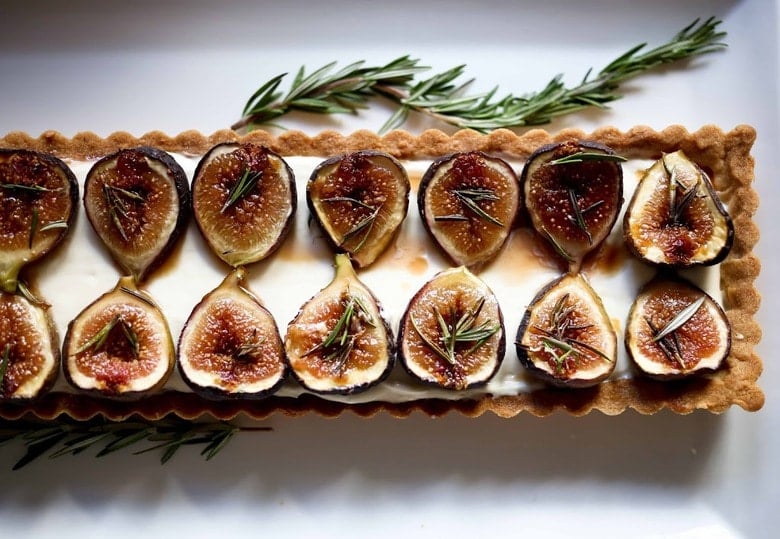 Rosemary Fig Tart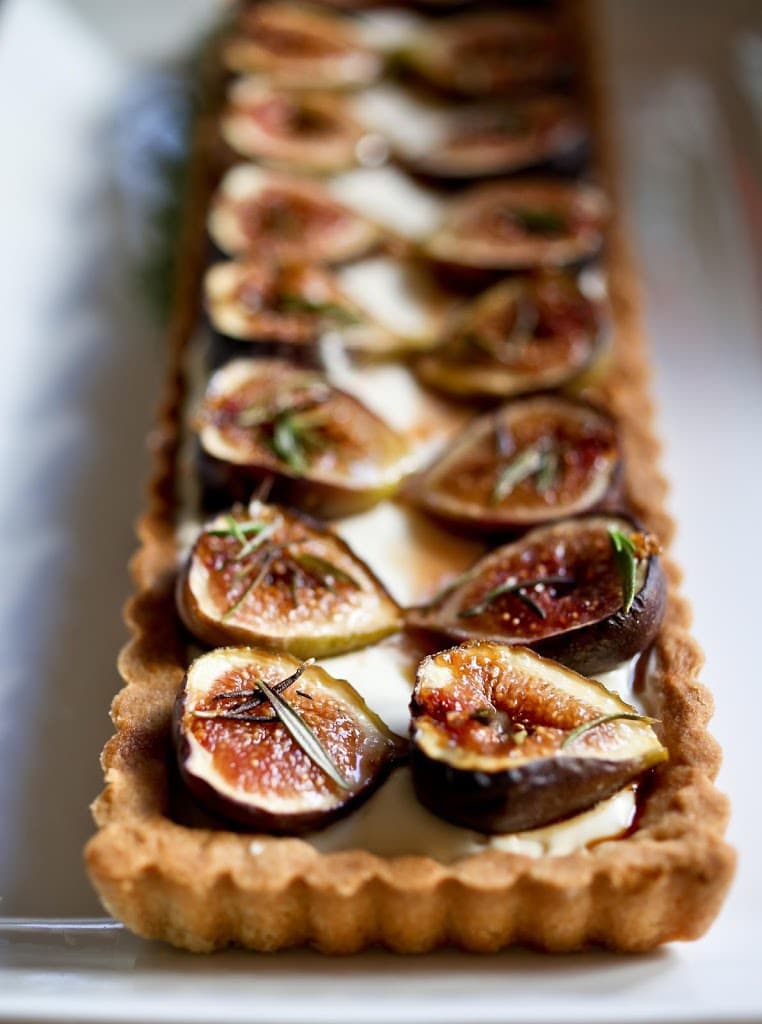 ROSEMARY FIG TART by Sylvia Fountaine, feasting at home blog August-10-2013
1/2 C butter at room temp
1/4 C sugar
1/2 tsp kosher salt
1 C flour
1 large egg yolk
8 ripe figs, de-stemed and halved
3 T brown sugar
3 rosemary springs
 8 oz mascarpone  or cream cheese at room temp
4 oz goat cheese at room temp  ( or sub 4 oz. cream cheese)
1/4 C plain greek yogurt
1 T Sugar
1/8 C honey
Remove from refrigerator and let soften until pliable. With rolling pin flatten to 1/2 inch in desired shape. I used a 13 by 4 inch tart pan. A 10 inch round tart pan will work well too. Flour your work surface really well so dough does not stick, and sprinkle the top of dough with a little flour. Roll out dough, starting in middle and rolling outward, to a 1/4 inch thick disk or rectangle, depending on your tart pan.
Don't worry if dough tears or crumbles, it's easily pressed together in the tart pan. Lift over the rolling pin and place in tart pan with removable bottom. Patch holes or tears by pressing dough with fingers. Press dough into sides, corners and bottom. Roll the rolling pin over the top of the tart pin for a clean even edge. Refrigerate 30 minutes -this is important.
Bake at 350 for 30 -35 minutes, positioned in the center of the oven, until golden and delicious smelling. Let cool before filling and remove tart ring.
Fill cooled tart shell and top with figs. Refrigerate before serving.
Prep time: Cook time: Total time: Yield: 6-8