This Apricot Tart is one of my favorite summer desserts. A Pate Sucree crust holds a creamy mascarpone filling topped with honey-roasted apricots infused with a whisper of star anise.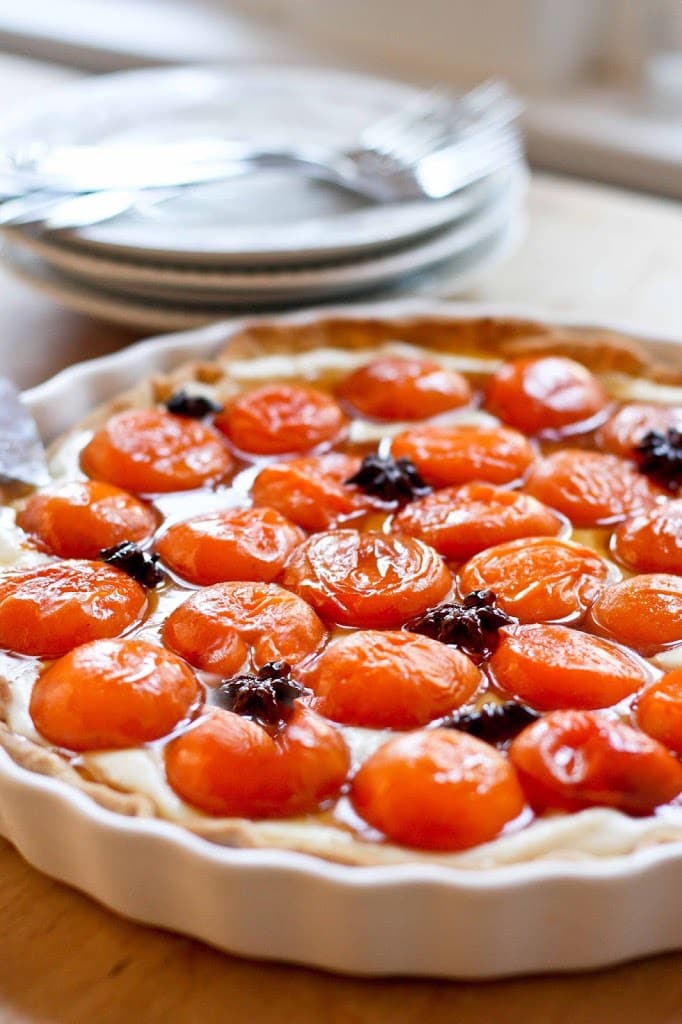 When in season, locally grown apricots are just heavenly.  In this scrumptious Apricot Tart, apricots are drizzled with honey that has been infused with star anise, and roasted in the oven briefly until just tender and collapsing.
This is one of my all-time favorite dessert recipes because the apricots paired with the star anise is utterly divine.
The crisp cookie-like texture of the crust holds up beautifully to the light mascarpone and yogurt filling, adding a welcome sweetness that balances out the acidity of the apricots.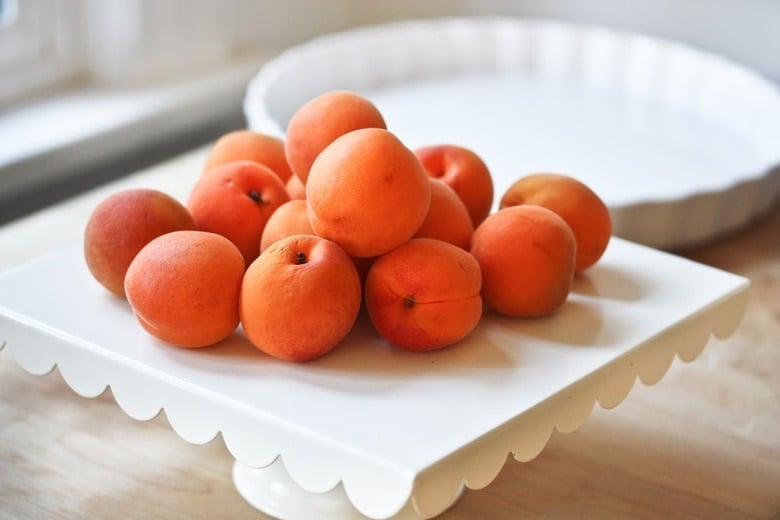 Tenderness. This word comes to me when holding a perfectly ripe apricot. A velvety soft being, alive, yet so tender to the touch, easily split open with two thumbs. Inside, the kernel is surrounded by orange-colored flesh.  I think about tenderness… and when we humans are at our most tender. The place where we are soft enough to let life open our hearts.
Perhaps when one looks at the face of their newborn baby, meeting them for the first time. Or how after heartbreak or loss, our hearts become vulnerable yet more open, and compassionate.
Ingredients Notes:
Apricots: Too often, apricots purchased at grocery stores can be disappointing.  To have a better chance of getting good-tasting ones… try to buy them locally. This way they are able to stay on the tree longer developing more flavor and sweetness.
Whether it's at a farmer's market or fruit stand on the side of road, you'll have a much better chance of getting an apricot that actually tastes like an apricot.  If an apricot is good, it will blow you away with its flavor and fragrance.  Tender, fragrant, and the perfect balance between sweet and tart. This is what apricots should taste like.
The tenderest, sweetest, full-flavored apricots are those left on the tree long enough to ripen. Those that remain connected to their source.
A good reminder…
How to make an Apricot Tart
 It starts with the crust. Pate Sucree is a sweet French crust. Is easy and fast to make and with a little patience, fairly easy to work with. The dough comes quickly together in a
food processor
or
stand mixer
.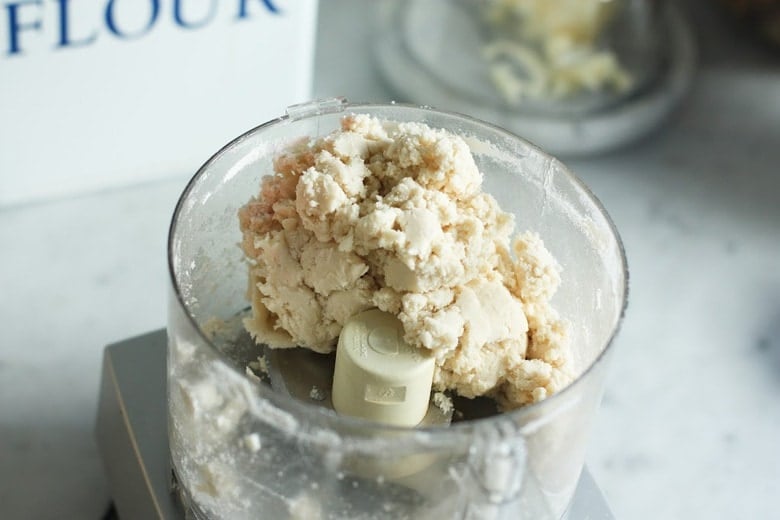 Step 1:
Place the flour,
salt
, sugar and chunks of butter in a
food processor
and pulse until it is the texture of sand. Gradually add the beaten eggs and cream until it just comes together. Do not overwork.
Step 2:  Place on a floured surface and divide dough in two and place one in the freezer for another time. If the dough is too soft, place in the fridge for 5-10 minutes. It's easier to handle when chilled and slightly firm.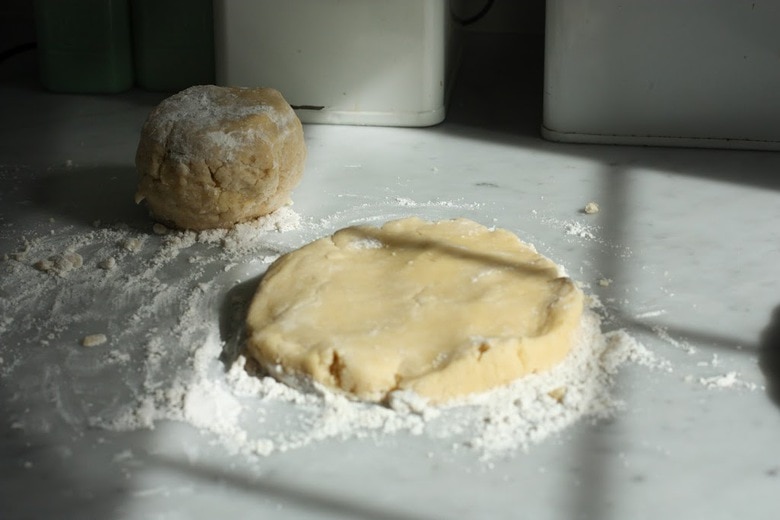 Step 3: On a floured surface, press into a disk. Roll out to a 1/4 inch thickness, rolling from the middle out.  To place it in the tart pan, start at one end and wrap the crust around your rolling pin. Gently unwrap it over the tart pan.
Pate Sucree does not have to be perfect, and in fact, will probably crack and tear a bit. Not to worry, just press it into the tart pan.
Step 4: Using your fingers and palms, patch up any broken spots or tears. Press it up the sides and into the corners. It's very pliable. To remove excess dough, roll the rolling pin lightly over the top for a nice clean edge. Smooth out with your fingers. Prick the bottom with a fork.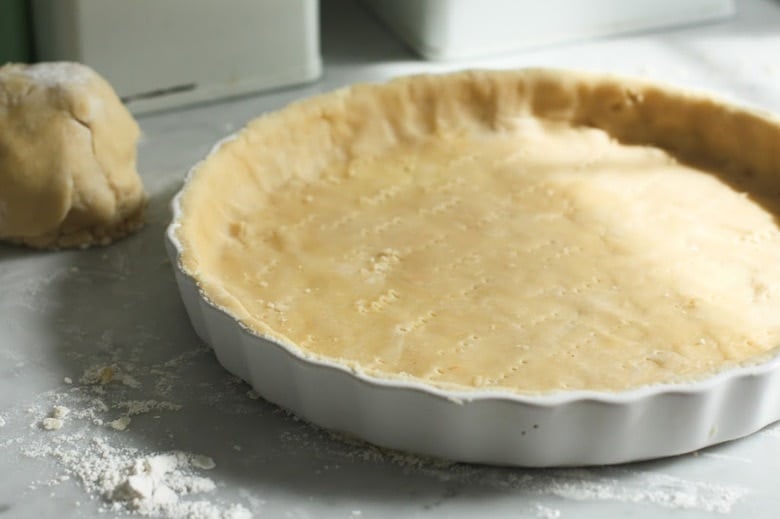 Step 5: Freeze for 30 minutes (or refrigerate for 1 hour).
Step 6: Line tart pan with parchment. Fill the lined tart with a generous amount of rice, dried beans or pie weights. This will ensure that it holds it shape and edges will not sink. Place in 400F oven for 15 minutes, until set. Gently remove tart from the oven and carefully lift out the parchment and rice. Place tart back in the oven for another 10-15 minutes, until nicely golden. Cool completely. You can make this ahead.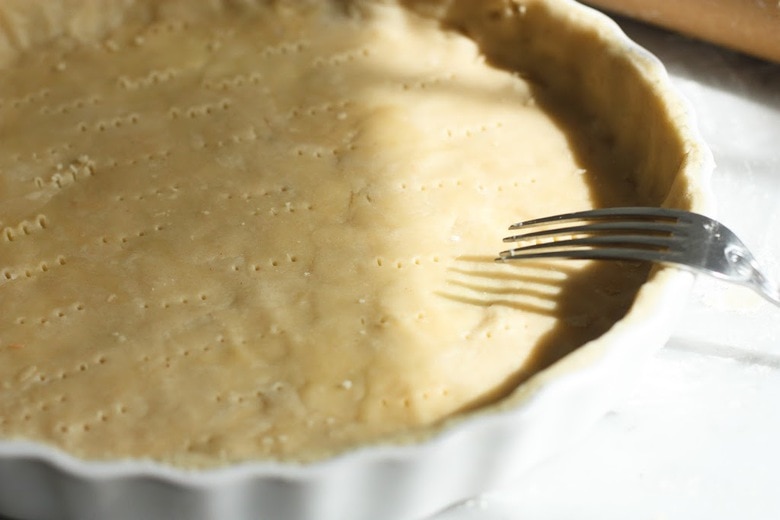 Step 7:
  Star Anise-infused honey gives the roasted apricots a subtle exoticness and it is so simple! Honey can be easily infused with different flavors by simply heating it up for a few minutes and letting whatever spice or herb steep into it for 30 minutes or overnight.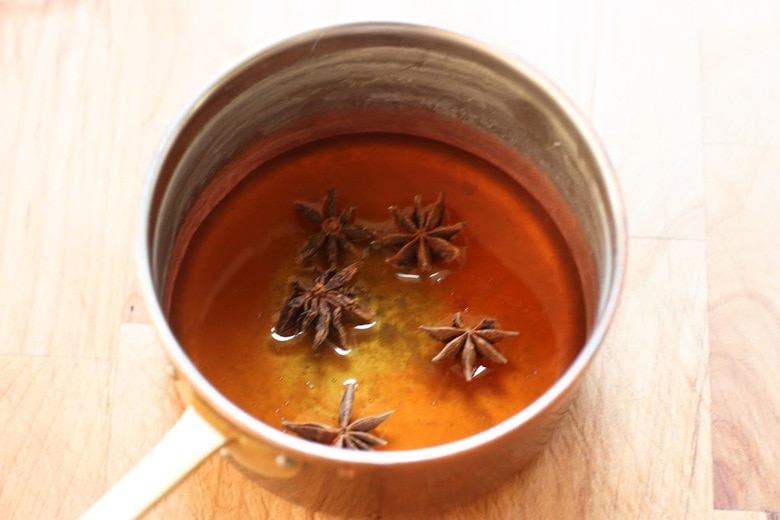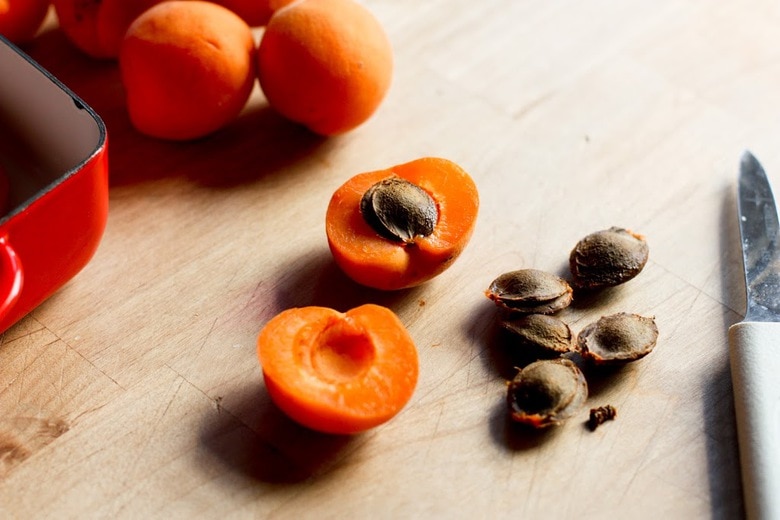 Step 8: Apricots are drizzled with the star anise-infused honey, then roasted in a 400F oven for 7-10 minutes. It doesn't take very long…so be vigilant. Leaving them too long in a hot oven will result in mushy collapsed apricots. You don't want this. You want them to hold their shape. The time is dependent on the ripeness of the apricot. Ripe apricots will literally take a few minutes. Less ripe, longer.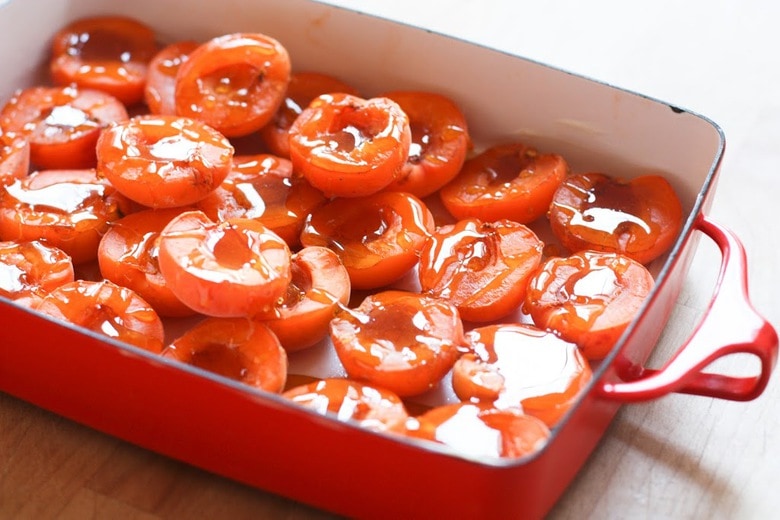 Step 8: Fill the tart with the mascarpone-yogurt filling. Top with the honey-roasted apricots, and garnish with star anise. Refrigerate for 3-4 hours.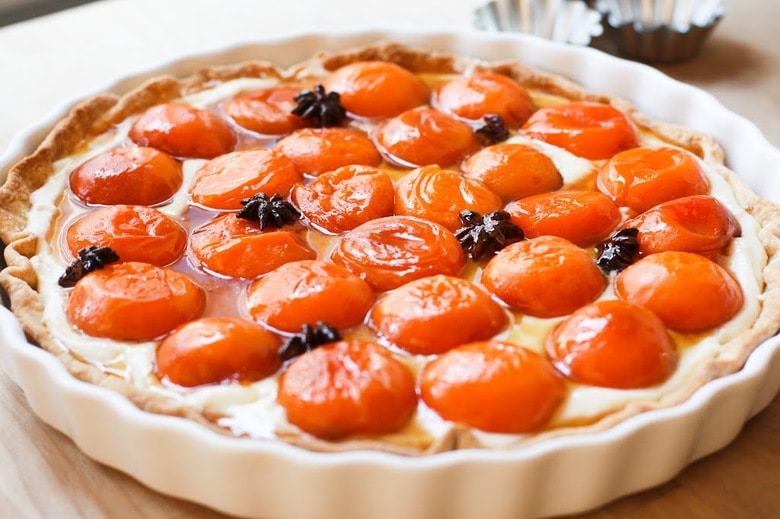 A decadent dessert that is best made with seasonal apricots.
Hope you enjoy this one. I love it, hope you do too.
xoxo
Sylvia
More recipes you may like
Roasted Fig Tart with Honey and Mascarpone
Rhubarb Tart with Lemon, Cardamom & Vanilla
Summer Berry Tart with Shortbread Crust
Print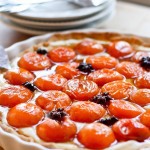 French Apricot Tart
Prep Time:

1 hour

Cook Time:

30 minutes

Total Time:

1 hour 30 minutes

Yield:

8

-

1

0

1

x

Category:

dessert

Method:

baked

Cuisine:

pacific Northwest
---
Description
A decadent Apricot Tart infused with star anise. This is hands down one of my favorite desserts, but it does take time. Make sure to read the directions all the way through first. It's much easier if you make the tart shell and infused honey a day ahead. Allow 2 hours chilling time.
---
 Pate Sucree Crust 
1/8

cup

half and half or cream

1

large egg yolk

1 1/2

cups

flour

1/4

cup

sugar

1/8 tsp

kosher salt

1/2

cup

cold unsalted butter , cut into small 1 inch chunks
1/2

cup

honey

1 tablespoon

water

8

whole Star Anise pods

10

–

12

Apricots- semi-firm
Mascarpone cream
1

cup

( 8 oz) mascarpone at room temp (or substitute cream cheese)

1

cup

plain greek style yogurt

1 teaspoon

vanilla
---
Instructions
Make the crust: (it's nice to make this a day ahead) In a small bowl, beat egg yolks and cream. In a food processor, combine flour salt and sugar. Mix well. Add butter. Pulse until texture is like sand. Gradually add egg mixture and pulse until it forms a ball. If the mixture seems dry or is not forming a dough, add a tablespoon of ice-cold water. Form a ball, place on a plastic wrap, flatten, wrap and refrigerate 1 hour or overnight.
Place dough between two layers of parchment and roll it out until 1/4 in thick, rolling from the middle out. It may not look perfect, with cracks and uneven edges. Not to worry, you can tidy it up in the tart pan. Starting at one edge, wrap dough around the rolling pin and lift it onto the tart pan. Unwrap and gently start pressing it into the pan, patching up any tears and pressing it into the sides and corners with your fingers. To remove excess dough, roll the rolling pin lightly over the top for a nice clean edge. Smooth out with your fingers. Prick the bottom with a fork. Freeze for 30 minutes and preheat the oven to 400F.
Line the tart shell with parchment paper. Fill the parchment-lined tart with pie weights, beans, or a generous amount of rice. This will ensure that it holds its shape and edges will not sink.
Place in 400F oven for 15 minutes, or until set. Gently remove the tart from the oven and carefully lift out the parchment and rice.
Place tart back in the oven for another 10-15 minutes uncovered, until nicely golden. Cool completely. You can make this ahead.
Make the infused honey. In a small saucepan add 8 star anise seed pods to 1/2 cup honey  and 1 tablespoon water and heat to a low simmer for 5-7 minutes, stirring and coating star anise with honey. Let steep for at least 30 minutes or preferably overnight. You can do this ahead.
Roast the apricots: Cut apricots in half and remove stones. Place in a buttered baking dish,  open side up. Drizzle all but 3 tablespoons of the infused honey (which you will use for the mascarpone filling) over the apricots. Place in a 400 F oven for  5 minutes, check for doneness, and swirl baking dish a bit to allow honey to fully coat the apricots on all sides. On average, they will need a total of 10 minutes in the oven. They should be just tender, but still hold their form. Very ripe apricots will done in less than 10 minutes. Less ripe will take longer. So check frequently as they can deflate and turn into mush in a matter of minutes.
Make the Filling: Let mascarpone come to room temp. In a stand mixer with the paddle attachment ( or by hand) mix the  3 tablespoons of star anise– infused honey into mascarpone until fully incorporated. Whisk in the yogurt.
Assemble: Fill the cooled tart shell with Mascarpone Yogurt Cream. Top with roasted apricots. Drizzle the remaining star anise honey from the apricot's roasting pan over the entire dessert. Use star anise as garnish. Let chill for a few hours to set. Or you could chill the tart with just the mascarpone, letting it set, and just before serving place the warm apricots over the tart.
---
Notes
Feel free to make the crust, filling and infused honey ahead, and assemble the day of serving.
Store Apricot tart in the fridge for up to 5 days.
Nutrition
Serving Size:
Calories:

452

Sugar:

25.2 g

Sodium:

52.9 mg

Fat:

29.6 g

Saturated Fat:

19.8 g

Carbohydrates:

39.9 g

Fiber:

1.2 g

Protein:

6.5 g

Cholesterol:

101 mg
Keywords: apricot tart, apricot tart recipe, best apricot tart, apricot recipes, apricot dessert recipes, apricot recipes, roasted apricot tart