Honey Roasted Apricot Tart – infused with star anise! A simple delicious dessert that highlights fresh summer apricots!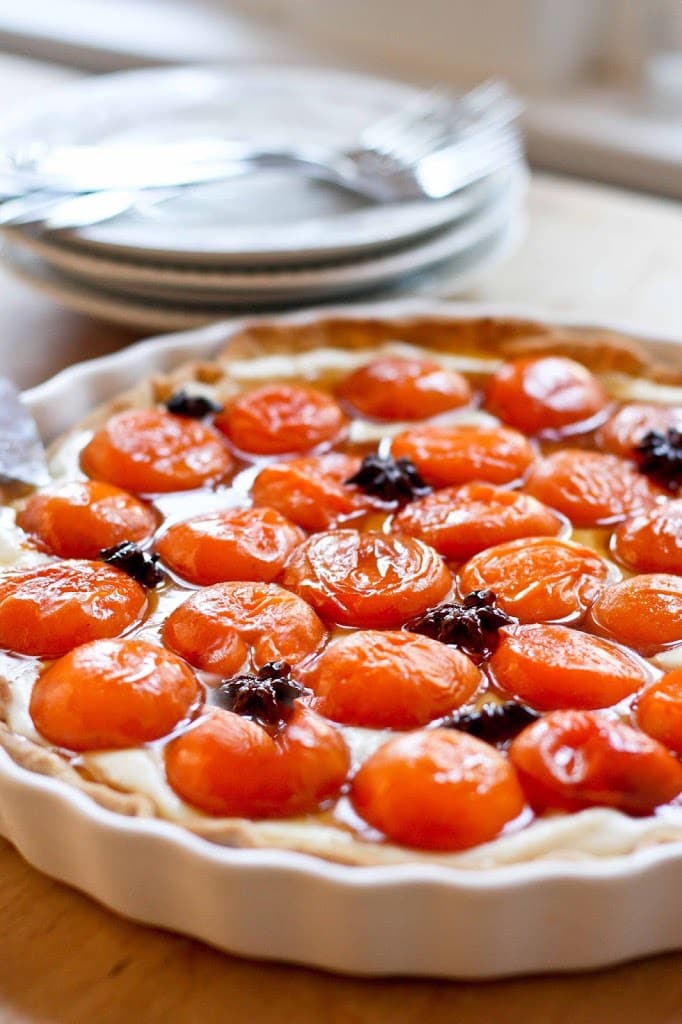 When in season, locally grown apricots are heavenly. In this Honey Roasted Apricot Tart, apricots are drizzled with a star anise-infused honey and roasted briefly until just tender.
This is one of my all time favorite dessert recipes because the apricots paired with the star anise is utterly divine. The crisp cookie like texture of the crust holds up beautifully to the light mascarpone and yogurt filling, adding a welcome sweetness that balances out the acidity of the apricots.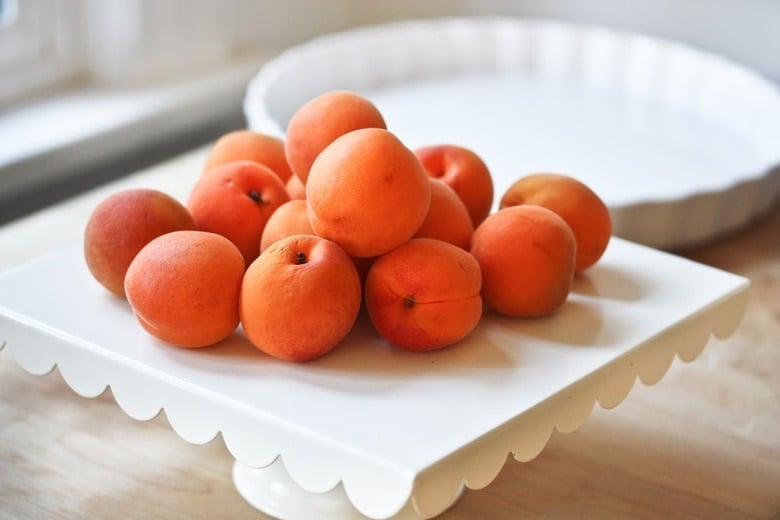 Tenderness. This is the word comes to me when holding a perfectly ripe apricot. A velvety soft being, alive, yet so tender to the touch, easily split open with two thumbs. Inside, the kernel is surrounded by orange colored flesh. I think about tenderness… and when we humans are at our most tender. The place where we are soft enough to let life open our hearts.
Perhaps when one looks at the face of their newborn baby, meeting them for the first time. Or how after heartbreak or loss, our hearts become vulnerable, yet more open, compassionate. As my father ages, continuing to forget more and more, tenderness slowly and gently takes over the hard places in my heart. The hard knots of unforgiveness gradually loosening. It surprises me.
Too often, apricots purchased at the grocery stores can be disappointing. To have a better chance of getting good tasting ones… try to buy them locally. This way they are able to stay on the tree longer developing more flavor and sweetness. Whether it's at a farmer's market or fruit stand on the side of road, you'll have a much better chance of getting an apricot that actually tastes like an apricot. If an apricot is good, it will blow you away with its flavor and fragrance. Tender, fragrant, and the perfect balance between sweet and tart. This is what apricots should taste like.
The tenderest, sweetest, full flavored apricots are those left on the tree long enough to ripen. Those that remain connected to their source.
A good reminder….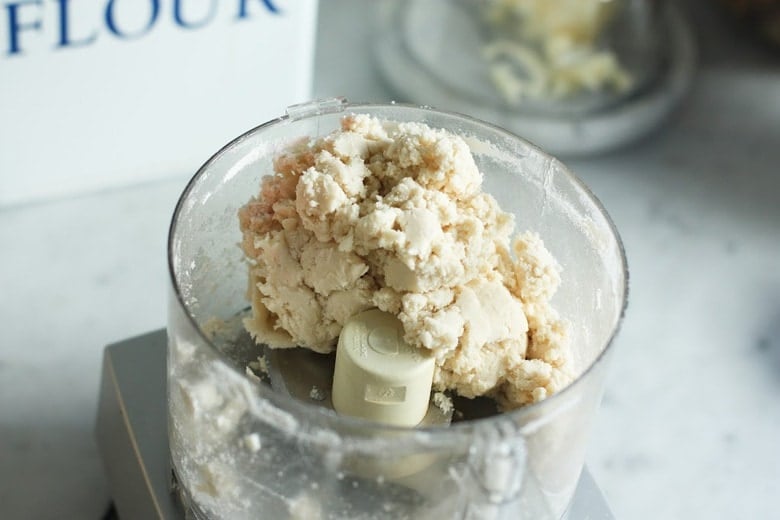 Pate Sucree, a french sweet crust, is easy and fast to make and with a little patience, fairly easy to work with. For the best results see tips below the recipe.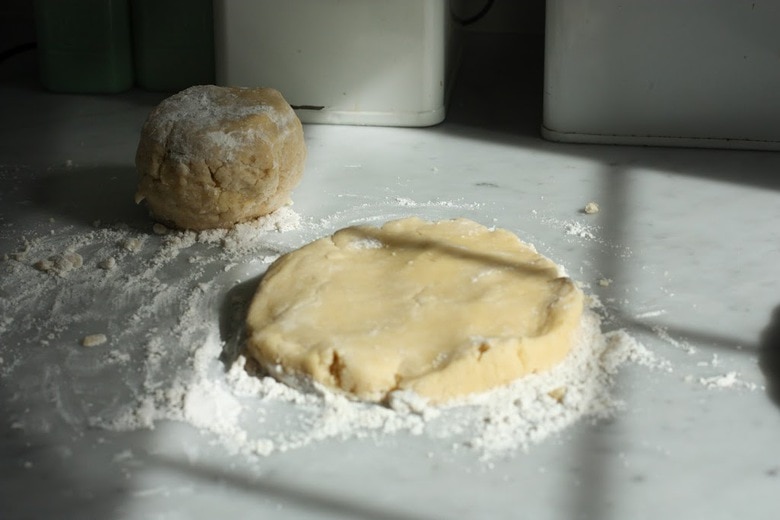 The dough comes quickly together in a
food processor
or
stand mixer
. Place the flour,
salt
,
sugar
and chunks of butter in a
food processor
and pulse until it is the texture of sand. Gradually add the beaten eggs and cream until it just comes together. Do not over work.
Place on a floured surface and divide dough in two and place one in the freezer for another time. If dough is too soft, place in the fridge for 5-10 minutes. It's easier to handle when chilled and slightly firm. On a floured surface, press into a disk. Roll out to a 1/4 inch thickness, rolling from the middle out. To place it in the tart pan, start at one end and wrap the crust around your rolling pin. Gently unwrap it over the tart pan. It does not have to be perfect, and in fact will probably crack and tear a bit. Not to worry, just press it into the tart pan. Using your fingers and palms, patch up any broken spots or tears. Press it up the sides and into the corners. It's very pliable. To remove excess dough, roll the rolling pin lightly over the top for a nice clean edge. Smooth out with your fingers. Prick the bottom with a fork.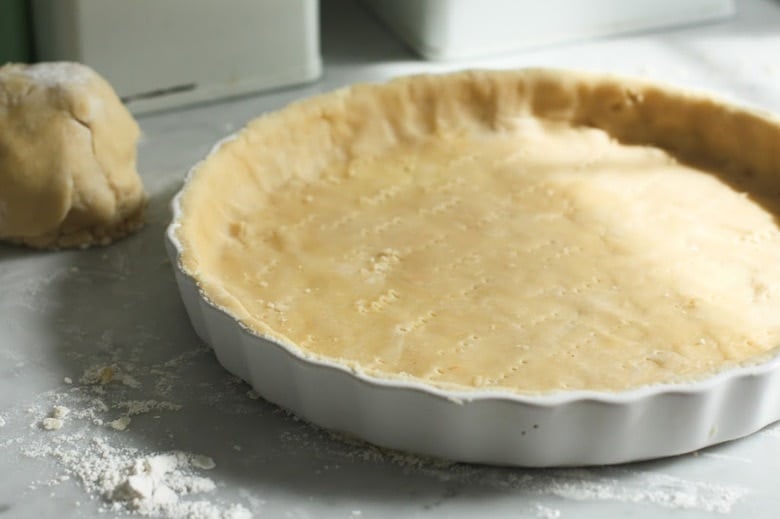 Freeze for 30 minutes (or refrigerate for 1 hour). Line tart with parchment. Fill lined tart with a generous amount of rice, dried beans or pie weights. This will ensure that it holds it shape and edges will not sink. Place in 400F oven for 15 minutes, until set. Gently remove tart from the oven and carefully lift out the parchment and rice. Place tart back in the oven for another 10-15 minutes, until nicely golden. Cool completely. You can make this ahead.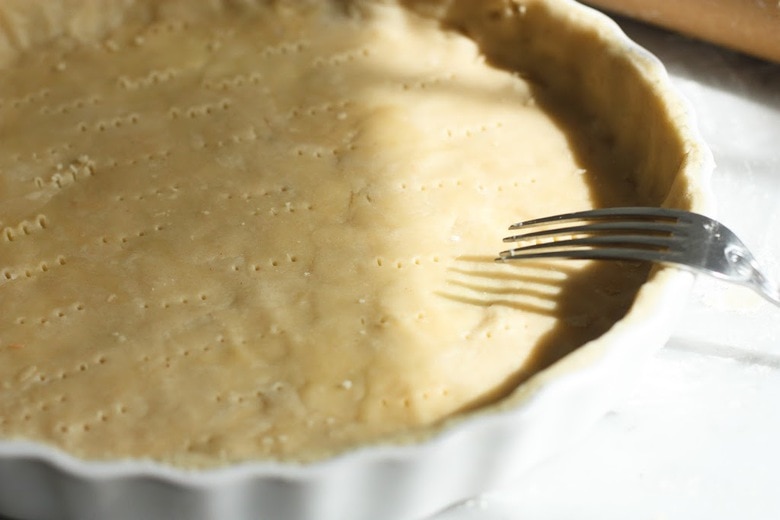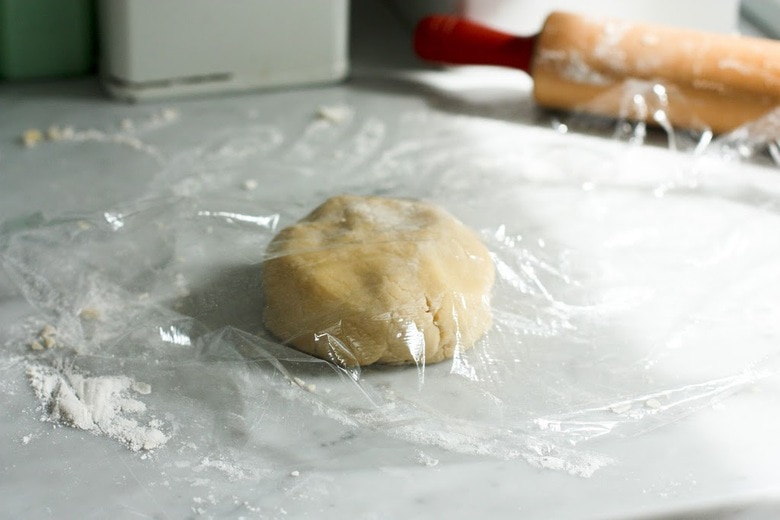 Star Anise
gives the tart a hint of intrigue.
Star Anise
is an honest name, for it tastes of anise and is star shaped indeed.
Star anise
is a seed pod of a native tree found in China and Vietnam, similar to a Magnolia. In China, it is mainly used in savory dishes and is one of the spices of traditional Chinese
Five Spice
. It is also used in Indian Cuisine. However it is used, it imparts a flavor that takes you far way.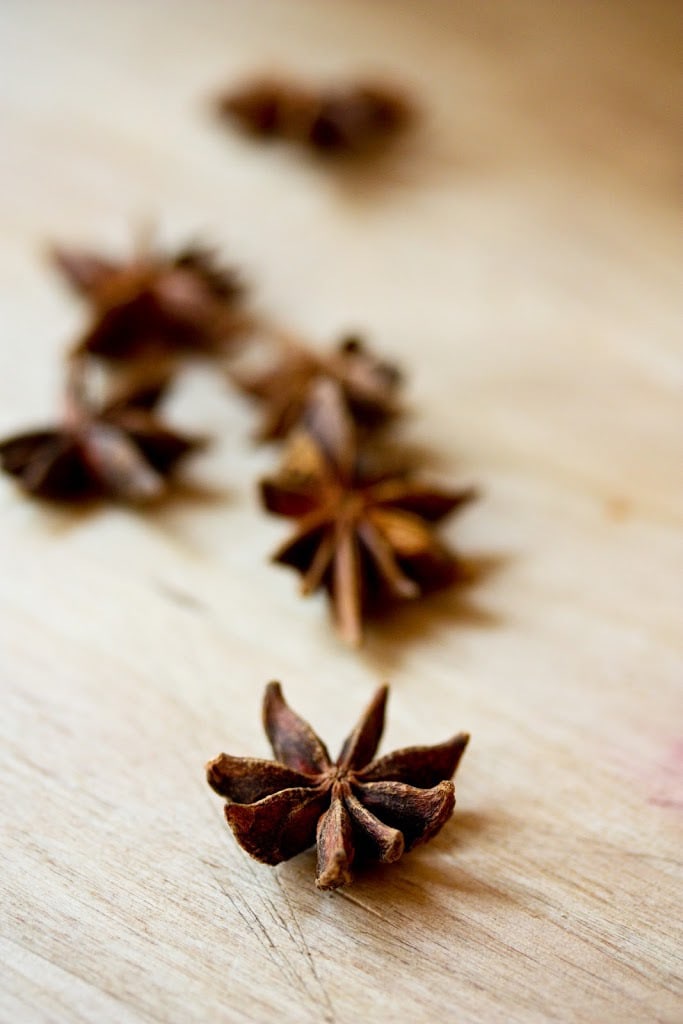 Star Anise, infused in honey gives the roasted apricots a subtle exoticness.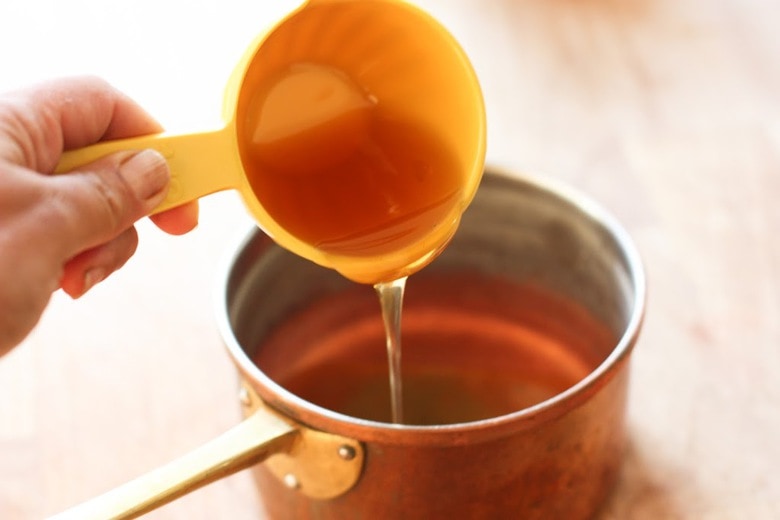 Honey can be easily infused with different flavors by simply heating it up for a few minutes and letting whatever spice or herb seep in it over night. I often make rosemary honey and lavender honey to use in catering. Drizzled over fresh figs, it's delectable. A cute jar of infused honey would make a great gift.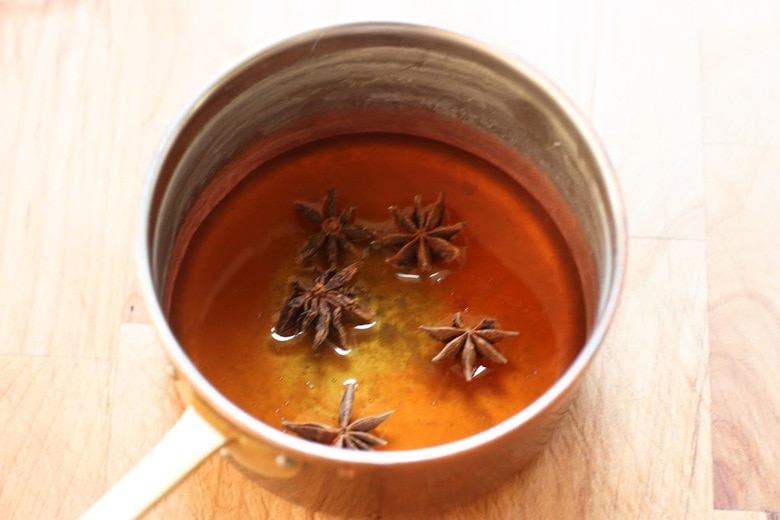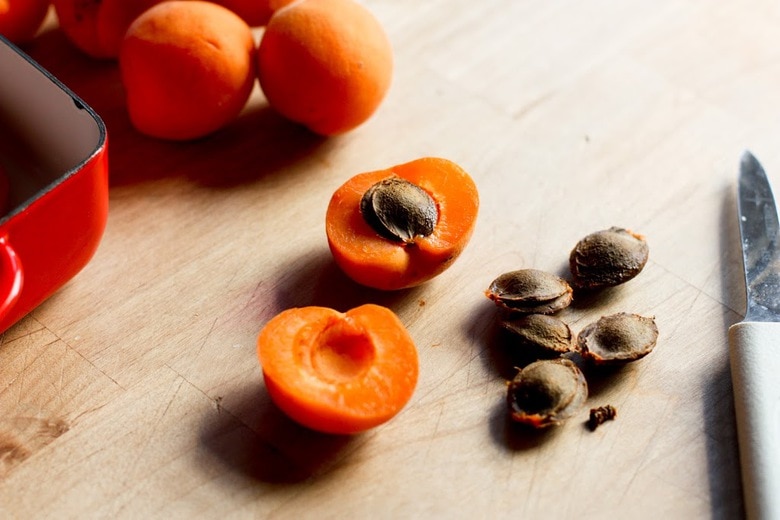 Apricots drizzled with the star anise infused honey are roasted in a 400F oven for 7-10 minutes. It doesn't take very long…so be vigilant. Leaving them too long in a hot oven will result in mushy collapsed apricots. You don't want this. You want them to hold their shape. The time is dependent on the ripeness of the apricot. Ripe apricots will literally take a few minutes. Less ripe, longer.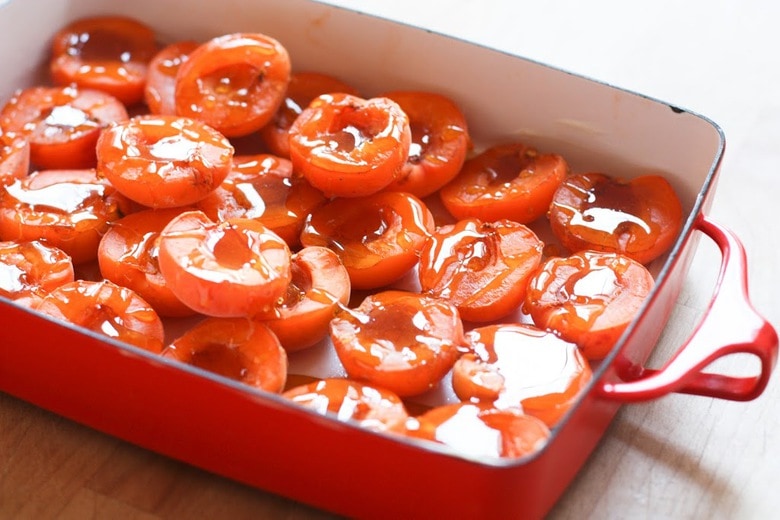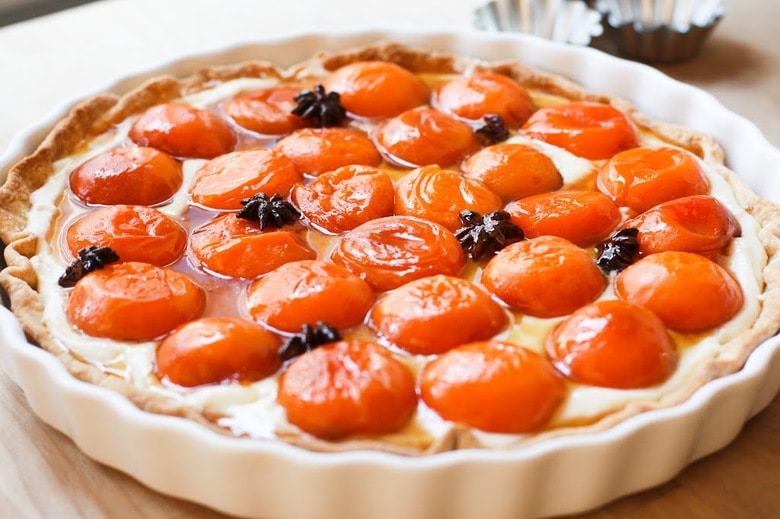 For a fun little finger desserts, you could also make mini tartlets.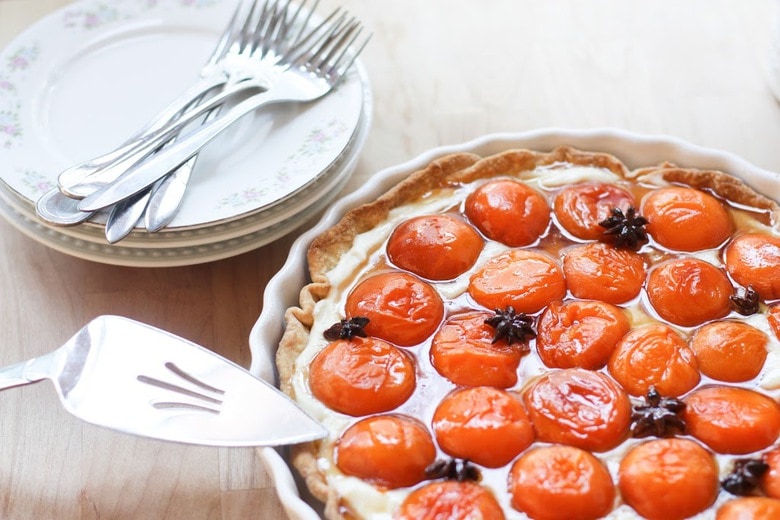 Hope you enjoy this one. I love it.
Print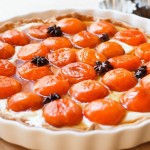 Honey Roasted Apricot Tart with Mascarpone Cream and Star Anise
Author:

Sylvia Fountaine

Prep Time:

3 hours

Cook Time:

30 minutes

Total Time:

3 hours 30 minutes

Yield:

8-10

Category:

dessert

Method:

baked

Cuisine:

pacific Northwest
---
Description
A decadent Apricot tart infused with star anise. This is hands down one of my favorite desserts, but it does take time. Make sure to read the directions all the way through first. It's much easier if you make the tart shell and infused honey a day ahead.
---
 Pate Sucree Crust 
1/8 cup

half and half or cream

1

large egg yolk

1 1/2 Cups

flour

¼ Cup

sugar

1/8 tsp

kosher salt

1/2 cup

cold unsalted butter , cut into small 1 inch chunks
1/2 Cup

honey

1 tablespoon

water

8

whole Star Anise pods

10

–

12

Apricots- semi firm
Mascarpone cream
1

 Cup  ( 8 oz) mascarpone

1 Cup

plain greek style yogurt

1 teaspoon

vanilla
---
---
---
Keywords: apricot tart, apricot tart recipe, apricot recipes, apricot dessert recipes, apricot recipes