How to make a Shrub, a flavorful fruit- infused "drinking vinegar" to use in cocktails, mocktails, vinaigrettes and sauces! A beautiful way to preserve summer's bounty- plus they make a great hostess gift!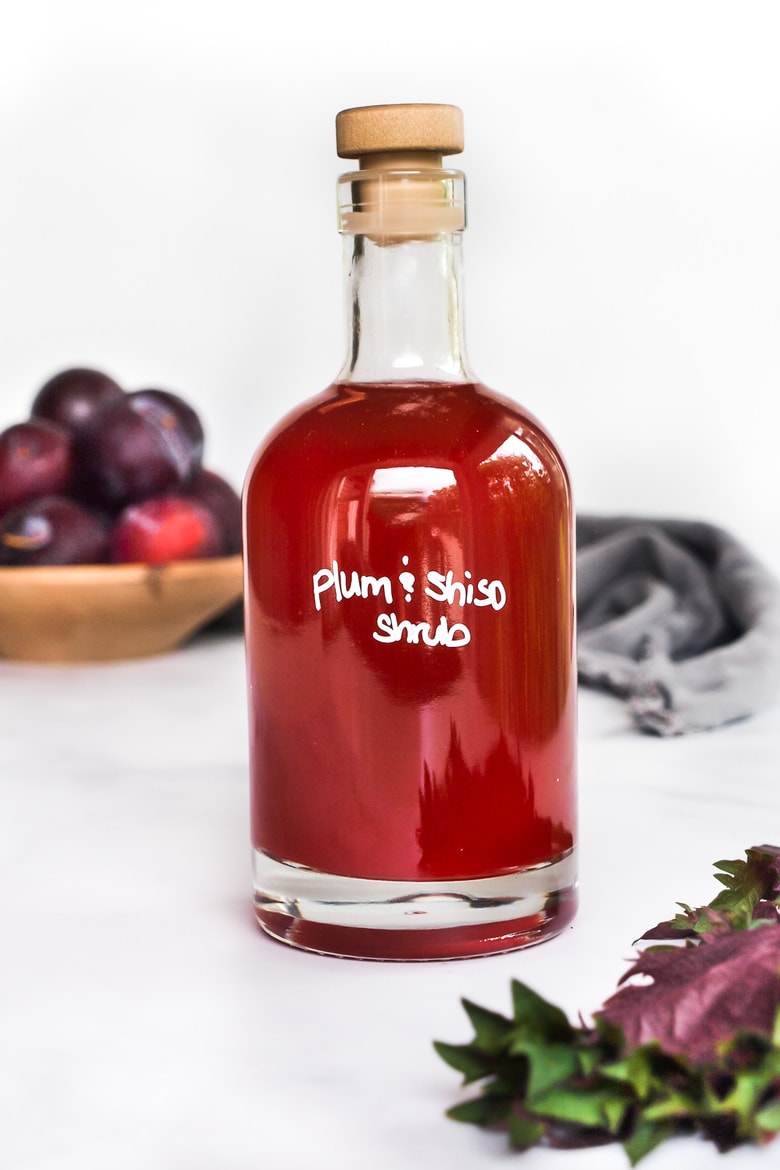 Hey friends! Tonia is back with her flavorful Shrub Recipe! This one is infused with fresh juicy summer plums and shiso leaves- a marriage made in heaven!
Of course, you can always sub other summer fruit and other herbs, simply use this as a jumping-off point for your own creations.
We're so excited to see what you do!
What is a shrub?
A shrub is basically a drinking vinegar, one that has been infused with fruit (typically) and sweetened, that can be added to cocktails, or mocktails (with mineral water) or dressings and vinaigrettes. It's a great way to preserve summer flavors all the way into winter.
Making a shrub takes about 10 minutes of hands-on time and 24 hours of "mother nature" time, and in the end, you'll have a beautiful infused drinking vinegar that will keep for many months, bringing a little sunshine into the colder months! This is especially perfect if you have your fruit trees.
FYI, These also make beautiful hostess gifts that will keep all the way until Christmas!
Making shrubs are a fun, creative project you can do with your kids, perfect for the weekend!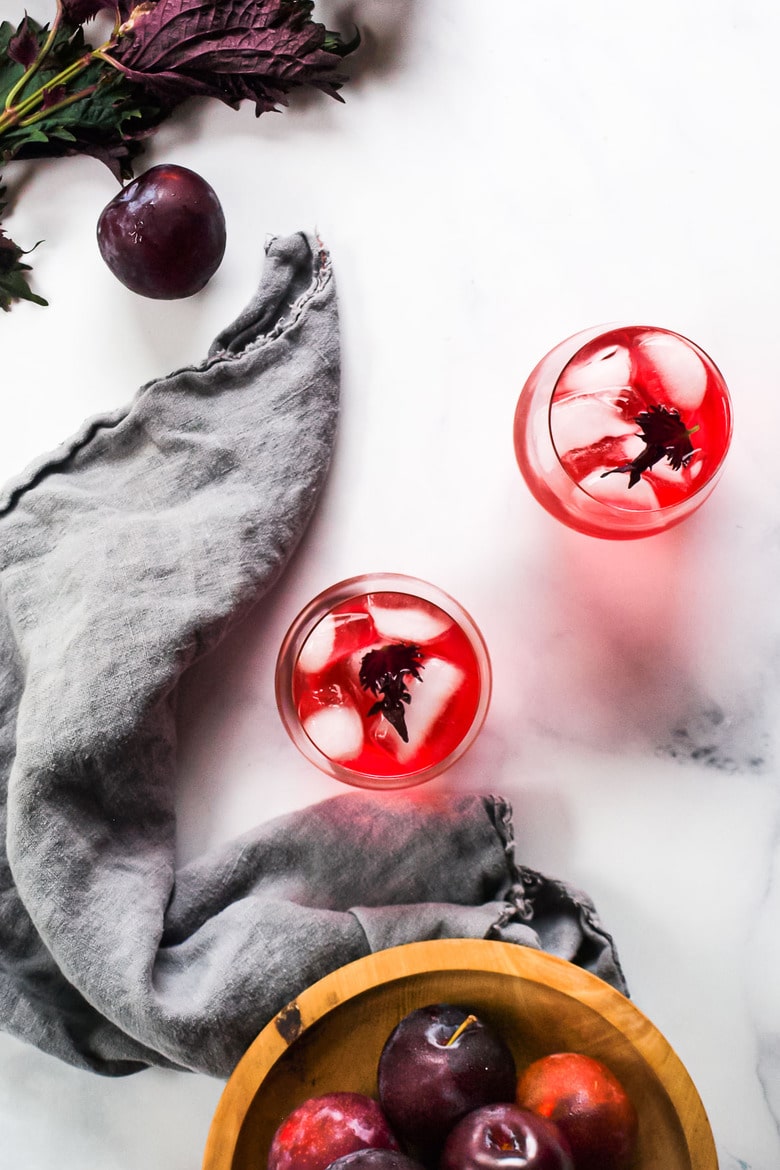 How to make a shrub (in a nutshell):
Macerate fruit with sugar for 24 hours.
Infuse vinegar with herbs or seasonings for 24 hours.
Combine to taste.
Place in a clear jar or bottle.
Today we are using juicy summer plums, but almost any fruit will work! Even Rhubarb!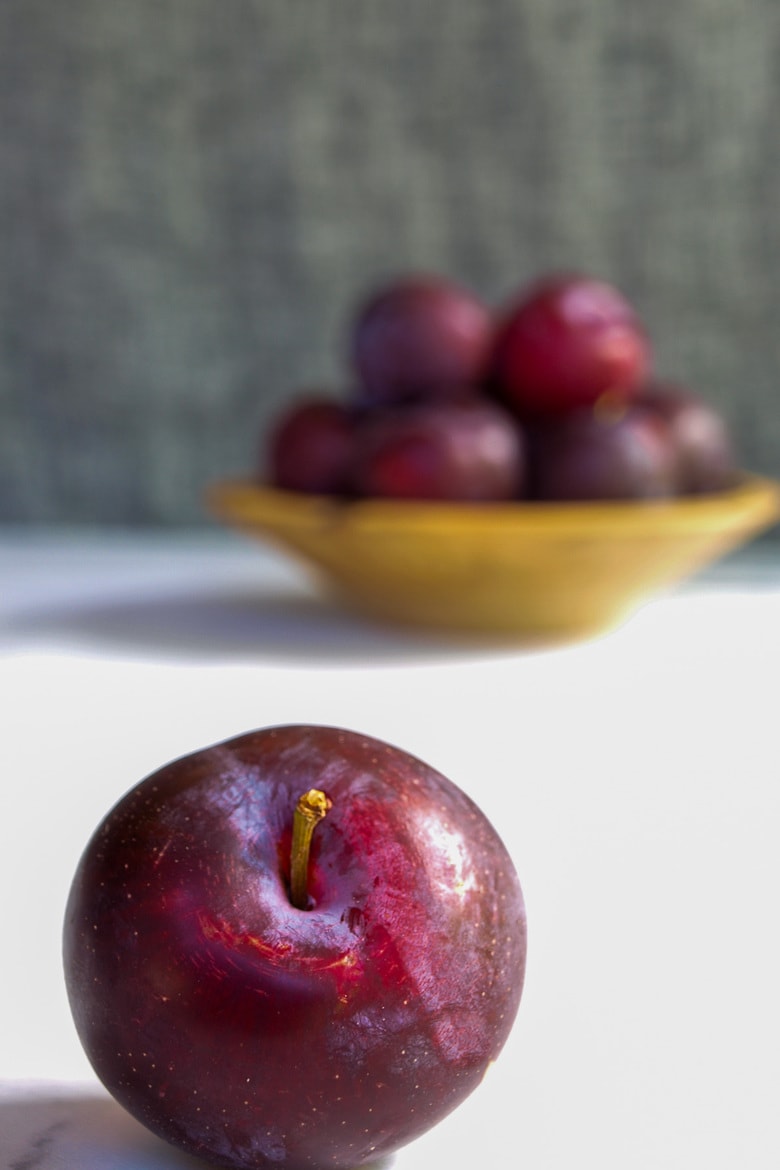 You'll need 4-5 plums, or roughly 1 cup.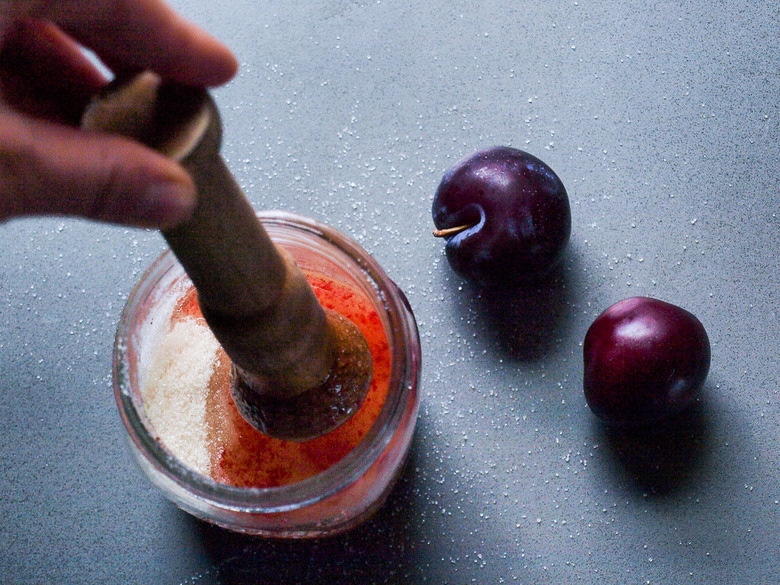 Mash the whole plums, seeds and all with the sugar in a jar, and leave to rest 24 hours.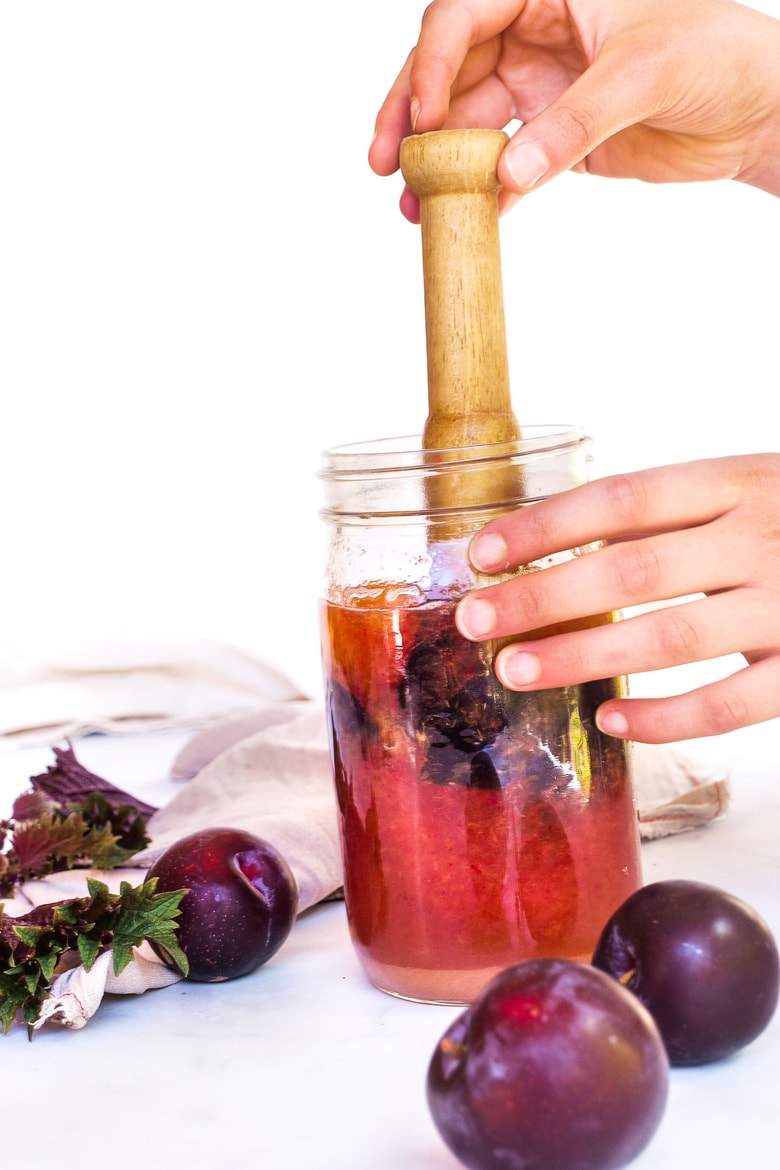 Combine the vinegar and the herbs in a separate jar- in this case, rice wine vinegar and shiso leaves.
Besides herbs, you can also add whole spices- pink peppercorns, cardamom, star anise, etc.
Play around with different kinds of vinegars as well.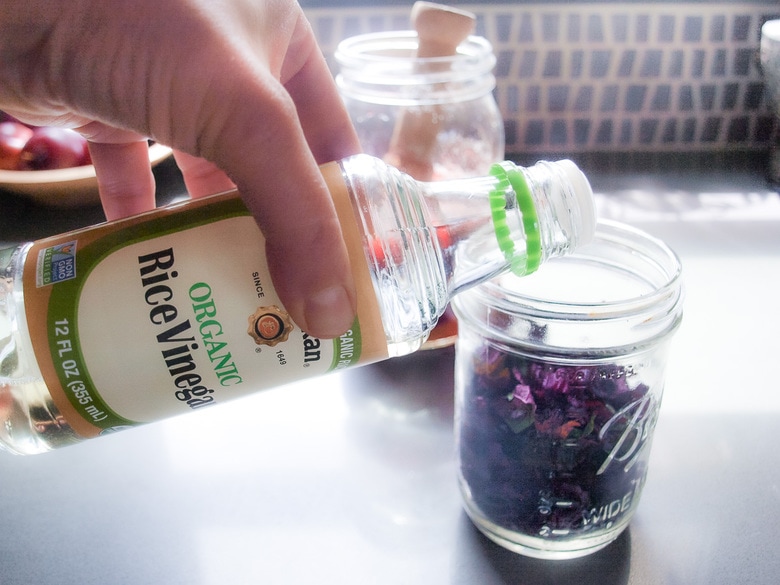 Let these both sit 24 hours on the counter.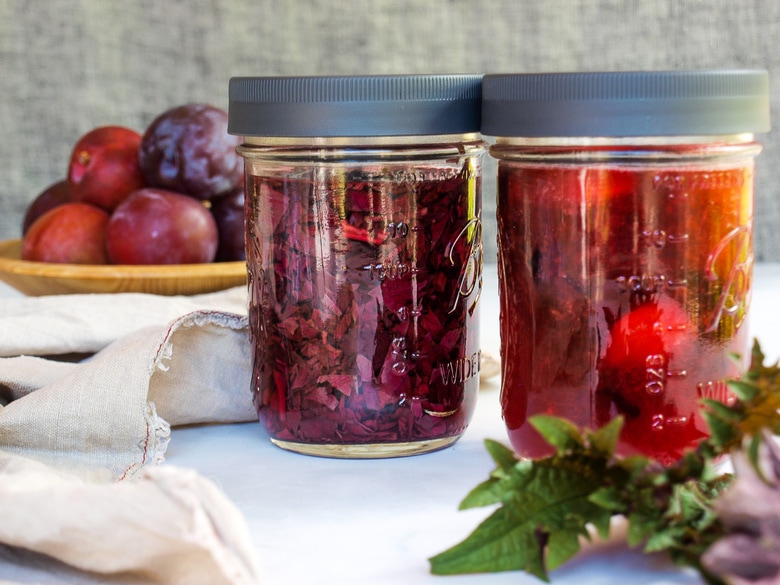 Then simply strain!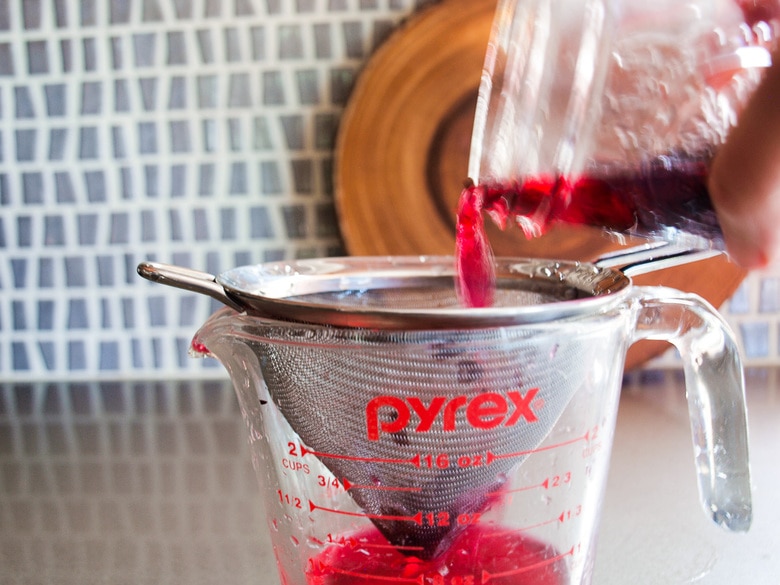 Mash the flavorful plum juices through the strainer.
Look at this glorious color!!!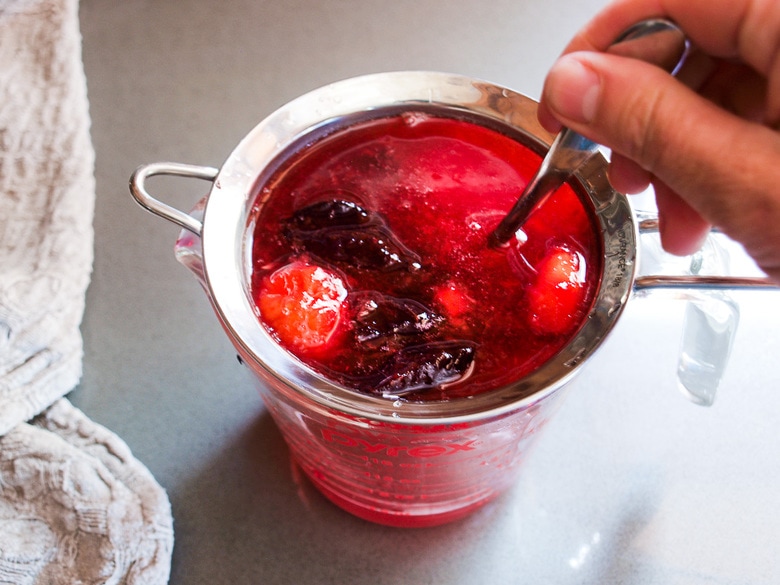 Then combine to taste.
Depending on how acidic your vinegar is, you may want more or less, and you can do this to taste!
Place in a clean jar or bottle.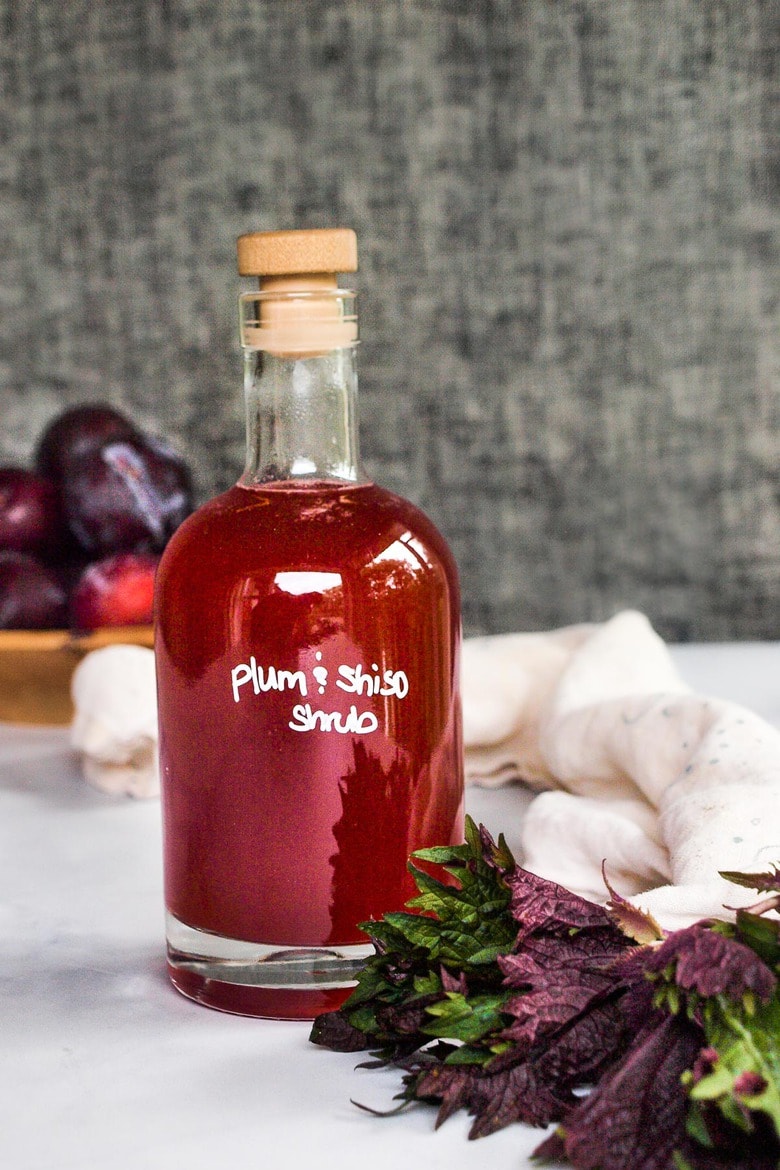 Add the shrub to your next gin and soda, or margarita, or vodka tonic.
Or for a flavorful mocktail- add a splash of Plum Shrub to sparkling water over ice.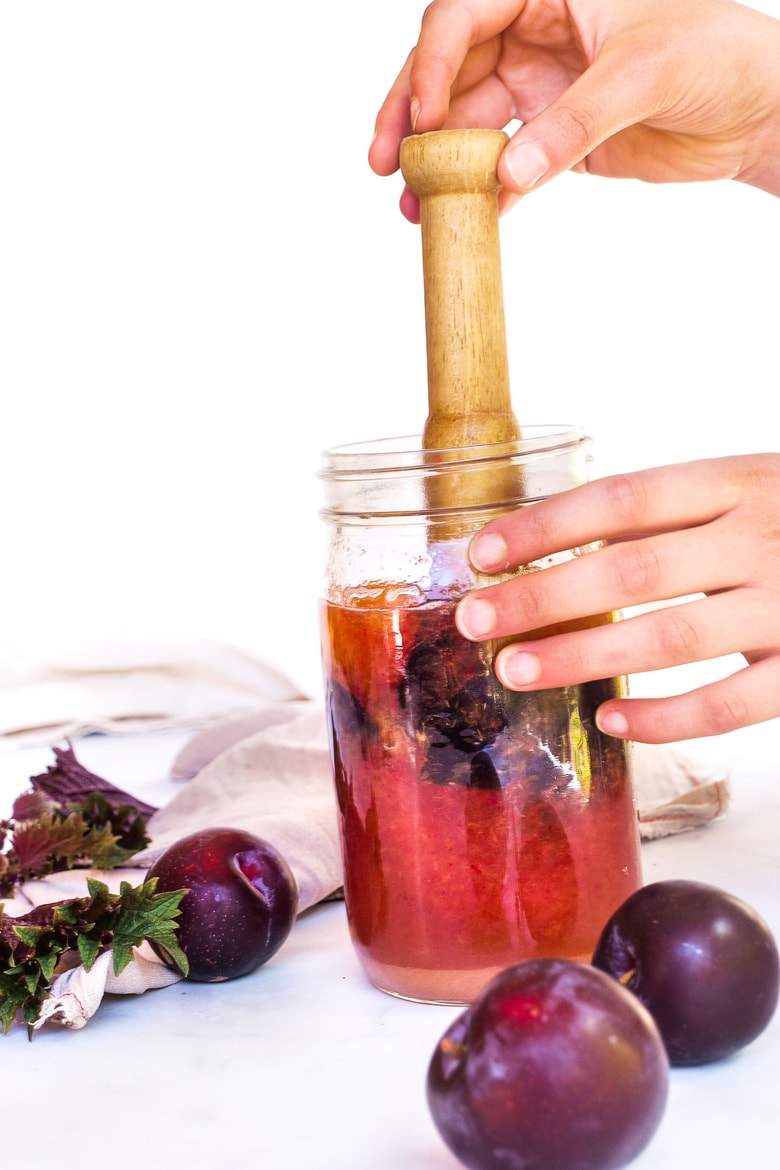 Such a beautiful way to celebrate summer produce!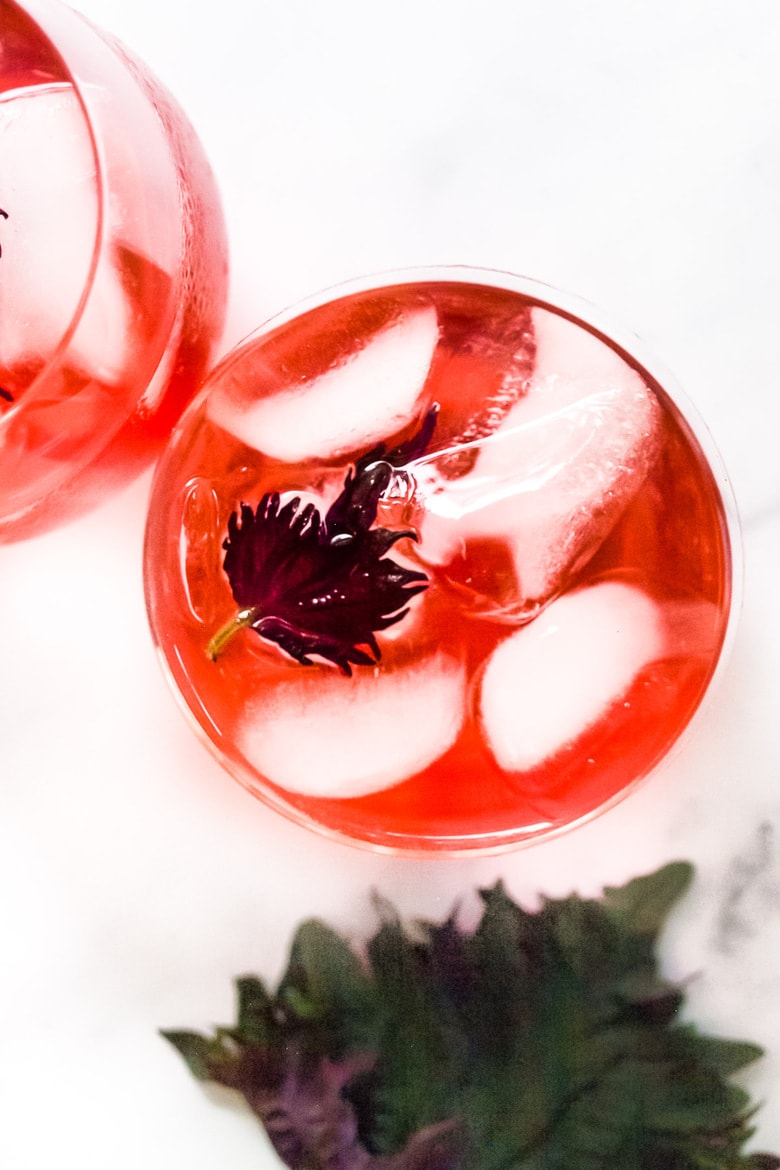 Give it a try and show us how you adapt this recipe!
It's a good base recipe for your own creations.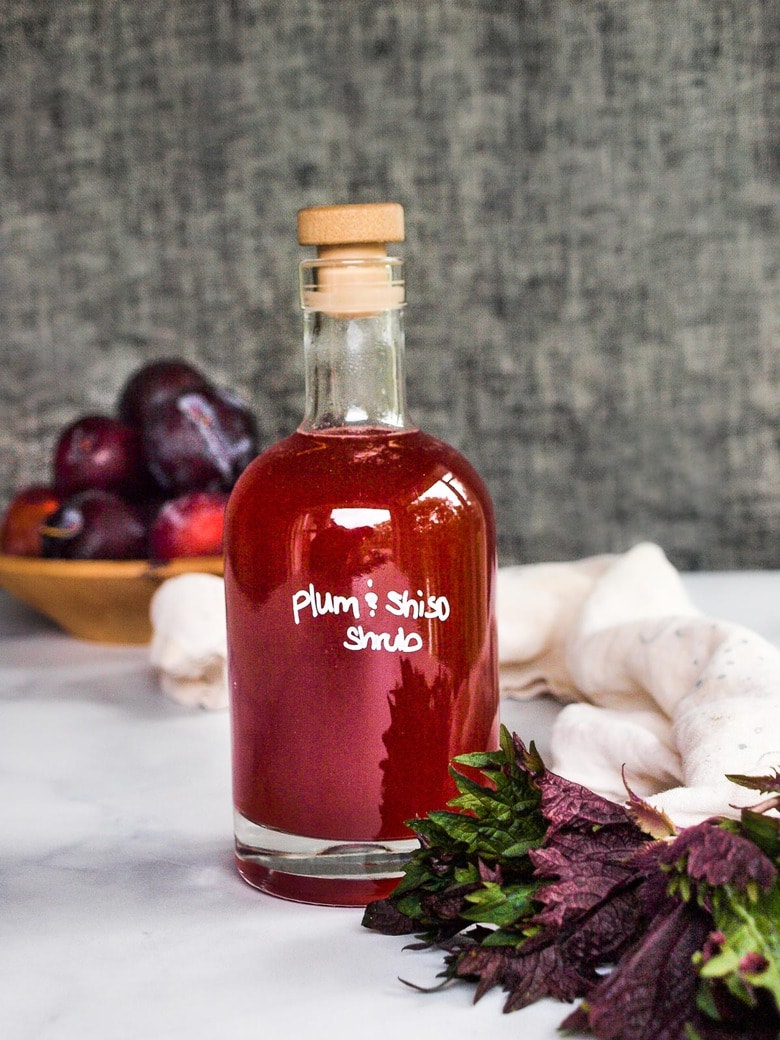 And just imagine how thrilled you'll be this winter when you pull this bottle of sunshine out!
xoxo
You may also like:
Print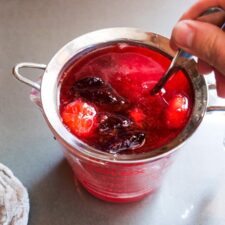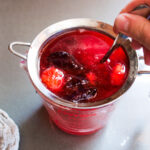 How to make a Shrub!
Prep Time:

10

Cook Time:

24 hours

Total Time:

24 hours 10 minutes

Yield:

3 cups

Category:

drink, preserved, preserving

Method:

preserving

Cuisine:

american

Diet:

Gluten Free
---
Description
How to Make a Shrub, a flavorful fruit-infused drinking vinegar used in cocktails, mocktails, vinaigrettes and sauces!  Allow 24 hours to sit overnight. Recipe by Tonia Schemmel
---
1 cup

washed ripe plums (

4

–

5

medium-sized) or other fruit-see notes

1 cup

cane sugar

1 cup

chopped shiso leaves ( sub basil) see nots

1 cup

rice vinegar  (substitute white wine vinegar or apple cider)

2

x quart jars (or similar sized vessels, or

2

bowls)
---
Instructions
Place whole plums (don't bother removing the pits, as the whole mixture will get strained) and sugar in a jar and mash until juicy and mixed.  Put a lid on the jar and leave at room temperature for 24 hours.  
Roughly chop the shiso leaves and place in a jar along with the vinegar.  Put a lid on the jar and leave at room temperature for at least 24 hours or up to 1 month.
Strain the plum mixture, discarding plum pulp.  Strain the vinegar discarding the herbs.  Add about ½ of the vinegar to the plum syrup and taste.  Some kinds of vinegar are stronger than others so add more to your liking.  
If you do have leftover vinegar, it can be a beautiful component to salad dressings!
Place in a clean jar or bottle.
---
Notes
Because of the preservation quality of the vinegar, this is shelf-stable for 3 months. 
It is also fine to refrigerate-best used within 6 months.
FRUIT: Feel free to sub other fruits or berries. Juicy fruits work best. Peaches, pineapple, strawberries, mango, passion fruit, nectarines, blackberries, etc.  Colorful fruits make the prettiest shrubs.
Herbs/Spices: feel free to use any fresh herbs, fresh ginger, zest, or even whole spices to infuse the vinegar.
Keywords: shrub, recipe for a shrub, shrub recipe, how to make a shrub, plum shrub, plum shrub recipe, shiso shrub,